Honda XRV750 Africa Twin (1989-2003) Simplified Maintenance Schedule
Below is the maintenance schedule for the Honda XRV750 Africa Twin. It's based on content from the owner's manual, service manual, and aftermarket workshop manuals.
The Honda XRV750 Africa Twin is a classic adventure motorcycle from Honda (also know as a "big trail bike" or an "enduro bike"), the inspiration for the initial 2016 Honda CRF1000L Africa Twin. Honda made it from 1989 to 2003 (give or take, depending on market), after which there was a long period in which there was no "Africa Twin"-named model being made.
The XRV750 Africa twin is powered by a 742 cc liquid-cooled V-twin. It is carburettor-fed and runs a mild compression ratio of 9.0:1 for long reliability, putting out a modest but very usable 45 kW / 60 hp. Unusually, it has a three valve per cylinder design, meaning one less clearance to check. The final drive is via a 5-speed box and chain.
This site has links from which we earn a commission (which unfortunately nobody can save, not even us). If you appreciate this research work, then please use those links. Thanks.
Honda XRV750 Africa Twin Service Intervals
The Honda XRV750 Africa Twin has service intervals of 6000 km / 4000 miles, but only needs oil changes every 12000 km or 8000 miles (or annually). At the same time, change the oil filter.
The XRV750 also has valve clearances of 12000 miles / 8000 km too, but they're not on an annual schedule, so you don't need to check valves if you haven't done the distance.
Since the XRV750 is liquid-cooled, keep the coolant fresh, replacing it every three years. And keep the brake fluid fresh, changing it every 2 years (Honda recommended 18 months in the original schedule but that is the old standard).
Maintenance Schedule for the XRV750 Africa Twin
Below is the full maintenance schedule for the Honda XRV750 Africa Twin.
It's adapted from the manual, though simplified for web display.
Also, many features of old manuals are now outdated. For example, Honda used to recommend many things on an annual schedule that are not required if you haven't done mileage, like valve clearance checks or spark plug replacements.
Finally, we separated out a "standard inspection checklist" and "chain maintenance guidelines" separately as they're on a different schedule.
Service schedule
Below is the service schedule for the XRV750 Africa Twin.
Notes:
Follow the earlier of time-based or distance-based service intervals. For example, change the oil every year, even if you've done minimal mileage.
Keep following it in the pattern shown, e.g. changing the oil every 12000 km or year.
Service some parts (e.g. chain, air filter, oil) more often if riding aggressively or off-road.
km x 1000
6
12
18
24
30
36
mi x 1000
4
8
12
16
20
24
Every
Standard inspection checklist – Conduct
✓
✓
✓
Year
Engine oil – Change
Pro Honda 10W-40 or another of API SE or above
Filter plug torque – 34 Nm / 25 lbf-ft
✓
✓
✓
Year
Oil filter – Change
Torque – 10 Nm / 7 lbf-ft
✓
✓
✓
Spark plugs – Inspect
Target gap: 0.80-0.90 mm
✓
✓
✓
Spark plugs – Replace (DPR8EA9)
✓
✓
✓
Air filter – Change
✓
✓
More often if riding in dust or wet conditions
Valve clearances – Inspect / Adjust
(use a screw and locknut system to adjust)
✓
✓
✓
Idle speed – Inspect
Target: 1200 +/- 100 rpm
✓
✓
✓
✓
✓
✓
Coolant – Replace (Pro Honda Coolant)
3 years
Brake pad condition – Inspect
✓
✓
✓
✓
✓
✓
Brake fluid level – Inspect
Note: Brake fluid level drops with pad wear
✓
✓
✓
✓
✓
✓
Brake fluid – Replace (Honda DOT-4)
2 years
Rubber parts of brake master cylinder / calipers — Replace
2 years
Clutch function – Inspect
✓
✓
✓
✓
✓
✓
Honda XRV750 Africa Twin Servie Schedule
Standard inspection checklist
This is the standard inspection checklist, to be done according to the schedule above.
Standard inspection checklist
Fuel lines – Inspect (for cracks, wear, kinks)
Throttle function and play – Inspect
Free play range – 2-6mm
Carburettor choke – Inspect
Coolant – Inspect level, condition
Cooling system (hoses, radiator) – Inspect
Replace hoses as necessary
Brake system (hoses, system) – Inspect
Replace hoses as necessary
Brake light switch – Inspect
Chain guide – Inspect
Minimum thickness – 3.0 mm
Headlights – Inspect (function, aim)
Side stand – Check, lubricate
Front suspension – Check for leaks, pitting
Rear suspension – Check for leaks, pitting
Screws, bolts, and fasteners – Check for tightness
Tires – Check tread depth and condition
Wheels – Check condition, kinks
Wheel bearings – Check for smooth operation and free play
Steering bearing – Check for smooth operation, no kinks
Crankcase breather – Inspect / clean
Service more often if riding in rain or at full throttle
Honda XRV750 Africa Twin standard inspection checklist
Chain inspection
As an all-weather, all-condition adventure bike, the Africa Twin needs frequent attention to its chain. Many owners fit Scottoilers, or carry around a portable chain maintenance kit (including a rag and something like Motul chain paste.
The service schedule for the chain is to every 1000 km / 6000 mi:
Inspect the chain condition
Check the chain tension — target slack should be 35-45 mm, and adjust it if necessary
Clean and lubricate the chain
When tightening up the rear axle after adjusting slack, tighten the bolts to 93 Nm / 69 lbf-ft.
The XRV750 has a chain wear indicator on the rear axle. If the pin indicator is in the red zone, the chain needs to be replaced. (DID525 V8 or RK525 SM5).
Valve Inspection Method for the Honda XRV750 Africa Twin
To inspect the valves on the Honda XRV750, you need to remove the tank, air duct / air filter, and also the valve inspection covers (two bolts on each). The engine has to be completely cool.
You may also have to remove the belly pan and displace the right radiator (it doesn't have to be unplugged / removed, just moved out of the way).
Also more the timing mark inspection cap (with a spanner on the next nut) from the alternator cover so you can rotate the engine and check the timing position. You might find this easier with the spark plugs removed.
Use a socket on the alternator rotor bolt, and rotate the engine anti-clockwise until the alignment is correct, with the notch aligning with the line next to the "FT" (front) mark. This is for the front cylinder. Make sure that you're on TDC of the compression stroke (and not exhaust) by checking for free play between the rocker arms and the valves — there must be some free play, or you're on the exhaust stroke.
Check the clearances:
Intake x 2: 0.13-0.17mm
Exhaust x 1: 0.18-0.22mm
Make adjustments as necessary using a wrench and pliers — using an offset spanner to slacken the locknut, and adjusting the screw with pliers, then tightening the locknut again (Torque: 23 Nm / 18 lbf-ft). Re-check the clearances, then rotate the engine 720 degrees, and check them again.
The XRV750 Africa Twin has a three valve per cylinder design, with two intake and one exhaust valve per cylinder, so attend to them each in turn.
Wheel and tire specs
The Honda XRV750 Africa Twin has a 21-inch front tire, making it adventure-ready!
Below are the standard tire sizes and recommended starting pressures from the manual.
| Wheel | Tire size | Tire pressure (cold) |
| --- | --- | --- |
| Front | 90/90-21 54H | 2.1 bar / 210 kPa / 29 psi |
| Rear | 140/80R17 69H | 2.5 bar / 250 kPa / 36 psi |
Tire sizes and pressures
About the Honda XRV750 Africa Twin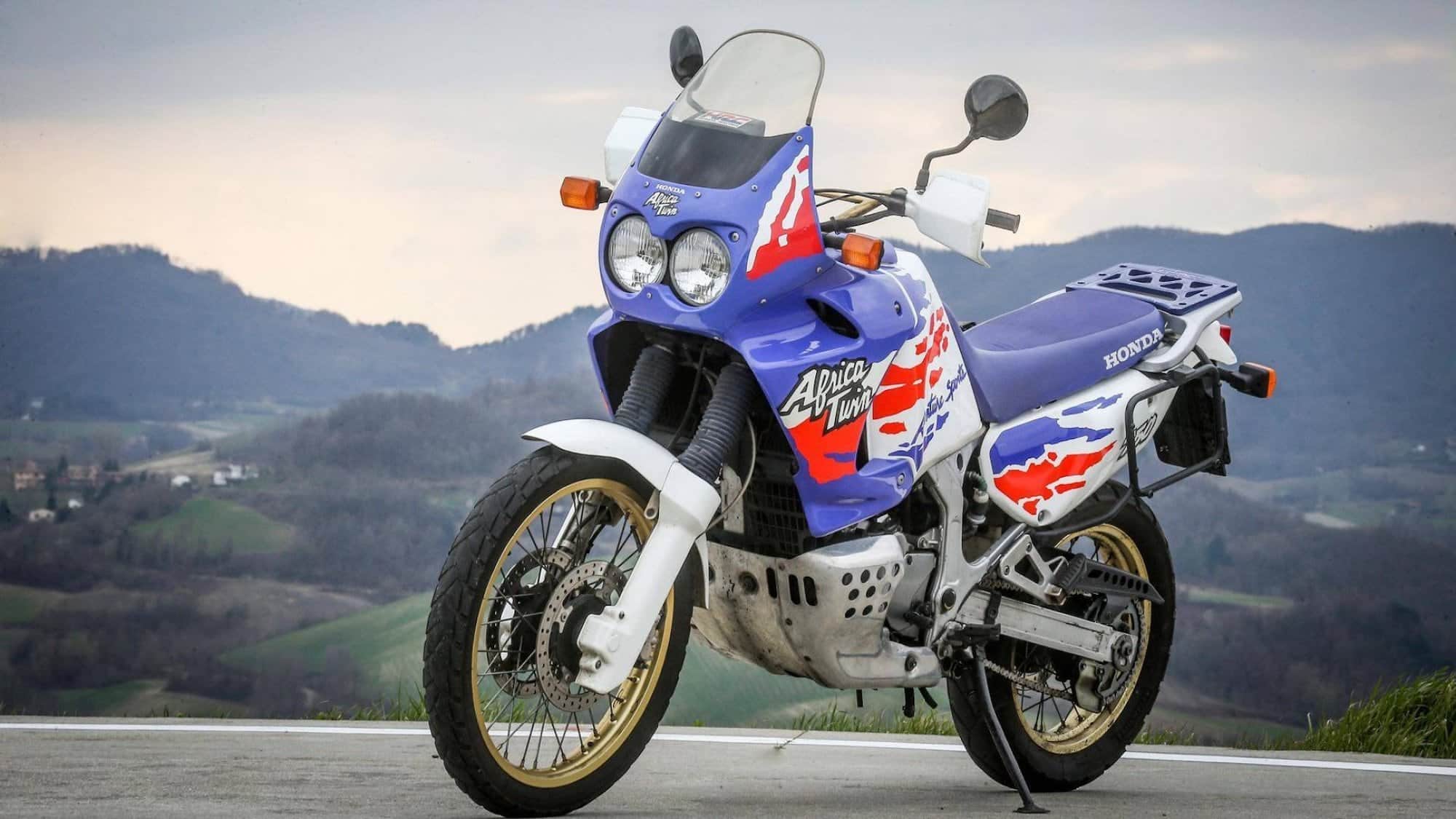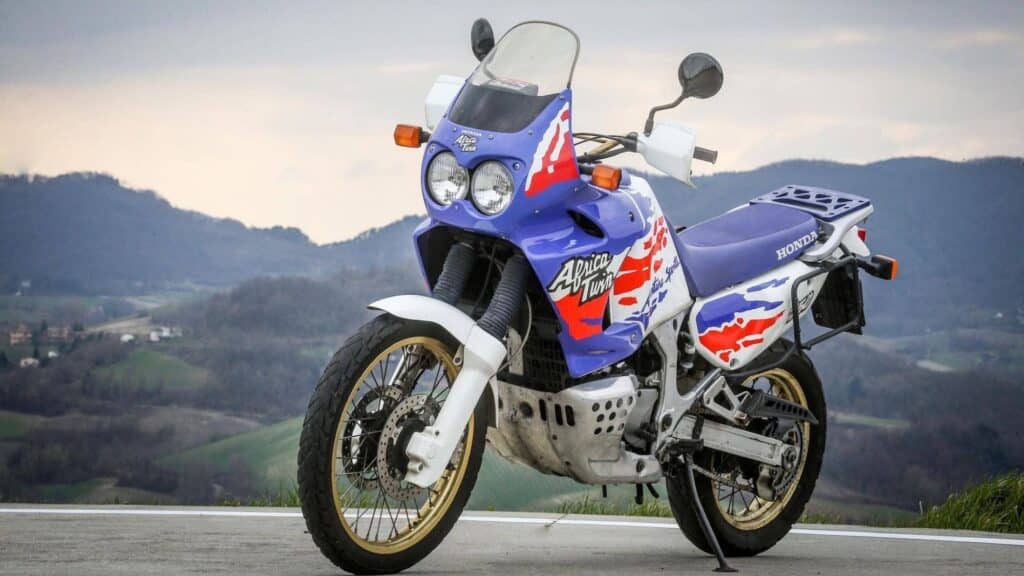 The Honda XRV750 Africa Twin is a classic Honda adventure bike with a now iconic design.
There are many things you could call it aside from an adventure motorcycle, including a big enduro or a trail bike (different languages use different words).
But the core of it is that the Africa Twin is designed to take you very far, very reliably, and in relative comfort.
The original Africa Twin is powered by a 742 cc liquid-cooled SOHC V-twin with a 52 degree piston angle separation. It makes a modest 45 kW / 62 bhp at 7500 rpm, with peak torque of 46 lbf-ft (63 Nm) at 6000 rpm. It's not a powerhouse, but it doesn't need to be. It gets decent fuel economy of around 5.5 L/100 km, and with its 23 litre tank size, is good for a range of over 250 miles / 400 km.
The final drive for the XRV750 Africa Twin is a five-speed box and a chain drive, so you do have to maintain the chain regularly.
Suspension is pretty decent on the XRV750 Africa Twin, striking a balance between on-road performance and off-road travel. There's 220 mm of travel up front from the air-assisted telescopic fork, and 214 mm of travel at the rear — basically, a bit more than what you'd get on the more road-focused Suzuki V-Strom 650, for example.
The fork isn't adjustable, but the rear suspension is adjustable for preload and compression damping.
Brakes are also basic, but they're fine… twin 276 mm discs at the front with two-piston calipers. There are of course no rider aids.
Over the years, the Honda XRV750 Africa Twin did get some modest updates. The later year models got better weather protection, a more comfortable seat, and an LCD onboard computer (from 1992) as part of its instrument cluster.
From 1993, Honda redesigned a lot of the Africa Twin, including redesigning the fuel tank, the air filter, the rear shock absorber, and rear brake. Finally, in 2006, Honda replaced the ignition system, changing the twin pulse generator / twin HT coils with a single coil per cylinder feeding two spark plugs.
But most people have modified the heck out of their XRV750 bikes for long-range touring, with information displays, off-road protection, a more comfortable cabin, and of course luggage.
The Honda XRV750 has been outclassed in power-to-weight ratio (it does weigh a hefty ~230 kg wet with a full tank of petrol), but still has classic appeal — it just looks a lot cooler than more modern enduro bikes that might be less able to tackle off-road adventures.
Servicing the valves on the Honda XRV750 Africa Twin is a bit difficult but mostly because of the plastics you have to take off, and the fact that there's a V-twin.
The engine is of a SOHC chain-driven cam design. To get access to the valves, you have to remove the tank, air duct / air filter housing, radiator, and valve inspection covers. To make adjustments to the valve clearances, luckily you can do it using a wrench and pliers — you don't need to take the camshaft out and insert spacers (whew!). So even though the valve service intervals for the XRV750 are relatively narrow at 12000 km / 8000 miles, it's a relatively easy job to do.
Reference — Manual screenshots for the XRV750 Africa Twin
The above info came from the European manual for the XRV750, which we have in Italian, Spanish, and German (but not English).
For a period you can download manuals for Honda motorcycles from the official website, but the XRV750's manual is no longer available. You can get the Spanish one below.