BMW R 1200 RT DOHC / Twin Cam / "Camhead" (2010-2013) Simplified Maintenance Schedule
This is the maintenance schedule for the BMW R 1200 RT "Twin Cam" or "DOHC", sometimes known as the "Camhead" to BMW people.
The BMW R 1200 RT needs almost no introduction because many riders or drivers will recognise the bike from being the one the cop who pulled you over was riding.
It's a popular police steed because it's reliable, comfortable, fast enough for any chase (at sane speeds), and able to carry a lot of gear.
The engine in the R 1200 RT of this generation is the air/oil-cooled opposed boxer that was also used in the same gen GS, as well as the later BMW R nineT, which kept the engine in service.
In the RT, the engine is tuned for 81 kW (110 hp) at 7750 rpm, with peak torque of an impressive 120 Nm (89 lb-ft) at 6000 rpm. The engine revs to a healthy 8500 rpm.
The final drive is via a reliable shaft, and the RT comes with lots of (some standard, some optional) comfort equipment like electronically adjustable suspension, windscreen, and ride safety aids.
BMW replaced the RT in 2014 with the partially liquid-cooled next gen BMW R 1200 RT.
This site has links for things like oil and spark plugs from which we earn a commission (which unfortunately nobody can save, not even us). If you appreciate this work, then please use those links. Thanks!
BMW R 1200 RT Camhead / Twin Cam / DOHC Service Intervals
Generally, the twin-cam BMW R 1200 RT has 6000 mile / 10000 km or annual service intervals.
At every service, change the engine oil and filter, and check and adjust the valve clearance as necessary.
The maintenance schedule (below) also details a number of other checks to make, e.g. for the brake and clutch system, checking for smooth operation, leaks, and parts that haven't worn out.
Every two services, i.e. every 12000 miles or 20000 km, change the final drive oil, spark plugs, and air filter. The spark plug replacement interval has halved since the earlier Hexhead, which is good news!
The maintenance schedule also details some other longer-term service items, like changing the alternator belt.
Maintenance schedule for the 2010-2013 DOHC BMW R 1200 RT (Twin Cam / DOHC) "Camhead"
Below is the maintenance schedule for the BMW R 1200 RT "Camhead" / "Twin cam" made between 2010 and 2013.
We've simplified the maintenance schedule, splitting it into the "Standard BMW service" and the schedule with longer-term service items.
The "Dealer" items are at the bottom because not everyone has a BMW diagnostic system lying around in their toolkit.
Standard BMW Service
Below is the standard list of things to check on your RT at every service.
BMW R 1200 RT (Twin cam) Standard BMW Service
Visually inspect hydraulic clutch system
Visually inspect brake pipes, brake hoses and connections
Check front and rear brake discs for wear
Check front and rear brake pads for wear
Minimum thickness: 0.04 in / 1.0 mm, with wear marks clearly visible
Check brake fluid level, front and rear
Check freedom of movement of Bowden cables and check for kinks and chafing
Check tire pressures and tread depth
Check ease of movement of side and center stands
Check lights and signaling equipment
Check engine start suppression
Check battery charge state
Final inspection and roadworthiness check
Dealer checks:
Set service due date and countdown distance
Read fault memory with BMW Motorrad diagnostic system
Perform bleed (brake) test with the BMW Motorrad diagnostic system
Read error memory with (BMW Motorrad) diagnostic system
Confirm BMW Service in on-board documentation
BMW R 1200 RT Twin Cam / DOHC BMW service
Maintenance schedule
Below is the maintenance schedule, including a reference to the standard BMW service above.
Notes on the schedule
Many items on the schedule have both a time-based and distance-based interval. Follow the earlier of the two. E.g. if you have the bike for a year and don't put 10,000 km on it, change the oil anyway.

The break-in schedule is not shown below as these are all broken in

.
At the end of the schedule, repeat it in the pattern shown, every 1, 2, or 4 services.
Different manuals use different words, so they're all included below. E.g. transmission / gearbox, or alternator / generator. This is just to help with your searching.
'000 miles
6
12
18
24
'000 km
10
20
30
40
Every
Change engine oil change and filter
Engine oil: SAE 15W-50 API SJ / JASO MA2 oil, e.g. BMW Advantec Pro 15W-50
X
X
X
X
Year
Change rear-wheel drive oil
X
X
2 years
Change transmission / gearbox oil
X
2 years
Check/ Adjust valve clearances
X
X
X
X
Replace all spark plugs (4 x NGK MAR8B-JDS)
X
X
Replace air filter element
X
X
Replace alternator / generator belt
X
6 years
Change brake fluid (including in ABS system), front and rear (BMW DOT 4)
2 years
Check/ correct engine synchronisation
X
X
X
X
Conduct the standard BMW service (above)
X
X
X
X
Year
BMW R 1200 RT Camhead / Twin cam maintenance schedule
One new addition in this generation RT is the "countdown distance" to next service. Very handy! (The dealer has to set it, though, or you can use a GS-911.)
About the 2010-2013 "Camhead" / "Twin cam" BMW R 1200 RT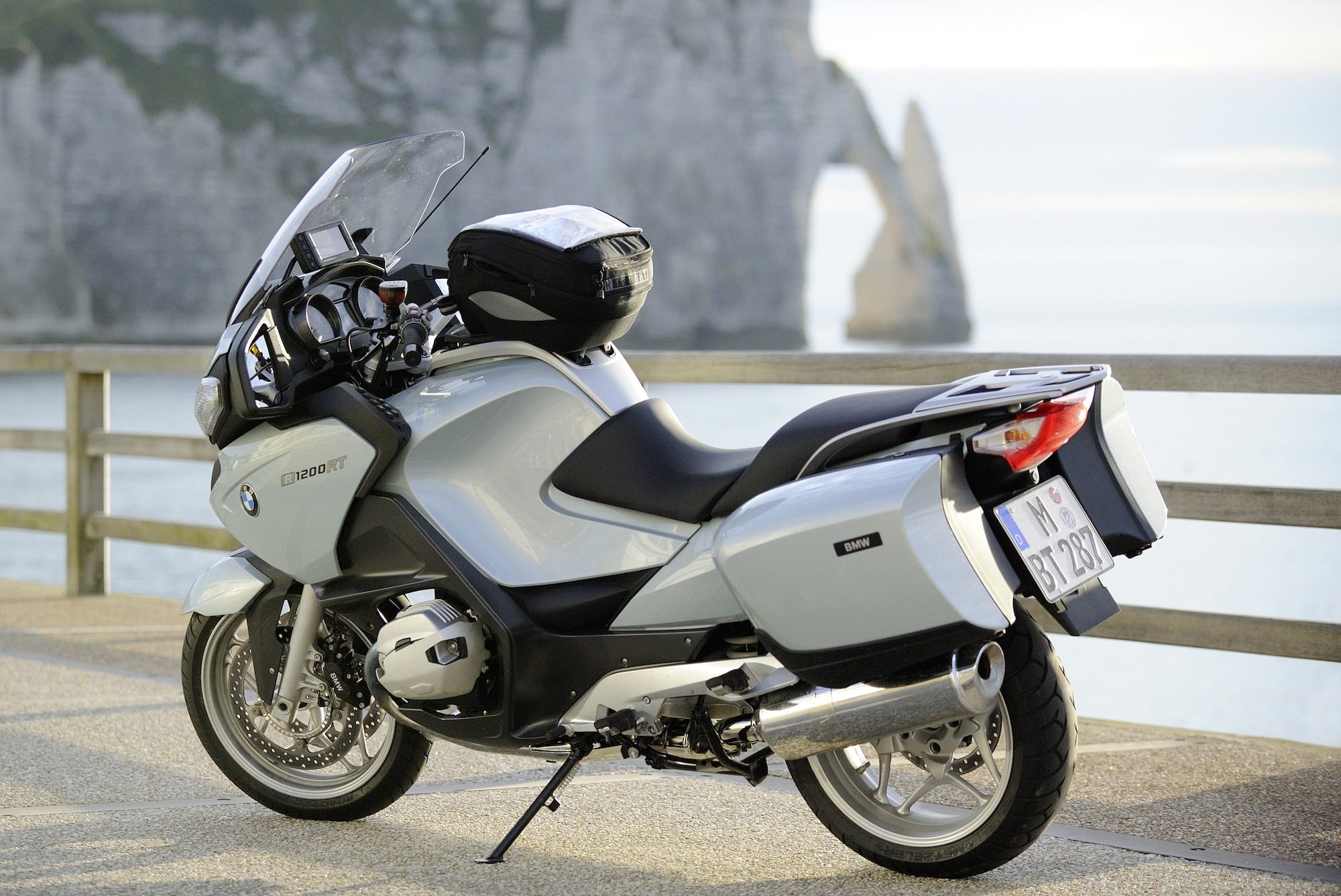 The BMW R 1200 RT is another in the range of "RT" long-range touring models with a road bias.
BMW has been making RT motorcycles for a very long time. They have the same basic underpinnings as the other motorcycles of the same generation, but have generous fairings, large saddlebags standard, and lots of accessories like communication systems.
The 2010-2013 BMW R 1200 RT has the twin-cam "camhead" engine of the R 1200 series. It's an 1170 cc air/oil-cooled boxer twin that makes peak power of 81 kW (110 hp) at 7750 rpm, and peak torque of 120 Nm (88 ft-lb) at 6000 rpm.
BMW increased the rpm cut-off to 8500 rpm (from 8000 rpm), helping with peak power delivery. But otherwise, the RT performs quite similarly to the previous generation, just more smoothly and efficiently.
The BMW R 1200 RT may look familiar to you, especially in black and white livery, because it's quite an iconic police bike in many parts of the world. Many owners buy them used with over 50000 miles / 80000 km on them, and report that they work like new. (Of course, many parts of motorcycles start to age at this point, so watch out for bearings and the drivetrain showing hints of age.)
Like other RTs, the camhead RT comes with luxury options to make life easier, including ESA II Electronic Suspension Adjustment, which lets you adjust damping, spring base, and even spring rate using the button controls. And of course the RT has an electronically controlled windshield, and it gives that almost trademark cocoon of silence that very few bikes can provide.
Running gear on the RT is Telelever and Paralever suspension on the front and rear ends, optimising to almost eliminate brake dive. And the BMW R 1200 RT comes standard with ABS.
In terms of maintenance, the main difference between the BMW R 1200 RT and others in the line-up (say the DOHC BMW R 1200 R for example) is the presence of fairings. But this isn't as big a problem as on other motorcycles, as you can do quite a lot without removing the fairings — even checking the valve clearances!
The air/oil-cooled boxer engine is a very reliable one, and people have regularly flogged them for hundreds of thousands of kilometers. Many years later, it's the same motor being used in the BMW R nineT, still sold new.
BMW eventually updated the R 1200 RT to add liquid cooling from 2014 onward.
Manual for the BMW R 1200 RT
The above maintenance schedule was assembled from the BMW official repair manual plus the users manuals.
You can also download the manual for the BMW R 1200 RT directly from BMW here.