BMW R 1200 GS DOHC "Camhead" (2010-2013) Maintenance Schedule and Service Intervals
This is the maintenance schedule and service intervals for the second generation of BMW R 1200 GS, released in 2010 and made up to the 2013 model year with the dual overhead cam (DOHC) engine, earning it the nickname "Camhead".
It's also known as the DOHC or Twin-Cam BMW R 1200 GS.
This also includes the maintenance schedule for the BMW R 1200 GS Adventure with the same "Camhead" engine (released in approximately the same years, with an offset as the Adventures are usually released later), but with the adventure spec options (including spoked wheels).
The BMW R 1200 GS is a now-iconic motorcycle, continuing the GS legacy of adventure motorcycles. The Camhead (a name given by fans, not BMW) generation is built around a DOHC air/oil-cooled 1170cc boxer twin that makes around 110hp, putting its power down through a six-speed transmission and a shaft drive. It's a significant update to the original "Hexhead" single cam engines of 2004-2009, smoother and more reliable all-around (anecdotally).
Here are all the big BMW GS models for which we have maintenance schedules
Maintenance for this generation DOHC/Camhead BMW is quite similar to that for other Camheads of the same era, e.g. the BMW R 1200 RT, and the latest BMW R nineT which kept the same old-school engine.
From 2014, BMW started producing its first liquid-cooled motors (though they maintain they're only "partially liquid-cooled"), known informally as the "Wethead" or "Wasserboxer", including the liquid-cooled BMW R 1200 GS and GS Adventure.
This site has links for things like oil and spark plugs from which we earn a commission (which unfortunately nobody can save, not even us). If you appreciate this work, then please use those links. Thanks!
BMW R 1200 GS "Camhead" Service Intervals
Generally, the twin-cam BMW R 1200 GS has 6000 mile / 10000 km or annual service intervals.
At every service, change the engine oil and filter, and check and adjust the valve clearance as necessary.
The maintenance schedule (below) also details a number of other visual checks to make, e.g. for the brake and clutch system.
Every two services, i.e. every 12000 miles or 20000 km, change the final drive oil, spark plugs, and air filter. The spark plug replacement interval has halved since the earlier Hexhead, which is good news!
The maintenance schedule also details some other longer-term service items, like changing the alternator belt.
Maintenance schedule for the 2010-2013 DOHC BMW R 1200 GS "Camhead"
Below is the maintenance schedule for the BMW R 1200 GS "Camhead" / "Twin cam" made between 2010 and 2013.
We've simplified the maintenance schedule, splitting it into the "Standard BMW service" and the schedule with longer-term service items.
The "Dealer" items are at the bottom because not everyone has a BMW diagnostic system lying around in their toolkit.
Standard BMW Service
Below is the standard list of things to check on your GS at every service.
BMW R 1200 GS (Twin cam) Standard BMW Service
Visually inspect hydraulic clutch system
Visually inspect brake pipes, brake hoses and connections
Check front and rear brake discs for wear
Check front and rear brake pads for wear
Check brake fluid level, front and rear
Check freedom of movement of Bowden cables and check for kinks and chafing
Check tyre pressures and tread depth
Check ease of movement of side and center stand
Check lights and signaling equipment
Check engine start suppression
Check battery charge state
Final inspection and roadworthiness check
Dealer checks:
Set service due date and countdown distance
Read fault memory with BMW Motorrad diagnostic system
Perform bleed (brake) test with the BMW Motorrad diagnostic system
Read error memory with (BMW Motorrad) diagnostic system
Confirm BMW Service in on-board documentation
BMW R 1200 GS Twin Cam / DOHC BMW service
Maintenance schedule
Below is the maintenance schedule, including a reference to the standard BMW service above.
Notes on the schedule
Many items on the schedule have both a time-based and distance-based interval. Follow the earlier of the two. E.g. if you have the bike for a year and don't put 10,000 km on it, change the oil anyway.

The break-in schedule is not shown below as these are all broken in

.
At the end of the schedule, repeat it in the pattern shown, every 1, 2, or 4 services.
| '000 miles | 6 | 12 | 18 | 24 | |
| --- | --- | --- | --- | --- | --- |
| '000 km | 10 | 20 | 30 | 40 | Every |
| Change engine oil change and filter | X | X | X | X | Year |
| Change rear-wheel drive oil | | X | | X | 2 years |
| Change gearbox oil | | | | X | 2 years |
| Check/ Adjust valve clearances | X | X | X | X | |
| Replace spark plugs (4 x NGK MAR8B-JDS) | | X | | X | |
| Replace air filter element | | X | | X | |
| Replace alternator belt | | | | X | 6 years |
| Change brake fluid (including in ABS system), front and rear | | | | | 2 years |
| (Spoke wheels) Check spoke tension, adjust if necessary | X | X | X | X | |
| Check/correct engine synchronisation | X | X | X | X | |
| Conduct the standard BMW service (above) | X | X | X | X | Year |
BMW R 1200 GS Camhead / Twin cam maintenance schedule
One new addition in this generation GS is the "countdown distance" to next service. Very handy! (The dealer has to set it, though, or you can use a GS-911.)
About the 2010-2013 "Camhead" / "Twin cam" BMW R 1200 GS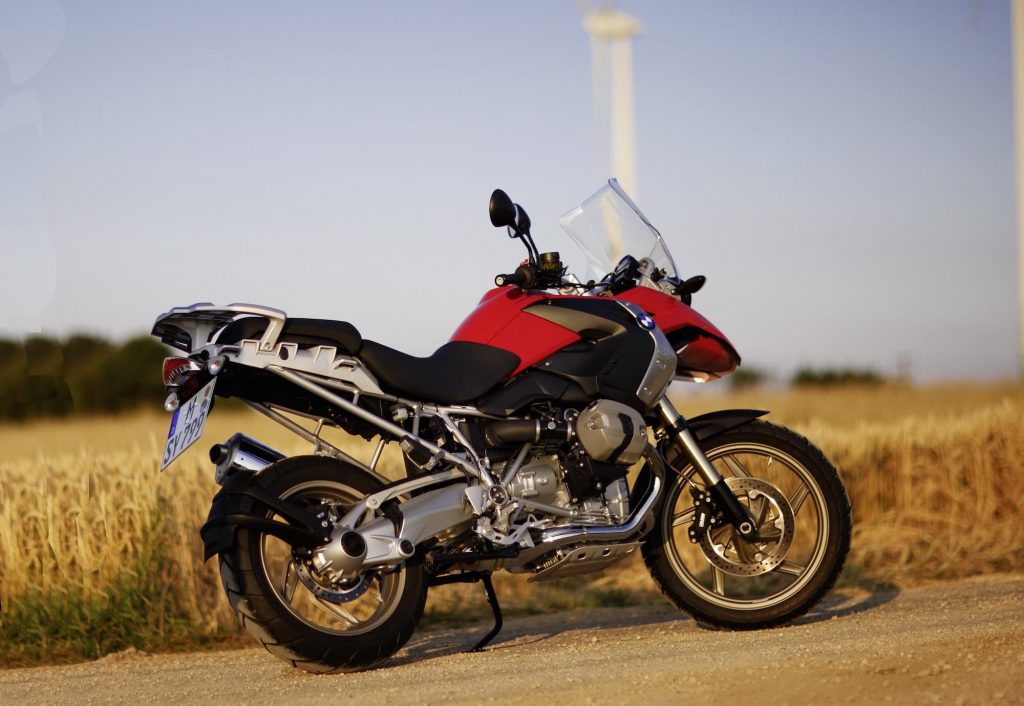 The BMW R 1200 GS is BMW's big bore, long-distance "all-bike" motorcycle. It caused quite a stir when it arrived in 2004 because it was more powerful, more refined, and a LOT lighter (30 kg or 66 lb) than the outgoing BMW R 1150 GS, which already was very well-loved (and still is).
This updated 2010 BMW R 1200 GS has a significantly improved engine over the original 2004-2009 GS. Even though it has the same general layout and capacity (an 1170 cc air/oil-cooled boxer twin), it has a lot of updates on the inside.
The 2010-2013 Camhead BMW R 1200 GS takes the twin-cam design from the BMW HP2 Sport, detuning it slightly from the raucous 128 hp down to a more torque-rich 110 HP (82 kW), with torque peaking around 6000 rpm. The R 1200 GS maintains the dual spark plug design, unlike the HP2 Sport.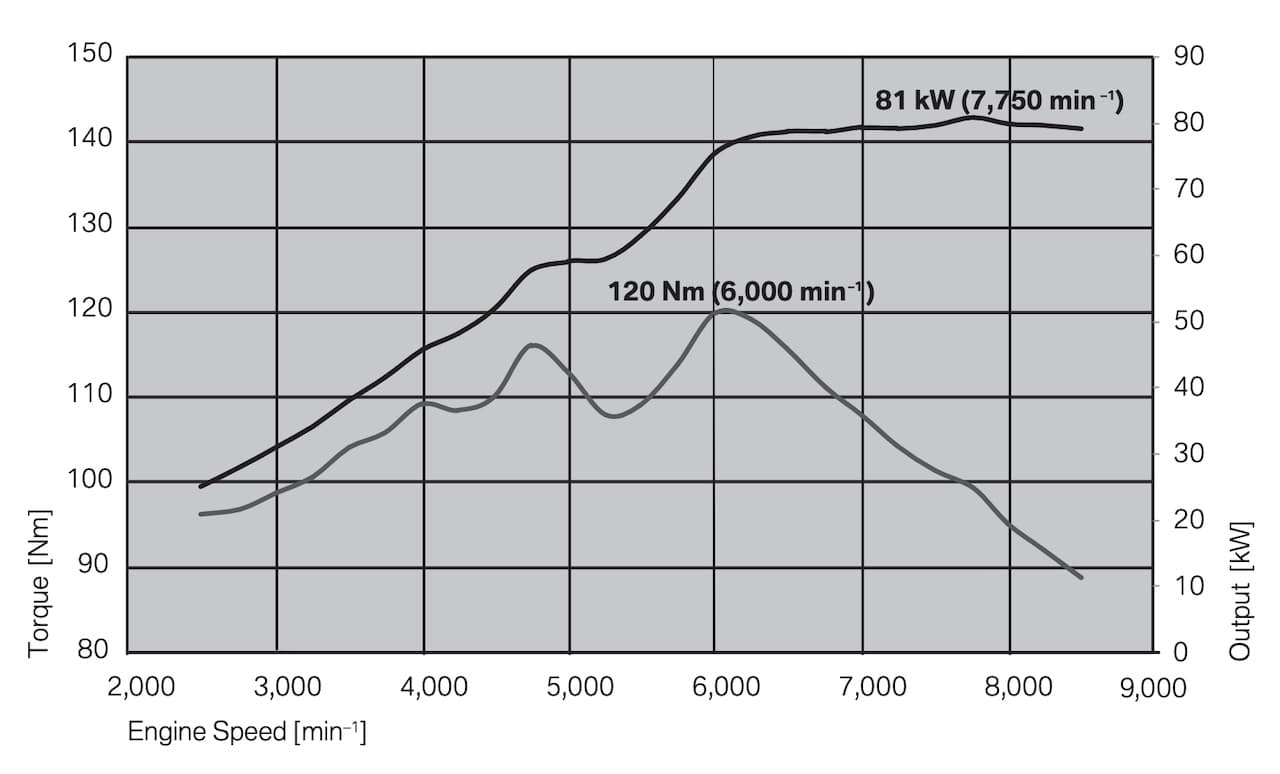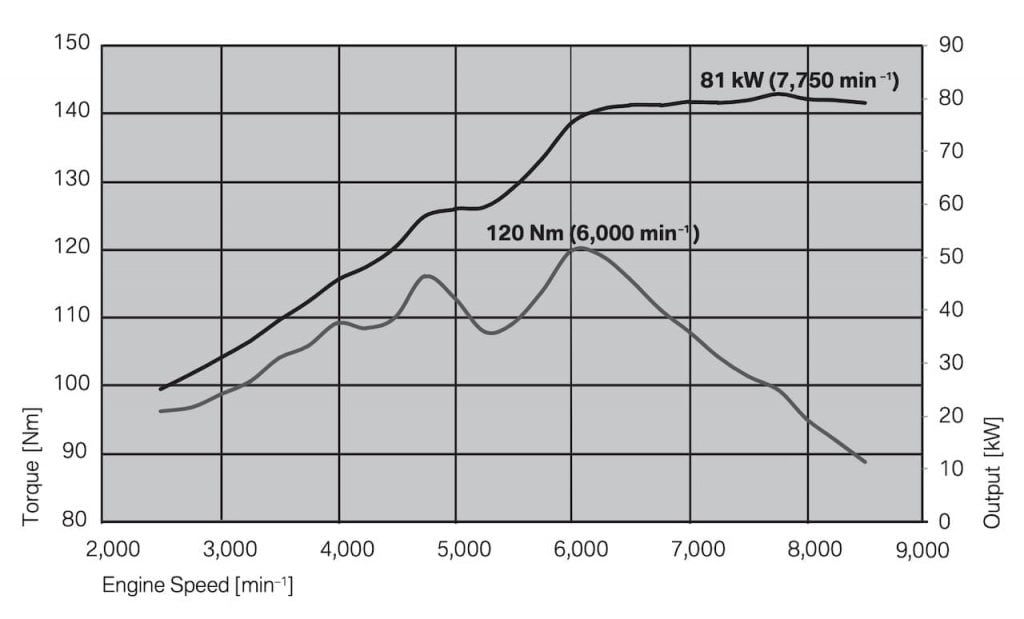 Even though the BMW R 1200 GS is associated (in its Adventure form) with long-range adventure travel, the R 1200 GS became one of BMW's most popular motorcycles, even in Europe which has no tundra to cross. BMW didn't invent the "adventure touring" motorcycle category but they did become synonymous with it, thanks in large part to various generations of the R 1200 GS.
The updates to the engine also gave it a higher rev ceiling of 8500 rpm, up from 8000. This, coupled with the broader spread of torque, gives the DOHC R 1200 GS a much more powerful feeling all around, even if the peak power number is only up 7%.
Another change for the DOHC GS is Electronic Suspension Adjustment or ESA. This lets the rider configure suspension parameters by pushing buttons rather than adjusting knobs with 15 settings for on- and off-road conditions. Awesome and very convenient, though on older models I'd be wary of yet another thing that may inevitably fail…
And a more subtle change for the DOHC R 1200 GS is the electronically controlled exhaust flap, controlled by an electric motor. This lets the exhaust have adequate back pressure down low to keep low-RPM response, while opening up at higher RPM for higher power and what BMW calls a "particularly throaty boxer sound".
The Adventure version of the BMW R 1200 GS (known as the GS Adventure, or the GSA on forums) comes with a bunch of options as standard equipment.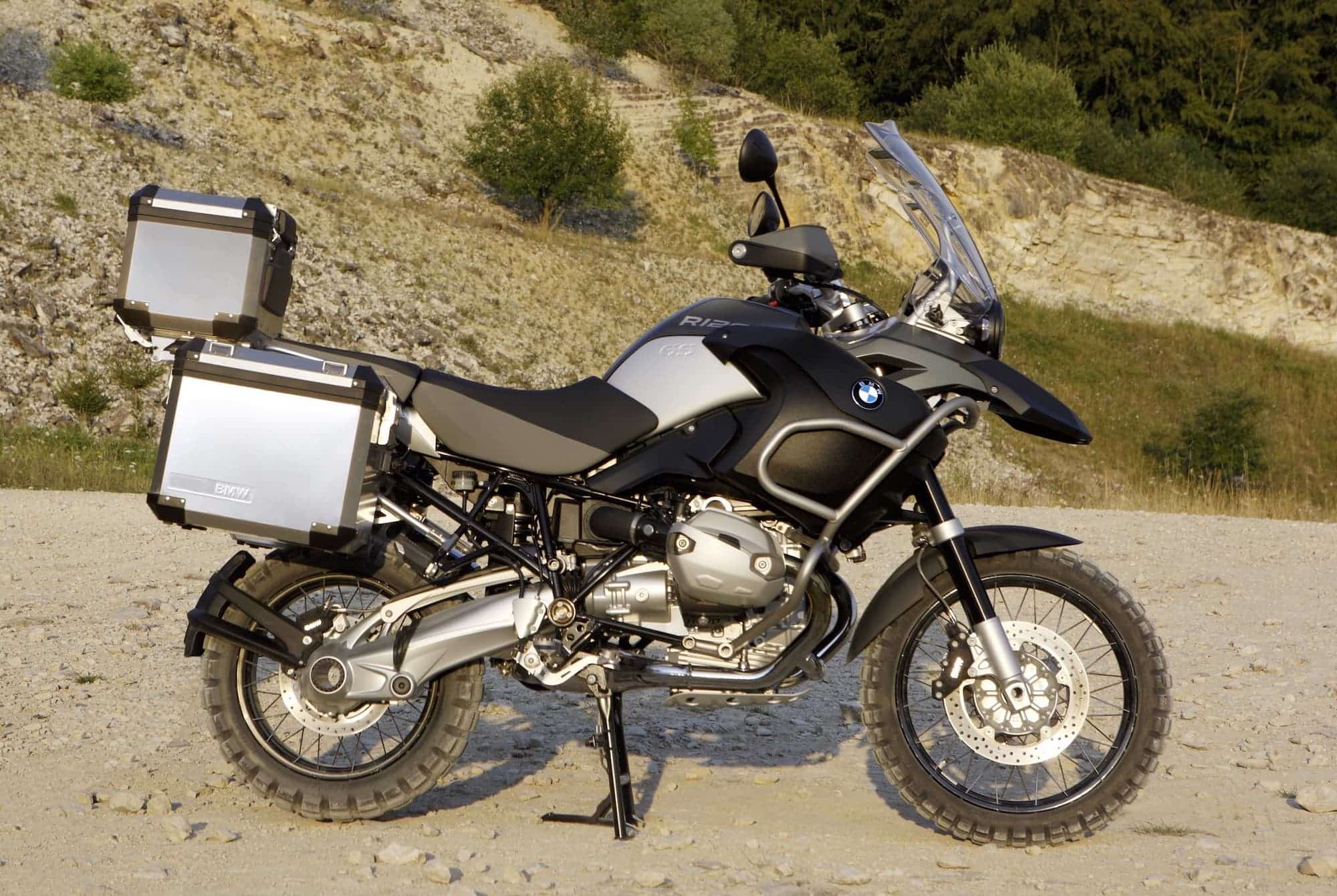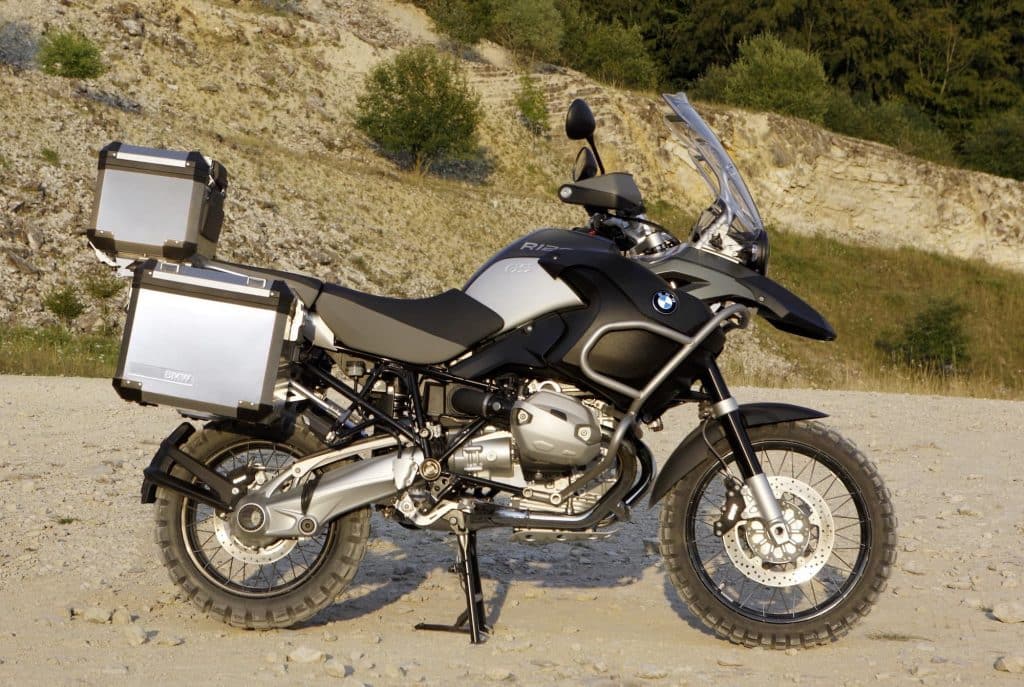 You can usually pick an Adventure from the wire-spoked wheels. But other stuff it has as standard equipment include:
Hand guards
Support for aluminium cases
A short first gear
Additional halogen headlights
Enduro footrests
Adjustable footbrake lever
Cylinder head cover protection
An engine protection hoop (crash bars)
The chassis and styling are unchanged between the Hexhead and Camhead versions, leading many to think they're possibly the same bike.
Manual for the BMW R 1200 GS
The above maintenance schedule was assembled from PDFs of checklists from dealers.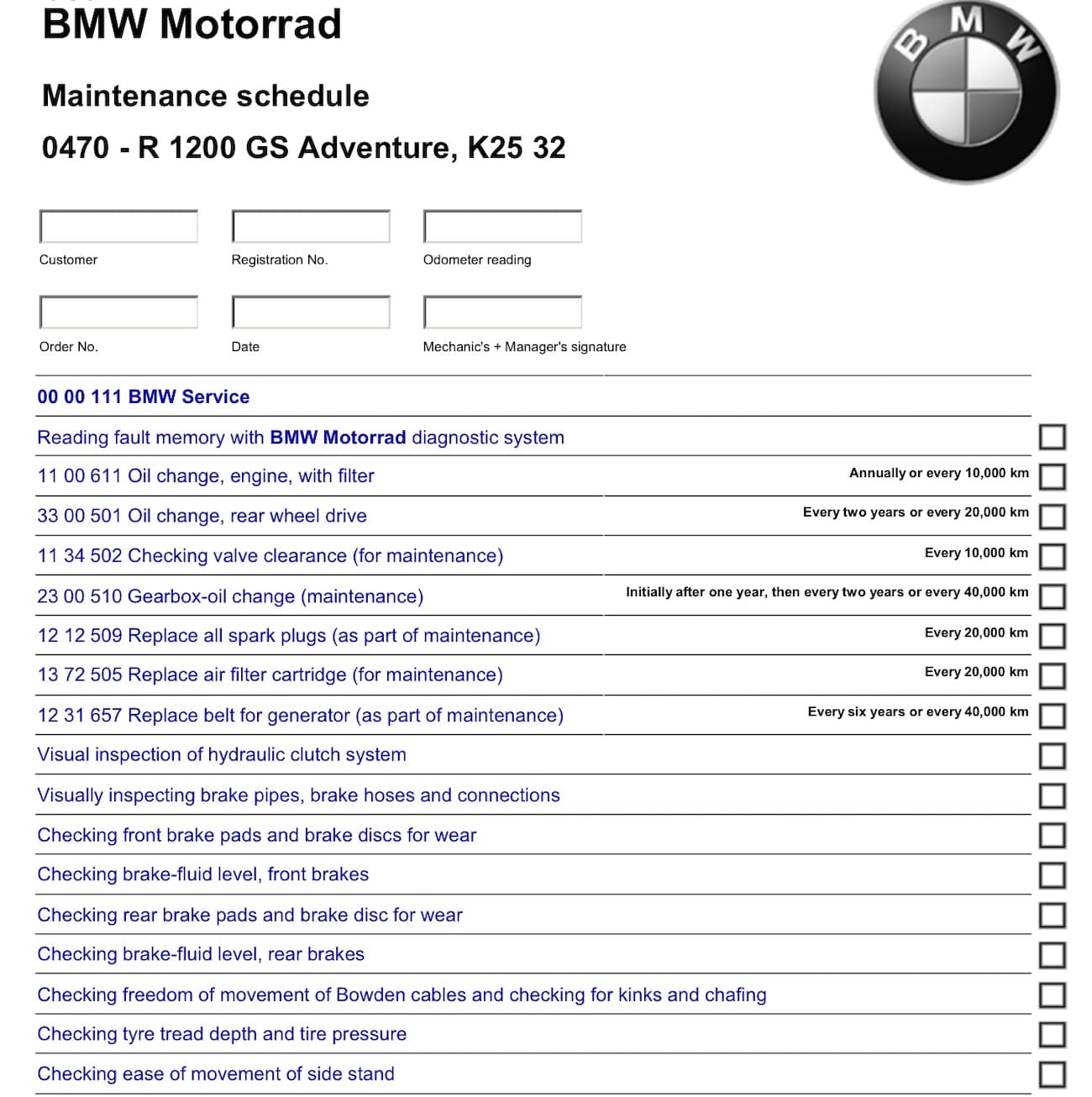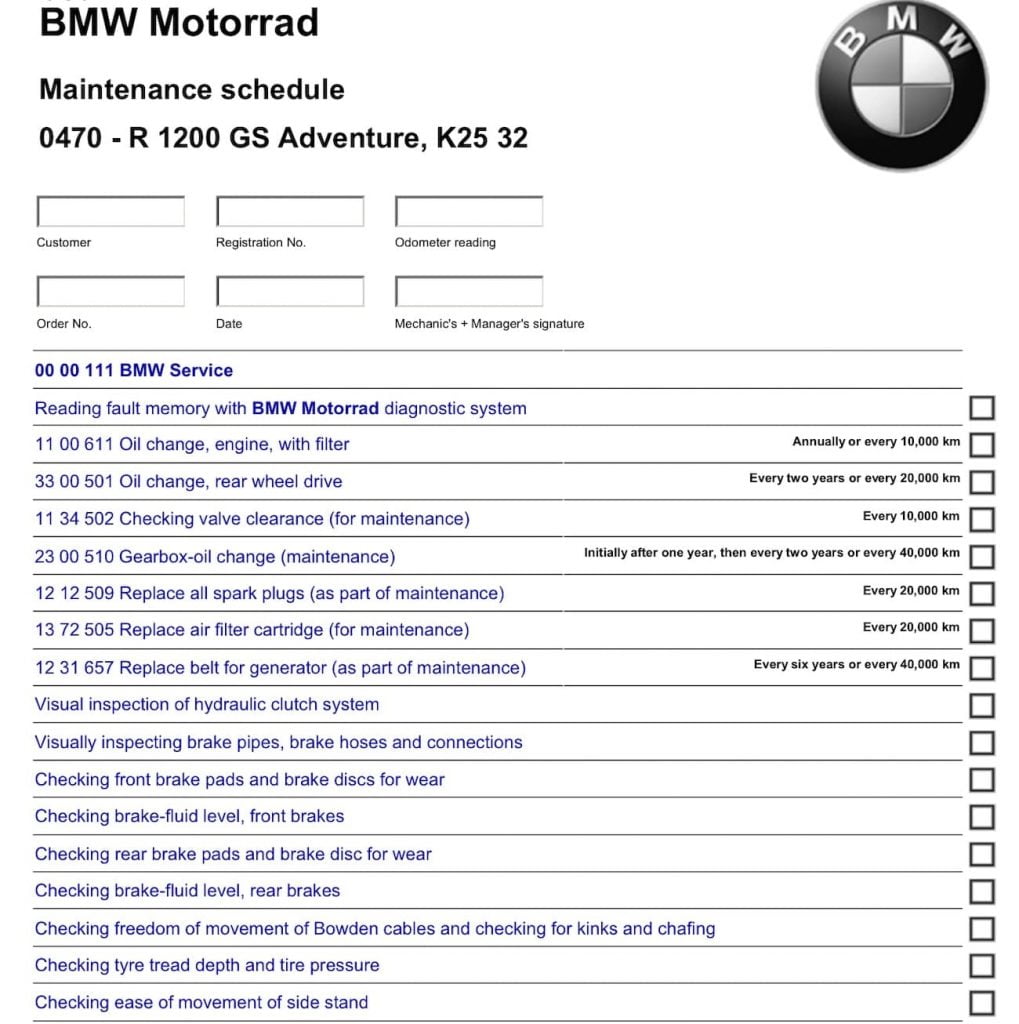 You can download the manual for the BMW R 1200 GS directly from BMW here.