BMW R 1150 GS / Adventure (1999-2004) Maintenance Schedule and Service Intervals
This is the maintenance schedule and overall service intervals for the BMW R 1150 GS, BMW's well-loved adventure tourer before the first generation 2004 BMW R 1200 GS stole the show.
The BMW R 1150 GS and R 1150 GS Adventure (commonly known as the GSA) is arguably what brought the GS to mainstream popularity, in no small part due to "Long Way Around", the film chronicling the experience of two motorcyclists doing long-distance travel on a BMW GS.
Both bikes are powered by the same engine, an 1130 cc air-cooled boxer twin with a single chain-driven camshaft on each side and four valves per cylinder. The engine has a low-stress 10.3:1 compression ratio (though it still needs premium fuel!) and makes peak power of 62 kW / 83 bhp at 6750 rpm, and peak torque of 98 Nm at 5250 rpm.
Here are all the big BMW GS models for which we have maintenance schedules
The BMW GS is a favourite of old-school adventure motorcyclists for being very reliable and uncomplicated to service, despite the fact that it's a little down on power and quite a bit heavier than its successor the 2004 BMW R 1200 GS.
The BMW R 1150 GS shares a basic engine platform with other 1150 motorcycles, like the BMW R 1150 RT.
This site has links from which we earn a commission (which unfortunately nobody can save, not even us). If you appreciate this research work, then please use those links. Thanks.
BMW R 1150 GS Service Intervals
The BMW R 1150 GS has 6000 mile / 10000 km service intervals at which you perform a standard "BMW service", that includes changing the oil, oil filter, air filter, and making some significant checks including checking valve clearances, synchronisation, and other basic checks like for fluid levels.
Every two services, BMW recommends you do a full inspection, which includes all the above plus changing the spark plugs, the fuel filter, the transmission oil, and the rear wheel drive oil.
Aside from this, BMW recommends annual inspection of a number of items, including checking generally for leaks and fluid condition, as well as changing brake fluid every year.
There are other items to do with longer service intervals, like changing the clutch fluid, or the poly-v belt.
See the below maintenance schedule for more details.
BMW R 1150 GS Full Maintenance Schedule
Below is the full BMW R 1150 GS maintenance schedule from the manual.
It's the same as in the manual, but simplified (bringing the notes together with the table), re-ordered slightly to bring more important / frequent things (like valve service) up front, and correcting some typos like "chaffing" or "bake fluid" (come on BMW).
In 2002, BMW updated the R 1150 line (both base model and Adventure), adding servo-driven ABS for the (optional) ABS system, and a secondary spark plug.
Notes:
For all items marked "check": clean, repair, or replace as necessary
Follow the earlier of distance-based or time-based intervals. For example, change the oil and filter every year or 6000 miles / 10000 km
The break-in schedule is not shown, as I assume your R 1150 GS is broken in by now
Some items are longer term — like changing the transmission oil oil or alternator belt. See the "Every" column for those.
mi x 1000
6
12
18
24
km x 1000
10
20
30
40
Every
Read the fault code memory with the BMW diagnosis system
✓
✓
✓
✓
Year
(BMW Integral ABS) Perform bleed test with BMW diagnosis system
✓
✓
✓
✓
Year
Change the engine oil and oil filter while at regular operating temperature
– High-quality 10W-40 engine oil, e.g. Motul 7100 10W-40
– HF163 oil filter
✓
✓
✓
✓
Year
Change the oil in the transmission while at regular operating temperature
– Hypoid gear oil API GL 5
✓
✓
2 years
Change the oil in the rear wheel drive while at regular operating temperature
– EPX 90 or SAE 90 API gear oil
✓
3 years
Renew the fuel filter
✓*
✓
* If fuel is poor quality
Replace the intake air filter element
✓*
✓
✓*
✓
* (or more often)
If riding in dusty / dirty conditions
Check condition of spark plugs
✓
✓
✓
✓
Replace spark plugs (NGK BKR 7 EKC. 2002+: NGK DCPR 8 EKC for the secondary plug.)
✓
Check valve clearance and adjust as necessary
✓
✓
✓
✓
Check brake fluid level at front and rear
✓
✓
✓
✓
Check operation of brake system and freedom from leaks; repair/replace items if necessary
✓
✓
Examine brake pads and disks for wear, replace if necessary
✓
✓
✓
✓
Change brake fluid in entire circuit (including ABS)
– BMW DOT 4
Year
Check clutch fluid level
✓
✓
✓
✓
Year
Change clutch fluid
– BMW DOT 4
2 years
Check rear wheel bearing play
✓
✓
Check swinging arm bearings for lack of play, adjusting if necessary
✓
✓
Check operation of side stand switch
✓
✓
✓
✓
Year
Grease the side stand pivot
– Shell Retinax EP2 or lithium soap-based grease
✓
✓
✓
✓
Replace alternator belt (called poly-v-belt in manual)
36000 mi (60000 km)
Check that the throttle cable moves freely and is free of kinks and chafing, replace if necessary
✓
✓
✓
✓
Check Bowden cable play
✓
✓
✓
✓
Check synchronisation, adjust as necessary
✓
✓
✓
✓
Final inspection with road safety and functional check:
– Condition of tires and wheels
– Tyre pressure
– Lights and signals
– Signalling and warning lights
– Instruments
– Clutch, gear shift
– Handbrake, foot brake, steering
– Optional extras, as fitted
– Trial run
✓
✓
✓
✓
Year
BMW R 1150 GS maintenance schedule
Tires for the BMW R 1150 GS
The BMW R 1150 GS and Adventure both have cross-spoke wheels and low aspect-ratio tires. They run tubeless tires (yes, spoked rims and tubeless tires).
Out of the box the R 1150 GS came with Conti tires.
| Wheel | Wheel size | Tire size | Tire type | Tire pressure (cold) |
| --- | --- | --- | --- | --- |
| Front | 2.50 x 19 MT H2 | 110/80 R19 59H | Conti TKC 80 knobby | 32-36 psi / 2.2-2.5 bar / 220-2.50 bar kPa |
| Rear | 4.00 x 17 MT H2 | 150/70 R17 69H | Conti ZKC 80 knobby | 36-42 psi / 2.5-2.9 bar / 250-290 kPa |
Tire tipes, sizes, pressures — BMW R 1150 GS
The range of pressures depends on whether you're riding solo or with passengers/baggage.
About the BMW R 1150 GS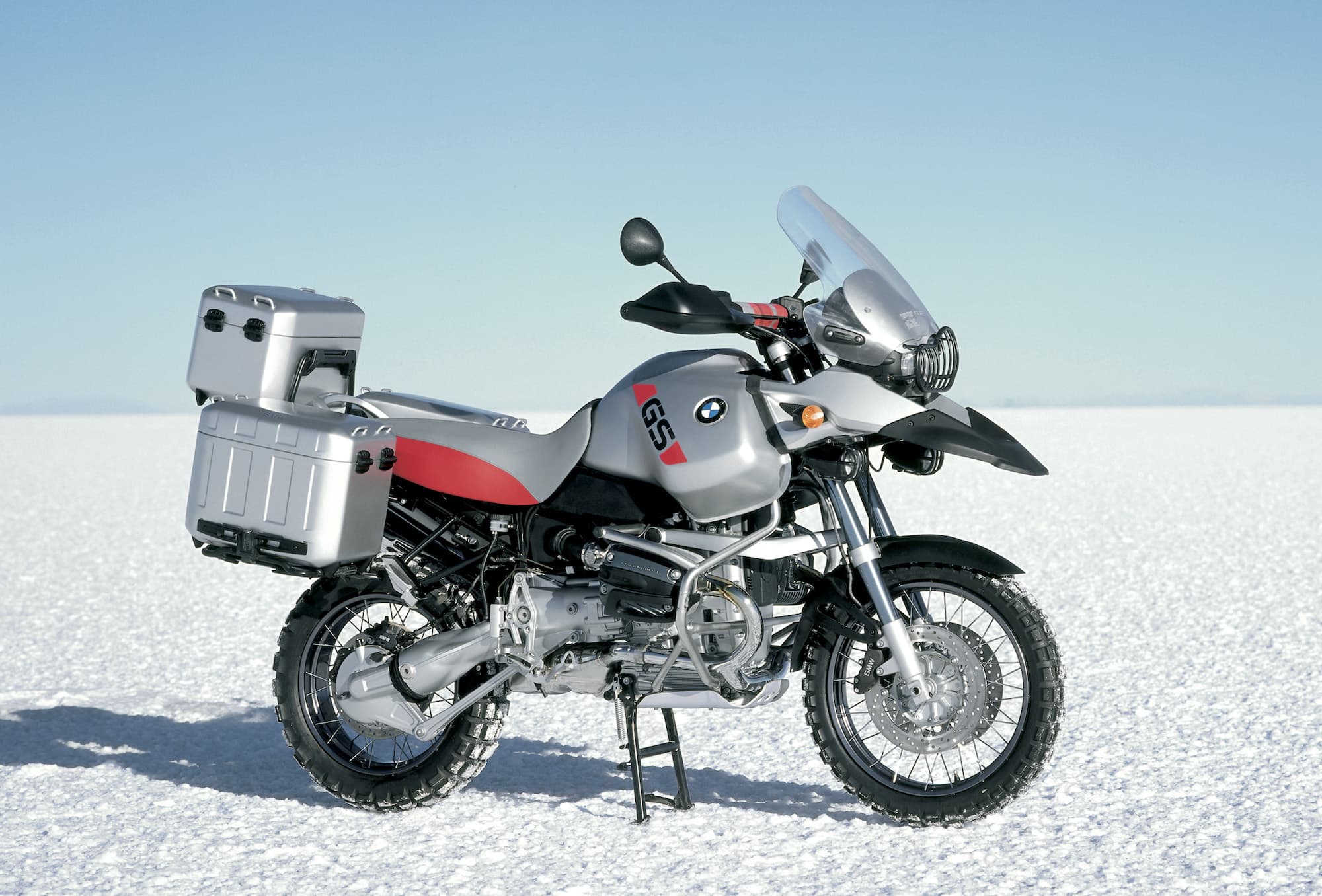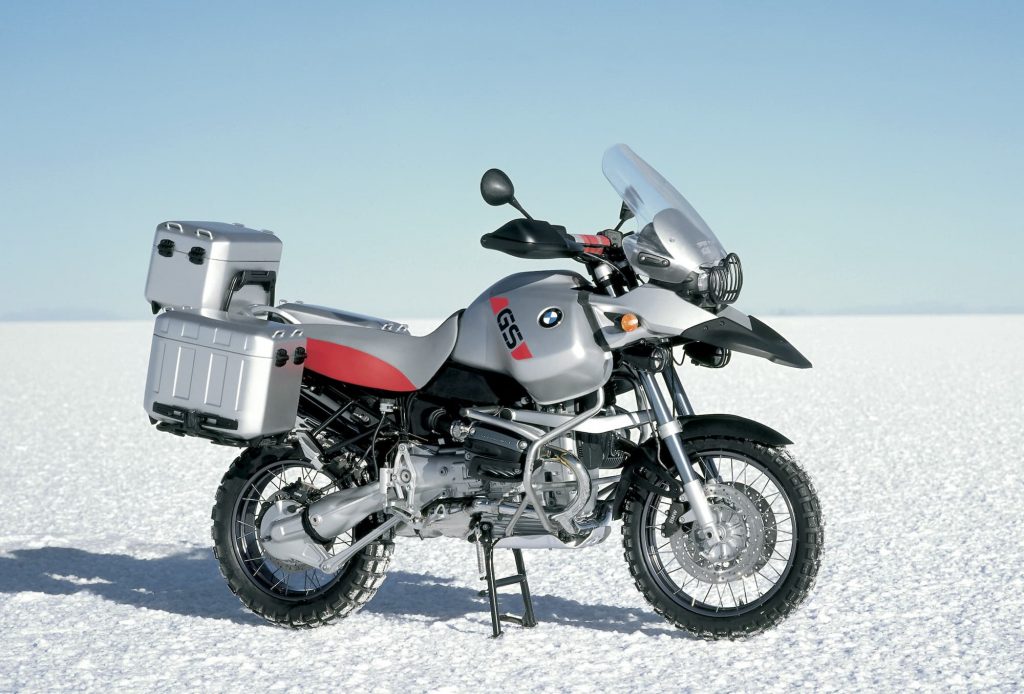 The BMW R 1150 GS is an iconic adventure bike — bulletproof, built like a tank, and with an engine known to last many hundreds of thousands of miles or kilometres.
But they're hard to find. For that, you can blame Ewan McGregor and Charley Boorman, who after Long Way Round made the R 1150 GS adventure lifestyle something that many an ordinary motorcyclist (like me) aspire to.
The GS models have sold like hotcakes since then. Luckily, they live up to the hype.
The 1150 GS is classically styled with its uneven front headlight, heavy metal architecture, and big dirt-bike fairing design. It looks like what it's intended to: ride all the way from your home and to the apocalypse, and perhaps beyond.
Being based on an air-cooled engine and having a shaft drive, the R 1150 GS is wonderfully low-maintenance. You just keep the oil fresh and check the valve clearances every 6000 miles / 10000 km, and the bike should keep going forever. As the bike ages, the valves need adjusting less and less often.
One of the great things about the R 1150 GS design is that it has valves that are adjustable by hand. You need a 10 mm spanner and a 3 mm Allen key. With those, you can adjust the valve clearances on the go. So if you're really going around the world on your GS, then you can reasonably do this job while changing the oil somewhere during an overnight layover. Pros say that it takes them around 10 minutes to do the job! (Not including clean-up, changing the oil, laying out tools, etc.)
Aside from that, there is some long-term maintenance of the BMW R 1150 GS that you do need to do. You have to change the alternator belt (which BMW calls the poly-v-belt in the manual, confusingly).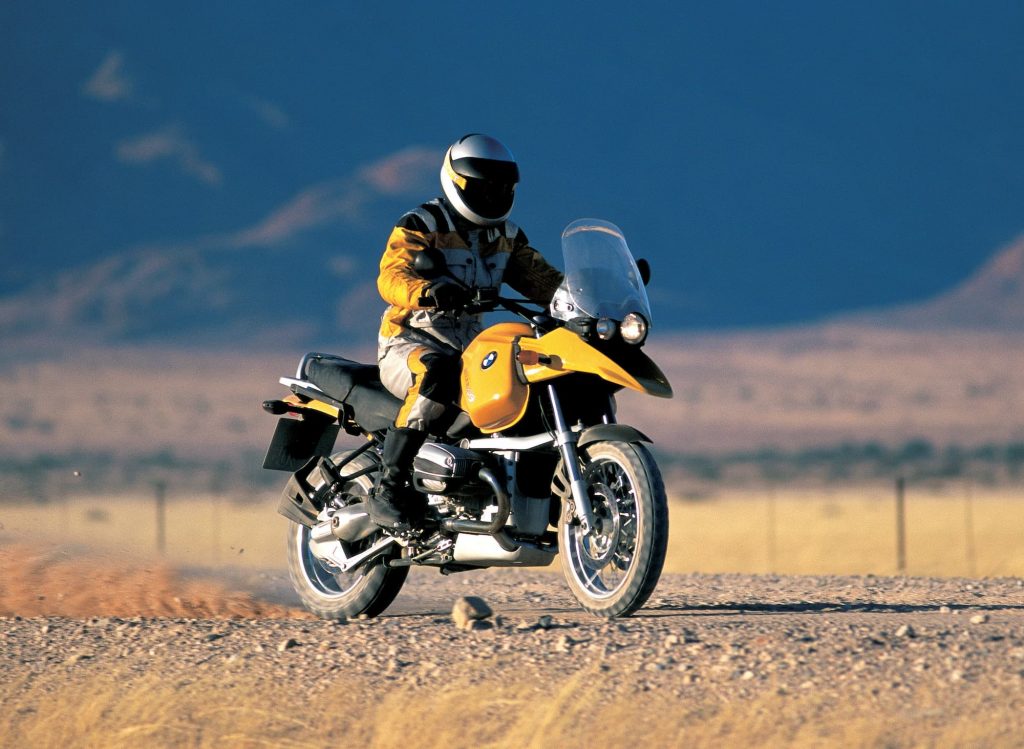 Used BMW R 1150 GS motorcycles are typically well-maintained by their owners. The only exception might be that one that has sat for a number of years (e.g. by an owner getting older and no longer able to ride much). In this case, you should change the major fluids at least, and be on your way.
The BMW R 1150 GS has Telelever front suspension and Paralever monoshock. The front suspension is adjustable for preload, and the rear suspension is adjustable for preload and rebound damping. The Adventure model (available from 2000) has 20mm more travel on either end of the bike, plus a ~50% bigger tank, and a lot more adventure-ready equipment standard.
The combined suspension system is very comfortable, and is very anti-dive — a key feature of the way Telelever suspension works, as geometry adjusts as the spring compresses.
Brakes are capable on the GS too, despite the weight — there are twin 304 mm discs and four-piston calipers up front. The big GS also has optional ABS, though some owners may have removed it if it failed at some point.
The BMW R 1150 GS and Adventure were replaced by the BMW R 1200 GS from 2004.
Reference — Manual Screenshots from the R 1150 GS manual
The above came from a combination of the BMW owner's manual, the "maintenance instructions", and online parts guides.
See some screenshots below.
You can get manuals for BMW motorcycles from their official riders manual page here.