BMW R 1300 GS (2024+) Maintenance Schedule and Service Information
This is the maintenance schedule and information relevant for regular service of the BMW R 1300 GS, whose manual became available late October, 2023.
BMW announced the BMW R 1300 GS in September 2023 for the 2024 model year as a replacement for the already very well-received BMW R 1250 GS.
The BMW R 1300 GS is based on a 1300 cc liquid-cooled boxer twin with dual overhead camshafts and "ShiftCam" variable valve timing. It makes peak power of 107 kW / 145 PS (143 bhp) at 7750 rpm, a 7% increase over the R 1250 GS's peak power, at the same revs.
The R 1300 GS also brings with it a host of new tech, plus less overall weight.
The final drive is, as before, through a Paralever shaft.
This site has links from which we earn a commission (which unfortunately nobody can save, not even us). If you appreciate this research work, then please use those links. Thanks.
BMW R 1300 GS service intervals
Overall, like its liquid-cooled predecessors, the BMW R 1300 GS has service intervals of every 6 000 miles / 10 000 km or every year, at which point BMW recommends you change the oil and oil filter, plus do a number of other checks for leaks, tightness, and adequate lubrication (the standard service).
Every 12 000 miles / 20 000 km services, do a major service, including a valve clearance inspection, changing the oil in the rear bevel gears, the air filter and the spark plugs.
There are some items that are time-based rather than distance-based, like replacing rear bevel oil and brake fluid. See more detail in the maintenance schedule below.
For the BMW R 1300 GS, BMW explicity recommends replacing the shaft every 36 000 miles / 60 000 km. This is quite a big job, but important preventative maintenance.
Maintenance schedule for the BMW R 1300 GS
Below is the maintenance schedule for the BMW R 1300 GS.
We have combined and simplified the service information in the BMW R 1300 GS' manual. There are some additional maintenance requirements for the R 1300 GS that are worth noting.
Notes on the schedule
The running-in check is omitted (Dealers usually do this as part of the warranty period)
Follow the earlier of the distance-based or time-based intervals. E.g. change the oil and do the annual service every year or 6000 miles / 10000 km, whichever comes first.
Past the end of the maintenance schedule, keep following it in the pattern shown.
| miles x 1000 | 6 | 12 | 18 | 24 | 30 | 36 | |
| --- | --- | --- | --- | --- | --- | --- | --- |
| km x 1000 | 10 | 20 | 30 | 40 | 50 | 60 | Every |
| Conduct standard BMW annual service (see below) | ✓ | ✓ | ✓ | ✓ | ✓ | ✓ | Year |
| Change engine oil and filter (BMW Motorrad Advantec Ultimate 5W-40, HF160RC) | ✓ | ✓ | ✓ | ✓ | ✓ | ✓ | Year |
| Change oil in rear bevel gears (SAE 70W-80 differential oil) | | ✓ | | ✓ | | ✓ | 2 years |
| Check valve clearances | | ✓ | | ✓ | | ✓ | |
| Change all spark plugs (LMAR8AI-10) | | ✓ | | ✓ | | ✓ | |
| Replace air filter insert | | ✓ | | ✓ | | ✓ | |
| Visually inspect and lubricate the universal shaft | | ✓ | | ✓ | | ✓ | |
| Replace the universal shaft | | | | | | ✓ | |
| Change brake fluid, entire system (BMW DOT 4) | | | | | | | After 1 year, then every 2 years |
BMW R 1300 GS maintenance schedule table
Standard BMW service for the R 1300 GS
The "standard service" to be done according to the schedule above is below.
Items marked [D] are for dealers / mechanic shops and need special tools or equipment.
Standard BMW annual service (1300 motor)
[D] Perform visual test with BMW Motorrad diagnosis system
Inspect clutch system visually, checking for friction point
Visually inspect brake lines, brake hoses, and connections
Check front brake pads and brake discs for wear
Minimum thickness: 1.0mm
Check brake fluid level, front wheel brake
Brake fluid must be above MIN mark. Note: level can drop with pad wear.
Check rear brake pads and brake disc for wear
Minimum thickness: 1.0mm
Check brake fluid level, rear wheel brake
Brake fluid must be above MIN mark. Note: level can drop with pad wear.
Check coolant level
Check the expandable plate on the handlebar bridge (part of the R 1300 GS' Telelever Evo system)
Check the side stand for ease of movement
Check centre stand's ease of movement
Check tyre pressure and tread depth
Check spoke tension (if spoked wheels fitted), adjusting if necessary
Check lighting and signalling system
Check engine start suppression for correct function
Final inspection and check for road safety
Checking battery state of charge
[D] Perform a second vehicle test with the BMW Motorrad diagnostic system
[D] Setting service-due date and countdown distance with BMW Motorrad diagnosis system
[D] Confirming BMW service in on-board literature
BMW R 1300 GS standard annual service
BMW R 1300 GS tire pressure recommendations
The R 1300 GS uses a 19/17-inch front/rear-wheel combo, as with previous generations of the R GS for the last few decades.
Use the following recommended tire pressures for the BMW R 1300 GS to optimise for performance and tire longevity.
| Wheel | Wheel size | Tire size | Tire pressure (cold) |
| --- | --- | --- | --- |
| Front | 3.00 x 19 inch | 120/70 R 19 | 36.3 psi / 2.5 bar |
| Rear | 4.50 x 17 inch | 170/60 R 17 | 42.1 psi / 2.9 bar |
BMW R 1300 GS wheel and tire size, and tire pressure
Maintenance Torque Values
Below are maintenance torque values for the BMW R 1300 GS that you might find useful.
Item
Nm
lb-ft
Handlebar clamping block
Including handlebar risers
19
14
Silencer on bracket
19
14
Rear wheel lug bolts (x5)
60
44
Front wheel quick release axle
50
37
Quick release axle clamping bolts
12
9
Foot brake lever
56
41
Front brake calipers mount to forks
38
28
Front wheel speed sensor
8
6
Gearshift lever
8
6
Mirror arm / lock nut
22
16
Torque values
About the BMW R 1300 Adventure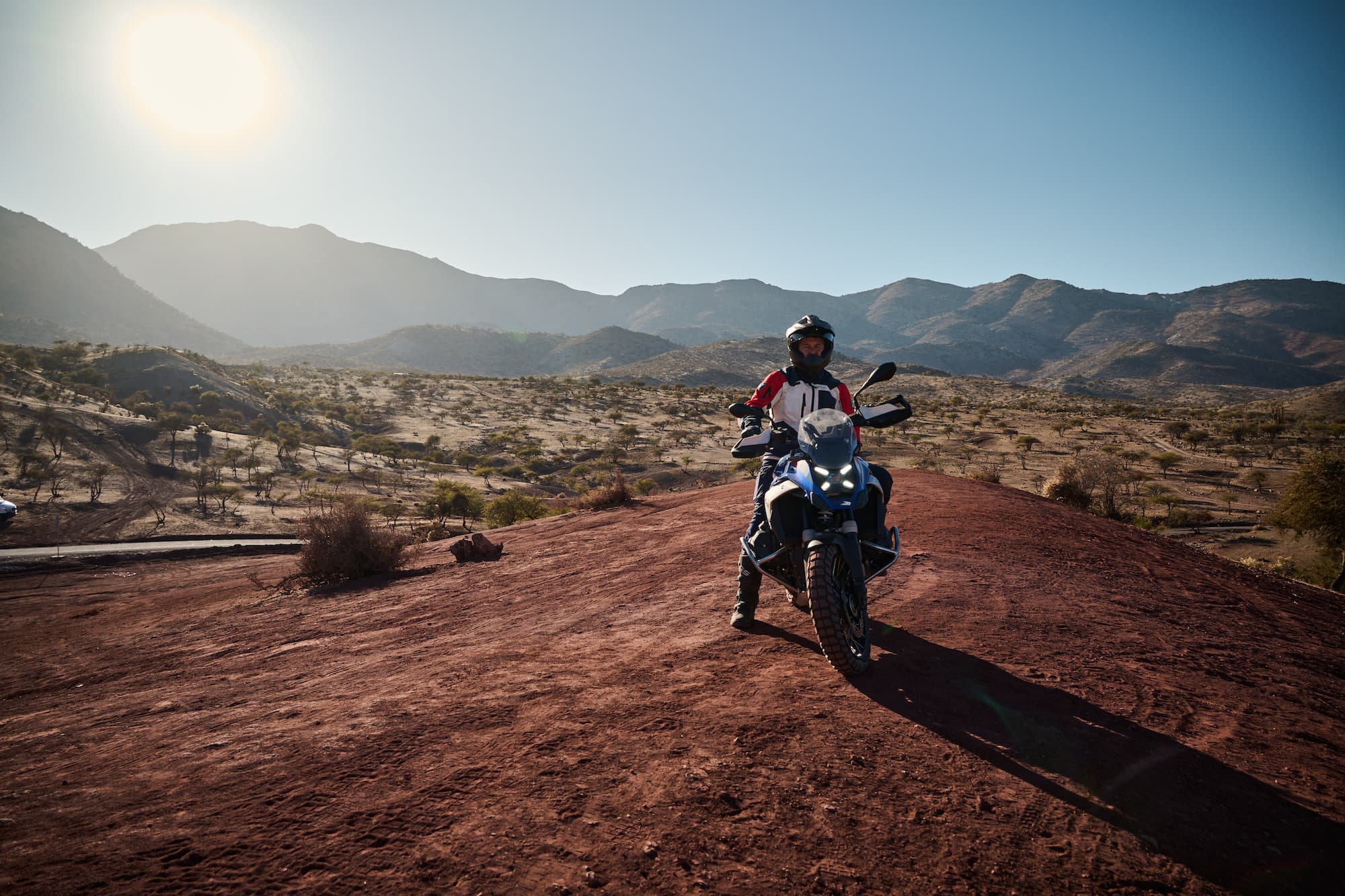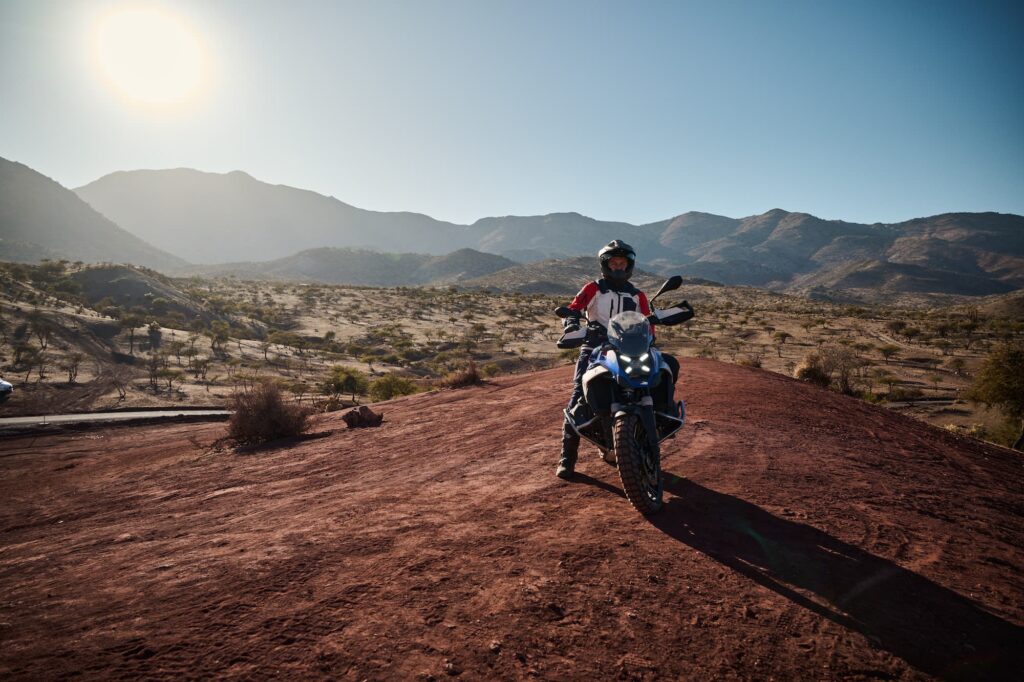 BMW has been making the iconic GS adventure bike since 1981. Suffice it to say that in over four decades, the GS (originally a G/S) has gone through some huge changes.
BMW's last major version of the GS was released in 2019, with the BMW R 1250 GS. That was the first generation to use variable valve timing — "ShiftCam" in BMW-speak — to optimise the bike for both low-rpm torque and high-rpm power. Top-end pull has been becoming more important, with the Ducati Multistrada V4, KTM 1290 Super Adventure R, even the newcomer Harley-Davidson Pan America all stealing the show with 150+ hp at their peak.
But the latest GS still doesn't match them when it comes to all-out power, with the 1300 cc ShiftCam motor making 107 kW / 145 hp at its peak. It's nothing to sneeze at, of course, and for the vast majority of people, more power than they'll ever need or be able to use.
What's interesting is what else BMW has changed on the latest GS.
Firstly, BMW managed to reduce 12 kg / 26 lb of weight on the base model GS (non-Adventure). They did this through revisions to the chassis, engine, and even fuel… there's 1 litre less capacity, sneakily. Nonetheless, weight is often a drawback of large adventure bikes, and less of it is always… more good.
Secondly, BMW granted the new BMW R 1300 GS optional active cruise control.
Very few motorcycles as of the BMW 1300 GS's release date (2024) have active cruise control. Active cruise means radar-guided safety assist systems that adjust speed based on vehicles in front of the motorcycle. It's a luxury ride aid, and the R 1300 GS is increasingly seen as a luxury motorcycle, so it's nice to have it there.
Thirdly, BMW modified the suspension. The rear is still EVO Paralever, but BMW innovated further with the front end, creating EVO Telelever.
The goal of EVO Telelever is to allow the motorcycle's suspension to go up and down without the handlebars rotating. This enhances the rider's sense of stability, while keeping all the control they have. It's an ingenious system, and something that can only be done on Telelever motorcycles.
Finally, and maybe I should have led with this, BWM changed the front end of the BMW R 1300 GS. Gone are the asymmetrical lights; enter the X front daytime riding light.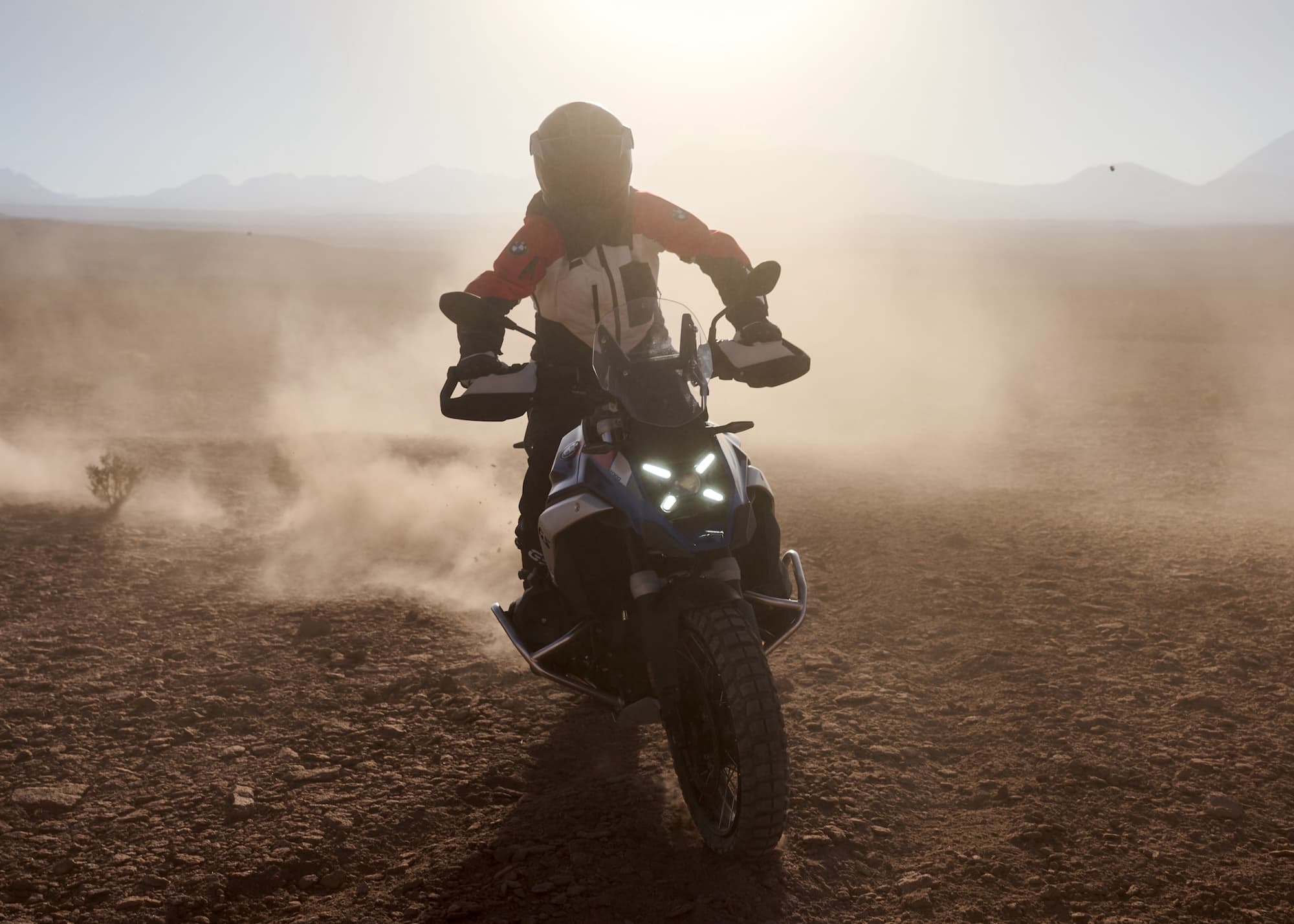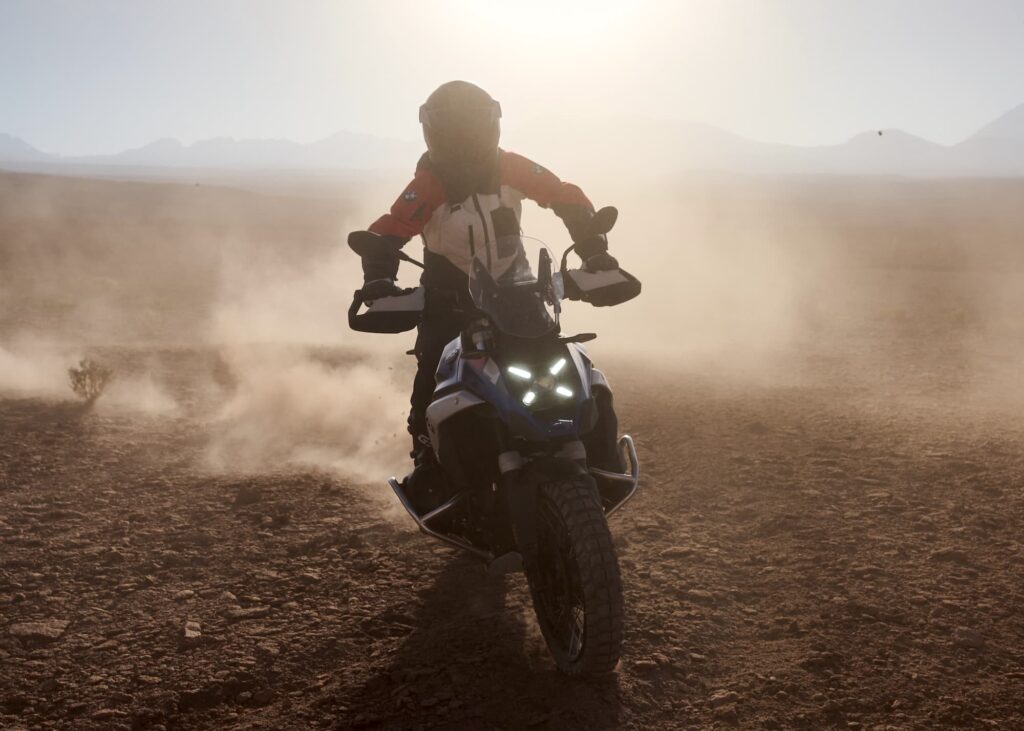 To others, of course, this is a minor detail, and all the other great stuff make the BMW R 1300 GS as droolworthy as ever.
Alternatives to the BWM R 1300 GS — Big Bore Adventure Motorcycles
The BMW R 1300 GS lives in tough company. Here are the other (latest) big-bore adventure motorcycles with which it competes.
Reference — Manual for the BMW R 1300 GS
The above maintenance schedule comes directly from the 2024 manual for the BMW R 1300 GS, with parts references coming from parts fiches.
You can download BMW's manuals for their motorcycles here. This is a link to the US manual for 2024.