Ducati Multistrada V4 and V4S (2021+) Maintenance Schedule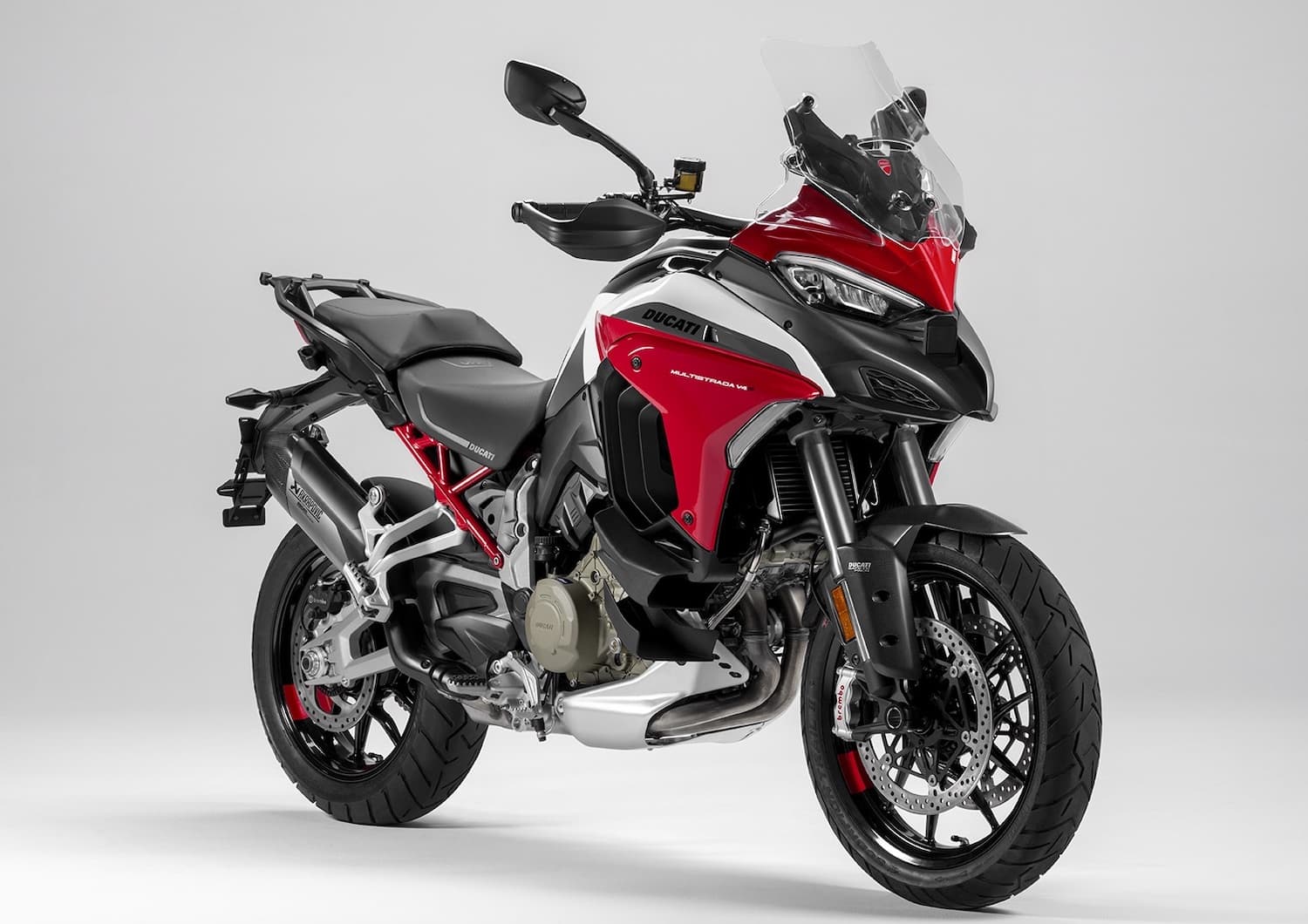 This is the Ducati Multistrada V4 and V4S maintenance schedule and service intervals — sourced from the owner's manual, with input from other public databases.
The V4 and V4S share a similar maintenance schedule. The V4S benefits from higher-spec suspension and lighter wheels, but that doesn't affect the maintenance.
The Multistrada V4 was a massive upgrade from the previous Ducati Multistrada 1260. It uses a new V4 Granturismo engine that sets itself apart even from its V4 brethren with changes including:
The V4 Granturismo has a timing chain, not timing belts (similar to some Panigale engines but unlike the last Multistrada)
The V4 Granturismo no longer has desmodromic valves (unlike most Ducati engines)
The V4 Granturismo has two more cylinders than the V2 engines (thought I'd leave this for last!)
In terms of maintenance, the most significant change for the V4 Granturismo engine is the 60000 km (48000 mi) valve service intervals — so wide, that many owners may never experience them more than once (if that).
Aside from those significant updates, the Multistrada V4 and V4S continue their legacy of being a high-end and very capable sport and adventure-touring machine, able to take you distances very quickly, very comfortably, and in unique Ducati style.
This site has links for things like oil and spark plugs from which we earn a commission (which unfortunately nobody can save, not even us). If you appreciate this work, then please use those links. Thanks!
What you need to service your Ducati Multistrada V4 and V4 S
If you're thinking of doing your own service on your Multistrada V4 or V4 S, you need the following factory-recommended consumables (or alternatives).
Part
Ducati Panigale V4 spec
Engine oil
Ducati recommends "Shell Advance 4T Ultra 15W-50" synthetic oil, or another oil that is SAE 15W-50, meets API standard SN, and/or JASO standard MA2. Some alternatives are
* Mobil 1 15W-50 Full Synthetic
* Motul 300V 15W-50 — a commonly mentioned favourite for the V4
Oil filter
The V4 engine uses the same oil filter as many other high-end Ducatis, and you can use a HifloFiltro HF159 as an easy-to-obtain replacement.
Spark plugs
Standard spark plugs are NGK T00132U (easiest to get from a dealer).
Air filter
Ducati part number for the air filter is 42610712A. A popular replacement is the DNA filter with part number P-DU11S19-01.
Brake fluid/ Clutch fluid
Ducati specifies using DOT 4, so use something high quality like Castrol DOT 4 full synthetic.
Front brake
Part # for the front brake pad set is 61340121A. You can also use EBC HH brake pads FA630HH.
Rear brake
Part # for the rear brake pad set is 61321161A. You can also use EBC HH brake pads FA209/2HH.
Chain management
Ducati doesn't specify a chain lube, so use something well-liked like Motul chain paste, or maybe clean it with a Motul chain care kit.
Coolant
The manual recommends ENI Agip Permanent Spezial antifreeze, or an equivalent. If you track the bike, many prefer Redline Water Wetter and distilled water.
Battery
Dead battery? If it hasn't happened, it will happen. The replacement you need is a Yuasa YT7B-BS (12V – 6.5Ah 10HR) (common to many Ducati motorcycles)
Ducati Multistrada V4 / V4 S maintenance parts
Regular maintenance for the Ducati Multistrada V4 and V4S
This is the regular maintenance that you can do yourself (though the manual says you need a dealer to do it).
Every 1000 km/600 miles miles OR 6 months (whichever comes earlier), perform the following maintenance:
Multistrada V4 and V4S regular maintenance
Ducati Multistrada V4 and V4S Maintenance Schedule Table
The following is the list of maintenance operations and to be done on this motorcycle with a distance or time interval — whichever comes earlier.
In case of off-road use, it is necessary to perform the maintenance operations more frequently than scheduled.
There are four kinds of service
The break-in service ("Oil service 1000"), which is done once, after 1000 km (600 mi)
The Annual Service, which is done every 12 months
The "Oil Service", which is done every 15000 km/9000 mi or 24 months
The Valve check, which is done every 60000 km/37280 mi
Ducati recommends changing the chain and sprockets before 20000 km/12000 mi, but after that only as necessary.
Generally, you can think of the Ducati Multistrada V4's service intervals as a 15000 km/9000 mi service interval, with some things to do every 2-3 intervals, and a valve service ever 60000 km/37280 mi.
The maintenance schedule is quite complicated (even for Ducati), with a raft of things necessary at different intervals of time and distance. We've done what we can to clarify it below.
| Periodicity | Break-in service | Oil service | Valve check | |
| --- | --- | --- | --- | --- |
| km x 1000 | 1 | 15 | 60 | |
| mi x 1000 | 0.6 | 9 | 37.23 | |
| Months | 6 | 24 | n/a | Every |
| [D] Read error memory with DDS 3.0 and check for technical updates and recall campaigns on DCS | X | X | X | Year |
| Change engine oil and filter (Mobil 1 15W-50, HF139) | X | X | X | |
| Check and clean air filter | | X | | |
| Change air filter (P-DU11S19-01) | | | | 30000 km/18000 mi (more often if you ride in dust/rain) |
| Check and/or adjust valve clearance | | | X | |
| Change spark plugs (T00132U) | | | X | |
| Change coolant (ENI AGIP alternative) | | | X | 4 years |
| Change front fork fluid | | | | 45000 km/ 27000 mi |
| Visual check of the front fork and rear shock absorber seals | X | X | X | Year |
| Check brake and clutch fluid level | X | X | X | Year |
| Change brake and clutch fluid (Castrol DOT 4) | | | | 2 years |
| Check front and rear brake disk and pad wear. Change if necessary | | X | X | Year |
| Check the proper tightening of brake calliper bolts and front and rear brake disk screws | | X | X | Year |
| Check front and rear wheel nuts and rear sprocket nut tightening | | X | X | Year |
| Check the tightening of frame fasteners to engine, swinging arm and rear shock absorber | | X | X | |
| Checking the front and rear wheel hub bearings and the steering tube bearing play | | X | X | Year |
| Check the silentblocs on rear sprocket and lubricate the rear wheel shaft | | X | X | |
| Check wear of chain, front and rear sprocket, and final drive chain elongation, tension and lubrication. | X | X | X | Year |
| Replace the final drive chain kit (recommended) | | | | Within 20,000 km/ 12,000 mi. |
| Check the freedom of movement and tightness of the side stand | X | X | X | Year |
| Check that all rubber gaiters and flexible hoses in view (e.g. fuel, brake and clutch hoses, cooling system, bleeding, drainage, etc.) are not cracked, are properly sealing and positioned | X | X | X | Year |
| Check free play of rear brake lever | X | X | X | Year |
| Lubricate the levers at the handlebar and pedal controls | | X | X | Year |
| Check the freedom of movement of the swinging system for side bags and top case | | X | X | Year |
| Check tyre pressure and wear | X | X | X | Year |
| Check the operation of all electric safety devices (clutch and side stand sensor, front and rear brake switches, engine kill switch, gear/neutral sensor) | X | X | X | Year |
| Check lighting devices, turn indicators, warning horn and controls work | X | X | X | Year |
| [D] Final test and road test of the motorcycle, testing safety devices (e.g. ABS, DTC and VHC), electric fans and idling | X | X | X | Year |
| Visual check of the coolant level and of sealing of the circuit | X | X | X | Year |
| Clean the vehicle | X | X | X | Year |
| [D] Record the service coupon, turn off the warning light on the instrument panel using the DDS 3.0, and fill out that the service was performed in the service booklet | X | X | X | Year |
Ducati Multistrada V4 maintenance schedule table
Wheel and tyre sizes for the Ducati Multistrada V4
In base trim, the Ducati Multistrada V4 has a 19 inch front wheel and 17 inch rear, in light alloy cast. The S models can also have wire-spoked rims.
The Multistrada V4 ships with Scorpion Trail II, Scorpion Rally, or Scorpion Rally Street tyres, all tubeless.
The pressure recommended depends on the tyre used, and the amount of luggage fitted. (And rider/passenger weight, and riding style, and where riding, etc.)
Wheel
Tyre (Tire) size
Tyre (Tire) pressure
Front
120/70-19 M/C 60W
Trail II: 2.4 bar (35 psi)
Rally: 1.6-1.8 bar (23-26 psi)
Rear
170/60-17 M/C 72W
Trail II: 2.5-2.9 bar (36-42 psi)
Rally: 1.6-2.2 bar (23-32 psi)
Tyre sizes and pressures for the Ducati Multistrada V4
About the Ducati Multistrada V4 and V4S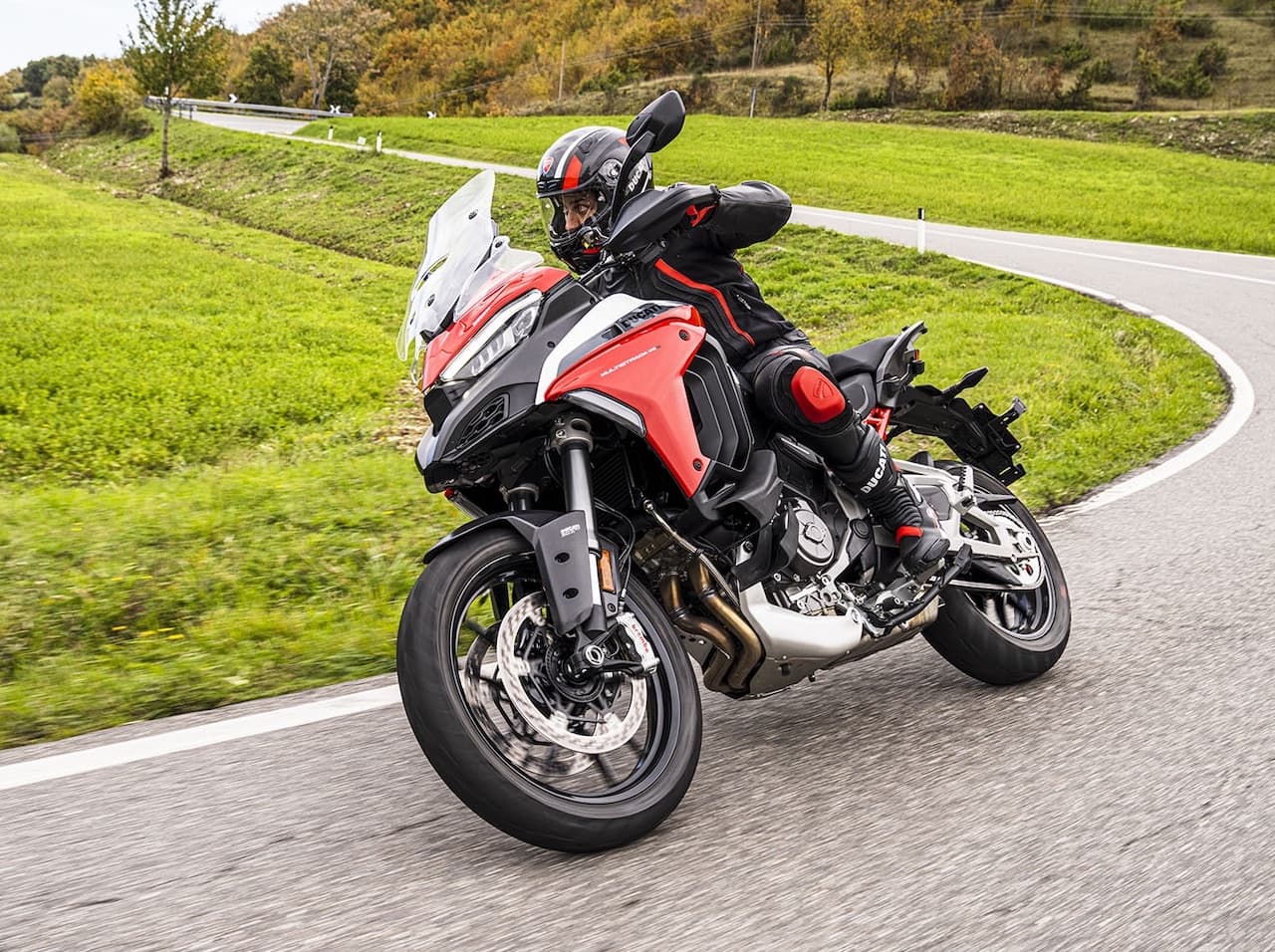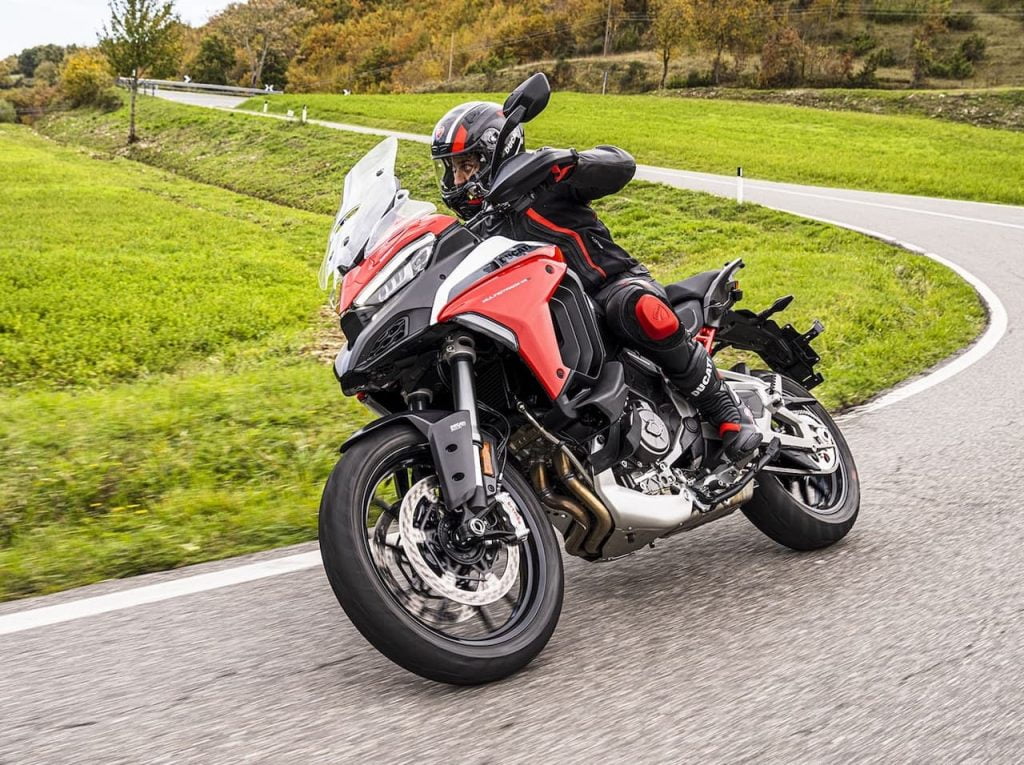 The Ducati Multistrada V4 is an update from the earlier Multistrada 1260, and a massive one, but the same genre of motorcycle: a large adventure sport touring motorcycle with a comfortable, upright seating position, a willing engine, and a lot of ability both on-road and mildly off-road… if you can stomach dropping the thing.
The Multistrada V4 continues the legacy of the Multistrada motorcycles which started in 2003 with the Multistrada 1000DS.
Back in 2003, that ugly duckling of a motorcycle (which is now somewhat of a collectible classic) was received with mixed press. It wasn't the most beautiful thing in the world (for a Ducati), and it had no off-road prowess, unlike the BMWs and earlier Honda Africa Twins that had been making waves.
But the Multistrada did what it promised — it offered long-range touring comfort on roads, which is where most people ride.
Since that launch, the bigger adventure touring motorcycle manufacturers have also begrudgingly admitted that their motorcycles are mostly ridden on the road. And that's OK. At the same time, the Multistrada has gravitated gently towards dirt, with higher suspension clearance and options for spoked rims, knobby tires, and engine guards.
It would be a brave adventurer though who'd risk damaging their Multistrada V4 by dropping it on a fire trail!
The Ducati Multistrada V4 is a huge step forward in engine technology from the outgoing V-twin that it replaced.
First and foremost is the engine in the Ducati Multistrada V4 — not just a detuned block from the Panigale or Streetfighter V4, the Ducati Multistrada V4's engine is known as the "V4 Granturismo".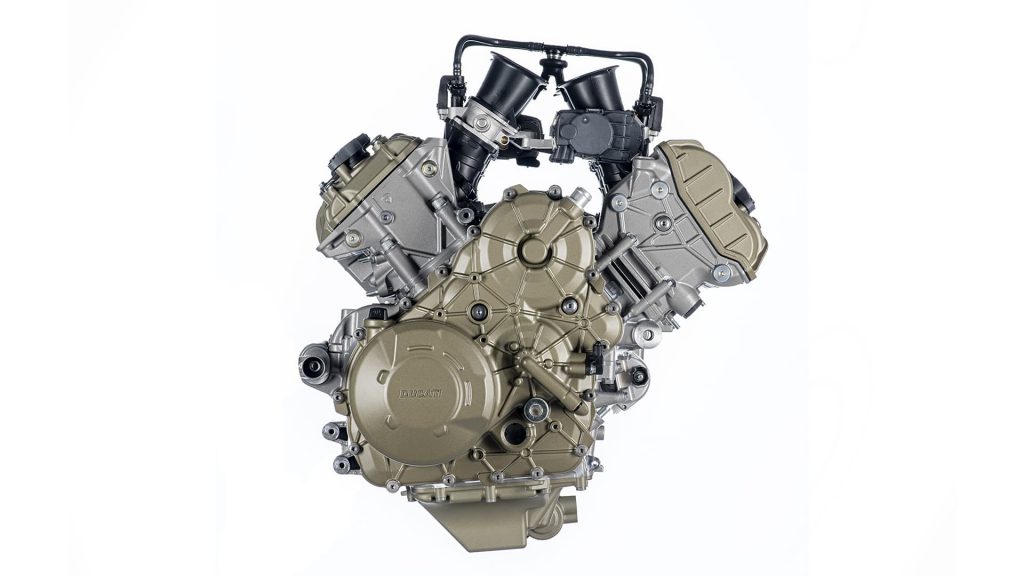 The V4 Granturismo engine is a 1158cc liquid-cooled V4 that makes 125 kW (170 CV / 168 bhp) at 10500 rpm. It makes peak torque of 125 Nm (92 lb-ft) at 850 rpm — and what's more important, it makes a lot of that torque down low.
Rather than using a desmodromic valvetrain, the V4 Granturismo uses a spring valve system. The general explanation from Ducati was that in the past, desmodromic valvetrains could move more quickly at high RPMs. These days, spring valve technology performs as well, and make maintenance more easy.
As standard, the Ducati Multistrada V4 comes with a lot of technology, including riding modes, power modes, cornering ABS, traction control, wheelie control, and an intelligent brake light. These are almost standard on high-end motorcycles these days, but they're worth mentioning.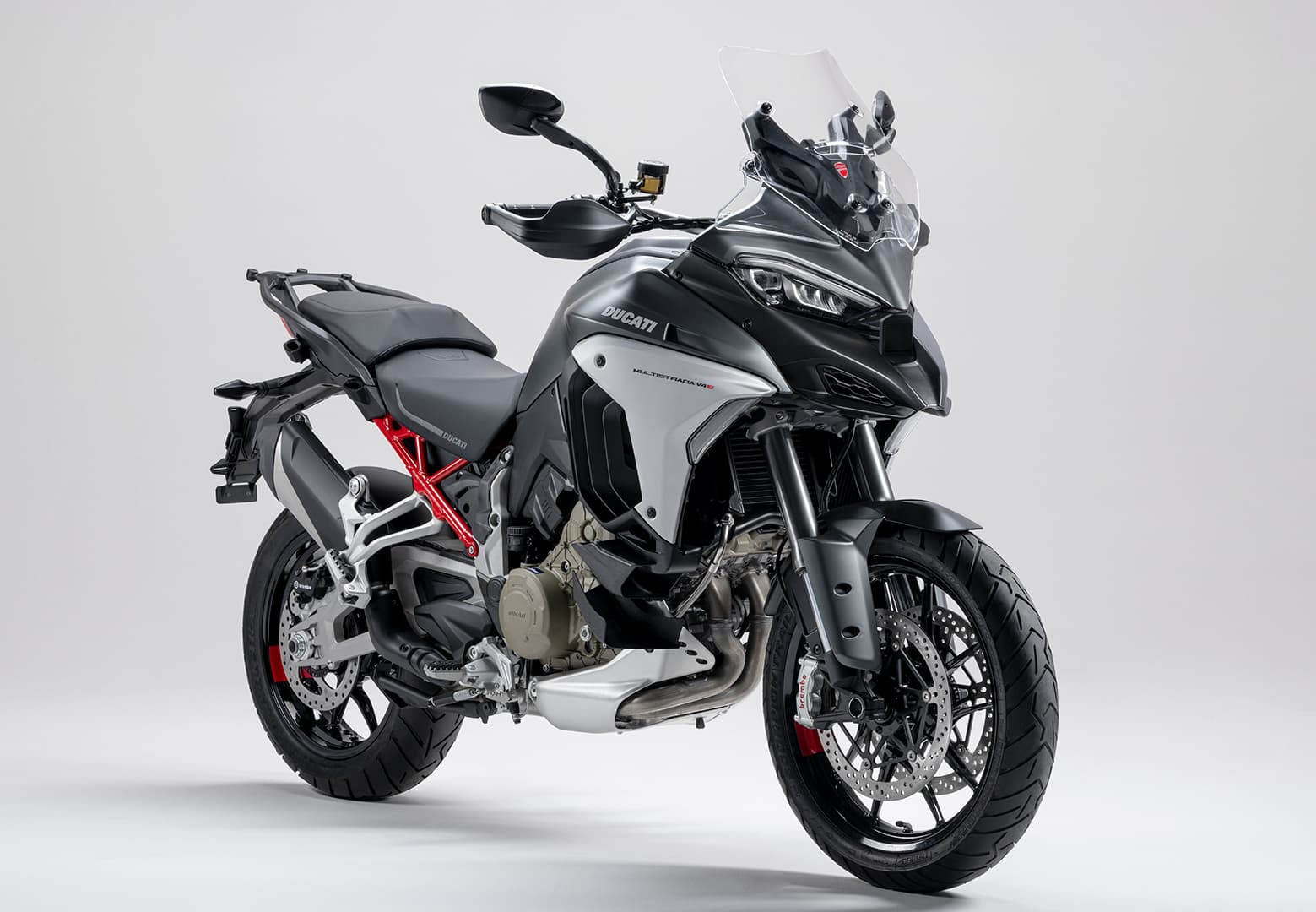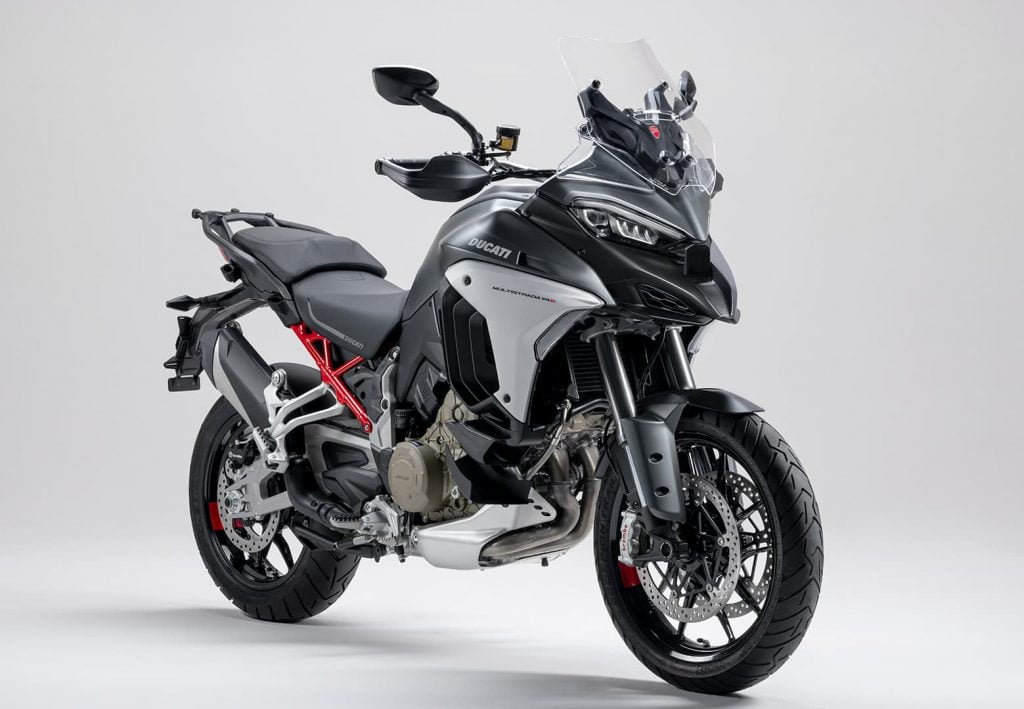 Probably most impressive from a maintenance perspective for the Ducati Multistrada V4 is the 60000 km (36000 mi) valve clearance checks. A six-fold increase in the distance needed between valve checks since the days of the air-cooled L twins changes a lot for what long-distance travelling looks like.
Aside from the engine, the Multistrada V4 comes with some really incredible new technology like adaptive cruise control and blind spot detection, both as options, enabled by front and rear radar detection.
The Ducati Multistrada also comes as a V4S spec, which adds "Skyhook" suspension, a semi-active suspension system with an auto-levelling function. The base model has 50mm fully adjustable inverted forks. Both the V4 and V4S have the same suspension travel.
Ducati Multistrada V4/V4S Owner's Manual
The above info was sourced from the owner's manual for the Ducati Multistrada V4 and V4S (they share a manual).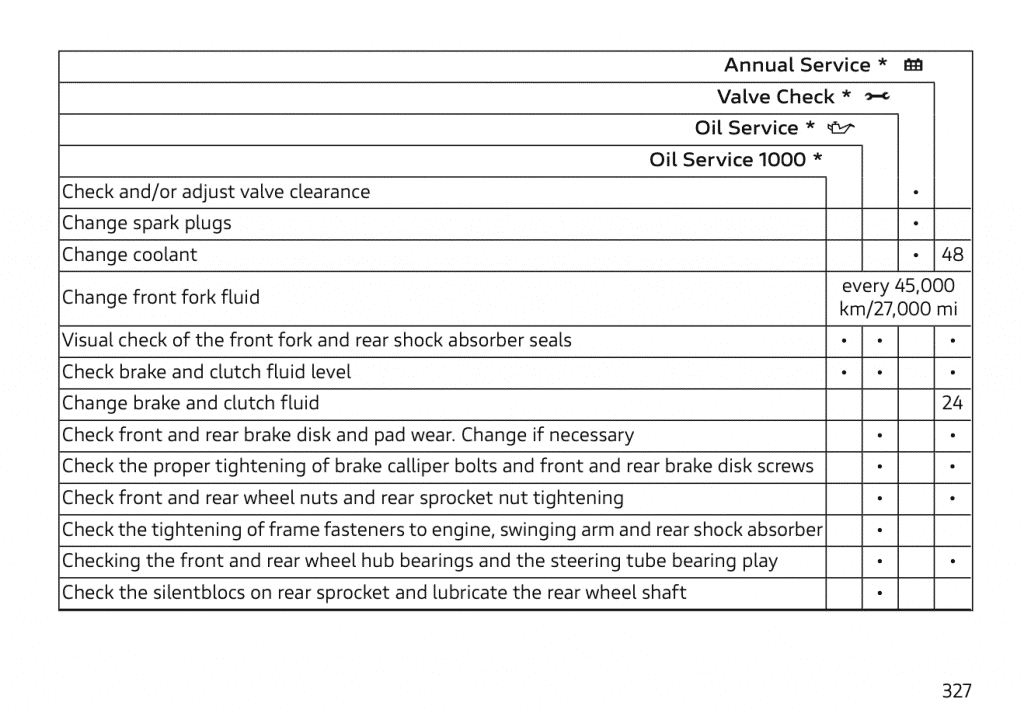 We consulted parts fiches and catalogues for the part numbers needed to maintain your Multi V4.
You can download it from the Ducati website here.