Indian Chief (2014-2020) Maintenance Schedule
This is the maintenance schedule for the Indian Chief range of motorcycles sold between 2014-2020 with the Thunder Stroke 111 engine, replacing the earlier pre-Polaris Chief which had the PowerPlus 105 c.i. engine.
The Indian Chief is one of the new Polaris-owned Indian's big cruisers. It's based on the same platform as a few other motorcycles of the era, using the big Thunder Stroke 111 engine, an impressively modern, reliable, and capable air/oil-cooled V-twin — the format of engine that the original Indian invented over a hundred years ago.
The Indian Chief line between 2014-2020 included a few variants on the same motorcycle:
The base model Indian Chief, a stripped-back cruiser
The Indian Chief Vintage
Indian Chief Classic
The Indian Chief Dark Horse
All these Indian Chief models had a lot in common, fundamentally the same chassis and the same 1811 cc (111 cu.in.) air-cooled V-twin engine. They make peak torque of 119 ft-lb (139 Nm) at a low 3000 rpm, putting it down via a six-speed transmission and belt final drive.
Indian took a hiatus on the Chief in 2021 (though still made the similar Chieftain), but revitalised the Indian Chief completely with the 2022+ Indian Chief, blessing the new model with the Thunder Stroke 116.
This site has links from which we earn a commission (which unfortunately nobody can save, not even us). If you appreciate this research work, then please use those links. Thanks.
Indian Chief (2014-2020) Service Intervals
At its base, like many air/oil-cooled Indian motorcycles, the Indian Chief motorcycles have 5000 mile / 8000 km service intervals, at which point you change the oil and filter and do a bunch of other checks for leaks, correct lubrication, and wear.
As the Thunder Stroke engine has self-adjusting hydraulic valve lash adjusters, there is no valve service interval for the Indian Chief.
However, there are a few unusual bits about maintaining Indian bikes. For one thing, they recommend changing the fork oil periodically — every 15000 miles (24000 km) or two years, whichever comes first. The same interval applies for changing the spark plugs and air filter.
As it has a belt drive, you should also regularly maintain the belt, checking its condition and tension. Adjust tension and replace it as necessary.
Aside from that, keep your brake fluid up to spec and make sure your brake pads don't wear out. There's little else to do on your Indian Chief.
Maintenance schedule for the Indian Chief
Below is the maintenance schedule for the Indian Chief.
For clarity it's broken up into two parts:
The standard inspection checklist — to be done at every service interval
The scheduled service list, including a few long-term service items
Indian Chief (2014-2020) — Standard Service
Below is the standard service checklist for the Indian Chief.
Do these items according to the maintenance schedule below.
Part
Action
Engine Oil & Filter
Change oil and filter. Inspect used oil for contaminants.
* Tighten drain plug to 15 ft-lbs / 20 Bm
* Tighten filter to contact, then 3/4 to 1 full turn more.
Oil Lines / Oil System
Inspect; clean, adjust if necessary
Air filter
Inspect; clean. Do this more often if riding in unusually wet or dusty conditions.
(See below for replacement schedule)
Drive Belt
Inspect; tighten, clean, adjust. (See below for replacement schedule)
Fuel System
Inspect; clean
Clutch Lever
Inspect; Lubricate as needed
Clutch Cable Freeplay
Inspect; adjust if necessary
Gear Shift Pedal
Inspect; adjust if necessary
Front Brake Lever
Adjust if necessary, lubricate as neeeded
Rear Brake Pedal
Inspect; adjust if necessary
Brake Pads
Inspect pad wear; replace if worn beyond service limit
Battery
Check terminals; clean; test
Steering Bearings
Inspect for smooth operation and no notchiness.
Front Forks and Front Axle
Inspect; adjust if necessary
Rear Shock Absorber
Inspect; adjust if necessary
Suspension Linkage, Rear
Inspect
Rear Wheel Alignment
Inspect; adjust if necessary
Swing Arm and Rear Axle
Inspect for free play / ease of movement
Damper, Cushion Drive (Whenever rear wheel removed)
Visually inspect for cracks or deformation. Replace if damage is found.
Sidestand
Inspect, adjust, and lubricate as needed
Tires / Wheels
Inspect tread depth, sidewall cracking, wear patterns
If spoked wheels fitted — check for loose spokes and tighten if necessary. If spokes are bent or missing, see a mechanic.
Fasteners
Inspect; tighten if necessary
Exhaust System
Inspect; tighten, adjust
Crankcase Ventilation System
Inspect; tighten, clean, adjust
Evaporative Emission Control System
Inspect; clean
Road Test
Perform Road Test
Indian Chief (2015-2020) — Regular Maintenance Items
Indian Chief — Service Schedule
Below is the service schedule for the Indian Chief, including oil changes, spark plug changes, and more.
Notes
At the end of the maintenance schedule, continue it in the pattern shown
Where there's a time-based or distance-based interval (e.g. to replace the fork oil), follow the earlier of the two
Miles x 1000
5
10
15
20
25
30
Km x 1000
8
16
24
32
40
48
Or every
Perform regular standard service
(See list of items above)
✓
✓
✓
✓
✓
✓
Spark plugs — Inspect gap / condition. Torque to specification
✓
✓
Spark plugs — Replace
✓
Engine compression — Check
✓
✓
✓
Brake fluid — Replace
✓
✓
✓
Replace every 2 years
Gear position switch — Check
✓
✓
✓
Side stand — Lubricate
✓
✓
✓
Air filter — Replace
✓
✓
Front fork oil — Replace
✓
✓
Key fob battery — Replace
✓
Replace every 2 years
Drive belt — Replace
✓
Replace every 30000 miles
Rear shock absorber — Replace
Replace every 50000 miles
Control cable ends — Inspect / Adjust
✓
✓
✓
Control cable ends – Lubricate
✓
✓
✓
Fuel filters (for pumps built before 11/10/2015)*
Replace every 50000 miles
Indian Chief (2015-2020) Service Schedule
* Indian motorcycles built between late 2015 have replaceable fuel filters. But afte rthat point, they do not.
Drive belt maintenance
You should periodically look at the drive belt's condition. Make sure that it's clean and not excessively worn.
Below you can see some examples of wear that mean it's time to replace the drive belt, and maybe the other final drive components.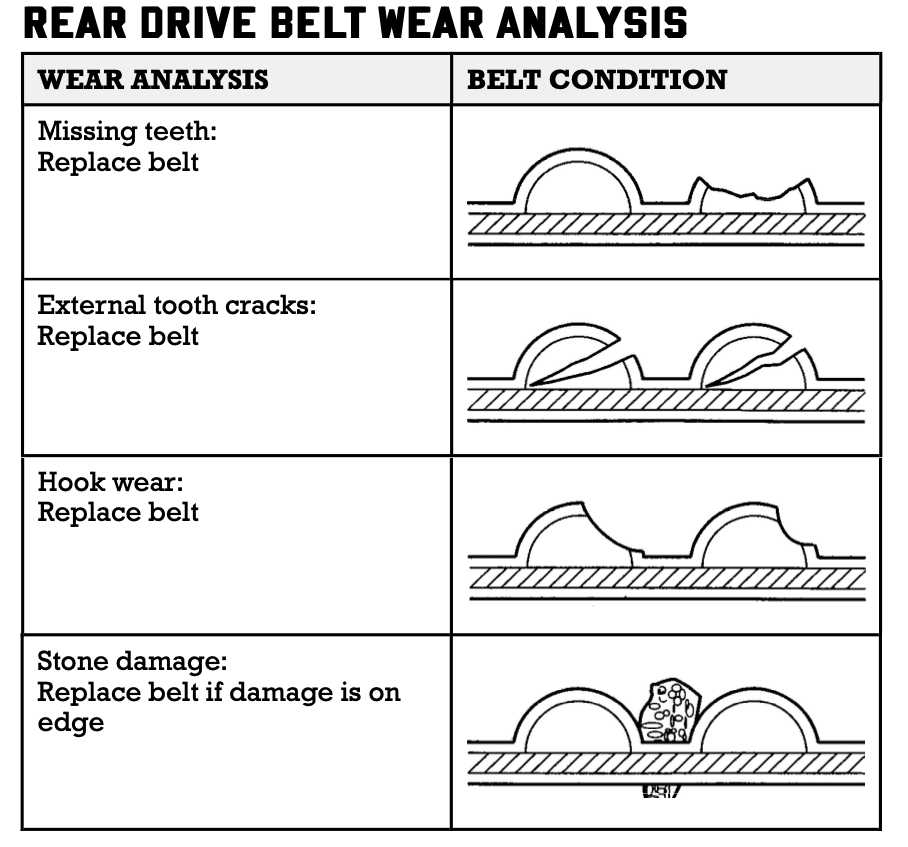 Indian also says you should check and adjust the drive belt tension. For the Indian Chief (including the Chief Dark Horse and Vintage), the appropriate drive belt deflection with 10 lbs of force is 1.1 inches or 28 mm.
To adjust the belt tension on the Indian Chief, get the motorcycle in an upright position. Loosen the axle nut, and tighten it slightly to "adjustment spec" (20 Nm / 15 ft-lbs).
Use the right side adjuster to get to the right belt tension. You might have to tap the axle to get both sides of it to move.
Use the left side adjuster to get final adjustments to belt alignment. Then tighten up the axle nut again to 65 ft-lbs / 88 Nm.
Wheels and tire pressure specs for the Indian Chief
The Indian Chief motorcycles come with different specs of tires, and different tire pressure specs as well. Here they are below.
Indian Chief Vintage Tire Specs / Recommended Pressures
The Chief Vintage ships with Dunlop American Elite tires.
| Wheel | Tire size | Recommended Tire pressure (cold) |
| --- | --- | --- |
| Front | 130/90-B16 67H | 36 psi / 248 kPa / 2.5 bar |
| Rear | 180/65-B16 u1H | 40 psi / 276 kPa / 2.75 bar |
Tire sizes and pressures — Indian Chief
Indian Chief Dark Horse Tire Specs / Recommended Pressures
| Wheel | Tire size | Recommended Tire pressure (cold) |
| --- | --- | --- |
| Front | 130/80-B17 65H | |
| Rear | | |
Tire sizes and pressures — Indian Chief
About the Indian Chief (2014-2020)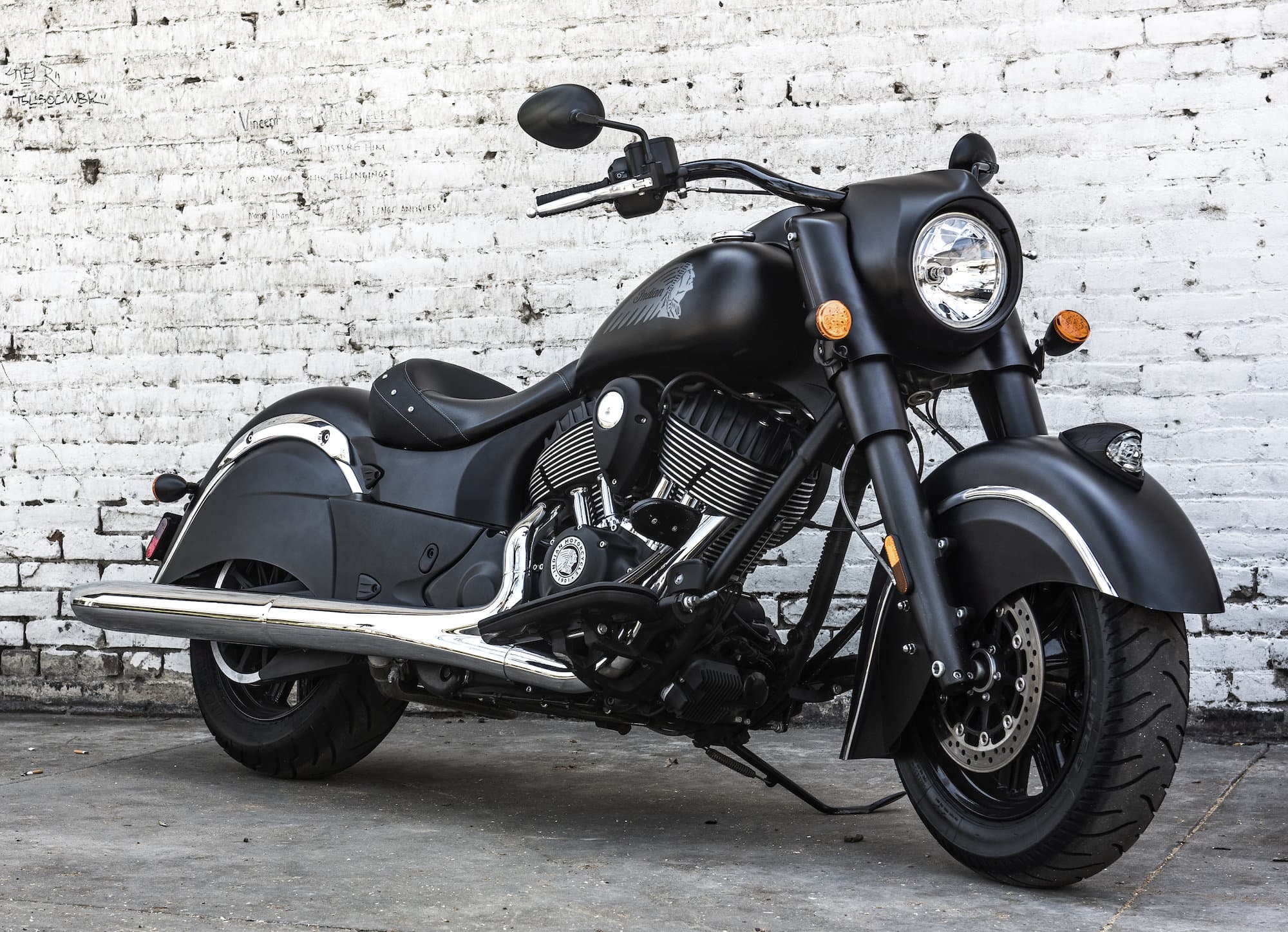 The Chief has been a mainstay of Indian motorcycles for as long as the brand has existed in its many forms.
When Polaris bought the Indian brand in 2011, Indian already had an Indian Chief in their lineup. But it was powered by an older motor, the 105 c.i. PowerPlus.
The Polaris-owned Indian replaced the PowerPlus 105 with the Thunder Stroke 111, also written Thunderstroke (even Indian changes the way its written, but usually has a space). It's a completely different motor, one that the new Indian implemented for more torque, more reliability, and even better feel.
The Thunder Stroke 111 engine is very well-loved, even though it hasn't been around for long. It has quite an old-fashioned design. Just two valves per cylinder, pushrod-actuated valves, and air-cooling (with an oil cooler fitted too). This is a far cry from many more advanced bikes these days that have multiple valves, variable valve timing, and of course advanced cooling to keep everything in spec for even longer.
But what the TS 111 does is produced a lot of low-down torque and a very familiar vibey feel that cruiser owners have come to appreciate. Harley-Davidson has done it best for a long time. Other manufacturers have struggled to replicate it, but Indian has come the closest so far — to the point where a lot of cruiser diehards have been won over.
The rest of the 2014-2020 Indian Chief is almost as you'd expect. It's a big, heavy, comfortable motorcycle, with nothing astoundingly high-spec. But some parts are surprising.
For brakes, there isn't just one, but two front rotors with four-piston calipers on them. And while the front fork is a non-adjustable unit as you'd expect, at the rear there's a monoshock rather than twin shocks like you might expect on a cruiser.
Finally, the Chief has come standard with ABS since Polaris launched it.
Indian didn't make any changes to the drivetrain of the Indian Chief motorcycles during their tenure, but there were some changes to style and even technology.
In 2017, Indian motorcycles started getting the Ride Command system as an option — an LED screen with GPS and access to your phone, as well as control of your sound gear (if you have any fitted).
In 2018, Indian had to improve the performance of the Thunder Stroke 111 engine to keep it interesting while keeping it EU4 compliant. Indian managed to improve the exhaust tone at the same time. The 2014-2017 Thunder Stroke 111 engine made a peak of 103 ft-lb (139 Nm) at 2600 rpm, whereas the 2017-onward Thunder Stroke 111 makes 119 ft-lb (162 Nm) at 3000 rpm. It's a slight bump in torque, compensating for the fact that it doesn't come on quite so early.
The Indian Chief has come in a range of variants, including the Vintage, the Classic, and the Dark Horse. They all have the same fundamental drivetrain and the same maintenance schedule.
Indian made a huge number of structural and spec changes to the Indian Chief for the 2022 version, starting with the chassis, as well as giving the new 2022+ Indian Chief the Thunderstroke 116 engine (the only option in many markets).
Reference — Manual screenshots
The above info comes from the manual for the Indian Chief, but we reformatted it considerably to make it easier to understand.
The maintenance intervals for the Chief range of motorcycles is the same across the 2014-2020 time period.
You can download manuals for Indian motorcycles directly from Indian.