Indian Chief / Super Chief / Chieftain (2022+) Maintenance Schedule & Service Intervals
This is the maintenance schedule and service intervals for the Indian Chief line of motorcycles made from 2022 onward, all powered by the Thunder Stroke 111 or 116 engines — they have the same maintenance schedule and even parts requirements (same oil, same spark plugs).
The 2022+ Indian Chief range is a significant update to the 2014-2020 Indian Chief (which took a brief hiatus in 2021), with a revised, lighter chassis, better ride gear, and of course the larger 116 engine as an option.
This maintenance schedule is for various flavours of the Indian Chief, including
Indian Chief (Thunder Stroke 111)
Indian Chief Dark Horse (Thunder Stroke 116)
Indian Chief Bobber (Thunder Stroke 111)
Indian Chief Bobber Dark Horse (Thunder Stroke 116)
Indian Super Chief (Thunder Stroke 111)
Indian Super Chief Limited (Thunder Stroke 116)
The manual for all these Indian Chief models is shared.
The core of the Indian Chief motorcycle range is the Thunderstroke 111 engine, or its bigger sibling the Thunder Stroke 116. Both are big-displacement air-cooled V-twins. You'll find them in some other Indian motorcycles, like the Indian Springfield.
The Thunder Stroke 111 is a 111 ci (1811 cc) engine that makes a whopping 108 ft-lbs (146 Nm) of torque at 3200 rpm. The 116 is a 115 ci engine (yes, 115 — not a typo!) that makes 120 lb-ft at 2,900 rpm, thanks to a bored out engine and higher compression ratio.
In some markets in Europe and the Asia-Pacific, only the 116-engined variants are available.
Power goes to the ground via a six-speed manual transmission and belt final drive for all variants.
This post was originally published on July 10, 2022, but has since been considerably updated with more detail.
This site has links for things like oil and spark plugs from which we earn a commission (which unfortunately nobody can save, not even us). If you appreciate this work, then please use those links. Thanks!
What you need to service the Indian Chief
If you're doing a service on your Indian Chief, Indian recommends the following consumables and spares.
Part
Indian Chief Specification (both 111 and 116 engines)
Engine oil
Indian recommends Indian Motorcycle Premium Synthetic Blend 20W-40 engine oil, which meets API SM and ILSAC GF-4 specifications. They say you can use another high-quality 20W-40 in emergencies.

Note, this is a big engine — you need about 6.0 qts. (5.7 L).
Oil filter
The part number is 2521421. You can use a high-quality aftermarket HF175 on the Indian Chief (as well as most Indian motorcycles).
Spark plug
NGK DCPR8E. Spark plug gap is 0.034 inch (0.9 mm)
Air filter
The air filter is part number 5814902. You can also use a K&N PL-1814.
Brake fluid
Indian recommends Indian Motorcycle DOT 4 brake fluid, and says you should NOT use DOT 5 silicone brake fluid.
Fork oil
You need to change the fork oil on the Indian Chief. Indian recommends Indian Motorcycle Fork Oil.
Fuel
The manual says you should use 91 pump octane (R+M/2), which is the standard used in the US, or 95 RON, which is how the same fuel is described in Europe/Australia. You can use fuel with up to 10% ethanol (E5 or E10).
Brake pads
Front pads: You can use EBF FA347HH.
Rear pads: You can use EBC FA196HH.
All-purpose Grease
For lubricating external parts, e.g. sidestand and levers. Most people use lithium soap-based grease.
Indian Chief — Parts for a basic service
Maintenance Schedule for the Indian Chief
The user's manual for the 2022 Indian Chief shows the items needed to be serviced at every interval. But there are a few inconsistencies, and also the items are in an odd order. For example, the manual suggests replacing the air filter at 10000 then at 15000 miles, but then usually every 15000 miles. And there's a line item for fuel filter replacement, but it clarifies it's only for fuel filters built before 2015 (which wouldn't apply to the 2022+ Chief!)
In an attempt to simplify this schedule, we've broken it out into three parts:
Break-in service (usually done by the dealer during the warranty period)
Regular service items to be done at every service
Periodic service items (to be done every 2 or 3 service intervals)
Generally, service intervals for the Indian Chief are every 5,000 miles or 8,000 km, at which you should change the oil and filter and do a bunch more checks. Every two services you check the spark plugs and compression. Plus, regularly maintain the belt.
Gracefully, there's no valve service on the Indian Chief, as the Thunder Stroke engine has self-adjusting hydraulic lifters.
Indian Chief — Break In Service(s) (0.5 mi / 800 km and 2500 mi / 4000 km)
The Indian Chief has two break-in services, one at the 0.5 mile (800 km) mark, and one at the 2500 mile (4000 km) mark.
At the 500 mile (800 km) service, do the same list of regular service items (below), but also torque up the engine mount fasteners. Indian says you don't need to do this again until the 50000 mile (80000 km) mark.
At the 2500 mile (4000 km) service, do the regular service items list below.
Indian Chief — Regular Standard Service (every 5000 mi / 8000 km)
Do these items at every service, every 5000 miles or 8000 km.
These items are mentioned in every service (from break-in through to 50000 mile / 80000 km) service. We've re-ordered them to a more logical sequence, going from important to less critical, and grouping parts of the service by area of the motorcycle (e.g. brakes, suspension).
Part
Action
Engine Oil & Filter
Change oil and filter and inspect used oil for contaminants.
Oil Lines / Oil System
Inspect; clean, adjust if necessary
Air filter
Inspect; clean. (See below for replacement schedule)
See this guide from Indian for cleaning the air filter.
Drive Belt
Inspect; tighten, clean, adjust. (See below for replacement schedule)
Fuel System
Inspect; clean
Clutch Lever
Lubricate as needed
Clutch Cable Freeplay
Inspect; adjust if necessary
Gear Shift Pedal
Inspect; adjust if necessary
Front Brake Lever
Adjust if necessary, lubricate as neeeded
Rear Brake Pedal
Inspect; adjust if necessary
Brake Pads
Inspect pad wear; replace if worn beyond service limit
Battery
Check terminals; clean; test
Steering Bearings
Inspect (for smoothness of operation, no notchiness)
Front Forks and Front Axle
Inspect; adjust if necessary
Rear Shock Absorber
Inspect; adjust if necessary
Suspension Linkage, Rear
Inspect
Rear Wheel Alignment
Inspect; adjust if necessary
Swing Arm and Rear Axle
Inspect
Damper, Cushion Drive (Whenever rear wheel removed)
Visually inspect for cracks or deformation. Replace if damage is found.
Sidestand
Inspect, adjust, and lubricate as needed
Tires / Wheels
Inspect tread depth, sidewall cracking, wear patterns
If spoked wheels fitted — check for loose spokes and tighten if necessary. If spokes are bent or missing, see a mechanic.
Fasteners
Inspect; tighten if necessary
Exhaust System
Inspect; tighten, adjust
Crankcase Ventilation System
Inspect; tighten, clean, adjust
Evaporative Emission Control System
Inspect; clean
Road Test
Perform Road Test
Indian Chief — Regular Maintenance Items
Indian Chief — Periodic maintenance
In addition to the above regular maintenance items, Indian specifies some things that should be done less often, e.g. every 1-4 services.
These are summarised in the table below. Most items have a distance interval only, but Indian recommends you replace fork fluid and brake fluid every 2 years.
Note — the text of the manual says to inspect the spark plugs every 20000 miles and replace them every 40000 miles. This contradicts with the detailed maintenance interval checklists, which says to inspect them every 10000 miles and replace them every 30000 miles. We're choosing the more conservative of the two.
Miles x 1000
5
10
15
20
25
30
km x 1000
8
16
24
32
40
48
Or every
Perform regular standard service
(See list of items above)
✓
✓
✓
✓
✓
✓
Spark plugs — Inspect gap / condition
✓
✓
Spark plugs — Replace
✓
Engine compression — Check
✓
✓
✓
Brake fluid — Replace
✓
✓
✓
Replace every 2 years
Gear position switch — Check
✓
✓
✓
Sidestand — Lubricate
✓
✓
✓
Air filter — Replace
✓
✓
Front fork oil — Replace
✓
✓
Key fob battery — Replace
✓
Replace every 2 years
Drive belt — Replace
✓
30000 miles
Rear shock absorber — Replace
Every 50000 miles
Control cable ends — Inspect / Adjust
✓
✓
✓
Control cable ends, Pinion shaft clevis – Lubricate
✓
✓
✓
Indian Chief (2022+) Service Schedule
Maintaining the Drive Belt for the Indian Chief
A drive belt is very low-maintenance, but it's not zero maintenance — particularly if you want to prolong its life.
The manual for the Indian Chief recommends maintaining the drive belt in the following way.
Inspect belt condition regularly. Check for cracked or broken teeth, and replace it if necessary, or at the specified intervals.
Check belt tension regularly. Use a belt tension tool. Deflection should be 1.1 inches / 28 mm with 10 lb of force. Don't check tension if the belt has been exposed to rain or if it has been washed within the last 24 hours, or if the bike has been ridden in the last four hours.
Adjust belt tension and alignment if necessary. Indian recommends you get a shop to do this, but the manual has instructions. You'll need a rear wheel stand and some basic tools
Clean the drive belt regularly at every tire change. Clean the drive belt with mild dish soap and warm water at tire changes, or more often if riding in dusty, dirty, or high debris environments. Use a soft nylon brush and get into the belt / sprocket teeth, as well as in corner areas where debris collects. Rinse and dry thoroughly.
About the Indian Chief (2022+)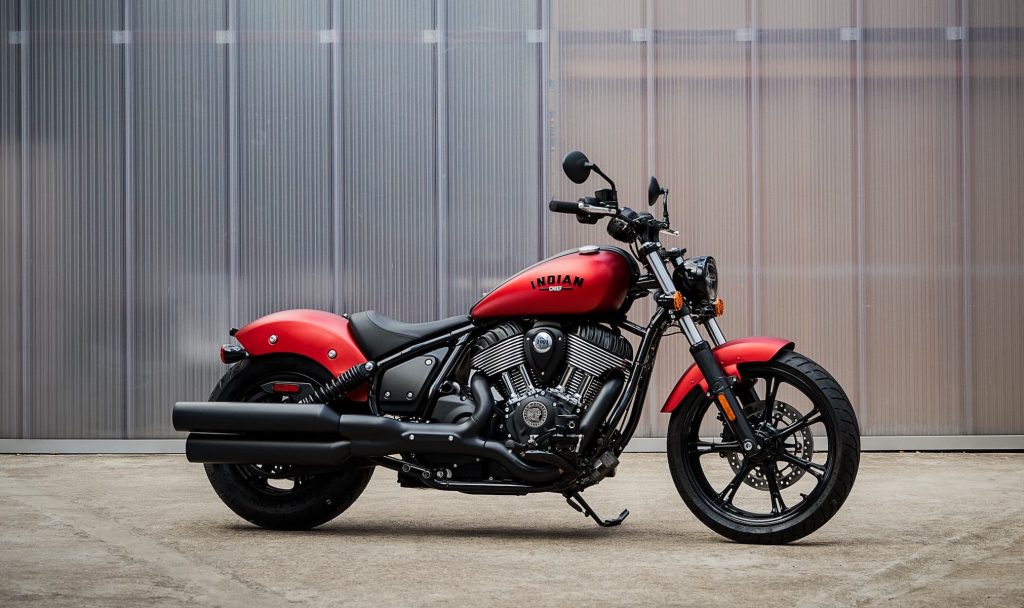 The Indian Chief range of motorcycles is mostly all-new for 2022.
Yes, Indian has been making the Chief since model year 2014, when the Indian brand re-launched under Polaris. But the new Indian Chief looks quite different to the old one — it's leaner, lighter, and much more attractive (according to many people, including us!)
The core of the Indian Chief range is the same Thunder Stroke air-cooled V-twin. It's available in either 111 or 116 (actually 115 c.i. ) designations, and like most air-cooled V-twins it's low-revving and torque-forward. It has a redline of 5400 rpm, but it's making most of its massive torque by 2000 rpm, and most people shift between 3 and 4K so the low redline is not really noticed.
The lead designers of the Indian Chief, Ola Stenegärd and Rich Christoph, are both avid and passionate riders, builders, and of course designers. They said (in an interview with Cycle World) that "everything starts with the frame" — and so sought to re-design it to accentuate its beauty. "The frame itself needs to a piece of art."
And the frame IS beautiful on the new 2022+ Indian Chief. It's curvy, flowing, and nice to look at from every angle. In fact, it makes me wonder how many other manufacturers have so lost their way.
A beautiful motorcycle often comes with a penalty of weight — but in re-sculpting the frame, the designers managed to remove about 54 kg / 120 lb off the previous model, also making it shorter in the process. It's still very long, though!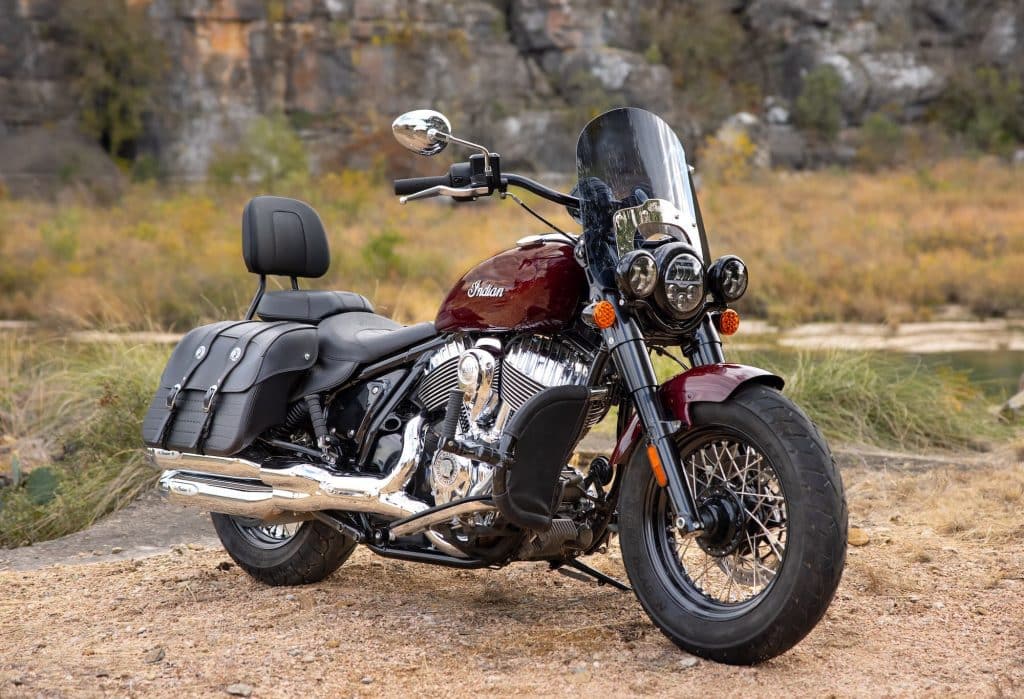 The core of the Indian Chief range is still the Thunder Stroke air-cooled engine, which comes in 111 and 116 configurations, with 111 c.i. (1811 cc) and 115 c.i. (1890 cc) configurations respectively.
The engine is a simple air-cooled V-twin with two valves per cylinder and pushrod actuated valves (that don't need adjusting). It's a much more simple engine than the liquid-cooled block in the Indian Scout, for example.
The engine is geared quite low, to make sure those low revs can keep you going at high speeds. As a result, cruising in 70 mph means being at around 2600 rpm in top gear — and you'll have to shift a few times to get there.
But on the way, there's a mammoth amount of torque that's extremely obvious even when just off idle.
The riding position of the base model Indian Chief is quite neutral for a cruiser. The base model Chief and Chief Dark Horse have mid-mounted foot controls and drag handlebars. Combined with the stripped-down aesthetic, it makes for a very aggressive look.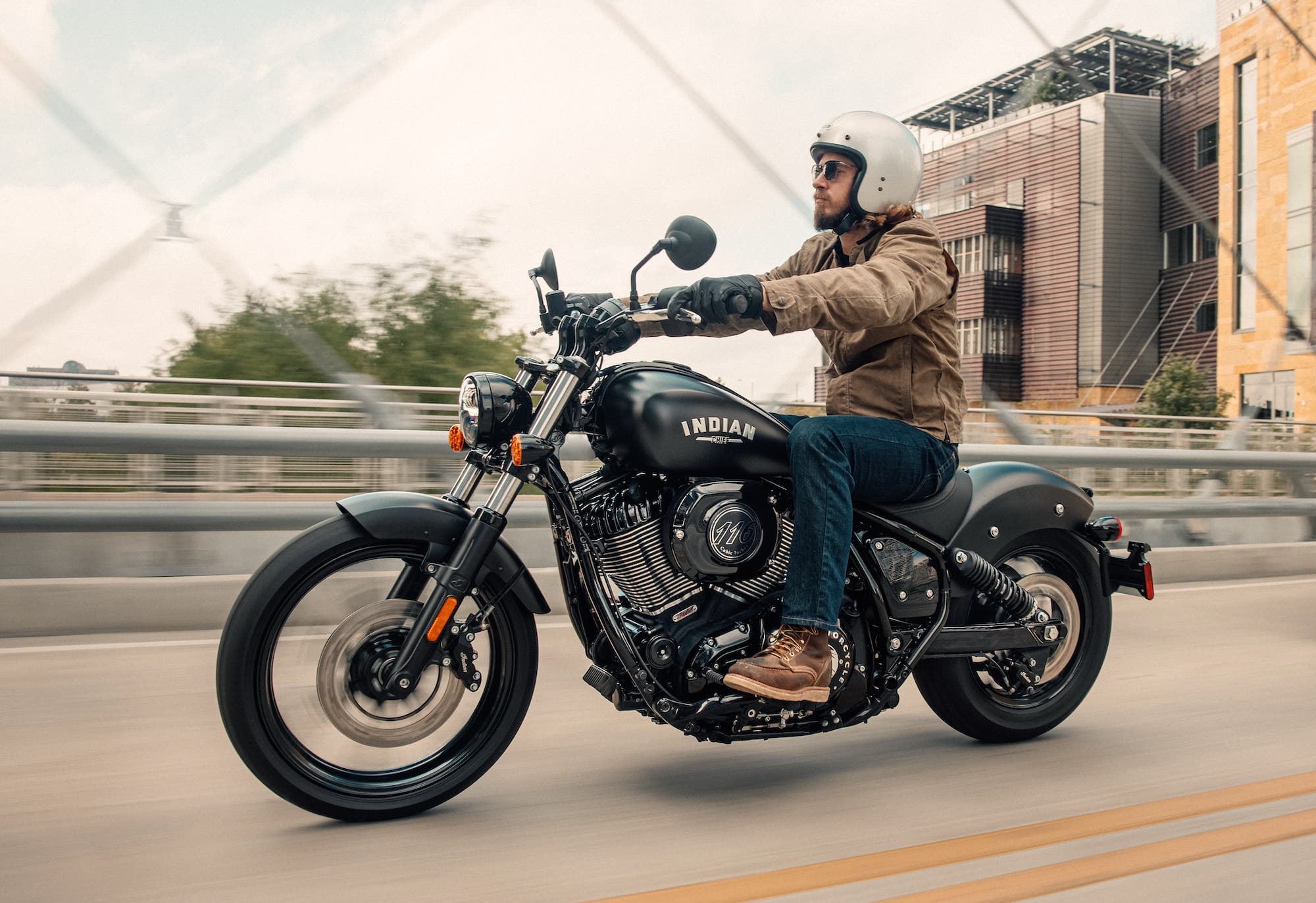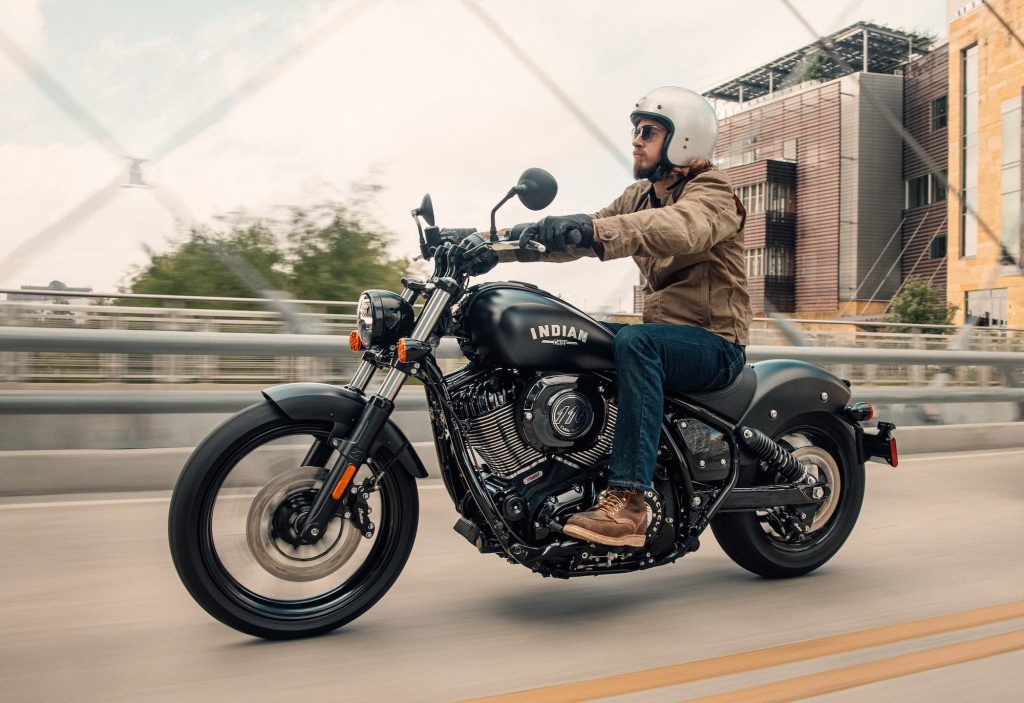 But of course, Indian released the Chief in other variants, too, including the Bobber and the Super Chief. The Bobber is a more traditional cruiser, whereas the Super Chief is the tourer, with 16-inch spoked wheels, swept-back bars, a pillion seat, soft bags, floorboards, and a quick-detach windscreen.
The higher-end Chiefs also come with a touch 4-inch "Ride Command" display, through which you can do anything, as well as deal with things like caller id and music.
In terms of ride gear, it's typically simple, as you'd expect on a cruiser. The front suspension is beefy (46 mm fork tubes) but non-adjustable, and the twin rear shocks are adjustable for preload only. At the front there's a 300 mm disc with a four-piston brake caliper.
Because the Indian Chief is a conceptually simple motorcycle, you can do a lot of the maintenance yourself. The owner's manual has detailed instructions on how to do things like oil / filter changes, air filter replacement, belt tension adjustment and alignment, lever / control adjustment, and spark plug inspections. But some things they suggest should be left to the mechanic, like wheel replacement and compression tests.
One of the best parts about riding a cruiser like the Indian Chief is that there are no valve service intervals, as the valves are self-adjusting.
Reference — Manual Screenshots for the Indian Chief
The manual for the Indian Chief has maintenance lists of items for every service interval.
But it's redundant to show it this way, which is why we reformatted it as above.
You can download manuals or Indian motorcycles here.