Honda Navi (NVA110) Maintenance Schedule and Service Intervals
This is the maintenance schedule and associated service intervals for the Honda Navi (NVA110), a compact motorcycle that's part of the Honda miniMOTO range.
Honda has been making the Navi since 2016, though it has sold mostly mostly in India as well as other emerging markets. From 2022, Honda made the Navi available in the US.
Unlike other motorcycles in the miniMOTO range, most notably the first-gen Honda Grom that most people initially compared it to, the Honda Navi is based on a 109 cc single-cylinder engine, rather than a 125 cc engine. But it's still a simple design, carburetor-fed, air-cooled, and with a compression ratio of 9.5:1 which gives it modest but useful low-speed commuting power output.
The engine is an overhead camshaft two-valve design. Final drive is via an automatic CVT transmission and a belt drive.
Here are the other Honda miniMOTO maintenance schedules:
This site has links for things like oil and spark plugs from which we earn a commission (which unfortunately nobody can save, not even us). If you appreciate this work, then please use those links. Thanks!
Service intervals for the Honda Navi 110
The Honda Navi has 2500 mi / 4000 km service intervals, slightly shorter than that of the 125 cc range of Honda miniMOTO motorcycles. This reflects the fact that the Navi, with its smaller engine, is likely to spend more time operating at low speeds.
At every service interval, you change the oil. Honda also suggests changing the oil every 6 months.
You also have to check the valve clearances and check or replace the spark plug at every service, as well as do a bunch of other checks.
The Honda Navi has a drive belt, so you don't need to maintain the chain with as much vigor. And it has a CVT transmission that means there's no shifting and thus no clutch to maintain.
Luckily, as it has an air-cooled engine, there's no liquid coolant to replace in the Honda Navi.
What you need to service your Honda Navi
Maintaining your Honda Navi is very lightweight and painless. Apart from general standard motorcycle maintenance tools, here's what you need to service your Honda Navi.
Part
Honda Navi spec
Oil
Honda recommends SAE 10W-30 oil that's API classification SG or higher or JASO T 903 standard MA or higher. There are a lot of oils that fit the bill, but Honda recommends Pro Honda GN4.

Note — there's no oil filter to change on the Navi, just an engine oil strainer screen to clean.
Air filter
Honda part 17210-KVT-D00
Spark plug
Manual specifies NGK MR7C-9N for the Navi.
Grease
Use lithium soap-based grease and silicone grease for external pivot points, like the sidestand and bearings.
Honda Navi maintenance parts
Honda Navi Maintenance Schedule
Below is the maintenance schedule for the Honda Navi. We broke it into two parts for simplicity:
The Inspection checklist to do at every service, and
The full maintenance schedule with things to replace. It includes the inspection checklist (other than at the initial service).
Inspection checklist
This is the list of items to check on your Honda Navi. See the service schedule below for when to do these checks.
Honda Navi Inspection Checklist
Fuel Line – Inspect (for leaks, cracks)
Fuel strainer screen – Clean
Throttle Operation – Inspect (smooth operation, free play)
Crankcase Breather – Clean
Perform more often if riding in rain or at full throttle.
Brake Shoes Wear — Inspect for wear
Brake System — Inspect
Brake Light Switches — Inspect for correct function
Brake Lock Operation
Headlight Aim — Inspect, adjust
Suspension — Inspect for smooth operation, no leaks
Wheels/Tires — Inspect for wear and condition
Honda Navi Inspection Checklist
Service schedule
Below is the maintenance schedule for the Honda Navi. At higher odometer readings, repeat at the frequency interval established here.
Honda recommends you take your motorcycle to a qualified mechanic for the clutch shoes, as well as checking the steering head bearings and wheels/tires.
mi x 1000
0.6
2.5
5
7.5
10
12.5
15
km x 1000
1
4
8
12
16
20
24
Every
Perform full inspection checklist (see above)
✓
✓
✓
✓
✓
✓
Engine Oil (Pro Honda GN4 10W-30) — Replace
✓
✓
✓
✓
✓
✓
✓
Year
Engine Oil Strainer Screen — Clean
✓
✓
Spark Plug (MR7C-9N) — Inspect (R: Replace)
Gap: 0.8-0.9 mm / 0.03-0.04 in
✓
R
✓
R
✓
R
As needed or every second inspection
Valve Clearance — Inspect / Adjust
✓
✓
✓
✓
✓
✓
Air Cleaner — Replace
✓
More often if riding in wet / dusty areas
Final drive oil — Replace
2 years
Drive belt — Inspect condition, tension, and alignment
✓
✓
Drive belt — Replace
✓
Engine Idle Speed — Inspect / adjust
Target: 1700 rpm
✓
✓
✓
✓
✓
✓
✓
Evaporative Emission Control System (CA only)
✓
✓
Clutch Shoes Wear
✓
✓
✓
Nuts, Bolts, Fasteners — Inspect tightness
✓
✓
✓
Steering Head Bearings — inspect for smooth operation
✓
✓
Honda Navi maintenance schedule
Drive Belt Maintenance on the Honda Navi
One thing that's unusual about the Honda Navi is that it has a belt final drive.
It's important to maintain your belt on the Navi, especially as it's a bike you're likely to put through its paces as an everyday commuter in all kinds of conditions.
Honda recommends you follow the following belt maintenance schedule:
| Belt maintenance item | Every |
| --- | --- |
| Inspect belt condition, tension, and alignment | 5000 mi / 8000 km |
| Replace drive belt | 15000 mi / 24000 km |
Chain maintenance — Honda Navi
Tyre size and tyre pressure for the Honda Navi
The manual specifies these tyre sizes for the Navi, as well as these tyre pressures, and recommended brand of tyre.
| Wheel | Tyre size | Tyre pressure (cold) | Tyre brand ships with |
| --- | --- | --- | --- |
| Front | 70/90-17M/C 38P | 22 psi / 150 kPa / 1.5 bar | MRF NYLOGRIP ZAPPER-FT |
| Rear | 80/90-17M/C 50P | 29-36 psi / 200-250 kPa / 2-2.5 bar | MRF NYLOGRIP ZAPPER |
Honda Navi tire sizes, pressures, brands
About the Honda Navi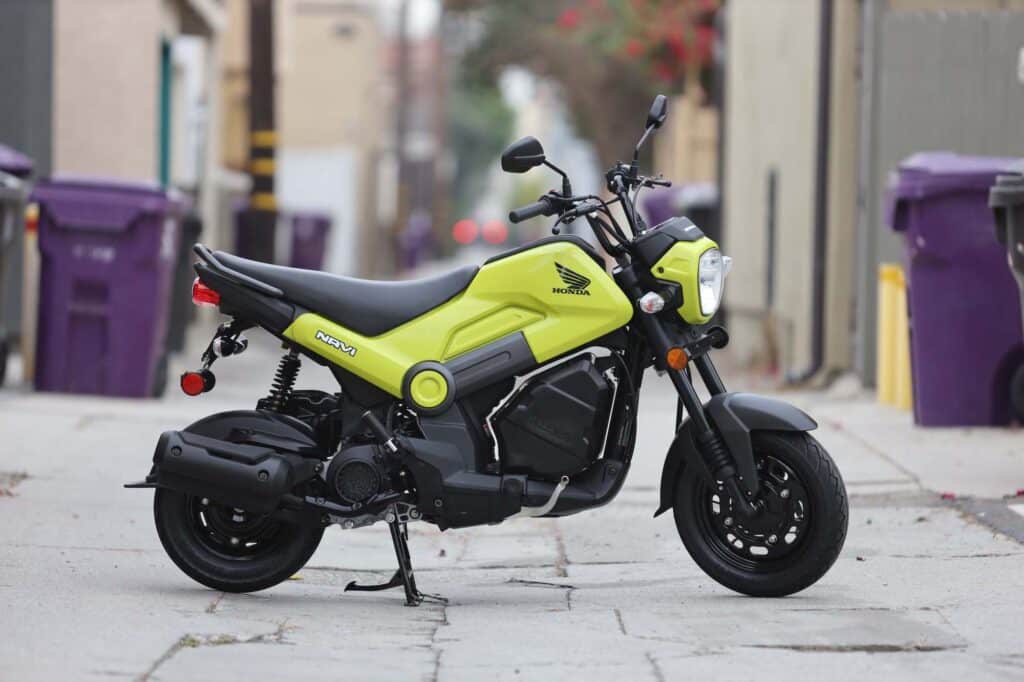 The 2022 Honda Navi is an unexpected entrant in the world of compact motorcycles from Honda.
Honda makes a huge range of bikes, from everyday commuters like the Navi all the way up to fire-breathing dragons like the latest Honda CBR1000RR-R SP.
But Honda has been making "pit bikes" — everyday utility bikes that are masters of low-speed — for a very long time.
The Honda Navi fits directly into this category. It's cheap, easy to use, and very low-maintenance.
It has a "twist-and-go" CVT transmission. Honda makes a few automatic-style transmissions, but this one is different from the DCT you get on high-end Gold Wings and Africa Twins (or even some mid-range bikes like the Honda NC750X).
CVT is actually "continuously variable" and gives a really smooth riding experience. It's the end result that's important, and it just means that as a rider, you never have to worry about a clutch, nor about shifting.
The engine in the Navi is one Honda has already used in other vehicles. It has a very old-school design — air-cooled (well, actually fan-cooled), carburettor-fuelled, and two valves in the one cylinder. It makes pretty low power (a claimed 5 kW or 8 hp at 9500 rpm), but you can pull it up to over 80 km/h or 50 mph if you're patient. But that's not what the Navi is really for.
Carburettor fuelling is interesting because it's one aspect of the Navi that's not low-maintenance. Carburettors can gum up with the wrong fuel if left to sit. And the other bikes of the miniMOTO line have fuel-injected engines.
Because remember, you'll be pulling yourself to a stop on the Honda Navi from those frenetic speeds with not just a rear drum but dual drum brakes. It might do it once or twice, but you really wouldn't want to be aggressively braking with dual drums for very long, if at all.
Braking on the Navi isn't just unusual in that it's via dual drums. There's not even brake fluid on the Navi — just a brake cable. This means easier maintenance as there's no fluid to replace every two years.
The final unusual part of the Honda Navi is the belt final drive. Oh, and on top of that, Honda kept all driveline stuff on the left hand side, which means you get an exposed rear wheel thanks to the single-sided swing-arm.
Just in case you were about to write the Navi off as low-spec everywhere, it has a fuel gauge, something that many $15000+ motorcycles lack!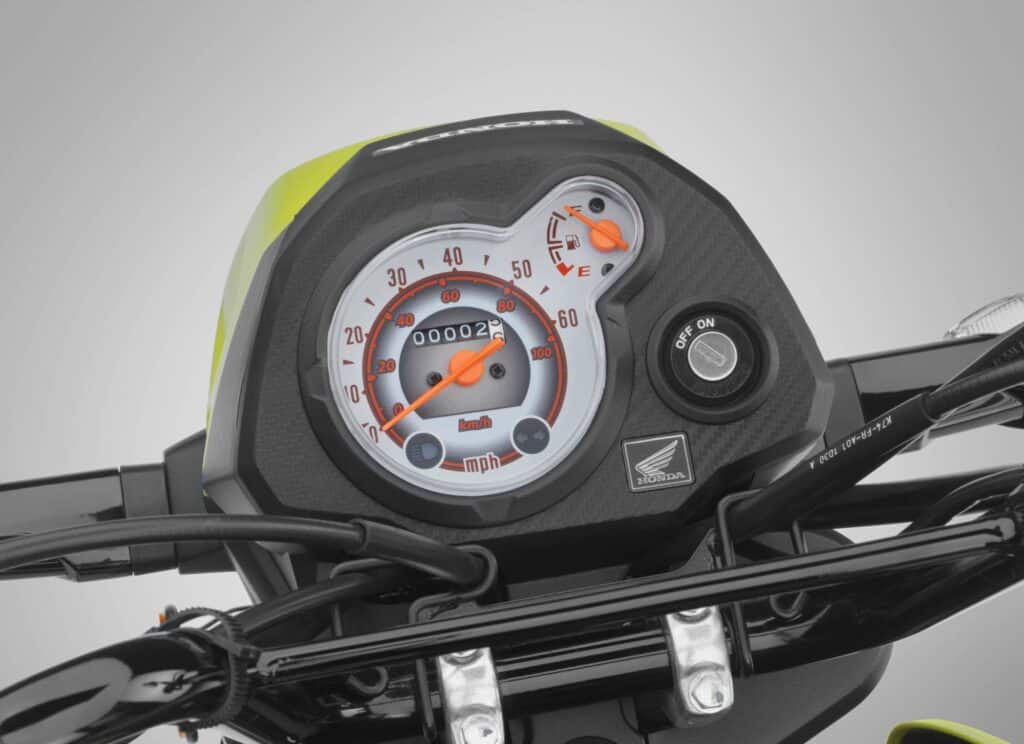 Reference — Manual Screenshots for the Honda Navi
The above maintenance schedule comes directly from the user's manual for the Honda Navi.
You can download the manual from here.