Honda Grom MSX125 (2021+) Maintenance Schedule and Service Intervals
This is the maintenance schedule and associated service intervals for the Honda Grom available from mid 2021 (or 2022 in some areas), replacing the venerable original Honda Grom.
The Honda Grom (MSX125 in Europe and East Asia) is a 125cc compact motorcycle, sharing an engine with other "mini" motorcycles like the Honda Monkey.
Honda updated the Grom for the 2021 (or 2022 in some places). They made it Euro 5 compliant, gave it slightly more power, a much-requested fifth gear, quick-detach body panels, an LCD dash, and an IMU to assist with ABS.
In terms of maintenance, the schedule changed slightly — there's now a user-serviceable oil filter.
Here are the other Honda miniMOTO maintenance schedules:
This was originally published Sep 12, 2021, but has been significantly updated since.
This site has links for things like oil and spark plugs from which we earn a commission (which unfortunately nobody can save, not even us). If you appreciate this work, then please use those links. Thanks!
2021+ Honda Grom Service Intervals
Service intervals are every 4000 mi or 6400 km for the Honda Grom. This is like other motorcycles in the Honda miniMOTO range (which mostly share the same engine).
At each service, don't just change the oil, but also inspect or replace the spark plug and check the valve clearances.
The Honda Grom 2021 differs from other variants of the miniMOTO range in that it has a user-serviceable oil filter.
Make sure you keep your chain clean and lubed. Despite being small-engined bikes, the Honda Grom is often ridden in conditions that can put a lot of stress on a chain (e.g. getting it dirty or wet, or doing lots of wheelies or racing it), which means you need to pay attention to it.
Luckily, as an air-cooled engine, there's no liquid coolant to replace in the Honda Grom.
What you need to service your Honda Grom (2021+)
Doing your own service on the Honda Grom is part of the ownership experience. But what oil, spark plugs etc. should you use? Apart from general standard motorcycle maintenance tools, here's what you need to service your Honda Grom (2021+).
Key change from the earlier Grom is the oil filter. The part used is a common Honda one. But a few other parts are different too, e.g. the spark plug.
| Part | Honda Grom 2021+ Spec |
| --- | --- |
| Oil | Honda recommends SAE 10W-30 oil that's API classification SG or higher or JASO T 903 standard MA. There are a lot of oils that fit the bill, but Honda recommends Pro Honda GN4 10W-30. |
| Oil filter | The 2022+ Honda Grom takes an oil filter with part number 15412-MGS-D21, or replace it with a Hiflofiltro HF117. |
| Spark plug | Manual specifies NGK CPR7EA-9S (different to former years). |
| Brake fluid | The manual recommends Honda DOT 4 or DOT 3 brake fluid. |
| Air filter | Honda part number for the air cleaner is 17210-K26-G00 for 2021+ (different to earlier years — new airbox). |
| Chain maintenance | Service your chain regularly! Either use a Motul chain care kit, or with Motul chain paste. |
| Grease | Use lithium soap-based grease and silicone grease for external pivot points, like the sidestand and bearings. |
| Brake pads | EBC FA375HH for the front and FA629HH for the rear (same as former years). |
Honda Grom 2021+ maintenance parts
Honda Grom Maintenance Schedule
Below is the maintenance schedule for the Grom 2021+, re-ordered to be more intuitive, and made more legible.
Notes:
Keep following this maintenance schedule past the end of the schedule, following the pattern shown every 1, 2, or 3 service intervals

Break-in service for the Grom is simply to change the oil, check the torque of everything, and adjust engine idle speed.
Honda suggests getting a qualified mechanic to service wheels/tyres, steering head bearings, and brake fluid.
Maintenance Procedures:
I: Inspect and clean, adjust, lubricate, or replace, if necessary
C: Clean
R: Replace
x 1000 mi
4
8
12
x 1000 km
6.4
12.8
19.2
Every
Engine oil (Pro Honda GN4 10W-30)
R
R
R
Every year: R
More often if riding in wet / dusty areas
Engine oil strainer screen
C
Engine oil filter (HF117)
R
Spark plug (CPR7EA-9S)
I
R
I
Valve Clearance
I
I
I
Engine Idle Speed
I
I
I
Air filter
R
Replace more often if riding in wet / dusty areas
Crankcase breather
C
C
C
Clean more often if riding at full throttle or in rain
Drive Chain (Motul chain care kit)
Every 300 mi (500 km): I L
Throttle Operation
I
I
I
Fuel line
I
I
I
Brake Fluid (Honda DOT 4)
I
I
I
Every 2 years: R
Brake Pad Wear
I
I
I
Brake System
I
I
I
Brake Light Switch
I
I
I
Headlight Aim
I
I
I
Clutch System
I
I
I
Side Stand
I
I
I
Suspension
I
I
I
Wheels/Tires
I
I
I
Nuts, Bolts, Fasteners
I
Steering Head Bearings
I
Evaporative Emission Control System
I
Honda Grom 2021+ maintenance schedule table
Tyre size and tyre pressure for the Honda Grom
The manual for the Honda Grom specifies these tyre sizes and recommends the following tyre pressures (when cold):
| Tyre | Size | Tyre pressure |
| --- | --- | --- |
| Front | 120/70-12 51L | 29 psi / 2 bar |
| Rear | 130/70-12 56L | 29 psi / 2 bar |
Tyres and tyre pressures for the Honda Grom (2021+)
The Honda Grom ships with Vee Rubber V119C or IRC NR77U tyres — tubeless.
About the Honda Grom MSX125 (2021+)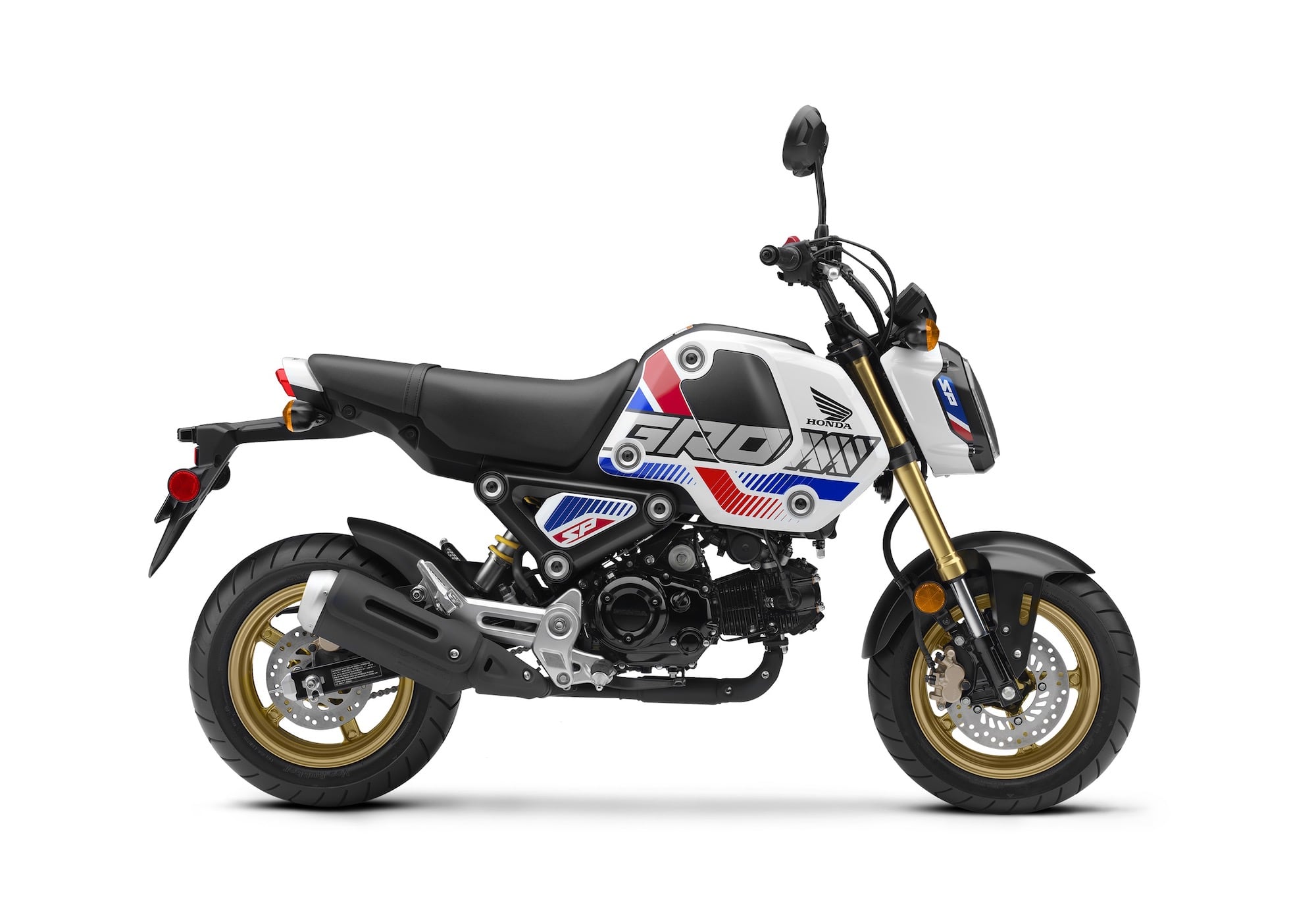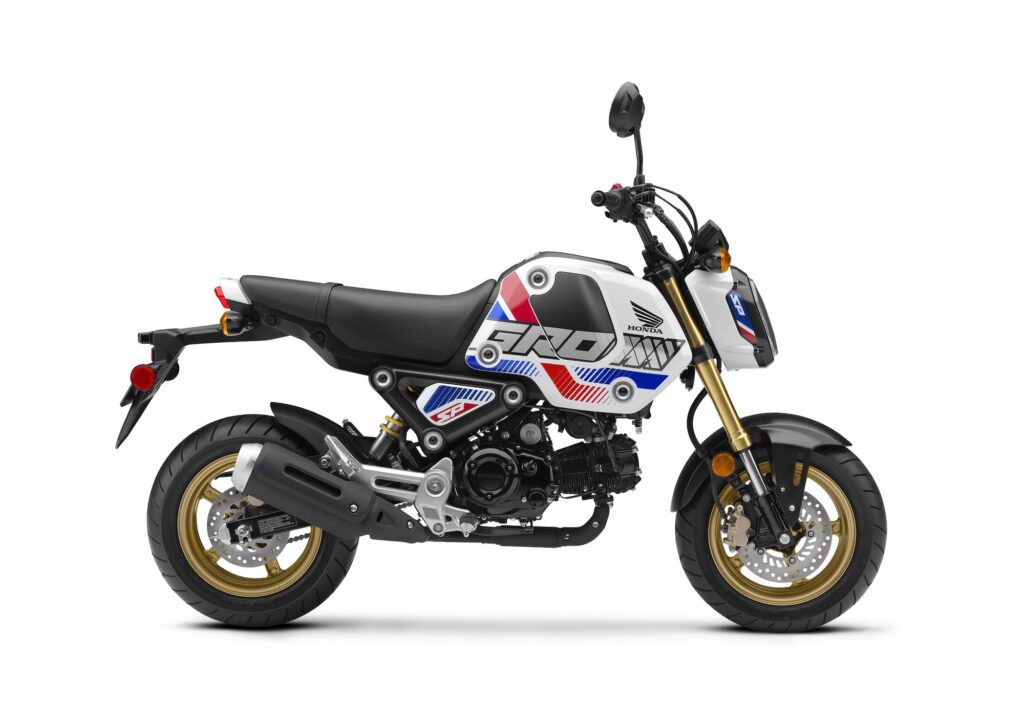 The 2021+ Honda Grom (known as the MSX125 in Europe) continues the same basic concept as the earlier Grom — a fun and high-tech mini-motorcycle that's a great platform for learning to ride, modify, and stunt motorcycles.
Because its 124cc engine only makes very modest power (7 kW or 9 hp), the Grom isn't going to get you in a huge amount of trouble unless you really try. Its top speed is somewhere that's barely freeway legal, and in many parts of the world it's not legal to ride motorcycles like this on the motorways anyway.
But freeways are not what the Grom is about. The Grom is about making the absolute most out of lower speeds. It's the kind of bike that is the platform for people to learn how to do things like wheelies and stoppies or how to get their knee down for the first time.
The new-for-2021 (2022 in the US) Grom MSX125 is a huge improvement over previous generations. The engine has been revamped with an undersquare design and higher compression ratio, giving slightly more power and also higher efficiency.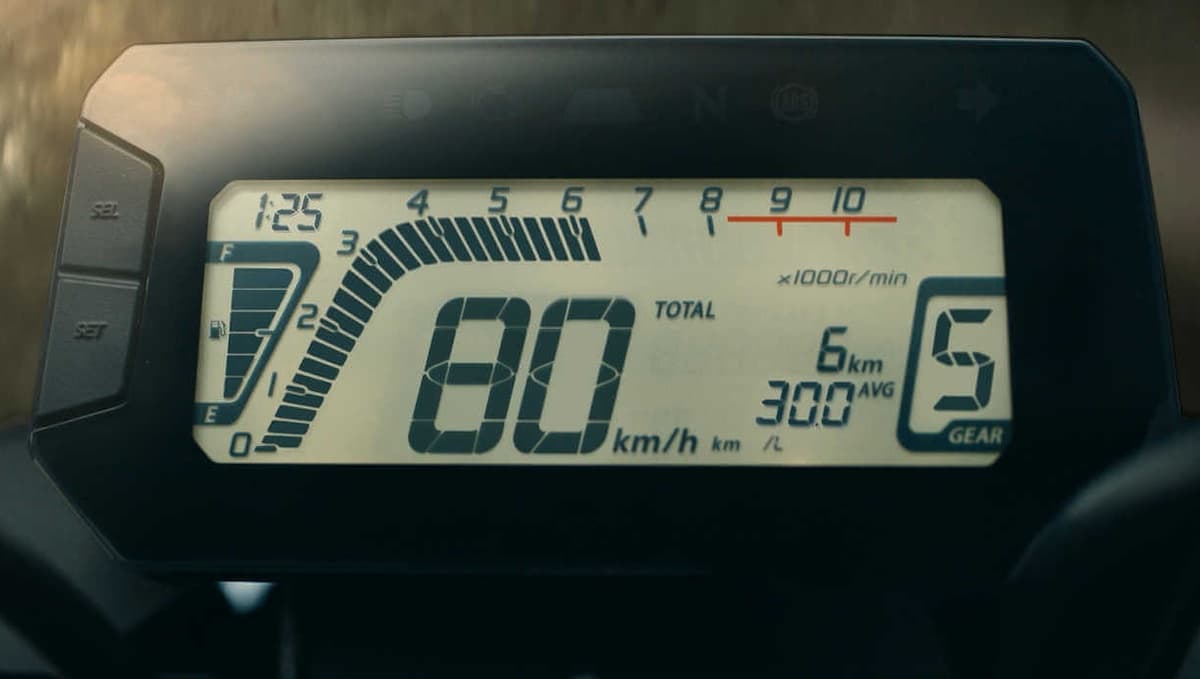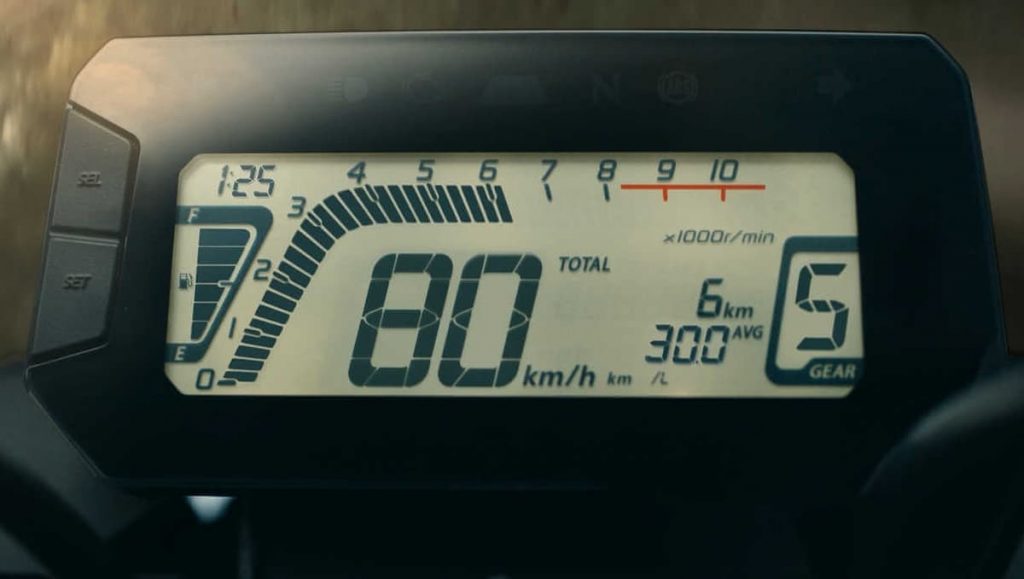 Other important changes for the 2021+ Grom/MSX125 are
A five-speed transmission — for a bit more efficiency at higher speeds
A revised LCD dash, with a tachometer, fuel gauge, and gear position indicator
Bodywork that's quick to remove
Improved engine (higher compression ratio, more power, more efficiency)
As usual, the Honda Grom comes in a variety of awesome colours, including black, silver, and red. I mean Gunpowder Black, Force Silver, and Gayety Red.
Manual for the Honda Grom (2021+).
The above maintenance schedule comes directly from the user's manual for the 2022 Honda Grom in the US. It's slightly different to the schedule in earlier manuals.
You can download it here.