Honda Ruckus / Zoomer (2003+, 50cc) Simplified Maintenance Schedule
The Honda Ruckus is a compact scooter/ getaround vehicle with very simple tech at it's base and a striking design. It's unique, whether you call it a scooter, pit bike, both, or whatever else.
The Ruckus is also known as the Zoomer in many markets.
The Ruckus is based on a 50-cc liquid-cooled single-cylinder carburettor-fed engine. It's a very simple engine, with a single overhead valve and two valves. The final drive is via an automatic V-matic engine and a belt transmission.
Over time, the Honda Ruckus has changed in subtle ways. The carburettor size has increased from 15 to 18 mm, the fork gained a bit more travel, and more colours have come out. Despite these changes, maintenance for the Honda Ruckus hasn't changed.
Despite being a compact, "fun" bike that's useful as a pit bike, the Ruckus isn't part of the "miniMOTO" range of Honda motorcycles (e.g. like the Grom) and is just considered a scooter.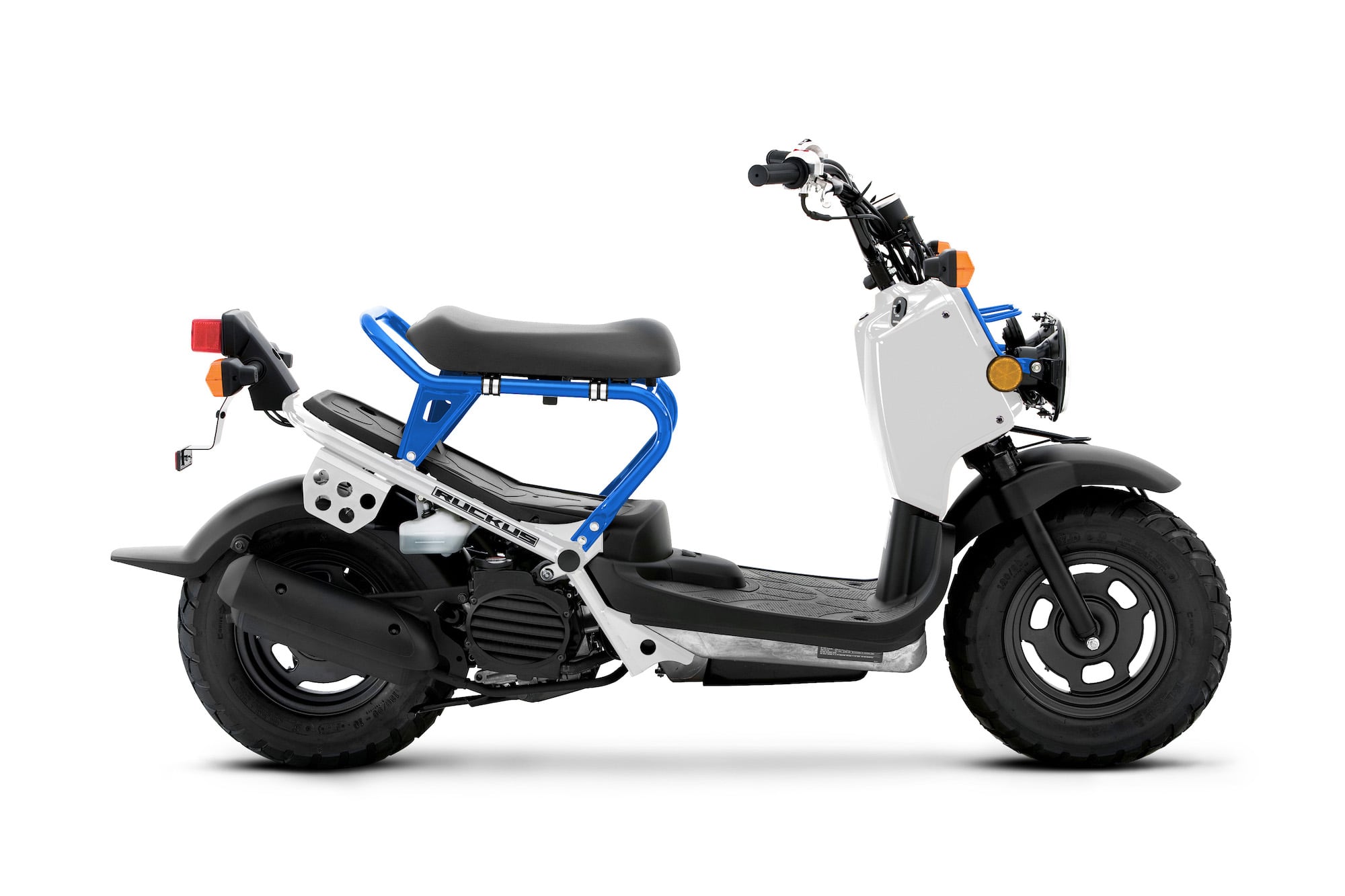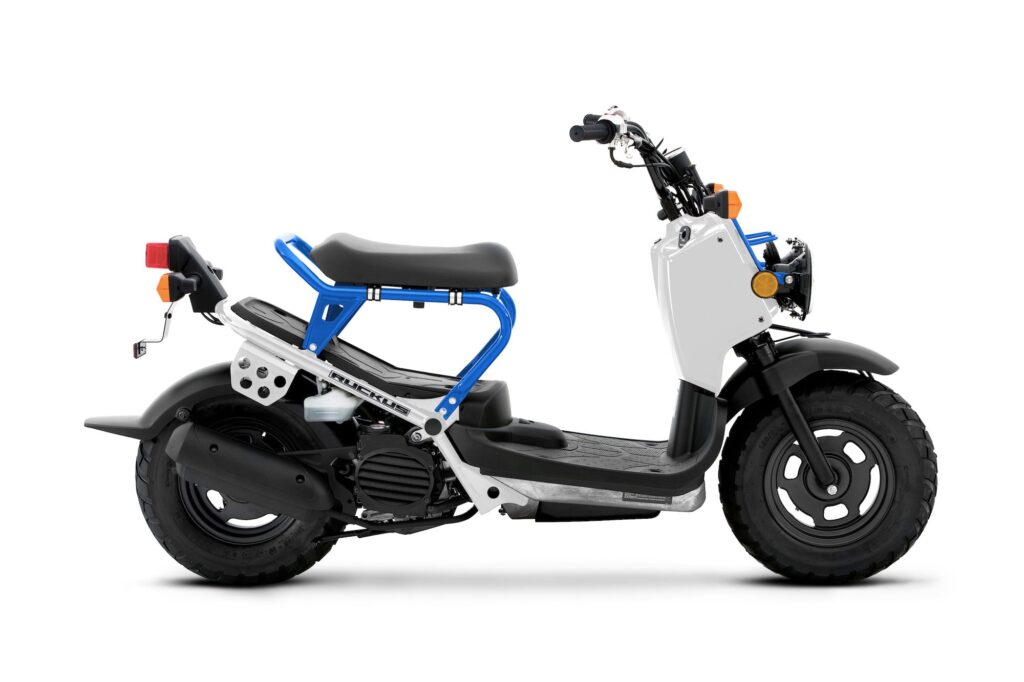 This site has links from which we earn a commission (which unfortunately nobody can save, not even us). If you appreciate this research work, then please use those links. Thanks.
Overall Service Intervals for the Honda Ruckus / Zoomer
The Honda Ruckus has scheduled service intervals of 2500 miles or 4000 km. At each service, change the oil. Change the oil every 6 months even if you don't meet that mileage.
You are also supposed to do a valve clearance inspection every 15000 miles / 24000 km, making adjustments as necessary.
Since the Ruckus is liquid-cooled, make sure to change the coolant every 2-4 years, depending on the type of coolant you use.
There's no maintenance interval for the final drive oil, but other manufacturers recommend it every two years.
The brakes (front and rear) are controlled by cable, so there's no brake fluid to replace. And there's no clutch!
Maintenance Schedule for the Honda Ruckus / Zoomer
Here's the full maintenance schedule for the Honda Ruckus. Since it's sold new, the break-in schedule is also included.
Repeat the maintenance schedule periodically every 2500 miles / 4000 km, or multiples thereof.
The schedule below is made easier to visually read compared to the one in the manual, which requires a bit of decoding. Plus, a couple of additional items are added that aren't in the schedule but which are in the service manual.
mi x 1000
0.6
2.5
5
7.5
km x 1000
1
4
8
12
Every
Perform full inspection for the Ruckus (see below)
✓
✓
✓
Engine oil – change
Pro Honda GN4 10W-30
Torque bolt to 25 Nm / 18 ft-lb
✓
✓
✓
6 months
Engine oil strainer – Clean
✓
Air cleaner – Replace
✓
Spark plug – Replace
Spark plug spec: NGK CR8EH-9
CR7-EH-9 for cold climates, regularly near freezing
Torque to 12 Nm / 9 ft-lb
✓
Valve clearance – Check / Adjust
Intake: 0.10 +/- 0.03 mm (0.004 +/- 0.001 in)
Exhaust: 0.19 +/- 0.03 mm (0.007 +/- 0.001 in)
15000 miles / 24000 km
Engine idle speed – Inspect / Adjust
✓
✓
✓
✓
Clutch shoe wear – check
✓
Fuel line – inspect for leaks, cracks
✓
Cooling system – Inspect for leaks, cracks
✓
Steering head bearings – check
✓
✓
Radiator coolant – replace
2 years
Secondary air supply system – inspect
✓
Honda Ruckus / Zoomer maintenance schedule
Standard inspection checklist
Below is the standard inspection checklist for a Honda Zoomer. Do this at every scheduled service.
Honda Ruckus / Zoomer maintenance checklist
Throttle operation – inspect, adjust free play
Brake system – inspect
Brake shoe wear (front and rear) – inspect, replace as necessary
Brake lock operation – check
Check final drive oil level (see below)
Check belt width / wear, replace as necessary (see below)
Headlight aim – check, adjust
Suspension – check for ease of movement
Nuits, Bolts, Fasteners – check for tightness
Wheels / tires – check
Tire Pressure, cold: 225 psi / 175 kPa / 1.75 bar front and rear
Honda Ruckus maintenance checklist
Break-in service
Note on the break-in service: Very little is required, so it is not mentioned below above. Check these four things:
Engine idle speed
Brake system for leaks
Brake lock operation
Nuts, bolts, and fasteners tightness
Steering head bearings for smooth operation, no notchiness
Final Drive Oil for the Honda Ruckus
The maintenance schedule for the Honda Ruckus doesn't explicitly mention changing final drive oil, but it suggests checking the level.
On its center stand, warm up the engine to normal operating temperature. Remove the final reduction oil check bolt with something underneath it (e.g. a tray).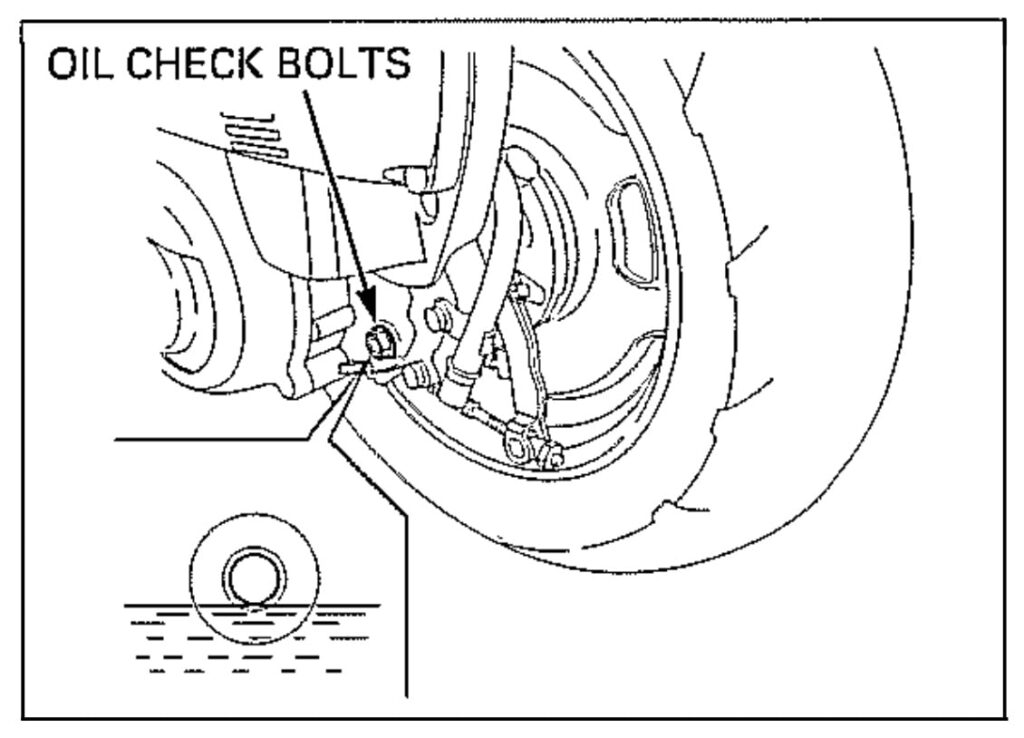 If oil flows out, you're good. If not, then top it up with the recommended oil of Hypoid Gear Oil SAE 90.
Honda Ruckus Belt Maintenance / Replacement
The maintenance section in the Honda Ruckus owner's manual doesn't mention the drive belt, but the service manual does.

Check the drive belt by measuring its width with a micrometer or digital calipers, or trying to fit a 17 mm wrench over the belt (if it fits, the belt is too worn.)
Also do the typical checks for a motorcycle belt: make sure all the ridges are there, the rollers are in good condition, and that the belt is not cracked or worn.
The Honda part number for the Honda Ruckus' drive belt is 23100-GEZ-003. This part fits all year models of the Ruckus.
About the Honda Ruckus
There are scooters, and then there's the Honda Ruckus, which is technically a scooter but which has enough style and personality to win over lots of other bike aficionados.
Despite being a compact motorcycle, the Ruckus isn't normally considered alongside other Mini motorcycles from Honda. The closest would be the Honda Navi, a similarly reliable and utilitarian compact motorcycle with a simple engine and unique design.
There's a lot that makes the Ruckus special and unique. At its base, it's just a 50cc scooter with an extremely low-tech (carburettors, two valves) and relatively low-powered engine.
But the beauty of the Ruckus is partly its simplicity. It's just a very basic motorcycle. Very little can go wrong with it. The engine is so low-stress that the drivetrain doesn't even have a replacement schedule for its lubricant.
Even though it's low-capacity, the Ruckus isn't weak. It makes 4 hp or 2.5 kW, which if you compare it to an eBike, is a ton of power! And that's pretty much competition for the Honda Ruckus — similarly powerful but currently much more expensive electronic cargo bikes.
The other thing that's special about the Ruckus is its visual design.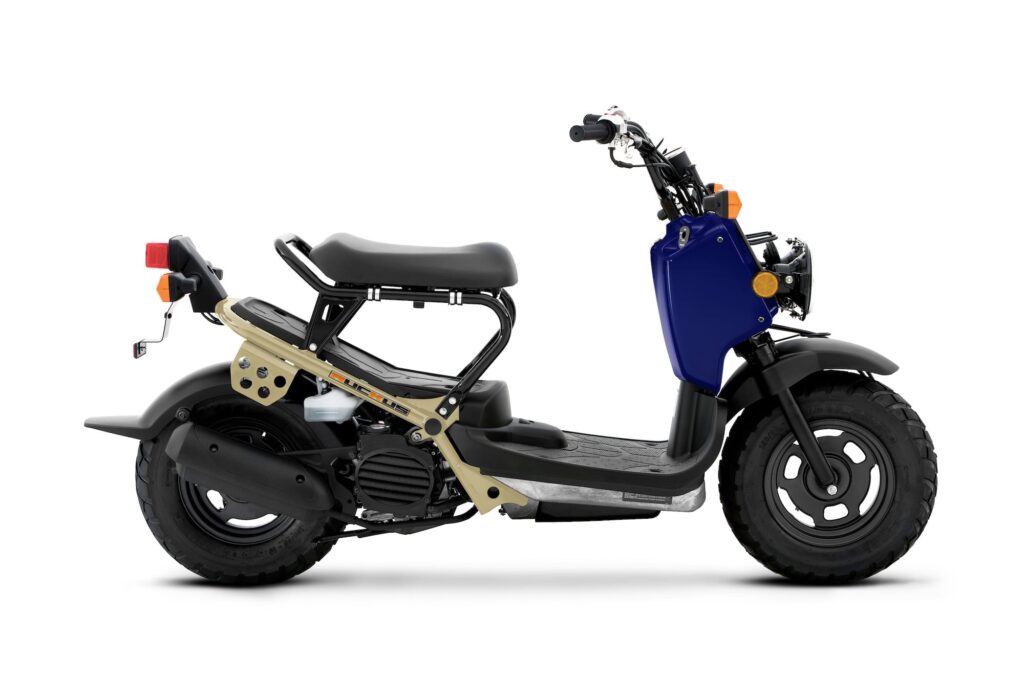 It's quite a looker! Single-sided swingarm, exposed frame, cool colours, dual front headlights… it all stacks up to make quite a cool looking practical motorcycle. The whole design begs to be customised, and indeed many Ruckus owners do heavily customise their bikes.
Honda even made a "Big Ruckus" 250cc version, but only for a few years, marketing it in the US for only two years (2005 and 2006). It just wasn't as popular, I suppose! But then the 250cc segment is a lot more competitive.
There are many reasons to like the Honda Ruckus.
Firstly, it looks awesome. There are no other sub-100 cc bikes that look quite as "cool" — well, not in exactly the same way.
Secondly, the Ruckus is very easy to ride. Even if you have zero motorcycling experience, the Ruckus is as simple as twist and go. It's the kind of bike you can rent out easily in resorts, for example.
Thirdly, the capacity means that in many places, you don't even need a motorcycle license to ride one.
Fourthly, it's extremely easy to both repair and to aesthetically upgrade the Honda Ruckus. There's a big aftermarket for people making custom jobs.
Fifthly, mileage. Needless to say, a lightweight (less than 200 lb / 90 kg) motorcycle with a 50cc motor isn't going to burn through your wallet. You can expect well over 100 MPG, or less than 2L / 100 km. That's more efficient than the MPGe of electric cars.
Sixthly, the Honda Ruckus is reliable. Even though you should change the oil every 2500 miles / 4000 km, the truth is it'll survive if you don't. And the valve inspection interval is so wide it's easy to forget about altogether.
The top speed of the Honda Ruckus isn't remarkable — about 40 mph and 60 km/h if you are patient. Realistically it's more like 30 mph / 50 km/h for everyday riding. This puts it on with high-power electric bicycles.
Reference — Manual screenshots from the Honda Ruckus owner's manual
Below are some pages from various manuals for the Honda Ruckus / Zoomer as reference.
You can download manuals for Honda motorcycles from their manual repository here.