BMW R nineT Pure (2021+) Maintenance Schedule
This is the complete maintenance schedule for the BMW R nineT Pure, made from 2021, with ride by wire and cruise control as standard.
The maintenance schedule for the R nineT Pure 2021 is similar to the schedule for the outgoing cable throttle-actuated BMW R nineT Pure (2017-2020), but with some updates that come from the TbW system.
The whole BMW R nineT range of motorcycles shares a common engine base — an air/oil-cooled 1170cc flat twin "boxer" engine with four valves per cylinder and double overhead camshafts. The engine makes about 81 kW (110 hp) of power and 119 Nm (88 lb-ft) of torque, sending it to the rear wheel through a dry clutch and a shaft drive.
You may be searching for one of the following maintenance schedules from the BMW R nineT family:
BMW R nineT maintenance schedules
There are other motorcycles in the R nineT range, like the Urban G/S or the top-of-the-line Classic. While their maintenance schedule share many elements, some are different, and some parts vary, too.
This post was originally published on July 19, 2021, but has since been considerably updated with more detail.
This site has links for things like oil and spark plugs from which we earn a commission (which unfortunately nobody can save, not even us). If you appreciate this work, then please use those links. Thanks!
Service intervals for the 2021+ BMW R nineT Pure
Like the previous 2017-2020 BMW R nineT Pure (and other R nineT models), the 2017-2020 R nineT Pure has an air/oil-cooled boxer engine with service intervals of a relatively short 6000 miles / 10000 km. At every service, you have to change the oil and filter and also check the valve clearances.
BMW also wants you to change the oil every year, regardless of whether you travelled the 10000 km / 6000 miles or not. There's also an annual full multi-point inspection to check for leaks or parts that need lubrication.
Luckily, the valve clearance inspection is only by distance, and it isn't too hard on the R nineT. Once you're changing the oil at that point, it's easy to remove the valve covers as they're poking out the sides of the motorcycle rather than under a bunch of fairings. It doesn't add much cost to the service.
Every two services for the R nineT Pure, change the air filter and the spark plugs.
Finally, make sure you regularly check and replace fluids on your R nineT like shaft drive lubricant and brake fluid.
What you need to service the BMW R nineT Pure 2021+ — Consumables and Special Tools
For the BMW R nineT Pure, the manual recommends the following specific consumables.
Part
BMW R nineT Pure (2021+) Spec
Engine oil
Per the manual for all R nineT bikes, a maximum of 3.8 L (1 US gal) L of SAE 15W-50, API SJ/JASO MA2. Additives (for instance, molybdenum-based substances) are prohibited, because they would attack the coatings on engine components, BMW Motorrad recommends BMW Motorrad ADVANTEC Ultimate oil.
Oil filter
All BMW R bikes use a BMW/Mahle oil filter, part number 11 42 7 673 541. The best replacement is a Hiflofiltro HF164.
Spark plugs
NGK MAR8AI-10DS This is what the manual suggests. Make sure it's gapped correctly to 0.8mm (get a gapping tool).
Air filter
You can use the stock air filter (BMW Part 13728406673).
Brake pads
Use the standard brake pads by Brembo, which you can order from your dealer. Or use EBC double hardened brake pads to get the best out of your advanced braking system. For the Pure, use two FA244HH for the front, and one FA363HH for the rear.
* Note — Pads are different across the R nineT line (R nineT Classic vs Pure, Racer, Scrambler, and Urban GS) — get the right ones.
Drive oil
Called the "Rear axle differential oil" in the manual. BMW recommends "SAE 70W-80 / hypoid axle G3", but many hypoid gear oils work, e.g. Mobil 1 75W-90.
Alternator belt
Super annoying when this breaks! The part number is 11 31 8 528 385. It's easiest to pick this up from a dealer.
BMW R nineT Pure consumables
BMW R nineT Pure (2021+) Maintenance Schedule
Below is the maintenance schedule for the BMW R nineT Pure as per the manual, but made more clear so that you can understand what needs to happen more easily.
The R nineT motorcycles. have quite short valve maintenance intervals. You have to service the valves every 6,000 miles or 10,000 kilometres. The Pure also doesn't need you to change fork oil, as the forks are simpler than on the R nineT.
Simplified, the maintenance for the BMW R nineT involves:
A standard service every 12 months (irrespective of distance)
Oil change every 10,000 kms or 12 months, whichever is earlier,
Checking the valve clearances every 10,000 km/6,000 miles (with no time restriction)
A series of other periodic checks
Notes:
Observe the earlier of the time or distance-based interval.
Previous manuals used to require adjusting synchro every 10,000 km, but this has been eliminated since the advent of ride by wire.
The running check is omitted, as it's usually performed by a dealer under warranty, but it's basically a standard service and an oil change.
At the end of the schedule, continue in the pattern shown.
| x 1000 km | 10 | 20 | 30 | 40 | |
| --- | --- | --- | --- | --- | --- |
| x 1000 mi | 6 | 12 | 18 | 24 | Every |
| Standard scope of BMW service | | | | | Year |
| Engine oil change, with filter (BMW Motorrad ADVANTEC Ultimate oil, BMW/Mahle oil filter, part number 11 42 7 721 779) | X | X | X | X | Year |
| Oil change in the rear bevel gears | | X | | X | 2 years |
| Check valve clearance | X | X | X | X | |
| Change transmission oil (Mobil 1 75W-90) | | | | X | After 1 year, then every 2 years |
| Replace spark plugs (NGK MAR8AI-10DS) | | X | | X | |
| Replace air cleaner insert (BMW part 13717706414) | | X | | X | |
| Replace alternator belt (11 31 8 528 385) | | | | X | 6 years |
| Change brake fluid in entire system (Castrol Dot 4) | | | | | After 1 year, then every 2 years |
BMW R nineT Pure (2021+) maintenance schedule
BMW Motorrad Service, standard scope
The activities in the BMW Motorrad Service standard scope (that are to be done periodically according to the service schedule above) are listed below.
There might be additional work to be done on your BMW R nineT Pure in addition to the standard service — whatever you (or the mechanic) observe.
Note: Some of the below tests, including those that need the BMW Motorrad diagnostic system or re-setting the service due date, require BMW-specific equipment. These are marked with a [B].
BMW R nineT Pure regular maintenance
[B] Perform vehicle test with BMW Motorrad diagnosis system
Visually inspect the clutch system (adjust free play and lubricate as necessary)
Check steering-head bearing
Visually inspect the brake lines, brake hoses and connections
Check front brake pads and brake discs for wear (replace pads with FA244HH if necessary)
Check front wheel brake fluid level
Check rear brake pads and brake disc for wear (replace pads with FA363HH if necessary)
Check rear wheel brake fluid level
Drain the oil condensate hose
Check tyre pressures and tread depth
Check side stand for ease of movement
Check tension of the spokes (if spoked rims fitted) and tighten as needed
Check the lighting and signal equipment
Functional check for engine start suppression
Final inspection and road safety check
[B] Set the service-due date and service countdown distance (using the BMW Motorrad diagnostic system)
Check battery charging state
[B] Confirm BMW service in the vehicle literature
BMW Motorrad service for R nineT Pure (2021+) — Standard scope
BMW R nineT Pure Tire size and pressures
The following are tire sizes and tyre pressures for the BMW R nineT Pure.
BMW recommends these tyre pressures for most of their standard bikes and sport bikes. Stock, the wheels are cast wheels, though you can opt for spoked wheels.
Wheel/Tire
Size
Pressure (cold)
Front
120/70 ZR 17
2.5 bar (36 psi)
Rear
180/55 ZR 17
2.7 bar (39 psi) one-up
2.9 bar (42 psi) two up with cargo
BMW R nineT Pure tyre size and pressure
About the 2021 BMW R nineT Pure
When it was released in 2014, the BMW R nineT was an instant classic — a true "return to roots" of motorcycling.
It was also an opportunity for BMW to keep their old-school air/oil-cooled "camhead" motor in production. While the more advanced motorcycles switched to liquid cooling, the R nineT stayed free of the shackles of a radiator.
In contrast with earlier BMW roadsters, BMW finally ditched the telelever front suspension for a traditional fork. The original 2014-2016 R nineT had non-adjustable suspension, something that the 2017+ R nineT Pure models inherited, as the base (premium) R nineT got fully adjustable inverted forks from 2017 onward.
All motorcycles in the range (including the BMW R nineT Pure) are powered by the final air-cooled version of the opposite-twin Boxer engine, which in dual overhead cam form produces a claimed 85 kW (110 hp) and 116 Nm (88 lb-ft) of torque.
The R nineT Pure also comes classic with cast alloy rims and tubeless tyres, in contrast with the spoked rims and tubed tyres that are default on some other models.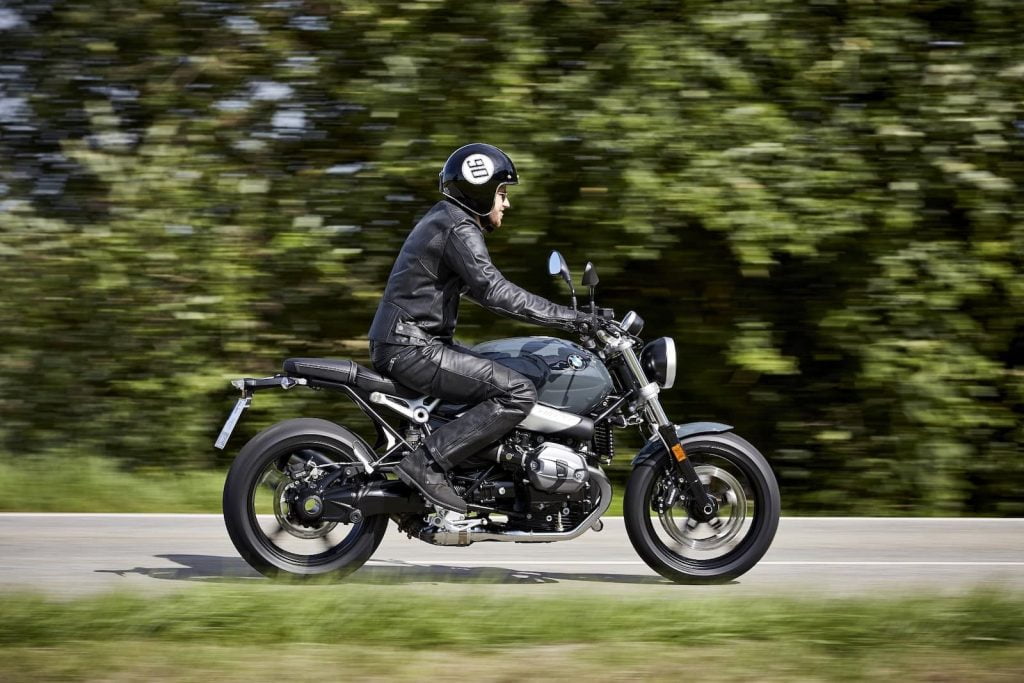 In 2021, the R nineT Pure was updated to include full ride by wire and a 6-axis IMU with benefits like cornering ABS and lean angle-aware traction control. You can also get optional advanced riding modes and even cruise control — so this "back to basics" bike has some of the features that still aren't on other premium bikes, like the Ducati Scrambler 1100 (which has RbW, but no cruise yet).
There is, of course, a wide range of accessories and options for the R nineT Pure, as there were in earlier models. These have really filled out over the years. You can pour a lot of money into a BMW motorcycle!
Reference — Screenshots from the Manual for the 2021 BMW R nineT Pure
Below is a screenshot of the maintenance schedule from which the above was transcribed (there's more information in the manual about what the numbers on the left mean) for the 2021 BMW R nineT Pure.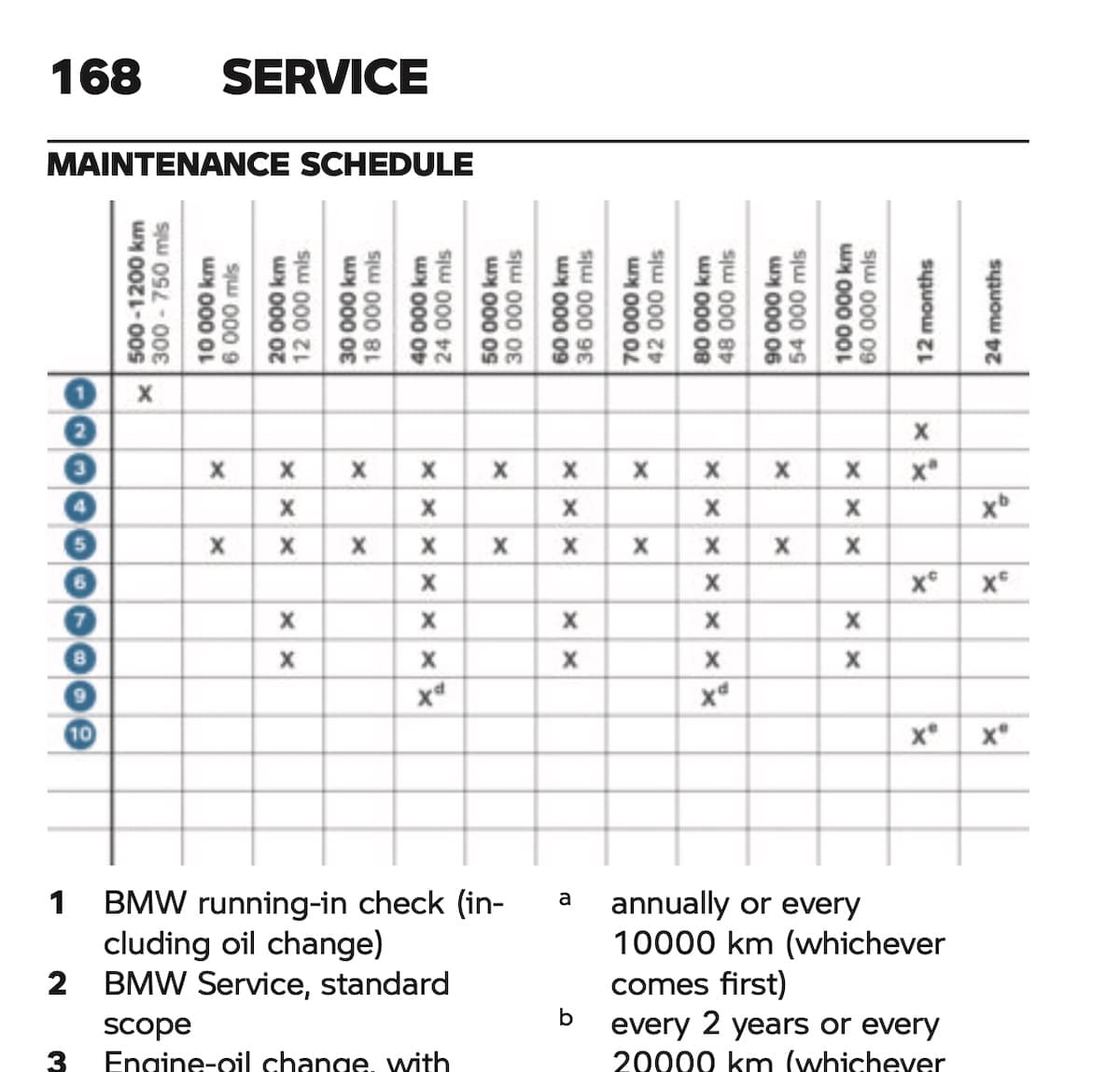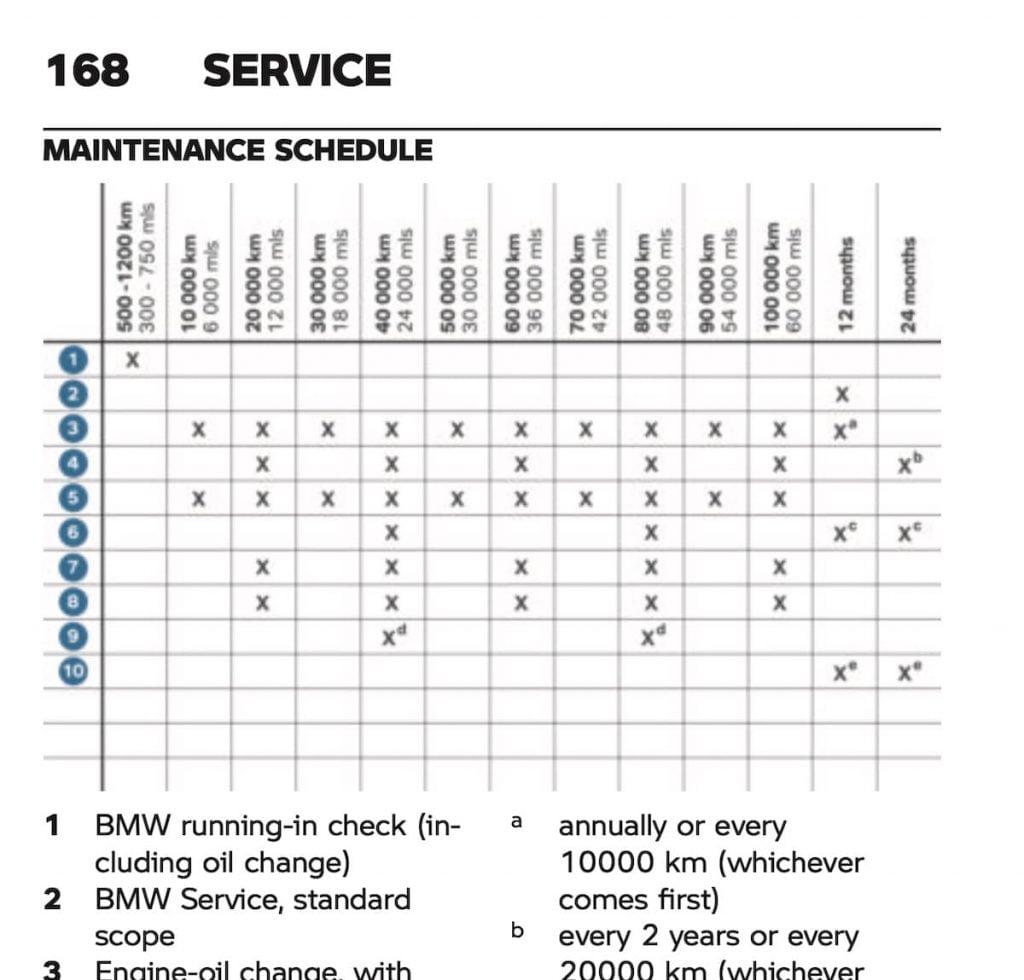 The above information was gleaned from the owner's manual for the 2021 BMW R nineT Pure. You can download it from BMW's website directly here.