Ducati ST4 (1999-2003) Simplified Maintenance Schedule and Service Intervals
This is the simplified maintenance schedule and service intervals for the Ducati ST4, the high-performance sport touring bike made between 1999 and 2003.
Ducati released the Ducati ST4 after the Ducati ST2, the first bike in the ST line. It is a bike much in the same vein — a sporty but comfortable bike with equipment designed to help you do the distance, like better protection, luggage, and a center stand.
But the Ducati ST4 is different in that it's based around an actual superbike engine out of the Ducati 916. It's a liquid-cooled 90-degree fuel-injected L-twin with four valves per cylinder (hence the "4" in "ST4"). Of course the engine is detuned slightly even compared to the base model 916, so the Ducati ST4 makes a still healthy 79 kW (107 hp) at 9500 rpm, with a fun 10000 rpm rev ceiling.
Ducati eventually retired the ST4 in favour of the Ducati ST3.
Here are all the Ducati Sport Touring maintenance schedules:
This post was originally published on August 26, 2022, but has since been considerably updated with more detail.
This site has links from which we earn a commission (which unfortunately nobody can save, not even us). If you appreciate this research work, then please use those links. Thanks.
Ducati ST4 Service Intervals
Like the Ducati ST2 that came just before it, the the Ducati ST4 is from the generation of Ducati motorcycles with service intervals of a relatively short 6000 miles / 10000 km.
At every service for a Ducati ST2, you not only have to change the oil and do a full multi-point inspection, but you also have to check the timing belts (for tension and condition) and check the valve clearances — possibly adjusting a few valves.
The Ducati ST4 has a four valve per cylinder engine. This means there are eight valves total, and sixteen clearances to check as it has a Desmodromic timing system. This can add up to an expensive or time-consuming service.
Make sure you keep the timing belts updated. Belts on this generation of Ducati motorcycles are scheduled for replacement every two years, though some owners opt to leave them for longer.
Finally, keep your fluids fresh — coolant, brake fluid, and clutch fluid all have a two-three year shelf life per the manual.
What you need to service a Ducati ST4
Below is a list of items you need to do a basic service on your Ducati ST4.
| Part | Ducati ST4 Spec |
| --- | --- |
| Engine oil | Ducati recommends high-quality SAE 10W-40 engine oil, specifically recommending Shell Advance Ultra 4. But other high-end engine oils are fine, e.g. Motul 7100 10W-40. |
| Oil filter | The Ducati ST4 takes a HifloFiltro HF153RC oil filter. |
| Spark plugs | Use a Champion RA 59 GC spark plug, different from the ST2. The spark plug gap should be 0.6-0.7 mm (you can measure with a gapping tool). Re-fit an existing spark plug to 15 ft-lb / 20 Nm, or an extra half turn after seating. |
| Air filter | You can use a K&N DU-9098 air filter on a Ducati ST4. |
| Coolant | Ducati recommends Shell Advance Coolant, an OAT coolant. A high-quality OAT coolant alternative is Motorex Coolant M3.0. |
| Timing belt | Make sure you regularly check and replace your timing belt on schedule. The part number for the timing belt for the ST4 is 73710101B. |
| Brake / Clutch fluid | Use a high-quality DOT 4 fluid, e.g. Castrol DOT 4. |
| Brake pads | The EBC brake parts to use are FA244HH at the front (two pairs) and FA266HH at the rear. EBC double-H brake pads are fairly universally praised for their good feel, high performance under duress, and long life. |
| Chain lubricant | Ducati recommends Shell Advance chain lube, but Motul Chain Paste is a high-quality and very portable substitute. |
| Grease | Ducati recommends Shell Advance Grease for many applications. But any high quality lithium soap-based grease will be a good substitute. |
Ducati ST4 maintenance items
Maintenance Schedule for the Ducati ST3 / ST3s
Below is the maintenance schedule for the Ducati ST4.
We've broken the maintenance schedule into three main parts:
Regular inspections, which you do every 600 miles / 1000 km,
The inspection checklist, which you do at every service, and
The scheduled maintenance table
Ducati ST4 Regular / Pre-ride checks
Do these checks on your Ducati ST4 every 600 miles / 6000 km or 6 months.
Ducati ST4 regular pre-ride checklist
Check brake and clutch fluid level
Check and adjust brake / clutch hydraulic controls
Check tire pressure and wear
Check brake pad wear. Change, if necessary
Check chain tension, alignment, and lubrication
(See below for more notes on chain maintenance)
Check bowden cables for proper routing
Check the coolant level
Check battery fluid level
Note: You have likely replaced the battery by now with a sealed, non-serviceable kind
Ducati ST4 regular / pre-ride checklist
Ducati ST4 Regular inspection checklist
Below is the table of inspection items for your Ducati ST4.
Ducati ST4 inspection checklist
Perform all pre-ride checks

(See list above)
Check / lubricate throttle
Check the electric fan operation (with engine running)
Check cooling circuit for leaks
Check steering bearing play
Check wheel hub bearings
Check rear wheel cush drive rubber, replace if necessary
Clean interior of fuel tank
Check tightness of nuts and bolts – tighten as necessary
Check the side stand for free movement and lubrication
Check front fork and rear shock absorber for leaks and smooth operation
Check front sprocket holder plate
Road test the motorcycle
Check indication and lighting system
Clean the motorcycle
Ducati ST4 inspection checklist
Ducati ST4 Scheduled Maintenance
Below is the full table of scheduled maintenance for the Ducati ST4.
Notes:
At the end of the maintenance schedule, keep following it in the pattern shown — every 1 to 2 services.
When there's a distance-based or time-based interval to follow, follow the earlier of the two. Some things only have distance intervals (e.g. changing spark plugs), whereas some have both (e.g. changing timing belts).
The break-in schedule isn't shown below as these motorcycles are no longer new.
| mi x 1000 | 6 | 12 | 18 | 24 | |
| --- | --- | --- | --- | --- | --- |
| km x 1000 | 10 | 20 | 30 | 40 | Every |
| Perform full inspection checklist and pre-ride checklists (see above) | ✓ | ✓ | ✓ | ✓ | Year |
| Change engine oil | ✓ | ✓ | ✓ | ✓ | Year |
| Change engine oil filter | ✓ | ✓ | ✓ | ✓ | Year |
| Clean engine oil filter at intake | | ✓ | | ✓ | |
| Check engine oil pressure | | ✓ | | ✓ | |
| Check / adjust valve clearances | ✓ | ✓ | ✓ | ✓ | |
| Check tightness of engine cylinder heads. Tighten as necessary | ✓ | ✓ | ✓ | ✓ | |
| Check timing belt tension | ✓ | | ✓ | | |
| Change timing belts | | ✓ | | ✓ | 2 years |
| Check, clean, and gap spark plugs. Change, if necessary | ✓ | ✓ | ✓ | ✓ | |
| Check and clean air filter. Change as necessary | ✓ | ✓ | ✓ | ✓ | |
| Check throttle body sync and idle speed | ✓ | ✓ | ✓ | ✓ | |
| Change brake and clutch fluid (Castrol DOT 4) | | ✓ | | ✓ | 2 years |
| Change coolant | | ✓ | | ✓ | 2 years |
| Change front fork fluid | | ✓ | | ✓ | 2 years |
Ducati ST4 Maintenance Schedule
Maintaining Your Chain on the Ducati ST4
The Ducati ST4, like other Ducati sport touring bikes, is a bike that you are likely to use in all kinds of conditions (traffic, mountains, rain, etc.). This is an extra reason why you should maintain the chain of the ST4 well.
Use a good-quality chain lubricant like Motul chain paste which is easy to pack on journeys. Ducati recommends Shell Advance Chain but many products are similar.
Ducati recommends you follow the following chain maintenance schedule:
Chain maintenance item
Every
Check chain condition and lubrication
600 mi / 1000 km
Check chain tension and alignment, adjusting if necessary
Tension spec: approx 32mm of slack
6000 mi / 10000 km
Chain maintenance — Ducati ST4
To measure the chain tension, put the bike on its center stand. Rotate the wheel until you find the tightest part of the chain (if any).
Push the chain upwards lightly with your finger. Measure the distance between the topmost point and the bottom-most.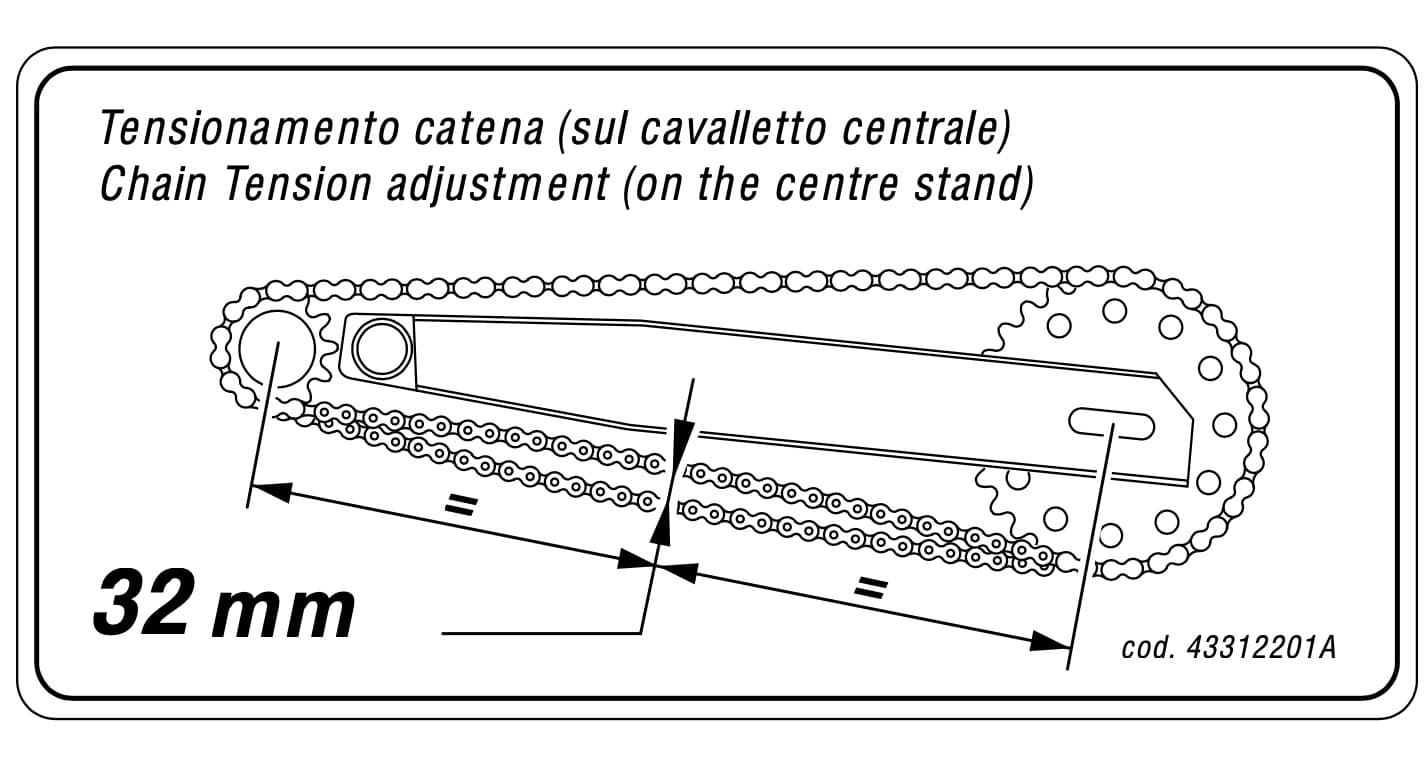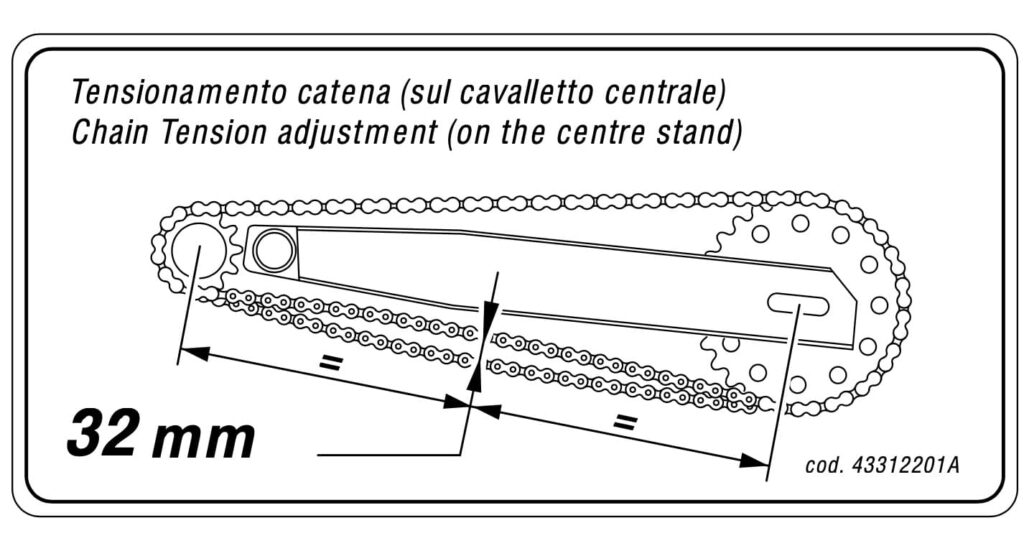 If it's too tight or too loose, adjust it by loosening the nut of the wheel shaft, and then tightening or slackening the adjuster screws until the tension is correct and the chain is aligned.
Grease the thread of the wheel shaft nut and the adjusting screws, and adjust them to:
Wheel shaft nut: 61 ft-lb / 83 Nm
Adjusting screws: 6 ft-lb / 8 Nm
Notes:
Do these items (checking/adjusting slack, and checking/applying lubrication) more often if you ride your Ducati ST in dusty or rainy conditions.
Always lubricate the chain after washing the motorcycle.
Tire / wheel size and pressure for the Ducati ST4
Below are the wheel and tire sizes for the Ducati ST4, as well as the recommended tire pressure specs from the manual. The ST4 runs sportbike-spec tires, unlike the ST2 that has a slightly thinner tire profile.
Wheel
Tire size
Tire pressure (cold)
Including luggage, but solo
Front
120/70-ZR17
2.1 bar / 210 kPa / 30 psi
Rear
180/55-ZR17
2.2 bar / 220 kPa / 32 psi
Tire sizes and pressures for the Ducati ST4
Naturally, adjust these tire pressures as suits your riding style and the conditions.
About the Ducati ST4
The Ducati ST4 was a fast follow to the Ducati ST2. Both are in the first wave of Ducati Sport Touring motorcycles, powered by liquid-cooled engines and with enough comfort options to go the distance, but doing do in Ducati style — with great looks, high-end equipment and brakes, and that engine sound to die for.
The Ducati ST4 is distinct from the ST2 primarily because of its four-valve-per-cylinder engine — hence the "4" in Ducati ST4.
The ST2 has an engine with a 2-valve design, basically a Ducati Paso 907 i.e. motor but with 2mm bored out of each cylinder for 944 cc of displacement.
The Ducati ST4, however, has a motor straight out of a superbike: none less than the iconic Ducati 916! Yes, the Ducati ST4 is basically a base-model 916 with a motor that makes a bit less power, and a fairing and luggage kit that adds on a bit of weight.
But the Ducati ST4 is, in the hands of many a capable rider, an everyday superbike.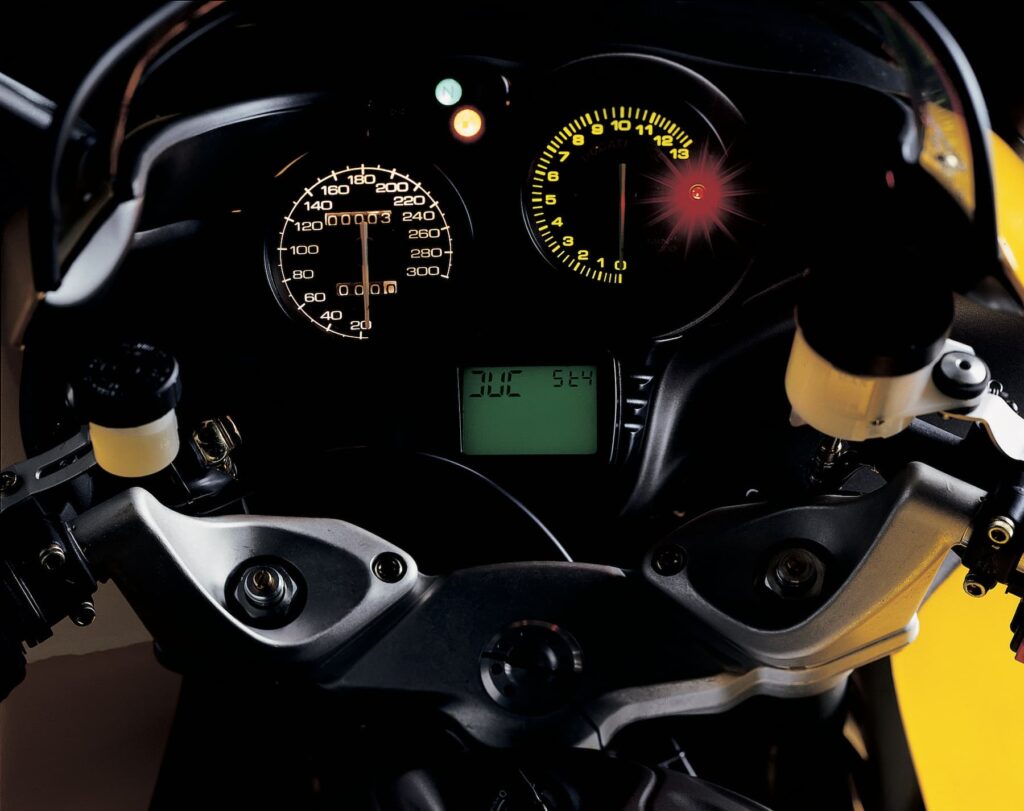 The Ducati ST4's 916 cc motor runs at a mild 11.0:1 compression ratio. It's tuned for peak power of 79 kW) 107 hp) at 9500 rpm, with a redline not long beyond that at 1000 rpm.
Like the Ducati 916, the ST4 isn't really very happy below 3000 rpm. So you do have to keep the engine purring. Once you do, though, the ST4 is a much easier mile muncher than its sport bike compatriot.
As the Ducati ST4 has belt-driven cams and a desmodromic valve train, service gets kind of expensive. Ducati recommends a ton of checks at every service, which come up surprisingly often at 6000 miles / 10000 km.
Desmodromic valve systems have both openers and closers for each valve — so for an 8-valve engine you have 16 clearances to check. And since the openers and closers are related, you often can't just adjust one shim without adjusting the other. And there are more fairings to remove on a superbike than, say, a Ducati Monster S4 (a very similar 916-powered bike, but without the fairings). So the service costs or time add up!
Aside from that, a lot about the Ducati ST4 is user-serviceable. Yes, Ducati recommends changing the fork fluid every two years — but you can be a bit selective about how often you do that, as most manufacturers don't have as strict maintenance intervals for fork fluid.
Lastly, thankfully the Ducati ST4 has a dry clutch. So you get that clatter sound that's iconic Ducati. The Ducati ST3 and ST3s lost the dry clutch from 2005 onward.
Ducati released the Ducati ST4s contemporaneously with the Ducati ST4, but the real replacement for the ST4 was the Ducati ST3 / ST3s.
Reference — Maintenance Schedule Screenshots from the Ducati ST4 Manual
The above information all came from the service manual, owner's manual, and parts catalogues for the Ducati ST4.
You can see some screenshots from the manuals below.
You can get manuals for Ducati motorcycles directly from Ducati, though they only keep a backlog of manuals from the last 10 years.