Ducati Monster S4 (2001-2004) Maintenance Schedule
This is the maintenance schedule and service intervals for the Ducati Monster S4, the first Ducati Monster with a liquid-cooled engine.
The Ducati Monster S4 was launched in 2001. It is part of the Ducati Monster standard sportbike/streetfighter series launched in 1993 with the original Ducati Monster 900.
Here are all our Ducati Monster maintenance schedules:
Air/oil-cooled Ducati Monsters
Liquid-cooled Ducati Monsters
But the Ducati Monster S4 is notable for being the first Monster to ever have a liquid-cooled 4-valve engine. (These days, since the 2021 Ducati Monster 937, Ducati Monsters only exist in liquid-cooled form.)
The Monster S4 takes its engine from the original Ducati superbike — the Ducati 916. It's a 916cc liquid-cooled fuel-injected DOHC 90-degree L-twin with 4 valves per cylinder and desmodromic actuation. The compression ratio is 11:1, mild by today's standards.
The valvetrain is belt driven, as with other Ducati monsters of the day. And final drive is via a raucous dry clutch (with hydraulic actuation) and chain drive.
The Monster S4's engine was detuned from the original superbike spec and makes a peak of 74 kW (101 hp) at 8750 rpm, and 92 Nm (68 ft-lb) at 7000 rpm.
The Monster S4 was replaced by the more advanced (and attractive) Ducati Monster S4R.
This site has links for things like oil and spark plugs from which we earn a commission (which unfortunately nobody can save, not even us). If you appreciate this work, then please use those links. Thanks!
Maintenance Schedule for the Ducati Monster S4
Below is the maintenance schedule for the Monster S4 — simplified.
The original schedule is laid out differently, and also the lettering for the table are straight from italian (e.g. "P" for Clean — clearly from pulire, which is Italian for "to clean").
The basic service is the same as other Ducatis of its generation — check the belts and valves every 10000 km (6000 miles), and replace those belts every two intervals.
Legend for the maintenance table:
C: Check
L: Lubricate
Cl: Clean
R: Replace
km x 1000
10
20
30
Replace
mi x 1000
6
12
18
Every
Engine oil
R
R
R
Engine oil filter
R
R
R
Engine intake oil filter
C/Cl
Valve clearance
C
C
C
Timing belts
C
R
C
2-5 years (*)
Spark plugs
R
R
R
Coolant
R
2 years (**)
Fuel filter
R
Throttle body: timing and idling
C
Air filter
R
R
R
Engine oil pressure
C
Engine cylinder compression
C
Clutch and brake fluid
R
2 years (**)
Clutch and brake hydraulic controls
C
C
C
Tyres: wear and pressure
Steering bearing play
C
Chain tension and lubrication
Brake pad wear
Fuel tank
Cl
Change front fork oil
R
2 years
General lubrication
L
Charging system check
Checking tightening of vehicle safety-related critical points against torque specs
C
C
C
General testing
– Wheel hub bearings
– Rear wheel rubber cush drive damper
– Sprocket stop plate
– Side and center stand
– Warning and lighting devices
C
C
C
Maintenance schedule for the Ducati Monster S4
Notes:
*: The original manual required replacing the timing belts every 2 years. These days belts are made from an improved compound, and many owners opt to change them every 5 years, as with later-model Ducatis (which often have the same part number belts)
**: Changing the coolant and brake/clutch fluid is not mentioned, but is recommended in most manuals, including later Ducati manuals.
About the Ducati Monster S4
The Ducati Monster S4 was an attempt to re-think the original bare-bones Ducati Monster — but with a liquid-cooled engine from the Ducati superbikes.
It kept the trademark Monster styling with an exposed trellis chassis and aggressive but still upright sporty position.
But it integrated the engine from the earlier Ducati 916 superbike, retuning it for midrange torque. The result was a much more aggressive Ducati monster — with a giant coolant radiator out the front.
The 916cc L-twin in the Ducati Monster S4 makes a peak of 74 kW (101 hp), compared to the 85 kW (114 hp) of the 916. It's not a huge drop, and comes with the benefit of more torque earlier in the rev range, thanks to milder cams and a re-tune.
There are other significant styling changes in the Ducati S4 that distinguish it from other air-cooled monsters of the time (the Monster 900 i.e.).
Firstly, it gets a little flyscreen up front. Secondly, there are lots of lightweight carbon fibre parts all over the bike, including the heat shields, side panels, mudguard, and timing belt covers. Some of them say "S4" on them to remind the owner of what they're dealing with.
The Monster also gets upgraded chassis components. The front suspension is a Showa 43mm upside-down fully adjustable unit, and the rear is a fully adjustable Sachs monoshock, with a piggy back reservoir.
Braking on the Ducati Monster S4 is achieved via 2x320mm discs and 4-piston Brembo calipers — same as other monsters, but just as effective on this machine (they were already overkill on the air-cooled machines).
The result is a huge performance upgrade over the air-cooled Monsters. The liquid-cooled engine revs more freely and never feels like it's running out of puff.
Manual for the Ducati Monster S4
The above came from the owner's and service manuals for the Ducati Monster S4.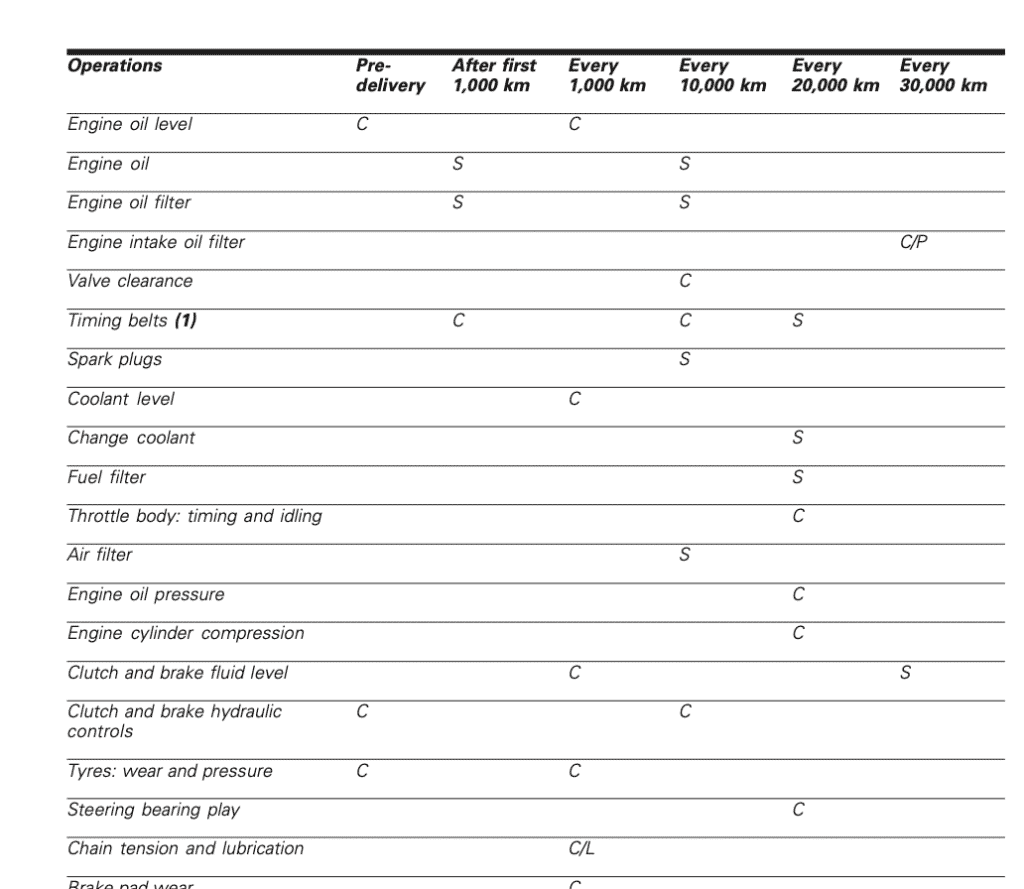 You can download most manuals from Ducati here, though older ones are no longer available.