Ducati Monster SP (2023+, 937cc) Maintenance Schedule and Service Intervals
This is the maintenance schedule for the 2023+ Ducati Monster SP, based on the Ducati Monster 937 but with a number of uprated parts..
The Ducati Monster SP is based on the same uses the 937cc L-twin "Testastretta 11-degree" engine that's also seen in the Ducati Hypermotard 950 and a few other Ducati motorcycles. In the Ducati Monster range, the engine makes 82 kW (111 hp) at 9250 rpm, with torque peaking at 93 Nm (69 ft-lb) at 6500 rpm.
While the Monster SP has the same core as the standard 2021+ Ducati Monster, it has several uprated components, some of which mean different parts used for regular maintenance. Most notably, the fork is a higher-spec Öhlins unit, and the brakes are Brembo Stylema calipers.
Here are all our Ducati Monster maintenance schedules:
Air/oil-cooled Ducati Monsters
Liquid-cooled Ducati Monsters
This site has links for things like oil and spark plugs from which we earn a commission (which unfortunately nobody can save, not even us). If you appreciate this work, then please use those links. Thanks!
Service Intervals for the Ducati Monster SP
The Ducati Monster SP has service intervals of 9000 miles or 15000 km, at which point you change the oil and filter, check and clean the air filter, and do a host of checks on the chassis and wearable components for leaks and wearl.
The major service interval for the Ducati Monster SP is 18000 miles or 30000 km, when you do a full Ducati "Desmo" service, including changing the timing belts and checking the valve clearances.
Since the Monster SP's 937 engine is a 4 valve-per-cylinder design with Desmodromic timing, there are 8 clearances per cylinder and 16 total. Also, changing an opener clearance usually means you have to change a closer, per Ducati.
Aside from that, the Ducati Monster SP needs periodic replacement of the timing belts (every 5 years per the schedule), even if you don't do mileage.
Finally, the Ducati Monster SP has clutch fluid as well as brake fluid, so change them at the same time.
Maintenance schedule for the Ducati Monster SP
This maintenance schedule below for the Ducati Monster SP is the same content as in the manual, though changed to an easier to read format.
Ducati separates out "customer" items and "dealer" items, but we've recombined these into one schedule, then separated out regular "inspection" items.
Note about harsh/dusty conditions: "Using the motorcycle under extreme conditions, such as very damp and muddy roads or dusty and dry environment, could cause above-average wear of components like the drive system, the brakes or the air filter. If the air filter is dirty, the engine could get damaged. Therefore, this might translate in required service or replacement of the wear parts earlier than specified in the scheduled maintenance chart."
Ducati Monster SP Regular / Pre-ride maintenance
This is maintenance that you can do yourself (though the manual says you need a dealer to do it). You should do these checks regularly — e.g. before every big ride or weekly if you use it as a commuter.
The manual suggest you do these items every 1000 km / 600 miles, or 6 months — whichever comes earlier.
Ducati Monster SP regular / pre-ride maintenance
Check the engine oil level
Check brake fluid level
Check tyre pressure and wear
Check the drive chain tension and lubrication
See below for chain tension measurement
Check the brake pads. If necessary, replace, contacting your dealer if necessary.
Regular maintenance for the Ducati Monster SP
Measuring chain tension / elongation on the Monster SP
It's important to regularly check the chain tension and wear level. See the below notes.
To check the tension, push down on the chain and release it. Then measure from the centre of a link pin to the end of the sliding shoe on the swingarm. The distance should be 53-55 mm under static no-load conditions.
If it's not, the manual recommends you get a Ducati service centre to service your bike.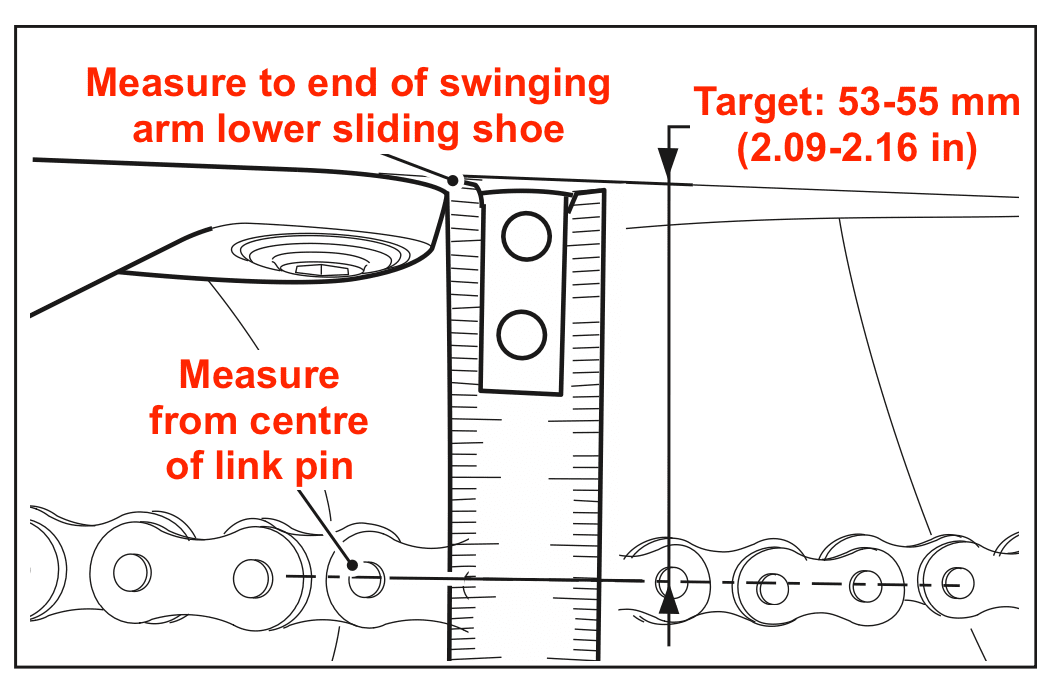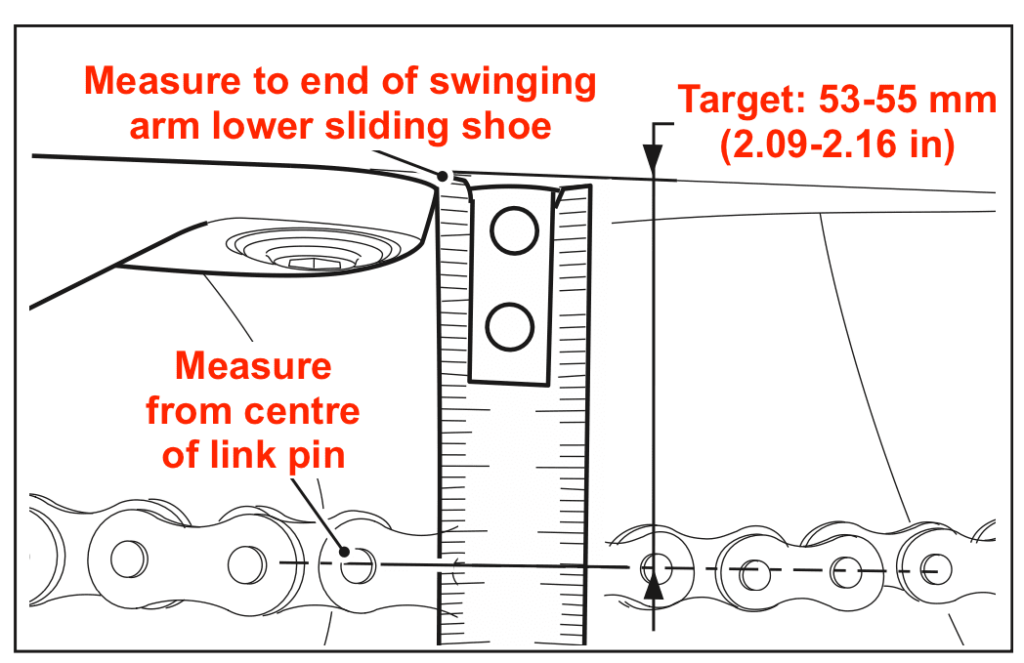 Ducati Monster SP — Full Maintenance Schedule
Follow the following maintenance schedule, observing the distance or time interval — whichever comes earlier.
The major "Desmo service" intervals for the Ducati monster SP is every 18000 miles / 30000 km.


Notes:
We broke this maintenance schedule into the full schedule of major items to check/replace and the annual service checklist for ease of reading.
Follow the earlier of time-based or distance-based intervals. For example, change the oil every 2 years or 9000 miles / 15000 km, whichever arrives earlier.
| Km x 1000 | 1 | 15 | 30 | 45 | 60 | |
| --- | --- | --- | --- | --- | --- | --- |
| Mi x 1000 | 0.6 | 9 | 18 | 27 | 36 | Every |
| Perform annual service checklist (see below) | ✓ | ✓ | ✓ | ✓ | ✓ | Year |
| Change engine oil and filter (SAE 15W-50 Jaso MA2, e.g. Shell Advance 45 Ultra 15W-50, or Mobil 1 15W-50) | ✓ | ✓ | ✓ | ✓ | ✓ | 2 years |
| Check and clean air filter | | ✓ | ✓ | ✓ | ✓ | 2 years |
| Change air filter (DNA P-DU10E22-01) | | | ✓ | | ✓ | |
| Change timing belts (Part 73740251B) | | | ✓ | | ✓ | 5 years |
| Check and/or adjust valve clearance | | | ✓ | | ✓ | |
| Change spark plugs (NGK MAR9A-J) | | | ✓ | | ✓ | |
| Change coolant (ENI Agip Permanent Spezial or an equivalent) | | | ✓ | | ✓ | 4 years |
| Change front fork fluid (Shell Donax TA) | | | | ✓ | | |
| Change brake and clutch fluid (Castrol DOT 4) | | | | | | 2 years |
| Check front and rear brake disc and pad wear. Change if necessary. | | ✓ | ✓ | ✓ | ✓ | Year |
| Check rear brake disc screw tightening (by removing the rear wheel shaft in case of brake disk retaining screws requiring the use of hexagon wrench) | | | ✓ | | ✓ | |
| Check the cush drive damper on rear sprocket and lubricate the rear wheel shaft | | | ✓ | | ✓ | |
Maintenance schedule for the Ducati Monster SP
Annual service checklist for the Monster SP
This is the list of items to check. It's separated out for ease of reading.
Notes:
Items marked [D] are those that dealers must do unless you have the official gear ("DDS").
Items marked [NBI] aren't necessary at break-in
Annual service checklist — Ducati Monster SP
[D] Read error memory with DDS 3.0 and check technical updates and recall campaigns on DDS
Check wear of chain, front and rear sprocket, and final drive chain elongation, tension, and lubrication. Record detected elongation value
Visually check the front fork and rear shock absorber seals
Check brake and clutch fluid level
[NBI] Check the proper tightening of the front and rear brake calliper bolts and the front brake disc bolts
[NBI] Check front and rear wheel nuts and rear sprocket nut tightening
[NBI] Check the tightening of frame fasteners to engine, swinging arm, and rear shock absorber
[NBI] Check wheel hub bearings
[NBI] Check the play of steering tube bearings
Check the freedom of movement and tightening of the side stand
Check that all gaiters and flexible hoses in view (e.g. fuel, brake and clutch hoses, cooling system, bleeding, drainage, etc.) are not cracked, are properly sealing and positioned
Check free play of rear brake lever and lubricate the levers at the handlebar and pedal controls
Check the free play of the cable clutch lever (where present)
Check tyre pressure and wear
Check the operation of all electric safety devices (clutch and side stand sensor, front and rear brake switches, engine kill switch, gear/neutral sensor)
Check lighting devices, turn indicators, horn and controls operation
Final test and road test of the motorcycle, testing safety devices (e.g. ABS, DTC, and VHC), electric fans and idling
Visually check the coolant level and sealing of the circuit
Softly clean the motorcycle
Service coupon registration with turning off of Service warning light on instrument panel with DDS 3.0 and filling in of the on-board documentation (Service Booklet)
Dealer maintenance schedule table for the Ducati Monster SP
Tyres sizes and pressures for the Ducati Monster SP
The Ducati Monster SP ships with Pirelli Diablo Rosso IV tires.
The manual for the Ducati Monster SP specifies the following tyre sizes and pressures.
Wheel
Tyre size
Tyre pressure (cold)
Front
120/70 ZR17 M/C 58W
2.3 bar / 33 psi (rider only)
2.5 bar / 36 psi (with passenger)
Rear
180/55 ZR17 M/C 73W
2.5 bar / 36 psi (rider only)
2.9 bar / 42 psi (with passenger)
Ducati Monster 821 and 821+ Tyre sizes and pressures
Stock, the Ducati Monster SP ships with Pirelli Diablo Rosso IV tubeless tyres, up-rated from teh standard Monster / Monster+.
About the Ducati Monster SP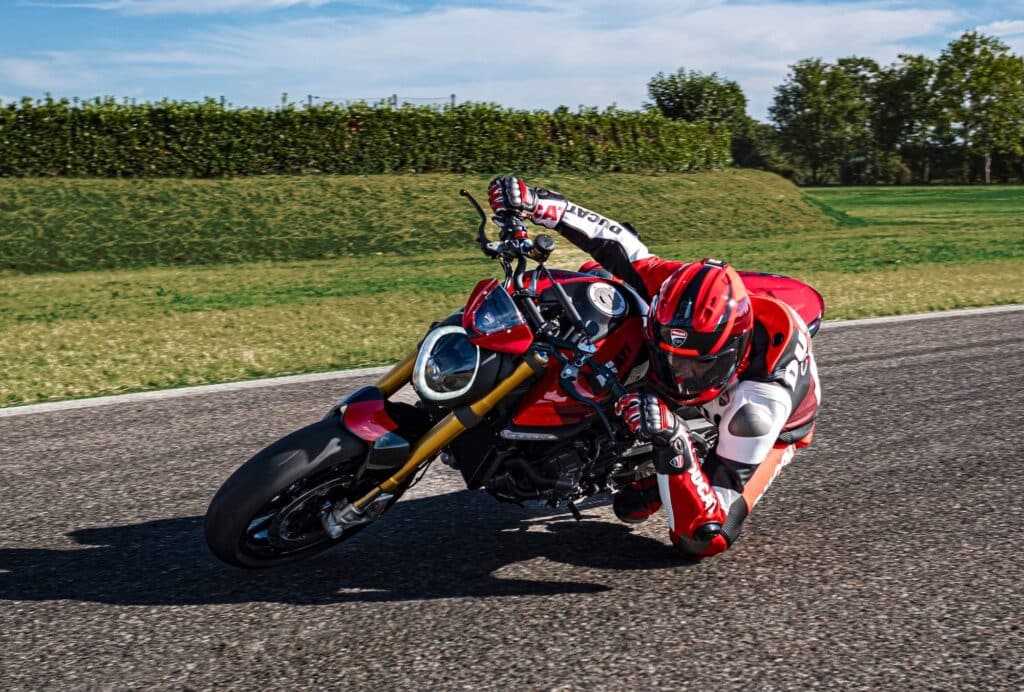 The Ducati Monster SP is an up-spec version of the new Ducati Monster released in 2021.
The 2021 Ducati Monster, commonly known as the Monster 937, is an extension of the "smaller" Monster line, replacing the Monster 821.
But since Ducati also discontinued the bigger Ducati Monster 1200, the new Ducati Monster remained the only one in the line.
The Ducati Monster 937 is a significant departure from the Monster that preceded it, and dropped many elements of what people though to be classic Monster. Whereas the original 1993 Ducati Monster 900 was based on a two-valve-per-cylinder air/oil cooled engine in a trellis framed naked motorcycle with relatively basic components, the 2021 Ducati Monster is based on a four-valve-per-cylinder liquid-cooled motor in a lightweight frame with advanced components and many rider aids.
However, there are some aspects of the modern Monster that are still classic — it's still powered by a V-twin, and it still has belt-driven Desmodromic cams.
For 2023, Ducati released the up-spec Ducati Monster SP, with a number of updated parts. Here's how the Ducati Monster is different from the Ducati Monster SP:
| Part | 2021 Monster / Monster+ | 2023 Monster SP |
| --- | --- | --- |
| Front suspension | 43mm USD fork, non-adjustable | 43mm USD Öhlins fork, TiN treatment, fully adjustable |
| Rear suspension | Monoshock, preload adjustable | Öhlins monoshock, fully adjustable |
| Brake calipers | Brembo M4.32 | Brembo Stylema |
| Tires | Pirelli Diablo Rosso III | Pirelli Diablo Rosso IIV |
| Muffler | Standard | Termignoni |
Ducati Monster 937 vs SP
Visually, the Monster SP is most obviously apparent because it has gold forks.
Aside from that, the Monster and Monster SP share a lot — same engine and chassis. Ducati claims the same wet weight for both motorcycles.
Reference — Ducati Monster SP Owner's Manual
The above info was sourced from the owner's manual for the Ducati Monster SP, which is different from the manual for the Ducati Monster and Monster+.
You can download a copy from the Ducati website here.