Ducati Monster 900 M900 (1993-2000, Carburettor) Maintenance Schedule
This is the maintenance schedule and service intervals for the original Ducati Monster 900, a.k.a. M900, made between 1993 and mid 2000.
Here are all our Ducati Monster maintenance schedules:
Air/oil-cooled Ducati Monsters
Liquid-cooled Ducati Monsters
The Ducati Monster 900 was the original of a series that continued for decades. There were "naked" bikes before it and after it, but so much about the M900 was unique — it was a naked roadster but with its sporty riding position it wasn't a relaxed cruiser like the UJMs, it had a beautiful exposed trellis frame, and it had a sporty V-twin, rather than an inline four (or triple) which were more common at the time in upright bikes.
There were other similar bikes, but nothing captures the zeitgeist of 1990s naked bikes like the Monster 900.
The Ducati monster 900 is based around a 904cc air/oil-cooled 90-degree L-twin that it was also used in the Supersport 900 of the time. It has a desmodromic valvetrain, with belt-driven cams and two valves per cylinder. In base trim it made around 55 kW (74 CV/73 bhp) per the workshop manual, but different sources cite slightly different figures.
The Monster 900 was sold along a smaller Monster 750 which shares a very similar maintenance schedule.
In 2000 Ducati added fuel injection to the Ducati Monster 900 i.e. and all subsequent Monsters after that point.
This site has links for things like oil and spark plugs from which we earn a commission (which unfortunately nobody can save, not even us). If you appreciate this work, then please use those links. Thanks!
What you need to service the Ducati Monster 900
The service manual for the Monster 900 recommends "AGIP" brand fluids. This is unnecessarily specific, hard to get, and many fluids would suit.
| | |
| --- | --- |
| Engine oil | The manual calls for AGIP 4T Super Racing. But many owners use a modern oil like Mobil 1 Synthetic 10W-40. |
| Oil filter | Ducati Monster 900 motorcycles take a HifloFiltro HF153RC oil filter (both carburetted and injected) |
| Spark plug | Use a NGK DCPR8E spark plug or Champion RA6HC. |
| Air filter | You can use a K&N air filter DU-0900 for Ducati Monster 900 models from 93-99. |
| Brake Fluid | Use DOT 3 or 4 — Castrol DOT 4 is a good choice. |
| Brake pads | For the carburetted Monster models (93-99), use EBC FA095HH up front (two pairs), and EBC FA047HH at the rear. |
| Chain lubricant | The manual calls for AGIP brand lubricant, but obviously you can use anything. A Motul chain care kit is a solid tool for the arsenal. |
| Fork oil | The Showa forks need a 5 weight fork oil, like Bel-Ray 5W fork oil. |
| Cable lube | Protect all cable life is a popular lubricant for cables. |
| Contact lube | Use a good dielectric grease like that one by Permatex for electrical components. |
Ducati Monster 900 carburettor-fed maintenance parts
Ducati Monster 900 Maintenance Schedule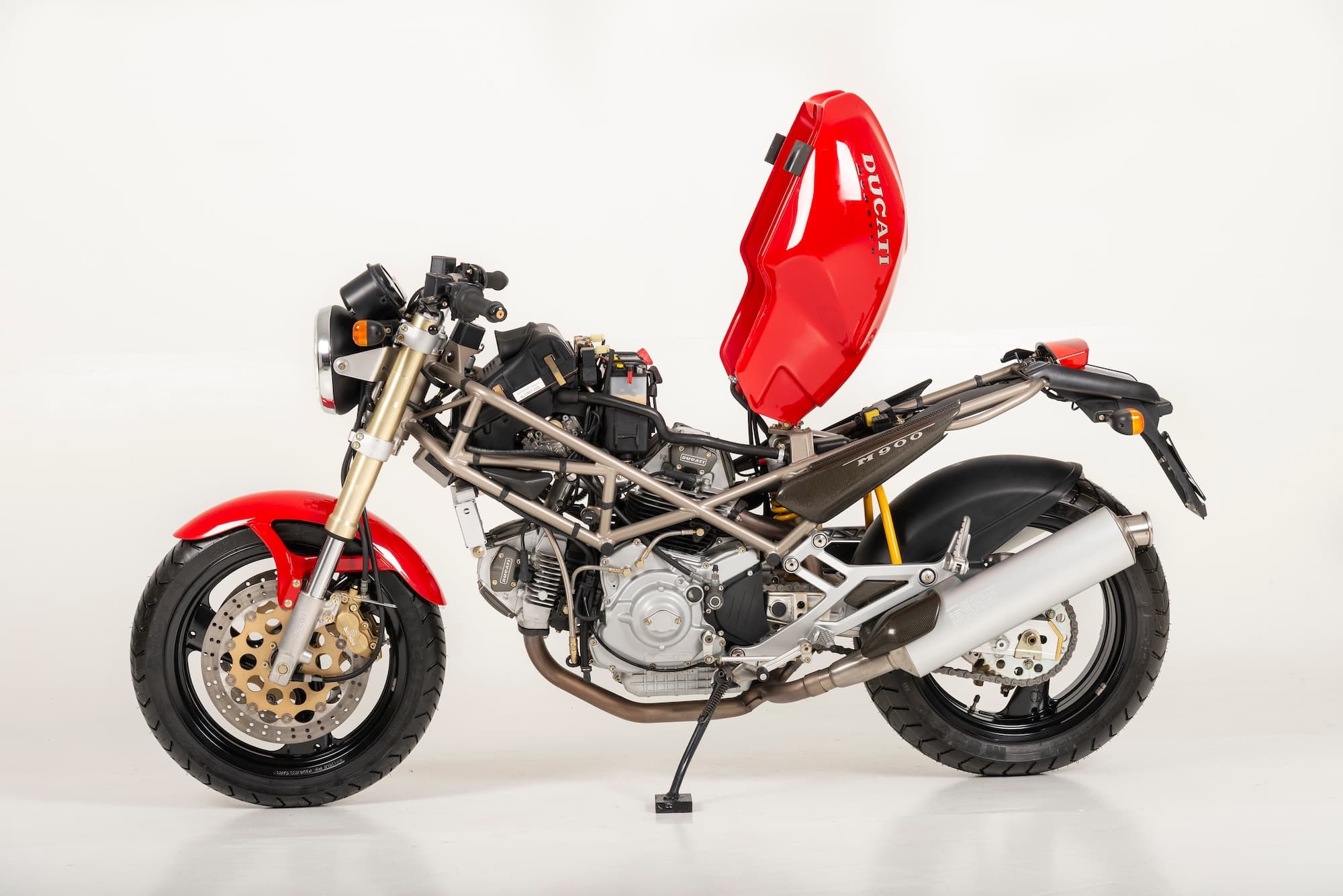 General advice on maintaining the Ducati Monster 2-valve motorcycles
The Ducati Monster is now an icon, and a loyal following has built around it.
Because of this, legions of fans have learned a lot about what's really necessary in maintaining the Ducati Monster.
Some general advice for maintaining the 2-valve motorcycles includes:
Get in the habit of checking for loose bolts, hanging wires, and leaks. Do this at a minimum of every 1000 km / 600 mi check-up, but maybe even every ride. The Ducati tends to shake things loose.
Many Ducati owners change the oil more often — twice as often.
The valve service interval seems intense, but it's necessary. The air-cooled engine tends to need at least one shim adjusting every service.
Ducati recommends changing the belts every two years. Belt technology has improved since the Monster 900
Regular maintenance on the Ducati Monster 900
Every 1000 km or 620 miles OR 6 months, do the following maintenance.
Monster 900 — regular maintenance
Check/adjust oil level (top up with Mobil 1 Synthetic 10W-40)
Check adjust brake/clutch fluid level (top up with Castrol DOT 4)
Check chain tension, lubrication, & alignment
Check tire tread, pressure, and wear
Check brake pad wear (FA095HH up front, FA047HH at rear)
Check for loose fasteners, and retorque as necessary
Check and adjust/lubricate clutch and brake levers/controls
Lubricate control cables, check for kinks (Protect all cable life)
Check battery fluid level
Ducati Monster 900 — Regular Maintenance
Maintenance schedule for the Monster 900
Below is the maintenance schedule for the Monster 900, adapted from the service manual.
Notes on the maintenance schedule
The break-in service is omitted from the original manual obviously.
Standard service intervals are either every 6000 mi / 10000 km or 12 months. (The manual suggests shorter 7500 km service intervals for the smaller Monster 600 motorcycle, presumably assuming shorter distances travelled for the same engine hours.)
Follow the earlier of the distance- or time-based service intervals, other than those marked (1).
| km x 1000 | 10 | 20 | 30 | 40 | |
| --- | --- | --- | --- | --- | --- |
| mi x 1000 | 6.2 | 12.4 | 18.6 | 24.8 | Notes |
| Engine oil (replace or check/ top-up level) | R | C | R | C | |
| Oil filter | R | | R | | |
| Air filter | | R | | R | |
| Valve clearance | C | C | C | C | |
| Timing belt (check tension, or replace) | C | R | C | R | Replace every 2 years |
| Spark plugs | C/R | C/R | C/R | C/R | |
| Fuel filter | R | R | R | R | |
| Carburettor timing and idle setting | C | C | C | C | |
| Air filter | R | R | R | R | |
| Engine oil pressure | | C | | C | |
| Cylinder compression | C | C | C | C | |
| Clutch and brake fluid | | R | | R | Replace every 2 years |
| Steering bearing play | C | C | C | C | |
| Wheel hub bearings | C | C | C | C | |
| Rear wheel rubber cush drive | C | C | C | C | |
| Fuel tank | | Cl | | Cl | |
| Front fork oil | | R | | R | |
| Torque of all nuts and bolts | | C | | C | |
| General lubrication | L | L | L | L | |
| Battery fluid level | C | C | C | C | |
| Front sprocket fastening plate | C | C | C | C | |
Ducati Monster 900 — Maintenance Schedule
Tyre sizes and pressures for the Ducati Monster 900
The original M900 shipped with Michelin sport tyres, tubeless variety. You can of course fit whatever you like, depending on the intended purpose.
| Wheel | Tyre (Tire) size | Tyre (Tire) pressure (cold) |
| --- | --- | --- |
| Front | 120/70-ZR17 | 2.1 bar (30 psi) |
| Rear | 170/60-ZR17 | 2.3 bar (33 psi) |
Tyre sizes and pressures
About the Ducati Monster 900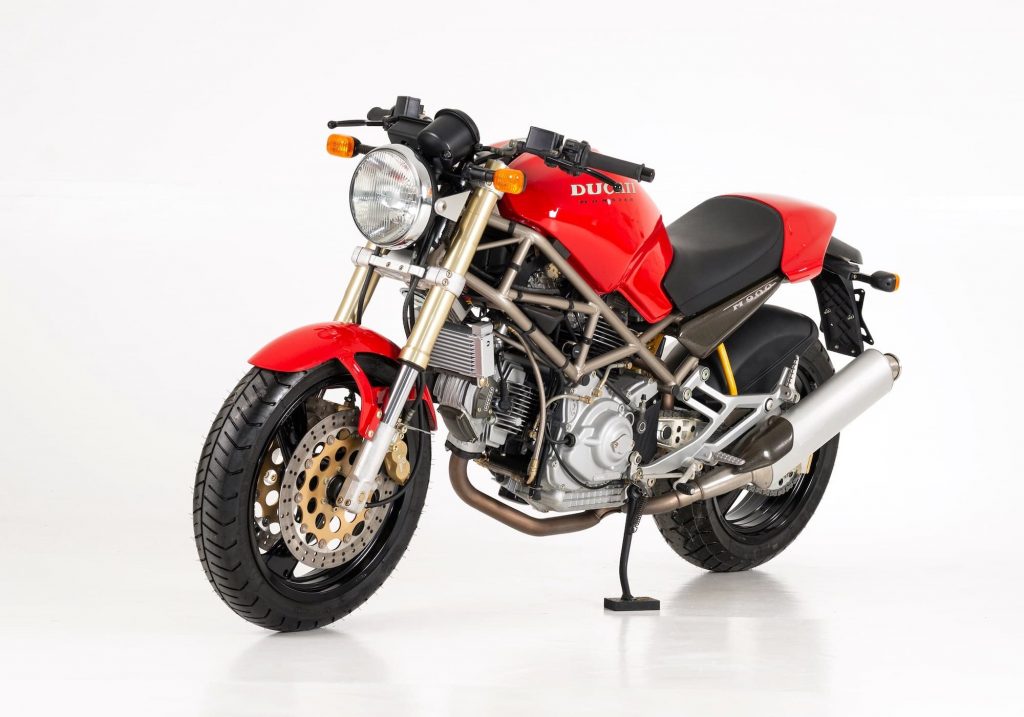 The Ducati Monster 900 is now steeped in history — it is credited with reviving the Ducati consumer brand as well as creating the market for naked bikes in the 1990s, something which continues today.
Not much more needs to be said about the legacy of the Ducati Monster 900. But let's talk about maintenance.
In the early manuals, Ducati called for maintenance schedules of as little as 7500 km for valve checks. Thankfully they spaced this out to 10000 km! Still, it's one of the more involved parts of owning an air-cooled desmo Ducati.
Because the valves are desmodromically actuated, there are two shims to check and maybe adjust for each valve — the opener and the closer. There are two valves per cylinder, and two cylinders, which means eight adjustments to potentially make.
And the Ducati has a reputation for needing at least one shim adjusting every check. That's why valve services can get expensive, costing around 4-6 hours of workshop time in total (along with a general service).
Another joy of maintaining a Ducati motorcycle with belt-driven cams is changing the timing belts. You have to change them every two years per the schedule. However, many owners know that this was in the day of less good belt materials, and that modern timing belts only need be replaced every five years (e.g. on the 2022+ Ducati Monster 937), so that's what they opt to do.
Brakes on the Monster 900 are typical mid-range of the time — Brembo 2-piston axial-mounted brakes.
The front suspension is Showa, a 41mm inverted fork. Ducati recommends periodically replacing the fork oil (as it does on all its motorcycles). The rear shock is made by a company called Boge. It is adjustable for preload.
Maintaining the Monster 900 isn't terribly difficult once you get past checking and adjusting the valves. And just in case you thought you could escape it — even the much more modern Ducati Scrambler 1100 needs valve adjustments on its air/oil-cooled engine, and they're nearly as frequent.
Manual for the Monster 900
Unfortunately the manual for the Monster 900 isn't available online any more.
The workshop manual for the Ducati Monster 600, 750, and 900 contains a maintenance schedule that's applicable to all three. A screenshot is below. (It's in Italian.)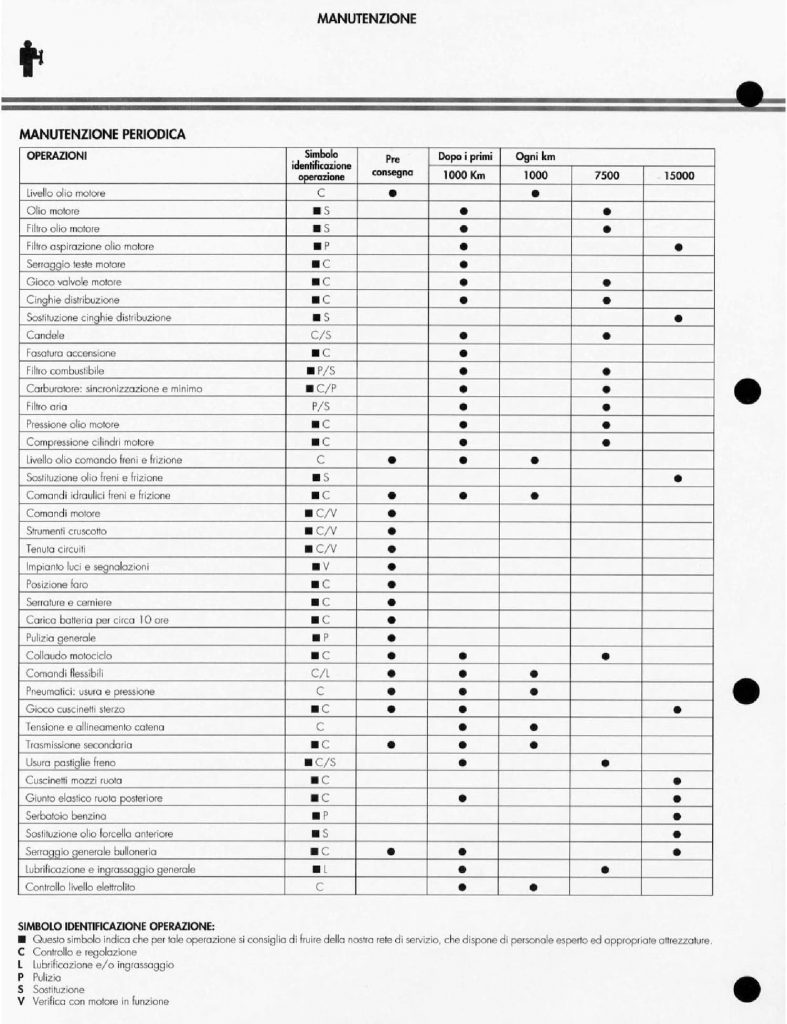 But there's some historical information about the Ducati Monster 900 here.