Honda NT1100 (2022+) Simplified Maintenance Schedule & Service Intervals
This is the full maintenance schedule and service intervals for the Honda NT1100, the new sport touring model from Honda for 2022.
The Honda NT1100 is a sport-touring machine based on the same 1084cc liquid-cooled parallel twin that powers the Honda CRF1100L Africa Twin and the Honda Rebel 1100. Unlike the Rebel, in the NT1100 the engine has the same state of tune as in the Africa Twin, putting out 75 kW (101 bhp) at 7500 rpm and 104 Nm (77 ft-lb) at 6250 rpm.
The final drive of the Honda NT1100 is via a 6-speed transmission or optional DCT and a chain drive.
Updates
* 16 Jun 2023: Tyre pressures corrected
This site has links for things like oil and spark plugs from which we earn a commission (which unfortunately nobody can save, not even us). If you appreciate this work, then please use those links. Thanks!
Service intervals for the Honda NT1100
Like the Africa Twin CRF1100 motorcycles, the Honda NT1100 has oil change service intervals of 8000 mi / 12800 km. Honda doesn't actually require you to change the oil filter until every two services.
Every 16000 miles or 25600 km, change the spark plugs and check the valve clearances while you're in there. The NT1100 has a parallel twin motor with four valves per cylinder, so there are eight clearances to check.
Aside from that, most other items of maintenance in the below maintenance schedule are just regular checks.
As the NT1100 has a liquid-cooled engine, make sure you keep the coolant up to date.
What you need to service your Honda NT1100
Aside from basic motorcycle maintenance tools, here's what you need to service your NT1100.
| Part | Honda NT1100 spec |
| --- | --- |
| Oil | Honda requires SAE 10W-30 with API classification SG or higher or JASO T 903 standard MA oil. Honda suggests Pro Honda GN4 10W-30. |
| Oil filter | Honda uses the standard oil filter 15410-MFJ-D02 used in many Honda motorcycles. A high-quality substitute is the Hiflofiltro HF204RC. |
| DCT oil filter | On DCT models you have to periodically replace the filter. Use part 15412-MGS-D21 or replace it with a Hiflofiltro HF117. |
| Air filter | Honda part number is 17210-MLA-A00 for the air cleaner. |
| Spark plug | The manual requires an NGK SILMAR8A9S spark plug. |
| Coolant | Honda recommends Honda Coolant, which is based on ethylene glycol (and is affordable and good). |
| Brake fluid | You can use any DOT 4 fluid, but you may as well use Honda DOT 4. |
| Chain maintenance | Clean and lube the chain with Motul chain paste — low mess, highly effective, well-liked. |
| General lubrication | Use a lithium soap-based grease for general lubrication — bearings, pivot points, etc. |
Honda NT1100 maintenance parts
Maintenance schedule for the Honda NT1100
Below is the full maintenance schedule from the manual for the Honda NT1100, adapted for legibility.
We separated out the schedule into a standard inspection checklist as well as the full service schedule.
Service schedule
Notes:
At higher odometer readings, repeat at the frequency interval established below.
Honda recommends you get steering and wheels / tyres serviced by a professional for safety reasons.
x 1000 mi
0.6
8
16
24
32
x 1000 km
1
12
24
36
48
Every
Perform full standard inspection checklist (listed below)
✓
✓
✓
✓
Year
Engine Oil (Pro Honda GN4 10W-30) – Replace
✓
✓
✓
✓
✓
Year
Engine Oil Filter (HF204RC)- Replace
✓
✓
✓
Air Cleaner – Replace
✓
✓
More often if riding in dusty / wet conditions
Spark Plug – Inspect
✓
Spark plug – Replace (SILMAR8A9S)
✓
Valve Clearance – Inspect, adjust
✓
✓
Clutch Oil Filter (DCT) (HF117)
✓
✓
✓
Radiator Coolant (Honda Coolant) – Replace
3 Years
More often when riding off-road
Secondary Air Supply System – Inspect
✓
✓
Evaporative Emission Control System (CA only) – Inspect
✓
✓
Brake fluid – Replace (Honda DOT 4)
2 years: R
More often when riding off-road
Maintenance schedule for the Honda NT1100
Standard inspection checklist for the Honda NT1100
Below is the standard inspection checklist for the Honda NT1100. Do this at every indicated point below in the service schedule.
| Part | Action |
| --- | --- |
| Radiator Coolant (Honda Coolant) | Inspect level |
| Cooling System | Inspect for leaks |
| Fuel Line | Inspect for leaks, chafing |
| Throttle Operation | Inspect for smooth operation, free play |
| Engine Idle Speed | Check speed |
| Brake System | Check function |
| Brake Fluid Level | Inspect (can go down as brake pads wear) |
| Brake Pad Wear | Check |
| Brake Light Switch | Check function when brake applied |
| Brake Lock Operation | Inspect |
| Clutch System (non-DCT) | Inspect |
| Headlight Aim | Check, adjust |
| Side Stand | Check, lubricate as necessary |
| Suspension | Check for free movement, no leaks |
| Nuts, Bolts, Fasteners | Check tightness |
| Wheels/Tires | Inspect condition and for dents |
| Steering Head Bearings | Check free movement, no kinks |
Standard service checklist for the Honda NT1100
Maintaining Your Chain on the Honda NT1100
It's important to maintain your chain on the NT1100, as on any chain-driven motorcycle, but particularly on a sport touring model where it will get a good bit of use under many conditions — mountain runs, rain, and maybe dirt.
Use a good-quality chain lubricant like Motul chain paste, or a Motul chain care kit which comes with a couple of handy tools to maintain the chain.
Honda recommends you follow the following chain maintenance schedule:
| Chain maintenance item | Every |
| --- | --- |
| Check drive chain lubrication condition, lubricating if necessary | 600 mi / 1000 km |
| Check drive chain slack, adjusting if necessary (see notes below) | 600 mi / 1000 km |
Chain maintenance — Honda NT1100
Notes:
Do these items (checking/adjusting slack, and checking/applying lubrication) more often if you ride your NT1100 in dusty or rainy conditions.
Always lubricate the chain after washing the motorcycle.
Measuring chain slack on the Honda NT1100
On the Honda NT1100, drive chain slack is measured as the distance between the drive chain and the swing-arm at the end of the drive chain slider.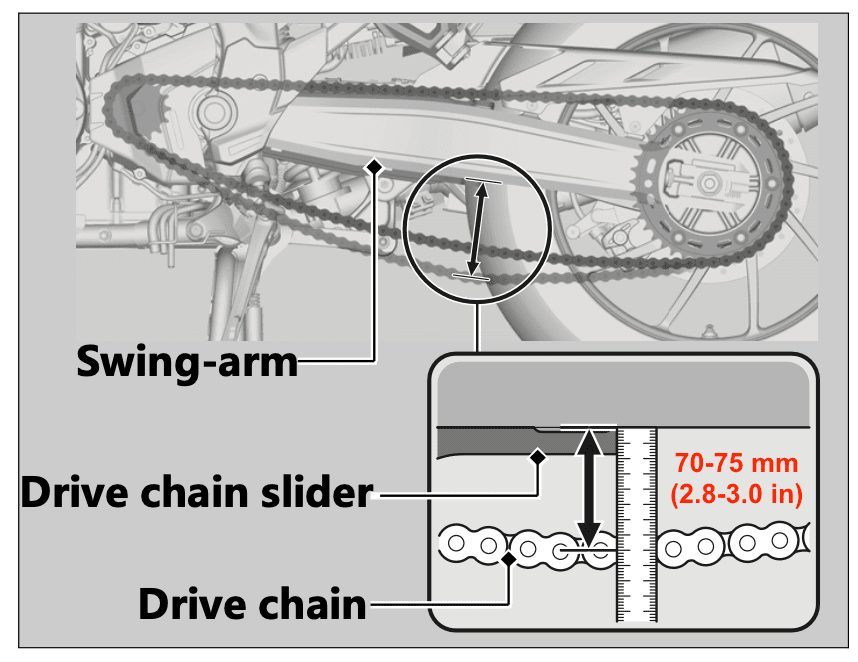 When inspecting slack, do so on a flat surface with the gear in neutral, and with no load on the bike (i.e. empty panniers, if fitted).
Standard drive chain slack for the Honda NT1100: 70-75 mm (2.8-3.0 in)
The manual for the NT1100 doesn't specify a procedure for adjusting slack, but it's the same as on most modern motorcycles:
Loosen the rear axle and lock nuts for the adjusters
Adjust the chain slack to the target level by turning the adjuster, one by one, keeping the chain aligned by looking at the reference marks on either side of the axle
Tighten the axle nut when the target slack is reached (very tight — for most Honda motorcycles, 100 Nm / 74 lb-ft)
Tighten the adjuster locknuts
If you're unfamiliar with this procedure, it's a quick job for a service centre to do it.
If the chain is too loose and can't be tightened to the required spec (you get to the end of the adjustment range), it should be replaced.
Tyre sizes and pressures for the Honda NT1100
The Honda NT1100 has the following tyre sizes and pressures. It runs tubeless tyres. It ships with Dunlop D428 tyres.
| Wheel | Tyre size | Tyre pressure (cold) |
| --- | --- | --- |
| Front | 130/70B18M/C 63H | 36 psi (250 kPa, 2.5 bar) |
| Rear | 180/65B16M/C 81H | 42 psi (290 kPa, 2.9 bar) |
Tyre sizes and pressures for the Honda NT1100
About the Honda NT1100
The Honda NT1100 is a sport-touring bike in a market that has, over the last twenty years, become saturated by adventure tourers and adventure sport tourers.
However, in just the last year or two, affordable sport touring has been making a comeback. For example, the Suzuki GSX-S1000GT is an alternative to the Honda NT1100, with a similar level of spec, but with a four cylinder engine rather than the NT's parallel twin.
The NT1100 is based on the same engine as the Honda Africa Twin. It's a 1084cc liquid-cooled parallel twin that makes peak power output of 75 kW (100 bhp) at 7500 rpm. The engine is mildly tuned with a 10.1:1 compression ratio, and is sure to last a very long time.
The Honda NT1100 has a relaxed but sporty riding position. You have a slight bend in your knees and reach slightly forward to the bars, but generally you're quite upright. It's designed for all-day comfort for most people. You can adjust the screen 5 ways in terms of height and angle, and it comes with upper and lower wind deflectors.
The NT1100 is designed to sit between a few other bikes in Honda's line-up. It's built for travel — whether that's commuting every day in a variety of types of weather and on many roads, or for four-seasons travel around a country or continent.
For those who are going to just do trans-continental touring, Honda has the Gold Wing or various V-twin powered cruisers.
For those who intend to do a lot of mixed on/off-road work, Honda has the Africa Twin.
Want to look cool? Rebel 1100. Want to just commute? The Honda NC750X is probably for you. In short, Honda has a bike for everyone.
But the NT1100 can kind of do a bit of all of it. It doesn't have quite the ground clearance of the Africa Twin, nor the comfort levels of the Gold Wing, but it feels predictable on dirt roads and can be comfortable enough — even two-up.
The Honda NT1100 comes standard with a number of features to keep you comfortable and safe. It comes with cruise control standard as well as heated grips.
The rider aids on the NT1100 are simple but effective. It has two-channel ABS, traction control (HSTC – Honda Selectable Torque Control), and wheelie control. But the Honda NT1100 lacks the 6-axis IMU that the Africa Twin has. The IMU gives the AT cornering ABS and lean angle-aware traction control (plus other interesting ride aids) — the NT1100 lacks this.
One important differentiator between the Honda NT1100 and other modern sport tourers is the optional DCT (dual clutch transmission). Honda has been using DCT in its bikes for over a decade now and has had many opportunities to improve it. Yes, it adds weight, but riders love it. You can still shift, after all, either automatically or using the paddle-shift triggers on the left handlebar.
Even though the Honda NT1100 lacks electronically adjustable suspension — let alone dynamic suspension — the suspension setup is quite good.
At the front there's a Showa 43mm SFF-BP inverted fork with a preload adjuster. And at the rear there's a Pro-link swingarm with a Showa gas-charged damper, and a hydraulic dial-style preload adjuster. There's no damping adjustability on either end.
Brakes are also decent without being legendary, with radially-mounted Nissin four-piston calipers pinching on 310mm floating twin discs.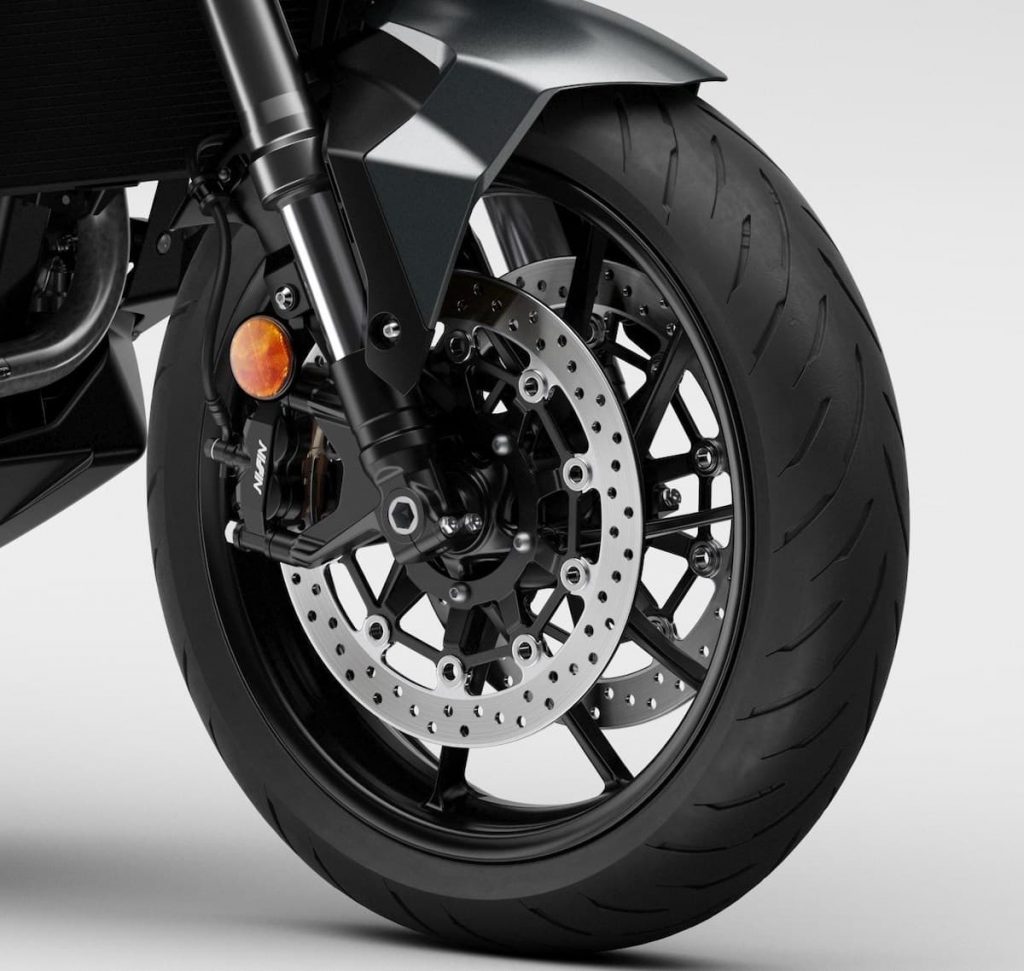 In many ways, the Honda NT1100 is a resurrection of the same concept of bike as the VFR800, albeit with a more decided focus on touring. The NT1100 makes more power, weighs about the same, and would be simpler to service, given that it has only two cylinders, rather than four.
Riding the Honda NT1100 confirms that it is effective, but unexciting. There's nothing it does egregiously wrong. The parallel twin gives ample power / torque and the chassis is predictable. The suspension is fine for most everyday work, but don't expect to keep up with your sportbike mates around a track.
But overall the motorcycle lacks some of the fire and character of even its stablemates with the same engine. This is to be expected though — a sport tourer is a jack of all trades, and thus a master of none. It's hard for some to drop new bike money on a motorcycle that doesn't the your soul.
Rather, the soul-stirring part of riding any bike like a Honda NT1100 is the journey itself: the sites you reach, the people you meet, the satisfaction with which you get to your destination, and the happiness you feel to get back onto the saddle.
Nonetheless, if you like the bark of a parallel twin (and maybe want to liven it up with an aftermarket exhaust), want all-day comfort without Gold Wing money, and famous Honda reliability, then the Honda NT1100 is for you.
By the way, the Honda NT1100 comes from the Honda NT700V Deauville, a bike which was retired in the last decade. They have a degree of resemblance.
Reference — Maintenance Schedule Screenshot for the Honda NT1100
The below is sources from a European manual for the Honda NT1100. The screenshots below are of an English language as well as an Italian maintenance schedule. (Yes, in Italian a spark plug is a candela, and that's also what they call a candle!)
You can get manuals for Honda motorcycles for the US at Honda's website here.