Honda NT700V ("Deauville") Maintenance Schedule and Service Intervals
This is the maintenance schedule and associated service intervals for the Honda NT700V, also known as the Honda Deauville.
The NT700V is an entry-level sport-touring or light-touring bike. It's "classic Honda" in the sense that it's extremely functional and boring (if we put to one side bikes like the RC51 or the Valkyrie Rune which are the opposite, extremely non-functional and very interesting. How dare Honda not be what some people incorrectly think Honda is!)
Anyway, the NT700V is a "do everything" bike. People fail to get very excited about anything about it other than it will basically go forever and take you everywhere. This is the smartphone's answer to the Leica M3; a bike you basically forget about and enjoy the scenery and destination rather than really worrying too much about the ride. It's exactly as exciting as the name Deauville implies.
The Honda NT700V is powered by the same parallel twin as in the CTX700, a bike that's at least more interesting for being styled adventurously for a cruiser, both of which came from the NM4, which was the motorcycle used by Batman's auntie for commuting. It's a 680cc 52-degree V-twin that puts about 60hp through a shaft drive — a contrast with the CTX700, which has a chain drive.
Maintenance on the NT700V is thus light, but there's still some stuff to do.
What you need to service your Honda Deauville NT700V
It's a shaft-driven bike. What do you need to service? Well, still quite a few things! You need to change the shaft oil every ~40,000 km, for one.
Here's what you need to service your Honda NT700V.
| Part | Honda Deauville NT700V spec |
| --- | --- |
| Oil | Honda recommends SAE 10W-30, JASO T 903 standard MA or higher, such as Pro Honda GN4 10W-30 or an equivalent high-quality motorcycle oil like Motul 5100 (which gets rave reviews). Use a torque wrench to tighten the bolt to 30 Nm (22 lb-ft). |
| Oil filter | Honda's standard part number for the oil filter is 15410-MFJ-D01 (used on many Hondas). You can also use Hiflofiltro HF204RC for the oil filter. Use a torque wrench to tighten it to 26 Nm (19 lb-ft). |
| Air filter (OEM) | You can use the K&N alternative air filter, whose part number is HA-7010, which is much easier to get online than the standard part. |
| Spark plugs | Use NGK spark plug part CPR8EA-9. Use a gapping tool to set the gap to 0.8-0.9 mm. |
| Final drive oil | You don't have to lube the chain, but you do need final drive oil. The manual is vague, saying you just need "hyphoid gear oil" at a spec of SAE 80. Use Pro Honda Shaft Drive Oil if available. |
| Brake fluid | You can use any DOT 4 oil, but Honda recommends Honda DOT 4. |
| Brake pads (front) | OEM front brake pads are part number 06455-MGS-D32. Alternative EBC double-hardened front brake pads have part number FA196HH. |
| Brake pads (rear) | OEM rear brake pads are part number 06435-MGS-D32. Alternative EBC double-hardened rear brake pads have part number FA496HH. |
| Coolant | Use Honda Long-life Coolant, which is based on ethylene glycol. |
| Grease | Stock up on lithium soap-based grease and silicon grease to keep pivots and moving parts lubricated and protected. |
Honda NT700V Deauville parts for maintenance
Honda NT700V Maintenance Schedule
Below is the maintenance schedule for the Honda NT700V.
As with all Honda motorcycles, Honda likes to recommend difficulty levels for maintenance.
One asterisk (*): You can do these. "Should be serviced by your Honda dealer, unless you have the proper tools and service data and are mechanically qualified."
Two asterisks (**): "In the interest of safety, we recommend these items be serviced only by your Honda dealer". These are harder anyway (like changing a tyre).
Maintenance Procedures:
I: inspect and clean, adjust, lubricate, or replace, if necessary
C: clean
A: adjust
L: lubricate
R: replace
Notes on the maintenance schedule:
1. At higher odometer readings, repeat at the frequency interval established here.
2. (Air filter) Service more frequently if the motorcycle is ridden in unusually wet or dusty areas.
3. (Coolant, Brake Fluid) Replace every 2 years, or at indicated odometer interval, whichever comes first. Replacement requires mechanical skill.
4. (Final drive oil) — many people replace this every 2 or 3 years, even though the manual didn't specify it.
The maintenance for the Honda NT700V is broken into two sections: Emission-Related Items and Non-Emission-Related Items.
Items
x 1000 mi
0.6
4
8
12
16
20
24
Emission-Related Items
NOTE
x 1000 km
1
6.4
12.8
19.2
25.6
32
38.4
*
Fuel Line
I
I
I
*
Throttle Operation
I
I
I
Air Cleaner
2
R
R
Spark Plugs
I
R
I
R
I
R
*
Valve Clearance
I
I
I
I
Engine Oil
Initial = 600 mi (1,000 km) or 1 month: R
Regular = Every 8,000 mi (12,800 km) or 12 months: R
Engine Oil Filter
R
R
R
R
Radiator Coolant
3
I
I
R
*
Cooling System
I
I
I
*
Secondary Air Supply System
I
I
I
*
Evaporative Emission Control System
I
I
Non-Emission-Related Items
Final Drive Oil
4
I
I
R
Brake Fluid
3
I
I
R
I
I
R
Brake Pads Wear
I
I
I
I
I
I
Brake System
I
I
I
I
*
Brake Light Switch
I
I
I
*
Headlight Aim
I
I
I
Clutch System
I
I
I
I
I
I
I
Side Stand
I
I
I
*
Suspension
I
I
I
*
Nuts, Bolts, Fasteners
I
I
I
I
**
Wheels/Tires
I
I
I
**
Steering Head Bearings
I
I
I
I
Honda NT700V Deauville maintenance schedule
Tyre size and tyre pressure for the Honda NT700V
The Honda NT700V has the following tyres and tyre sizes standard, as specified in the manual, as well as the following recommended tyre pressures.
| Tyre | Size | Brand(s) | Tyre pressure |
| --- | --- | --- | --- |
| Front | 120/70ZR17M/C (58W) | BRIDGESTONE BT020F RADIAL J | 36 psi (250 kPa, 2.50 kgf/cm2) |
| Rear | 150/70ZR17M/C (69W) | BRIDGESTONE BT020R RADIAL U | 42 psi (290 kPa, 2.90 kgf/cm2) |
Tyres and tyre pressures for Honda NT700V Deauville
About the Honda NT700V
As mentioned above, the Honda NT700V is a "do everything" light touring motorcycle.
Honda NT700V is powdered by a liquid-cooled 52-degree V-Twin displacing 680cc engine, as a result of an 81mm bore and 66mm stroke as well as 10:1 compression ratio. Each cylinder's four valves are controlled through a single overhead cam.
The engine is coupled to a five-speed transmission, which should keep things lively and interesting at all times while also maintaining good mileage (which it does).
With a 26.5-degree rake and 4.5 inches trail, the Honda NT700V is very maneuverable even at slow speeds also thanks to the low center of gravity and 58.1 inches wheelbase, even despite the bike's 240kg curb weight. The rider's bottom will sit at 31.7 inches above the ground, which is acceptable, but might be tough for very short riders who are uncomfortable using toes with a slightly heavy bike. However, given the center of gravity is very low, short riders still like the NT700V.
Being a veritable mid-range touring motorcycle, the Honda NT700V comes with large-capacity integrated saddlebags and five-position adjustable windscreen so that it will suit riders of different heights. Also, the decent accessories list includes a 45-litre top box in matching body colors, just to start your interest.
The saddlebags bear a little extra mention. No, they're not big enough to wear a helmet, so you'll have to wear it on your head (or strap it to the bike when you leave it). But the best part of the luggage is that it's so well integrated that a) it looks like a good part of the bike and b) it doesn't add any ungainly width, so you can still navigate the Honda NT700V with aplomb.
The NT700V also disguises the gas tank very well behind the large fairing, but this still blends in with the spacious seat and standard panniers. Everything is designed with aerodynamics and practicality in mind and Honda's quality build and refinement can be spotted all over this model.
Manual for the Honda NT700V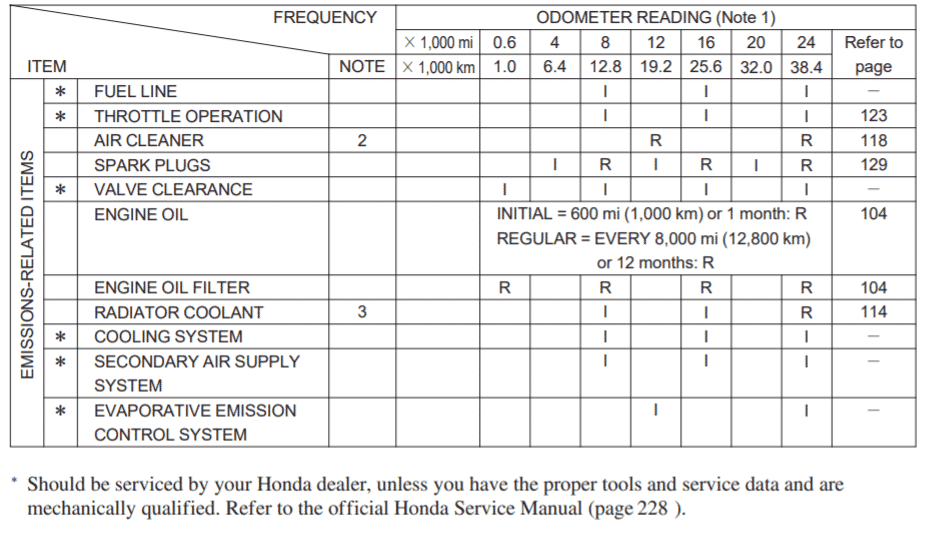 The above maintenance schedule comes directly from the user's manual for the Honda NT700V.
You can download it from here.