Honda VT1300 (Sabre, Interstate, Stateline, Fury, 2009+) Maintenance Schedule and Service Intervals
This is the maintenance schedule and associated service intervals for the Honda VT1300 series of motorcycles, which were called the Honda Sabre, the Honda Interstate, the Honda Stateline, and the Honda Fury (still in production in the US as of 2021).
The VT1300 replaced the VTX1300, which was carburettor-fed.
All of these motorcycles were based around the same engine: a fuel-injected 1,312 cc 52-degree V-twin engine that's water-cooled and drives the rear wheel through a shaft drive. They differed slightly in riding position and in accessories.
Honda Stateline VT1300CR: Entry level cruiser in the VT1300 line
Honda Sabre VT1300CS: A bobber/chopper, intended for looking cool. Sleeker, with higher seat and lower bars
Honda Interstate VT1300CT: Same as the Stateline but with bags and a windshield, for touring
Honda Fury VT1300CX: A "chopper", with lower seat and higher bars
This site has links for things like oil and spark plugs from which we earn a commission (which unfortunately nobody can save, not even us). If you appreciate this work, then please use those links. Thanks!
Honda VT1300 Service Intervals
The Honda VT1300 (Fury / Stateline / Interstate / Sabre) has 8000 mile / 12000 km service intervals for oil changes. If you don't make the distance for the full service, Honda still recommends you change the oil
At every service, you have to check the valve clearances, which is quite an aggressively short maintenance interval for a liquid-cooled engine, even if it's a somewhat old school one.
At every oil change / valve clearance service, also check or replace the spark plugs, and the final drive fluid.
The VT1300 has a liquid-cooled engine, so make sure you keep the coolant fresh. Same goes for the hydraulic brake fluid.
To access the valves, you have to remove the seat and tank, which is slightly annoying to do at every service. On top of that, there's lots of wiring in the way, and access to the valves is still quite tricky. For a first timer, it would be best to put the day aside.
The plus side is that if you do put off valve checks and maybe even skip a service, it's unlikely that your bike will run so out of spec that it'll be unpleasant. The most important valve checks are the first one (at around 600 mi / 1000 km), the second one, and then you can afford to be a bit more lax — especially if you know what the the engine running rough sounds like.
In between services, Honda recommends you check safety and emissions equipment, which is why the table below is in 4000 mile / 6000 km increments.
What you need to service your Honda VT1300 Fury, Sabre, Interstate or Stateline
If you're servicing your Honda VT1300, then you'll need the following replaceable items. You don't need to maintain a chain, but you still do need final drive oil!
| Part | Honda VT1300 spec |
| --- | --- |
| Oil | Honda recommends SAE 10W-30, JASO T 903 standard MA, such as Pro Honda GN4 10W-30. Use a torque wrench to tighten the bolt to 30 Nm (22 lb-ft). |
| Oil filter | Honda's standard part number for the oil filter is 15410-MFJ-D01 (used on many Hondas). You can also use Hiflofiltro HF204RC for the oil filter. Use a torque wrench to tighten it to 26 Nm (19 lb-ft). |
| Air filter (OEM) | The OEM air filter part is 17213-MFR-670. You can also use the K&N alternative air filter, whose part number is HA-1310, which is often more available. |
| Spark plugs | Use NGK spark plug part DCPR6E. Use a gapping tool to set the gap to 0.8-0.9 mm. |
| Final drive oil | Many final drive oils are fine, as long as you change it (the usual problem), using Pro Honda Shaft Drive Oil. |
| Brake fluid | You can use many brands, but Honda recommends Honda DOT 4. |
| Coolant | Use Honda Long-life Coolant, which is based on ethylene glycol with appropriate additives. |
| Grease | Stock up on lithium soap-based grease and silicon grease to keep pivots and moving parts lubricated and protected. |
Honda VT1300 parts for maintenance
Honda VT1300 series Maintenance Schedule
Below is the maintenance schedule for the Honda VT1300 motorcycles.
All trim levels of the Honda VT1300 (Fury, Sabre, Interstate, and Stateline) shared the same platform of a liquid-cooled V-twin engine with a shaft drive, and so maintenance for all of them is the same.
Notes:
At higher odometer readings, repeat at the frequency interval established here.

Honda recommends you get the steering head bearings and wheels serviced by a mechanic for safety reasons.
Maintenance Procedures:
I: inspect and clean, adjust, lubricate, or replace, if necessary
C: clean
A: adjust
L: lubricate
R: replace
x 1000 mi
0.6
4
8
12
16
20
24
x 1000 km
1
6
12
18
24
32
40
Note
Perform standard service checklist (see below)
I
I
I
Engine Oil — Pro Honda GN4 10W-30
R
R
R
R
Replace every year
Engine Oil Filter (HF204RC)
R
R
R
R
Air Cleaner (K&N HA1310)
R
R
Service more often if riding in dusty areas or rain.
Spark Plugs (NGK DCPR6E)
I
R
I
R
I
R
Valve Clearances
I
I
I
Engine Idle Speed
Target idle speed: 930 +/- 100 rpm
I
I
I
I
I
I
I
Radiator Coolant
I
I
R
Replace every 2 years
Final Drive Oil (Pro Honda Shaft Drive Oil)
I
I
R
Brake Fluid (Honda DOT 4)
I
I
R
I
I
R
Replace every 2 years
Brake Pads Wear
I
I
I
I
I
I
Clutch System
I
I
I
I
I
I
I
Crankcase breather (if fitted)
I
I
I
I
I
I
I
Evaporative Emission Control System
I
I
Maintenance Schedule for Honda VT1300 (Fury, Sabre, Interstate, Stateline)
Standard service checklist
Do the following checks on your Honda VT1300 as part of every scheduled inspection.
Honda VT1300 Inspection Checklist
Fuel Lines — Check condition, correct routing, and for no cracks
Throttle operation and free play – Lubricate with Protect all cable life
Target free play: 2-4 mm (0.1-0.2 in)
Cooling system — Check for no leaks, and that fans come on
Brake system — Check for proper function
Brake light switch — Check lights come on
Wheels/Tires — Check for dents, tire condition, tread depth
Suspension — Check for smooth operation, no leaks
Headlight aim — Check, re-adjust after adjusting suspension
Side stand — Check for smooth function, lubrication condition
Steering head bearings — Check for smooth operation
Nuts, bolts, fasteners — Check for presence. Replace / retighten as needed
Secondary air supply system — Check
Honda VT1300 Inspection Checklist
Tire size and tire pressure for the Honda VT1300
The Honda VT1300 Sabre / Fury / Stateline / Interstate have different tire sizes and recommended tire pressures.
Honda Fury tire sizes and pressures
| Tyre | Size | Tire pressure (cold) |
| --- | --- | --- |
| Front | 90/90-21M/C 54H | 33 psi (225 kPa , 2.25 bar ) |
| Rear | 200/50R18 M/C 76H | 41 psi (225 kPa / 2.25 bar) |
Tyres and tyre pressures — Honda Fury
Honda Sabre tire sizes and pressures
Tyre
Size
Tyre pressure
Front
90/90-21M/C 54H
33 psi (225 kPa , 2.25 bar )
Rear
170/80-15M/C 77H
2015 fury: 200/50R18 M/C 76H
33 psi (225 kPa / 2.25 bar) up to 90kg weight
36 psi (250 kPa / 2.5 bar) over 90kg
Tyres and tyre pressures — Honda Sabre
Honda Stateline / Interstate tire size / pressure
The Honda VT1300 Stateline / Interstate has a different size of tire.
Tyre
Size
Tyre pressure
Front
140/80-17 M/C 69H
29 psi (200 kPa / 2 bar)
Rear
170/80-15 M/C 77H
33 psi (225 kPa / 2.25 bar) up to 90kg weight
36 psi (250 kPa / 2.5 bar) over 90kg
Tyres and tyre pressures — Honda Stateline / Interstate
About the Honda VT1300 motorcycle range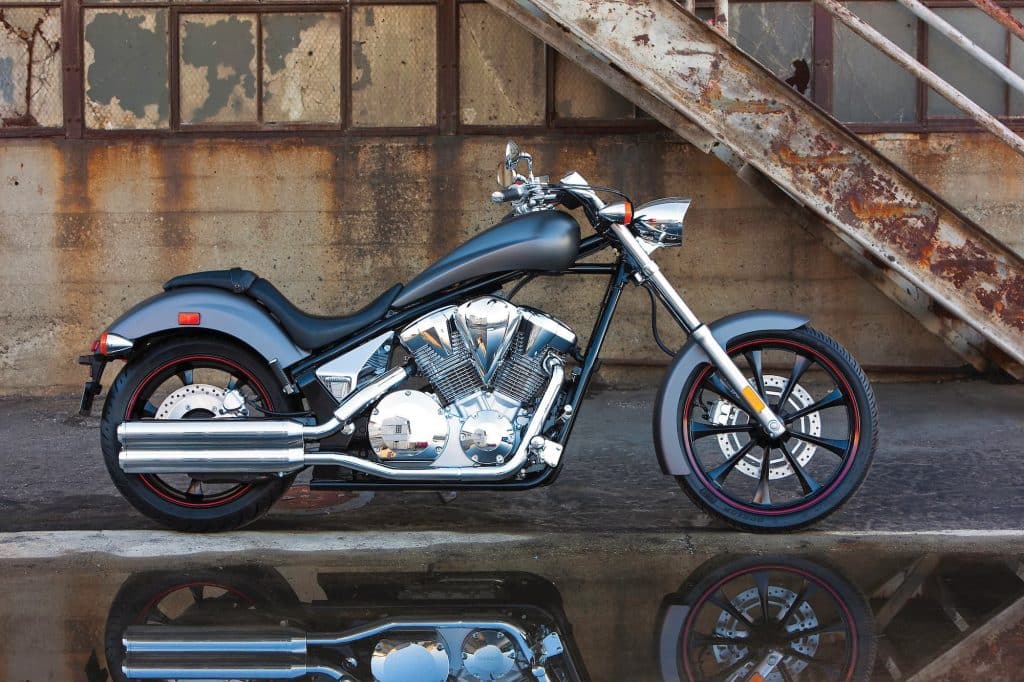 The Honda VT1300 range of motorcycles has been a mainstay of Honda's cruiser range since they launched in 2009 — a "middleweight" cruiser. Honda sold many tens of thousands of them during their lifespan.
They're unique in that they come out of the Honda factory with beautiful, custom-like design — they're very head-turning with a high-quality finish that even sportbike riders (or non-motorcyclists) can't help but admire.
The VT1300 came in a variety of configurations, but they all shared a strong 1312cc 52-degree liquid-cooled fuel-injected 3-valve-per-cylinder SOHC V-twin engine. The engine has a mild compression ratio of 9.2:1, and makes peak torque of 91 ft-lb / 123 Nm at 3000 rpm, with peak power of a modest 74 hp / 55 kW at 5000 rpm.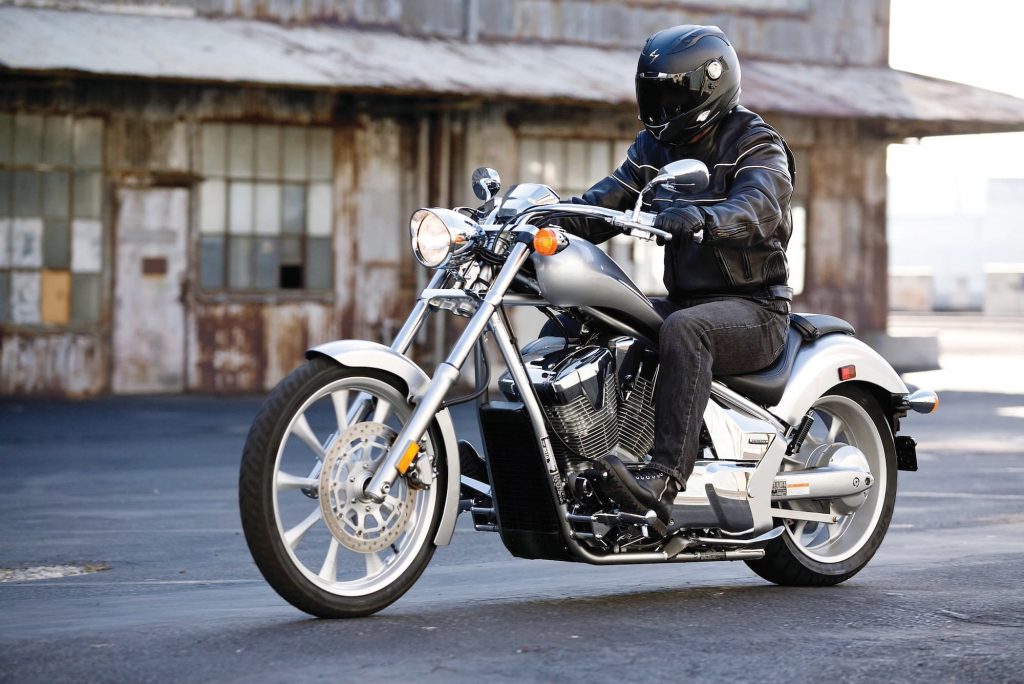 The engine in the VT1300 has same basic block as the Honda VTX1300, but the VT series got fuel injection. Power goes to the ground through a five-speed transmission and a shaft drive, keeping maintenance low, apart from final drive oil changes.
Unusually for a cruiser, the VT1300 bikes also have optional ABS, letting them keep up with the times. They all also shared a lot of bling, chrome, and head-turning style, no matter which trim level you got.
Honda makes a mixed bag of cruiser motorcycles, from the retro-futuristic NM4 Vultus to the Valkyrie Rune, a motorcycle just too beautiful to actually ride. The VT1300 series are in the middle somewhere — very nice to look at, but also ultra-reliable and wonderful to ride.
The family of VT1300 motorcycles is quite diverse. It starts with the Fury, which is the model still being sold in the US. There's also the Stateline, which is a muscle cruiser, the Interstate, the tourer, and the Sabre, the boulevard naked. Only the Fury is still available new.
It's hard to look at the Honda Fury and not think: that's an incredible looking bike! You have to pinch yourself to remind yourself it's a Honda. Many think it's some kind of custom.
It's a good example of a liquid-cooled engine where the radiator is quite well hidden away. The engine is on display, as many cruiser riders like, and you can see through the chassis.
The VT1300 cruisers are no longer in active development, but they're still a favourite for those looking for a reliable metric cruiser.
In the US as of 2022 you can still buy the Honda Fury new, but in most markets you can't get the VT1300 any more.
Manual for the Honda VT1300 motorcycle range
The above maintenance schedule comes directly from the user's manual for the Honda Fury in 2020, and compared to manuals from 10 years ago — you can see screenshots from them all above (for the Fury, Interstate, Stateline, and Sabre). The maintenance schedule is identical, as are the parts recommended to be used.
You can download the manuals from Honda's website here.