Kawasaki Eliminator 450 (EL450) Maintenance Schedule and Service Intervals Template
This is the maintenance schedule and service intervals for the Kawasaki Eliminator, also known as the EL450.. It's from the manual, with some reference points from service guides and parts catalogues.
The Kawasaki Eliminator is a relaxed everyday cruiser with a comfortable riding position and basic tech to get you through everyday short-distance cruising.
It's powered by a 451 cc DOHC liquid-cooled parallel twin, effectively a stroked version of the same engine in the Ninja 400. With a 11.3:1 compression ratio, it makes learner-friendly power, though Kawasaki hasn't quoted power specs for the 451.
Final drive is through a six-speed box and a chain.
The Eliminator also comes in 398 cc format for some other markets, including India.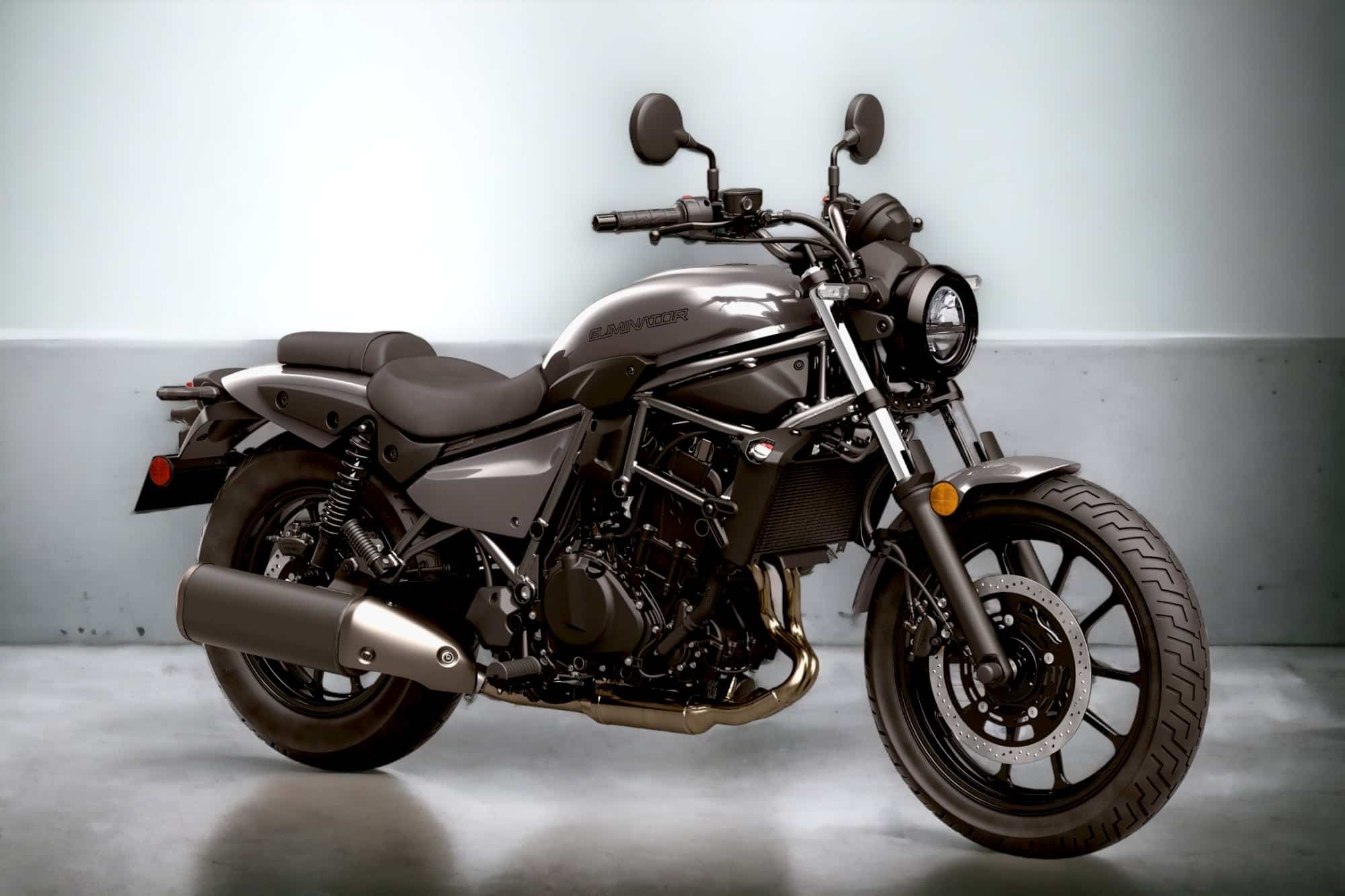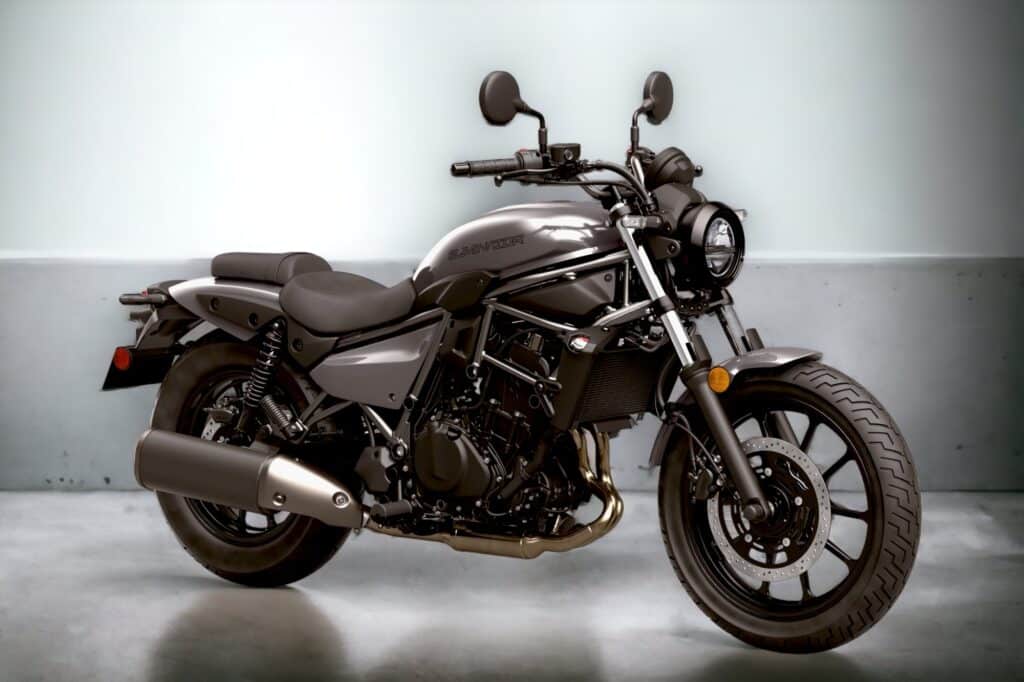 This site has links for things like oil and spark plugs from which we earn a commission (which unfortunately nobody can save, not even us). If you appreciate this work, then please use those links. Thanks!
Kawasaki Eliminator Service Intervals
Overall, the Kawasaki Eliminator has generously wide7500 mile or 12000 km service intervals. At every interval, change the oil and filter, and look over the bike, following the inspection checklist.
The major valve service interval is every 15000 miles or 24000 km. The Eliminator has a DOHC parallel twin engine with eight valves.
Make sure you change the brake fluid periodically (typically every two years) and maintain the drive chain as needed, particularly if the chain has been exposed to harsh conditions or stress.
What you need to service a Kawasaki Eliminator
To service your Kawasaki motorcycle, you need some basic motorcycle maintenance tools.
Apart from that, you need the following consumables specific to your motorcycle.
Kawasaki Eliminator parts for maintenance
Maintenance Schedule for the Kawasaki Eliminator
Below is the full maintenance schedule for the Kawasaki Eliminator, adapted from the manual, but modified to be made easier to digest.
The maintenance schedule is broken up into two parts:
Everyday maintenance
Major maintenance — including oil / filter changes, spark plugs, valves, etc.
Regular maintenance — a checklist of items to look over.
Everyday Maintenance
Do these checks as you start your bike, walking around it, inspecting it for leaks and so on.
Kawasaki Eliminator regular daily maintenance
Engine oil — Check adequate level / between lines
Tires — Check condition, and air pressure
Minimum tread: 1mm at front, 2mm at rear
Drive chain — Check slack and lubrication level (see below)
Bolts, nuts, and fasteners — Check all present, nothing loose
Brakes — Check brake pad wear, brake fluid level is between lines, and there's no brake fluid leakage
Minimum thickness at front: 1.0mm / 0.04 in
Minimum thickness at rear: 1.5 mm / 0.06 in
Throttle — Check free play (2-3 mm)
Clutch — Check clutch lever free play, and smooth operation
Coolant — Check for no leakage, coolant level between lines
Electrical equipment — Check all lights and horn function
Engine kill switch — Ensure it stops engine
Side stand — Ensure it operates smoothly
Rear view mirrors — Adjust
Kawasaki Eliminator regular daily maintenance
Major Maintenance
Below is the list of major items to inspect at every service.
Notes on this maintenance schedule:
Service at the first occurring service interval, distance or time.
For higher odometer readings, repeat at the interval frequency shown here.
mi x 1000
0.6
7.6
15.2
22.8
30.4
km x 1000
1
12
24
36
48
Every
Standard annual service — Perform (see list below)
* Not all items required at break-in
✓*
✓
✓
✓
✓
Year
Engine oil — Replace (Mobil 1 10W-40)
✓
✓
✓
✓
✓
Year, or more often as needed
Oil filter — Replace (HF303)
✓
✓
✓
✓
✓
Year, or more often as needed
Spark plugs — Replace (LMAR9G)
✓
✓
✓
✓
Valve clearances — Inspect / adjust
✓
✓
Brake fluid (front and rear) — Replace (Castrol DOT 4)
✓
✓
2 years
Air cleaner element — Replace
✓
More often if riding in harsh conditions
Rubber parts of brake master cylinder and caliper — Replace
✓
4 years
Brake hoses — Replace
4 years
Steering stem bearings — Lubricate (Lithium soap-based grease)
✓
✓
2 years
Coolant (Zerex G05), water hoses, and O-rings — Replace
✓
3 years
Fuel hoses — Replace
5 years
Drive chain wear
✓
✓
✓
✓
Drive chain guide wear
✓
✓
✓
✓
Air suction system
✓
✓
✓
✓
Engine vacuum synchronization
✓
✓
✓
✓
Evaporative emission control system
✓
✓
Kawasaki Eliminator 450 maintenance table
Standard annual service
Below is the standard annual service for the Kawasaki Eliminator. Perform it according to the schedule above.
Not all items are required at break-in, but they're all trivial to perform.
Standard annual service items
Throttle control system (play, smooth return, no drag)
Target drag: 2-3mm / 0.08-0.12 in
Clutch operation — Inspect (play, engagement, disengagement)
Fuel system — Inspect for leaks / condition.
Coolant level — Check
Cooling system — Check correct function
Tire air pressure — Check (see below)
Wheels and tires
Wheel bearing damage
Brake system
Suspension system
Steering play
Electrical system
Chassis parts — Lubricate
Condition of bolts, nuts, and fasteners — Inspect
Kawasaki Eliminator EL450 standard annual service
Maintaining Your Chain on the Kawasaki Eliminator
It's important to maintain your chain on the Eliminator, as on any chain-driven motorcycle. Use a good-quality chain lubricant like Motul chain paste, or a Motul chain care kit which comes with a couple of handy tools to maintain the chain.
Kawasaki recommends you follow the following chain maintenance schedule:
| Chain maintenance item | Every |
| --- | --- |
| Check drive chain lubrication condition, lubricating if necessary (Motul chain paste) | 400 mi / 600 km |
| Check drive chain slack, adjusting if necessary | 600 mi / 1000 km |
Chain maintenance — Kawasaki Eliminator
Notes:
Do these items (checking/adjusting slack, and checking/applying lubrication) more often if you ride your Eliminator in dusty or rainy conditions.
Always lubricate the chain after washing the motorcycle.
To check chain slack, make sure it's on its sidestand, with no load. Target slack for the Kawasaki Eliminator is 20-30 mm, or 0.8-1.2 inches. Slack is total deflection of the chain at its loosest point.

To adjust the chain slack on the EL450, follow the procedure below. Just as with measuring chain slack, make sure that the motorcycle is on a level surface on its kickstand, in neutral, with no weight on it (no saddlebags / luggage).
Loosen the rear axle and the adjuster lock nuts on either side of the axle.
Remove the cotter pin.
Turn the adjuster nuts to tighten (or loosen) the chain. Keep checking the chain tension to see if it has come within spec.
Keep an eye on the adjuster alignment marks on either side of the axle. Make sure that the adjustment is to the same point.
When you're done, tighten the axle to 98 Nm / 72 lb-ft, and tighten the adjuster lock nuts gently.
Re-check the chain slack again to make sure it's still within spec.
Put in a new cotter pin.
Tire sizes and pressures for the Kawasaki Eliminator
The Kawasaki Eliminator ships with IRC GS-23 type tires, but you'ee not obliged to keep them. See the below recommended tire sizes.
The manual specifies the following tire sizes and pressures (cold).
| Tyre | Rim size | Tire size | Tyre pressure (cold) |
| --- | --- | --- | --- |
| Front | 18 x 3.0 | 130/70-18 M/C 63H | 200 kPa / 29 psi |
| Rear | 16 x 4.0 | 150/80-16 M/C 71H | 225 kPa / 32 psi |
Tyre sizes and tyre pressures for the Kawasaki Eliminator
About the Kawasaki Eliminator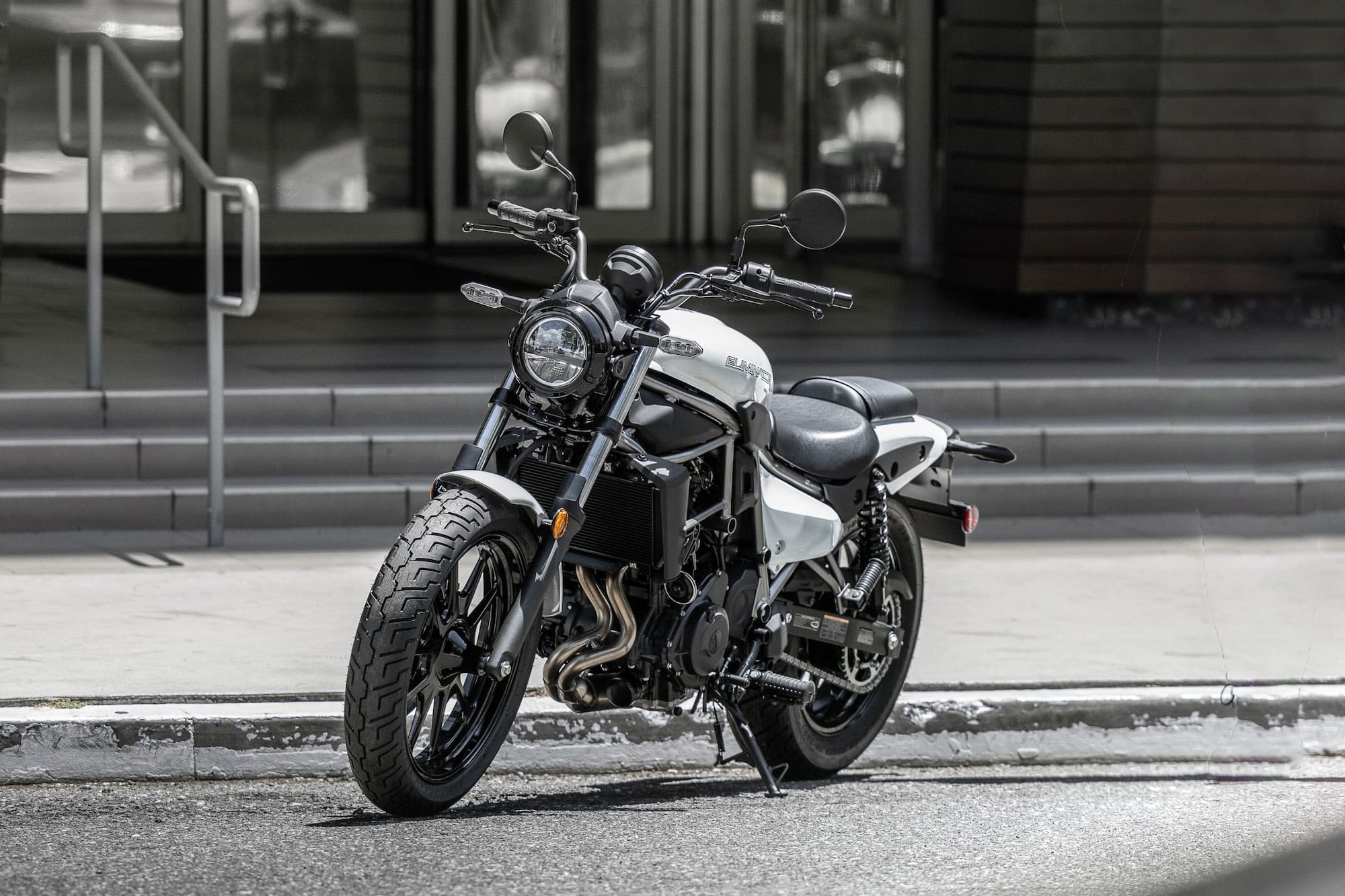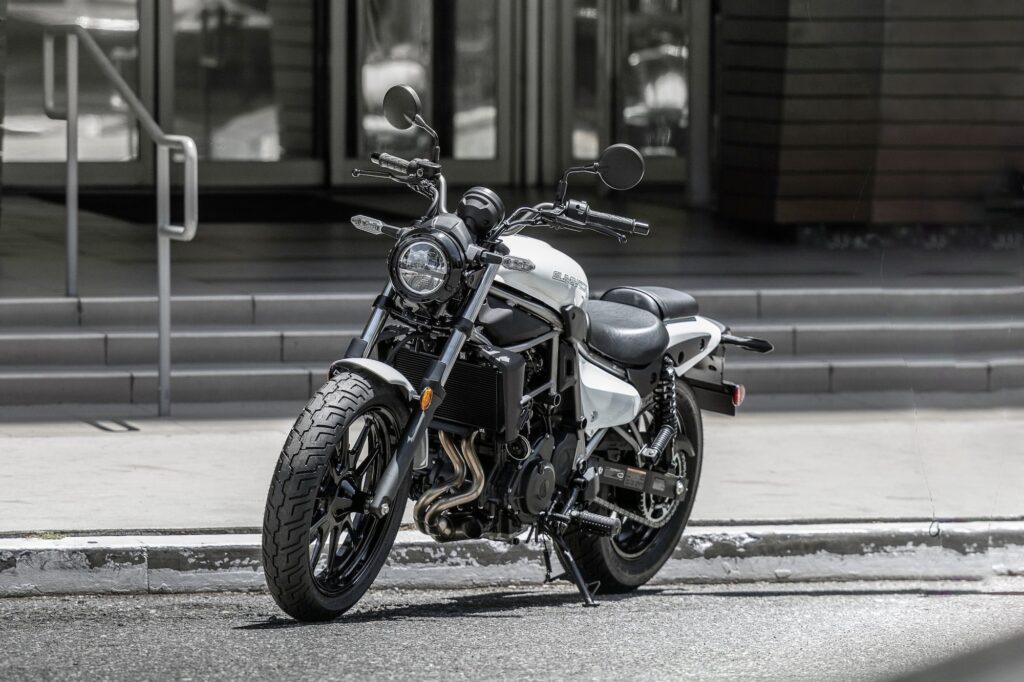 The Kawasaki Eliminator is a new model for 2024 from Kawasaki. It's a basic cruiser-style motorcycle powered by an entry-level but versatile parallel twin, designed to be equally at home in the hands of a beginner motorcyclist as it would be in those of a seasoned old hand who's looking for a reliable machine for daily errands and everyday cruising.
The Kawasaki Eliminator is powered by a 451 cc parallel twin, a longer stroke version of the same motor in the Kawasaki Ninja 400. This new iteration doesn't quite mirror the muscular prowess of its 1985 predecessor by name, the Kawasaki ZL900 Eliminator, a renowned "muscle cruiser". However, it has its own niche in the entry-level cruiser category with a sporty demeanor, a trait that is somewhat of a rarity in this segment.
Kawasaki opted to keep the 180-degree crankshaft layout, a decision that might disappoint enthusiasts who were anticipating a shift to the more characterful 270-degree configuration, which has become somewhat of a standard in parallel twins. Despite this, the Eliminator has a high-revving and spirited engine housed within a chassis that is largely capable of leveraging this performance to offer a thrilling ride.
Available in white, grey, and a special orange ABS-equipped SE version, the Eliminator has a range of modern features including a headlight cowl, fork boots, a USB-C outlet, and a two-tone seat.
There's enough power not just for around town, but for the freeway — even at higher speeds that are often seen in Europe and in the US.
In terms of aesthetics, the Eliminator hits the mark, despite being an affordable bike. It has a long and low profile, accentuated by bobbed fenders and a compact tank that emphasizes the bike's length.
The design is complemented by fat tires mounted on 10-spoke wheels, twin shocks (super old school) and a rounded headlight and dash, encapsulating the quintessential cruiser look.
Despite its imposing name, the Eliminator is far from intimidating. With a curb weight of 388 pounds and a seat height of just 28.9 inches, it's accessible for a range of rider sizes.
The ergonomic design accommodates a wide range of body types, promising comfort over long journeys, a feature many riders can already attest to.
The riding position deviates slightly from the traditional cruiser stance, offering a more upright and neutral posture, thanks to centrally located footpegs. It's more "neutral", a riding position I certainly hope comes fully back into vogue.
This design choice not only alleviates pressure on the sit bones but also allows for greater movement, a boon for those looking to undertake long journeys without the accompanying backside discomfort.
Moreover, the seat design facilitates a comfortable brace against wind blasts on the highway, positioning the Eliminator as a competent mile-muncher.
On the road, the Eliminator presents a harmonious blend of classic cruiser traits and unexpected performance, powered by an engine that might seem unconventional for its class but delivers a peppy ride.
The front brake setup mirrors that of the Ninja 400, providing adequate lever feedback and power, a feature that works in tandem with the rear brake to offer a balanced and controlled riding experience, especially when navigating bumps commonly encountered on cruiser terrains. If it was good enough for the Ninja sport bike, then it's good enough for the Eliminator!
The engine, derived from the Ninja lineage, introduces a frenetic energy to the cruiser class, packing high-frequency vibrations in the lower half of the tachometer, a region where riders spend a significant portion of their time.
Despite this, the engine has substantial acceleration in the upper half of the 11,000-rpm rev range, a zone less frequented by the average rider, and much less by cruiser riders. This new parallel twin engine, despite its vibrational tendencies and nasal sound profile, compensates with an acceleration that outpaces competitors like the Honda Rebel 500 and the Royal Enfield Meteor 350.
Kawasaki has expanded the Ninja 400 engine by 6.8 mm to achieve the 451 cc capacity, delivering a power output of 38 kW / 52 horsepower at 10,000 rpm and 43 Nm / 32 foot-pounds of torque at 8,000 rpm. These figures represent a substantial increase over the 398 cc Ninja 400, igniting a desire for further expansions into the Ninja and Versys series.
Despite its deviation from the smooth and loping character expected of cruisers, the Eliminator impresses with its exhilarating acceleration and superior cornering clearance, offering a neutral chassis that navigates curves with an agility that belies its nearly 60-inch wheelbase and almost five inches of trail.
The Eliminator's suspension might find rough pavements challenging, but maintains a calm chassis, ensuring a smooth ride. The addition of rear brakes supplements the softer front brake, providing an effective slowing mechanism, further enhanced by the safety net of ABS, preventing accidental wheel lockups.
During a press launch ride, the Eliminator demonstrated its prowess at maintaining speeds between 70 and 85 mph, delivering a smooth ride in the 6,000 to 7,500 rpm range and fuel efficiency of 5.2 L/100 km / 45 mpg. This sporty cruiser surprises with its balance against headwinds and substantial power for overtaking, marking itself as a valuable addition to the mid-size cruiser category.
The Eliminator fills a gap in Kawasaki's lineup, offering a blend of style, comfort, and performance that is often missing in entry-level cruisers.
Despite minor drawbacks like high-frequency vibrations in the grips and seat, it stands as a formidable contender in the cruiser segment, promising an appealing style coupled with comfort and performance that exceeds the norms of its class.
Looking forward, the motorcycle community can eagerly anticipate the integration of this 451 cc engine into new Ninja and Versys models, where it promises to align seamlessly with the character and performance demands of these series.
Manual for the Kawasaki Eliminator
The above maintenance schedule was transcribed from the manual for the Kawasaki Eliminator.
You can download it from Kawasaki's website here.
For reference, here's the maintenance-specific section of the Kawasaki Eliminator's manual.