Honda Rebel 500 (CMX500, 2017+) Maintenance Schedule and Service Intervals
This is the maintenance schedule and associated service intervals for the Honda Rebel 500, a.k.a. the CMX500 in some markets.
Honda released the Honda rebel 500 along with the Rebel 300 in 2017. The Rebel 500 is a stylish, easy-to-ride and simple but effective motorcycle powered by a 471cc, eight-valve, liquid-cooled parallel twin that's thoroughly modern and decidedly not a V-twin (which is what you'd expect in a cruiser).
The Rebel 500 is based on the same parallel twin engine platform as other Honda 500 motorcycles, like the sportier Honda CBR500R. In the Rebel 500, as in other motorcycles with the same engine, it makes a learner friendly but healthy 35 kW / 47 hp at 8500 rpm, or 43 Nm / 32 ft-lb of torque at 7000 rpm. Revvy and fun.
In 2021, Honda released a motorcycle that's a clear upgrade path from the Rebel 500. So if you get tired of your 500-class parallel-twin engine, upgrade to the class-leading 1100 parallel twin in the Honda Rebel 1100 (CMX1100).
This was originally published Dec 20, 2020, but has since been significantly updated.
This site has links for things like oil and spark plugs from which we earn a commission (which unfortunately nobody can save, not even us). If you appreciate this work, then please use those links. Thanks!
Honda Rebel 500 Service Intervals
Like other bikes in the Honda 500 class, the Rebel 500 has 8000 mile / 12800 km oil change service intervals.
Honda actually has shorter 4000 / 6400 km service intervals in the manual, but the things Honda recommends you check at that shorter interval are safety and emissions equipment (fuel lines, brake lines, clutch lines, and the crankcase breather).
Honda recommends doing a valve service every 16000 mi / 25600 km.
Finally, the Rebel 500 has a liquid-cooled engine, so be sure to keep the coolant up to date and avoid expensive parts failing.
Things you might need to service the Honda Rebel 500
So you want to service your own motorcycle, do you? Well, aside from the basic motorcycle maintenance tools, you will probably need some of the following parts.
| Part | Honda Rebel 500 spec |
| --- | --- |
| Oil | Honda recommends SAE 10W-30, JASO T 903 standard MA. Pro Honda GN4 10W-30 is good. Use a torque wrench to tighten the bolt to 30 Nm (22 lb-ft). |
| Oil filter | Honda's standard part number for the oil filter is 15410-MFJ-D01 (used on many Hondas). You can also use Hiflofiltro HF204RC for the oil filter. Use a torque wrench to tighten it to 26 Nm (19 lb-ft). |
| Air filter | The K&N alternative air filter HA-2513 is a drop-in replacement. |
| Spark plugs | Use NGK spark plug part CPR8EA-9. Use a gapping tool to set the gap to 0.8-0.9mm. |
| Brake fluid | You can use any DOT 4 oil, but Honda recommends Honda DOT 4. |
| Brake pads (front) | Use EBC double-hardened front brake pads with part number FA196HH. |
| Brake pads (rear) | Use EBC double-hardened rear brake pads with part number FA496HH. |
| Coolant | Use coolant based on ethylene glycol — like Pro Honda Coolant. |
Honda Rebel 500 Consumables for maintenance
Honda Rebel 500 Maintenance Schedule
Below is the maintenance schedule for the Honda Rebel 500.
Notes on the maintenance schedule:
At the end of the maintenance schedule, continue servicing it in the pattern shown.
Honda recommends you get suspension and wheels/tires serviced by a professional, but everything else can be done by a home mechanic with the necessary tools and skills.
Maintenance Procedures:
I: Inspect and clean, adjust, lubricate, or replace, if necessary
R: Replace
L: Lubricate
C: Clean
x 1000 mi
0.6
4
8
12
16
20
24
x 1000 km
1
6.4
12.8
19.2
25.6
32
38.4
Every
Engine Oil (Pro Honda GN4)
Tighten bolt to 30 Nm / 22 ft-lb
R
R
R
R
1 Year, R
Engine Oil Filter (HF204RC)
Tighten to 26 Nm / 19 ft-lb
R
R
Spark Plug (NGK CPR8EA-9)
Gap: 0.031-0.035 in, 0.8-0.9 mm
Torque: 16 Nm / 12 ft-lb
R
Valve Clearances
I
Air Cleaner (HA-2513)
R
R
More often if riding in dusty/wet areas.
Radiator Coolant (Pro Honda HP Coolant)
I
I
I
3 Years, R
Brake Fluid (Honda DOT 4)
I
I
I
I
I
I
2 Years, R
Brake Pads Wear (FA196HH, FA496HH)
I
I
I
I
I
I
Fuel Line
I
I
I
Throttle Operation
I
I
I
Crankcase Breather
C
C
C
C
C
C
More often riding in rain / at full throttle
Engine Idle Speed
Target: 1200 +/- 100 rpm
I
I
I
Cooling System
I
I
I
Secondary Air Supply System
I
Evaporative Emission Control System
I
Brake System
I
I
I
Brake Light Switch
I
I
I
Headlight Aim
I
I
I
Clutch System
I
I
I
I
I
I
Side Stand
Lubricate as necessary with lithium soap-based grease
I
I
I
Suspension
I
I
I
Nuts, Bolts, Fasteners
I
I
I
Wheels/Tires
I
I
I
Steering Head Bearings
I
I
I
Honda Rebel 500 maintenance schedule
Maintaining Your Chain on the Honda Rebel 500
It's important to maintain your chain on the Rebel 500, as on any chain-driven motorcycle. Use a good-quality chain lubricant like Motul chain paste, or a Motul chain care kit which comes with a couple of handy tools to maintain the chain.
Honda recommends you follow the following chain maintenance schedule:
Chain maintenance item
Every
Check drive chain lubrication condition, lubricating if necessary
600 mi / 1000 km
Check drive chain slack, adjusting if necessary
Re-tighten rear wheel axle nut to 88 Nm / 65 ft-lb
600 mi / 1000 km
Chain maintenance — Honda Rebel 500
Notes:
Do these items (checking/adjusting slack, and checking/applying lubrication) more often if you ride your Rebel 500 in dusty or rainy conditions.
Always lubricate the chain after washing the motorcycle.
Tyre size and tyre pressure for the Honda Rebel 500
The Honda Rebel 500 has the following tyres and tyre sizes standard. And the manual specifies the following recommended tyre pressures.
| Tyre | Size | Tyre pressure |
| --- | --- | --- |
| Front | 130/90-16M/C 67H | 29 psi (200 kPa) |
| Rear | 150/80-16M/C 71H | 29 psi (200 kPa) |
Tyres and tyre pressures for Honda Rebel 500
The Rebel 500 ships with Dunlop D404 tyres stock.
Torque values for maintenance of the Honda Rebel 500
Here are some torque values you'll find useful for the Rebel 500, both for general maintenance as well as tightening things up. These came from the service manual for the Rebel 500.
| Part | Nm | ft-lb | kg-m |
| --- | --- | --- | --- |
| Engine oil drain | 30 | 22 | 3.1 |
| Engine oil filter | 26 | 19 | 2.7 |
| Rear axle nuts | 88 | 65 | 9 |
| Rear axle drive chain tension adjuster nuts | 21 | 15 | 2.1 |
| Front (drive) sprocket nut | 54 | 40 | 5.5 |
| Rear (driven) sprocket self lock nut | 108 | 80 | 11 |
| Cylinder head bolts | 47 | 35 | 4.8 |
| Front axle pinch socket bolt | 22 | 16 | 2.2 |
| Front axle bolt | 51 | 38 | 5.2 |
| Handlebar holder socket bolts and mounting nuts | 27 | 20 | 2.8 |
| Front brake disc bolt | 42 | 31 | 4.3 |
| Front brake caliper bolts | 30 | 22 | 22 |
| Rear brake disc bolt | 42 | 31 | 4.3 |
| Rear brake caliper bolts | 22 | 16 | 2.2 |
Honda Rebel 500 maintenance torque values.
Missed something? Give us a shout.
About the Honda Rebel 500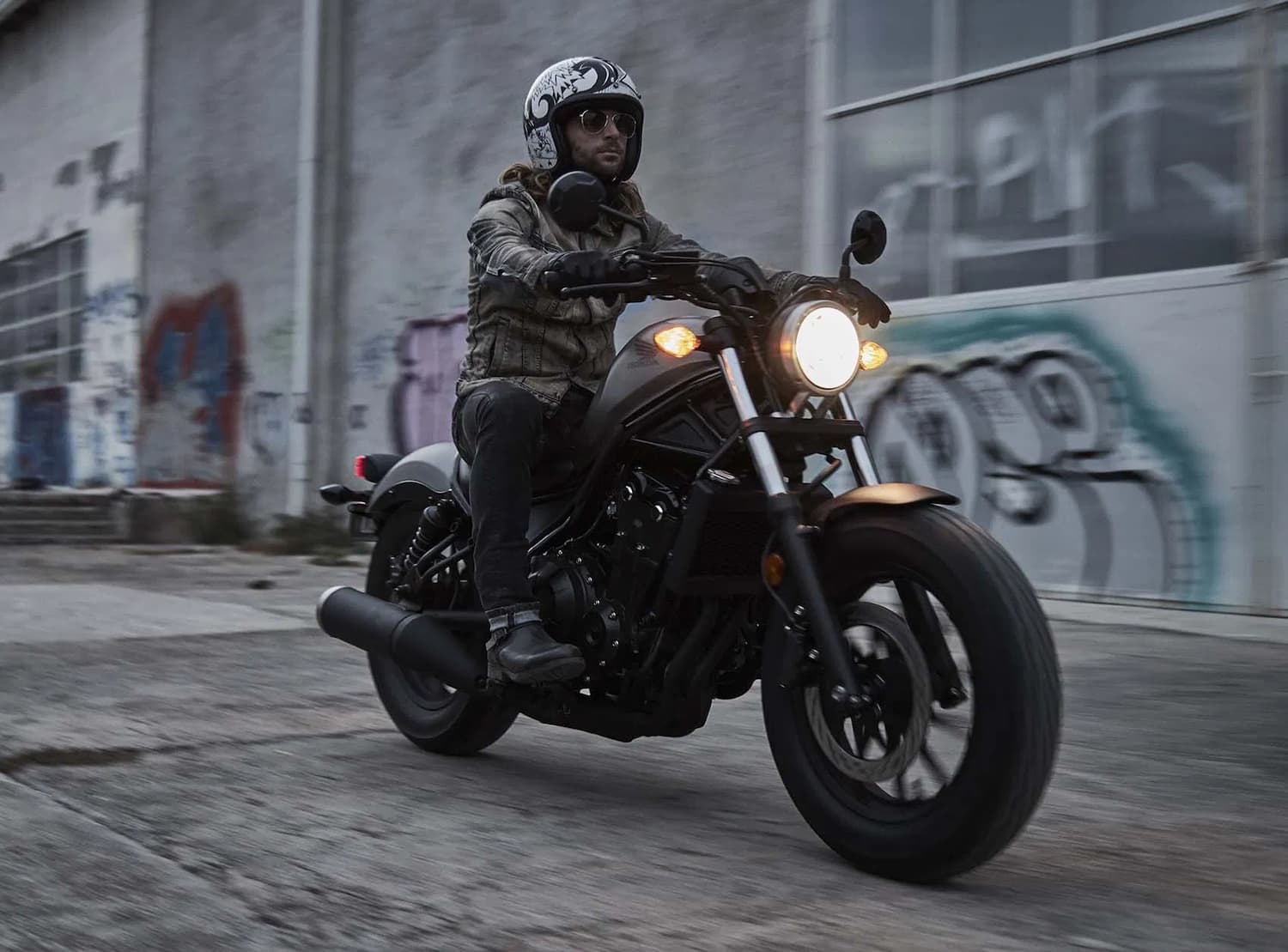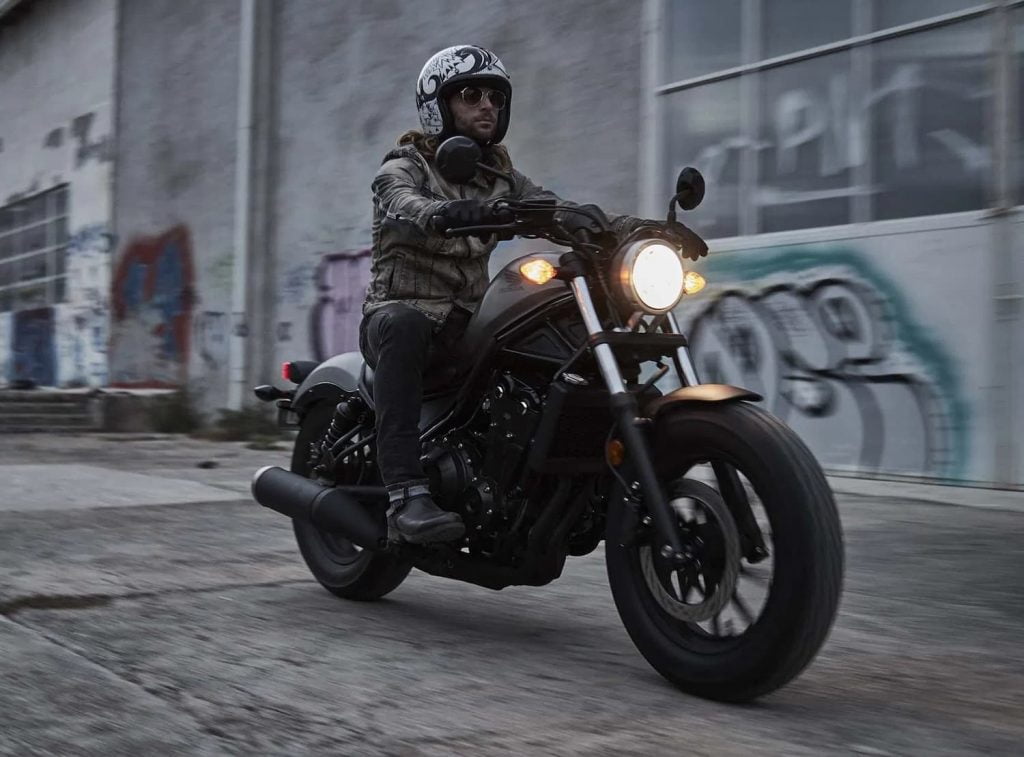 The Honda Rebel 500 is a small "but not too small" cruiser motorcycle that has been very popular for new riders (and sometimes older riders who buy one "for their partner" but end up riding it themselves…)
The Rebel has a long history. For a long time, the Honda Rebel 250 was a classic first motorcycle — an easy-to-use and basically unbreakable design. The Honda Rebel 300 and 500 both follow in the same vein, aiming to be easy-to-use, stylish, and very reliable motorcycles.
The Rebel 500 is based on the same 471 cc parallel twin that powers a number of its entry-level motorcycles, from the adventures CB500X to the sporty CBR500R.
It's mildly tuned, with a 10.7:1 compression ratio, and produces just the right amount of power to keep it legal in learner-compliant jurisdictions like the UK and Australia.
But the Honda Rebel 500 is by no means a slow bike. You can easily push it to well above freeway speeds if you want!
The rest of the motorcycle might keep those ideas in check, though. It's a cruiser, after all, with limited fairing protection, and very simple suspension — a non-adjustable 41mm fork, and dual shocks at the rear. There's just a single disc up front.
What's really interesting about the Honda Rebel 500 is just how good it looks for an entry-level bike.
The Honda Rebel 500 has a low, lean silhouetted and a well-sculpted fuel tank. The front-end is raked out and the 16-inch tires don't look "low-power".
It has a stamped rear fender and narrow frame body, giving it a stripped-back form and a very individual, unique look.
Riding the Rebel 500 is comfortable. Your arms are outstretched gently, and the mid-mounted foot pegs are in easy reach without being too lazy like a cruiser. Your knees are bent at a comfortable 90 degrees.
What makes the Honda Rebel 500 unique is that it isn't trying to be something else. It's not trying to be an alternative to a big-capacity V-twin, or to steal market share from the Harley-Davidson Iron 883.
Nor is it just the bigger version of the Rebel 300 or trying to present some kind of upgrade path. Buyers are likely to choose one or the other, not one then the other.
The Rebel 500 has its own unique design, somehow classic and modern at the same time. Many people who don't know much about motorcycles look at the Rebel 500 and say "Wow, that looks cool." It does look cool.
The round headlight up front (definitely part of the "cool" look) has an aluminium mount. The speedometer is a compact round dial with a digital display that has a fuel gauge and gear position indicator in it — but lacks a tachometer. The instrument cluster thus is modern, but has a classic design.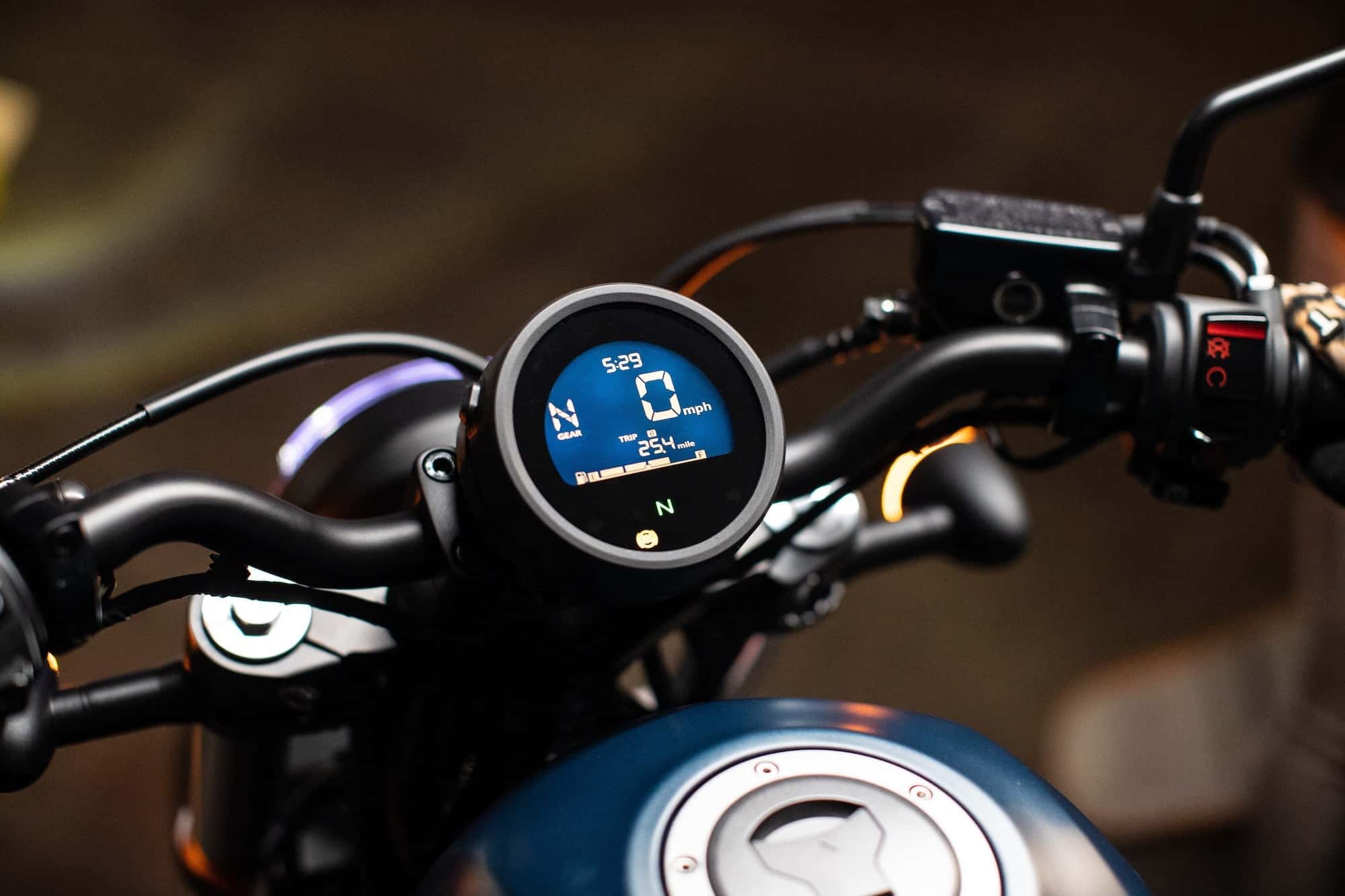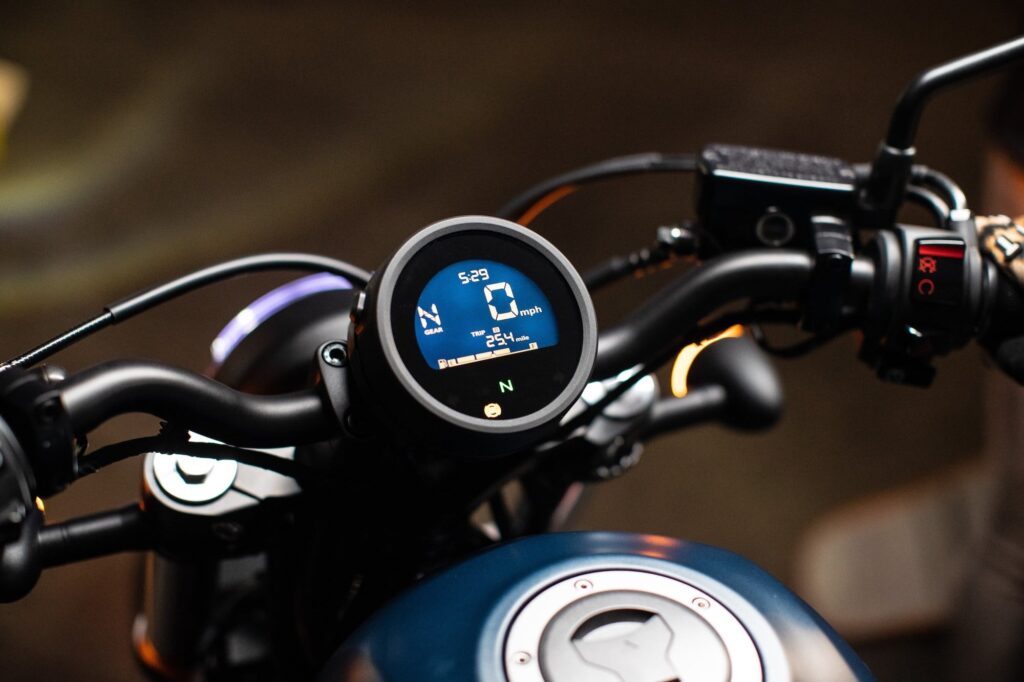 And the Rebel 500 has a blacked-out aesthetic that is timeless.
As a nod to classic cruisers, though, the ignition is below the left side of the fuel tank. New cruiser riders might poke about a bit before they find it!
You can even take a passenger on the Honda Rebel 500 without too much fuss. You attach a rear seat with just two bolts, and there are options for back rests too.
Reference — Manual for the Honda Rebel 500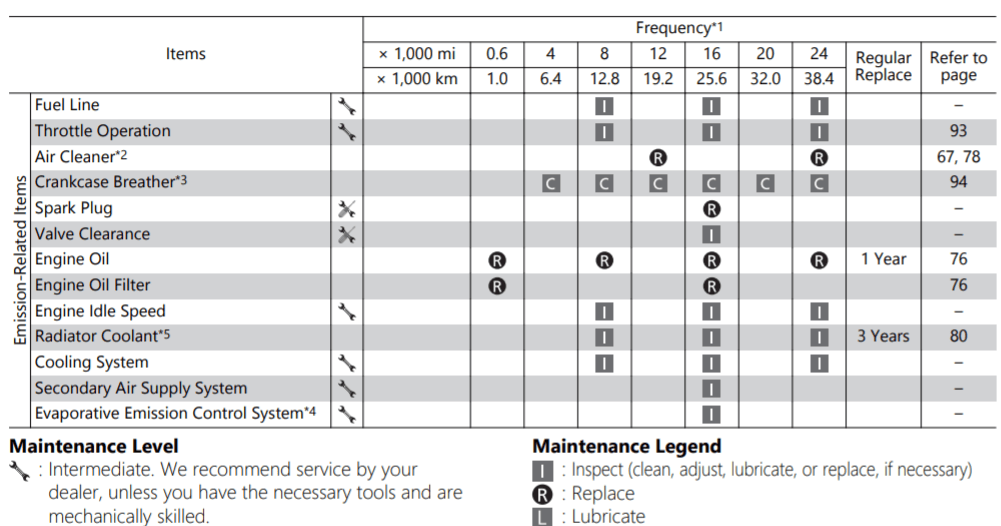 The above maintenance schedule comes directly from the user's manual for the Honda Rebel 500, with parts and other specs coming from parts fiches.
You can download the manual from Honda's website here.