Honda Gold Wing GL1800 5th Gen (2001-2017) Maintenance Schedule and Service Intervals
This is the maintenance schedule and associated service intervals for the Honda Gold Wing GL1800, otherwise known as the "5th gen" Gold Wing.
The Honda Gold Wing GL1800 was a huge update to the earlier Gold Wing, the GL1500. The capacity increased from 1520cc to 1832cc. Honda also gave the new GL1800 fuel injection and made a host of other smaller changes.
But the Gold Wing GL1800 bears the same spirit as the most recent previous GL1500 generation, being powered by a gentle but willing flat six motor pushing through a shaft drive, and being a rather large motorcycle that is clearly oriented towards comfort over long distances, but which is entirely capable of doing short, low-speed travel, thanks to a well-balanced chassis and some comfort aids like a reverse gear.
Over its long lifetime between 2001 and 2017, the GL1800 of course has had many improvements. There were actually a few distinct phases.
2001-2005: The first version, as above. Produced in the USA with fuel injection and optional ABS, and CD player (replacing a tape deck) with a good sound system. Produced concurrently with the Honda Valkyrie Rune.
2006-2010: Larger radiator and fans, and a 200-watt-more-powerful 1,300-watt alternator. Additional options of an airbag (for the first time on a motorcycle), in-dash GPS with speakers and headset connections, heated grips, heated seat, and adjustable engine-air vents. Better speakers in the audio. This model was still produced in the US; there was a pause in manufacturing in 2011 as it was relocated to Japan.
2012-2017: First Gold Wings built in Japan. These came with an exterior redesign with more flowing bodywork (a "diagonal backwards" accent), larger capacity luggage, an improved built-in GPS with iPod/MP3 player support, and revised suspension.
Honda quickly thereafter released the Gold Wing F6B "Bagger" in 2013, and then the Gold Wing F6C Valkyrie in 2014. Both those were external re-configurations with the same underlying base, but missing some of the niceties of the 'Wing (like the reverse gear).
In 2018, Gold wing released its sixth generation Gold Wing GL1800. The engine was mostly the same and just re-tuned, but the motorcycle was massively re-styled (to the chagrin of many 'Wing owners).
However, over the course of its long lifetime, the Gold Wing's engine remained the same, so its maintenance schedule did, too.
Check out a ton of photos of the Gold Wing GL1800 below.
Originally published November 28, 2020, but updated considerably since.
This site has links for things like oil and spark plugs from which we earn a commission (which unfortunately nobody can save, not even us). If you appreciate this work, then please use those links. Thanks!
Honda Gold Wing GL1800 (2001-2017) Service Intervals
The Honda Gold Wing GL1800 has 4000 mile / 6400 km service intervals. But you only need to change the oil and filter every 8000 miles / 12800 km or every year.
Change the spark plugs every 16000 miles / 25600 km, and check the valve clearances every 32000 miles / 51200 km, or earlier if they're noisy.
The Gold Wing has a hydraulic clutch as well as brake, so replace them both at the same time (every two years). Honda does recommend an OAT-type coolant, but still requires a 2-year replacement schedule.
What you need to maintain your Honda Gold Wing GL1800 (2001-2017)
Here's what you need to service your Honda Gold Wing GL1800.
Part
Honda Gold Wing GL1800 spec
Oil
For the GL1800 from 2001-2017, Honda recommends JASO T 903 standard MA or API SJ or higher grade oils, and specifically not oils that are "energy conserving" (as these may affect lubrication or clutch performance).

Honda recommends Pro Honda GN4 10W-40, which covers a wider variety of operating temperatures, but you can use any high-performance oil — Motul 7100 10W-40 is a popular choice. Use a torque wrench to tighten the engine drain bolt to 30 Nm (22 lb-ft).
Oil filter
Honda's standard part number for the oil filter is 15410-MFJ-D01 (used on many Hondas). You can also use Hiflofiltro HF204RC for the oil filter. Use a torque wrench to tighten it to 26 Nm (19 lb-ft).
Air filter (OEM)
The OEM air filter part is 17210-MCA-A60. Two common replacements are the K&N air filter HA-1801, or ideally the Hiflofiltro air filter HFA1921.
Spark plugs
Honda recommends three spark plugs, all NGK or Denso.
* Standard: BKR6E-11 or K20PR-U11
* Cold climate (below 5 Censius or 41 F, argh!): BKR5E-11
* Extended high speed riding (are you a cop?): BKR7E-11

The gap should be 1-1.1mm (use a gapping tool), and torqued appropriately (new NGK gaps are turned 3/4 after they seat, and new Denso plugs 1/2 turn after they seat).
Drive shaft oil
Honda recommends SAE 80 hypoid gear oil. Pro Honda Shaft Drive Oil is a good match.
Brake fluid
You can use any DOT 4 oil, but Honda recommends Honda DOT 4.
Brake pads (front and rear)
OEM front brake pads are part number 06456-MCA-016 (front) and 06435-MCA-026 (rear). A popular replacement are EBC double sintered brake pads, using part number FA261/2HH for the front and rear (so you need three pairs). The part FA261HH works as well.
Coolant
Use Honda Long-life Coolant, which is based on ethylene glycol.
Grease
Stock up on lithium soap-based grease and silicone grease to keep pivots and moving parts lubricated and protected.
Honda Gold Wing GL1800 parts for maintenance
Oil recommendations for the Honda Gold Wing — More Detail
A helpful anonymous reader wrote in to point out that the emissions sticker said 10W-40 on the bike, even though the manual recommends 10W-30.
In the manual for the 2001 Gold Wing, Honda didn't recommend a specific weight, just providing a chart for you to make up your own mind.
In later manuals from early years of the 2001-2017 5th gen Gold Wing, Honda specifically recommended 10W-40 engine oil, and provided the same temperature gradient showing what weights might be best for your motorcycle.
In later years, Honda started recommending 10W-30 engine oil, but showed the same temperature gradient.
Swipe through the below images to see.
Given that the Gold Wing is frequently used in summer and you just might travel through the hotter parts of the world, 10W-40 would be the best recommendation for most users, hence recommending Pro Honda 10W-40 motorcycle oil based on currently available oil choices.
However, if you really are sure you aren't going to ride in hotter areas (e.g. in the UK where it rarely gets that hot), then maybe Pro Honda 10W-30 is more suitable.
Honda Gold Wing GL1800 Maintenance Schedule
Below is the maintenance schedule for the Honda Gold Wing GL1800. Gold Wing owners are a passionate bunch and many like to do their own service, especially on the older models.
The core of maintaining a Honda Gold Wing is:
Keeping the drive shaft maintained
Regularly replacing the fluids — including clutch fluid, brake fluid, and coolant.
Honda's manuals like to give clues as to the difficulty of each service item. They recommend dealers service things like wheels/tyres and steering that can have critical impact on motorcycle safety.
When in doubt, use the official Honda Service Manual for the Gold Wing for the correct procedures.
Maintenance Procedures:
I: Inspect and clean, adjust, lubricate, or replace, if necessary
C: Clean
A: Adjust
L: Lubricate
R: Replace
Notes:
At higher odometer readings, repeat at the frequency interval established here.
There is no break-in interval (and the time has passed on this model anyway)
| x 1000 mi | 4 | 8 | 12 | 16 | 20 | 24 | |
| --- | --- | --- | --- | --- | --- | --- | --- |
| x 1000 km | 6.4 | 12.8 | 19.2 | 25.6 | 32 | 38.4 | Notes |
| Engine oil (Pro Honda GN4 10W-40) | R | | R | | R | | Every 12 months: R |
| Engine oil filter (HF204RC) | R | | R | | R | | |
| Spark plugs (BKR6E-11) | | | | R | | | Every 16000 mi (25600 km): R |
| Valve clearance | | | | | | | Every 32000 mi (51200 km): I/A. Service earlier if noisy. |
| Air filter (HFA1921) | | | R | | | R | Replace more often if ridden in wet/dust |
| Cooling system (leaks, worn piping) | | I | | I | | I | |
| Radiator coolant (Honda Long-life Coolant) | | I | | I | | R | Every 2 years: R |
| Final drive oil (Pro Honda Shaft Drive Oil) | | I | | I | | R | |
| Brake fluid (Honda DOT 4) | I | I | R | I | I | R | Every 2 years: R |
| Clutch system | | I | | I | | I | |
| Clutch fluid (Honda DOT 4) | I | I | R | I | I | R | Every 2 years: R |
| Brake system, inc. brake light switch | | I | | I | | I | |
| Brake pad wear (FA261/2HH) | I | I | I | I | I | I | |
| Fuel line (kinks, wear, cracks) | | I | | I | | I | |
| Throttle operation (smooth, no kinks) | | I | | I | | I | |
| Crankcase breather (if fitted) | C | C | C | C | C | C | Service more often if ridden in rain or at full throttle |
| Engine idle speed | I | | I | | I | | |
| Secondary air supply system | | I | | I | | I | |
| Evaporative emission control system (if fitted) | | | I | | | I | |
| Headlight aim | | I | | I | | I | |
| Reverse operation | | I | | I | | I | |
| Side stand (smooth operation) | | I | | I | | I | |
| Suspension (check for leaks / proper functioning) | | I | | I | | I | |
| Tightening of nuts, Bolts, Fasteners | | I | | I | | I | |
| Wheels/Tires (tread, damage) | | I | | I | | I | |
| Steering head bearings (smooth operation) | | I | | I | | I | |
Maintenance schedule for the Honda Gold Wing GL1800
Tyre size and tyre pressure for the Honda Gold Wing GL1800
The Honda Gold Wing GL1800 has the following tyres and tyre sizes standard, and ships with Bridgestone G709/G704 touring tyres.
| Wheel | Tire size | Recommended pressure |
| --- | --- | --- |
| Front | 130/70R18M/C 63H | 36 psi (250 kPa, 2.50 bar) |
| Rear | 180/60R16M/C 74H | 41 psi (280 kPa , 2.80 bar ) |
Honda Gold Wing GL1800 (2001-2017) Tyre sizes and pressures
About the Honda Gold Wing GL1800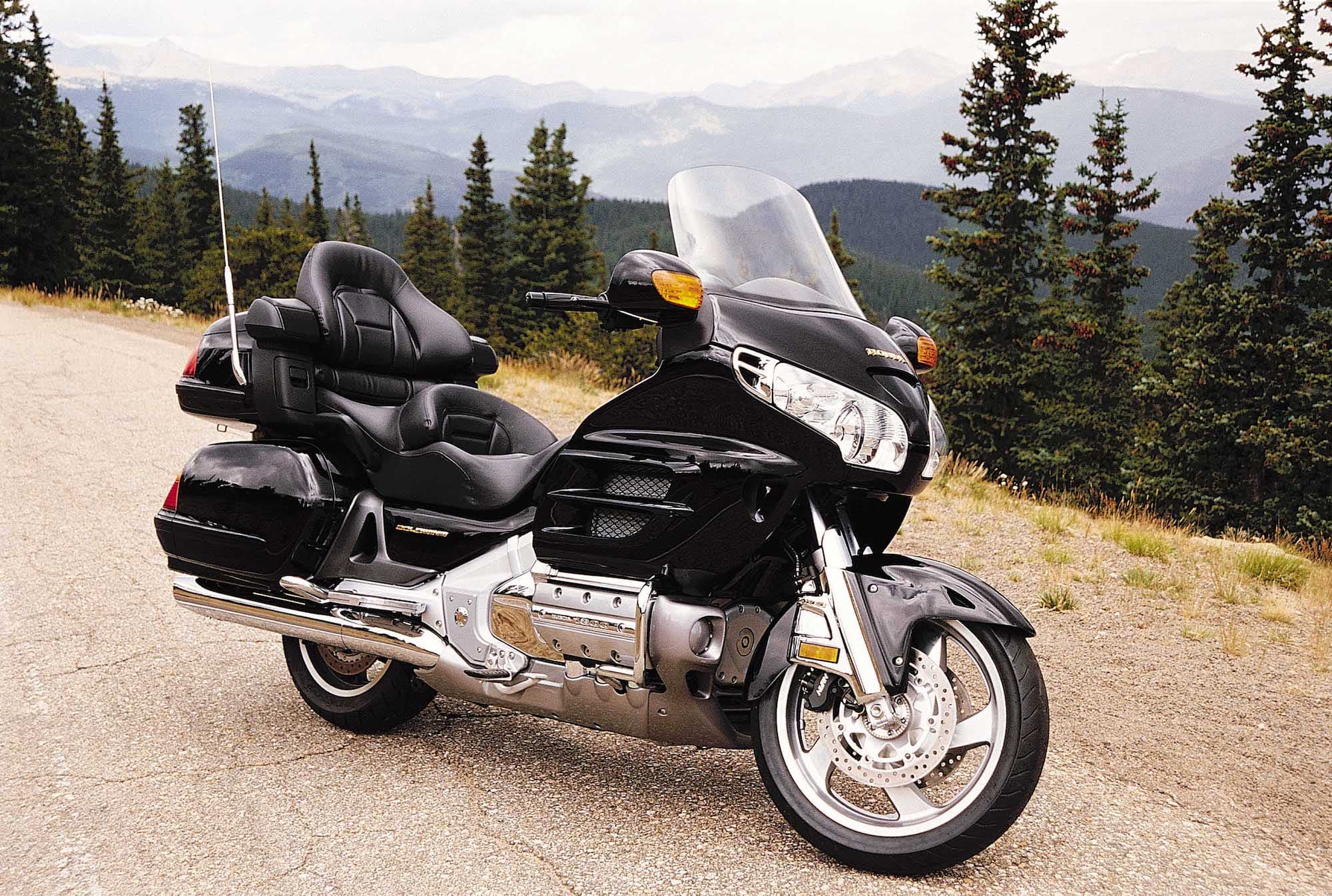 The 2001-2017 Honda Gold Wing is the so-called 5th generation of the venerable Honda Gold Wing line.
But at its core, the 5th gen is the same 'Wing that fans have adored for decades.
The Honda Gold Wing is a motorcycle that has completely dominated the touring bike world for a long time. It's a fantastic bike for long distances.
The 2001 model is a complete redesign of the Gold Wing, the previous model being the GL1500 with a smaller engine.
Like previous generation engines, the 5th gen Gold Wing is powered by a flat boxer engine. But this one has much larger displacement — 1832 cc, generally referred to as being 1800 cc (hence GL1800).
The engine has a single overhead cam, and the compression ratio is a low 9.8:1.
The engine was modern for 2001, being a fuel-injected liquid-cooled block, though it only has two valves per cylinder. But the priority of this motor isn't breathing at high revs. After all, it redlines at 6000 rpm.
Rather, the priority is torque, and tons of it. The GL800 motor is good for 121 lb-ft (167 Nm) at 4000 rpm, with most of that available from as low as just off idle. It's a very hard bike to stall.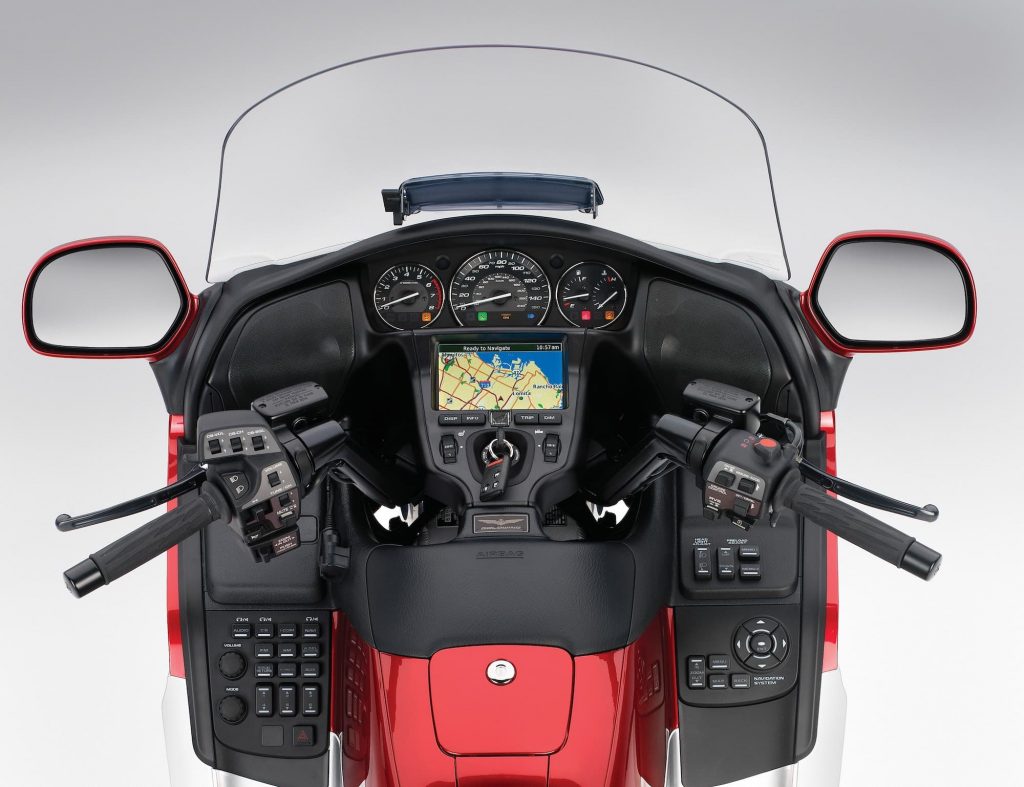 The 2001 Honda Gold Wing puts power down via a 5-speed transmission and a low-maintenance shaft. You won't have to lube or clean chains on your epic journeys between continents!
The front suspension is via a 45mm fork with an anti-dive system, and the rear suspension is via a pro-link shock with electronically controlled spring preload adjustment.
Brakes on the front are 2 x 296 mm discs and 3-piston Nissin callipers.
During its tenure, the 5th generation Honda Goldwing did undergo some changes, but none of them spectacular.
Most notably, in 2010 Honda stopped producing the Gold Wing in America, and started producing it in Japan. The fundamental spec didn't change in that time.
But Honda did update the navigation and entertainment systems over time, gradually navigation software and means of playing music, e.g. iPod compatibility. (The most recent generations of Gold Wing has Android Auto compatibility, too.)
The biggest challenge for the Honda Gold Wing is from BMW — the K 1600 GTL is lighter, faster, and has had things like an electrically adjustable windscreen for a long time.
Manual for the Honda Gold Wing GL1800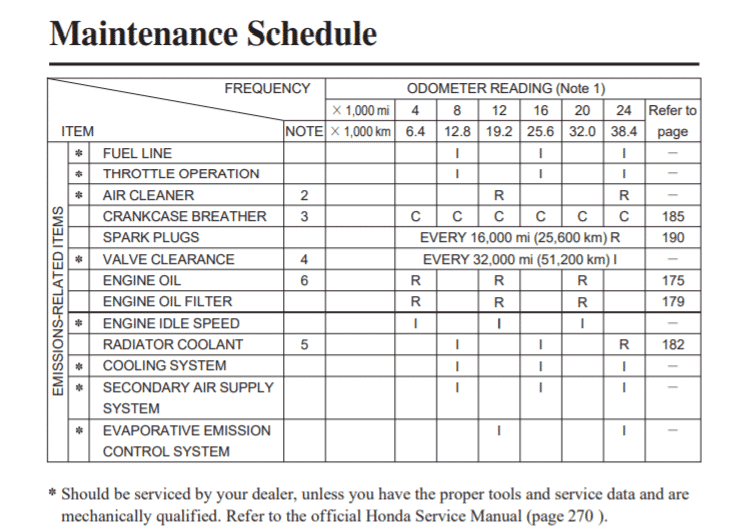 The above maintenance schedule comes directly from the user's manual for the 2012-2017 Honda Gold Wing. Obviously the manual changed over time as more features were changed or added (or removed), but the maintenance part remained roughly the same.
See these other two screenshots from the 2005 and 2010 versions of the Gold Wing's manual, for example.
You can download the user manual from here, or buy the service manual here.