CFMOTO 800MT (Sport, Touring) Simplified Maintenance Schedule
This is the maintenance schedule and associated service intervals for the CFMOTO 800MT, including both the Sport and Touring variants.
The CFMOTO 800MT is a motorcycle based on the same engine platform as the KTM 790 Adventure, a 799cc liquid-cooled dual overhead-cam parallel twin. With its 12.7:1 compression ratio, the CFMOTO 800MT makes a healthy 70 kW (95 hp) at 9000 rpm — a great power range for middleweight sport touring.
The CFMOTO 800MT comes with loads of tech standard, including a TFT display and cruise control. The Touring edition comes with even more, including a taller windshield, hand guards, heated grips and seats, a centre stand, a bash plate, and more (unbelievably).
Unfortunately the 800MT is not available in the US, but it's available in Europe, Australia, and the Asia-Pacific.
This site has links from which we earn a commission (which unfortunately nobody can save, not even us). If you appreciate this research work, then please use those links. Thanks.
Service Intervals for the CFMOTO 800MT
The oil change service intervals for the CFMOTO 800MT are quite wide, with 15000 km oil change intervals. But CFMOTO also specifies regular 10000 km inspections of most items, more often than the oil changes. So really, minor services are both every 10000 and 15000 km.
Further, CFMOTO does recommend you check some items every 5000 km, including the battery, electrical system, and suspension. This is quite unusual. If you regularly ride your motorcycle, you can probably afford to not formally check these until the 10000 km inspections.
The valve service is also a generous 18000 mi / 30000 km wide.
As the 800MT is a liquid-cooled motorcycle, you should also regularly replace the coolant. The 800MT has a four-year coolant replacement schedule.
Also don't forget to keep the brake fluid fresh — replace it every two years.
Maintenance schedule for the CFMOTO 800MT
The maintenance schedule for the CFMOTO 800MT is different from other CFMOTO motorcycles, as the engine has different heritage — this is a KTM engine in CFMOTO clothing (and pricing).
This means that the CFMOTO has similarly wide service intervals to KTM motorcycles, which is a blessing next to the aggressive 5000 km oil change intervals of the CFMOTO 700CL-X.
Unfortunately the maintenance schedule for the 800MT in the manual is pretty crazy looking. There are randomly different intervals for things; e.g. one item may be every 10000 km or year, or every 30000 km or four years. Without knowing the justification for this, it's easier to just focus on the first one rather than go into a complex logical puzzle for every line item.
To simplify the schedule, we've broken it out into two parts:
The regular / annual maintenance schedule, and
The periodic service schedule.
Regular / Annual maintenance schedule
Below is the annual service checklist for the CFMOTO 800MT. This is a list of things to check at every service, according to the schedule below.
CFMOTO 800MT — Annual service checklist
Brake and clutch levers, and brake pedal – inspect, adjust
Brake free play: 10-15mm
Brake pedal free play: 5-10mm
Throttle system – inspect
Tire condition – check condition and pressure
Front and rear brakes – inspect
Brake discs – inspect thickness, condition
Brake pads – inspect thickness
Brake fluid level – inspect
Brake lines – check for damage, kinks
Steering bearings – check
Front and rear suspension – check for leaks
Radiator fan function – check
Cooling hoses – check
Chain guard – inspect
Electrical wiring, check for damage and kinks
Electrical equipment – inspect function
Diagnostic interface – check for trouble codes with diagnostic tools
CFMOTO 800MT – Annual service checklist
Periodic service schedule for the 800MT
Below is the periodic maintenance schedule for the CFMOTO 800MT.
Notes
At the end of the maintenance schedule, keep following it in the pattern shown.Minor services are every 10 or 15000 km, with major services every 30000 km.
The break-in schedule is not shown, but it's essentially an annual service and oil / filter change.
km x 1000
5
10
15
20
25
30
Every
Conduct annual service checklist (see above)
✓
✓
✓
Year
Oil – replace
✓
✓
Year
Oil filter – replace
✓
✓
Year
Oil screen – clean
✓
✓
Clutch – inspect
✓
✓
Idle speed – inspect / adjust
✓
✓
Throttle valve – clean
✓
✓
Coolant – inspect
✓
✓
Year
Coolant – replace
4 years
Air filter – replace
✓
Year
Spark plugs – replace
NGK LMAR9AI-10
Gap: 1.0 mm
Tightening torque: 10 Nm / 7 ft-lb
✓
Valve clearances – inspect / adjust
✓
Wheel bearings – inspect for smooth operation, no play
✓
✓
✓
Brake fluid – replace
2 years
Battery – inspect
✓
✓
✓
✓
✓
✓
6 months
Fuse / circuit breakers – check function
✓
✓
✓
✓
✓
✓
6 months
Suspension system – check for free operation, no damage
✓
✓
✓
✓
✓
✓
Frame – check for damage, rust
✓
CFMOTO 800MT – Periodic maintenance schedule
Chain maintenance for the CFMOTO 800MT
As an adventure sport touring motorcycle, you're likely to ride your 800MT in all kinds of crazy conditions — mud, rain, and so on.
Make sure you keep your chain well maintained. Clean and lubricate it every time it gets wet or you wash your motorcycle.
Also periodically check the chain tension, both in a static position and with a finger pressing on the middle part of the chain.Compare the deflection with the values below, and adjust chain tension at the rear wheel if necessary.
Chain maintenance item
Every
Check lubrication, and lubricate if necessary
600 km
– Or after riding in rain / washing bike
Chain tension – check deflection
– 10 mm from swingarm when sitting naturally
– 22 mm from bottom of swingarm
1000 km
CFMOTO 800MT Chain Maintenance
Wheels and Tires for the CFMOTO 800MT (Both Sport and Touring)
The CFMOTO 800MT comes in two variants – Sport and Touring. The Sport has cast wheels, whereas the Touring has spoked rims.
But both the Sport and Touring have the same dimension wheels and tires, and both wear Maxxis tubeless tires, so there's no difference in tire specs.
Wheel
Tire size
(both Sport and Touring)
Recommended tire pressure (cold)
Front
110/80-19
(One person / 2-up)
33-35 psi / 225-240 kPa / 2.25-2.4 bar /
Rear
150/70-17
(One person – 2-up)
36-41 psi / 250-280 kPa / 2.5 – 2.8 bar
CFMOTO 800MT Sport / Touring recommended tire size and pressures
The Touring model of the 800MT comes with a tire pressure monitoring system. This is more useful as you may want to adjust tire pressures as luggage goes up and down, when you take on a pillion, or when you go off road.
About the CFMOTO 800MT (Sport / Touring)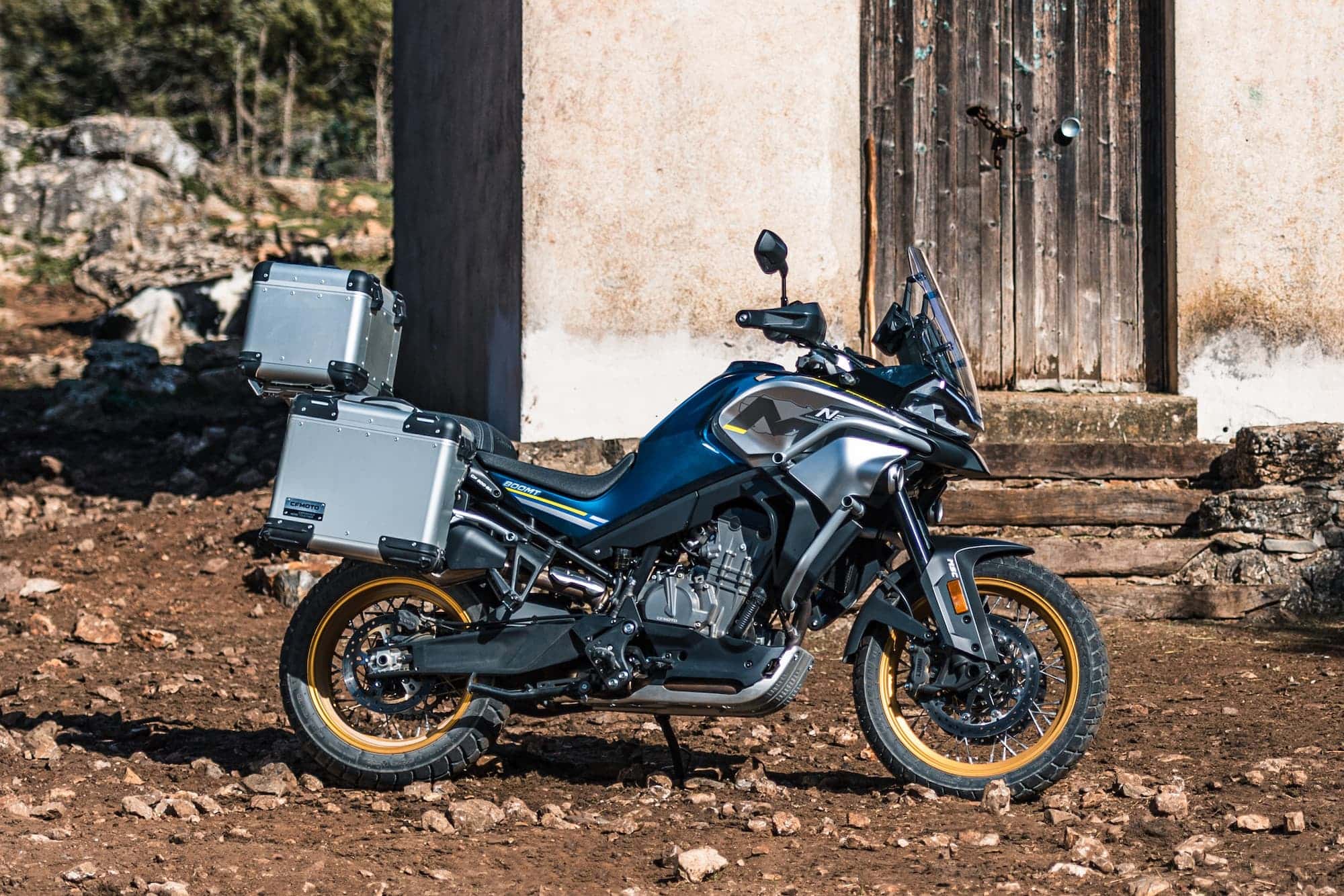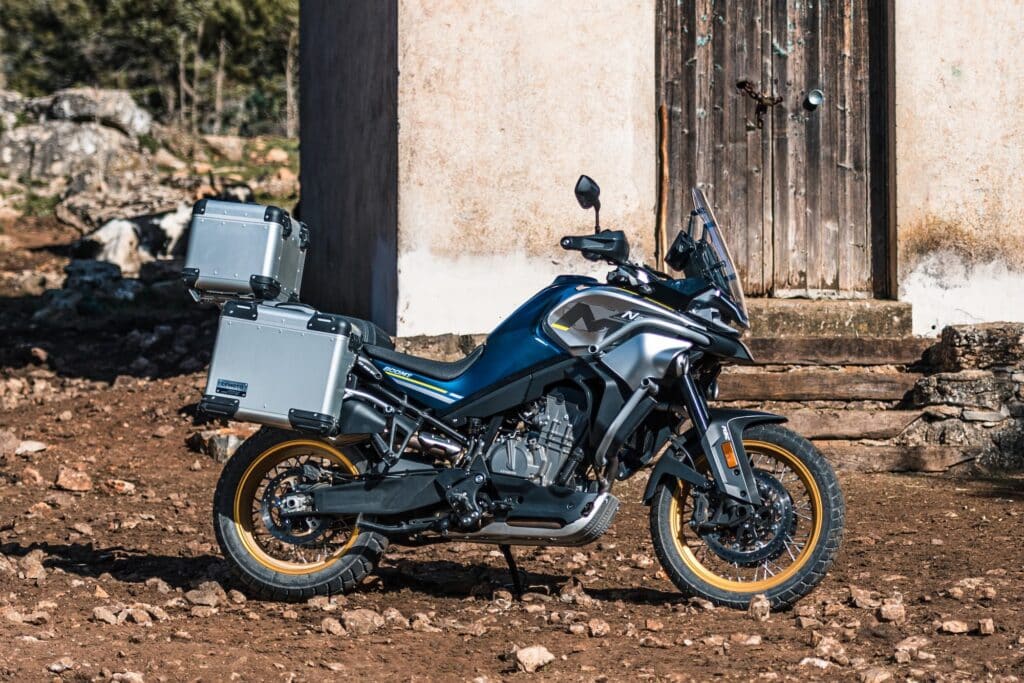 The CFMOTO is something new both for CFMOTO and for the adventure touring market in general — a genuinely high-spec, high-quality but still low-priced adventure motorcycle with a lot of options that come as standard, particularly in the touring model.
While CFMOTO is a Chinese manufacturer, which have generally been associated with moderate quality and poor finish, the CFMOTO brand is a little different. They've been working with KTM now for a number of years in a technology exchange, and many KTM parts come out of Chinese factories.
The 800MT is part of that technology exchange. While in most of the world KTM markets its 890-series motors for its middleweight motorcycles (like the KTM 890 Adventure R), KTM still sells 790-powered motorcycles for emerging markets.
And it has even licensed CFMOTO to use the 790 engine in some of their motorcycles. These are the CFMOTO 800MT sport and adventure motorcycles.
The heart of the CFMOTO 800MT is the same 799 cc 8-valve parallel twin in basically the same state of tune. It makes 70 kW (95 hp) at 9000 rpm — a healthy amount of power for a middleweight motor. And the 800MT's engine has a 270-degree crankshaft, which means that it has a lively bark to it.
On the face of it, there's nothing particularly impressive about the CFMOTO 800MT. Yes, it's a middleweight adventure touring bike, but it's also no lightweight — in fact, the Touring model weighs in at 231 kg, with most of the weight up high, so you feel it.
But it stands out in a number of ways.
Firstly, the engine is great. That amount of power is just perfect for touring, low-speed work, and just occasionally wringing out the throttle. The KTM donk has enough character that you won't be thinking you're on a boring motorcycle from a relatively new manufacturer.
Secondly there's a ton of stuff that the bike comes with that others either have as options or don't have as all. The CFMOTO motorcycles (any variant) come with ride modes, a slipper clutch, cornering ABS, crash bars, a big TFT screen, fully adjustable suspension, and cruise control. That's a lot for a middleweight.
The Touring model goes even further, with crash bars, heated grips, and more.
Finally, and it's crazy that it took so long to get to this — the price. The CFMOTO 800MT is a steal for how much you get for that price. Part of that, of course, is that CFMOTO knows they're not a premium brand and can't command a premium price. But I hope it stays that way for a while. The Touring comes in at the equivalent of about US$11K on the road, which is almost absurd. Cruise control! Heated grips! Everyone else should pay attention and start building to the same price point.
The best part about the CFMOTO 800MT is that they're based on proven reliable engines with wide service intervals. To only change the oil every 15000 km means you can probably do two VERY big trips without doing an oil change.
Reference — Screenshots from the CFMOTO 800MT Manual
The above information came from the manual for the CFMOTO 800MT, which is available in Chinese on the CFMOTO website. We translated the maintenance schedule and relevant information ourselves.
You can download manuals for the CFMOTO motorcycles from the USA website.