Ducati ST3 / ST3s (2003-2007) Complete Maintenance Schedule / Guide and Service Intervals
This is the complete maintenance schedule / guide and service intervals for the Ducati ST3 and ST3s, Ducati's sport touring bikes made between 2003 and 2007.
The Ducati ST3 effectively replaced the Ducati ST4, which was based on the 916 engine.
The Ducati ST3 and ST3s are powered by the same engine, a liquid-cooled 90-degree L-twin with 992 cm in displacement and un unusual three valves per cylinder. The engine has belt-driven desmodromic valves with three valves per cylinder operated by six rockers and one overhead camshaft.
The ST3 / ST3s engine makes peak power of 75 kW (102 hp) at 8750 rpm, and peak torque of 93 Nm (69 ft-lb) at 7250 rpm.
The ST3s was the last in the line of Ducati sport touring motorcycles, which were effectively replaced by the Ducati Multistrada line of adventure sport tourers.
Here are all the Ducati Sport Touring maintenance schedules:
This site has links from which we earn a commission (which unfortunately nobody can save, not even us). If you appreciate this research work, then please use those links. Thanks.
Ducati ST3 Service Intervals
The Ducati ST3 has longer service intervals than the other Ducati ST bikes, with major service intervals of 7500 miles / 12000 km.
At every service for a Ducati ST3, you not only have to change the oil and do a full multi-point inspection, but you also have to check the timing belts and check the valve clearances — possibly adjusting a few valves.
The Ducati ST3 is a three valve per cylinder engine. This means there are six valves total, and twelve clearances to check as it has a Desmodromic timing system.
Make sure you keep the timing belts updated. Belts on this generation of Ducati motorcycles are scheduled for replacement every two years.
Finally, keep your fluids fresh — coolant, brake fluid, and clutch fluid all have a two-three year shelf life per the manual.
What you need to service a Ducati ST3
Below is a list of items you need to do a basic service on your Ducati ST3.
| Part | Ducati ST3 / ST3s Spec |
| --- | --- |
| Engine oil | Ducati recommends high-quality SAE 10W-40 engine oil, specifically recommending Shell Advance Ultra 4. But other high-end engine oils are fine, e.g. Motul 7100 10W-40. |
| Oil filter | The Ducati ST3 takes a HifloFiltro HF153RC oil filter. |
| Spark plugs | Use a Champion RG 4 HC. The spark plug gap should be 0.6-0.7 mm (you can measure with a gapping tool). Re-fit an existing spark plug to 15 ft-lb / 20 Nm, or an extra half turn after seating. |
| Air filter | You can use a K&N DU-9098 air filter on a Ducati ST3. |
| Coolant | Ducati recommends Shell Advance Coolant, an OAT coolant. A high-quality OAT coolant alternative is Motorex Coolant M3.0. |
| Timing belt | Make sure you regularly check and replace your timing belt on schedule. The part number for the timing belt is 73740211A. |
| Brake / Clutch fluid | Use a high-quality DOT 4 fluid, e.g. Castrol DOT 4. |
| Brake pads | The EBC brake parts to use are FA244HH at the front (two pairs) and FA266HH at the rear. EBC double-H brake pads are fairly universally praised for their good feel, high performance under duress, and long life. |
| Chain lubricant | Ducati recommends Shell Advance chain lube, but Motul Chain Paste is a high-quality and very portable substitute. |
| Grease | Ducati recommends Shell Advance Grease for many applications. But any high quality lithium soap-based grease will be a good substitute. |
Ducati ST3 / S maintenance items
Maintenance Schedule for the Ducati ST3 / ST3s
Below is the maintenance schedule for the Ducati ST3 / ST3s.
We've broken it into two parts:
The regular inspection checklist, which you do at every service, and
The scheduled maintenance table
Ducati ST3 / S Regular inspection checklist
Below is the table of inspection items for your Ducati ST3 / S.
Ducati ST3 inspection checklist
Check brake and clutch fluid level
Check and adjust brake / clutch controls
Check / lubricate throttle / cold start controls
Check tire pressure and wear
Check brake pads. Change, if necessary
Check chain tension, alignment, and lubrication
Check the coolant level
Check the electric fan operation and cooling circuit for leaks
Check lights and warning devices
Check the tightness of nuts securing the engine to the frame
Check the side stand for free movement and lubrication
Check front wheel nut tightness
Check rear wheel nut tightness
Check front fork and rear shock absorber for leaks and smooth operation
Check front sprocket fasteners
Lubricate and grease all moving parts
Check battery charge state; recharge if necessary
Road test the motorcycle
Clean the motorcycle
Ducati ST3 inspection checklist
Ducati ST3 / ST3s Scheduled Maintenance
Below is the full table of scheduled maintenance for the Ducati ST3 or ST3s.
Notes:
At the end of the maintenance schedule, keep following it in the pattern shown — every 1 to 2 services.
When there's a distance-based or time-based interval to follow, follow the earlier of the two. Some things only have distance intervals (e.g. changing spark plugs)
For obvious reasons the break-in schedule isn't shown below.
Note — the original manual specified many things to have time-based intervals that just don't make sense and aren't repeated in 99% of motorcycle manuals, e.g. checking spark plugs.
| mi x 1000 | 7.5 | 15 | 22.5 | 30 | |
| --- | --- | --- | --- | --- | --- |
| km x 1000 | 12 | 24 | 36 | 48 | Every |
| Perform full inspection checklist (see above) | ✓ | ✓ | ✓ | ✓ | Year |
| Change engine oil | ✓ | ✓ | ✓ | ✓ | Year |
| Change engine oil filter | ✓ | ✓ | ✓ | ✓ | Year |
| Clean engine oil filter at intake | | | ✓ | | 3 years |
| Check engine oil pressure | | ✓ | | ✓ | |
| Check / adjust valve clearances | ✓ | ✓ | ✓ | ✓ | |
| Check timing belt tension | ✓ | | ✓ | | |
| Change timing belts | | ✓ | | ✓ | 2 years |
| Check and clean spark plugs. Change, if necessary | | ✓ | | ✓ | |
| Check and clean air filter | ✓ | | ✓ | | |
| Change air filter | | ✓ | | ✓ | |
| Check throttle body sync and idle speed | ✓ | ✓ | ✓ | ✓ | |
| Change brake and clutch fluid | | | ✓ | | 3 years |
| Check steering bearings | | ✓ | | ✓ | |
| Check clutch plates pack. Change, if necessary | ✓ | ✓ | ✓ | ✓ | |
| Change coolant | | | ✓ | | 3 years |
| Check rear wheel flexible coupling | | ✓ | | ✓ | |
| Check the wheel hub bearings | | ✓ | | ✓ | |
| Change front fork fluid | | | ✓ | | 3 years |
Ducati ST3 Maintenance Schedule
Maintaining Your Chain on the Ducati ST3
It's important to maintain your chain on the ST3, as a Ducati sport touring bike is likely to get a little bit of aggressive use — on top of the fact that you're likely to use it in all kinds of conditions (rain, mud, etc.).
Use a good-quality chain lubricant like Motul chain paste which is easy to pack on journeys. Ducati recommends Shell Advance Chain but many products are similar.
Ducati recommends you follow the following chain maintenance schedule:
| Chain maintenance item | Every |
| --- | --- |
| Check chain condition and lubrication | 600 mi / 1000 km |
| Check chain tension and alignment, adjusting if necessary | 7500 mi / 12000 km |
Chain maintenance — Ducati ST3
Ducati specifies different chain tension specs depending on the model.
Ducati ST3: 30 mm
Ducati ST3s: 32-34 mm
To measure the chain tension, put the bike on its center stand. Rotate the wheel until you find the tightest part of the chain (if any).
Then, use one finger to push the chain up. Measure the distance from the top-most point to the bottom-most.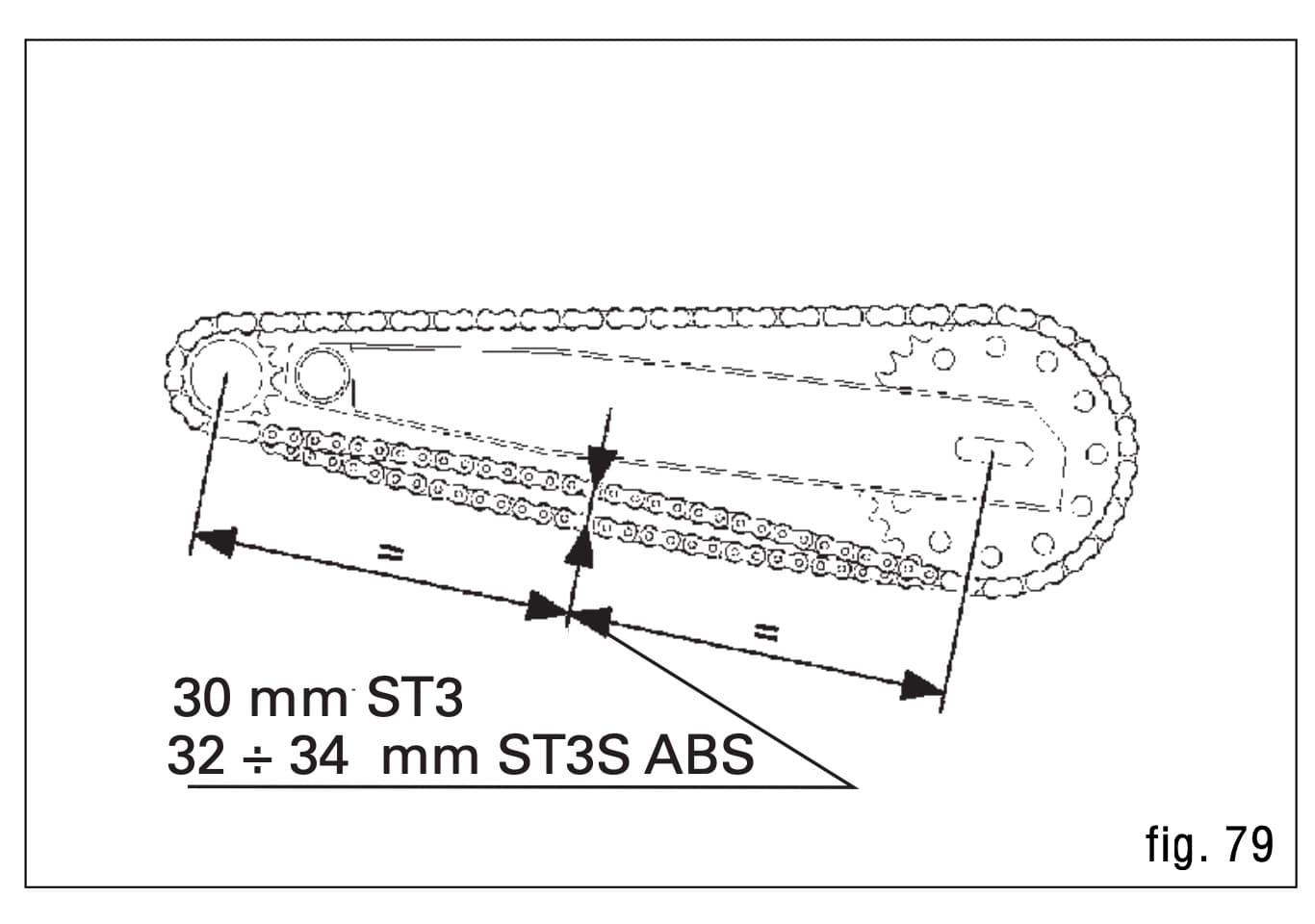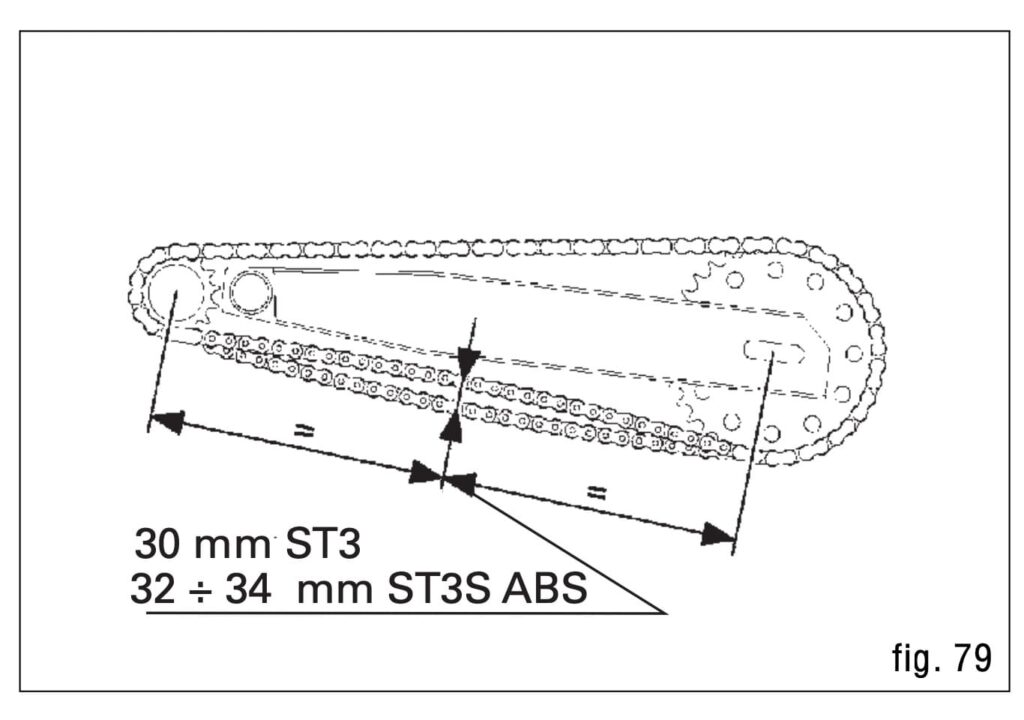 If it's too tight or too loose, adjust it by loosening the nut of the wheel shaft, and then tightening or slackening the adjuster screws until the tension is correct and the chain is aligned.
Grease the thread of the wheel shaft nut and the adjusting screws, and adjust them to:
Wheel shaft nut: 61 ft-lb / 83 Nm
Adjusting screws: 6 ft-lb / 8 Nm
Notes:
Do these items (checking/adjusting slack, and checking/applying lubrication) more often if you ride your Ducati ST in dusty or rainy conditions.
Always lubricate the chain after washing the motorcycle.
Tire / wheel size and pressure for the Ducati ST3
Below are the wheel and tire sizes, as well as the recommended tire pressure specs from the manual.
Wheel
Tire size
Tire pressure (cold)
Including luggage, but solo
Front
120/70-ZR17
2.1-2.3 bar / 210 – 230 kPa / 30-33 psi
Rear
180/55-ZR17
2.2-2.4 bar / 220-240 kPa / 32-35 psi
Tire sizes and pressures for the Ducati ST3
Naturally, adjust these tire pressures as suits your riding style and the conditions.
About the Ducati ST3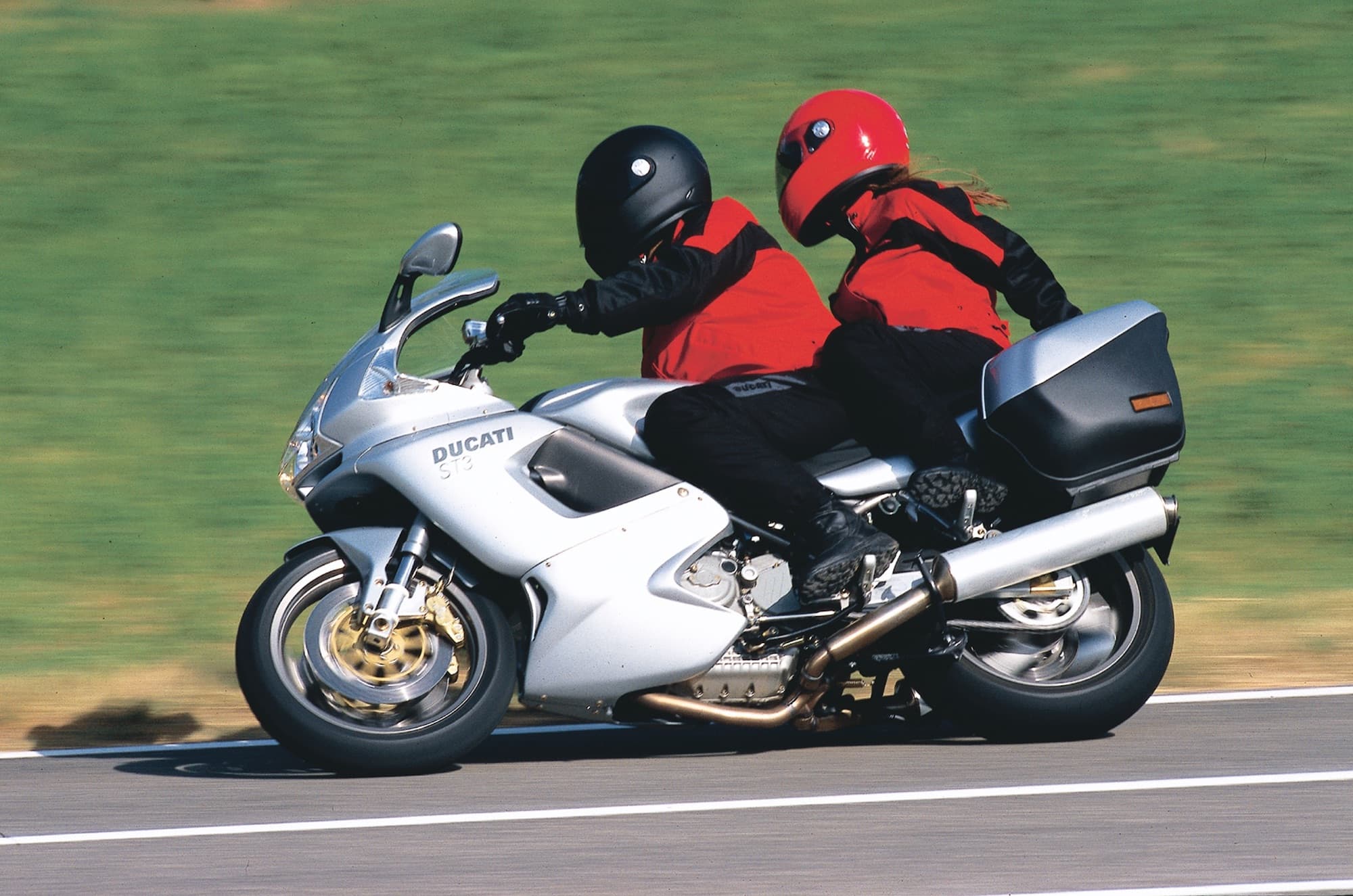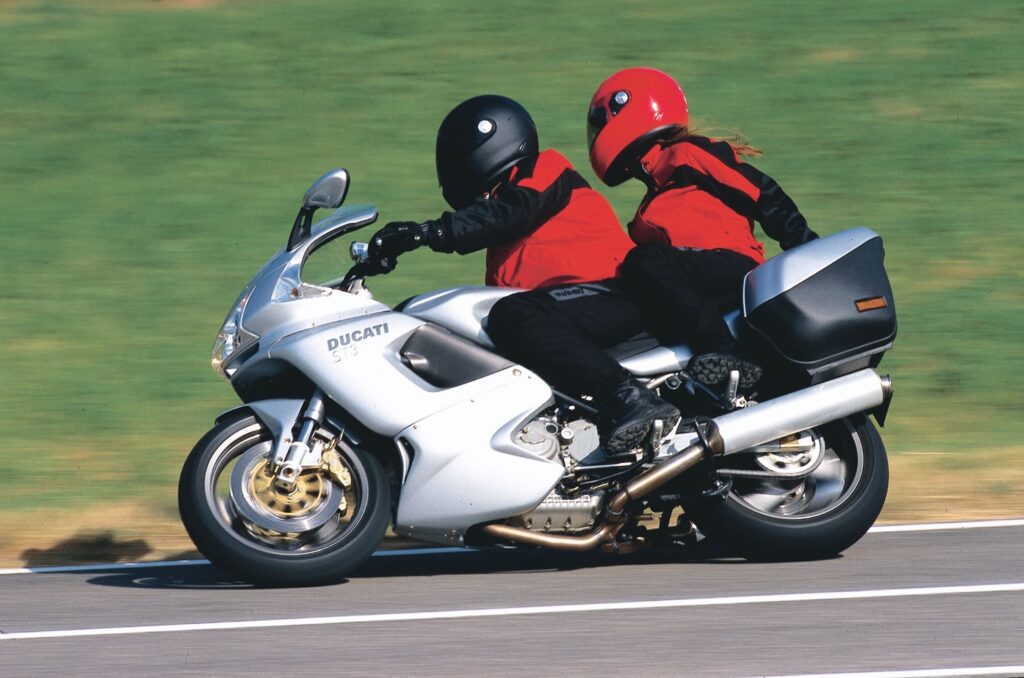 The Ducati ST3 is one of Ducati's short-lived Sport Touring range of motorcycles that began with the ST2 and finished with the ST3s (with the ST4 and ST4s in the middle).
The Ducati Sport Touring / ST range of motorcycles were a range of motorcycles with roadster or even superbike engines but in a much more comfortable format, with easier riding position, better fairing protection from the elements, and standard luggage. They even came with a kickstand so you could service the chain on those longer trips.
Both the Ducati ST3 and ST3s are powered by the same engine, a liquid-cooled fuel-injected 992 cc L-twin.
The block actually comes from the Ducati Multistrada 1000DS or the Ducati Monster 1000 — it has the same 992 cc capacity as well as the same 94 x 71.5 mm bore and stroke.
But Ducati changed the engine's head, giving it a three-valve-per-cylinder design for better breathing. The design is a compromise between the top-end performance of a four-valve engine, and the low-end torque of a two-valve engine.
The result is a bike that makes loads of torque and has a satisfying top-end. The Ducati ST3 and ST3s rev out to 9500 rpm — which is higher than most people get to in day-to-day riding, unless they're really pushing it… in which case, maybe it was really the superbikes they were after.
Many other aspects of the Ducati ST3 are high-spec. The front fork on the motorcycle is a Showa 43mm upside-down unit with 130mm of travel. On the ST3, the fork is just adjustable for preload, but on the ST3s it's also adjustable for compression and rebound damping.
Brakes on the Ducati ST3 and Ducati ST3s are the same as the rest of the range, Brembo four-piston calipers on twin 320mm discs.
Unlike most of the Ducati Sport Touring range, the Ducati ST3s has a wet clutch. The base model Ducati ST3 switched over from dry clutch to wet from the 2005 model year. So if you're after that dry clutch rattle, check to see if it has one.
The Ducati ST3s was sold until 2007, after which Ducati stopped making dedicated sport tourers, focusing instead on adventure sport tourers like the next-gen liquid-cooled 2011 Ducati Multistrada 1200.
Reference — Maintenance Schedule Screenshots from the Ducati ST3 Manual
The above information all came from the manual for the Ducati ST3 / ST3s (they share a manual), as well as from consulting parts diagrams online for parts numbers and online catalogues.
You can see some screenshots from the manual below.
You can get manuals for Ducati motorcycles directly from Ducati, though they only keep a backlog of manuals from the last 10 years.