Ducati Multistrada 1000DS (2003-2006) Maintenance Schedule
This is the maintenance schedule and service intervals for the Ducati Multistrada 1000DS — the first Multistrada.
Ducati released the first Multistrada in 2003 and made it up to 2006. At the time, it was a new foray for Ducati into the world of adventure sport/touring.
The original Multistrada was powered by a 992cc 90-degree fuel-injected L-twin with dual overhead camshafts and 2 valves per cylinder. It was air/oil cooled and had belts to drive the camshafts that needed to be replaced every two years (these days, people opt to do it every 4-5 years).
In 2005, Ducati released an S model, the Multistrada 1000 DS S (or 1000 S DS if you read the lettering on the fairings) that had Öhlins suspension, black wheels, an aluminium lower-vibration handlebar, and carbon fibre body parts.
From 2007, the Multistrada 1000DS was replaced by the Ducati Multistrada 1100 and 1100 S.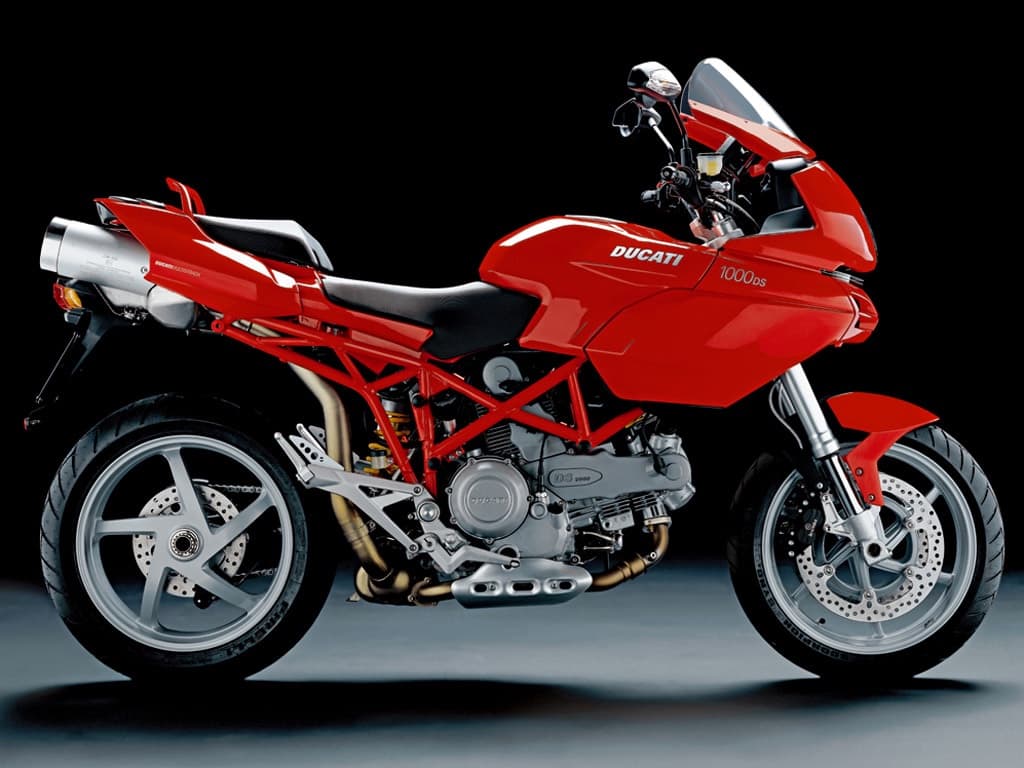 This site has links for things like oil and spark plugs from which we earn a commission (which unfortunately nobody can save, not even us). If you appreciate this work, then please use those links. Thanks!
Maintenance Schedule for the Ducati Multistrada 1000DS
Below is the maintenance schedule for the Multistrada 1000DS.
It has been formatted to fit this page, and simplified a lot. For example the letter for "Change" in the original schedule was "S", probably from scambiare in Italian.
I also omitted the pre-delivery checklist, but included the run-in checklist, for anyone who might have a brand new 1000DS…
First, here's a list of things to do every 600 miles/1000 km on the Multistrada 1000DS:
Regular every 1000 km/600 mile maintenance
Check engine oil level
Check clutch and brake hydraulic controls
Check tyre wear and pressure
Chain: Check tension, lubricate
Check brake pad wear
Check battery charging system
Clean generally
Ducati Multistrada 1000DS – regular maintenance
Core to maintaining the Multistrada 1000DS is
Ever 10,000 km/6,000 miles check the valves and adjust as necessary.
Every second valve check OR every 2 years – whichever sooner — replace the belts. (These days, people leave it 4-5 years, as belt quality got better.)
Tighten everything regularly — see the list of things at the bottom.
Key to maintenance schedule
C: Check and adjust
L: Lubricate (oil/grease)
R: Replace
V: Verify operation with engine running
| km x 1000 | 1 | 10 | 20 | 30 |
| --- | --- | --- | --- | --- |
| mi x 1000 | 0.6 | 6 | 12 | 18 |
| Engine oil | S | S | S | S |
| Engine oil filter | S | S | S | S |
| Engine oil intake filter | | | | C/P |
| Valve clearance | | C | C | C |
| Timing belts (1) | C | C | S | C |
| Spark plugs | | S | S | S |
| Fuel filter | | | S | |
| Throttle body: timing and idling | | | C | |
| Air filter | | S | S | S |
| Engine oil pressure | | | C | |
| Cylinder compression | | | C | |
| Clutch and brake fluid level | | | | S |
| Clutch and brake hydraulic controls | | C | C | C |
| Steering bearing play | | | C | |
| Fuel tank | | | P | |
| Change front fork oil (1) | | | | S |
| General lubrication and greasing | | | L | |
| Check battery charging system | C | | | |
| Check tightening torque at critical points affecting vehicle dynamic safety (2) | | C | C | C |
| General testing (3) | | C | C | C |
Ducati Mutistrada 1000DS maintenance schedule
Notes:
1: Replace belts every two-five years, regardless of distance.
2: Check for proper tightening of the following parts, and set to correct torque spec:

Sprocket nut
Fork bottom screw
Steering bearing ring nut
Swingarm pivot shaft nut
Screw to tighten eccentric hub onto swingarm
Caliper mounting plate locating pin
Rear brake caliper screw
Clamps to handlebar screw
Engine to frame screw check nut
Rear wheel LH and RH nut
Steering head screws
Bottom yoke screws
Clamps to steering head screw
Rear shock absorber/linkage to swingarm screw and nut
Shock absorber to rocker arm screw
Linkage to rocker arm screw
Suspension rocker arm to frame screw
Front wheel shaft nut
Drive pegs fixing nut
Rear chain sprocket nuts
Grab handle retaining screw
Oil hose fitting at cooler end
Oil hose fitting at engine end
Front brake caliper screw
Front brake disc screw
Rear brake disc retaining screw

3: Test the following parts:

Wheel hub bearings
Rear wheel flexible coupling
Sprocket retaining nut
Side stand
Indicators and lighting devices
About the Ducati Multistrada 1000DS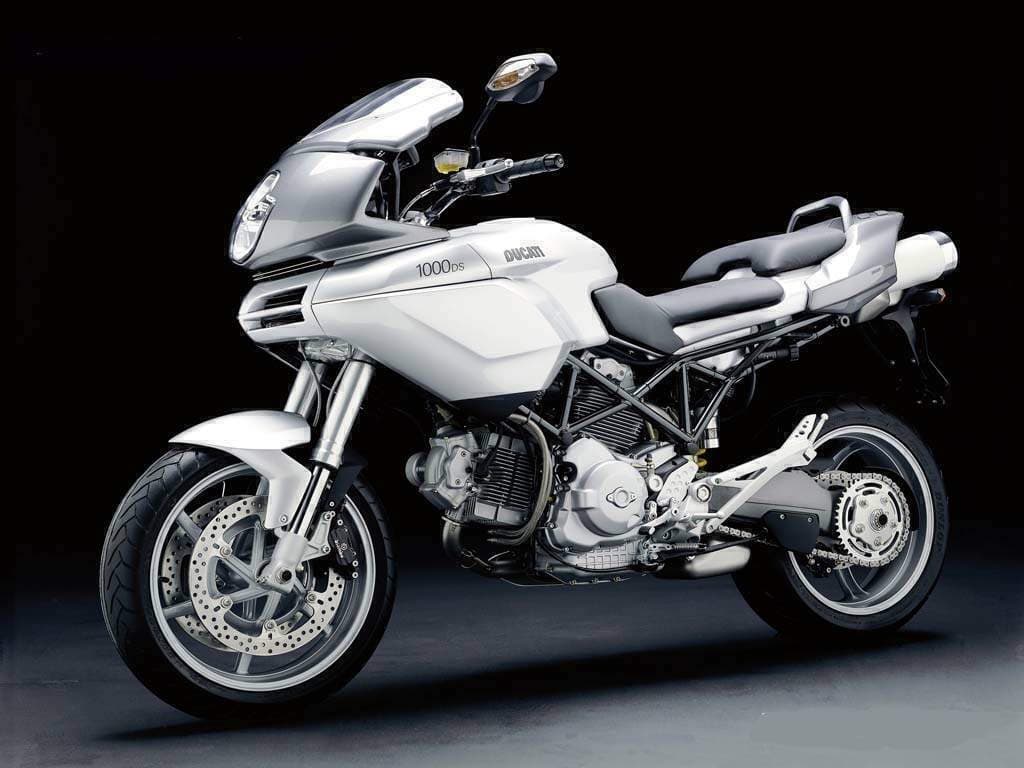 The first thing many people want to tell you about the Multistrada 1000DS is that it's not a dirt bike. The second thing they want to tell you is that it's not the most attractive Ducati they've ever made.
Well, beauty is in the eye of the beholder, even if most beholders agree that Pierre Terblanche could have done a better job. Mes condoléances, Mr. Terblanche, but you had some real home runs amidst some designs that were so ahead of their time that one wonders if their time will ver come.
But that isn't talking about the Multistrada 1000DS. The most important thing to bear in mind about the Multistrada is what it wanted to be — a road touring machine — and nothing else. That's what the strada in its name means — road.
And the Multistrada 1000DS was in fact a highway touring machine. It wasn't a great commuter — it didn't like low RPMs because of the tall gearing. And it wasn't a sport bike, because the rev limiter would remind you of that every time you got a little too aggressive.
But the Multistrada's near 100 hp was plenty to see it flying down the highway at 100 mph (160 km/h) with relative ease. Its wide handlebars and upright seating position meant it was rare to get tired. And the fact that you could fit it with all kinds of luggage and touring accessories made it all the better.
The Multistrada 1000DS wasn't incompetent off-pavement, anyway. It wasn't too heavy at 229kg (505 lb) wet. It had a big upright seating position, which meant you could control it when it broke traction (something it did frequently on the loose stuff). And it had decent — if not amazing — ground clearance. Though an engine guard would be in order.
The Multistrada 1000 DS S was a distinct improvement with the Öhlins front suspension and those swish black wheels. But the Ducati Multistrada 1100 S was an improvement again.
Manual for the Ducati Multistrada 1000DS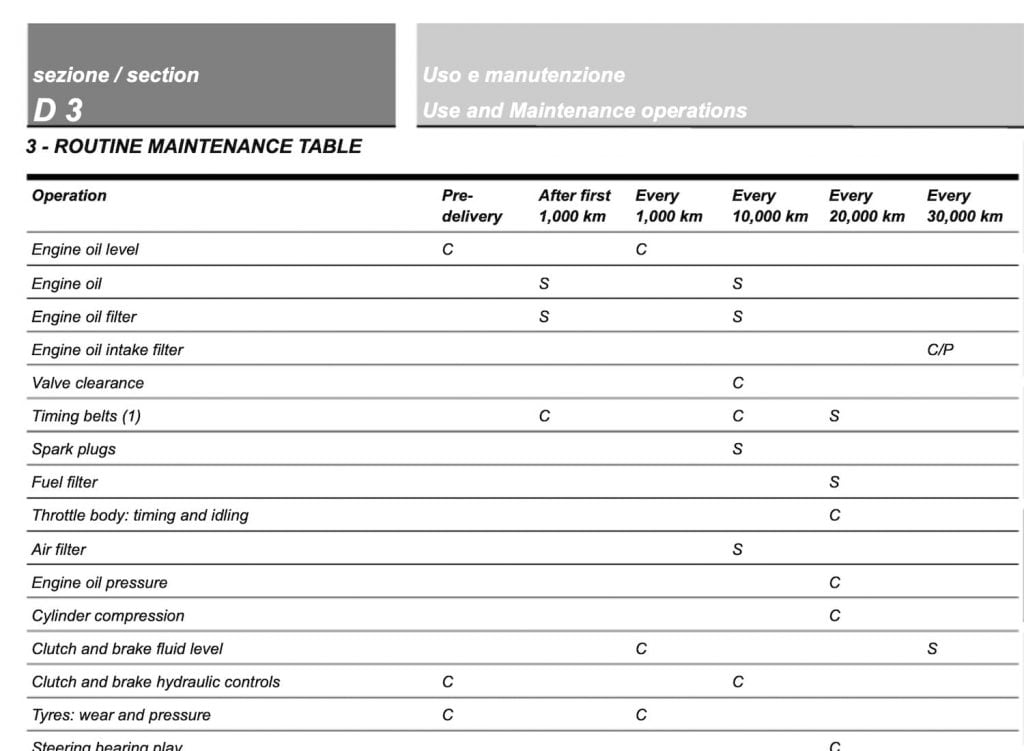 The above maintenance schedule comes from the service manual (not the user manual). It's a big file, but you can view it online at manualslib.com here.