Honda VFR800F 5th Gen (1998-2001) Interceptor and Interceptor Deluxe Maintenance Schedule and Service Intervals
This is the maintenance schedule and associated service intervals for the Honda VFR800 made between 1998 and 2001, known as the "5th gen VFR".
The 1998-2001 Honda VFR800 replaced the outgoing Honda VFR750F, the 4th gen VFR made between 1994-1997. The new 1998 VFR800 got a host of improvements including a bigger engine, fuel-injection, and a styling make-over.
The 1998-2001 Honda VFR800 is powered by a 781 cc 90-degree liquid-cooled V-4 engine. It has dual overhead cams and four valves per cylinder. It makes peak power of around 81 kW / 110 hp at 10500 rpm, around the same amount as most VFR motorcycles.
The 5th gen VFR is a favourite among VFR fans for making good power and low-down torque without using VTEC, and for having gear-driven cams that give it a characteristic whine.
Here are all our Honda VFR800 maintenance schedules:
The 7th gen missing above was the Honda VFR1200, the shaft-driven much bigger, heavier bike with a more powerful engine.
This site has links from which we earn a commission (which unfortunately nobody can save, not even us). If you appreciate this research work, then please use those links. Thanks.
Honda VFR800F (5th gen) Service Intervals
Generally, you service your Honda VFR800 every 8000 mi or 12000 km. That's the scheduled service interval for an oil/filter change, plus the multi-point inspection check.
But there are a few items you should check more often on your VFR — that's why the service schedule is in 4000 mile / 6000 km intervals. These are things like checking brake and clutch fluid, and brake pad wear. Of course you probably are doing these more often, e.g. as part of pre-ride checks. Honda also wants you to check and adjust the idle speed more often, too.
The valve service interval for the VFR800 5th gen is 16000 miles or 24000 km.
There are also some items that have a time-based service interval, like changing brake and clutch fluids.
Honda VFR800F (5th gen) Maintenance schedule
Below is the maintenance schedule for the Honda VFR800F. We adapted it from the manual to make it a little easier to parse.
Maintenance schedule
Notes:
Some items have a distance or time-based maintenance interval, like changing brake fluid. Follow the earlier of the two
Honda recommends you get a qualified mechanic to service the wheels/tires and the steering head bearings, for safety.
mi x 1000
4
8
12
16
20
24
km x 1000
6
12
18
24
30
36
Every
Change engine oil
Pro Honda GN4 10W-40 engine oil
✓
✓
✓
Change oil filter
HF204RC oil filter
Tighten to 20 Nm / 15 ft-lb
✓
✓
✓
Conduct basic service inspection
(See items below)
✓
✓
✓
Change air cleaner
✓
✓
More often when riding in wet / dusty areas
Replace spark plugs
NGK CR9EH-9
NGK CR8EH-9 for cold climates
Tighten new plug to 1/2 turn after plug seats
✓
Check / adjust valve clearances
Intake: 0.16mm / 0.006 in
Exhaust: 0.30 mm / 0.012 in
✓
Check fuel lines (kinks, chafing, damage)
✓
✓
✓
Check throttle operation
(Free play: 2-6mm, 0.08-0.04 in)
✓
✓
✓
Set engine idle speed with throttle stop screw
1200 rpm, +/- 100 rpm
✓
✓
✓
✓
✓
✓
Replace radiator coolant
✓
2 years
Check brake fluid
✓
✓
✓
✓
✓
✓
Replace brake fluid
✓
✓
2 years
Check brake pad wear
✓
✓
✓
✓
✓
✓
Check clutch fluid
✓
✓
✓
✓
✓
✓
Replace clutch fluid
✓
✓
2 years
Inspect secondary air supply system
✓
✓
✓
Honda VFR800F maintenance schedule
Honda VFR800F — Basic Service
Below is a list of items to inspect as part of a basic service for the Honda VFR800F. Do this according to the schedule above.
Service item
Inspect spark plugs
Gap: 0.80-0.90 mm, 0.031-0.035 in
Re-tighten to 1/8-1/4 turn after the plug seats
Inspect radiator coolant (level, condition)
Inspect cooling system (leaks, condition of hoses)
Inspect brake fluid level
Inspect brake pad wear
Inspect brake system (leaks, condition of hoses)
Inspect brake light switch
Inspect drive chain slider wear level
Inspect clutch system (leaks, conditions of hoses)
Inspect clutch fluid level
Inspect headlight aim
Inspect suspension, front and rear (leaks, smooth operation)
Inspect nuts, bolts, and fasteners (tightness)
Inspect side stand (smooth operation, correct lubrication)
Inspect condition of wheels and tires
Inspect steering head bearings
Honda VFR800 standard service items
Maintaining Your Chain on the Honda VFR800
It's important to maintain your chain on the VFR800, as on any chain-driven motorcycle, but particularly if you use your VFR aggressively (lots of high speeds, lots of acceleration).
Use a good-quality chain lubricant like Motul chain paste, or a Motul chain care kit which comes with a couple of handy tools to maintain the chain.
Honda recommends you follow the following chain maintenance schedule:
Chain maintenance item
Every
Check drive chain lubrication condition, lubricating if necessary
600 mi / 1000 km
Check drive chain slack, adjusting if necessary
Slack at center of chain: 20-30mm, 0.8-1.2
Bearing holder pinch bolt torque: 74 Nm / 54 lb-ft
600 mi / 1000 km
Chain maintenance — Honda VFR800
The VFR800 takes a replacement chain of a DID 50 VA7, or RK 50HF0Z3.
Notes:
Do these items (checking/adjusting slack, and checking/applying lubrication) more often if you ride your VFR800 in dusty or rainy conditions.
Always lubricate the chain after washing the motorcycle.
About the Honda VFR800 5th Gen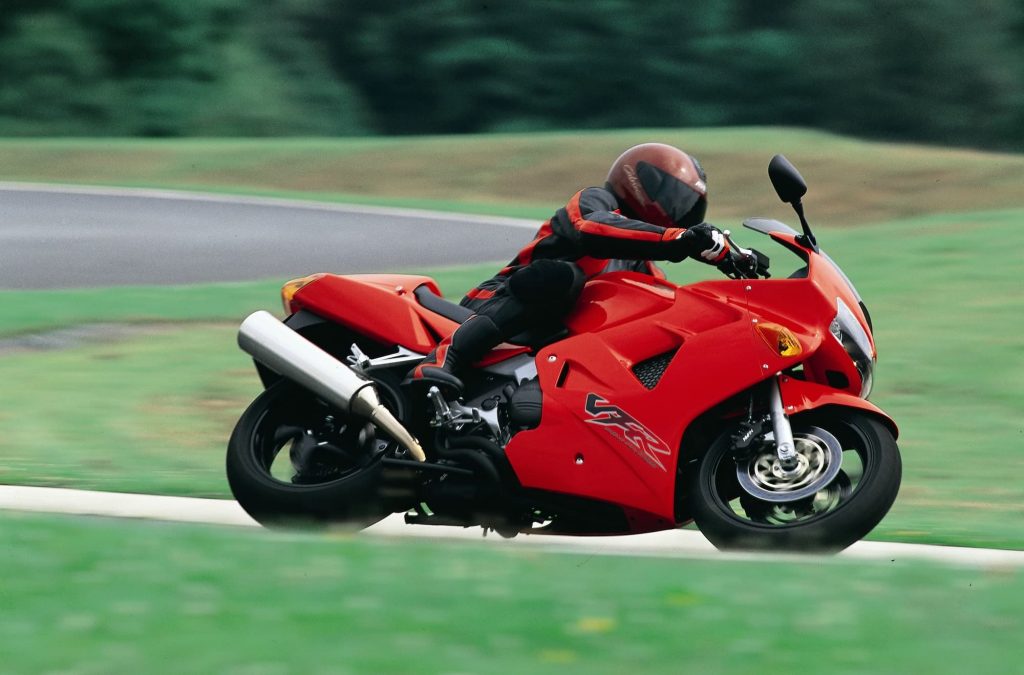 The Honda VFR800 5th gen is a family favourite among VFR lovers and even among motorcyclists generally.
There's a lot to love about a VFR. Generally it's known for being an easy-to-ride sport touring bike that makes a good but not overwhelming amount of power, with a really nice visual design, and a great-feeling and sounding V4 engine.
The 5th gen strikes a sweet spot in VFR history because it is a significant improvement over the VFR750 before it, while not having "too much stuff" added like later generations (which are also well-loved, mind you).
The 5th gen gets the larger 781 cc fuel-injected engine, an improvement (in terms of how often you have to service it, as fuel injectors are much more maintenance-free than carburettors) over the smaller capacity carburettor-fed engine of the earlier gen.
The 5th gen also has gear-driven cams, which give this generation engine a unique-whine. Later gens (from the 2003 model VFR800 onward) got chain-driven cams.
Further, the 5th gen is before VTEC. There's a lot to be said for VTEC. It is there to help give low-end torque while preserving the top-end rush.
But the 5th gen VFR800 doesn't lack low-end torque. And the earlier generation VTEC-enabled VFR800s suffered from a bit of VTEC lag — the power could come on quite suddenly mid-corner, startling some riders.
Finally, the 8th gen VFR800 got ABS and traction control. The ABS is fine, but the traction control is a bit aggressively harsh. As much as that gen bike is a great everyday sport bike, it was muted compared to the 5th gen.
In 2000, Honda made some small updates to the 5th gen VFR800, including giving it closed-loop fuel injection. This helps with overall fuel consumption.
Maintaining the 5th gen is relatively easy. The only complicated part is removing the fairings to get access to the valves when it's time to do the valve service — which luckily only comes about every 24000 km. And as the bikes have aged, valves are well-seated and rarely out of spec.
Also, bear in mind that the VFR800 has a single-sided swingarm. This means it's easy to set the chain tension, but a little harder to remove the wheel — you'll need a bigger breaker bar and torque wrench than on bikes with double-sided swingarms.
Reference — Manual for the Honda VFR800F (5th gen)
The above info all came from various manuals for the Honda VFR800. We also consulted service manuals and parts guides.
The service schedule stays the same for the various years of the 5th gen VFR.
You can download manuals for older Honda motorcycles from Honda Australia's website here.