Honda CB1000R (Neo Sports, 2018+) Maintenance Schedule and Service Intervals
This is the maintenance schedule and associated service intervals for the 2018+ Honda CB1000R, restyled as the "Neo Sports" version with the round front headlight.
The Honda CB1000R is a naked sportbike with an engine from the CBR1000RR. The 2018+ is a big evolutionary change from the earlier 2009-2016 CB1000R, but with the core spirit (a naked 998cc roadster with a single-sided swing-arm) remaining intact.
Important changes are:
A much more retro design, with a circular front headlight and rounder bodywork
A revised engine with larger ports, freer-flowing intake system, more valve lift, higher compression ratio, and larger throttle bodies
Lighter weight — 211 kg (465 lb) curb weight, down 8 kg (17 lb) from the previous model
Improved suspension (though it was already great), with 43mm Showa SFF-BP forks, with rebound and compression damping in the left leg and preload in the right
An improved display with higher legibility
The new "neo sports café" CB1000R also is much more zeitgeisty in its design, being at once retro and modern.
The CB1000R was released alongside the similarly styled Honda CB650R, and later the new CB300R.
This was originally published Dec 11, 2020, but has since been significantly updated
This site has links for things like oil and spark plugs from which we earn a commission (which unfortunately nobody can save, not even us). If you appreciate this work, then please use those links. Thanks!
Service Intervals for the Honda CB1000R
Like many other liquid-cooled Honda sport motorcycles, the service interval is every 4000 mi / 6400 km. But you only have to change the engine oil every two services — every 8000 miles / 12800 km.
Honda recommends only changing the oil filter every two services. At the same time, check or change the spark plug.
The valve clearance service interval for the CB1000RR is quite wide, a generous 24000 miles / 38400 km.
Finally, make sure you keep coolant and brake fluid up to date. Make sure you change the coolant every three years, and the brake fluid every two.
What you need to service the Honda CB1000R Neo Sports
If you want to service your Honda CB1000R Neo Sports (which isn't that hard), then apart from basic motorcycle maintenance tools, you need the following parts/consumables.
The parts list is similar to the 1st gen Honda CB1000R, but with key differences, like in air filter and brake pads.
| Part | Honda CB1000R (Neo Sports) spec |
| --- | --- |
| Oil | Honda specifies the oil should exceed JASO T 903 standard MA, or API classification SG. They recommend Pro Honda GN4 10W-30. Tighten the drain bolt to 30 Nm (22 lb-ft). |
| Oil filter | Honda's standard part number for the oil filter is 15410-MCJ-505 (used on many Hondas). You can also use Hiflofiltro HF204RC for the oil filter. Use a torque wrench to tighten it to 26 Nm (19 lb-ft). |
| Air filter (OEM) | The OEM air filter part is 17210-MKJ-D00. You can also use the K&N alternative air filter, whose part number is HA-1018, which is often more available. |
| Spark plugs | Use NGK spark plug part IMR9E-9HES. Use a gapping tool to set the gap to 0.8-0.9 mm. |
| Chain maintenance | To maintain your chain, Motul chain paste is quite well-liked. There's also the Motul chain care kit which is affordable and good. |
| Brake fluid | You can use any DOT 4 oil, but Honda recommends Honda DOT 4. |
| Brake pads (front) | Use EBC double-hardened front brake pads with part number FA296HH (you need 2 pairs) (they're a popular upgrade… less fade, more bite, and they're cheaper). |
| Brake pads (rear) | Use EBC double-hardened brake pads with part number FA488HH. |
| Coolant | Use Honda Long-life Coolant, which is based on ethylene glycol. |
| Grease | Stock up on lithium soap-based grease and silicon grease to keep pivots and moving parts lubricated and protected. |
Honda CB1000R (Neo Sports) parts for maintenance
Honda CB1000R Neo Sports Maintenance Schedule
Below is the maintenance schedule for the 2018+ Honda CB1000R. It's actually nearly identical to the previous gen CB1000R, though the format is different.
Notes
At the end of the maintenance schedule, follow the pattern shown.
There are distance-based intervals and time-based service intervals for a few components (oil, brake fluid, coolant), that must be observed.
Honda recommends that most items can be done by a skilled home mechanic. But they recommend that the steering head bearings and wheel / tire replacement be done by a skilled mechanic.
The break-in schedule at 600 miles / 1000 km is just an oil and filter change.
Maintenance Procedures:
I: Inspect and clean, adjust, lubricate, or replace, if necessary
R: Replace
L: Lubricate
C: Clean
x 1000 mi
4
8
12
16
20
24
x 1000 km
6.4
12.8
19.2
25.6
32
38.4
Every
Engine Oil (Pro Honda GN4 10W-30)
R
R
R
1 Year, R
Engine Oil Filter (HF204RC)
R
Air Cleaner
R
R
Replace more often if riding in rain / dust.
Spark Plug (NGK IMR9E-9HES)
32000 mi (51200 km): R
Valve Clearances
I
Fuel Line
I
I
I
Throttle Operation
I
I
I
Crankcase Breather
C
C
C
C
C
C
More often if riding in rain or at full throttle.
Engine Idle Speed
I
I
I
Radiator Coolant (Honda Long-life Coolant)
I
I
I
3 Years: R
Cooling System
I
I
I
Secondary Air Supply System
I
Evaporative Emission Control System (if fitted)
I
Drive Chain (Motul chain paste)
600 mi (1000 km): I, L
Brake Fluid (Honda DOT 4)
I
I
I
I
I
I
2 Years, R
Brake Pads Wear
I
I
I
I
I
I
Brake System
I
I
I
Brake Light Switch
I
I
I
Headlight Aim
I
I
I
Clutch System / Clutch lever free play
Target free play: 10-20 mm / 3/8 – 13/16 in
I
I
I
I
I
I
Side Stand
I
I
I
Suspension
I
I
I
Nuts, Bolts, Fasteners
I
I
I
Wheels/Tires
I
I
I
Steering Head Bearings
I
I
I
Maintenance schedule for the 2018+ Honda CB1000R
Maintaining Your Chain on the Honda CB1000R
As a mixed-use daily commuter / weekend scratcher motorcycle, it's important to maintain your chain on the CB1000R, as it gets exposed to a wide variety of conditions.
Use a good-quality chain lubricant like Motul chain paste, or a Motul chain care kit which comes with a couple of handy tools to maintain the chain.
Honda recommends you follow the following chain maintenance schedule:
Chain maintenance item
Every
Check drive chain lubrication condition, lubricating if necessary
600 mi / 1000 km
Check drive chain slack, adjusting if necessary
(see below)
600 mi / 1000 km
Chain maintenance — Honda CB1000R
Notes:
Do these items (checking/adjusting slack, and checking/applying lubrication) more often if you ride your CB1000R in dusty or rainy conditions.
Always lubricate the chain after washing the motorcycle.
Measuring drive chain slack
To measure drive chain slack on the CB1000R, measure the distance from the chain to the swingarm.
With the transmission in neutral on a level surface, put the motorcycle on its side stand.
Push the lower part of the chain down in the middle.
Measure the distance between the drive chain and the swingarm.
Role the bike around and check that the slack is similar at different points.
Target slack: 45-50 mm / 1.75-2 in
If the slack is too great or too little, you need to adjust it using specialist tools for the single-sided swing arm.
Tyre size and tyre pressure for the 2018+ Honda CB1000R
The Honda CB1000R has the following tyre sizes. The manual also recommends these tyre pressures, cold.
| Tyre | Size | Tyre pressure |
| --- | --- | --- |
| Front | 120/70ZR17M/C (58W) | 36 psi (250 kPa) |
| Rear | 190/55ZR17M/C (75W) | 42 psi (290 kPa) |
Tyres and tyre pressures for the Honda CB1000R 2018+
The 2018+ has a slightly wider 190 rear tyre than the previous gen.
The 2018+ CB1000R ships with Bridgestone Battlax Hypersport S21R or Dunlop Sportmax D214 tyres.
About the 2018+ Honda CB1000R "Neo Sports"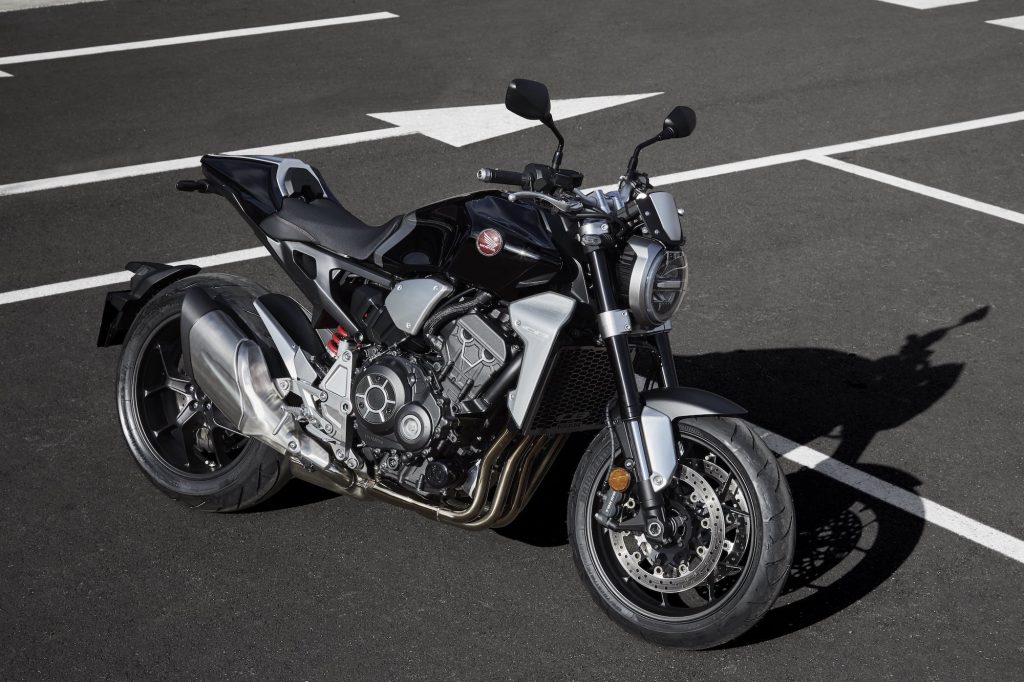 The Honda CB1000R is the latest in a series of naked sport bikes by Honda. For over 10 years, the naked CB line has been loosely based on the contemporary CBR1000RR, but with a street tune, handlebars, and less aggressive styling.
Honda had a previous generation CB1000R which shared some design elements with the latest. But in 2018, Honda re-invented its CB1000R with a radical redesign. It went from being a naked streetfighter into what Honda called a "Neo Sports Café" roadster, which is a way of highlighting that it's somewhat new, but somewhat retro.
The CB1000R Neo Sports Café is still a naked roadbike with a 998cc inline-four-cylinder engine that's water-cooled and fuel-injected, and has the usual features of four valves per cylinder and dual overhead cams.
In stock trim, the 2018+ Honda CB1000R Neo Sports Café makes a generous 107 kW (143.5 hp) at 10500 rpm, with meaty torque of 104 Nm (77 ft-lb) at 8250 rpm. Sporty, even for a non-sport bike.
The CB1000R has handlebars, an exposed engine, and comfortable ergonomics. And thankfully, Honda still hasn't lost that gorgeous single-sided swing-arm — a differentiating factor from the Japanese competition.
But Honda radically redesigned the exterior of the 2018+ CB1000R. The first thing you'll notice is that the new 2018+ Honda CB1000RR has a round headlight, swooping exhaust pipes, and redesigned wheels. It's now a retro-esque bike, but thoroughly modern.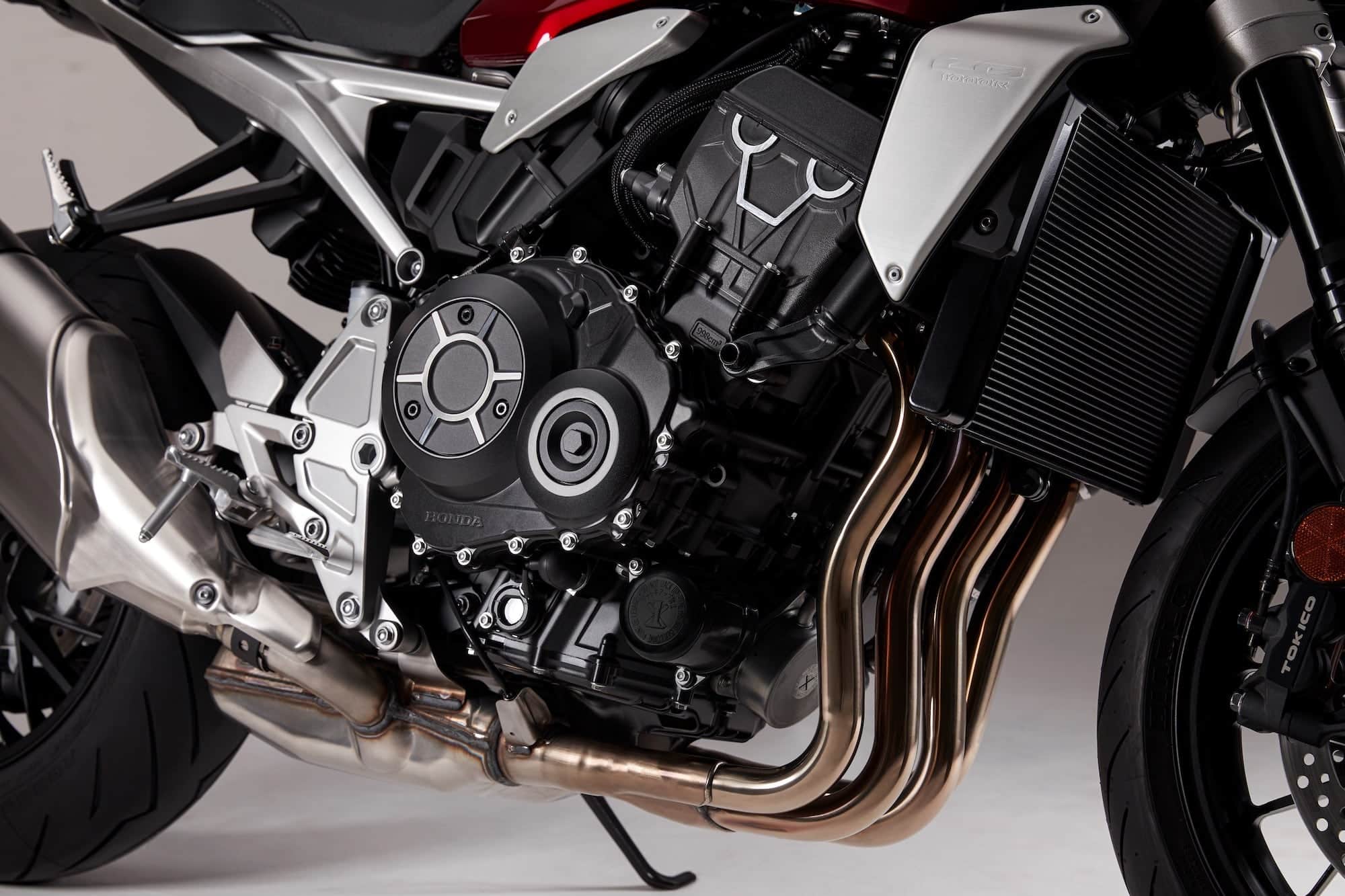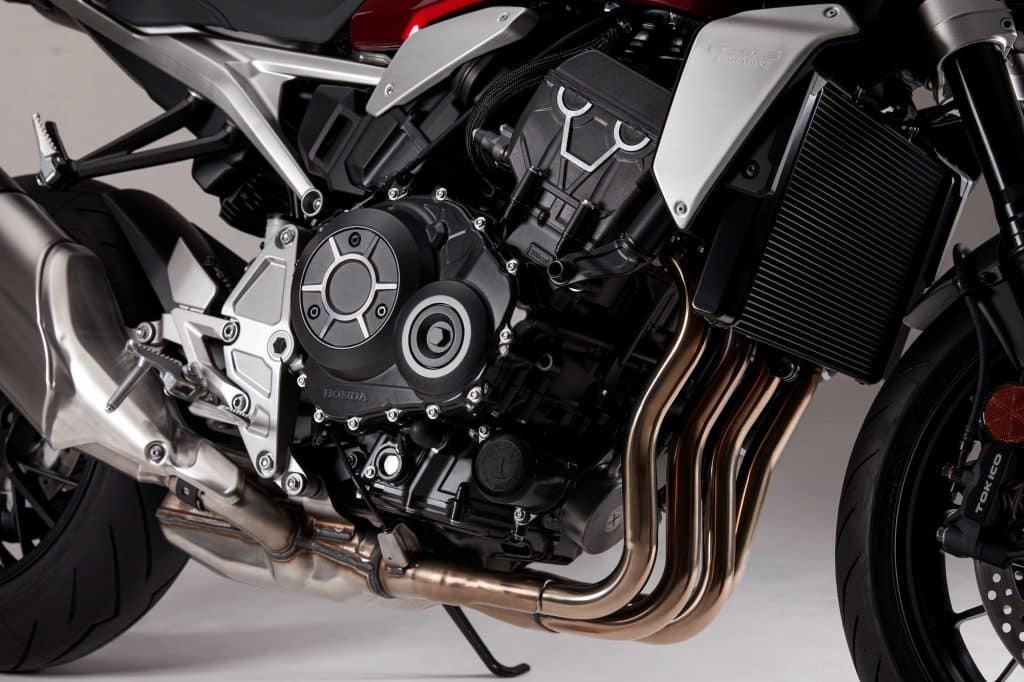 But Honda has made some important changes to the mechanics and ride gear, too.
The key changes are
Revised suspension. It was already good with a cartridge style front fork, but the new fork has a Showa Separate Function Fork – Big Piston (SFF-BP) design, rebound and compression damping in the left leg, and preload in the right leg.
Standard ABS in the braking system (which are otherwise similar, though the new model takes different pads), though it can't be turned off.
Ride modes (sport, street, and rain), with levels of throttle response, engine braking, and traction control
Many chassis and engine changes leading to a 9kg (17 lb) lighter weight
Front brakes on the 2018+ Honda CB1000R 4-piston Tokico calipers biting onto 310 mm discs.
And the suspension units front and rear are by Showa, with a SFF-BP USD fork up front, and a Showa Balance Free Rear Cushion shock.
The Honda CB1000R is a little light on tech compared to some of its competitors. ABS is standard, as are traction control and ride modes. But it lacks the cruise control and cornering ABS via an IMU that some of its brethren have.
The only other thing you can say about the CB1000R is that it does everything so well that you will never have to work very hard to go fast.
Manual for the Honda CB1000R "Neo Sports"
The above maintenance schedule comes directly from the user's manual for the 2019 Honda CB1000R. We've compared it to subsequent years and nothing has changed.
You can download it from Honda Powersports here.