BMW R 1200 ST (2005-2007) Simplified Maintenance Schedule and Service Intervals
This is the maintenance schedule for the BMW R 1200 ST, simplified from what's presented in the manuals and the BMW parts / maintenance reference docs.
The BMW R 1200 ST is a short-lived boxer-powered sport tourer, and in fact was the last of the R-ST format. Since then we've had the R-RS and the R-RT, both of which fill similar niches to the R-ST, but the ST sat between them as a balance of sportiness and touring comfort. The BMW R 1200 ST shared an engine with its contemporary R 1200 RT, but the sportier BMW R 1200 S had a higher-output tune.
The heart of the BMW R 1200 ST is the same venerable "Hexhead"-generation 1200 engine, an 1170 cc air/oil-cooled boxer twin. The engine has a high camshaft and four valves per cylinder and a fairly high compression ratio (for an air/oil-cooled engine) of 12.0:1, letting the sporty tourer make an impressive 81 kW / 110 bhp at 7500 rpm, with torque of 115 Nm / 85 ft-lb peaking at 6000 rpm.
The final drive of the R 1200 ST is a single plate dry clutch (longitudinally mounted), six-speed gearbox, and a low-maintenance driveshaft.
The BMW R 1200 ST was replaced by the more versatile BMW R 1200 RT.
This post was originally published on August 22, 2022, but has since been considerably updated with more detail.
This site has links from which we earn a commission (which unfortunately nobody can save, not even us). If you appreciate this research work, then please use those links. Thanks.
Service intervals for the BMW R 1200 ST
Like many of its air/oil-cooled generation, the BMW R 1200 ST has generally 6000 mile / 10000 km service intervals, at which point you should change the oil and filter and also check the valve clearances. Yes, the valve services are frequent, but with those big boxer cylinders sticking out the side, it can be quite a quick job for those who've done it a couple of times.
Since the R 1200 ST has a shaft final drive, you don't have to constantly lube a chain. But you do have to service the shaft by changing the rear-wheel-drive oil periodically — it's not specified in the manual, but later BMW bikes all require it every 12000 miles / 20000 km. See, for example, the manual for the 2014 BMW R 1200 RT.
In fact, the R 1200 ST has three oil changes — the engine oil, gearbox oil, and final drive oil. It adds up!
Finally, make sure you keep your fluids in spec. The R 1200 ST needs its brake fluid replaced every two years, just like most motorcycles.
Maintenance schedule for the BMW R 1200 ST
Below is the full maintenance schedule for the R 1200 ST. It's broken into two parts for convenience — the regular inspection list, and the service schedule.
Inspection checklist
Do this inspection at every scheduled service per the schedule below.
BMW R 1200 ST Service Inspection Checklist
[Dealers] Read fault memory with the BMW diagnostic system
Throttle cable — check freedom of movement, and for kinks and chafing
Tires — check pressures / tread depth
Side stand – check ease of movement. Lubricate as necessary
Lights / signalling equipment – check
Engine start suppression (switch, gear, clutch, side stand) – check
Brake discs and pad – check
Throttle body synchronisation – check
Throttle, brake lever, clutch lever – check for freedom of movement, and adjust lubrication
Brake pedal, shift pedal – check freedom of movement and lubrication
Battery charge state – check
Final test ride – perform
Nuts, bolts, and fasteners – check tightness
Record service in manual
BMW R 1200 ST Service Inspection Checklist
BMW R 1200 ST Service Schedule
Below is the full service schedule for the BMW R 1200 ST.
Beyond the end of this maintenance schedule, keep following it in the pattern shown.
Where relevant, follow the earlier of distance- or time-based intervals.
| mi x 1000 | 6 | 12 | 18 | 24 | |
| --- | --- | --- | --- | --- | --- |
| km x 1000 | 10 | 20 | 30 | 40 | Every |
| Inspection checklist – Perform | ✓ | ✓ | ✓ | ✓ | Year |
| Engine oil – change | ✓ | ✓ | ✓ | ✓ | Year |
| Oil filter – change | ✓ | ✓ | ✓ | ✓ | Year |
| Air filter – replace | ✓ | ✓ | ✓ | ✓ | |
| Spark plugs – inspect | ✓ | ✓ | ✓ | ✓ | |
| Valve clearances – inspect / adjust | ✓ | ✓ | ✓ | ✓ | |
| Hydraulic clutch system – inspect | | ✓ | | ✓ | |
| Spark plugs – replace | | | | ✓ | |
| Fuel filter – replace | | | | ✓ | |
| Brake fluid, front and rear – change | | | | | 2 years |
| Brake fluid, ABS control circuit – change | | | | | 4 years |
| Final drive oil change | | ✓ | | ✓ | 2 years* |
| Gearbox oil change | | | | ✓ | 2 years |
| Alternator belt – change | | | | ✓ | 6 years* |
BMW R 1200 ST maintenance schedule
* BMW doesn't mention these service intervals in the maintenance guide for this specific bike, but they are common for many later BMWs.
About the BMW R 1200 ST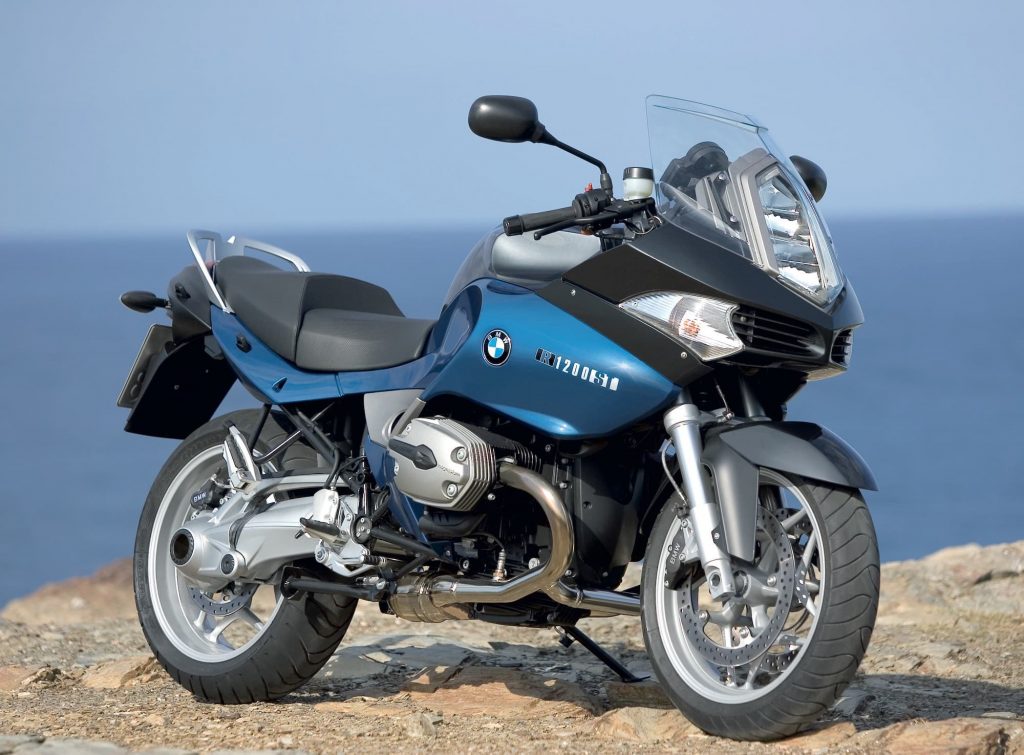 The BMW R 1200 ST is a very unique bike. Almost every aspect of it distinguishes it from other sport tourer bikes in at least some way.
Let's start with the engine. The BMW R 1200 ST's engine is an air/oil-cooled boxer motor, the "hexhead" class with some oil cooling. It's the same engine seen on the ST's contemporary, the RT, and similar to that in the first-gen 2004 BMW R 1200 GS (though the ST has more power).
The engine has four valves per cylinder but doesn't yet have the DOHC design of the later generation motors. Actually, none of the twin-cam motors made it into sport touring bikes — the other than the RT, which is much more on the touring side of the equation.
The second unusual part of the BMW R 1200 ST is the suspension. While most other sport touring motorcycles have conventional forks and a swingarm monoshock setups, the BMW R 1200 ST has a Telelever front end and a Paralever rear. This was BMW's trademark suspension design, designed to keep the motorcycle upright and stable no matter what the braking conditions — before the age of active suspension.
Finally, the BMW R 1200 ST has a shaft drive rear end. This means it's much lower maintenance than a chain and much hardier – no rocks can get into it and damage it, and rust can't destroy it (well not as easily, unless you never replace the fluid and water gets into it).
The shaft drive rear end also means that the ST has a gorgeous exposed rear wheel, much like many BMW motorcycles with a shaft drive and single-sided swingarm. Of course, you may have to relocate the exhaust slightly…
Boxer engines were never traditionally terribly high performance. And air/oil-cooled engines aren't known for being high revving, sporty beasts. But the motor in the BMW R 1200 ST is plenty willing, making 81 kW / 110 hp — similar power output to the modern BMW R nineT, which has a more advanced twin-cam motor.
The BMW R 1200 ST sits somewhere in the middle of the line-up for its generation. It's a sport tourer like the RT, just without as much of a fairing — more a half-fairing and a less comprehensive though still adjustable screen.
You get a lot of touring stuff, though, like adjustable seating and the ability to mount panniers. Actually you can even adjust the bars up and down 25mm (an inch) to adjust the position slightly.
The BMW R 1200 ST didn't sell too well, maybe because it was difficult to position, but also because there were so many options in BMW's line-up. But one problem is that the air/oil-cooled motor is slightly lazy, which doesn't quite jibe with the sporty riding position of the ST. It suits the R, the RT, and the GS, but to many coming off something like an early Honda VFR800, it doesn't feel quite right.
Maintenance is also a little aggressive on the ST. The competitors have chain drives, but the BMW bikes have quite regular valve service intervals which can be a bit of a chore as they come up so often, much like an earlier air-cooled Ducati.
But if you come across a BMW R 1200 ST at least you'll have a very unique bike at the local meet-ups, as not many have them.
One note on the ABS of the R 1200 ST. BMW was an early pioneer with ABS, and many of their touring models had them earlier than competing brands.
There was an awkward period in the early 2000s when a number of BMW motorcycles had "power-assisted brakes", also known as servo-assisted brakes.
But BMW updated the servo-assisted braking system on the ABS, fixing some of the problems of too-hard application of brakes on the early models, as well as reducing the whine you hear when the system is idling (present on some early R 1200 GS models, for example).
Still, the servo-assisted brake can fail on the R 1200 ST, which leaves you with a very heavy brake feeling. You have to either replace it ($$$) or bypass it.
Reference — Manual screenshots
The BMW R 1200 ST's manual has a lot of detail about maintenance for the R 1200 ST. But the maintenance schedule comes from the BMW RSD document which is available on CD from BMW directly.
Screenshots of all these are below.
You can get manuals for BMW motorcycles directly from BMW.