Indian Pursuit (2022+) Maintenance Schedule and Service Intervals
This is the maintenance schedule for the Indian Pursuit and all variants, including the Dark Horse and Limited variants (and any more that might be released in the future).
Indian has been making the Pursuit range of motorcycles since 2020. They're all powered by a liquid-cooled engine — the 1768 cc (108 c.i.) "PowerPlus" 60-degree V-twin, the same motor found in the Indian Challenger.
The PowerPlus motor in the Indian Pursuit has an 11.0:1 compression ratio and makes peak torque of a whopping 128 lb-ft (174 Nm) at a low 3800 rpm, with peak power of a quite high 122 bhp (91 kW), thanks to the liquid-cooled high-revving engine (it has a rev limiter at 6500 rpm). Unlike for many cruisers, Indian quotes peak power for its PowerPlus motorcycles, because the power is quite high!
The Pursuit's PowerPlus engine has single overhead chain-driven cams, four valves per cylinder, and hydraulic valve lash adjusters, meaning it doesn't have scheduled valve clearance adjustments (hooray).
The drivetrain for the Indian Pursuit is via a wet clutch, a 6-speed transmission, and a belt final drive.
This site has links from which we earn a commission (which unfortunately nobody can save, not even us). If you appreciate this research work, then please use those links. Thanks.
Indian Pursuit Service Intervals
The basic service intervals for the Indian Pursuit are every 5,000 miles (8,000 km), at which point Indian recommends changing the oil and filter (they provide a kit) and doing a host of checks.
Note that there are some earlier recommended service items at the 500 mile and 2,500 mile marks. Those are oil changes and a once-over of the bike.
Indian recommends changing the air filter and checking the spark plugs and compression every two services. But they only recommend changing the spark plugs every 30,000 miles (48,000 km). And there are no recommended valve service intervals, as it has hydraulic valve lash adjusters.
Being a liquid-cooled engine, you do need to change the PowerPlus' coolant, though infrequently — Indian recommends long-life coolant (with organic compounds). Indian recommends you change the Pursuit's coolant every five years or 50000 miles / 80000 km, whichever comes earlier.
Indian also recommends frequently changing fork fluid — every two years. Indian even have put a distance-based service interval on replacing the rear shock! (Don't worry, it's quite long.)
See the maintenance schedule below for more details.
What You Need to Service an Indian Pursuit
In addition to fluids and consumables like spark plugs and filters, the Indian Pursuit needs a few special items for regular service.
This includes (links below are some high-quality but affordable ones):
Aside from that, you'll need general fluids, like an Indian oil change kit, all detailed below with the schedule.
Maintenance Schedule for the Indian Pursuit
Below is the maintenance schedule for the Indian Pursuit motorcycles from the manual, but adapted for easy readability.
The manual for the Indian Pursuit shows the schedule as a series of to-do lists, so it's hard to see the frequency of major service items. For this reason, we're presenting it in table format, so it's easier to understand what's due when.
Basically there are three kinds of service for the Pursuit:
Standard Service — an oil/filter change and multi-point inspection, done every 5000 miles / 8000 km
Infrequent service — Done at 50,000 miles / 80,000 km, grouped below.
Indian Pursuit — Scheduled Service
Below is the maintenance schedule for the Indian Pursuit.
mi x 1000
2.5
5
10
15
20
25
30
km x 1000
4
8
16
24
32
40
48
Every
Perform full multi-point inspection checklist (see above)
✓
✓
✓
✓
✓
✓
✓
Engine oil – Replace. Inspect used oil for contaminants
Drain plug torque: 20Nm / 15 lb-ft

Get an (Indian Motorcycle Oil Change Kit)
✓
✓
✓
✓
✓
✓
Engine oil filter – Replace (included in kit above, or HF175)
✓
✓
✓
✓
✓
✓
Air filter – Inspect and clean
✓
✓
✓
✓
Air filter – Replace (use PL-1720)
✓
✓
✓
Engine compression – Inspect
✓
✓
✓
Spark plugs – Inspect, torque correctly
✓
✓
Spark plugs – Replace (LZMAR8AI-10)
✓
Exhaust system – Inspect, tighten, adjust
✓
✓
✓
✓
Drive belt – inspect, tighten, clean, adjust (see below)
✓
✓
✓
✓
✓
✓
Drive belt – Replace
✓
Front fork oil – Replace
✓
✓
✓
2 years
Steering bearings – Inspect (no notchiness, no play in bearings)
✓
✓
✓
Brake fluid – Replace (Castrol DOT 4)
✓
✓
✓
2 years
Gear position switch – Inspect, clean
✓
✓
✓
Battery key fob – Replace
✓
Maintenance schedule for the Indian Pursuit
Indian Pursuit — Standard Multi-Point Inspection Checklist
Below are the items to do in a standard service for the Indian Pursuit.
Do these items according to the maintenance schedule below.
Indian Pursuit — Standard Service Checklist
Brake pads – inspect, replace if beyond service limit
Fuel system – inspect
Oil system/ lines – inspect
Control cable ends – inspect / lubricate
Clutch lever – inspect, adjust / lube as necessary
Clutch cable freeplay – inspect / adjust
Front brake lever – inspect, adjust / lube as necessary
Gear shift pedal – inspect, adjust / lube as necessary
Rear brake pedal – inspect, adjust / lube as necessary
Fasteners – check tightness
Front forks and front axle – inspect for smooth operation, no leaks, no notchiness. Clean to remove bugs / tar buildup. Make sure front wheel has no play
Damper, cushion drive – inspect for cracks or deformation whenever rear wheel is removed
Swing arm and rear axle – inspect (make sure no noises / notchiness when bouncing up and down on bike), and make sure wheel bearing has no play
Rear suspension linkage – inspect
Rear shock absorber – inspect for leaks / pitting / bugs or tar buildup, adjust if necessary
Rear wheel alignment – inspect, adjust if necessary
Tires / wheels – inspect tire condition and tread depth
Sidestand – inspect, adjust / lubricate as necessary
Battery – check terminals, clean, and test
Crankcase ventilation system – inspect, tighten, clean, adjust
Evap emission control system – inspect and clean
Road test – perform
Indian Pursuit — Standard Service Checklist
Indian Pursuit — Long-term Service
Below are the service items to do at the intervals below. Where there's both, use the shorter of the stated distance or time intervals.
| Service item | Distance interval | Time interval |
| --- | --- | --- |
| Coolant – replace (Indian Coolant) | 50000 mi (80000 km) | 5 years |
| Fuel system – replace (hoses, filters, etc.) | 50000 mi (80000 km) | – |
| Rear shock absorber – replace | 50000 mi (80000 km) | – |
Indian Pursuit — Long-term service intervals
Checking / Adjusting the Drive Belt on the Indian Pursuit
At every service interval, check the belt condition. You want to make sure it has no cracked or broken teeth.
See the below examples from the Indian manual (showing only the situations where you should replace the belt).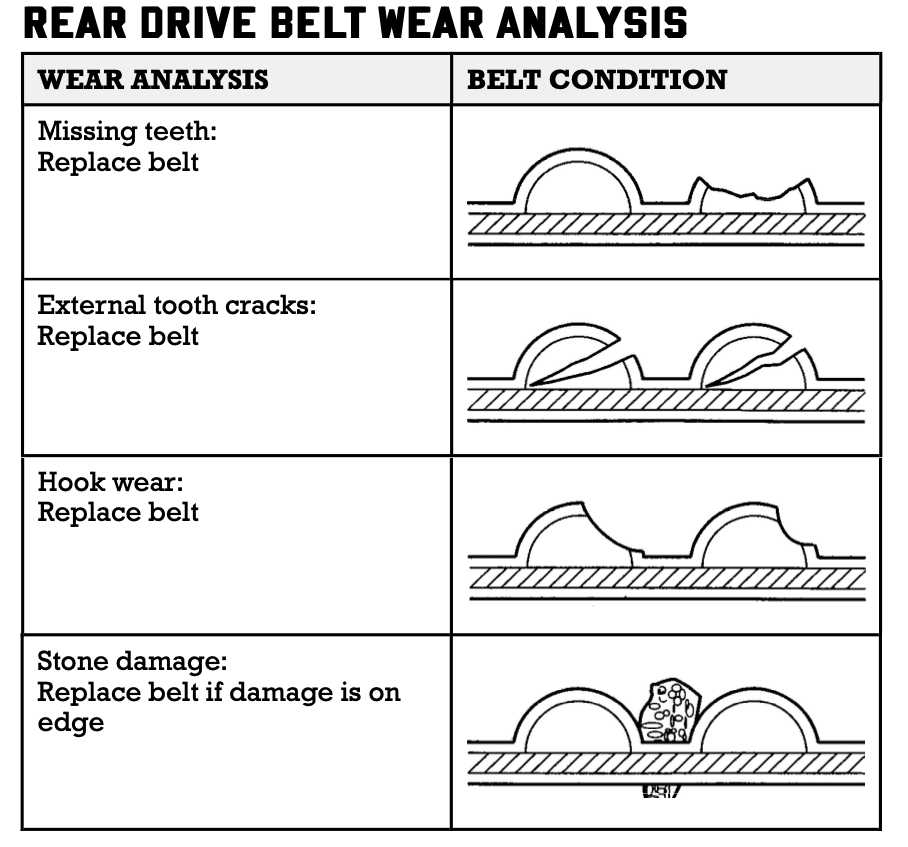 You also need to check the deflection level of the drive belt. To do so, use a belt tension tool.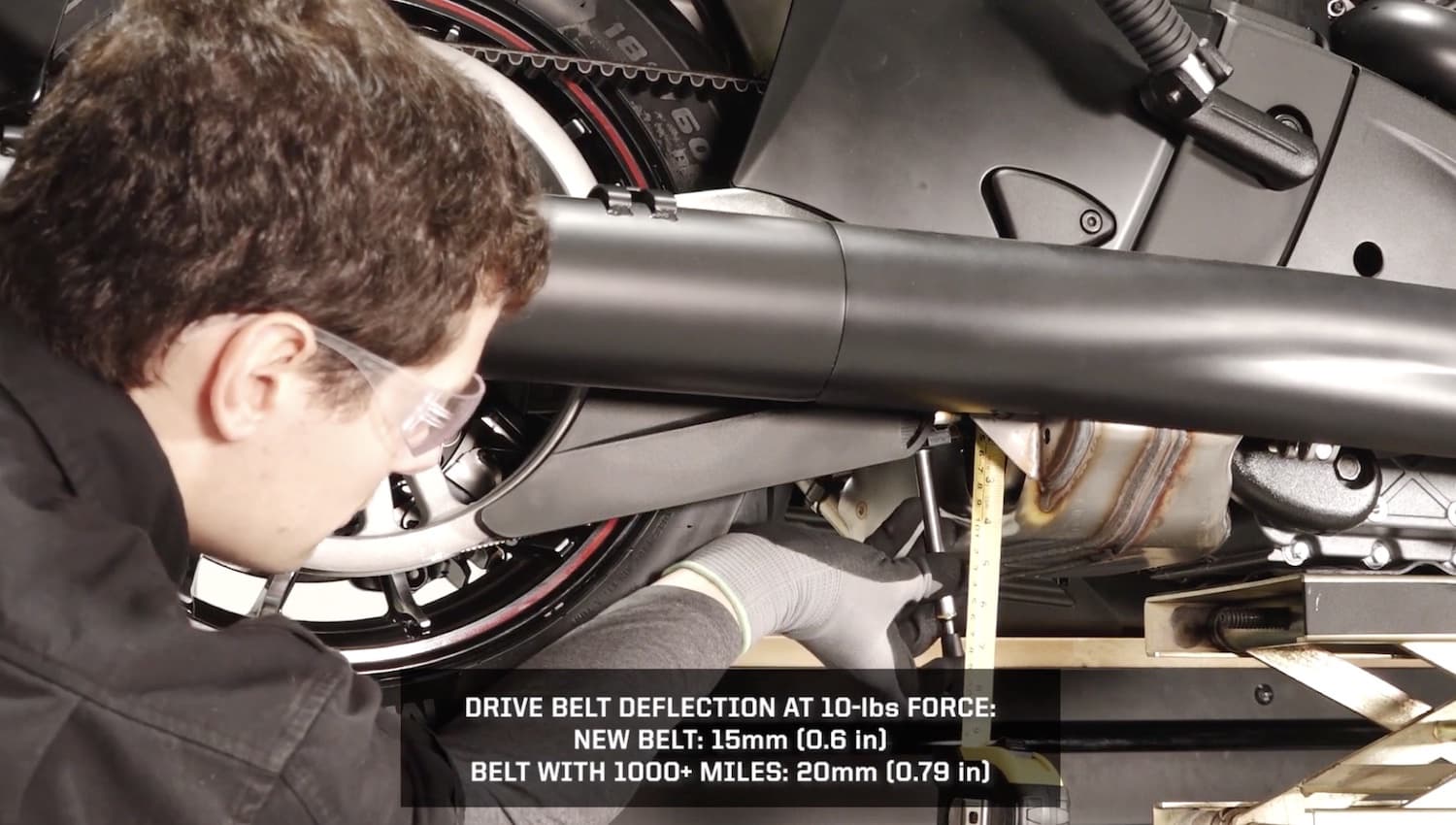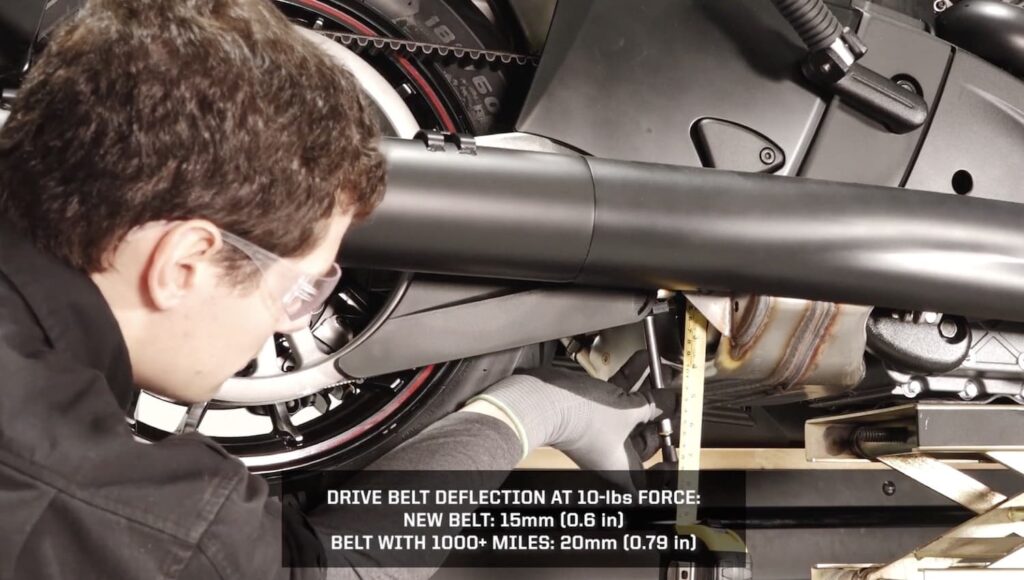 Follow this procedure:
Put the motorcycle upright with the front wheel clamped.
Remove the side covers. Disconnect the saddlebag lock connector.
Open the saddlebags, remove the saddlebag fasteners, and remove them.
Ensure the motorcycle is in neutral.
Elevate the rear wheel.
Hang a tape measure off the motorcycle near the middle of the drive belt.
Push up with the belt tension tool to measure the deflection against the tape measure.
Make the check at a few points of the belt, rotating the wheel.
See this video by Indian on the complete procedure.
The belt, with 10 lb of force, should meet the following deflection specs:
New belt: 0.6″ / 15 mm
Belt with 1000+ miles: 0.79″ / 20mm
To adjust the drive belt deflection on the Indian Pursuit, do the following:

Put the motorcycle upright with the front wheel clamped.
Remove the saddlebags.
Raise the rear of the motorcycle so the rear tire can be rotated
Loosen the axle nut
Turn the right side adjuster to get the right belt tension (see specs above, depending on belt age)
Use the left side adjuster to correct belt alignment, rotating the wheel backward until the belt comes off the inside sprocket flange. (The belt should track to the centre of the sprocket surface.)
Rotate the wheel forward, making sure the belt is still centred (you can see the sprocket teeth on both sides of the belt). Note that you can use the alignment markers as a reference, but they're approximate — the final indication of alignment is the belt's position.
Keep adjusting the adjusters as necessary to get alignment.
Then, tighten the axle nut (torque spec 65 ft-lb / 88 Nm).
Maintenance Torque Specs for the Indian Pursuit
Below are the maintenance / tightening torque specs for the Indian Pursuit.
Item
Nm
lb-ft
Engine oil drain plug
20
15
Sidestand bumper bracket fastener (if removed for oil change)
10
7
Oil filter
Tighten to contact + 3/4 to 1 turn
n/a
n/a
Airbox filter cover fasteners
10
7
Fuel tank fastener
24
18
Brake lever pivot pin
6
4.4
Brake fluid diaphragm screws
1.4
1
Spark plugs
10
7.4
Front wheel axle bolt
70
52
Front wheel pinch bolts
26
19
Rear axle bolt
88
65
Seat mount bracket screws
24
18
Saddlebag fasteners
24
18
Battery terminal
5.4
4
Battery bracket fastener
10
7
Chin fairing
4
3
Windshield screws
4
3
Maintenance torque values — Indian Pursuit
About the Indian Pursuit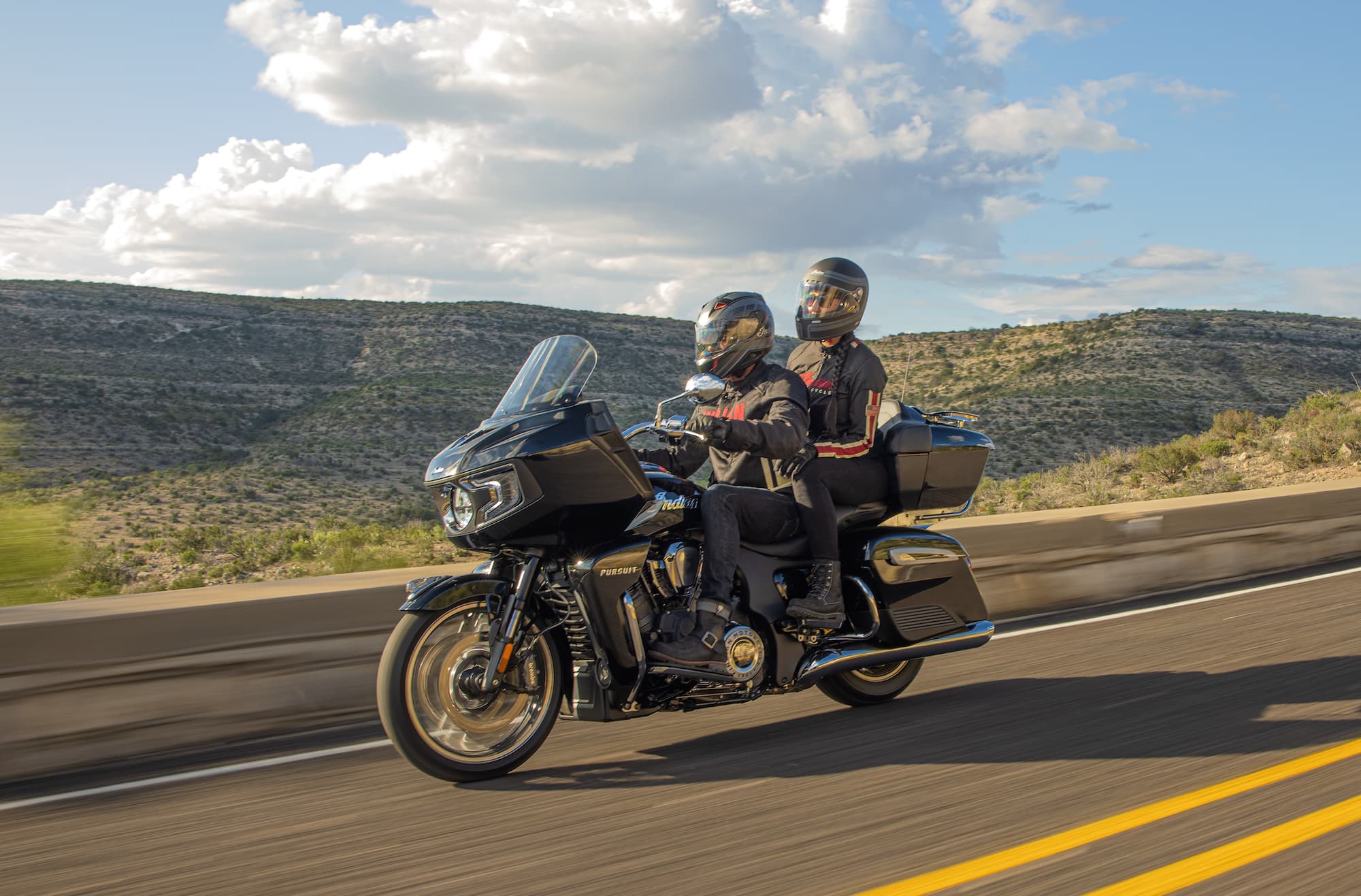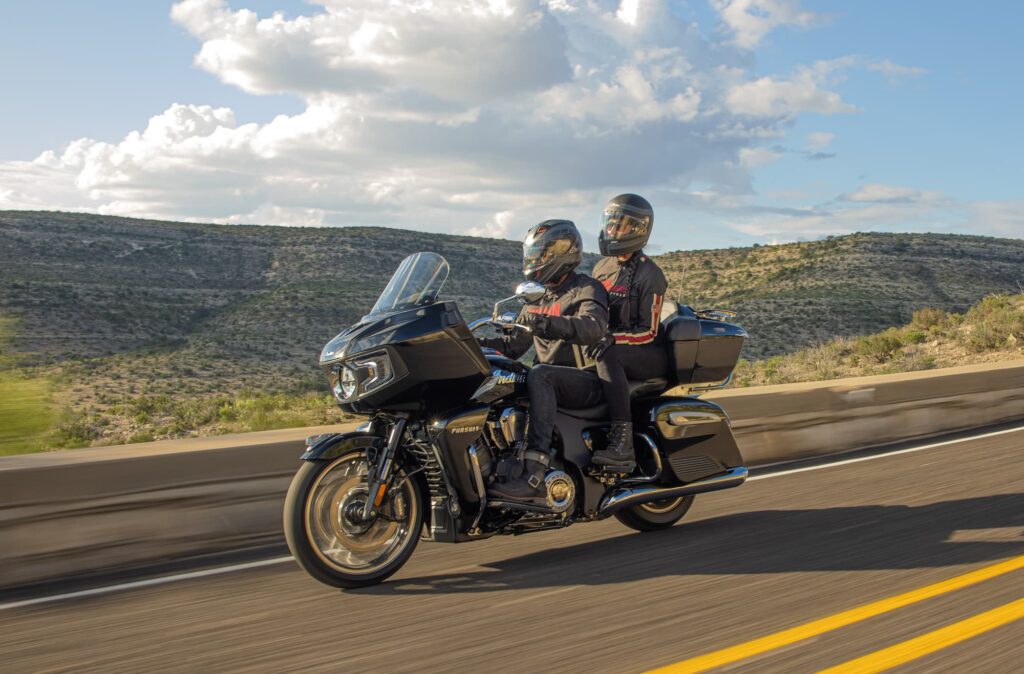 The Indian Pursuit is a full touring spec motorcycle based on the Indian Challenger's PowerPlus liquid-cooled V-twin. Indian released it first for the 2022 model year.
Indian broke new territory with the Challenger when they released it a couple of years prior — it's a high-performance, high-spec cruiser with a modern engine. Since Polaris acquired the Indian brand in 2011, they haven't rested on their laurels, but rather merged Indian's iconic history and design with modern technology and performance. The Pursuit is the latest incarnation of that philosophy.
The heart of the Indian Pursuit is the PowerPlus engine — a liquid-cooled 108 c.i. (1768 cc) 60-degree V-twin with a sporty 11.0:1 compression ratio.
The liquid cooling is already interesting enough. But then so is the interior architecture of the engine: the PowerPlus engine has a SOHC 4 valve per cylinder design. But despite this, Indian kept hydraulic self-adjusting valve actuators, meaning that the Pursuit does not have a required valve service interval. This is pretty cool in a big-displacement liquid-cooled bike with an overhead camshaft.
Aside from the engine, there are a few aspects of the Indian Pursuit that are quite high spec.
The front suspension is an inverted (upside-down) fork. They're non-adjustable, though. The rear Fox shock is adjustable for preload only, though it's adjustable electronically. This is standard on the Pursuit.
And the brakes are via twin 320mm discs and 4-piston Brembo monoblock calipers, a similar spec to what you might see on many sport motorcycles. Of course, there's a lot more weight to bring to a halt with the Pursuit — with the premium package, either the Dark Horse or Limited weigh a whopping 416 kg or 917 lb.
Finally, the Indian Pursuit (in either Dark Horse or Limited spec) gets cornering ABS and traction control via its Bosch IMU. Cornering ABS is quite a rarity on a cruiser motorcycle.
The whole package makes the Indian Pursuit quite a high-spec, high-power tourer.
As for the difference between the Pursuit Limited and Pursuit Dark Horse — well, they're essentially the same motorcycle. But where the Limited prioritises chrome, gloss, and classic lines, the Dark Horse emphasises matte colours and blacked out engine parts.
Aside from the base engine and drivetrain, both Pursuit models share a cargo trunk and huge saddlebags with a total of 133 litres of storage. There's power locking, too — no fiddling with keys.
The display tech of the Indian Pursuit is also very new and interesting. Indian gave the Pursuit its new and updated "Ride Command" infotainment system. There's a 7-inch touchscreen display that is compatible with Apple CarPlay.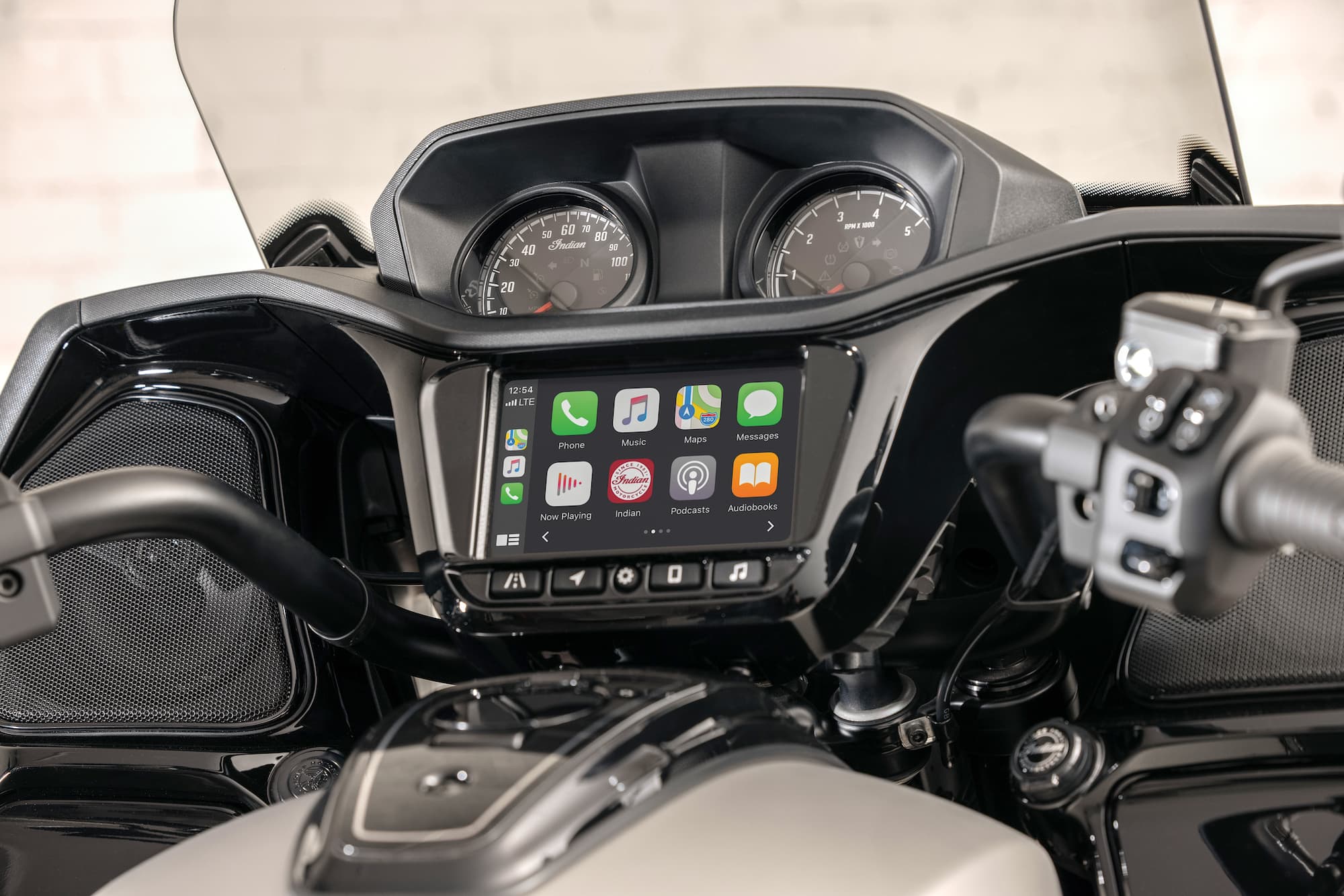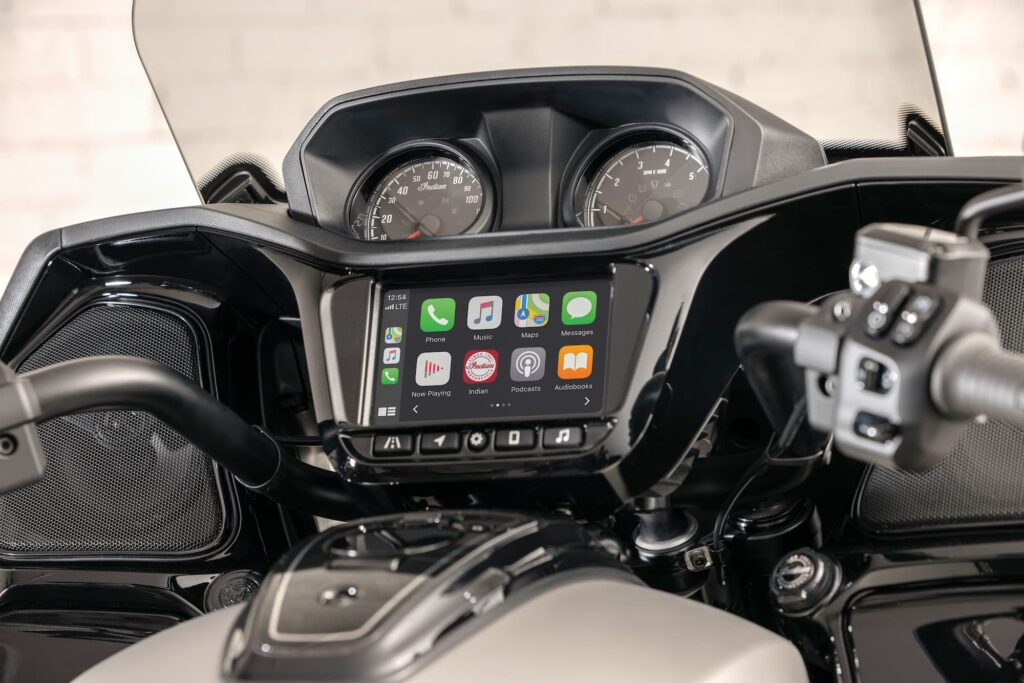 Reference — Maintenance Schedule Screenshots from the Manual
See the below screenshots from the manual for the Indian Pursuit as references for the above maintenance schedule.
You can download manuals for Indian motorcycles from their official website.