Norton Commando 961 (2023+) Maintenance Information (Schedule / Guide)
This is the maintenance information for the Norton Commando 961, the reborn British Icon sold from 2023.
The Norton Commando 961 is a heritage-inspired motorcycle built with high-quality parts, but using old technology. It's built by TVM, which now owns Norton, but the motorcycle is a Norton through and through. Nonetheless, TVM gives manufacturing some adult supervision that the brand was sorely lacking under previous ownership.
The heart of the Norton Commando 961 is a 961 cc (hooray! The name is the same as the number) air/oil-cooled parallel twin engine with pushrods and two valves per cylinder. With its relatively mild 10.1:1 compression ratio, it makes decent peak power (for an air/oil-cooled engine) of 59 kW / 79 hp at 7250 rpm, and peak torque of 81 Nm / 60 lb-ft at 6300 rpm.
Final drive is via a 5-speed transmission and a chain.
The maintenance schedule below applies to both the "Sport" and "Café Racer" alternatives, which share nearly all components. The Café Racer has clip-on handlebars, and the Sport has flat bars.
Norton Commando 961 Service Intervals
Overall, the Norton Commando 961 has 6 000 mile / 10 000 km or annual service intervals. At every service, change the oil and filter, and change the gearbox oil. Also, do a list of maintenance checks (see below).
There are a few longer-term maintenance items. Every 12 000 miles or 20 000 km, change the spark plugs, air filter, and fuel filter. And longer term, lubricate major bearings before they fail.
The Norton Command 961's engine has hydraulic valve lash adjusters, so there is no specified valve service interval. This makes it a rare modern motorcycle that's not a cruiser that doesn't need its valves serviced at any period.
However, the Command 961 does have a hydraulic clutch, so replace the fluid (ideally when you replace the brake fluid).
Maintenance Schedule
The maintenance schedule in the manual is presented as one table, but really there are three lists — daily checks, the maintenance service schedule, and the list of checks to do every year as part of that service.
Daily checks
Fuel level — Ensure adequate level, check for leaks
Engine oil — Check for leaks, and ensure the level is between the lines
Drive chain — Check for correct tension and lubrication
Wheels — Check tire pressure and tread depth. Inspect for damage. Spoked rims — ensure that spokes are tensioned correctly.
Nuts / bolts / fasteners — Check they're all present, visually inspect for torque / looseness
Steering action — Check for smooth operation, and no excessive free play. Check for free movement of control cables
Brakes — Check the brake lever and pedal for correct operation and free play
Brake fluid levels — Check that they're at the right levels between max and min
Front fork — Check for smooth action, and for leaks on seals
Throttle — Check free play (2-3 mm). Ensure that it returns smoothly.
Electrical equipment — Make sure all lights and horn work
Engine stop / safety — Make sure it kills the engine
Stand — Check for correct operation and smooth return.
Service Schedule
Below is the service schedule for the Commando 961.
Notes
Continue the schedule in the pattern shown (every 6 000 miles / 10 000 km or year).
Some items need dealer tools, e.g. to check / reset ECM codes.
| km x 1000 | 0.8 | 10 | 20 | 30 | 40 | 50 | |
| --- | --- | --- | --- | --- | --- | --- | --- |
| mi x 1000 | 0.5 | 6 | 12 | 18 | 24 | 30 | Every |
| Annual service checklist (see below) — Perform all items | ✓ | ✓ | ✓ | ✓ | ✓ | ✓ | Year |
| Engine oil — Renew (2.5L, Motul 5100 10W-40) | ✓ | ✓ | ✓ | ✓ | ✓ | ✓ | Year |
| Oil filter — Renew | ✓ | ✓ | ✓ | ✓ | ✓ | ✓ | Year |
| Gearbox oil — Renew (1.2L, Motul 5100 10W-40) | ✓ | ✓ | ✓ | ✓ | ✓ | ✓ | Year |
| Spark plugs — Renew (NGK CR9EB / 6955) | | | ✓ | | ✓ | | |
| Air filter — Change | | | ✓ | | ✓ | | |
| Fuel filter — Renew | | | ✓ | | ✓ | | |
| Headstock bearing — Lubricate as required | | | | ✓ | | | |
| Cylinder head bolts — Check torque | | | | ✓ | | | |
| Brake fluid — Change (Castrol DOT 4) | | | ✓ | | ✓ | | 2 years |
| Clutch fluid — Change (Castrol DOT 4) | | | ✓ | | ✓ | | 2 years |
Norton Commando 961 Maintenance Schedule
Annual service checklist
Some items require dealer tools.
Annual service checklist
[Requires dealer tools] Engine ECM — Read DTCs and investigate as necessary
Evaporative emissions control systems — Inspect for operation and investigate if necessary
Throttle cables — Inspect & adjust
Fuel system — Inspect hoses for wear or damage
Steering — Inspect for free operation
Headstock bearings — Inspect & adjust if necessary
Front forks — Inspect for leaks & operation
Brake and clutch fluid level — Inspect
Brake pads — Inspect & replace as necessary
Minimum thickness — 1.5 mm
Brake and Clutch master & slave cylinders — Inspect for leaks & operation
Brake callipers — Inspect for leaks & operation
Drive chain — Inspect & lubricate (Replace as necessary)
Drive chain tension — Inspect & adjust
Drive chain rubbing strip — Inspect & replace as necessary
General Fixings & Fasteners — Inspect & Retorque as required
Wheels — Inspect for wear & damage
Spoked wheels (if fitted) — Inspect spokes for tension & damage
Tyres – Inspect for wear & damage
Tyre pressures — Inspect pressure & adjust as necessary
Side stand — Inspect operation & lubricate pivot as necessary
Lights and electrical systems — Inspect for correct operation
Regular Inspection Checklist
Chain maintenance
Norton recommends lubricating the chain every 200 miles and after riding in wet weather, on wet roads, or just any time the chain looks dry.
Lubricate the chain with Motul chain lubricant, taking care not to spray the rear brake.
Regularly inspect the drive chain through this procedure:
Make sure the motorcycle is on a flat surface
Hold the motorcycle upright with no weight on it.
Rotate the rear wheel by pushing the motorcycle to find the point where the chain is tightest.
Measure the total deflection of the chain midway between the sprockets
Target chain slack for the Norton Commando 961: 35 – 40 mm (1.4 – 1.6 in)
If the chain slack is out of spec, you need to adjust it.

Adjusting chain slack
To adjust the chain slack on the Norton Commando 961, follow the steps below. As when measuring chain slack, make sure that the motorcycle is on a level surface on its kickstand, in neutral, with no weight on it (no saddlebags / luggage).
Loosen the rear wheel spindle nut.
Turn the adjuster nuts to tighten (or loosen) the chain. Keep checking the chain tension to see if it has come within spec.
When you get to target slack, push the wheel into firm contact with the adjuster. Tighten the adjuster bolts to 12 Nm (9 lb-ft), and the rear wheel spindle nut to 110 Nm (81 lb-ft)
Re-check the chain slack again to make sure it's still within spec.
Wheels and Tyres
| Wheel | Tire size | Tire pressure (cold) |
| --- | --- | --- |
| Front | 120/70ZR17 M/C (58W) | 2.34 bar / 34 psi |
| Rear | 180/55ZR17 M/C (73W) | 2.62 bar / 38 psi |
Tire sizes and pressures
About the Norton Commando 961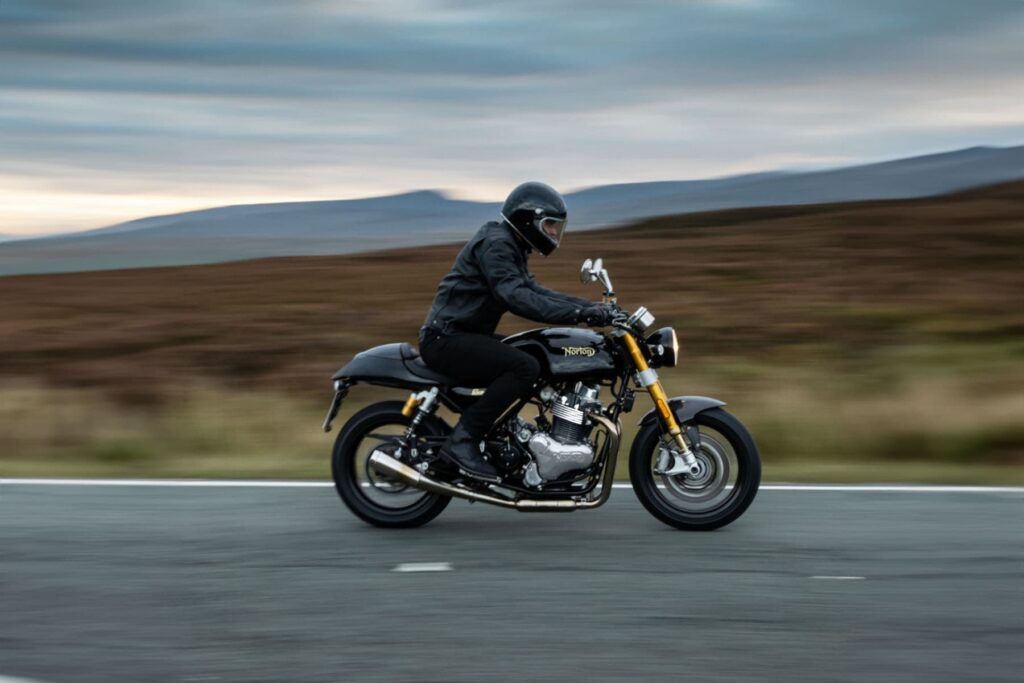 The Norton Commando 961 is a back-to-basics everyday sport bike, with as many elements as humanly possible built in a "heritage" style.
It has an air-cooled 961 cc motor that pumps out decent power, but won't have you lofting the front wheel into the air willy-nilly. It's built with pushrods and hydraulic valve lash adjusters, which means that maintenance is low, but so is peak power. (It's not to say it's slow by any means, but this bike isn't designed to be redlined through every gear.)
But what the 961 has in spades is character. Riding the Norton Commando 961 is a very different experience from riding something like the Triumph Speed Twin, for example. Whereas other more modern retro-inspired roadsters have smooth power delivery and may have various ride aids to increase safety, the 961 takes pride in its shakey, old-school vibe — a bit like an old air-cooled Ducati Monster with a Termignoni exhaust on it.
The Commando 961 does have some bits of tech, though. It has an ECU, so part of the required maintenance is checking for trouble codes. And it has ABS, to ensure it complies with modern safety requirements. But that's it! There's no cruise control, no cornering ABS, and no traction control — just you, the throttle, and the road.
Where the Norton Commando 961 hasn't held back, though, is in its level of spec. It comes Brembo radial-mounted calipers and Öhlins suspension front and rear. The suspension is fully adjustable, meaning that you can tailor its response exactly to your load and riding needs.
While the Norton Commando 961's service intervals are somewhat short at 6 000 miles / 10 000 km, one nice thing is that the presence of hydraulic valve lash mean that you should never have to service the valves. This is in contrast with all of its competition, many of whom need their valves looked at very often, which can be an annoying and/or expensive affair.
Alternatives to the Norton Commando 961
Below are motorcycles which are in the same class as the Norton Commando 961 — modern, high-spec, but retro motorcycles.
BMW R nineT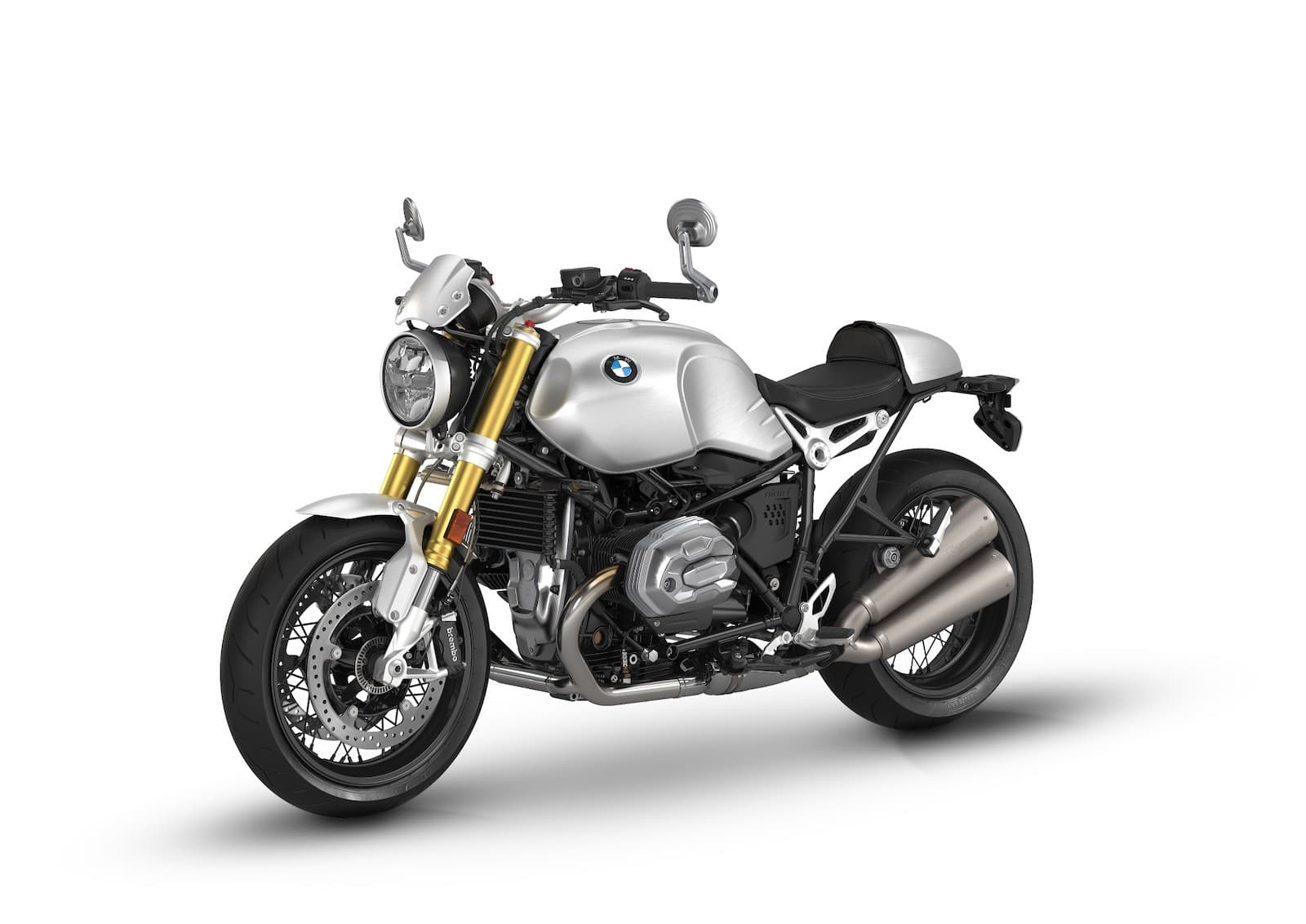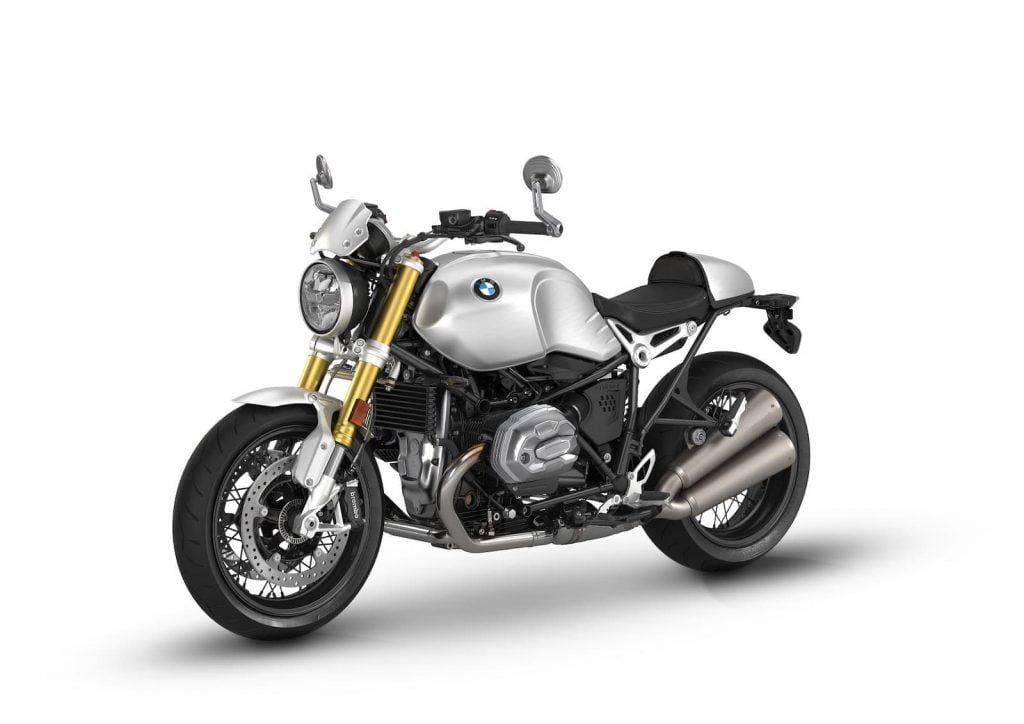 The BMW R nineT is a roadster based on the "Camhead"-series engine, a twin-cam air/oil cooled motor that BMW stopped using in its premium lines in 2015. In the R nineT it's tuned for a spritely 81 kW / 110 hp and torque everywhere! The R nineT in its latest gen is packed with high-end goodies, like nearly fully adjustable suspension and an inverted fork, cruise control, and an IMU with cornering ABS. The R nineT also has a shaft drive and single sided swingarm, making it a very low-maintenance affair. See the 2021 BMW R nineT maintenance schedule here.
Ducati Scrambler 1100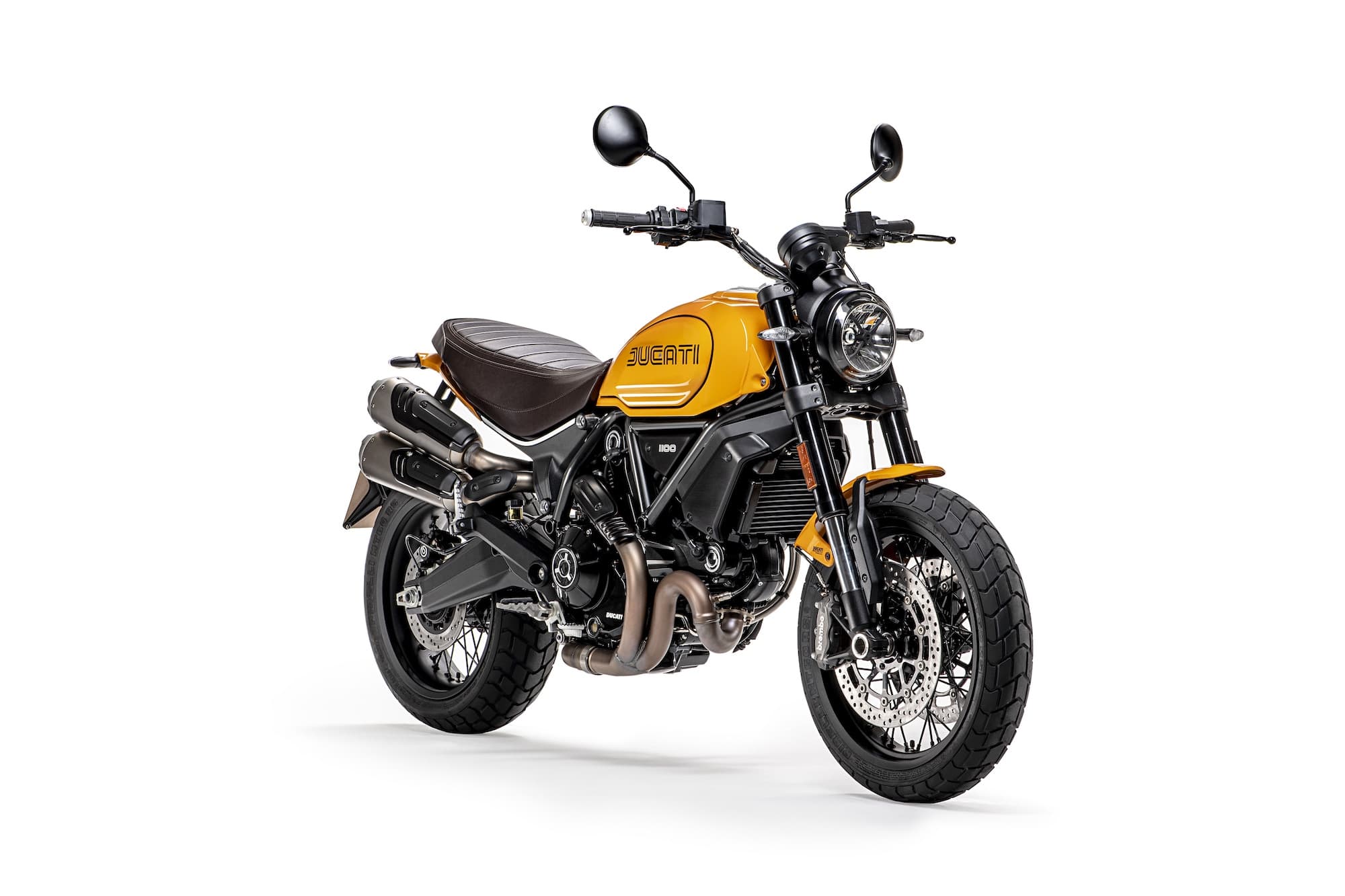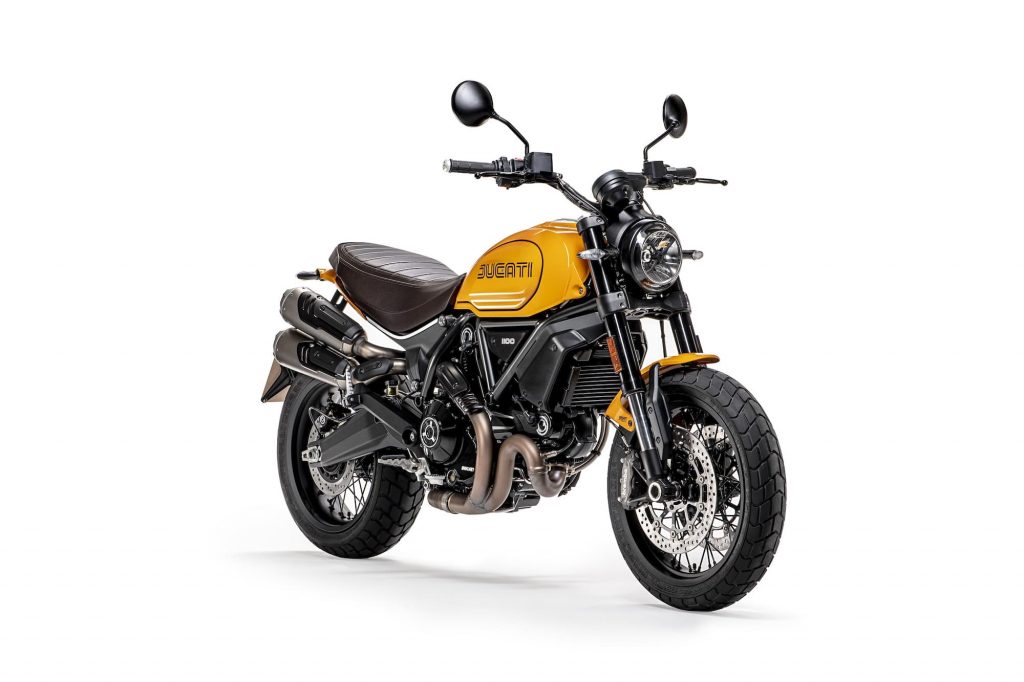 The Ducati Scrambler 1100 is a modern naked sport bike based on the Desmodue engine, a 2-valve air/oil-cooled L-twin we last saw on the Ducati Monster 1100. The engine is tuned down for torque, but the rest of the bike is high spec, with adjustable inverted fork, cornering ABS, and a very premium feel. The Scrambler 1100 comes in a number of variants, from roadsters down to "cafe racer"-esque styling.
Triumph Speed Twin 1200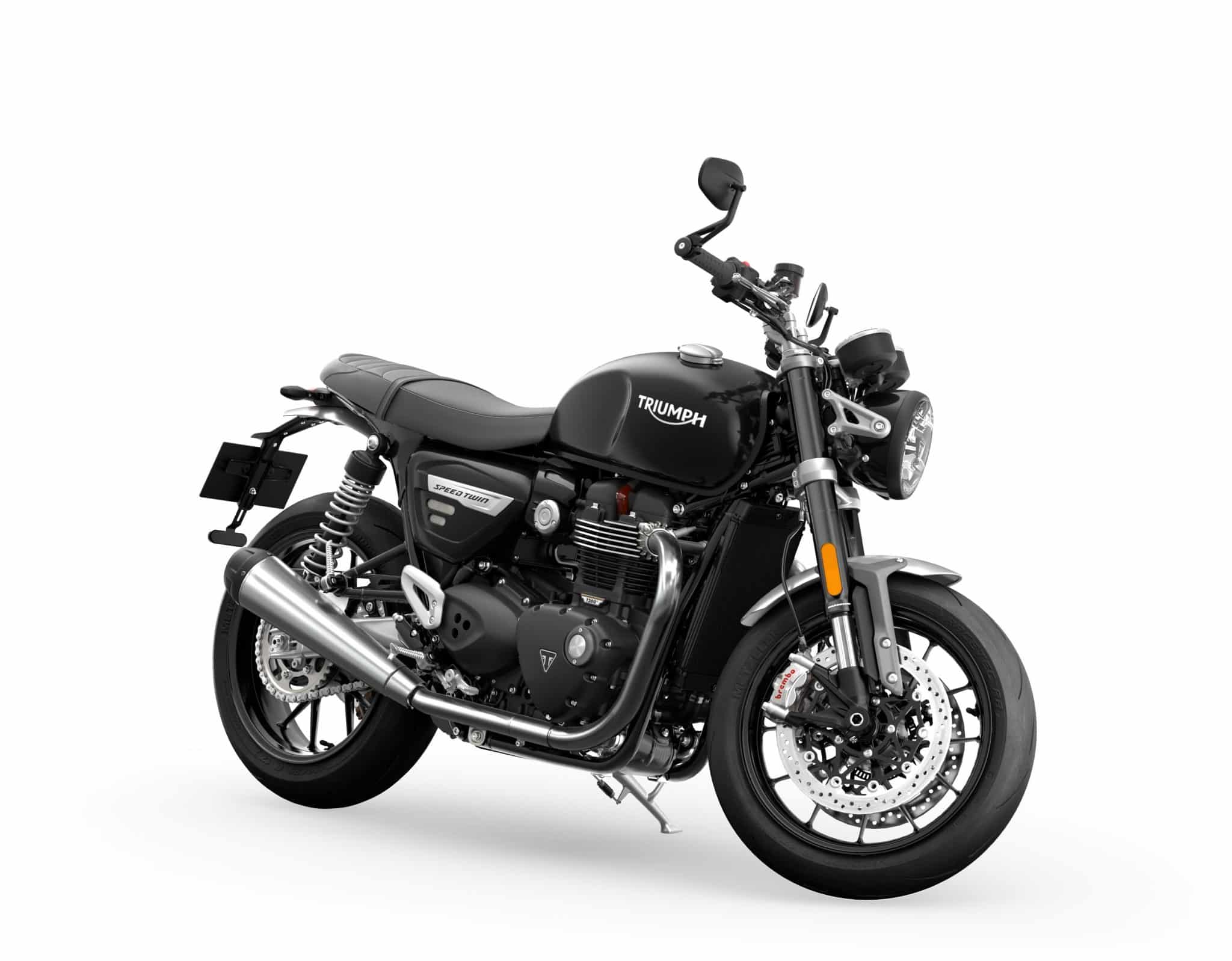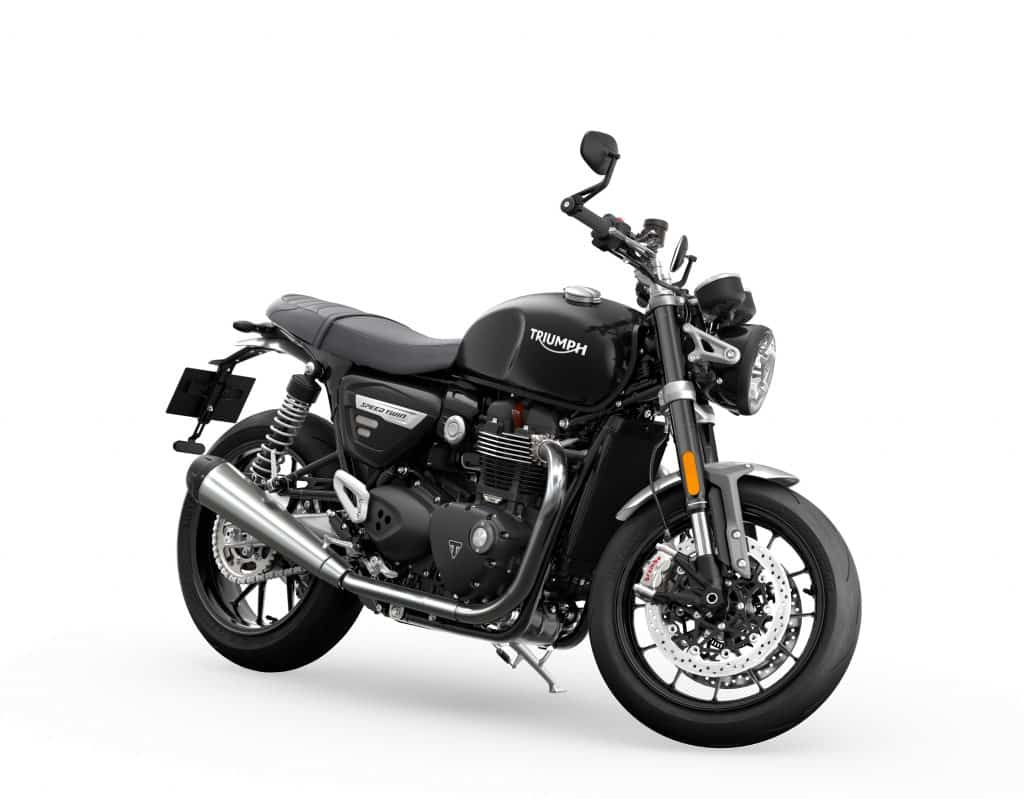 The Triumph Speed Twin 1200 is Triumph's naked roadster based on a power-optimised 1200 cc parallel twin. It's in Triumph's 1200 line of motorcycles, the Speed Twin being biased more towards sportiness — somewhere between the Bonneville and the Thruxton RS. The 2021+ model has Brembo M50 brakes and an inverted Marzocchi fork, though it's still not adjustable. There's no cornering ABS or cruise. The Thruxton RS has a sportier ride position and Öhlins suspension front and rear.
Norton Commando 961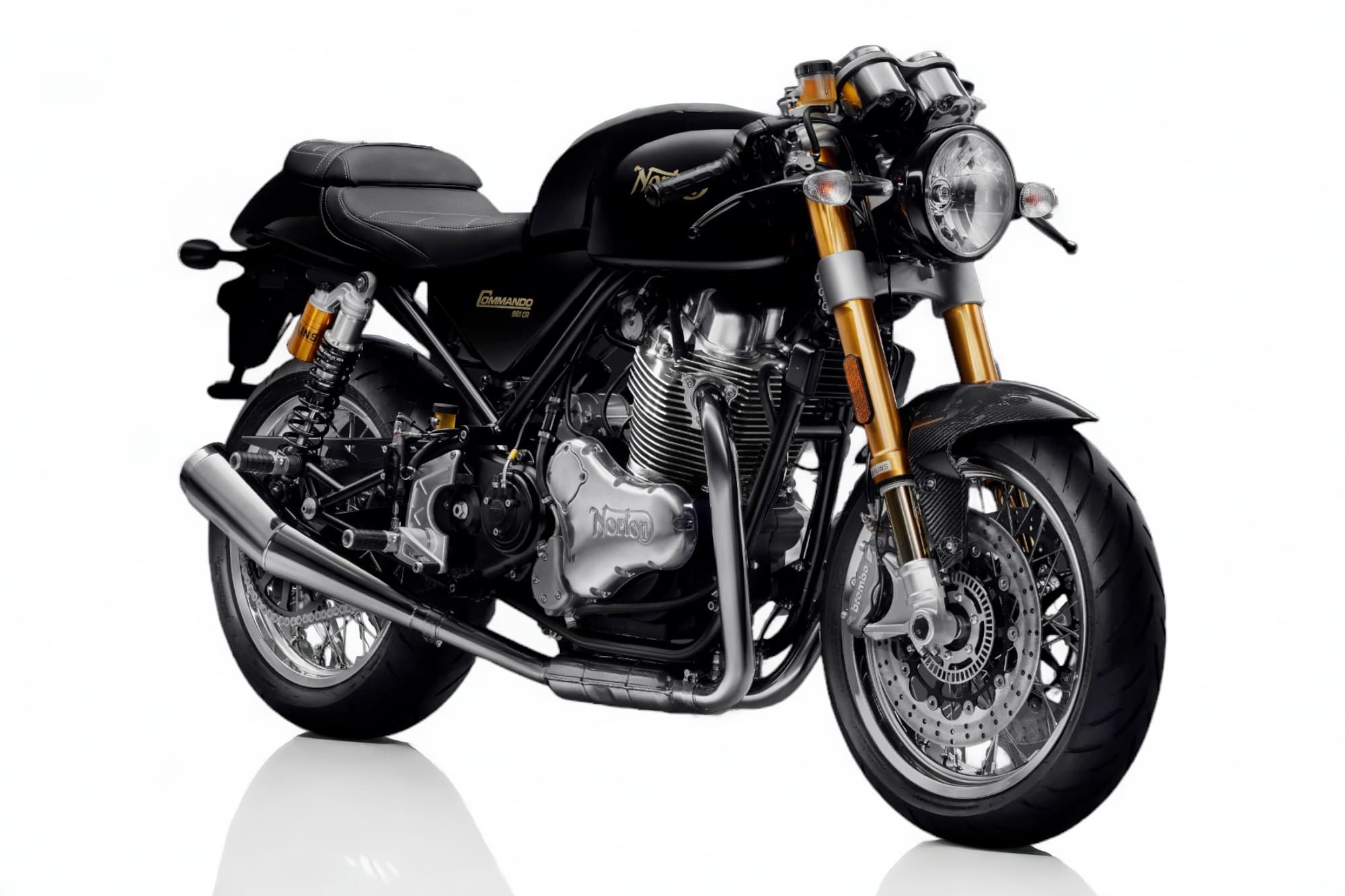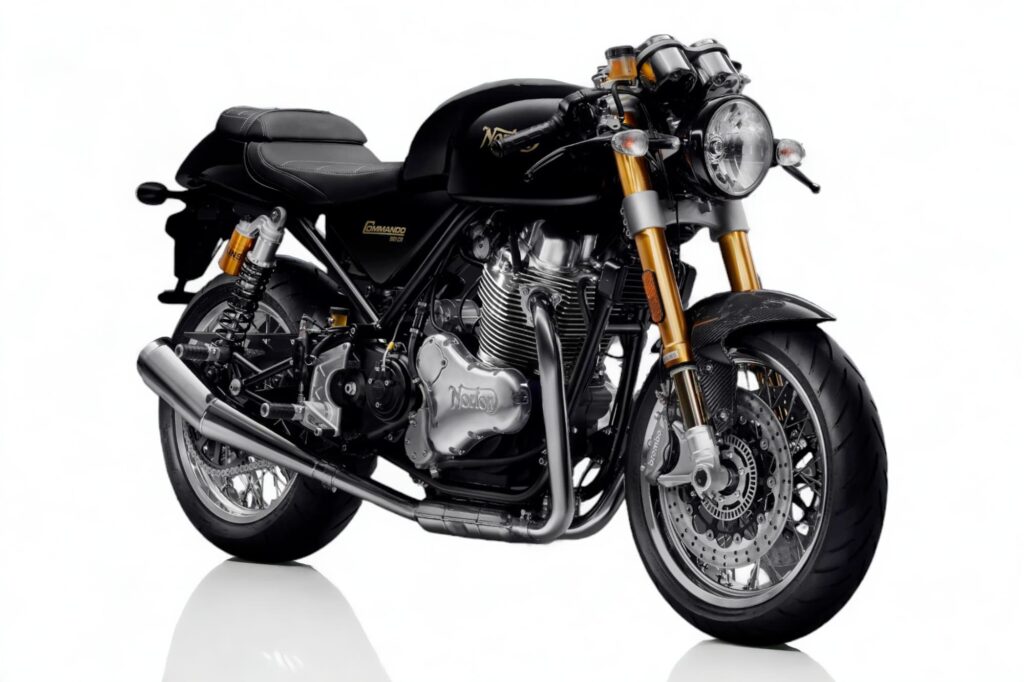 The Norton Commando 961 (2023+) is a retro roadster built by Norton under its new ownership of TVM, an Indian manufacturer. The Norton Commando 961 pairs classic good looks and an old-school pushrod-actuated engine with modern components like Brembo calipers and Öhlins suspension front and rear. The Norton Commando 961 has just enough tech to keep it street legal — ABS and emissions-regulating equipment — but doesn't pack in so much tech that it does all the riding for you, as some other bikes are wont to do.
Reference — Owner's Manual Screenshots for the Norton Commando 961
The above information came from the Norton Commando 961's owner's manual, plus from scouring the forums at Access Norton.
You can get manuals directly from Norton Motorcycles.