Honda Valkyrie Rune (NRX1800) Maintenance Schedule
This is the maintenance schedule for the Honda Valkyrie Rune, often known as the Honda Rune, and very rarely (if ever) as the NRX1800.
The Honda Valkyrie Rune is an iconic motorcycle that just doesn't go down in price, no matter how old they get or how many kilometers they put on.
The Honda Valkyrie Rune is a custom motorcycle designer's fantasy brought to life by Honda with no expense spared. It's based on the 1832cc six-cylinder flat six from the Honda Gold Wing with identical specs to the GLX1800.
The Valkyrie Rune has a diamond-shaped aluminium frame that stretches over a 175cm (69.9 in) wheelbase, the longest Honda had ever produced. The Honda Valkyrie Rune had innovative suspension front and rear and has massive disc brakes at both ends. It also has a huge front radiator and jaw-dropping design that Honda hasn't replicated since (at time of writing).
The Rune makes peak power of 86 kW (118 hp) at 5500 rpm, and a huge 167 Nm (121 lb-ft) of torque at 4000 rpm. Power goes through a 5-speed transmission and shaft drive.
The Rune was only made for a few short years, and is now a highly desirable collector's item.
This was originally published Sep 21, 2021, but has since been significantly updated.
This site has links for things like oil and spark plugs from which we earn a commission (which unfortunately nobody can save, not even us). If you appreciate this work, then please use those links. Thanks!
Honda Rune Service Intervals
One thing owners of the Rune are often concerned about is the service intensity. But servicing the Honda Valkryie Rune is much like servicing other Honda motorcylces with the flat six engine.
The Honda Valkyrie Rune has 4000 mile / 6400 km service intervals, but it only needs an oil change every 8000 miles / 12800 km.
At every oil change, also change the oil filter, and do a host of checks.
The valve services on the Rune are a whopping 32000 mi (51200 km) apart.
Servicing your Honda Valkyrie Rune
So you want to service your own 850-lb icon do you? Congratulations, brave soul!
In terms of fluids and replaceables, the Honda Valkyrie Rune doesn't use anything out of the ordinary. Here's everything you need for regular service jobs of the Honda Rune.
Part
Honda Valkyrie Rune spec
Engine oil
Honda recommends Pro Honda GN4 10W-40 or Pro Honda HP4 10W-40 or equivalent motorcycle oil that's SAE 10W-40 and meets JASO T 903 standard MA or API classification SG or higher (other than those that are energy conserving)
Oil filter
The standard oil filter is a 15410-MFJ-D02. The Hiflofiltro equivalent is an HF204RC. Torque the filter to 26 Nm (20 lb-ft)
Air filter
Part number for the air filter is 17210-MEC-003.
Coolant
Use Pro Honda HP coolant, or equivalent ethylene glycol antifreeze (with 40-60% ethylene glycol) with silicate-free corrosion inhibitors for aluminum engines (this is most motorcycle coolants).
Final drive oil
Use SAE 80 hypoid gear oil, preferably Pro Honda Shaft Drive Oil.
Spark plug
Use an NGK BKR5E-11 or Denso K16PR-U11 for normal riding, or for extended high-speed riding use an NGK BKR6E-11 or Denso K20PR-U11.

Tighten new spark plugs to 1/2 turn after it seats.
Brake fluid
Use Honda DOT 4 brake fluid.
Honda Valkyrie Rune maintenance items
Maintenance schedule for the Honda Valkyrie Rune
Maintaining the Honda Rune means following this schedule… but also a lot of polishing and cleaning!
That said, nothing is specifically different about the maintenance schedule for the Valkyrie Rune. Apart from keeping it shiny, it's fairly easy — replace the fluids regularly, do a valve check every 50000 km (30000 mi) or so, and you should be good.
Notes on the maintenance schedule
At the end of the maintenance schedule, keep repeating it in the pattern shown.
The break-in schedule is omitted because that time has well and truly passed.
| mi x 1000 | 4 | 8 | 12 | 16 | 20 | 24 | |
| --- | --- | --- | --- | --- | --- | --- | --- |
| km x 1000 | 6.4 | 12.8 | 19.2 | 25.6 | 32 | 38.4 | Notes |
| Engine oil (Pro Honda GN4 10W-40) | R | | R | | R | | |
| Engine oil filter (HF204RC) | R | | R | | R | | |
| Air cleaner | | | R | | | R | Service more frequently if ridden in dusty areas |
| Spark plugs (NGK BKR5E-11) | | | | R | | | |
| Valve clearance | | | | | | | Check every 32K mi (51.2K km) (every second plug replacement) |
| Cooling system | | I | | I | | I | |
| Radiator coolant (Pro Honda HP coolant) | | I | | I | | I | Replace every 4 years |
| Crankcase breather | C | C | C | C | C | C | Service more frequently if ridden often at full throttle or in the rain. |
| Evaporative emission control system | | | I | | | I | |
| Secondary air supply system | | I | | I | | I | |
| Fuel lines | | I | | I | | I | |
| Throttle operation | | I | | I | | I | |
| Final drive oil (Pro Honda Shaft Drive Oil) | | I | | I | | R | |
| Brake system | | I | | I | | | |
| Brake fluid (Castrol DOT 4) | I | I | R | I | I | R | Replace every 2 years |
| Clutch system | | I | | I | | I | |
| Clutch fluid | I | I | R | I | I | R | Replace every 2 years |
| Brake pad wear | I | I | I | I | I | I | |
| Brake light switch | | I | | I | | I | |
| Headlight aim | | I | | I | | I | |
| Side stand | | I | | I | | I | |
| Suspension | | I | | I | | I | |
| Wheels/tyres | | I | | I | | I | |
| Steering head bearings | | I | | I | | I | |
| Nuts, bolts, and fasteners | | I | | I | | I | |
Honda Valkyrie Rune maintenance schedule
Wheels and tyres for the Honda Valkyrie Rune
The Honda Valkyrie Rune ships with Dunlop D251 tubeless tyres standard. Many bikes are low mileage, but the tyres would be old — make sure they're till up to the task.
| Wheel | Tyre (Tire) size | Tyre (Tire) pressure |
| --- | --- | --- |
| Front | 150/60R 18M/C 67V | 36 psi (2.5 bar) |
| Rear | 180/55R 17M/C 73V | 42 psi (2.9 bar) |
Tyre sizes and pressures for the Honda Rune
About the Honda Valkyrie Rune NRX1800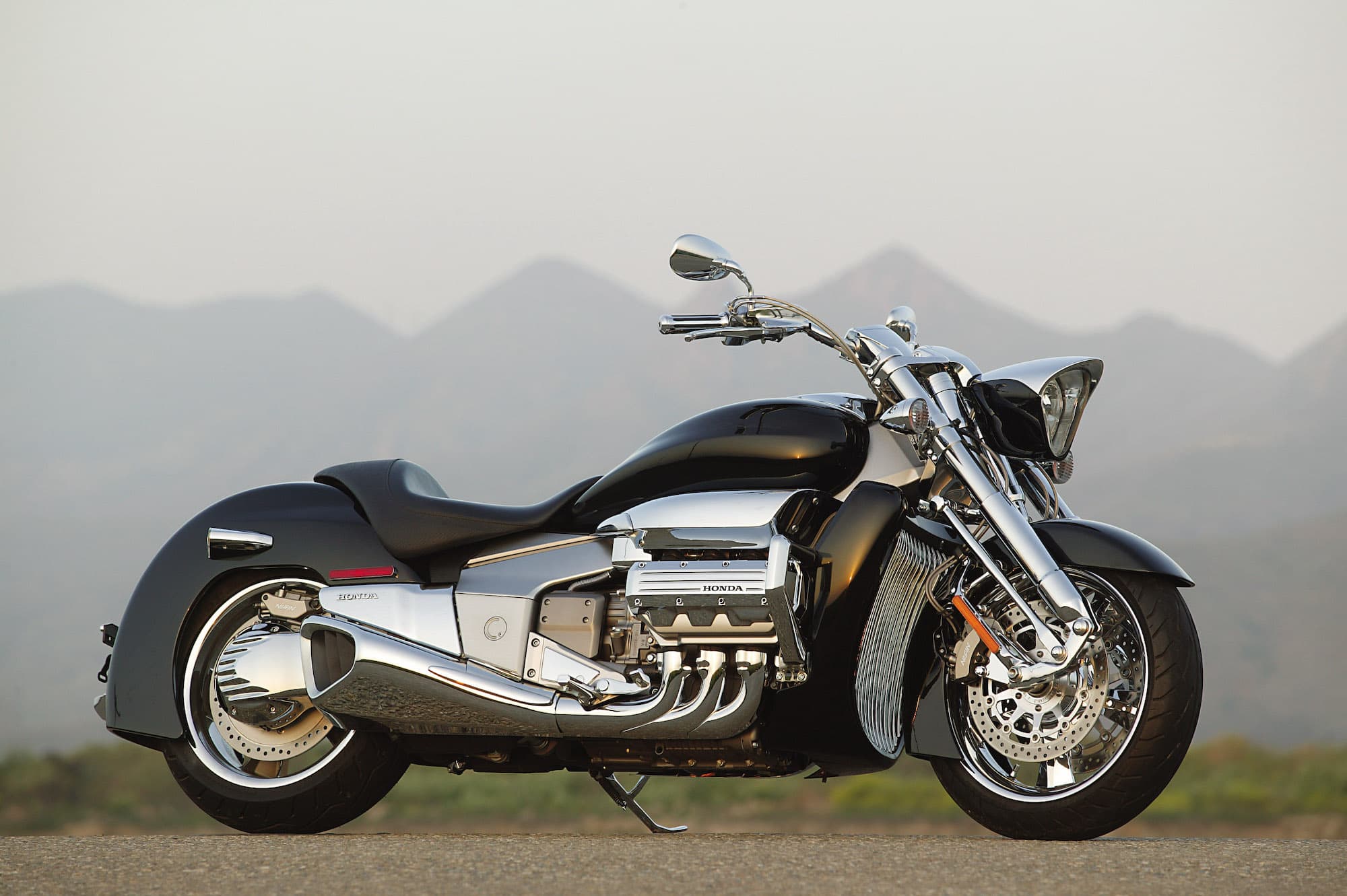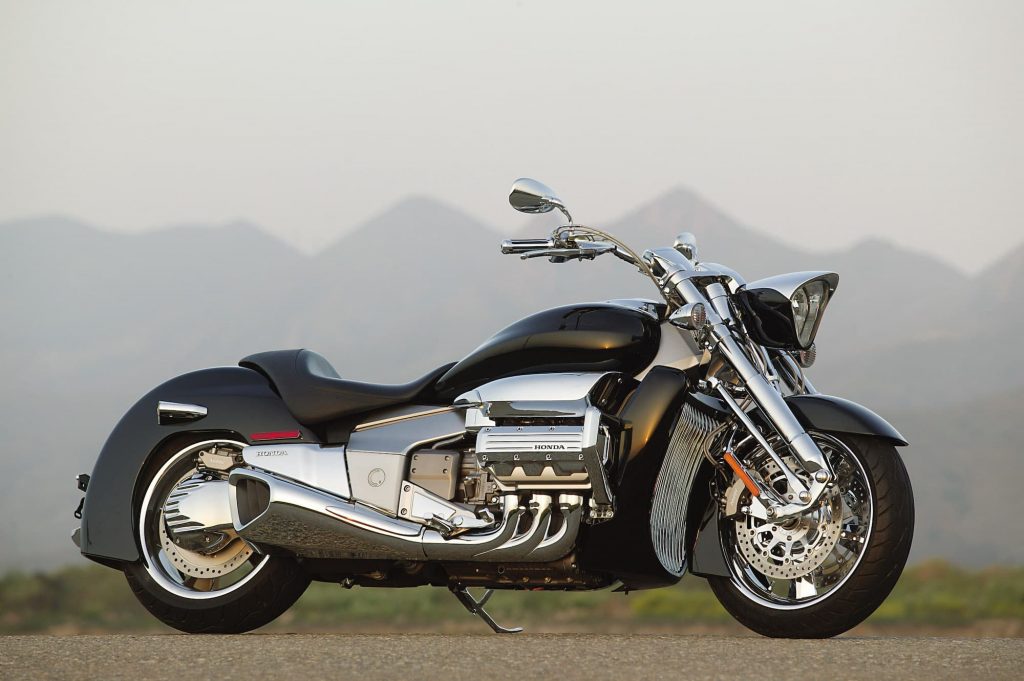 The Honda Valkyrie Rune is already the stuff of legends. It's a beautiful motorcycle to look at in the flesh and has a timeless ridiculous look that is the ultimate response to anyone who tells you that Honda makes boring motorcycles.
There's a lot that's different about the Honda Valkyrie Rune, and a lot has already been said. So I'll focus on the maintenance aspect of the Honda Valkyrie Rune.
The interesting thing about the Rune is that even though it's a big, expensive motorcycle, it's very easy to keep maintained.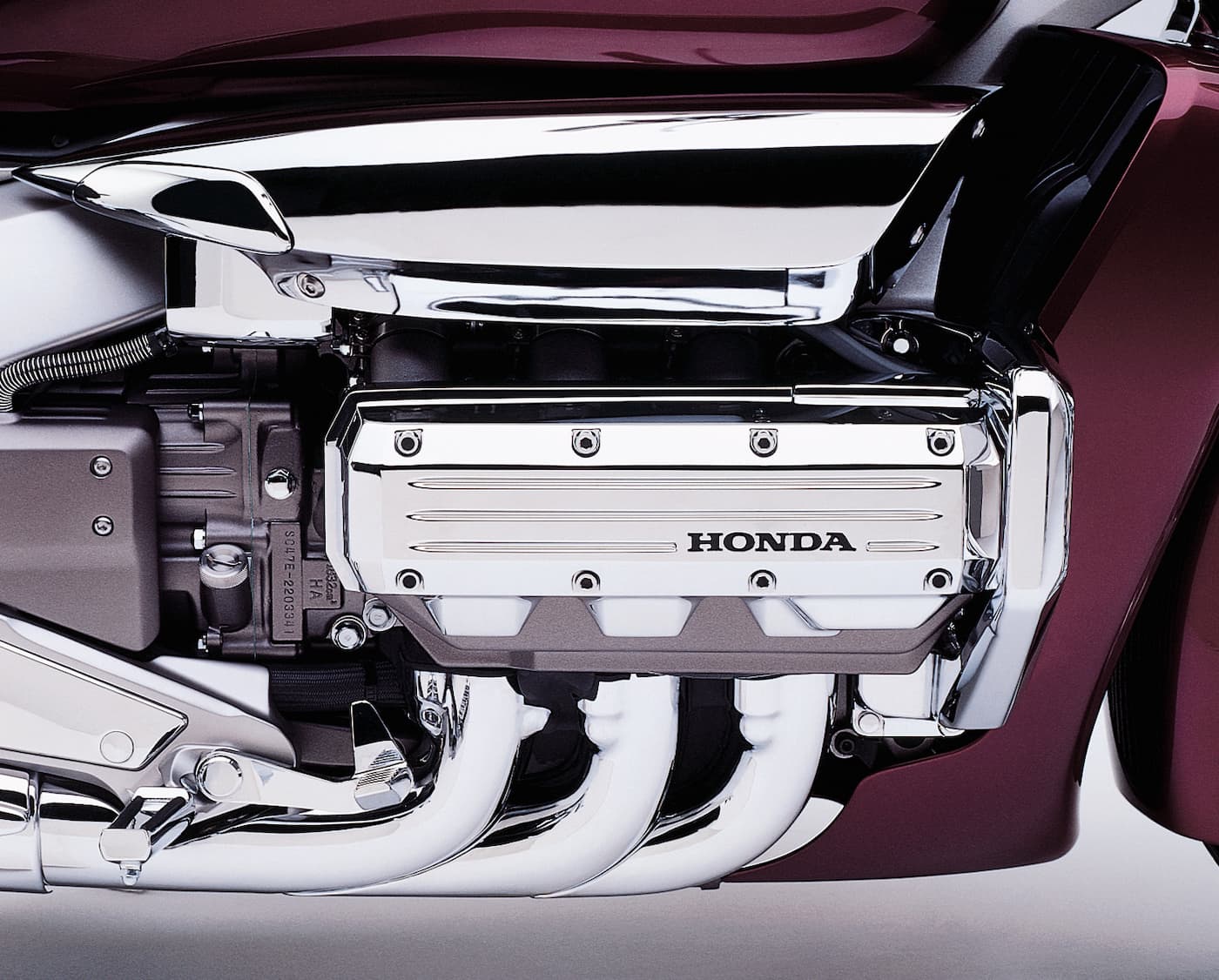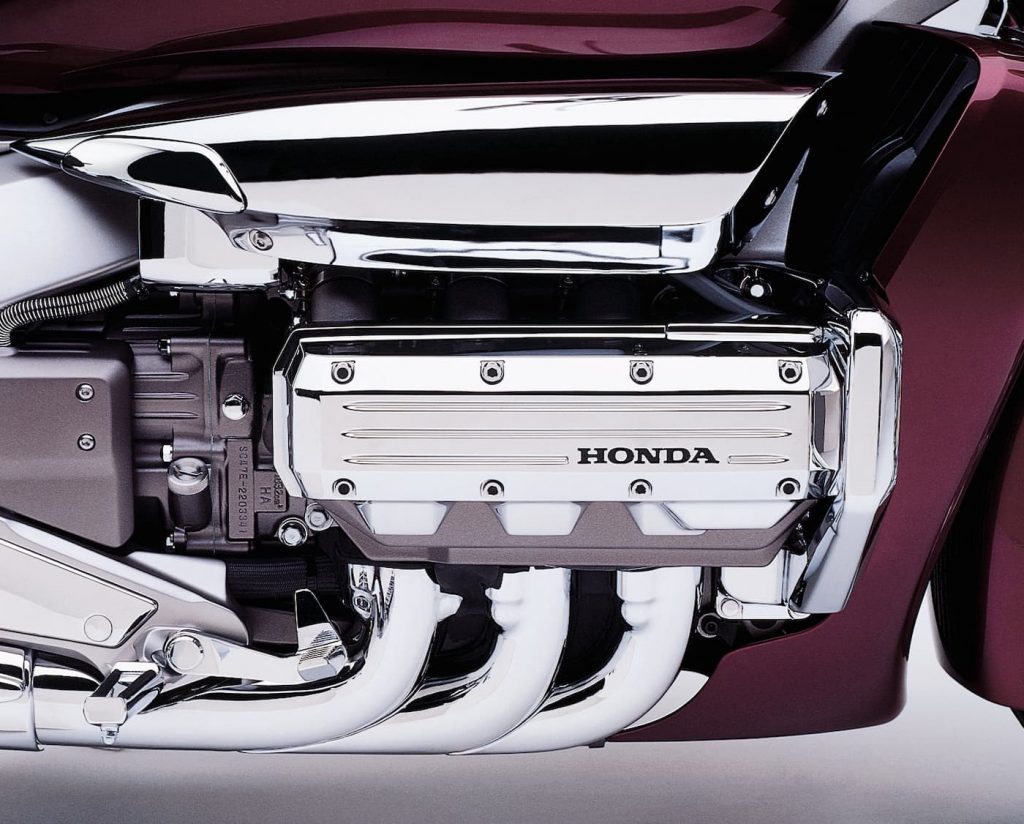 The engine of the Valkyrie Rune is the same as that in the Gold Wing. But Honda made some improvements to boost its power and torque, with these modifications:
Six 32mm throttle bodies with 12-hole injectors, replacing the two-body system used on the Gold Wing GL1800
Revised camshafts profiles, and a 6.9-liter air box
Unique six-into-two exhaust system
New 3-D fuel injection and ignition timing mapping
A closer-ratio gearbox
The result is more thrust and low-end torque at the wheel compared to the cruisier Gold Wing.
But the maintenance schedule has not changed fundamentally compared to the Gold Wing or the later 1800cc Honda Valkyrie.
On the dyno, the Valkyrie Rune made a peak of 96.3 horsepower, and 108.6 lb-ft of torque, per Rider Magazine.
The Honda Valkyrie Rune has a low-maintenance shaft drive, but you still need to change the final drive oil every 24000 miles or 38000 km. When washing your Rune, make sure you don't pressure wash the drive area — getting water into the axle is bad news.
The oil change is more often, every 8000 mi or 12800 km. You change the oil filter at the same time. You can do it with the bike on a side stand.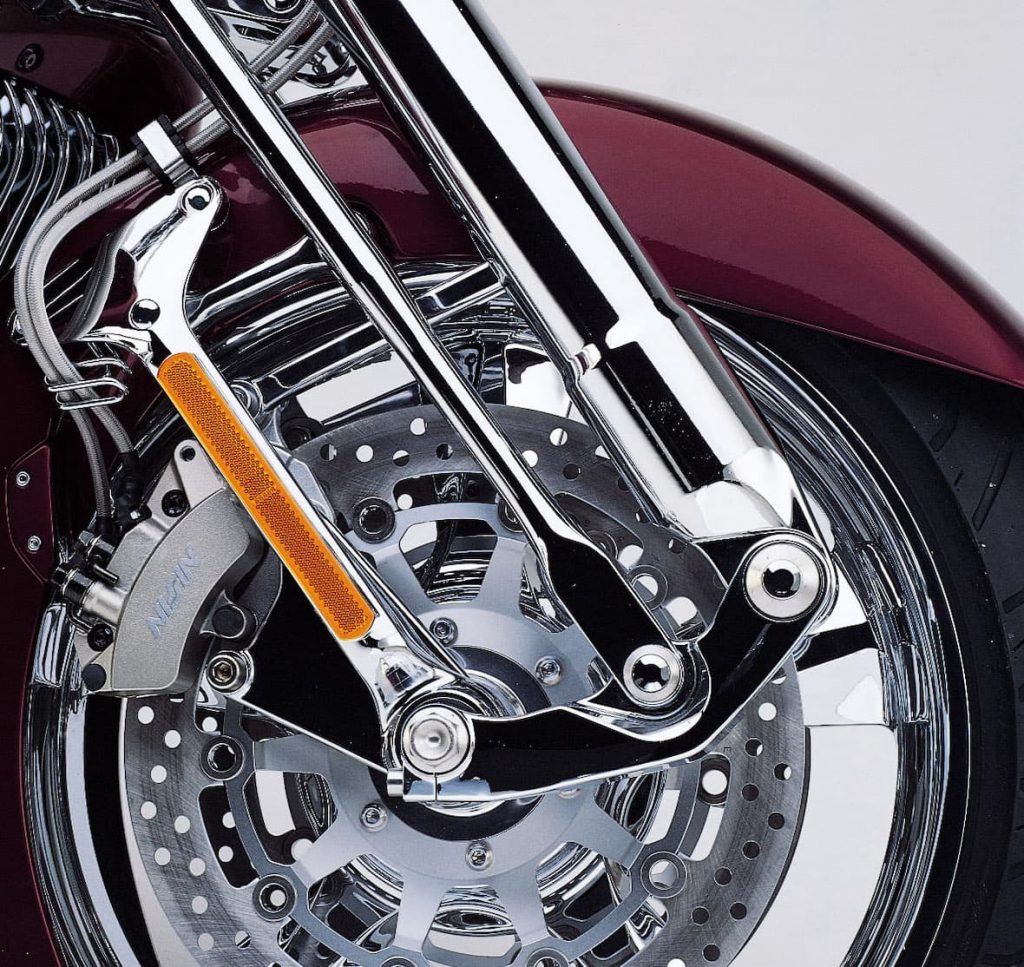 The front suspension of the Honda Valkyrie Rune is quite unusual. It is called a "trailing link" type fork and has no adjustability. The Rune's suspension is made of two pushrods that transfer the suspension load through a linkage system. The arms activate what look like shocks — but in actual fact, only the right side contains the main spring for the suspension, and the left shock handles damping duties (with also a lighter weight sub-spring).
You don't have to ride or adjust the front suspension any differently to any other bike. However, if you crash it and break the trailing link parts, you may have some trouble finding replacements.
Manual for the Honda Valkyrie Rune
The above came from the manual for the 2004 Honda Valkyrie Rune, consulting parts diagrams and the service manual for specs of consumables.
You can get the service manual for the Honda Valkyrie Rune from eBay here.
An archive copy of the owner's manual is below.