Honda Rebel 1100 (2021+) Maintenance Schedule & Service Intervals
This is the full maintenance schedule and service intervals for the Honda Rebel 1100, also known as the CMX1100.
The Honda Rebel 1100 is a big sibling to the Honda Rebel 500 (CMX500), using similar styling and riding position, but an all-new chassis and an engine borrowed from the Honda Africa Twin 1100, but detuned somewhat.
So the Rebel 1100 is powered by a 1084cc liquid-cooled single cam parallel twin with a 270-degree crank. It has a heavier flywheel, less aggressive camshafts, and overall gentler tuning than the CRF1100L, meaning it puts out 64 kw (86 hp).
This site has links for things like oil and spark plugs from which we earn a commission (which unfortunately nobody can save, not even us). If you appreciate this work, then please use those links. Thanks!
What you need to service your Honda Rebel 1100
Aside from basic motorcycle maintenance tools, here's what you need to service your Rebel 1100.
| Part | Honda Rebel 1100 spec |
| --- | --- |
| Oil | Honda requires SAE 10W-30 with API classification SG or higher or JASO T 903 standard MA oil. Honda suggests Pro Honda GN4. |
| Oil filter | Honda uses the standard oil filter 15410-MFJ-D02 used in many Honda motorcycles. A high-quality substitute is the Hiflofiltro HF204RC. |
| DCT oil filter | On DCT models you have to periodically replace the filter. Use part 15412-MGS-D21 or replace it with a Hiflofiltro HF117. |
| Air filter | Honda part number is 17210-MLA-A00 for the air cleaner. |
| Spark plug | The manual requires an NGK SILMAR8A9S spark plug. |
| Coolant | Honda recommends Honda Coolant, which is based on ethylene glycol (and is affordable and good). |
| Brake fluid | You can use any DOT 4 fluid, but you may as well use Honda DOT 4. |
| Chain maintenance | Clean and lube the chain with Motul chain paste — low mess, highly effective, well-liked. |
| General lubrication | Use a lithium soap-based grease for general lubrication — bearings, pivot points, etc. |
Honda Rebel 1100 maintenance parts
Maintenance schedule for the Honda Rebel 1100
Below is the full maintenance schedule from the manual for the Honda Rebel 1100 (CMX1100), adapted for web page display.
Difficulty levels (Diff): Honda gives an indication of the "user serviceability" of each item in the manual. They use a wrench logo in the manual which we've translated to X and XX.
X: Intermediate. "We recommend service by your dealer, unless you have the necessary tools and are mechanically skilled". Use a service manual.
XX: Technical. "In the interest of safety, have your motorcycle serviced by your dealer." (These are still doable, often.)
Legend for maintenance schedule:
I: Inspect (clean, adjust, lubricate, or replace, if necessary)
R: Replace
L: Lubricate
C: Clean
Notes:
At higher odometer readings, repeat at the frequency interval established below.
Honda recommends you get steering and wheels / tyres serviced by a professional for safety reason
x 1000 mi
0.6
4
8
12
16
20
24
x 1000 km
1
6.4
12.8
19.2
25.6
32
38.4
Every
Fuel Line
I
I
I
Throttle Operation
I
I
I
Air Cleaner
R
R
More often if riding in dusty / wet conditions
Crankcase Breather [CCB]
C
C
C
C
C
C
More often if riding in rain / at full throttle
Spark Plug (SILMAR8A9S)
I
32K mi (51.2K km): R
Valve Clearance
I
Engine Oil (Pro Honda GN4)
R
R
R
R
1 year: R
Engine Oil Filter (HF204RC)
R
R
Clutch Oil Filter (DCT) (HF117)
R
R
Engine Idle Speed
I
I
I
Radiator Coolant (Honda Coolant)
I
I
I
3 Years: R
More often when riding off-road
Cooling System
I
I
I
Secondary Air Supply System
I
Evaporative Emission Control System (CA only)
I
Brake Fluid (Honda DOT 4)
I
I
I
I
I
I
2 years: R
More often when riding off-road
Brake Pads Wear
I
I
I
I
I
I
Brake System
I
I
I
Brake Light Switch
I
I
I
Brake Lock Operation
I
I
I
I
I
I
Headlight Aim
I
I
I
Clutch System (non-DCT)
I
I
I
I
I
I
Side Stand
I
I
I
Suspension
I
I
I
Nuts, Bolts, Fasteners
I
I
I
Wheels/Tires
I
I
I
I
I
I
Steering Head Bearings
I
I
I
Maintenance schedule for the Honda Rebel 1100 (CMX1100)
Maintaining Your Chain on the Honda Rebel 1100
It's important to maintain your chain on the Rebel 1100, as on any chain-driven motorcycle. Use a good-quality chain lubricant like Motul chain paste, or a Motul chain care kit which comes with a couple of handy tools to maintain the chain.
Honda recommends you follow the following chain maintenance schedule:
| Chain maintenance item | Every |
| --- | --- |
| Check drive chain lubrication condition, lubricating if necessary | 600 mi / 1000 km |
| Check drive chain slack, adjusting if necessary | 600 mi / 1000 km |
Chain maintenance — Honda Rebel 1100
Notes:
Do these items (checking/adjusting slack, and checking/applying lubrication) more often if you ride your Rebel 1100 in dusty or rainy conditions.
Always lubricate the chain after washing the motorcycle.
Tyre sizes and pressures for the Honda Rebel 1100
The Honda Rebel 1100 has the following tyre sizes and pressures. It runs tubeless tyres. It ships with Dunlop D428 tyres.
| Wheel | Tyre size | Tyre pressure (cold) |
| --- | --- | --- |
| Front | 130/70B18M/C 63H | 33 psi (225 kPa, 2.25 bar) |
| Rear | 180/65B16M/C 81H | 33 psi (225 kPa, 2.25 bar) |
Tyre sizes and pressures for the Honda Rebel 1100
Yes, the Rebel 1100 has the same recommended tyre pressure front and rear, unlike many sport bikes.
About the Honda Rebel 1100 (CMX 1100)
The Rebel 1100 is kind of a new concept for Honda… and for motorcycling in general.
Honda is no stranger to cruisers. It has been building them for many years. But like most cruisers inspired by the Harley-Davidson aesthetic, they've typically been big bore (or medium bore, in the case of the Shadow) V-twins — high on aesthetic, but low on tech.
The Rebel series has also always been predominantly small motorcycles. The Honda Rebel was, for three decades or so, a 250cc mini cruiser that was favoured by many for being an awesome bike to start on. It was replaced by the Rebel 300 single-cylinder bike in modern times.
But the Rebel 1100 is a weird blend of those two things, plus others. What makes the Rebel 1100 stand out are these features
It's a cruiser… but it doesn't sit so low to the ground that it has very limited ground clearance compared to other cruisers. Honda says the Rebel 1100 has a max lean angle of 35 degrees. It has more clearance than the Indian Scout, for example, an already quite sporty bobber (29 degrees). (And as you lean, every degree feels like exponentially more… for an extreme example, degrees 45-90 feel much more intense than the first 0-45)
The Rebel 1100 comes with optional DCT (Dual Clutch Transmission), which is Honda's very refined, responsive, and almost unique to Honda automatic transmission. (MV Agusta has a competing tech).
It has a parallel-twin engine, like the Rebel 500, but like very few other cruisers (notably the Kawasaki Vulcan S), and no other big-bore cruisers. And unlike other cruisers, the Rebel 1100's parallel-twin engine has a 270-degree crank.
The feet are forward, but not as far forward as on a big lounge-chair like Dyna. They're "mid controls".
The weight is quite low for a cruiser, bringing it into "standard" or "commuter" territory. Even the DCT (automatic) model is 231kg wet, and the manual model is even lighter at 221 kg wet. This is much closer to the Triumph Speed Twin (about 216kg), a sporty bike, than to the Triumph Bonneville Bobber (about 250kg), with which the Honda Rebel 1100 is meant to compete.
The tech level is high. The Rebel 1100 comes standard with cornering ABS via a six-axis IMU and cruise control!
So the Honda Rebel 1100 isn't trying to be a Harley-Davidson or even trying to be anything. It follows its own aesthetic and is charting its own path.
In the US, another very appealing part of the Rebel 1100 is the pricing. Considering everything you get with it, the Rebel 1100 is cheap! The MSRP is $9,299 for the manual model and $9,999 for the DCT model — a lot cheaper than the Africa Twin CRF1100L from which it borrows its engine, and amazing value considering everything you get with it. Unfortunately those prices aren't so low when they reach foreign shores, but they're still not so bad.
The 1084 cc parallel twin engine has some significant changes to how it is in the Africa Twin.
The flywheel is 20% heavier, which results in 32% more spinning inertia
The valve timing and lift have been modified, enhancing the low-down torque, at a cost of a bit of top-end power
There are changes to the intake and exhaust (necessary on the different frame)
The resulting engine has a very linear spread of torque from as low as 2500 rpm all the way up to the 8000 rpm redline.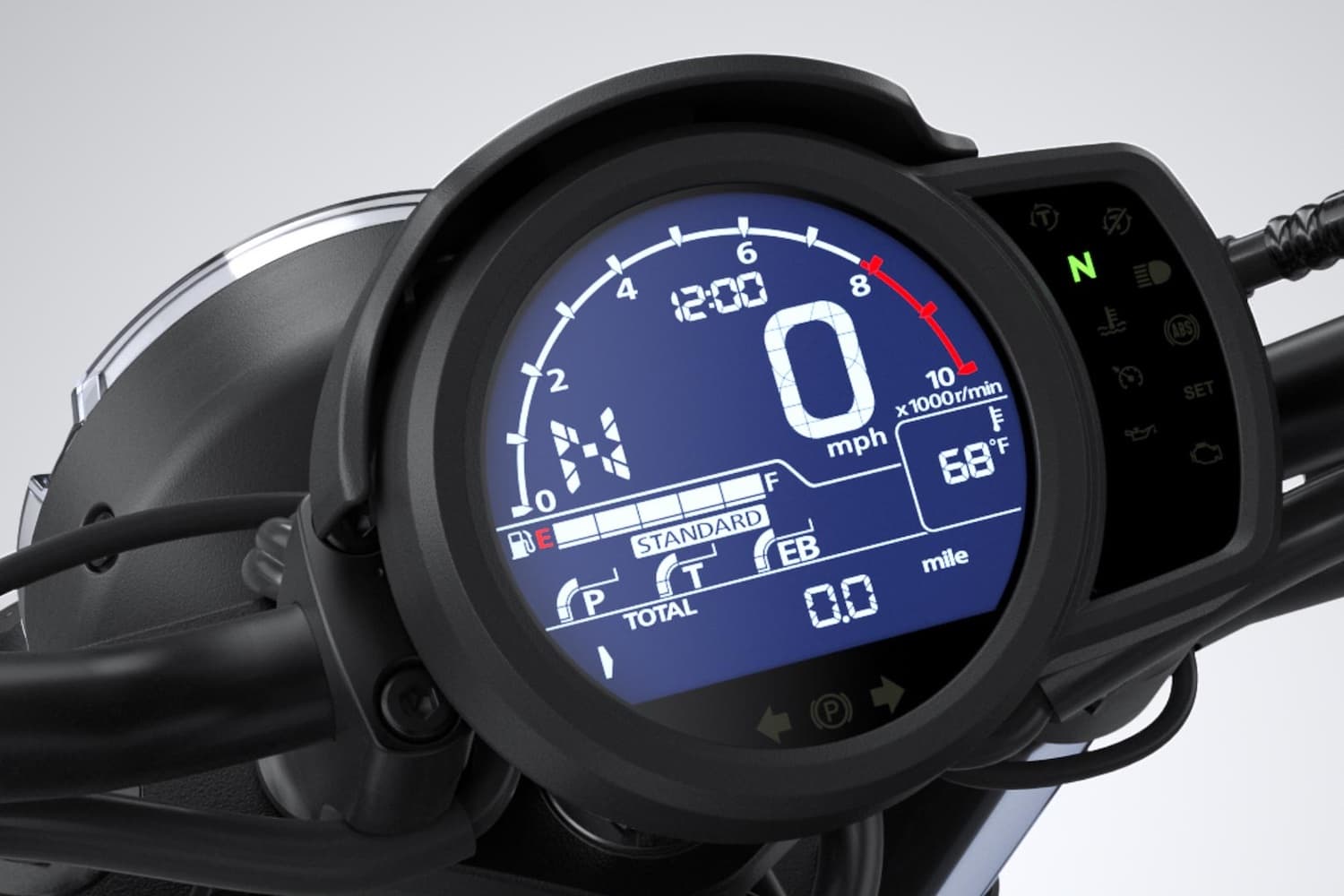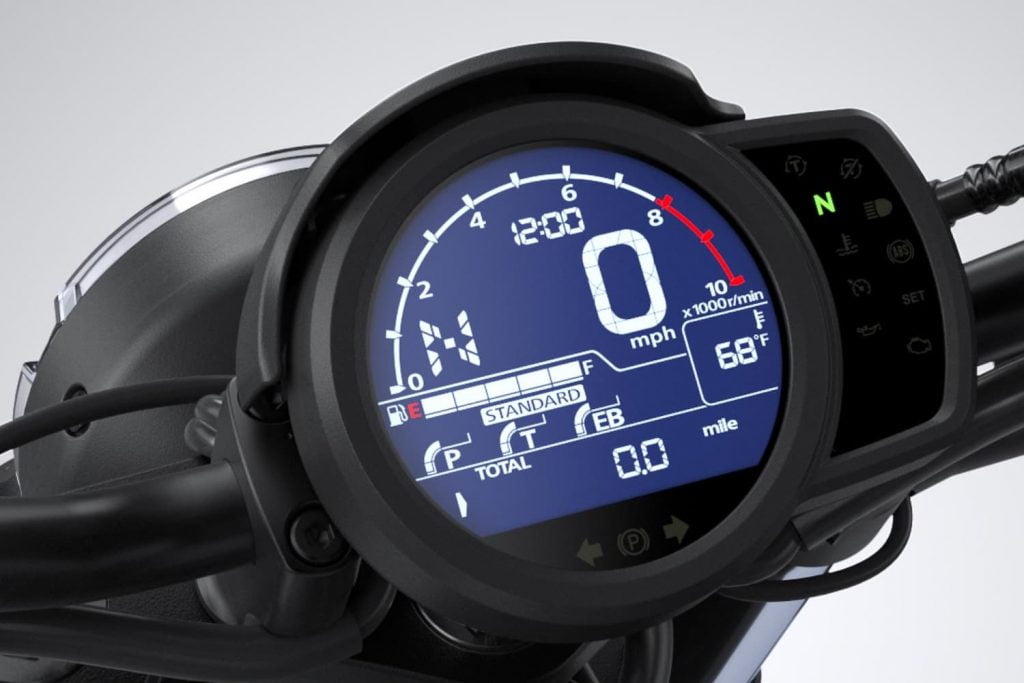 The suspension on the Honda Rebel 1100 is pretty basic, with only preload adjustment front and rear (no damping, neither compression nor rebound).
If you're looking for a similar setup but with a sport touring chassis, then you should look at the Honda NT1100 — same engine, very similar ride gear, but fairings and luggage.
Reference — Maintenance Schedule for the Honda Rebel 1100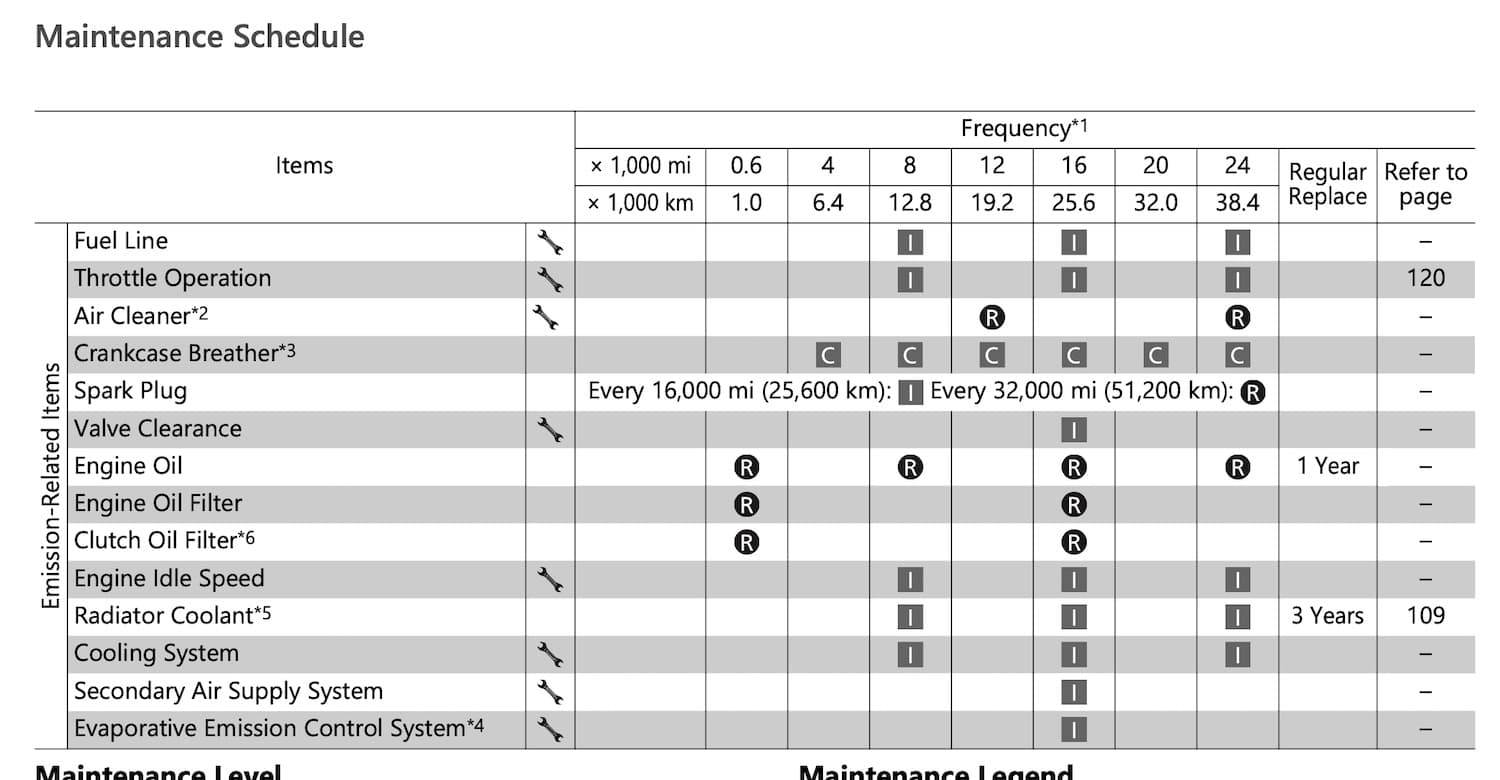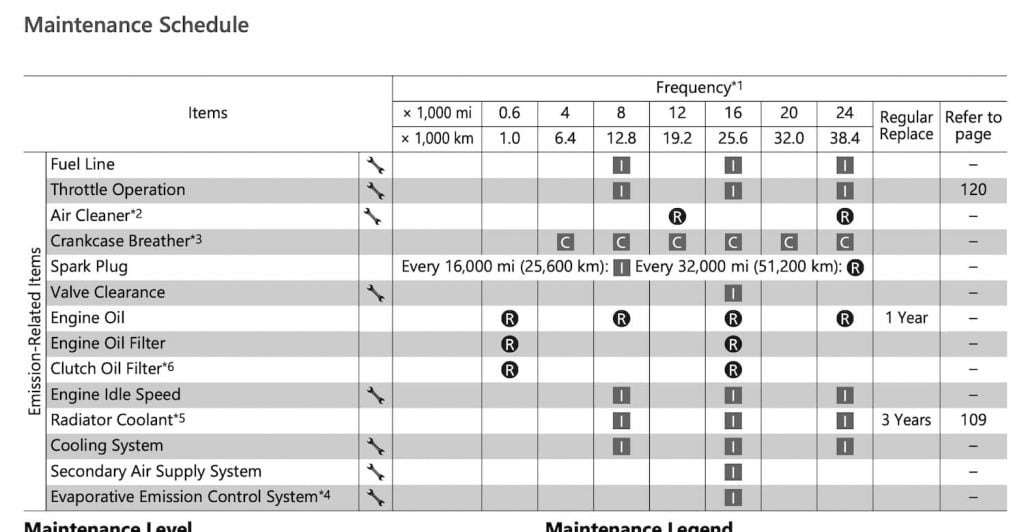 This maintenance schedule was sourced from the manual for the Honda Rebel 1100. You can get it here.