Honda Africa Twin CRF1100L (2020+) Maintenance Schedule and Service Intervals
This is the maintenance schedule and associated service intervals for the Honda Africa Twin CRF1100L, released in 2020, replacing the original and already iconic 2016-2019 Africa Twin CRF1000L.
The maintenance is the same between the standard Africa Twin, the DCT, the Adventure Sports, and the Adventure Sports DCT models. The maintenance schedule also shares a lot with the 2021+ Honda Rebel 1100, with which the CRF1100L shares an engine (albeit detuned for the Rebel).
The original Honda Africa Twin CRF1000L really carved itself a niche in the adventure tourer market scene in 2016 when it was launched. The CRF1100L expanded on this, adding more midrange, a more fun motor (and the original was already fun!), and a ton of rider aids like cornering ABS and cruise control.
The Africa Twin is a modern classic — a true alternative to the BMW R 1200 GS, an on-road and off-road bike that you can use to ride around the world.
This site has links for things like oil and spark plugs from which we earn a commission (which unfortunately nobody can save, not even us). If you appreciate this work, then please use those links. Thanks!
What you need to service the Honda Africa Twin CRF1100L
When servicing the Africa Twin, apart from standard motorcycle maintenance tools, you'll need the following consumables:
| Part | Honda Africa Twin CRF1100L spec |
| --- | --- |
| Oil | Honda recommends SAE 10W-30, JASO T 903 standard MA with an API classification of SG or higher, like Pro Honda GN4 10W-30. Use a torque wrench to tighten the bolt to 30 Nm (22 lb-ft). |
| Clutch oil filter | For DCT models, you have to regularly change the clutch oil filter. Part number is 15412-MGS-D21, and you can also use Hiflofiltro part number HF117. |
| Oil filter | Honda's standard part number for the oil filter is 15410-MFJ-D01, or use Hiflofiltro HF204RC for an affordable, high-quality drop-in replacement oil filter.. Use a torque wrench to tighten it to 26 Nm (19 lb-ft). |
| Chain maintenance | Maintain your chain with a Motul chain care kit or Motul chain paste, both of which have many glowing reviews. Honda recommends their own brand of lube. |
| Air filter | The OEM air filter part is 17210-MKS-E00. |
| Spark plugs | Use NGK spark plug part SILMAR8A9S. Use a gapping tool to set the gap to 0.8-0.9mm. You need four. |
| Brake fluid | You can use any DOT 4 oil, but Honda recommends Honda DOT 4. |
| Brake pads (front) | OEM front brake pads are part number 06455-MKK-D01. Alternative EBC double-hardened front brake pads have part number FA679HH. |
| Brake pads (rear) | OEM rear brake pads are part number 06435-MEJ-026. Alternative EBC double-hardened rear brake pads have part number FA174HH. |
| Coolant | Use Honda Long-life Coolant, which is based on ethylene glycol (50-50 premix). |
| Grease | Use lithium soap-based grease for external pivot points and bearings. |
Consumables for maintaining the CRF1100L Africa Twin
Honda Africa Twin CRF1100L Maintenance Schedule
Below is the maintenance schedule for the Honda Africa Twin CRF1100L.
The maintenance schedule covers DCT and non-DCT — see the notes where relevant. The main things that are different are treatment of the clutch and of the brake lock.
Maintenance Legend
I: Inspect (clean, adjust, lubricate, or replace, if necessary)
R: Replace
L: Lubricate
C: Clean
Notes:
At higher odometer readings, repeat at the frequency interval established here.
Where a distance and time-based interval are both specified, follow the earlier of the two.
mi x 1000
0.6
4
8
12
16
20
24
km x 1000
1
6.4
12.8
19.2
25.6
32
38.4
Every
Engine Oil (Pro Honda GN4 10W-30)
R
R
R
R
1 year
Engine Oil Filter (HF204RC)
R
R
Air Cleaner (17210-MKS-E00)
R
R
More often when riding in wet / dusty reas
Spark plug (Inspect, Replace)
I
Replace every 32000 mi / 51200 km
Valve Clearance
I
Cooling System
I
I
I
Radiator Coolant (Honda Long-life Coolant)
I
I
I
3 Years
Brake Fluid (Honda DOT 4)
I
I
I
I
I
I
2 years
Brake pads wear
I
I
I
I
I
I
Brake system
I
I
I
Brake light switch
I
I
I
Brake lock operation (DCT model)
I
I
I
I
I
I
Throttle Operation
I
I
I
Fuel Line
I
I
I
Clutch Oil Filter (DCT)
R
R
Engine Idle Speed
I
I
I
Inspect & lubricate drive chain
600 mi (1000 km)
(More often when riding off-road)
Drive Chain Slider
I
I
I
I
I
I
Clutch system (non DCT)
I
I
I
I
I
I
Side Stand
I
I
I
Suspension
I
I
I
Nuts, Bolts, Fasteners
I
I
I
More often when riding off-road
Wheels/Tires
I
I
I
I
I
I
More often when riding off-road
Steering Head Bearings
I
I
I
Headlight aim
I
I
I
Spark Arrester (if fitted)
C
C
C
C
C
C
Secondary Air Supply System
I
Crankcase Breather
C
C
C
C
C
C
More often when riding in rain / at full throttle
Evaporative Emission Control
I
Honda CRF1100 Africa Twin maintenance schedule
Tyre size and tyre pressure for the Honda Africa Twin CRF1100L
The Honda Africa Twin CRF1100L has the following tyres and tyre sizes standard:
Tyre
Size
Tyre pressure
Front
90/90-21M/C 54H
33 psi (225 kPa, 2.25 kgf/cm2)
Rear
150/70R18M/C 70H
36 psi (250 kPa, 2.50 kgf/cm2) (solo)
41 psi (280 kPa, 2.80 kgf/cm2) (2-up)
Tyres and tyre pressures
For the CRF1100L, the standard model has tubed tyres, and the Adventure Sports model has tubeless tyres. The tyres the Africa Twin ships with are:
Tubed: Bridgestone Battlax AdventureCross Tourer AX41TF
Tubeless: Metzeler Karoo Street
About the Honda Africa Twin CRF1100L
The Africa Twin has gushing praise from just about everyone that owns it, and this has been the case ever since the (re)launch of the Africa Twin in 2016, as the CRF1000L.
In 2020, when Honda released the similar-but-much-improved Honda Africa Twin CRF1100L, it was also received with gushing praise. It has more power, more torque, and less weight — what more could you want?
There was very little that was "wrong" with the earlier model. If you wanted to be difficult, you could say that the earlier AT had tubed tyres where it should have had tubeless ones (at least as an option), deserved better rider aids to compete with big BMWs, and had spokes that gave way to rust a little too easily.
Honda fixed all this with the 2020 Africa Twin CRF1100L. And they fixed something nobody had complained about — the engine.
The Africa Twin CRF1100L (which needs its full name because the engine did increase in displacement) is still an adventure tourer that can do decent dirt time if you ask it of it.
But the engine has been boosted from 998 cc to 1084 cc, with stroke lengthened out from 75.1mm to 81.5mm. The claimed peak power is around 75 kW or 100 hp, with 105 Nm (77 lb-ft) of torque peaking at 6250 rpm.
The higher displacement in the 2020 Honda Africa Twin CRF1100L is partly because of emissions regulations. Restricting the bike means that increasing displacement is the only viable path forwards to keeping the bike competitive compared with the previous model.
The difference is stark. You can see more torque through the ENTIRE rev range. It sounds nicer, too; but of course, as an emissions-compliant motorcycle, you can barely hear it when you're riding.
The motorcycle's engine is quite easy to service. It's a 1084cc single overhead cam 8-valve parallel twin with a 270 degree crank. It puts power down through a 6-speed manual transmission (unless you get the DCT option) and a chain drive. So those are things you have to maintain on any long adventure.
Noteworthy is the DCT option. Like the previous Africa Twin, you can get the CRF1100L with Honda's DCT "Dual Clutch Transmission". This lets you either shift using switches at the handlebars or to let the motorcycle shift for you. Many riders scoff at this, but are converted once they take it for a ride.
The 2020-onward AT has a ton of rider aids, including an IMU, cruise control, and a beautiful TFT display. Overall, the cockpit is quite a nice place to be for an extended period.
From 2022, Honda also uses the CRF1100L's engine in their new sport touring motorcycle, the Honda NT1100.
Manual for the Honda Africa Twin CRF1100L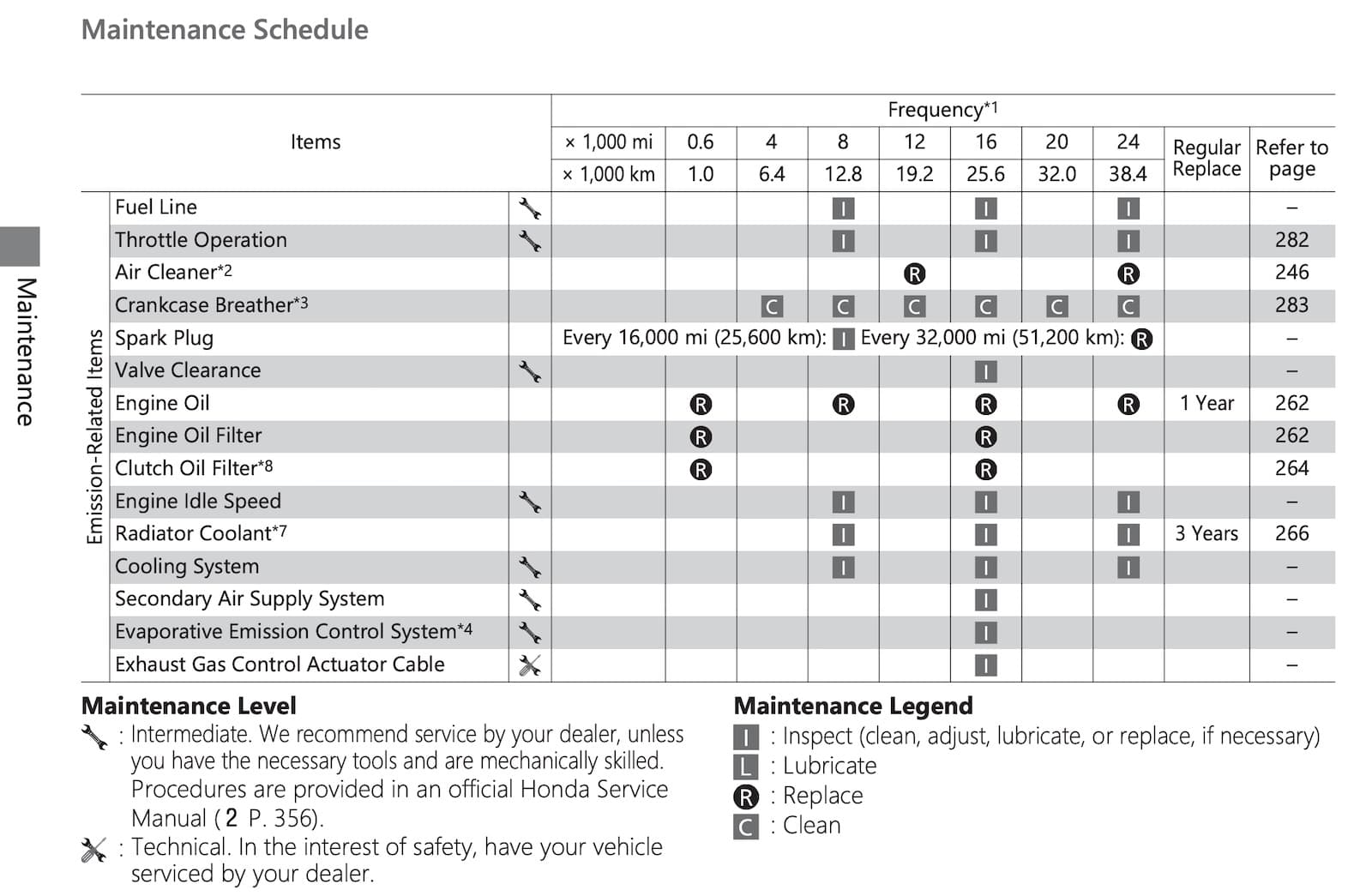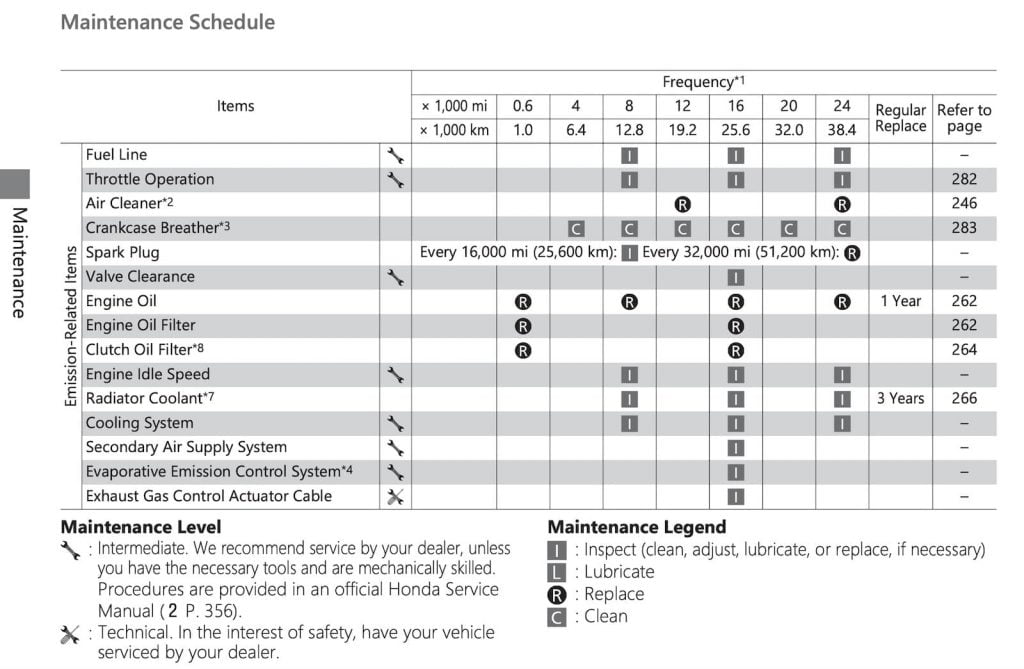 The above maintenance schedule comes directly from the user's manual for the Honda Africa Twin CRF1100L in 2020.
You can download it from Honda's owners' manual website here.