Suzuki B-King GSX1300BK (2007-2012) Maintenance Schedule and Service Intervals
This is the maintenance schedule and service intervals for the Suzuki B-King, the big muscle standard made between 2007-2012. It was also known as the GSX1300BK.
The Suzuki B-King is based on the Gen 2 Suzuki GSX1300R Hayabusa's engine, but in a standard bike configuration, and with some differences to both the intake and exhaust. Thus, the engine is the same 1340cc liquid-cooled inline four-cylinder engine, pushing through a butter-smooth six-speed transmission and chain drive.
The B-King was retired after 2012, with Suzuki focusing on the Bandit 1250 as its big-bore standard.
Originally published November 26, 2021, but significantly updated since.
This site has links for things like oil and spark plugs from which we earn a commission (which unfortunately nobody can save, not even us). If you appreciate this work, then please use those links. Thanks!
Suzuki B-King Service Intervals
The Suzuki B-King has 3500 mile / 6000 km or annual service intervals, the same as the 2nd gen Hayabusa. At every service, change the oil, check or replace the spark plugs and air filter, and do a host of checks for safety, leaks, and so on.
The major valve service interval for the B-King is every 14500 miles or 24000 km. However, it's common for the valve clearances to not need any adjustments as time wears on. Note that the manual requires time-based valve service intervals, but this is not necessary per most manuals.
The B-King has both hydraulic clutch and brakes, so you should replace the fluid on the same schedule of every two years, or more often if using your bike on the track.
Finally, make sure you keep the coolant of your B-King fresh. Suzuki recommends Suzuki "Blue" super long-life coolant to extend the interval out to four years.
What you need to service your Suzuki B-King
Suzuki B-King owners are passionate motorcycle owners of a niche bike who modify their motorcycles and push them beyond their already-capable limits. Many do their own service, too.
Here is what you need to service your Suzuki B-King. The parts list has some similarities with that of the Hayabusa, though the brake specs and air filter are different.
| Part | Suzuki B-King Spec |
| --- | --- |
| Oil | Suzuki requires engine oil with JASO MA spec, or at least API SF/SG or SH/SJ spec, e.g. Motul 7100 10W-40. |
| Oil filter | Use a Hiflofiltro HF138RC, which is a drop-in high-quality replacement that can be installed with a regular wrench. |
| Air filter | Use a K&N air filter as a drop-in replacement, part number SU-1348. |
| Spark plugs | The standard spark plug is NGK CR9EIA-9. |
| Brake fluid/Clutch fluid | Suzuki (like most motorcycles) requires DOT 4 brake and clutch fluid, e.g. Castrol DOT 4. |
| Front Brake pads | Asking what are the best brake pads is a popular forum discussion point! But many agree that EBC brake pads give better bite and less fade. Front pads code is FA347HH. |
| Rear brake pads | Get the corresponding EBC rear brake pads FA419HH. |
| Coolant | Suzuki only requires a coolant that's "compatible with an aluminium radiator". Most motorcycle coolants are, and so a Valvoline Asian Vehicle Coolant is a fine option. You can also get Suzuki Super Long-Life Coolant from dealers, or an alternative. |
| Chain maintenance | Use either Motul chain paste or a complete Motul chain care kit for frequent chain servicing. |
| Grease | Always handy to have some lithium soap-based grease for external pivot points, like the kickstand. |
Suzuki B-King maintenance parts
Suzuki B-King Maintenance Schedule
Below is the maintenance schedule for the Suzuki B-King. It's from the manual, adapted slightly to fit a web page.
NOTE:
I = Inspect and clean, adjust, replace or lubricate as necessary.
R = Replace
T = Tighten
Interval: This interval should be judged by number of months or odometer reading, whichever comes first.
The break-in service is omitted as these bikes are long broken-in.
| Mi x 1000 | 4 | 7.5 | 11 | 14.5 | |
| --- | --- | --- | --- | --- | --- |
| Km 1000 | 6 | 12 | 18 | 24 | |
| Months | 12 | 24 | 36 | 48 | Every |
| Engine oil (Motul 7100 10W-40) | R | R | R | R | |
| Engine oil filter (HF138RC) | – | – | R | – | |
| Air cleaner element (SU-1348) | I | I | R | I | |
| Exhaust pipe bolts and muffler bolts | – | T | – | T | |
| Exhaust control valve | – | I | – | I | |
| Valve clearance | – | – | – | I | |
| Spark plugs (CR9EIA-9) | I | R | I | R | |
| Fuel hose | I | I | I | I | |
| Throttle cable play | I | I | I | I | |
| Throttle valve synchronization | – | I | – | I | |
| PAIR (air supply) system | – | I | – | I | |
| Engine coolant e.g. Suzuki Blue "super long life" coolant or an alternative. | | | | | Replace every 4 years or 48000 km (29000 miles) |
| Radiator hose | I | I | I | I | |
| Clutch fluid (DOT 4) | I | I | I | I | Replace every 2 years |
| Clutch hoses | I | I | I | I | Replace every 4 years |
| Brakes (FA347HH, FA419HH) | I | I | I | I | |
| Brake fluid (Castrol DOT 4) | I | I | I | I | Replace every 2 years |
| Brake hose | I | I | I | I | Replace every 4 years |
| Tires | I | I | I | I | |
| Steering | – | I | – | I | |
| Front forks | – | I | – | I | |
| Rear suspension | – | I | – | I | |
| Chassis bolts and nuts | T | T | T | T | |
Suzuki B-King Maintenance Schedule
Maintaining your Chain on your Suzuki B-King
As the Suzuki B-King is a standard bike with a hefty engine, the chain can get quite a lot of abuse.
So maintain your chain on your Gen 2 Suzuki B-King regularly, checking its tension and whether it's clean. Either use a good-quality (and affordable) chain lube like Motul Chain Paste, or use a full on Motul Chain Care Kit to clean and restore a chain.
Suzuki recommends that you maintain your chain regularly according to the following schedule.
Chain maintenance item
Every
Check chain cleanliness and lubrication condition, cleaning and lubricating as necessary
Ride (pre-ride check) or after washing / riding in rain
Check chain
* Correct tension / slack (20-30mm / 0.8-1.2 in at loosest point)
* No excessive wear / damage (loose pins, damaged rollers, dry or rusted links, kinked or binding links, excessive wear, and improper adjustment.)
Ride (pre-ride check) and at every service
Clean and lubricate chain
1000 km / 600 miles
Suzuki B-King chain maintenance
To measure drive chain tension, get a ruler (one that can be placed on the ground or against another surface), and keep the motorcycle on its side stand. Find the middle part of the bottom half of the chain, and move it up and down with a finger. Measure the maximum deflection — it should be to the spec above.
Move your bike around to make multiple readings around the chain, as they can wear unevenly.
If the chain slack is out of spec, you may need to tighten it (or loosen it, if it has been over-tightened) using the following procedure. You'll need wrenches and a large torque wrench for the rear axle nut.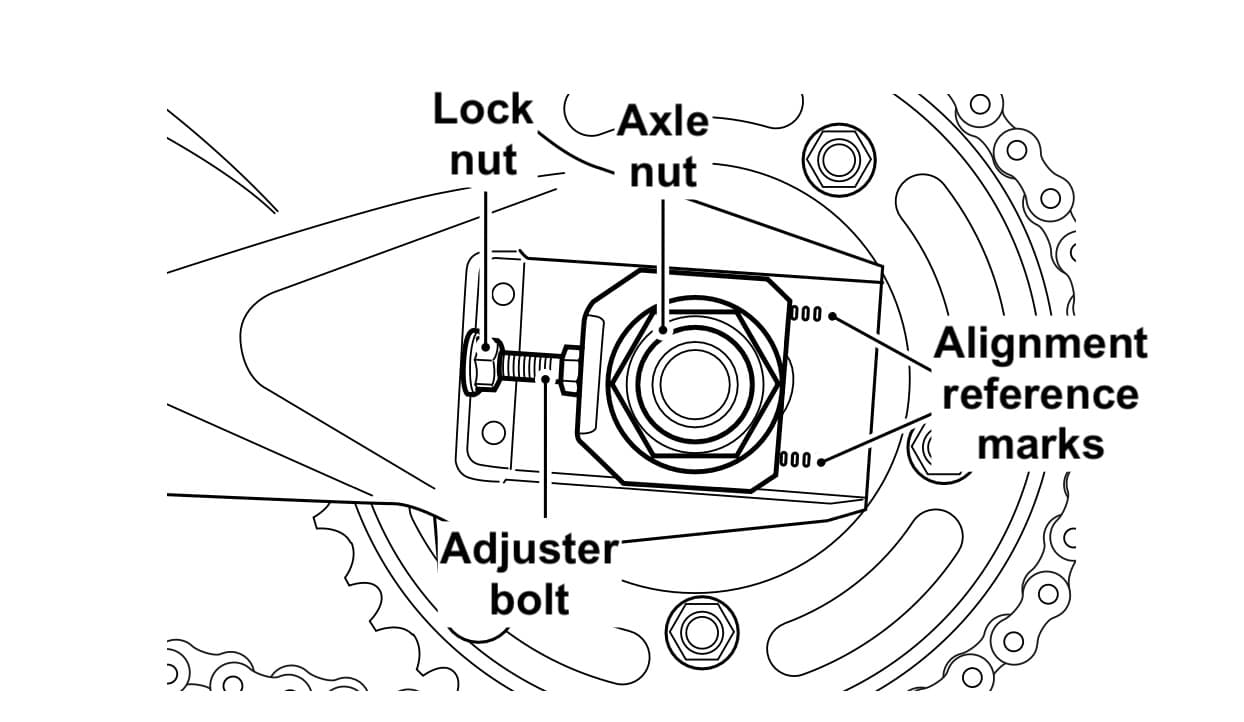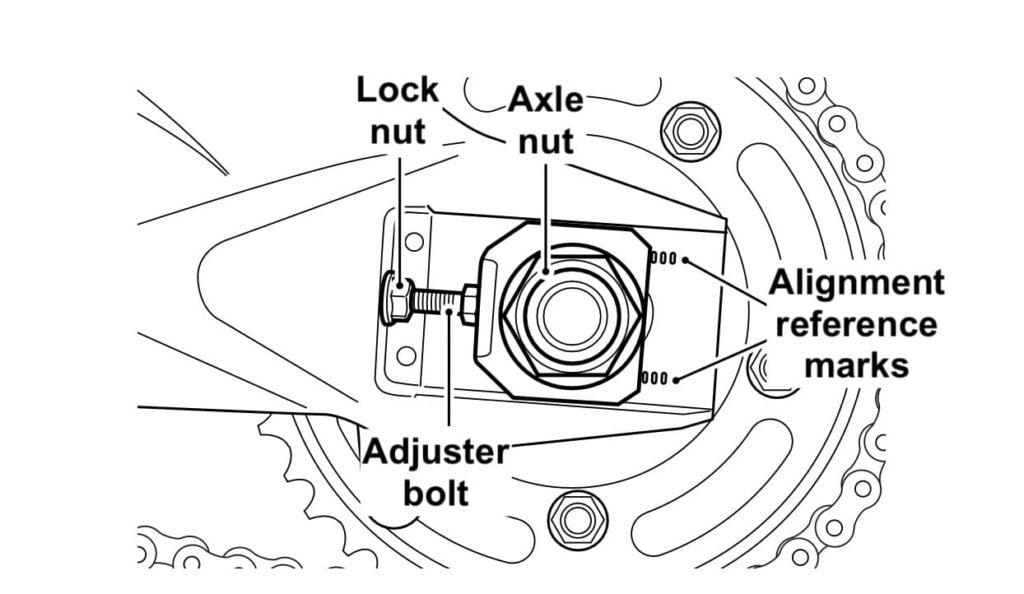 Loosen the rear axle nut and the two lock nuts for the adjuster nuts.
Turn the adjuster bolts until the chain has the correct slack. Turn them the same amount the same time, watching for alignment — check the alignment marks (see image).
If you meet the end of the adjustable range, your chain is too worn and it must be replaced
Re-tighten the axle bolts (100 Nm / 73 lb-ft) and secure the lock nuts.
Suzuki B-King Tyre Pressures / Sizes
The Suzuki B-King comes shod with Dunlop Sportmax Qualifiers as standard, but people often fit fairly aggressive sport tyres to them. The rear tyre is a hefty 200-wide tyre.
| Wheel | Tyre (Tire) size | Tyre (Tire) pressure (cold) |
| --- | --- | --- |
| Front | 120/70-17 | 250 kPa / 2.5 bar / 36 psi |
| Rear | 200/50-17 | 290 kPa / 2.9 bar / 42 psi |
Tyre sizes and pressures for the Suzuki B-King
In reality, people often opt for balanced front and rear pressures of between 32-34 psi of optimising for grip (based on people's recommendations on forums) on the B-King. However, you will get less life out of the rear tyre this way.
About the Suzuki B-King
The Suzuki B-King is quite a unique motorcycle in modern motorcycling history. It has an extremely powerful engine, only slightly detuned from the Hayabusa superbike it otherwise powers, and has the same gearing. So this is a naked bike with quite long legs!
The only modern parallels to the Suzuki B-King are bikes like the Kawasaki Ninja Z H2, the supercharged naked bike from Kawasaki. While Suzuki still makes the Hayabusa, they stopped making the B-King a long time ago.
The core of the B-King is, of course, the 1340cc Hayabusa inline-four, a DOHC 16-valve liquid-cooled engine. What's beautiful about the Hayabusa engine is that it's already torque-forward — it was never a bike that people scream past 14000 rpm, like one would with a literbike engine. Thus, the power curve suits street riding — to a degree.
Suzuki still did some retuning of the engine, modifying both the intake and the exhaust. The power curves are quite similar, according to Cycle World's testing, though the Hayabusa has more pull at the upper end of the power curve.
Suzuki limits top-end power by cutting revs at 9300 pm and 8600 rpm in sixth gear. (Make sure you test this when buying a used model!)
Like the second gen Hayabusa, the B-king also lets you select a lower power mode, taking something like 1/3 of peak power and torque off the top. Most owners rarely use this, though they sometimes do if riding in the rain and not being in the mood to take any significant chances.
The suspension is also very high-quality on the B-King. There's a KYB fork and shock at the back that each give fully adjustable preload, compression, and rebound damping adjustability. Brakes are also good spec, with Nissin four-piston calipers on 310mm rotors. The B-King also has an ABS option.
Manual for the Suzuki B-King
The maintenance schedule above came from the manual for the Suzuki B-King.
You can get manuals for Suzuki motorcycles from genuinesuzukimanuals.com, which is the official site.