Suzuki Hayabusa Gen 2 (2008-2020) Maintenance Schedule and Service Intervals
This is the maintenance schedule and associated service intervals for the Suzuki Hayabusa Gen 2 (2008-2020).
From 2008, the original Suzuki Hayabusa was replaced by the Suzuki Hayabusa Gen 2, with a small bump in displacement and increase in power. In 2012, the Gen 2 Hayabusa was updated to add ABS, but no other changes were made.
The Gen 2 Hayabusa's motor is shared with the Suzuki B-King, Suzuki's stomping sport standard.
The Suzuki Hayabusa Gen 2 definitely the one that's easiest to find in the used market without either an absurd high mileage, evidence of being thrashed (but is there any other way to ride a high-power superbike? What, do you use this to just go get milk… at 200+ km/h?), or had stuff like a turbo added (and who knows what that does to maintenance).
Here are all the Suzuki GSX1300R Hayabusa maintenance guides:
In 2021, Suzuki announced the 2022+ Gen 3 Suzuki Hayabusa with the same basic engine, but added restriction on the rear to comply with emissions regulations, slightly less power (but more mid-range), and much higher tech in rider safety.
Below are a few pics of the Hayabusa Gen 2. What's your favourite colour scheme? It's a hot topic of debate… yellow is a very popular one among aficionados.
Originally published Feb 10, 2021, but significantly updated since.
This site has links for things like oil and spark plugs from which we earn a commission (which unfortunately nobody can save, not even us). If you appreciate this work, then please use those links. Thanks!
Suzuki Hayabusa Gen 2 Service Intervals
Like the earlier generation, the 2nd gen Suzuki Hayabusa has 3500 mile / 6000 km or annual service intervals. At every service, change the oil, check or replace the spark plugs and air filter, and do a host of checks for safety, leaks, and so on.
The major valve service interval for the Hayabusa is every 14500 miles or 24000 km. However, it's common for the valve clearances to not need any adjustments as time wears on.
The Hayabusa has both hydraulic clutch and brakes, so you can replace the fluid on the same schedule of every two years.
Finally, make sure you keep the coolant of your Hayabusa fresh. Suzuki recommends Suzuki "Blue" super long-life coolant to extend the interval out to four years.
What you need to service your Suzuki Hayabusa Gen 2
Hayabusa owners are passionate motorcycle owners. Many do their own service and become experts at removing all those fairings!
Here is what you need to service your Suzuki Hayabusa Gen 2.
Part
Suzuki Hayabusa Gen 2 spec
Oil
Suzuki requires engine oil with JASO MA spec, or at least API SF/SG or SH/SJ spec, e.g. Motul 7100 10W-40.
Oil filter
Use a Hiflofiltro HF138RC, which is a drop-in high-quality replacement that can be installed with a regular wrench.
Air filter
Use a K&N air filter as a drop-in replacement, part number SU-1308.
Spark plugs
The standard spark plug is NGK CR9EIA-9.
Brake fluid/Clutch fluid
Suzuki (like most motorcycles) requires DOT 4 brake and clutch fluid.
Front Brake pads
Asking what are the best brake pads is a popular forum discussion point! But many agree that EBC brake pads give better bite and less fade. The ABS-equipped Hayabusa with Brembo calipers takes different pads.
* 08-12 (non-ABS): FA379HH
* 13-19 (Brembo ABS): FA447HH
Rear brake pads
Get the corresponding rear brake pads FA419HH (for all models, ABS and non-ABS)
Coolant
Suzuki only requires a coolant that's "compatible with an aluminium radiator". Most motorcycle coolants are, and so a Valvoline Asian Vehicle Coolant is a fine option. You can also get Suzuki Super Long Life Coolant from dealers.
Chain maintenance
Use either Motul chain paste or a complete Motul chain care kit for frequent chain servicing.
Grease
Always handy to have some lithium soap-based grease for external pivot points, like the kickstand.
Suzuki Hayabusa Gen 2 maintenance parts
Suzuki Hayabusa Gen 2 (2008-2020) Maintenance Schedule
Below is the maintenance schedule for the Suzuki Hayabusa Gen 2 (2008-2020).
The maintenance schedule is similar to the previous generation model, although the new 2008 Hayabusa Gen 2 now has an evap system in California to check. Also, the manual suggests you inspect the fuel hoses, and replace coolant on a different schedule depending on what kind you have (blue vs green).
Notes:
The interval should be judged by number of months or odometer reading, whichever comes first.
At the end of the maintenance schedule, follow it in the pattern shown.
The break-in schedule is omitted as these motorcycles are no longer sold new.
I= Inspect and clean, adjust, replace or lubricate as necessary, R= Replace, T= Tighten
| Mi x 1000 | 4 | 7.5 | 11 | 14.5 | |
| --- | --- | --- | --- | --- | --- |
| Km x 1000 | 6 | 12 | 18 | 24 | |
| Months | 12 | 24 | 36 | 48 | Periodic |
| Air cleaner element (K&N SU-1308) | I | I | R | I | |
| Exhaust pipe bolts and muffler bolts | – | T | – | T | |
| Valve clearance | – | – | – | I | |
| Spark plugs (NGK CR9EIA-9) | I | R | I | R | |
| Fuel hose | I | I | I | I | |
| Engine oil (Motul 7100 10W-40) | R | R | R | R | |
| Engine oil filter (HF138RC) | – | – | R | – | |
| Throttle cable play | I | I | I | I | |
| Throttle valve synchronization | – | I | – | I | |
| Evaporative emission control system (California model only) | – | I | – | I | |
| PAIR (air supply) system | – | I | – | I | |
| Coolant (Long-life engine coolant e.g. Suzuki Blue "super long life" coolant, or Motorex M3.0). | | | | | Replace every 4 years or 48,000 km (29,000 miles) |
| Radiator hose | I | I | I | I | |
| Clutch fluid (DOT 4) | I | I | I | I | Replace every 2 years |
| Clutch hose | I | I | I | I | Replace every 4 years |
| Drive Chain (maintain with a Motul chain care kit) | I | I | I | I | Clean and lubricate every 1,000 km (600 miles) |
| Brakes (see above for brake pads) | I | I | I | I | |
| Brake fluid (DOT 4) | I | I | I | I | Replace every 2 years |
| Brake hose | I | I | I | I | Replace every 4 years. |
| Tires | I | I | I | I | |
| Steering | – | I | – | I | |
| Front forks | – | I | – | I | |
| Rear suspension | – | I | – | I | |
| Chassis bolts and nuts | T | T | T | T | |
Suzuki Hayabusa Gen 2 Maintenance Schedule
Maintaining your Chain on your Suzuki Hayabusa
Maintain your chain on your Gen 2 Suzuki Hayabusa regularly. Either use a good-quality (and affordable) chain lube like Motul Chain Paste, or use a full on Motul Chain Care Kit to clean and restore a chain.
Suzuki recommends that you maintain your chain regularly according to the following schedule.
Chain maintenance item
Every
Check chain
* Correct tension / slack (20-30mm / 0.8-1.2 in at loosest point)
* No excessive wear / damage
Ride (pre-ride check)
Check chain cleanliness and lubrication condition
Ride (pre-ride check) or after washing / riding in rain
Clean and lubricate chain
1000 km / 600 miles
Suzuki Hayabusa chain maintenance
Damage includes loose pins, damaged rollers, dry or rusted links, kinked or binding links, excessive wear, and improper adjustment.
Measuring Chain Slack
To measure chain slack, check the free movement of the chain (the middle of the bottom part of the chain) when moving it up and down lightly, e.g. with a finger. The free movement should be 20-30 mm (0.8-1.2 in) on the Hayabusa.
Move the motorcycle around to make sure you get the readings for the tightest and loosest parts of the chain.
Adjusting chain slack
If the slack is out of spec, you need to adjust it. Use this procedure.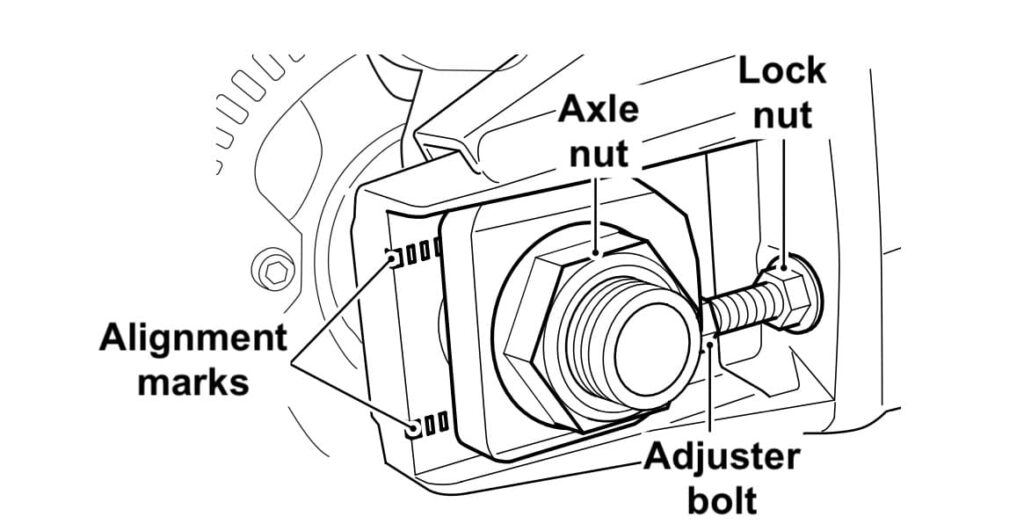 Loosen the axle nut and the lock nuts for the chain adjustment bolts.
Turn the adjuster bolts until the chain has the correct slack. Turn them the same amount the same time, watching for alignment — check the alignment marks (see image).
If you meet the end of the adjustable range, your chain is too worn and it must be replaced
Re-tighten the axle bolts (100 Nm / 73 lb-ft) and secure the lock nuts.
Tyre size and tyre pressure for the Suzuki Hayabusa Gen 2 (2008-2020)
The following tire size and pressures are specified in the manual. Of course, use whatever tyres are more common these days (tyre technology changes a lot!) and adjust pressure as suits your riding style.
| Tyre | Size | Brand(s) | Tyre pressure (cold) |
| --- | --- | --- | --- |
| Front | 120/70 ZR17 58W | DUNLOP D214F M | 250 kPa / 2.5 bar / 36 psi |
| Rear | 190/50ZR17 73W | DUNLOP D214 M | 290 kPa / 2.9 bar / 42 psi |
Tyres and tyre pressures
These are the pressures in the manual. For single-person, sporty riding, many Hayabusa riders prefer lower pressure in the back tyre — even pressure of 250 kPa or 36 psi is common, with even pressure front and rear. But you'll chew through those tyres (even faster).
About the Suzuki Hayabusa Gen 2 (2008-2020)
The Suzuki GSX1300R Hayabusa is a hypersport motorcycle made by Suzuki since 1999. It immediately got the praise of motorcycling masses as the world's fastest production motorcycle, with a top speed of 303 to 312 km/h (188 to 194 mph).
In 1999, Suzuki and other manufacturers began to worry about a European regulatory backlash, or an outright import ban on fast motorcycles. So they reached an agreement internally to limit the top speed of motorcycles to 300 km/h or 186 mph.
So from the year 2000 onward, Suzuki has limited the top speed of the Hayabusa to 300 km/h — but only on paper. They still get up there just as fast, and people install de-restrictors if they're pursuing land-speed records.
Besides its speed, the Hayabusa is well loved for its all-round performance. It has a very loyal community of followers who love it for its handling, comfort, style, reliability, and all-round prowess. What's unique about the Suzuki Hayabusa's big engine is that while it's relentless up top, it's very easy to manage down low — even at around-town or parking lot speeds. Its temperature remains normal (with the analog bar in the middle of the dial) and it never gets upset. The same can't be said of many superbikes.
Jay Koblenz of Motorcycle Consumer News commented, "If you think the ability of a motorcycle to approach 190 mph or reach the quarter-mile in under 10 seconds is at best frivolous and at worst offensive, this still remains a motorcycle worthy of just consideration. The Hayabusa is speed in all its glory. But speed is not all the Hayabusa is."
The engine powering the Suzuki Hayabusa is a 1340cc liquid-cooled dual overhead-cam block. On paper it makes peak power of 147 kW (197 hp) at 10100 rpm, but that's somewhat meaningless as most Hayabusa owners modify their bikes.
The cylinders have Suzuki Composite Electrochemical Material (SCEM) lining them, that works with the PVD (Physical Vapor Deposition) coating to reduce friction, which helps to tune the 'Busa for more power.
The Hayabusa's engine is fed by a 44mm twin-bore throttle body with the Suzuki Dual Throttle Valve system. The Gen 2 Hayabusa also has three power modes for you to choose from.
The suspension on the Gen 2 Hayabusa is top-grade by KYB, fully adjustable (preload, compression damping, and rebound damping) front and rear. The front fork is an inverted fork, of course.
The braking is also impressive, with Brembo 4-piston monoblock calipers up front.
Of course, the Hayabusa is not a lightweight motorcycle. So while it handles well, it is a very different experience to ride it than to ride a lightweight 600 or a standard bike that weighs under 220 kg. Clip-ons on a bike that weighs over 260 kg (nearly 600 lb) means that pushing it around is a chore.
References from the Manual for the Suzuki Hayabusa Gen 2 (2008-2020)
The above maintenance schedule comes directly from the user's manual for the Suzuki Hayabusa Gen 2 (2008-2020), the ABS version, consulting various years to make sure the maintenance schedule remained constant.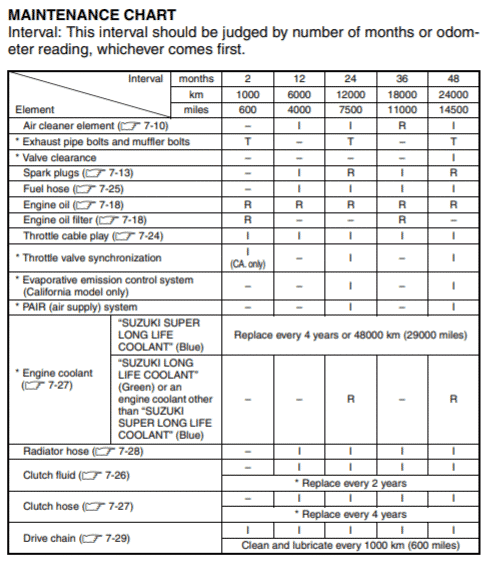 You can download it from Suzuki's official website for manuals here.