Suzuki Hayabusa Gen 1 (1999-2007) Maintenance Schedule and Service Intervals
This is the maintenance schedule and associated service intervals for the 1999-2007 Suzuki Hayabusa Gen 1, officially known as the "Suzuki GSX1300R Hayabusa", and unofficially just as the 'Busa.
The Suzuki GSX1300R Hayabusa is a sport bike, hyperbike, or even sports tourer (because it's comfortable) motorcycle made by Suzuki since 1999. It immediately won acclaim as the world's fastest production motorcycle, with a top speed of 303 to 312 km/h (188 to 194 mph).
Here are all the Suzuki GSX1300R Hayabusa maintenance guides:
In 1999, fears of a European regulatory backlash or import ban led to an informal agreement between the Japanese and European manufacturers to limit the top speed of motorcycles to 300 km/h or 186 mph. So from 2000 onward, the Suzuki Hayabusa Gen 1was limited in top speed — but only on paper. They still got up to 300 km/h just as fast, and people were quick to install de-restrictors.
Besides its speed, the Hayabusa is well loved for its all-round performance. It has a very loyal community of followers who love it for its handling, comfort, style, reliability, and all-round prowess.
Jay Koblenz of Motorcycle Consumer News commented, "If you think the ability of a motorcycle to approach 190 mph or reach the quarter-mile in under 10 seconds is at best frivolous and at worst offensive, this still remains a motorcycle worthy of just consideration. The Hayabusa is Speed in all its glory. But Speed is not all the Hayabusa is."
From 2008, the Suzuki Hayabusa was replaced by the Suzuki Hayabusa Gen 2, with a small bump in displacement and increase in power (and later, ABS).
The looks of the Hayabusa are apparently controversial (don't ask a Kawasaki ZX-14R owner what they think… I mean unless you're trolling), but I personally love them (but to be honest, I love basically all bikes, so that's kind of meaningless).
Originally published Feb 9 2021, but significantly updated since.
This site has links from which we earn a commission (which unfortunately nobody can save, not even us). If you appreciate this research work, then please use those links. Thanks.
Gen 1 Suzuki Hayabusa Service Intervals
Like many liquid-cooled Suzuki motorcycles, the 1st gen Suzuki Hayabusa has 3500 mile / 6000 km service intervals. At every service, change the oil, and do a host of other checks for leaks, smooth operation, and correct lubrication.
You don't have to change the oil filter every oil change, by the way. Suzuki only recommends doing so every third service.
Suzuki recommends more checks every two services, and the major valve inspection check every 14500 mi / 24000 km (every four-services)
Since the Hayabusa has a liquid-cooled engine, make sure the coolant is kept up to spec. Suzuki recommends changing the coolant every two years, unless you swap it out with long-life coolant.
Finally, the Hayabusa has a hydraulic clutch as well as brake, so keep the fluids of both fresh.
What you need to service your Gen 1 Suzuki Hayabusa
Hayabusa owners are often avid DIYers. It's not uncommon to find Gen 1 Busas with turbo kits, long stroke engines, or at least heavily modified inflow and exhaust with a tune for even more power.
But if you want to do basic maintenance, the Gen 1 Hayabusa isn't any different from most sportbikes. It has a fuel-injected water-cooled inline four-cylinder engine, with a bunch of fairings in the way. Get them out of the way and you just do the usual — change the fluids every 1-4 years (oil frequently, coolant and brake/clutch fluid less so), maintain the chain, and keep the oil fresh.
Here's what you need to maintain your Gen 1 Hayabusa.
| Part | Suzuki Hayabusa Gen 1 spec |
| --- | --- |
| Oil | Suzuki requires engine oil with JASO MA spec, or at least API SF/SG or SH/SJ spec, e.g. Motul 7100 10W-40. |
| Oil filter | Use a Hiflofiltro HF138RC, which is a drop-in high-quality replacement that can be installed with a regular wrench. |
| Air filter | Use a K&N air filter as a drop-in replacement, part number SU-1399. |
| Spark plugs | The standard spark plug is NGK CR9EIA-9, same as for later generations. |
| Brake fluid/Clutch fluid | Suzuki (like most motorcycles) requires DOT 4 brake and clutch fluid, e.g. Castrol DOT 4 |
| Front Brake pads | Asking what are the best brake pads is a popular forum discussion point! But many agree that EBC brake pads give better bite and less fade. The Gen 1's 6-pot Tokico calipers take FA188HH pads (2 sets). |
| Rear brake pads | Get the corresponding rear brake pads FA63HH. |
| Coolant | Suzuki only requires a coolant that's "compatible with an aluminium radiator". Modern Suzuki bikes take Suzuki Blue Coolant or an alternative. |
| Chain maintenance | Use either Motul chain paste or a complete Motul chain care kit for frequent chain servicing. |
| Grease | Always handy to have some lithium soap-based grease for external pivot points, like the kickstand. |
Suzuki Hayabusa Gen 1 maintenance parts
Suzuki Hayabusa Gen 1 Maintenance Schedule
Below is the maintenance schedule for the Suzuki Hayabusa Gen 1.
NOTE:
I= Inspect and clean, adjust, replace or lubricate as necessary.
R= Replace
T= Tighten
mi x 1000
4
7.5
11
14.5
km x 100
6
12
18
24
Months
6
12
18
24
Every
Engine oil (Motul 7100 10W-40)
R
R
R
R
Engine oil filter (HF138RC)
–
–
R
–
Air filter element (SU-1399)
I
I
R
I
More often if riding in rain / dust
Spark plugs
I
R
I
R
Valve clearance
–
–
–
I
Fuel line
I
I
I
I
Throttle cable play
Adjust to 2-4 mm
I
I
I
I
Throttle valve synchronization
–
I
–
I
Evaporative emission control system (if present)
–
I
–
I
PAIR (air supply) system
–
I
–
I
Engine coolant
Replace every 2 years
Radiator hoses
I
I
I
I
Clutch fluid
I
I
I
I
Replace every 2 years
Clutch hoses
I
I
I
I
Replace every 4 years
Drive Chain (Motul chain paste)
I
I
I
I
Clean and lubricate every 1,000 km (600 miles)
Brakes
I
I
I
I
Brake fluid (Castrol DOT 4)
I
I
I
I
Replace every 2 years
Brake hoses
I
I
I
I
Replace every 4 years
Tires
I
I
I
I
Steering
–
I
–
I
Front forks
–
I
–
I
Rear suspension
–
I
–
I
Exhaust pipe bolts and muffler bolts
–
T
–
T
Chassis bolts and nuts
T
T
T
T
Suzuki Hayabusa GSX1300R fist gen maintenance schedule
Maintaining your Chain on your Suzuki Hayabusa Gen 1
You're likely to make the Gen 1 Suzuki Hayabusa's chain work quite hard, so maintain your chain regularly.
Either use a good-quality (and affordable) chain lube like Motul Chain Paste, or use a full on Motul Chain Care Kit to clean and restore a chain.
Suzuki recommends that you maintain your chain regularly according to the following schedule.
Chain maintenance item
Every
Check chain
* Correct tension / slack (20-30mm / 0.8-1.2 in at loosest point)
* Adequate lubrication
* No excessive wear / damage
Ride (pre-ride check)
Clean and lubricate chain
1000 km / 600 miles
Suzuki XXX chain maintenance
Damage includes loose pins, damaged rollers, dry or rusted links, kinked or binding links, excessive wear, and improper adjustment.
To measure drive chain slack, get a ruler, and keep the motorcycle on its side stand. Find the middle part of the bottom half of the chain, and move it up and down with a finger. Measure the maximum deflection — it should be to the spec above.
Move the motorcycle around to make multiple readings around the chain, as they wear unevenly.
If the slack is out of spec, you may need to tighten it (or loosen it, if it has been over-tightened) using the following procedure. You'll need wrenches and a large torque wrench for the rear axle nut.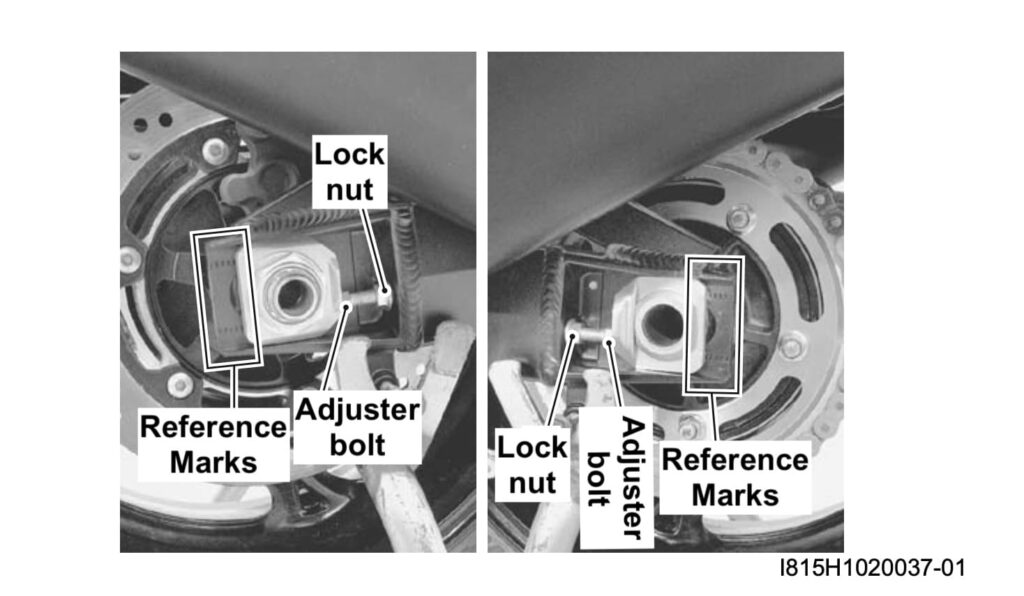 Loosen the rear axle nut and the two lock nuts for the adjuster nuts.
Turn the adjuster bolts until the chain has the correct slack. Turn them the same amount the same time, watching for alignment — check the alignment marks (see image).
If you meet the end of the adjustable range, your chain is too worn and it must be replaced
Re-tighten the axle bolts (100 Nm / 73 lb-ft) and secure the lock nuts.
Tyre size and tyre pressure for the 1999-2007 Suzuki GSX1300R Hayabusa Gen 1
Below are the standard tire sizes and tire pressures for the Hayabusa.
| Tyre | Size | Tyre pressure |
| --- | --- | --- |
| Front | 120/70 ZR17M/C (58W) | 290 kPa / 2.90 bar, 42 psi |
| Rear | 190/50 ZR17M/C (73W) | 290 kPa / 2.90 bar / 42 psi |
Tyres and tyre pressures for Suzuki Hayabusa Gen 1
The original manual and service manual recommends a fairly high front and rear tire pressure, and an even pressure.
Many riders of the Hayabusa prefer softer front and rear pressures, somewhere around 250 kPa / 2.5 bar / 36 psi.
About the 1999-2007 Gen 1 Suzuki GSX1300R Hayabusa
Suzuki released the 1999 Suzuki GSX1300R Hayabusa to an unsuspecting public and quickly took the crown as the world's fastest production motorcycle.
The first-generation Suzuki Hayabusa Gen 1 has a 1298 cc liquid-cooled, inline-4 engine with sixteen valves driven by double-overhead cams.
Suzuki has kept this basic engine configuration to this day, though they expanded the capacity in 2008.
The first gen Suzuki GSX1300R Hayabusa made a claimed 129 kW (173 bhp) at the crank at 9800 rpm. It did this thanks to having the largest displacement every in a sport bike, plus a ram air system that forces pressurized air into the cylinders at speed.
The first-gen Suzuki Hayabusa isn't just a straight-line speed demon, though. It's designed in a wind tunnel, so wind resistance won't get in the way of top speed. After all, Suzuki had the Honda CBR1100XX Blackbird in their sights — they wanted to take the crown as fastest bike.
In the end, Suzuki's Hayabusa beat the Blackbird's top-speed record by a significant leap, in contrast with the incremental gains that the Blackbird had made over the previous top record holder, the Kawasaki Ninja ZX-11 of 1990.
Despite being a high-speed bike, what made the first gen Suzuki Hayabusa (and every gen since) special was that it's easy to ride at every speed. You can potter around in third or fourth gear at city speeds, or let the same gears take you to well into illegal territory.
The 1st gen Suzuki Hayabusa also caught people off guard with its styling.
The ram air ducts at the front are quite obvious. Because they flank the front, the Hayabusa needs a stacked headlight rather than side-by-side lights.
The need to beat air friction also means that the Suzuki's styling is bulbous, which is a little difficult for some to swallow. It's that, in part, which let many people stray to the Kawasaki ZX-12, ZX-14, and ZX-14R.
But the bike has its share of admirers. Helping this is the fact that Suzuki spares no expense when investing in the paint of the Hayabusa. From up close, it's stunning.
The 1st gen Suzuki Hayabusa also had great, high-spec components that led to it having excellent handling for a high-power bike.
The front and rear suspension are fully adjustable KYB units with a 43 mm fork up front and a monoshock at the rear.
The front brakes are also impressive, with 320 mm discs and 6-piston Tokico calipers. Suzuki experimented with a few different suspension and brake configurations over the years, but they had winners from the start.
Manual for the 1999-2007 Suzuki GSX1300R Hayabusa
The above maintenance schedule comes directly from the user's manual for the 1999-2007 Suzuki GSX1300R Hayabusa.
You can download it from Suzuki's official website here.