Triumph Street Triple R (765cc, 2018+) Maintenance Schedule
This is the maintenance schedule with associated service intervals for the Triumph Street Triple R motorcycles from 2017 onward, though listed as a 2018 model year in many places.
It's very similar to those for other motorcycles with similar engines in the Triumph Street Triple Series (like the Triumph Street Triple RS, which has a few better chassis components). The service is also identical to the Street Triple R LRH.
The 2017+ Triumph Street Triple R has a 765cc inline triple that makes 87 kW (116 hp) @ 12,000 rpm, and 77 Nm (57 lb-ft) at 9,400 rpm. So it has to be revved up quite a bit to get to peak power. But the good news is that it's tuned like a naked bike and the torque curve is quite flat — you get 80% of the torque at 2,500 rpm, according to dyno charts.
In 2020, the Street Triple R was re-styled to give it a more aggressive look, and the brake pads changed in spec, but the core maintenance stayed the same.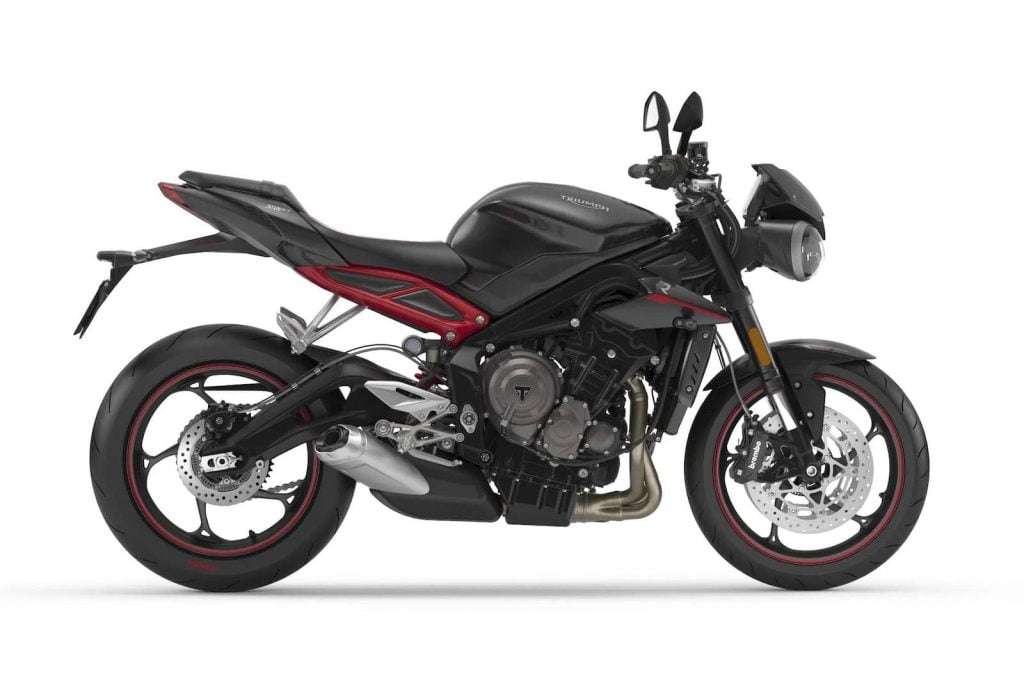 This site has links for things like oil and spark plugs from which we earn a commission (which unfortunately nobody can save, not even us). If you appreciate this work, then please use those links. Thanks!
What you need to service the Triumph Street Triple R
The following is a list of specific consumables for the Triumph Street Triple series of motorcycles.
Note that there are different part numbers for the brake pads, even though they're Brembo M4.32 calipers all the way through from 2017+.
You also need the following general consumables for servicing your Street Triple R.
Maintenance Schedule for the Triumph Street Triple R
The following is the list of maintenance operations and to be done on this motorcycle with a distance or time interval — whichever comes earlier.
There are two kinds of service interval: every a) distance or b) time period. In each case, it's the earlier of the two that's most important.
Notes
* The break-in service should be done at 1000 km or 6 months, whichever is earlier.
Part of the below table includes checks you should do every day. If it says "Day", you should also do this with annual checks. If it just says "Year", you don't need to check it every day.
[T] items may require specialist Triumph equipment.
About the Triumph Street Triple R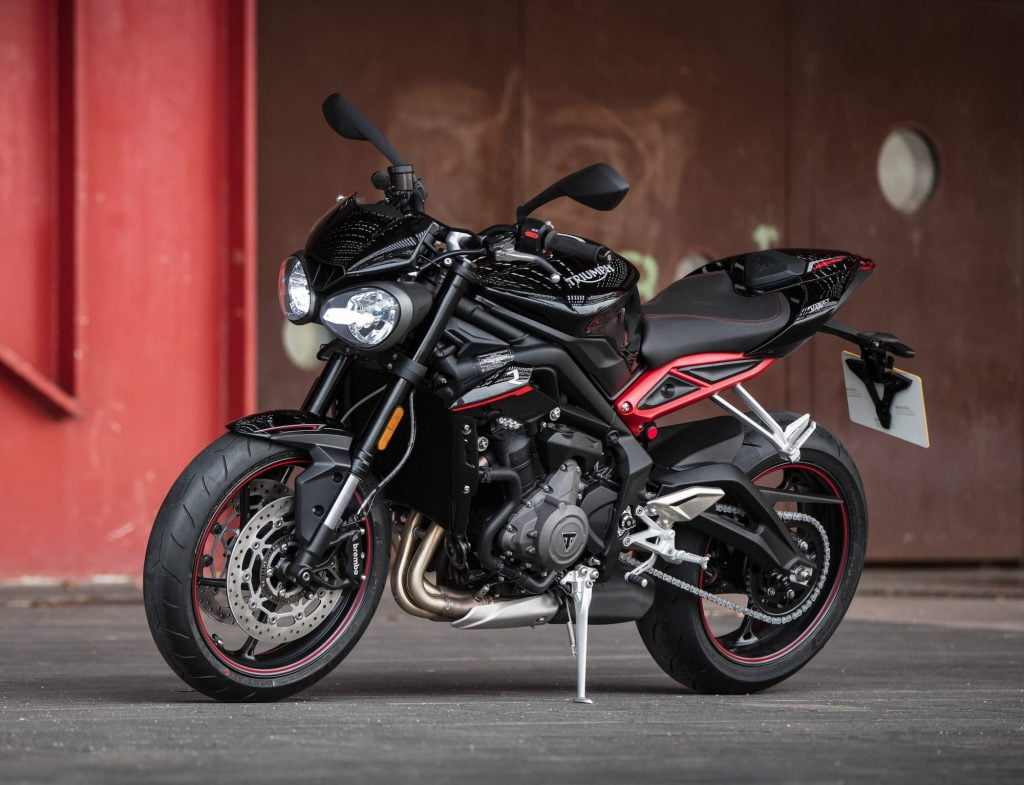 The 2017+ Triumph Street Triple R is the more "street"-friendly version of their triple-cylinder naked motorcycle compared to the significantly faster "speed" triple. But don't be fooled… this thing still does over 120 hp and can deliver over 200 km/h pretty easily!
The 2017 line-up of Triumph motorcycles was extensive and confusing as it changed a bit by region.
But in the US, there were three 765cc Triumph Street Triples
Street Triple S, with Nissin 2-piston front calipers and preload-adjustable Showa suspension front and rear
Street Triple R, with Brembo M 4.32 4-piston front calipers and fully-adjustable Showa suspension (front and rear)
Street Triple RS, with fully adjustable Showa front suspension, an Öhlins rear shock, and Brembo M50 calipers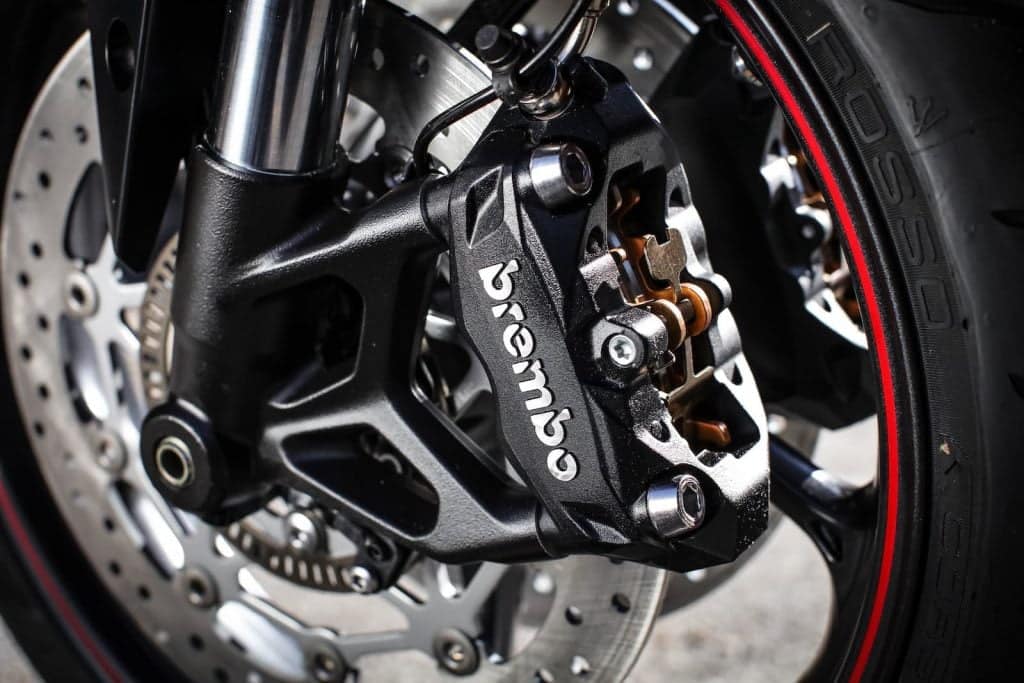 The Street Triple R comes with a fully adjustable Showa fork, fully adjustable Showa piggyback reservoir monoshok, an up/down quick-shifter, and Pirelli Rosso III tires as stock. The quick-shifter, in particular, seems to have been a common request from owners, so it's nice that it has been added.
The three ride modes (Sport, Street, and Rain) are carried over from the old model, along with ABS and traction control.
There's a low-ride height variant for shorter riders. Maintenance for the low ride height version is the same, by the way.
Manual for the Triumph Street Triple R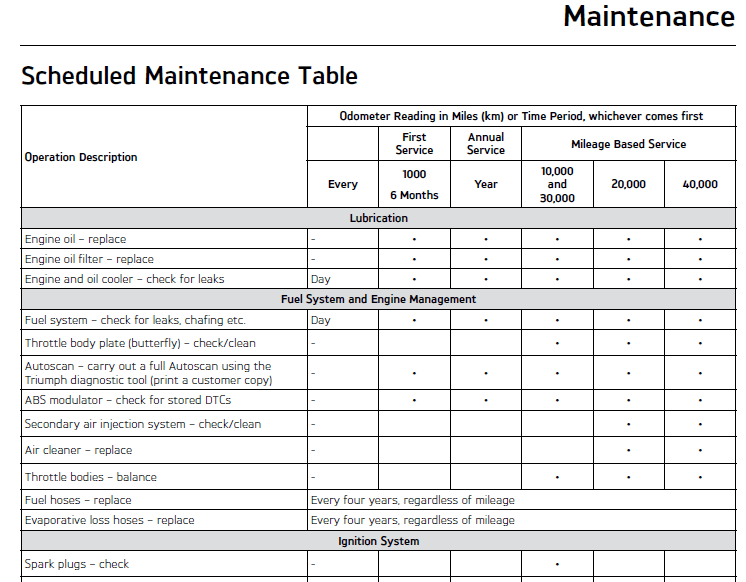 The above maintenance schedule comes directly from the user's manual for the Triumph Street Triple R, which is available on the Triumph website.