BMW K 1300 R (2009-2015) Maintenance Schedule and Service Intervals
This is the maintenance schedule and service intervals for the BMW K 1300 R, BMW's high-power naked bike, based on the same basic platform as the K 1300 S.
The BMW K 1300 R is one of BMW's high-power naked bikes, the follow-up to the K 1200 R, whichtye had marketed as "the most powerful motorcycle of all time". Powering the K 1300 R is a 1293cc inline four-cylinder engine that makes a peak of 127 kW (173 hp) at 9250 rpm, a huge amount even for the 243 kg (536 lb) wet weight.
The final drive is a six-speed transmission and shaft, with a beautiful single-sided swing-arm.
The engine is mounted 55 degree forwards, keeping the bike's center of gravity low.
The K 1300 R was eventually discontinued, as people looking for fast bikes often turned to the much more modern BMW S 1000 R super naked.
This site has links for things like oil and spark plugs from which we earn a commission (which unfortunately nobody can save, not even us). If you appreciate this work, then please use those links. Thanks!
BMW K 1300 R Service Intervals
Like many liquid-cooled BMW motorcycles, the BMW K 1300 R has 6000 mile / 10000 km service intervals, and annual inspections.
At every service, change the oil and filter. And at every annual service, do a host of checks for leaks, fluid levels, and smooth and lubricated operation of all moving parts.
BMW recommends lubricating the drivetrain components every 12000 miles / 30000 km, and doing a major inspection (changing the spark plugs and checking valve clearances) every 30000 km.
Make sure you keep your coolant and brake fluid fresh according to the maintenance schedule too.
What you need to service your BMW K 1300 R
| Part | What to use on a K 1300 R |
| --- | --- |
| Engine oil | Use SAE 5W-40 API SL or JASO MA2 engine oil without additives. BMW recommends BMW Motorrad Advantec Ultimate 5W-40 oil. |
| Oil filter | Change the oil filter when you change the oil. BMW part number for the Mahle oil filter is 11 42 7 673 541, which needs an oil filter wrench. The Hiflofiltro HF164 is a high-quality alternative that fits many BMW motorcycles. |
| Air filter | BMW part number for the air filter is 13 71 7 713 428. You can also use a DNA air filter, part number R-BM13S10-02. |
| Spark plugs | Use an NGK KR9CI spark plugs. |
| Exhaust joint (ball joint) clamp lubricant | BMW suggests you use Optimoly TA lubricant on the exhaust clamp. |
| Brake fluid | Use BMW DOT 4 brake fluid. |
| Transmission fluid | The service manual (available as an interactive app) requires a hypoid lubricant of SAE 90 with API GL 5 spec. BMW dealers often recommend Castrol 75W-90 transmission oil. |
| Coolant | Use BMW Coolant, which is based on ethylene glycol. |
BMW K 1300 R maintenance items
Maintenance schedule for the BMW K 1300 R
Below is the maintenance schedule for the K 1300 R. This is from the service manual.
Notes:
There's a general annual service to perform, as well as a list of operations to be done on either a time or distance interval.
At the end of the maintenance schedule, continue repeating it in the pattern shown.
The break-in schedule is not included below as these bikes are past the break-in point.
| km x 1000 | 10 | 20 | 30 | 40 | |
| --- | --- | --- | --- | --- | --- |
| mi x 1000 | 6 | 12 | 18 | 24 | Every |
| BMW annual service (see below) | | | | | Year |
| Change engine oil | ✓ | ✓ | ✓ | ✓ | Year |
| Change oil filter | ✓ | ✓ | ✓ | ✓ | Year |
| Change oil in rear bevel gears | | ✓ | | ✓ | 2 years |
| Lubricate ball joint clamp (Exhaust clamp) | | ✓ | | ✓ | |
| Check valve clearances | | | ✓ | | |
| Replace all spark plugs | | | ✓ | | |
| Replace air filter cartridge | | | | ✓ | Earlier if riding in dusty / wet conditions |
| Change brake fluid, front and rear | | | | | 2 years |
| Change coolant (optional)* (BMW Coolant) | | | | ✓ | 2 years * |
Maintenance schedule – BMW K 1300 R
* The manual does not specify you need to change coolant. Qualified mechanics can check the antifreeze / antiboil capability of the coolant. But many owners change coolant every 24000 miles or 2 years.
Annual service for the BMW K 1300 R
Below is the list of annual service items for the BMW K 1300 R.
BMW K 1300 R annual service items
Read fault memory with BMW Motorrad diagnostic system
Check transparency of hose for engine oil level indicator
Visually inspect brake pipes, brake hoses, and connections
Check front brake pads and brake discs for wear
Check brake fluid level, front brakes
Check brake fluid level, rear brakes
Check clutch system
Check freedom of movement of throttle cable and check for kinks and chafing
Check coolant level
Check tyre pressures and tread depth
Check ease of movement of side stand
Check lights and signalling equipment
Function test, engine start suppression
Final inspection and check of roadworthiness
Check the battery charge state
BMW K 1300 R annual service
About the BMW K 1300 R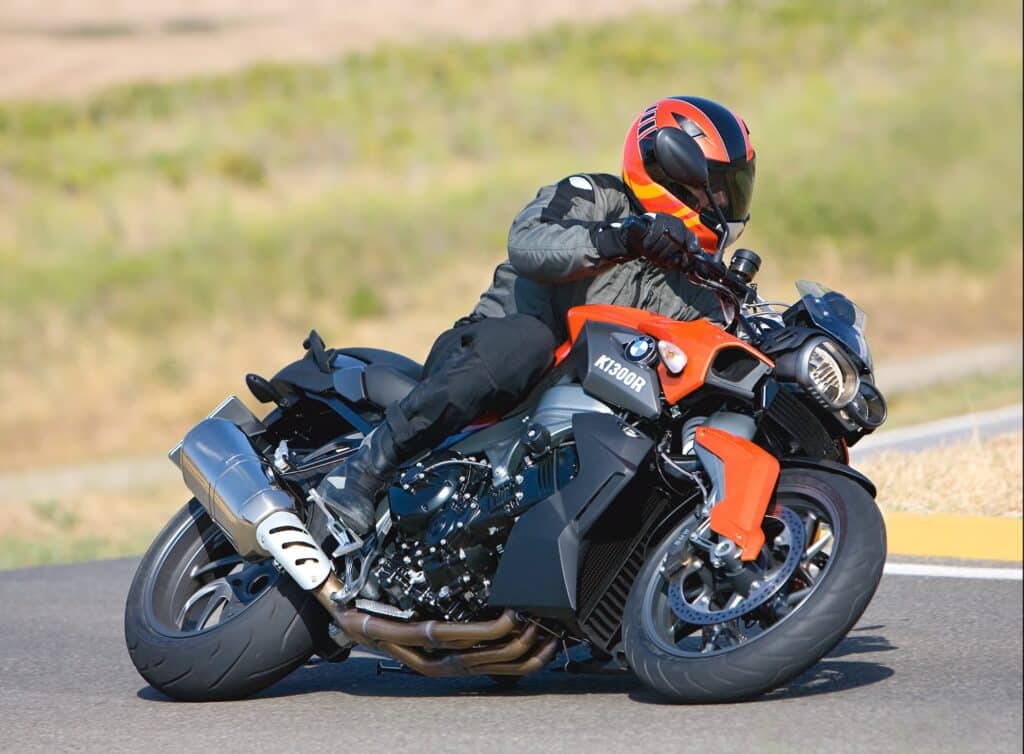 The BMW K 1300 R is an example of a class of bikes that no longer exists in exactly the same form — a muscle naked, focused on developing outright power and torque without a focus on being as sport focused as modern hyper nakeds and streetfighters.
The core of the K 1300 R is the 1293cc liquid-cooled four-cylinder engine that makes 127 kW (173 hp) at 9250 rpm. It has a 13.0:1 compression ratio — quite high — that means you need to run it on the most expensive super premium unleaded (98 RON), though it can also run on 95 RON. Ah, BMW motorcycles! Nothing comes cheap.
The bigger engine in the K 1300 R vs the K 1200 R means that torque peaks at a lower 9250 rpm, vs the 10250 rpm of the 1200 bike. On top of that, you can get 70% of the engine's peak torque from as low as 3000 rpm.
There's a lot that's quite special about the BMW K 1300 R, even after you start ogling that high-power engine.
Firstly, the BMW K 1300 R has a Duolever suspension setup up front with a central strut, and a Paralever setup at the rear. This is in contrast with the inverted fork you might expect to see on many naked sport motorcycles.
The benefits of the Duolever suspension are well-documented, but in essence their geometry is designed to counter dive, so you're always in maximum control of the motorcycle.
Secondly, the K 1300 R comes with optional ESA II — a frequently-chosen option (BMW buyers are a bit fancy). BMW's ESA II system lets you modify
Damping on the front and rear suspension
Pre-load (spring base) on the rear suspension
Spring rate / spring hardness
Considering that the BMW K 1300 R is a 2009-vintage bike, that's quite a lot of suspension technology.
Thirdly, the K 1300 R comes with loads of rider aids — sometimes options in come markets. These include ABS, traction control (ASC in BMW lingo), a tire pressure monitoring system, and a quick shifter (the HP Gearshift Assistant).
That's on top of heated hand grips. But there's no cruise control! The time for that still hadn't come…
One of the best things, from a maintenance perspective, about the BMW K 1300 R is the fact that it has a shaft drive. The shaft drive does need maintenance, but much less frequently than does a chain.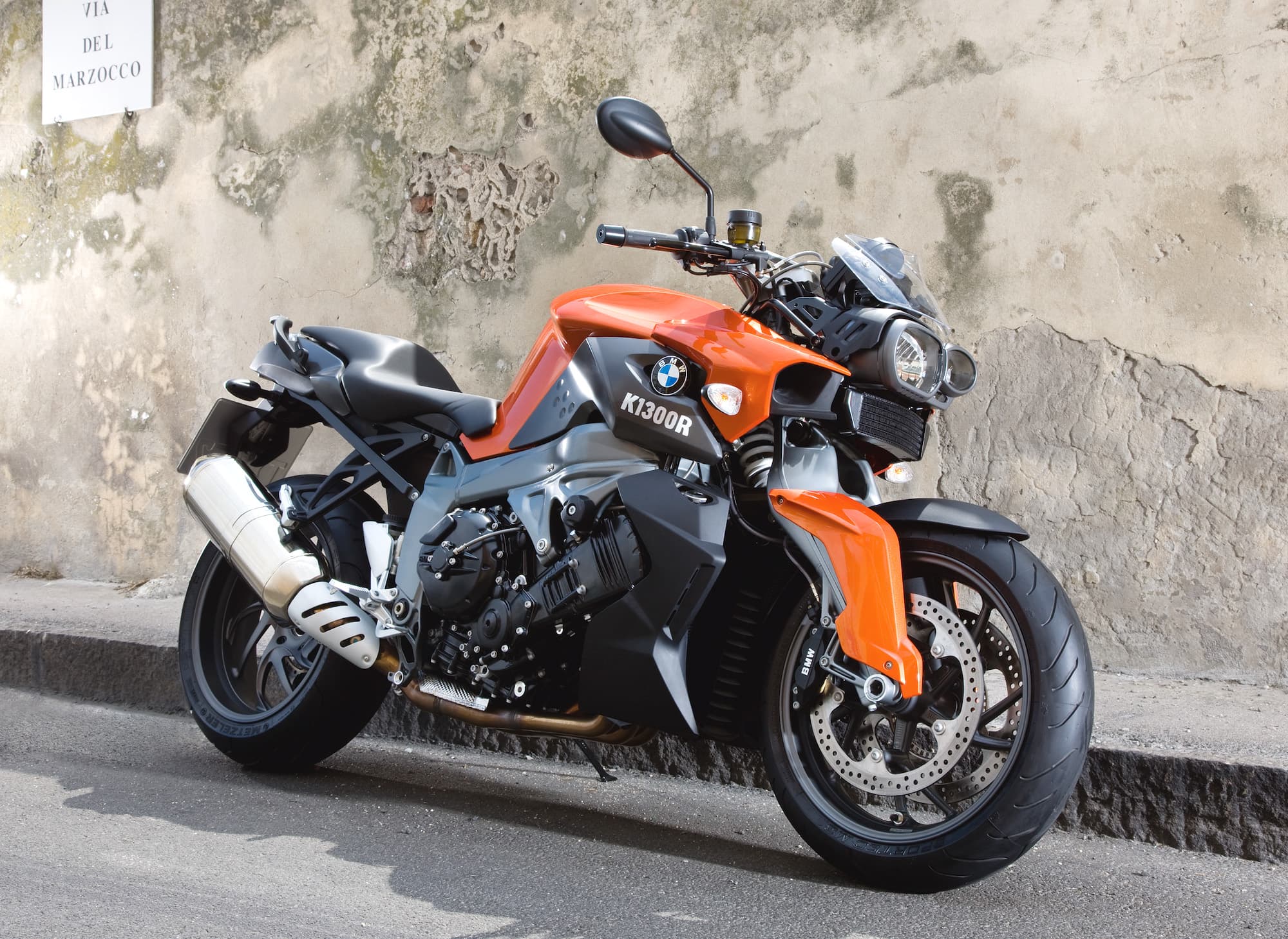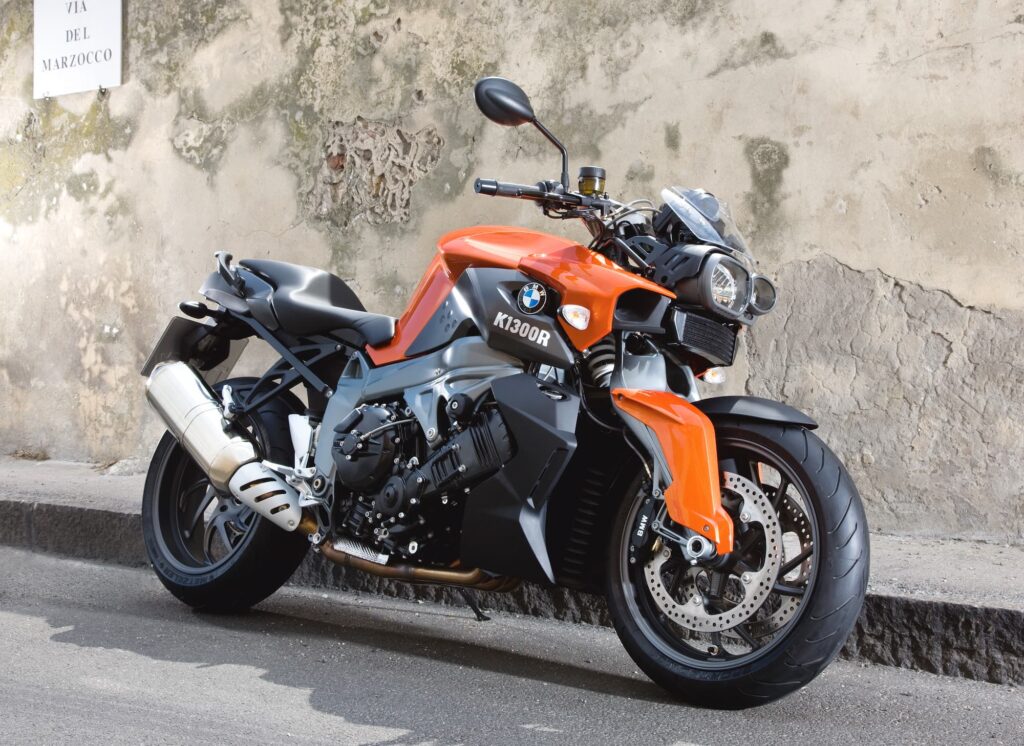 Manual for the BMW K 1300 R
The above maintenance schedule came from the riders manual for the BMW K 1300 R, plus the BMW service manuals and online parts fiches.
We adapted the information from the service manual into the same format as for other BMW maintenance schedules as presented in the manuals.
You can get the riders manual from BMW.