Suzuki TL1000R (1998-2002) Maintenance Schedule and Service Intervals
This is the maintenance schedule and service intervals for the Suzuki TL1000R, the supersport V-twin superbike made by Suzuki between 1998 and 2002, and the sportier stablemate to the Suzuki TL1000S.
The information below all came Suzuki TL1000R's service manual, cross-referencing with official Suzuki parts references and aftermarket parts databases.
The Suzuki TL1000R is powered by a 996cc liquid-cooled 90-degree V-twin, similar in bore and stroke to the TL1000S but with different internals to optimise it for race performance. It has dual overhead cams and eight valves, and its twin-injector engine makes around 5-10% higher peak power than the S, producing about 135 hp (100 kW) at 9000 rpm with the help of ram air. It has even higher potential peak power with aftermarket tuning.
The final drive is via a 6-speed box and chain.
After Suzuki discontinued the TL1000R, Suzuki kept the TL's engine alive in the Suzuki SV1000/S, and then in the first-gen Suzuki V-Strom 1000.
This site has links from which we earn a commission (which unfortunately nobody can save, not even us). If you appreciate this research work, then please use those links. Thanks.
Suzuki TL1000R Service Intervals
Overall, the Suzuki TL1000R has 3750 mile / 6000 km or 6-month service intervals between oil changes. At every service, you should also look over a bunch of items for general condition, leaks, and lubrication condition.
Every 7500 miles / 12000 km, change the air filter and the spark plugs. And every 15000 miles / 24000 km, check and adjust the valve clearances.
The TL1000R has a hydraulic clutch as well as brake, so you should change the brake and clutch cluid together periodically. (The TL1000S has a cable-operated clutch.)
Finally, also make sure you replace the coolant periodically (every two years).
Suzuki TL1000R Maintenance Schedule
Below is the maintenance schedule for the Suzuki TL1000R. It's from the service manual but reformatted for ease of use, separating it out into a schedule of infrequent service items as well as a standard inspection checklist.
Suzuki TL1000R Maintenance Schedule
Generally speaking for the below maintenance schedule
Observe the earlier of the time-based or distance-based intervals.
Keep following this schedule in the pattern shown beyond the end of the maintenance schedule
Note that the below maintenance schedule is a general guideline for your TL1000R. As the TL1000R is a more track / race-oriented bike, it's fairly safe to assume it's being ridden hard at times. If so, you should service it more often. This is particularly true for the engine oil, the chain, and the air filter.
mi x 1000
4
7.5
11
15
km x 1000
6
12
18
24
Every
General inspection checklist (see below) – Perform
✓
✓
✓
✓
Six months
Engine oil – change (10W-40 SAE SF or higher, e.g. Motul 7100 10W-40)
✓
✓
✓
✓
Six months
Oil filter – change (HF138RC)
✓
Air filter – inspect / clean
✓
✓
✓
Air filter – Replace (SU-0015)
✓
Spark plugs – inspect (gap 0.6-0.7 mm, tighten existing plug to 1/8 past finger tight)
✓
✓
Spark plugs – replace (NGK CR8EK, tighten to 1/2 past finger tight)
✓
✓
Valve clearances – check / adjust
✓
Throttle valve synchronisation — Check / adjust
✓
✓
Coolant – Replace (50/50 ethylene glycol premix)
2 years
Brake fluid – Replace (Castrol DOT 4)
2 years
Clutch fluid – Replace (Castrol DOT 4)
2 years
Brake hoses – Replace
4 years
Clutch hoses – Replace
4 years
Fuel hoses – Replace
4 years
Steering – Check smooth operation / adjust
✓
✓
Front forks – check condition
✓
✓
Rear suspension – Check condition
✓
✓
Exhaust pipe bolt and muffler bolt – Tighten
All to 23 Nm / 17 lb-ft. Use thread lock 1303 on the muffler protectors.
✓
✓
Evap system – Inspect hose condition
✓
✓
Replace every 4 years
Suzuki TL1000R Maintenance Schedule
Inspection checklist
Below is the standard inspection checklist for the TL1000R. Do it according to the schedule above.
Suzuki TL1000R Standard Inspection Checklist
General inspection items
Fuel hoses – inspect condition
Throttle cable – inspect / lubricate / adjust free play (2-4mm)
Clutch lever – inspect / adjust free play (10-15mm)
Clutch fluid – inspect level
Idle speed – Check / Adjust (1200 rpm, +/- 100 rpm)
Radiator hoses – Inspect condition
Drive chain – Inspect condition
Sprockets – Inspect condition
Brakes – Inspect wear level
Brake hoses – Inspect condition
Brake fluid – Inspect level
Brake pedal pivot and footrest pivot – lubricate
Side stand pivot – lubricate
Side stand switch – check operation
Tires – Check condition / pressure
Chassis bolts and nuts – Tighten
Suzuki TL1000R Standard Inspection Checklist
Maintaining your Chain on your Suzuki TL1000R
Suzuki recommends that you maintain your TL1000R's chain according to the following schedule.
Chain maintenance item
Every
Check chain
* Correct tension / slack (25-35mm / 1.0-1.4 in at loosest point)
* Adequate lubrication
* No excessive wear / damage (Service limit is 319.4 mm or 12.6 inches for 20-pitch length — counting 21 pins)
Ride (pre-ride check)
Clean and lubricate chain
– Clean with kerosene
– Lubricate with heavy weight motor oil
Note: the manual warns against cleaning with gasoline, or lubricating with any oil sold as "drive chain oil" as it can damage the O-rings.
1000 km / 600 miles
(More often if riding aggressively)
Suzuki TL1000S chain maintenance
Damage includes loose pins, damaged rollers, dry or rusted links, kinked or binding links, excessive wear, and improper adjustment.
When adjusting the chain tension, re-tighten the axle nut to a torque of 100 Nm / 73 lb-ft.
Suzuki TL1000R Wheels / Tire specs
Below are the tire sizes and specs for the TL1000R. Stock, the TL1000R shipped with sport / racing tires.
Wheel
Tire size
Tire pressure (cold)
Front
120/70 ZR 17 (58 W)
250 kPa / 2.5 bar / 36 psi
Rear
190/50 ZR 17 (73W)
250 kPa / 2.5 bar / 36 psi
Two-up: 290 kPa / 2.9 bar / 42 psi
Tire sizes and pressures for Suzuki TL1000R
About the Suzuki TL1000R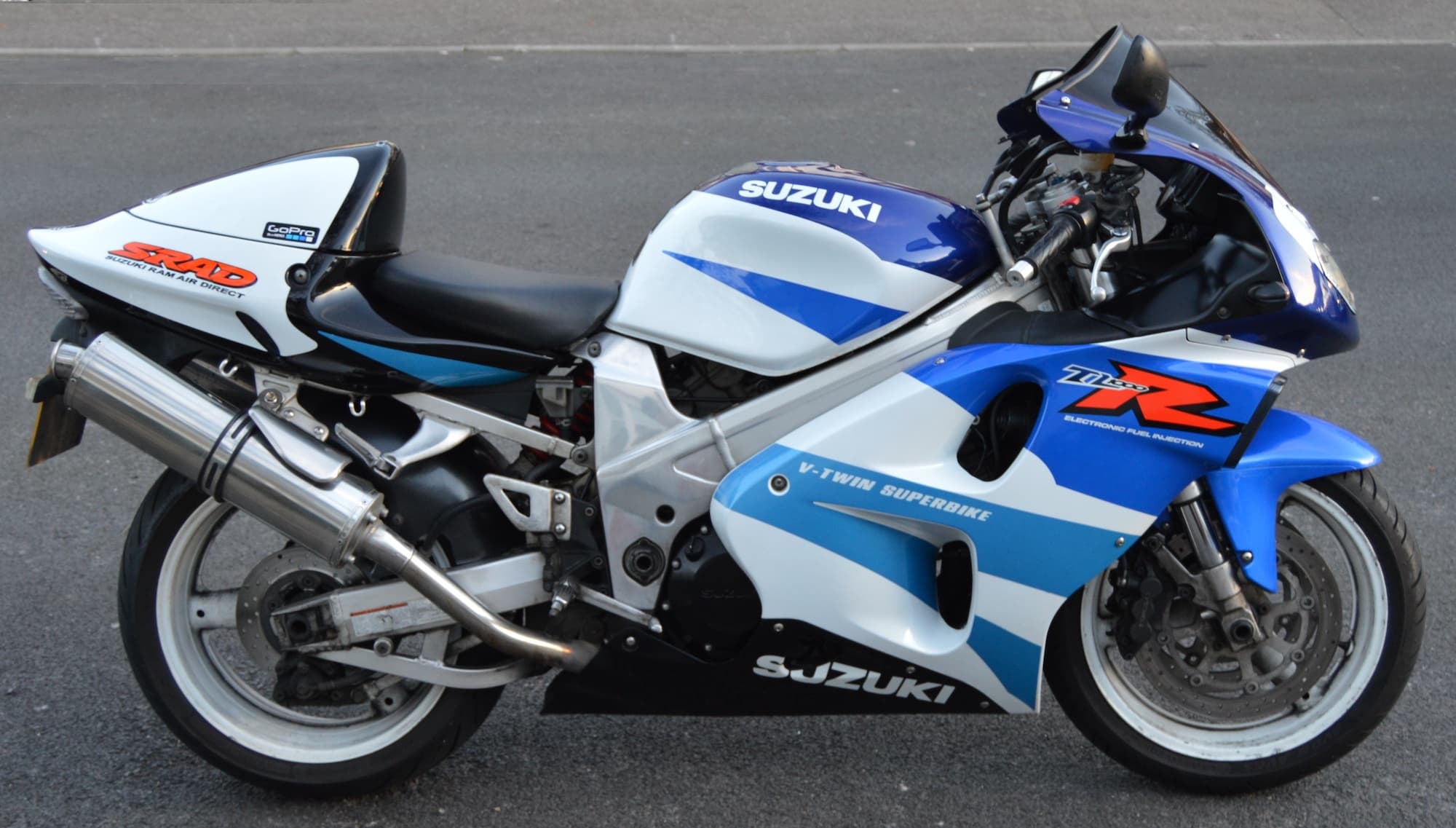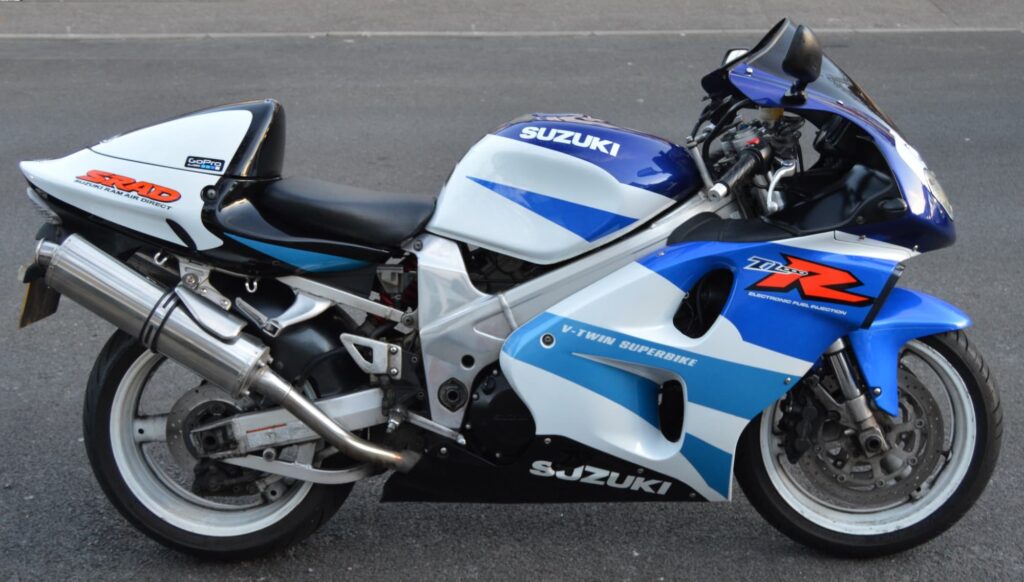 The Suzuki TL1000R is a high-performance sport motorcycle that was first introduced in 1998, and was sold alongside the more street-focused Suzuki TL1000S.
Originally, the TL1000R was supposed to be a competitor to bikes like the Honda VTR1000-SP and the Ducati 916. But it was heavier and less attractive, which made it not as successful a performer either on the track or in showrooms.
But these days, the Suzuki TL1000R is an iconic classic, with retro styling and an engine that has loads of character. The engine in the TL1000R is a 996cc liquid-cooled 90-degree V-twin, a class of motor that no longer exists coming out of Japan. Like other V-twin superbike engines, it makes lots of torque down low, and has a thunderous boom from the exhaust that makes powering out of corners a lot of fun.
The Suzuki TL1000R is is distinct from the TL1000S in many ways.
Primarily, the frame of the Suzuki TL1000R is quite different. The TL1000S has a trellis frame, whereas the TL1000R has a twin spar frame, similar to its GSX-R four-cylinder race bike cousins. On the outside of the frame hangs quite a bit more fairing, to give the TL1000R an aerodynamic edge.
Suzuki also made a number of updates to the engine of the TL1000R. These gave it a performance edge in stock form, but also gave it more performance potential when modified for the track.
Some of these internal changes were:
A redesigned ram airbox (the TLR takes a different air filter from the TLS)
Dual fuel injector throttle bodies
Hotter cams
Forged pistons
Revised ignition timing
Improved oil flow to reduce agitation
The changes do increase top-end power, but the compromise is that they come at the cost of midrange grunt in stock form due to the lean tune to pass emissions. An aftermarket retune is almost mandatory.
Suzuki also made some changes to the brakes. The TLS has four-piston calipers, whereas the TLR gets six-piston Tokico calipers. These do work well, but have somewhat fallen out of favour as time has passed due to occasional stuck pistons. People do swap them out for more modern four-piston units, too.
One thing that both the Suzuki TL1000R and TL1000S have in common, though, is the rotary damper rear suspension system, which was supposed to keep the TL1000R compact, despite the long V-twin engine. However, Suzuki did relocate it slightly for ease of access.
Ultimately, Suzuki discontinued the TL line completely, but kept the engine alive in motorcycles like the SV1000 and the first-gen Suzuki DL1000 V-Strom, where it had a lot more success.
Reference — Manual screenshot for the Suzuki TL1000R
The above information came from the service manual for the Suzuki TL1000R. You can see a reference copy below.
You can get manuals for Suzuki motorcycles from here.