Honda VFR800X Crossrunner (1st gen, 2011-2014) Maintenance Schedule and Service Intervals
This is the maintenance schedule and associated service intervals for the first gen Honda VFR800X Crossrunner, based on the 6th gen VFR, the 2002-2013 Honda VFR800.
The Honda VFR800X Crossrunner is a middleweight adventure sport tourer motorcycle with a V4 engine. It has the same engine as the one in the similar generation Honda VFR800, but into an upright chassis, and detuned slightly.
The engine in the 1st gen VFR800X is a 90-degree V4 with 782cc displacement, twin overhead cams (in each block) with an over-square bore and stroke of 72.0 x 48.0 mm that gives it a revvy, sporty character.
The 1st gen VFR800X comes with standard ABS in most markets, unlike the VFR800 of the same gen that had optional ABS.
From 2015, the 1st gen Crossrunner was replaced by the 2nd generation 2015+ Honda VFR800X.
This site has links for things like oil and spark plugs from which we earn a commission (which unfortunately nobody can save, not even us). If you appreciate this work, then please use those links. Thanks!
Honda VFR800X (1st gen) Service Intervals
Overall, the 1st gen Honda VFR800X has generous 8000 mile / 12000 km service intervals at which you should change the oil and filter.
There's also a series of other checks to do, including for fluids and general lubrication.
In addition, you should check the spark plugs and change the air filter every two services (16000 miles / 24000 km). Also inspect the valve clearances at this point.
As the VFR800X has a V4 engine with 16 valves, and has fairings to boot, the valve clearance check is not cheap and can demand around 4 hours of a mechanic's time, including other items in the general service, like changing the oil.
Honda also recommends changing the brake fluid every two years and the coolant every three.
What you need to service your Honda VFR800X Crossrunner 1st gen
The 1st gen Honda VFR800X has a V4 engine and some fairings to remove to get at the important parts. So servicing it can be a little cumbersome.
But it's easy to at least to do the basic service tasks of oil and filter changes, plus doing a full multi-point inspection.
Most VFR800X Crossrunners come equipped with a centre stand, which makes chain maintenance easier at least.
So here's what you need to maintain your VFR800X Crossrunner 1st gen.
| Part | Honda VFR800X Crossrunner spec |
| --- | --- |
| Engine Oil | Honda recommends SAE 10W-30 JASO T 903 standard MA for many of their vehicles, including the Crossrunner. Honda recommends Pro Honda GN4 10W-30. |
| Filter | The schedule calls for replacing the oil filter every time you replace the oil. Use a Hiflofiltro HF204RC (which works for all years). |
| Spark plug | You need an NGK spark plug of type IMR9D-9H (four of them). |
| Coolant | You can use any ethylene glycol-based coolant, but Honda recommends Pro Honda coolant. |
| Clutch and brake fluid | Use Honda DOT 4 clutch and brake fluid. |
| Air filter | Use the drop-in replacement air filter HA-8098 from K&N. It's the same for all year models of VFR800X Crossrunner. |
| Chain | Use a Motul chain care kit or at least Motul chain paste to service the chain of your VFR800X. |
| Grease | Always good to have lithium soap-based grease for external pivot points, like the bearings, kickstand, and centrestand. |
| Brakes | Many Crossrunner owners use EBC brake pads for added bite, less fade, and longer life. Use part FA388HH for the front (you need two pairs), and FA488HH for the rear. Note this brake pad spec changed between generations of the Crossrunner |
Maintenance parts for the Honda VFR800X 1st gen
Honda VFR800X Crossrunner Maintenance Schedule
Below is the maintenance schedule for the Honda VFR800X Crossrunner 1st gen. It's much the same as for the Honda VFR800F 6th gen, as well as similar to the latter 2015+ Honda VFR800X.
Pre-ride checks
Honda recommends the following pre-ride checks.
Do this as part of regular maintenance, too.
VFR800X Pre-ride checks
Check fuel lines for leaks, cracks, chafing
Check fuel level
Check throttle operation / free play
Free play at throttle grip flange – 4-6 mm, or 0.16-0.24 in
Check cooling system
Check coolant level
Check drive chain for looseness, major kinks
Check brake pad wear
Check brake fluid level
Check clutch fluid level
Check lights/horn functioning
Check engine stop switch functioning, along with engine start suppression (clutch, kickstand, gear)
Check wheels / tires condition
VFR800X Pre-ride checks
Annual service
Below is a list of regular maintenance items to do at every minor service — every year or per the schedule below.
Annual service item task
Conduct all pre-ride checks (see list above)
Change engine oil (Pro Honda GN4 10W-30)
Change oil filter (HF204RC)
Check brake system functionality
Check brake light switch
Check clutch system functionality
Check / set engine idle speed with throttle stop screw when engine is warm
Target idle: 1200 rpm +/- 100 rpm
Check / lubricate side stand (Lithium soap-based grease)
Inspect front and rear suspension for leaks, pitting, freedom of movement etc.
Inspect steering head bearings for free movement
Inspect secondary air supply system
Inspect drive chain slider for wear
Check and adjust headlight aim
Check all nuts, bolts, and fasteners for tightness
VFR800X Pre-ride checks
VFR800X full maintenance schedule
Below is the maintenance schedule for the Honda VFR800X.
Notes:
At higher odometer readings, repeat at the frequency interval below.
Where there's a distance or time-based interval, follow the earlier of the two. E.g. do the annual inspection every year or every 12000 km / 8000 mi, whichever comes earlier.
| km x 1000 | 1 | 12 | 24 | 36 | 48 | |
| --- | --- | --- | --- | --- | --- | --- |
| mi x 1000 | 0.6 | 8 | 16 | 24 | 32 | Every |
| Conduct full annual inspection (see list above) | ✓ | ✓ | ✓ | ✓ | ✓ | Year |
| Air filter (HA-8098) | | | R | | R | More often if riding in very wet / dusty areas |
| Inspect spark plugs | | | ✓ | | | |
| Replace spark plugs (NGK IMR9D-9H) | | | | | ✓ | |
| Inspect/adjust valve clearances | | | ✓ | | ✓ | |
| Replace coolant (Pro Honda Coolant) | | | | | | 3 years |
| Replace brake fluid (Honda DOT 4) | | | | | | 2 years |
| Replace clutch fluid (Honda DOT 4) | | | | | | 2 years |
Honda VFR800X maintenance schedule
Maintaining Your Chain on the Honda VFR800X
It's important to maintain your chain on the VFR800X, as on any chain-driven motorcycle, but particularly since the Crossrunner is often used as an all-year bike ridden in all kinds of conditions (rain, dirt, traffic, commuting, etc.)
Use a good-quality chain lubricant like Motul chain paste, or a Motul chain care kit which comes with a couple of handy tools to maintain the chain.
Honda recommends you follow the following chain maintenance schedule for the Crossrunner:
Chain maintenance item
Every
Check drive chain lubrication condition, lubricating if necessary
600 mi / 1000 km
Check drive chain slack, adjusting if necessary
Allowable slack: 30-40mm (1.2-1.6 in)
Bearing holder pinch bolt torque: 74 Nm (55 lb-ft)
600 mi / 1000 km
Chain maintenance — Honda VFR800X Crossrunner
Notes:
Do these items (checking/adjusting slack, and checking/applying lubrication) more often if you ride your VFR800X in dusty or rainy conditions.
Always lubricate the chain after washing the motorcycle.
Tyre size and tyre pressure for the Honda VFR800X Crossrunner
The Honda VFR800X Crossrunner has the following tyres and tyre sizes standard. It ships with Pirelli Scorpion Trail tyres, but people fit sportier or more touring-oriented tyres typically.
| Wheel | Tire size | Tire pressure |
| --- | --- | --- |
| Front | 120/70R17 M/C 58V | 225 kPa (2.25 bar, 33 psi) |
| Rear | 180/55R17 M/C 73V | 250 kPa (2.50 bar, 36 psi) |
VFR800X Crossrunner tyre sizes and pressures
About the 2011-2014 Honda VFR800X Crossrunner (Gen 1)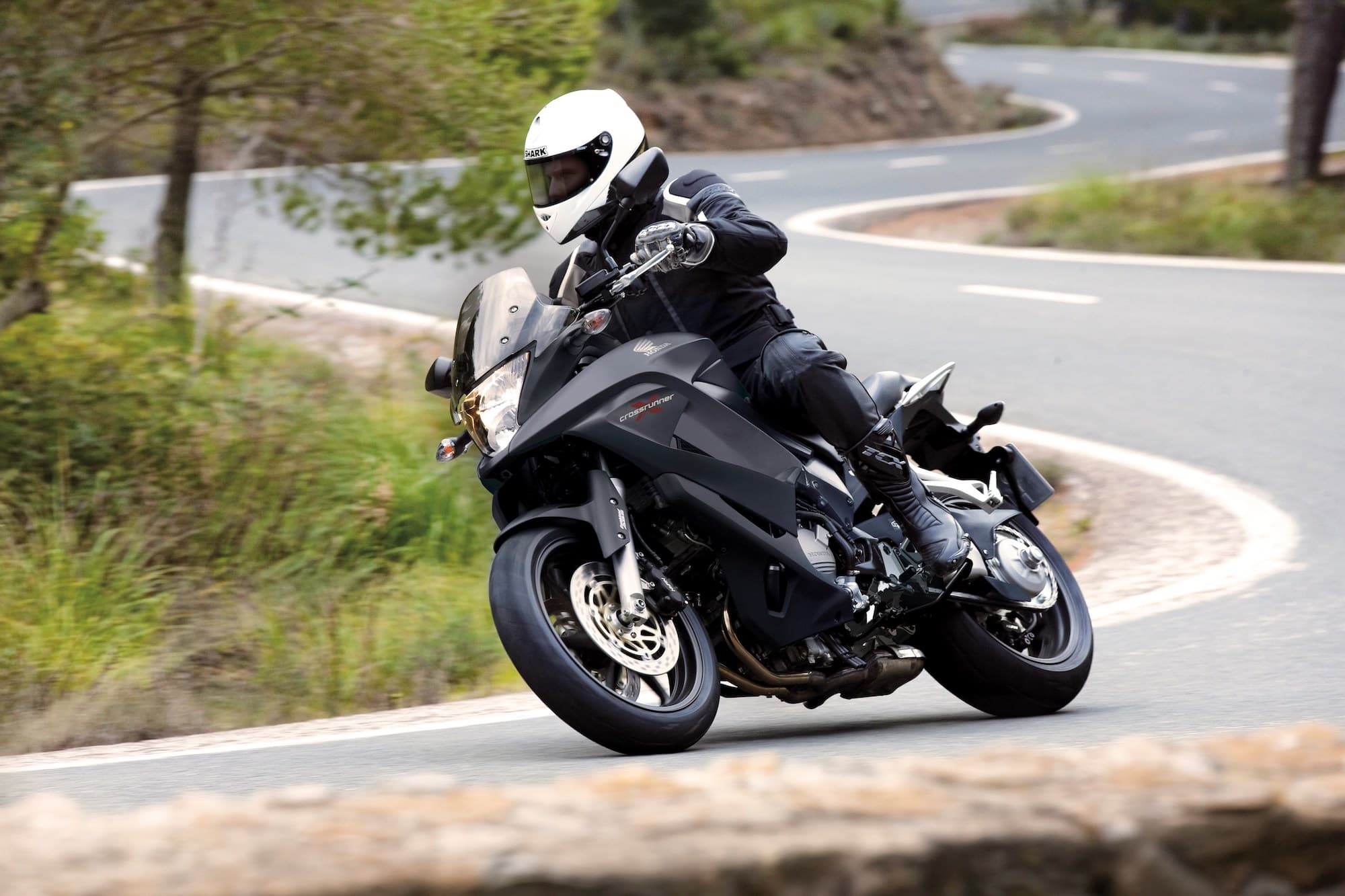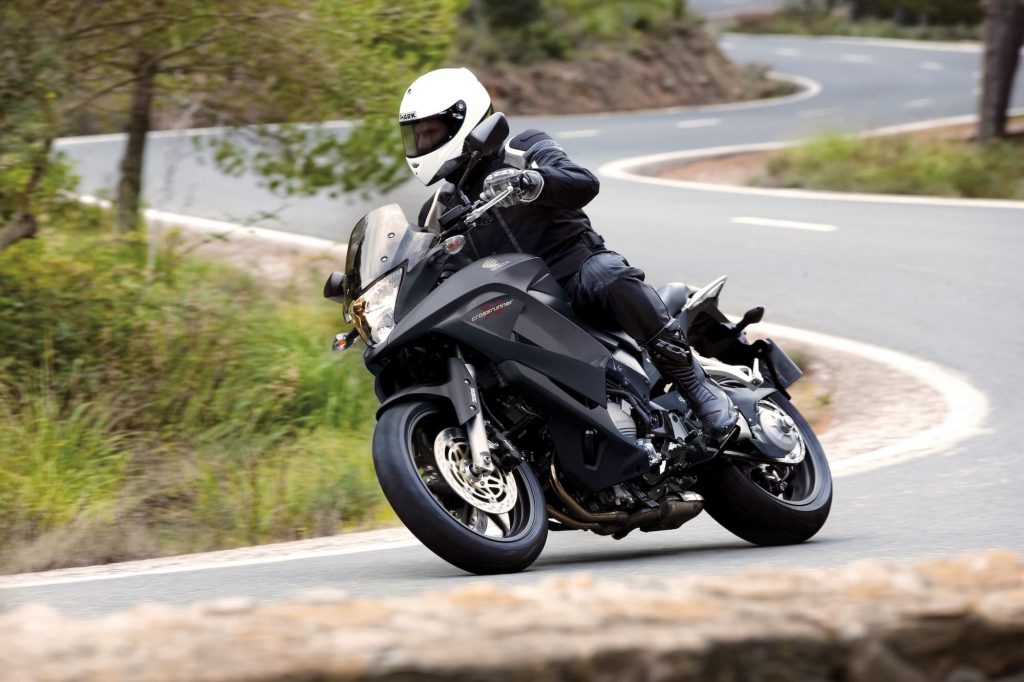 The Gen 1 Crossrunner was, needless to say, the first of its kind.
It's heavily based on the Honda VFR800F. But of course the riding position is even more comfortable, making it suitable for long-distance touring, and the engine is detuned slightly to give it more low-end oomph.
The Honda VFR800X Crossrunner is powered by a 782 cc liquid-cooled 90-degree V4 engine. It's a modern design, with dual overhead cams and four valves per cylinder.
The VFR800X makes peak power of 75 kW or 100 bhp at 10000 rpm, with peak torque of 73 Nm / 54 ft-lb at 9500 rpm. It's just a shade less peak power than the Honda VFR800 sport bike, but nothing terribly noticeable as the VFRs are not really intended to feel like high-power bikes.
Like the VFR800, the X has VTEC variable valve timing (it stands for Variable Valve Timing and Lift Electronic Control, or VVTLEC… VTEC for short). This aims to increase low-end torque without sacrificing top-end, by opening up from a 2-valve to 4-valve design based on engine speed and throttle position.
Very few other Honda bikes have used VTEC. The Honda CB400SF Hyper VTEC Revo is one of the few. But it's becoming more common in recent years, e.g. in BMW's ShiftCam engine.
The VFR800X is no lightweight bike, weighing in at 240 kg fuelled. That, combined with its middleweight engine capacity, makes the VFR not a lightning-quick bike. It's not one you'd take to the drag strip.
But the VFR800X can certainly still boogie. If you're quick with the shifter you can pull a 0-60 mph or 0-100 km/h in under 4 seconds. And the top speed is over 200 km/h or 130 mph.
Maintaining the Honda VFR800X is much like maintaining other middleweight VFRs, or other Honda motorcycles in general. The VFR800X has easy 8000 mile / 12000 km maintenance intervals at which Honda recommends you change the oil and filter and do a bunch of checks. Valve services are every two services, at 16000 miles / 24000 km. Though as time goes on, owners do them less and less frequently.
Manual for the Honda VFR800X Crossrunner
The above maintenance schedule comes directly from the user's manual for the Honda 2011 VFR800X Crossrunner. There were no changes with regard to other years.
You can download manuals for Honda motorcycles from here.