Suzuki V-Strom 650 1st Gen (2004-2011) Maintenance Schedule and Service Intervals
This is the maintenance schedule and associated service intervals for the Suzuki V-Strom 650 1st Gen (affectionately known as the "Wee-Strom" or just the "Wee"), including the ABS model released in later years.
The Suzuki V-Strom 650 (DL650) is a middleweight adventure sport touring motorcycle launched in 2004 with a standard riding posture, fuel injection and an aluminium chassis. The V-Strom is now in its third generation since model year 2017.
The V-Strom has a loyal following worldwide, and the DL650 used to outsell Suzuki's larger DL1000 two-to-one — though the gap has narrowed as the V-Strom 1000 improved, and now they both have their strengths. The name V-Strom combines V, referring to the bike's V engine configuration, with the German word strom, meaning stream or current.
The 1st generation V-Strom 650 was made between 2004-2011. It was based on the Suzuki SV650 Gen 2's 645-cc liquid-cooled V-twin engine, but in an adventure style body.
From 2012, the 1st gen V-Strom 650 was replaced by the 2nd gen V-Strom 650.
Here are the maintenance schedules for other generations of V-Strom 650 motorcycles
This was originally published on Feb 5, 2021, but has since been significantly updated.
This site has links for things like oil and spark plugs from which we earn a commission (which unfortunately nobody can save, not even us). If you appreciate this work, then please use those links. Thanks!
Suzuki V-Strom 650 Service Intervals
Overall, the Suzuki V-Strom 650 has 3500 mile or 6000 km, or alternatively 12-month service intervals.
At every service, change the oil, check or replace the spark plugs, and do a once-over of all the moving parts, cables, and hoses of the motorcycle.
Change the spark plugs every two services, and change the oil filter and air filter every three services.
The V-Strom 650's valve service interval is every 14500 miles or 24000 km. Note that you don't need to observe the time interval if the distance hasn't been travelled. (This was clarified in manuals for later models.)
Make sure you regularly replace the brake fluid as well as the coolant.
Give special attention to the chain of the V-Strom 650 if you ride it off-road.
What you need to service the Suzuki V-Strom 650 1st Gen
To do a service on your 1st gen V-Strom, aside from general motorcycle maintenance tools, you need some (or all) of the following consumables.
| Item | Suzuki V-Strom 650 1st Gen Spec |
| --- | --- |
| Engine oil | Suzuki recommends SAE 10W-40 oil that meets JASO T903 standard of class MA or MB, which meets performance requirements for motorcycles with wet clutches. Most oils meet this spec, and Motul 7100 10W-40 is well liked. |
| Oil filter | Oil filter tightening torque is 20 Nm (14.5 lb-ft). The part number starts with 16510-03G00, and there many that are the right part (with different codes). The Hiflofiltro equivalent part is HF138RC (all model years) |
| Spark plugs | Use a NGK CR8E as standard. Make sure it's gapped to 0.7-0.8mm with a gapping tool. |
| Air filter | The Suzuki part number for the air cleaner is 13780-27G10-000. The K&N part code for the air filter is SU-1002 (all model years). |
| Brake pads | The V-Strom obsessives on Stromtroopers like EBC double hardened pads most of all saying they have stronger bite, fade less, and last just as long (if not longer). You need FA229HH (front left), FA231HH (front right), and FA174HH (rear). |
| Brake fluid | The manual recommends DOT 4 brake fluid. |
| Coolant | You need a coolant compatible with an aluminum radiator, mixed at a 50:50 solution. Valvoline Zerex G05 meets the spec. |
| Chain lube | To maintain the chain, you need to clean and service it regularly. Use Motul chain paste, or better, the complete Motul chain care kit. |
| Grease | To grease external pivot points you need both lithium soap-based grease and silicone grease. |
What you need to service a Suzuki V-Strom 650
Suzuki V-Strom 650 1st Gen Maintenance Schedule
Below is the maintenance schedule for the Suzuki V-Strom 650 1st Gen.
NOTES:
Interval: This interval should be judged by odometer reading or number of months, whichever comes first.
Legend: I= Inspect and clean, adjust, replace or lubricate as necessary, R= Replace, T= Tighten
Hard use: If you use the motorcycle under severe conditions, you may have to service it more frequently (especially the chain and air filter)
| mi x 1000 | 4 | 7.5 | 11 | 14.5 | |
| --- | --- | --- | --- | --- | --- |
| km x 1000 | 6 | 12 | 18 | 24 | |
| Months | 12 | 24 | 36 | 48 | Replace every |
| Engine oil (Motul 7100 10W-40) | R | R | R | R | |
| Engine oil filter (HF138RC) | – | – | R | – | |
| Air cleaner element (SU-1002) | I | I | R | I | More often if riding in dusty / wet conditions |
| Spark plugs (NGK CR8E) | I | R | I | R | |
| Valve clearances | – | – | – | I | |
| Fuel hose | I | I | I | I | 4 years |
| Throttle cable play | I | I | I | I | |
| Throttle valve synchronization | – | I | – | I | |
| Engine coolant | | | | | 2 years |
| Radiator hose | I | I | I | I | 4 years |
| Clutch | I | I | I | I | |
| Brakes | I | I | I | I | |
| Brake hoses | I | I | I | I | 4 years |
| Brake fluid (Castrol DOT 4) | I | I | I | I | 2 years |
| Tires | I | I | I | I | |
| Steering | – | I | – | I | |
| Front forks | – | I | – | I | |
| Rear suspension | – | I | – | I | |
| Chassis bolts and nuts | T | T | T | T | |
| PAIR (air supply) system | – | I | – | I | |
| Evaporative emission control system (CA model only) | – | I | – | I | Replace hose every 4 years |
| Exhaust pipe bolts and muffler bolts | T | T | T | T | |
Suzuki V-Strom 650 1st Gen maintenance schedule
Maintaining your Chain on your Suzuki V-Strom 650
The V-Strom 650 is a classic all-purpose bike that people use for everything from daily commuting to light off-roading. As such, the chain gets a lot of abuse.
Maintain your chain regularly. Either use a good-quality (and affordable) chain lube like Motul Chain Paste, which you can take anywhere with you, or use a full on Motul Chain Care Kit to clean and restore a chain.
Suzuki recommends that you maintain your chain regularly according to the following schedule.
Chain maintenance item
Every
Check chain
* Correct tension / slack (20-30mm / 0.8-1.2 in at loosest point)
* Adequate lubrication
* No excessive wear / damage
Ride (pre-ride check)
Clean and lubricate chain
1000 km / 600 miles
Suzuki V-Strom 650 chain maintenance
Damage includes loose pins, damaged rollers, dry or rusted links, kinked or binding links, excessive wear, and improper adjustment.
Measure the drive chain tension / slack by measuring the maximum deflection of the chain at the loosest point. Use your finger to push the chain up and down, and use a ruler to see how far up or down it moves.
Tyre size and tyre pressure for the Suzuki V-Strom 650 1st Gen
The manual for the 1st gen Suzuki V-Strom 650 specifies the following tyre specs.
Tyre
Size
Brand(s)
Tyre pressure
Front
110/80R19M/C 59H
BRIDGESTONE TW101 J
225 kPa (33 psi)
Rear
150/70R17M/C 69H
BRIDGESTONE TW152 F
250-280 kPa (36-41 psi)
Adjust pressure based on rear load (e.g. riding with a passenger)
Tyres and tyre pressures
About the Suzuki V-Strom 650 1st Gen
The 1st Gen V-Strom 650, known affectionately as the "Wee-Strom", was (and still is) a huge favourite in the adventure travel world for many years with almost no competition other than from much more expensive BMWs.
The Suzuki V-Strom 650 is a middleweight adventure bike, designed to be an optimisation between comfort and efficiency.
The V-Strom 650 is based on the engine from the fuel-injected second generation SV650, detuned it slightly for more midrange, and then put it into an upright chassis.
The engine is a 645 cc 90 degree liquid-cooled V-twin, with four valves per cylinder, and dual overhead cams.
The V-Strom 650 has a two-into-one exhaust system that even in stock form has a healthy lump to it — it sounds fun. An upright, standard riding posture means you can ride the Wee-strom for days… it's a huge favourite for people doing the 1000-miles-in-24-hours "Iron Butt" challenge because of its comfort and range (over 250 miles or 400 km when ridden not aggressively).
The V-Strom's more relaxed cam profiles and changes to the airbox and exhaust (when compared with the SV engine) boost the torque and power between 4000 and 6500 rpm, where it's most often ridden. This makes it more suitable for the adventure/travel style of riding for which the V-Strom is intended.
People who ride both the V-Strom and the SV650 say they don't notice much difference in acceleration, but of course the SV650 will always feel sportier due to its riding position and lower weight.
Relative to the SV, the crank inertia (flywheel effect) is also increased by 4% via a redesigned starter clutch, which does tive the V-Strom 650 a slightly lazier feel. The V-Strom engine also uses a plastic outer clutch cover and engine sprocket cover for reduced weight and noise.
Manual for the Suzuki V-Strom 650 1st Gen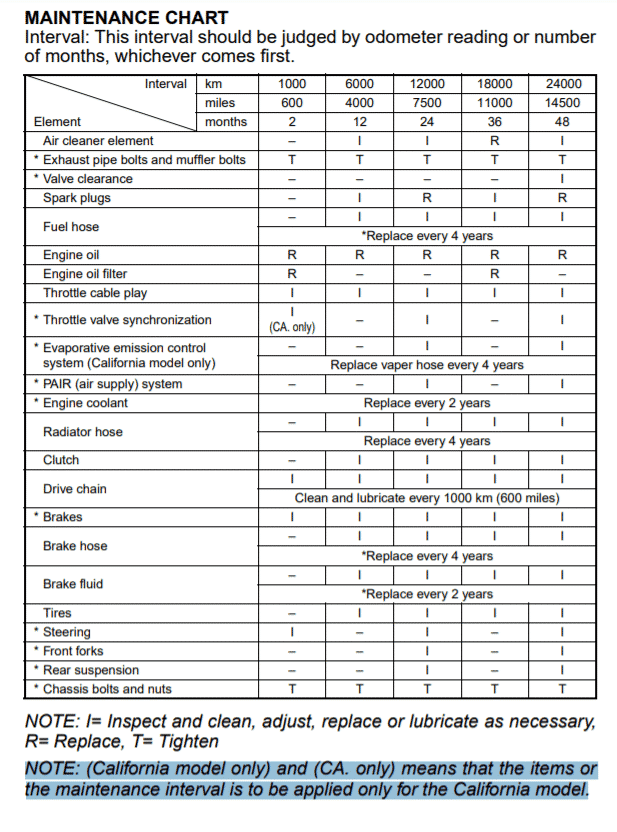 The above maintenance schedule comes directly from the user's manual for the Suzuki V-Strom 650 1st Gen. You can download it from here.