Suzuki V-Strom 650 3rd Gen (2017-2022) Maintenance Schedule and Service Intervals
This is the maintenance schedule and associated service intervals for the Suzuki V-Strom 650 3rd Gen, including the Suzuki V-Strom 650 XT.
The Suzuki V-Strom 650 (DL650), affectionately known as the "Wee-Strom", is a middleweight adventure sport touring motorcycle originally launched in 2004 with a standard riding posture, fuel injection and an aluminium chassis – now in its third generation since model year 2017.
The "Wee-strom" is so called because it's considered the smaller sibling to the V-Strom 1000. But the 650 was actually the first one to be released, and for many years was considered the better option.
The Suzuki V-Strom 650 is powered by a 645-cc liquid-cooled 90-degree V-twin, based on the motor that has been in the Suzuki SV650 for a long time. With a 11.2:1 compression ratio, the V-Strom 650 makes 50 kW or 69 hp at 8000 rpm, with peak torque of 69 Nm / 41 lb-ft coming on at 6400 rpm. The final drive is via a wet clutch and chain.
Here are the maintenance schedules for other generations of V-Strom 650 motorcycles
This was originally published on Feb 6, 2021, but has since been revised extensively.
This site has links for things like oil and spark plugs from which we earn a commission (which unfortunately nobody can save, not even us). If you appreciate this work, then please use those links. Thanks!
Suzuki V-Strom 650 3rd gen Service Intervals
Overall, the Suzuki V-Strom 650 3rd gen has 3500 mile or 6000 km, or alternatively 12-month service intervals.
At every service, change the oil, check or replace the spark plugs, and do a once-over of all the moving parts, cables, and hoses of the motorcycle.
Change the spark plugs every two services, and change the oil filter and air filter every three services.
The V-Strom 650's valve service interval is every 14500 miles or 24000 km. Note that you don't need to observe the time interval if the distance hasn't been travelled. (This was clarified in manuals for later models.)
Make sure you regularly replace the brake fluid as well as the coolant. Suzuki recommends a long-life coolant or an alternative to their Suzuki blue coolant.
Give special attention to the chain of the V-Strom 650 if you ride it off-road.
What you need to service your Suzuki V-Strom 650 3rd gen (including XT)
Servicing your own adventure/touring bike is part of the joy! Carry at least a couple of the below spares with you for when you have to do inevitable service (e.g. lube the chain, unless you have a Scottoiler).
Here's what you need to service your Suzuki V-Strom 650 3rd gen
| Part | V-Strom 3rd gen Spec |
| --- | --- |
| Engine oil | Suzuki recommends SAE 10W-40 engine oil that meets JASO T903 spec MA. A good oil is Motul 5100 10W-40 or a full synthetic option is Motul 7100 10W-40. |
| Oil filter | Use a Hiflofiltro HF138RC as a high-quality drop-in replacement that you can remove with a regular wrench (not an oil filter wrench). |
| Spark plug | The manual requires NGK MR8E-9 spark plugs. The CR8EIX is a common swap. |
| Air filter | You can use either a K&N SU-1002 or a Hiflofiltro HFA3611 as easy-to-obtain, high-quality replacements. |
| Chain maintenance | A Motul chain care kit is a great way to keep your chain in tip-top shape. Or you can get a Scottoiler! (an adventurer's best friend) |
| Coolant | The manual requires Suzuki's own Long Life Coolant, but that's hard to find other than from dealers. We recommend Pro Honda Coolant which is a similar-spec long-life coolant. |
| Cable lube | Use Protect all cable life to keep your cables maintained. |
Suzuki V-Strom 650 3rd gen maintenance parts
Suzuki V-Strom 650 3rd Gen Maintenance Schedule
Below is the maintenance schedule for the Suzuki V-Strom 650 3rd Gen.
Interval: This interval should be judged by odometer reading or number of months, whichever comes first.
NOTES
I= Inspect and clean, adjust, replace or lubricate as necessary
R= Replace
T= Tighten
mi x 1000
0.6
4
7.5
11
14.5
km x 1000
1
6
12
18
24
months
2
12
24
36
48
Every
Engine oil (Motul 5100 10W-40)
R
R
R
R
R
Year: R
Engine oil filter (HF138RC)
R
–
–
R
–
Air cleaner element (SU-1002, HFA3611)
–
I
I
R
I
Valve clearances
–
–
–
–
I
14500 mi / 24000 km (no time interval)
Spark plugs (NGK CR8EIX is a popular drop-in swap)
–
I
R
I
R
Radiator hose
–
I
I
I
I
Coolant — Suzuki Super Long Life Coolant or equivalent

(Replace every 2 years/ 12K km / 7.5K mi if you use normal coolant)
R
4 years: R
Exhaust pipe bolts and muffler bolts
T
–
T
–
T
Fuel hose
–
I
I
I
I
Evaporative emission control system (if fitted)
–
–
I
–
I
Throttle cable play
I
I
I
I
I
Throttle valve synchronization
I
–
I
–
I
Clutch cable play (lube with Protect All Cable Life)
–
I
I
I
I
Brakes (including pads)
I
I
I
I
I
Brake hoses
–
I
I
I
I
4 years: R
Brake fluid (Castrol DOT 4)
–
I
I
I
I
2 years: R
Tires
–
I
I
I
I
Steering
I
–
I
–
I
Front forks
–
–
I
–
I
Rear suspension
–
–
I
–
I
Chassis bolts and nuts
T
T
T
T
T
Lubrication points (use Lithium soap-based grease)
1000 km (600 mi): L
Spoked wheels (if fitted)
I
I
I
I
I
Maintenance schedule for the Suzuki V-Strom 650 3rd Gen
Maintaining your Chain on your Suzuki V-Strom 650
Maintain your chain on your V-Strom 650 regularly. Either use a good-quality (and affordable) chain lube like Motul Chain Paste, or use a full on Motul Chain Care Kit to clean and restore a chain.
Suzuki recommends that you maintain your chain regularly according to the following schedule.
Chain maintenance item
Every
Check chain
* Correct tension / slack (20-30mm / 0.8-1.2 in at midmost point)
* Adequate lubrication
* No excessive wear / damage
Ride (pre-ride check)
Clean and lubricate chain
1000 km / 600 miles
Suzuki V-Strom 650 chain maintenance
Damage includes loose pins, damaged rollers, dry or rusted links, kinked or binding links, excessive wear, and improper adjustment.
Tyre size and tyre pressure for the Suzuki V-Strom 650 3rd Gen
The manual for the 3rd gen V-Strom 650 species the below tyre sizes, plus the below brands and tyre pressures.
Tyre
Size
Tyre pressure
Front
110/80R19M/C 59V
225 kPa (2.25 kgf/cm2, 33 psi)
Rear
150/70R17M/C 69V
250 kPa (2.50 kgf/cm2, 36 psi)
With a passenger: 290 kPa (2.90 kgf/cm2, 42 psi)
Tyres and tyre pressures
The V-Strom 650 3rd gen ships standard with Bridgestone A40 tyres.
About the Suzuki V-Strom 650 3rd Gen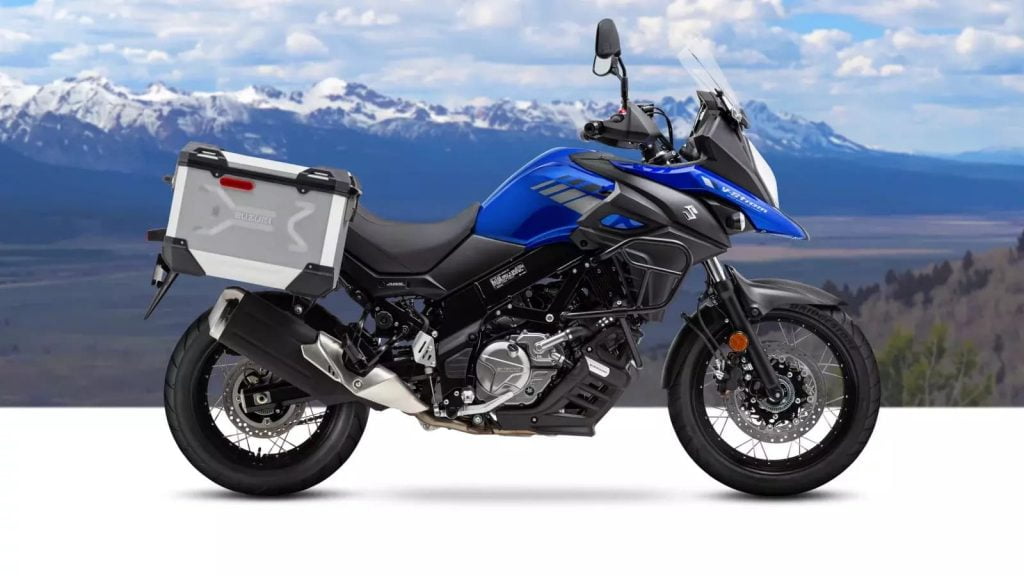 The V-strom 650 is Suzuki's mini adventurer (though not the smallest — that would be the parallel twin equipped V-Strom 250) with a 645cc liquid-cooled V-twin that's tuned for reliable torque forever.
The V-Strom line has a loyal following worldwide (as evidenced by the rabid fans on ADVrider and Stromtroopers). And the smaller DL650 "Wee strom" historically has outsold Suzuki's larger DL1000 two-to-one.
In recent years the gap between the DL650 and DL1000 has closed — the V-Strom 1000 has increased in quality and got a few things the Wee hasn't got, like cruise control.
The name V-Strom combines V, referring to the bike's V engine configuration, with the German word strom, meaning stream or current. In theory they all have V engines, but the smallest V-Strom has a parallel twin engine.
The V-Strom 650 3rd gen trades strength in a single area for adaptability to a variety of riding conditions: commuting, cruising, adventure touring, and to a lesser degree, off-road riding. It can keep up with adventure bikes, but not with dirt bikes. It keeps up with roadsters, but not with sport bikes.
The Wee is variously categorized as dual sport (not really), sport enduro tourer, street/adventure, commuter, or entry-level. Take your pick!
The V-Strom 650 3rd gen has a six-speed transmission with a fuel-injected and slightly re-tuned 645 cc engine from Suzuki's SV650 sport bike, using a two-into-one exhaust system. It has some components that make it a little less willing to rev, but able to pull from lower.
The V-Strom 650's upright, standard riding posture means the bike is comfortable to ride and easy to handle. And there's a TON of aftermarket options to protect it, give it luggage, and generally let you be able to coast to the horizon and back.
The V-Strom 650's engine is a liquid-cooled, four-stroke V-twin, with four valves per cylinder, and intake and exhaust valving each with their own camshaft. Its more relaxed cam profiles, compared with the SV engine, boost the torque and power between 4,000 and 6,500 rpm.
Relative to the SV650 of the same generation, the crank inertia is also increased by 4% via a redesigned starter clutch. Additionally, the DL650 engine uses a plastic outer clutch cover and engine sprocket cover for reduced weight and noise.
Unlike the SV engine, which uses cast iron cylinder sleeves, the DL650 uses Suzuki Composite Electro-chemical Material plated cylinders, a coating designed to reduce weight and improved heat transfer, allowing for tighter and more efficient piston-to-cylinder clearance.
Beginning in 2017, the DL650 has been available in two model versions; the base and XT.
The XT version of the V-Strom 650 3rd gen has inter-compatible luggage rack with the updated DL1000 from 2014. It also now has adjustable traction control and throttle assist which slowly increases the rpm of the engine when the clutch is released or riding at slow speeds. This decreases the chance the rider will stall the motorcycle — great for hill starts, new riders, or just embarrassing yourself at the stop lights.
The basic model Suzuki V-Strom 650 3rd gen is the same bike, but with many fewer options as standard.
For model year 2023, Suzuki released the Suzuki V-Strom 800DE, a more adventure-focused motorcycle based on a parallel twin engine.
Manual for the Suzuki V-Strom 650 3rd Gen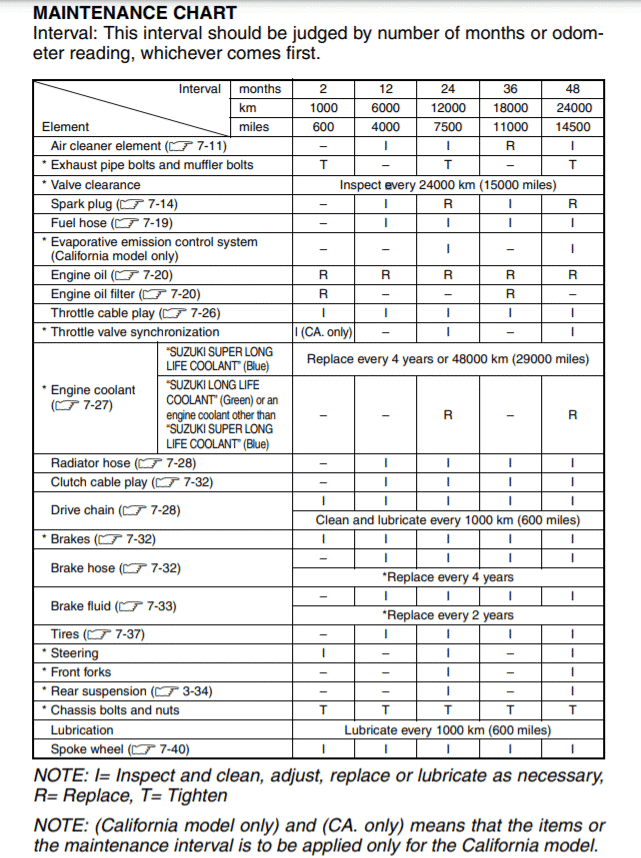 The above maintenance schedule comes directly from the user's manual for the Suzuki V-Strom 650 3rd Gen in 2017.
You can download it from Suzuki's official website here.