Kawasaki W800 (Street, Café) Maintenance Schedule and Service Intervals
This is the maintenance schedule with associated service intervals for the Kawasaki W800, both the Street and Café variants.
The Kawasaki W800 is the successor to the Kawasaki W650. It's a huge update — a bigger engine, more modern chassis, and fuel injection.
But at its core, the W800 is still a very simple and easy-to-ride motorcycle. These days, it's a retro, with twin gauges, an air-cooled engine, and very simple drivetrain.
The Kawasaki W800 (in every variant) is powered by a 783cc air-cooled parallel twin engine with bevel-driven cams. They could have used liquid cooling and tuned it for higher power, but have instead kept it traditional.
Maintenance for the W800 is pretty straightforward. There are no fairings! Nonetheless the air cooling means valve service is a bit more frequent than otherwise, and access isn't terribly easy (requiring removing quite a bit), but this is the kind of motorcycle owner's enjoy working on.
This site has links for things like oil and spark plugs from which we earn a commission (which unfortunately nobody can save, not even us). If you appreciate this work, then please use those links. Thanks!
Kawasaki W800 Service Intervals
Overall, the Kawasaki W800 has 7500 mile / 12000 km or annual service intervals. At every service, change the oil and filter, replace the spark plugs, and check the valve clearances. Even though it's a simple parallel twin, access isn't terribly easy.
The W800 has an air-cooled engine, which means valve inspection intervals are a little more often than if it had a liquid-cooled engine, with 12000 km (7500 mi) intervals, similar to that of an air-cooled Ducati — but a much easier job (no desmo, and just one cylinder head).
Valves are of shim and bucket type. Luckily, the valve head is of a design where you an slide the rocker arms to expose the shims, and remove them with a magnet.
Aside from that, make sure you keep your brake fluid up to date, and your chain maintained, and you should be fine.
What you need to service the Kawasaki W800
The Kawasaki W800 is a delightfully simple motorcycle to service. It's air-cooled, a parallel twin (just one cylinder head!), and a naked — it's all there for you to work on.
Aside from standard motorcycle maintenance tools, you do need specific replaceables though. Here they are.
Part
Kawasaki W800 Spec
Oil
You need 3.2 L (3.4 US qt)of SAE 10W-40 engine oil "with API SG, SH, SJ, SL or SM with JASO MA, MA1 or MA2 rating", preferably Kawasaki 10W-40 Engine Oil. Most motorcycle oils will suit, e.g. Motul 5100 10W-40.

Don't over-torque the drain bolt (spec is 20 Nm/15 lb-ft per the manual) — use a torque wrench if you don't have experience with how much torque is enough.
Oil filter
Oil filter is part 16097-0008, or you can use Hiflofiltro HF303. Torque for oil filter is 18 Nm (13 ft-lb) (use a torque wrench, and it's easier on the K&N one)
Front brake pads
Genuine part number for front brake pads is 43082-0187 for the Kawasaki W800. Get double-sintered EBC brake pads for better bite and wear — code FA231HH.
Rear brake pads
Genuine part number for rear brake pads is 43082-0128. Get double-sintered EBC brake pads for better bite and wear — code FA197HH.
Spark plugs
NGK CR8E, with a spark plug gap of 0.7-0.8mm (use a spark plug gapping tool), torqued to 13 Nm or 9 ft-lb (use a torque wrench)
Air filter
There are two air filters on the W800, the left hand and the right hand. They have separate part numbers — 11010-0959 for the left, and 11010-0953 for the right.
Cable lubricant
Remember to lubricate your clutch cable (and brake cables if you have them) with a cable lubricant. Protect All Cable Life is a good general-purpose lubricant.
Chain lubricant
The chain needs to be lubricated every 600 km/400 miles (or more, if it gets wet/dirty). Motul chain paste is cheap and well-loved.
See below for chain maintenance guidance
Brake fluid
Spec is to use DOT-4 brake fluid e.g. Castrol DOT 4.
Grease
Use a lithium soap-based grease for all the important greasing points.
Consumables for servicing the Kawasaki W800
Maintenance Schedule for Kawasaki W800
Below is the maintenance schedule for the Kawasaki W800. It's adapted from the manual, separating out important items from a general checklist of things to look over.
Service intervals are every 7500 miles / 12000 km or year. Repeat the checklist in the pattern shown below.
| km x 1000 | 1 | 12 | 24 | 36 | 48 | |
| --- | --- | --- | --- | --- | --- | --- |
| mi x 1000 | 0.6 | 7.5 | 15 | 22.5 | 30 | Every |
| Inspection checklist — Perform all items (See below) | ✓ | ✓ | ✓ | ✓ | ✓ | Year |
| Engine oil — Change (Kawasaki 10W-40 Engine Oil) | ✓ | ✓ | ✓ | ✓ | ✓ | Year |
| Oil filter — Change (HF303) | ✓ | ✓ | ✓ | ✓ | ✓ | Year |
| Spark plugs — Replace (CR8E) | | ✓ | ✓ | ✓ | ✓ | |
| Valve clearances — Inspect / Adjust | | ✓ | ✓ | ✓ | ✓ | |
| Air cleaner element — Inspect | | ✓ | ✓ | ✓ | ✓ | |
| Air cleaner element — Replace (11010-0959, 11010-0953) | | | | | | 2 years |
| Fuel filter — Replace | | | ✓ | | ✓ | 2 years |
| Steering stem bearings — Lubricate | | | ✓ | | ✓ | 2 years |
| Rear suspension — Lubricate (Lithium soap-based grease) | | | ✓ | | ✓ | 2 years |
| Brake fluid (Castrol DOT 4) — Replace | | | | | | 2 years |
| Brake hoses and rubber parts of brake master cylinder and caliper — Replace | | | | | | 4 years |
| Fuel hoses — Replace | | | | | | 5 years |
Kawasaki W800 Service Schedule
Inspection checklist
Below is the inspection checklist. Inspect these items at every service per the schedule above.
Kawasaki W800 Service Checklist
Idle speed (1 150 – 1 250 rpm)
Throttle control system (play, smooth return, no drag)
Target play: 2-3 mm / 0.08-0.12 in
Engine vacuum synchronization
Fuel system (inspect for leaks, cracks)
Air suction system
Clutch operation (adequate play, engagement, disengagement)
Target play: 2-3 mm / 0.08-0.12 in
Tire air pressure (see below for spec)
Wheels and tires condition / damage
Wheel bearing damage / looseness
Spoke tightness and rim runout
Drive chain guide — Inspect for wear
Brake system — No leaks / worn brake hoses
Brake operation (effectiveness, play, no drag)
Brake fluid level
Brake pad wear (minimum 1.0mm pad thickness)
Brake light switch operation on brake activation
Suspension system — smooth operation
Steering play — smooth operation
Electrical system function
Chassis parts — No rust, damage
Evaporative emission control system
Condition of bolts, nuts, and fasteners
Maintenance schedule for the Kawasaki W800
Maintaining Your Chain on the Kawasaki W800
It's important to maintain your chain on the W800, as on any chain-driven motorcycle. Use a good-quality chain lubricant like Motul chain paste, or a Motul chain care kit which comes with a couple of handy tools to maintain the chain.
Kawasaki recommends you follow the following chain maintenance schedule:
Chain maintenance item
Every
Check drive chain lubrication condition, lubricating if necessary (Motul chain paste)
400 mi / 600 km
Check drive chain slack, adjusting if necessary
(See below)
600 mi / 1000 km
Chain maintenance — Kawasaki W800
Notes:
Do these items (checking/adjusting slack, and checking/applying lubrication) more often if you ride your W800 in dusty or rainy conditions.
Always lubricate the chain after washing the motorcycle.
On the W800, chain slack is defined as total free movement of the chain.
Check the chain slack when its on its side stand, in neutral, with no load on the bike.

Target chain slack on the Kawasaki W800: 25-35 mm (1.0-1.4 in)
If the slack is out of spec, follow the procedure below.
Remove the cotter pin from the torque link nut, and loosen the torque link nut
Loosen the left and right adjuster lock nuts
Remove the cotter pin, and loosen the axle nut.
Turn the adjuster nuts to tighten (or loosen) the chain. Keep checking the chain tension to see if it has come within spec. (Target chain slack for the W800: 25-35 mm)
Keep an eye on the adjuster alignment notches on either side of the axle. Make sure that the adjustment is to the same point.
When you're done, tighten the axle to 98 Nm / 72 lb-ft, and tighten the adjuster torque link nut to 34 Nm / 25 lb-ft.
Re-check the chain slack again to make sure it's still within spec.
Install new cotter pins in the torque link nut and the axle nut.
If you can't tighten the chain enough, check its wear level. 20 links of the chain (from link 1 to link 21) should be a maximum of 319 mm / 12.56 inches. Beyond that, and the chain is over-stretched, and should be replaced, along with the sprockets.
Tyre size and tyre pressure for the Kawasaki W800
The Kawasaki W800 has the following tyres and tyre sizes standard (tube-type), and has the following recommended tyre pressure range.
| Tyre | Size | Brand(s) | Tyre pressure (when cold) |
| --- | --- | --- | --- |
| Front | 100/90-19 57H | DUNLOP, K300F GP | 200 kPa / 28psi |
| Rear | 130/80-18 66H | DUNLOP, K300 GP | 32-36 psi / 225-250 kPa |
Tyres and tyre pressures for the Kawasaki W800
About the Kawasaki W800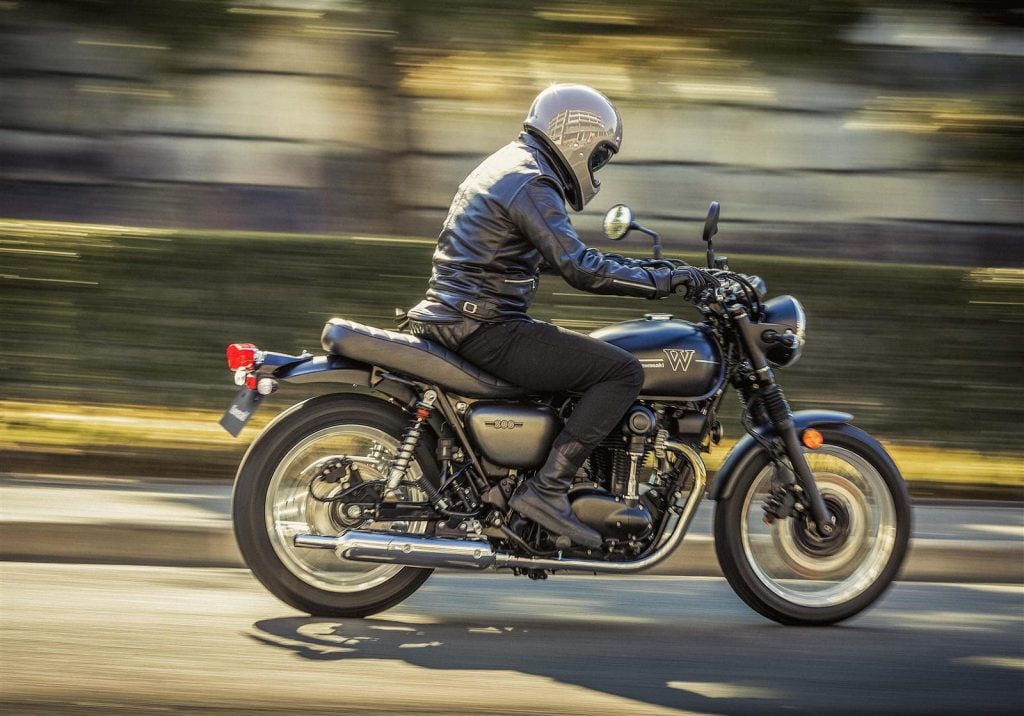 The Kawasaki W800 is a replacement for the very successful Kawasaki W650. It follows the same spirit — a back-to-basics retro motorcycle with an air-cooled engine and very low tech, but very easy rideability.
It's still a simple, approachable motorcycle. In fact in the UK, it complies with the A2 license scheme, meaning learners can use it. Not so much in most states in Australia however, where there's a capacity limit.
The Kawasaki W800 comes in two versions — a standard, or classic, and the Café. The Café version is almost identical except that it has a lower clip-on style handlebar, and a sportier seat. If you get one and change your mind about what's best for you, you can bolt on parts between the motorcycles.
Like classic motorcycles of the past, the W800's twin overhead cams are driven by bevel gears rather than a chain (or belt, as is common in modern Ducatis). This gives the engine a unique whirr.
But what makes the W800 really special is that engine. A very modestly tuned 773cc parallel twin with a 360 degree crank makes just 46 lb-ft of torque — enough to get you anywhere quickly, but you won't win at the stoplights against this motorcycle's modern cousin, the Kawasaki Z900.
The Kawasaki W800's parallel twin makes torque from very down low — even enough to launch it from as low as 2000 rpm. Between there and the 7000 rpm rev limit power delivery is very near and predictable.
But don't ever forget that this is a simple motorcycle. Its braking is gentle (only one front disc), and there's no ABS as standard. The suspension is non-adjustable. And the tyres are tubed, and not really suited to high speeds or rainy weather (in stock form). You don't buy this bike to hammer it — it's more of a styling statement.
The Kawasaki W800 Café is really intriguing. It seems like a minor change, but the slightly lower and forward leaning handlebars give the otherwise sedate motorcycle a more aggressive feel. You're not going to be slamming around tracks (well, not that quickly), but it gives every ride a little more punch. For some people, the forward canter is more comfortable, too. Plus, it looks great!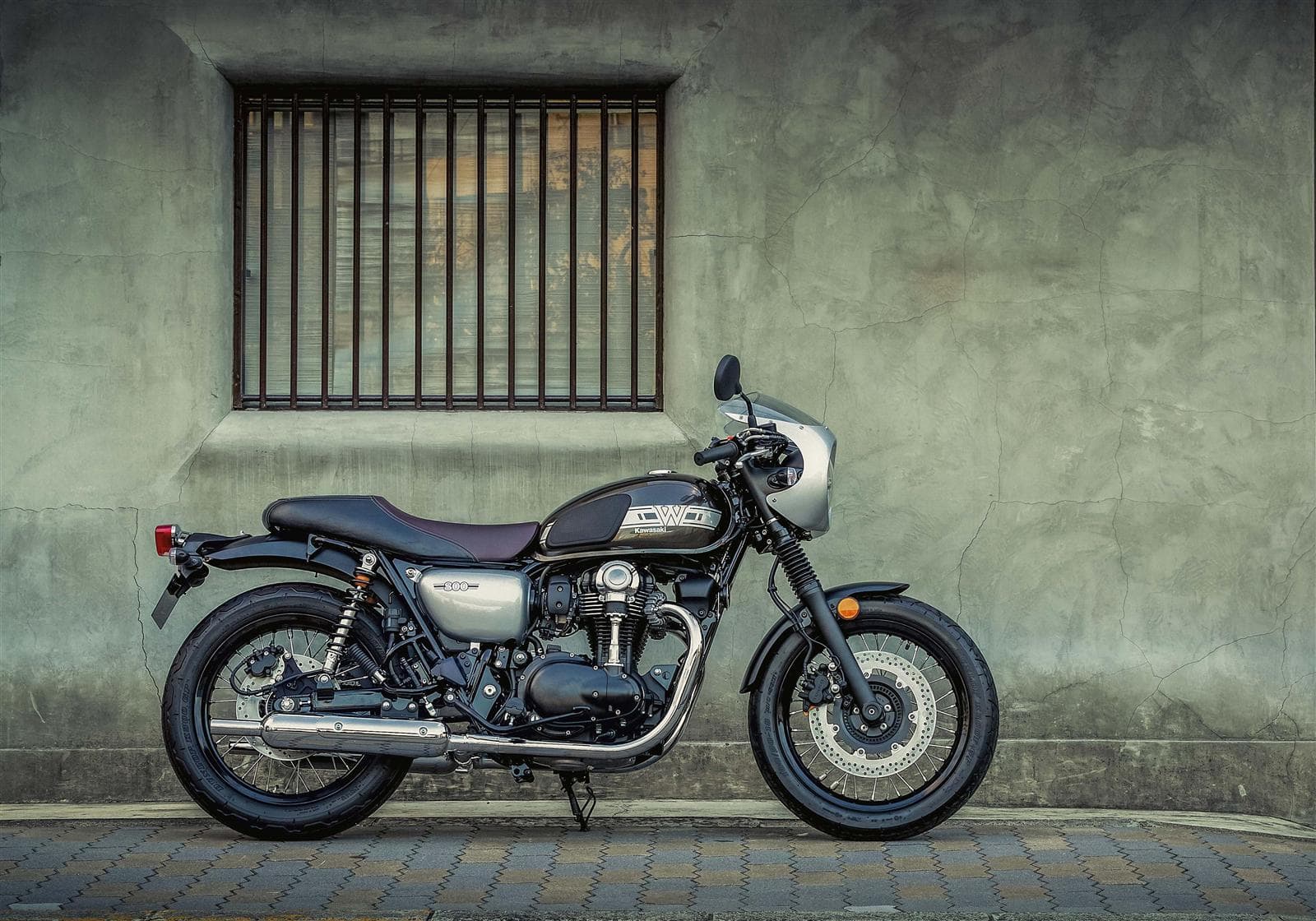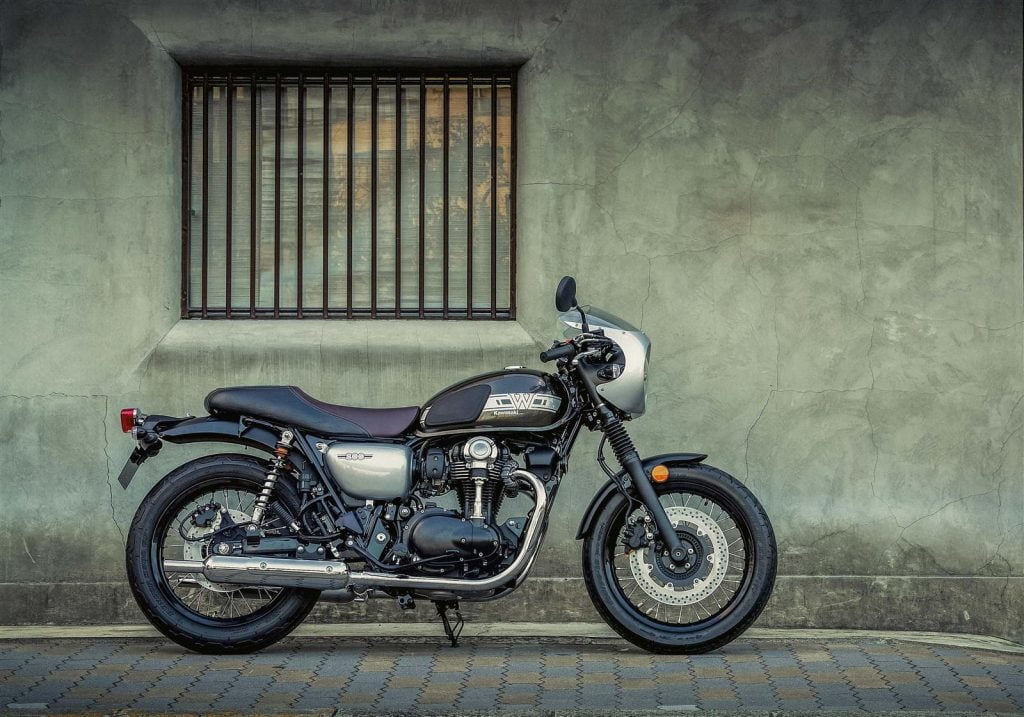 Reference — Manual for the Kawasaki W800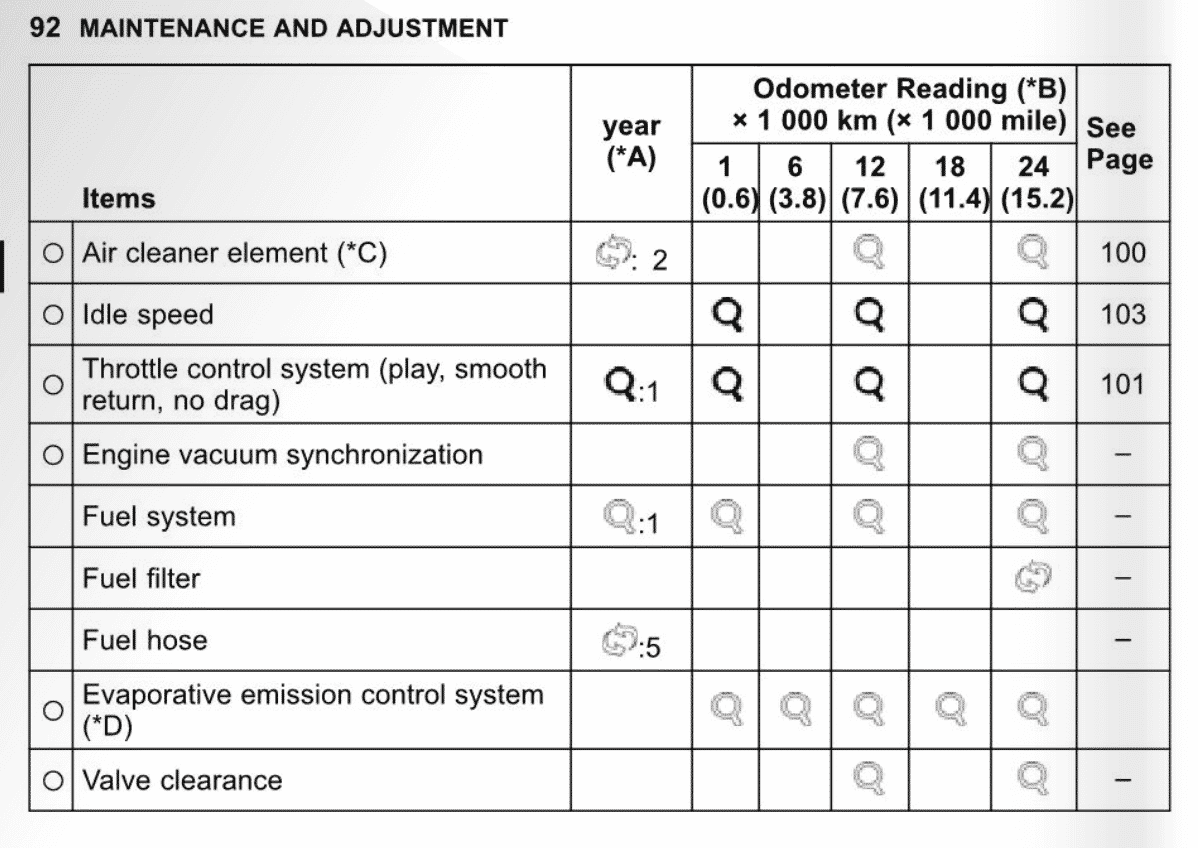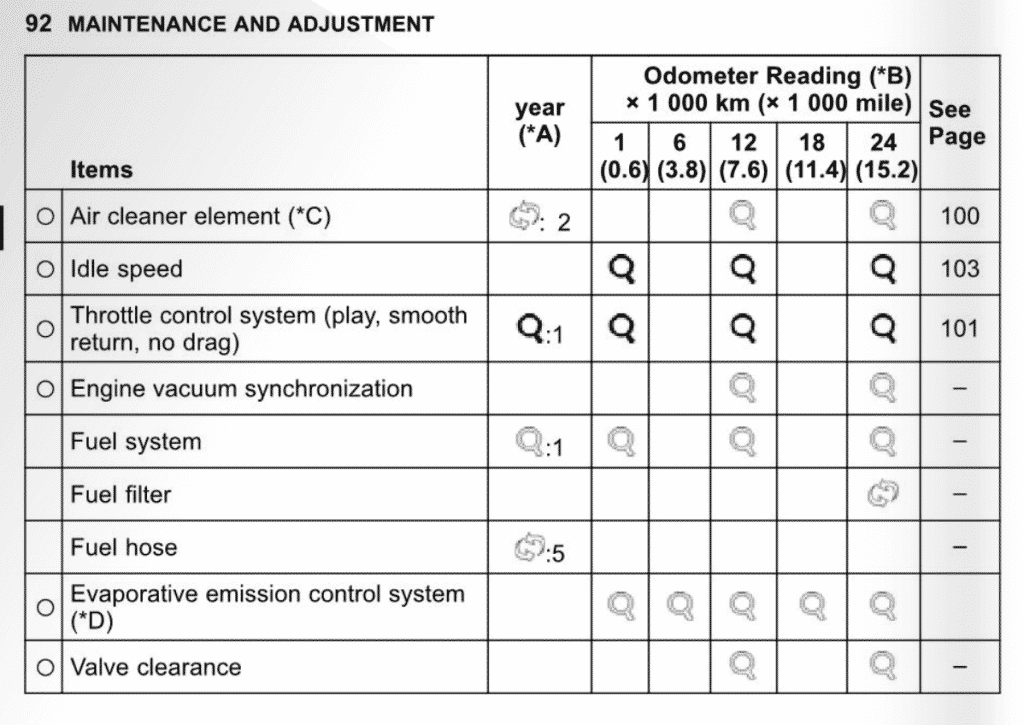 The above maintenance schedule comes directly from the user's manual for the 2019 Kawasaki W800, with some input from the service manual and forum Q&As.
You can access the manual for the W800 from Kawasaki's website here.