Royal Enfield Super Meteor 650 Maintenance Schedule and Service Intervals
This is the maintenance schedule for the Royal Enfield Super Meteor 650, the third in the line of the 650 twins, alongside the Interceptor 650 and the Continental GT 650.
The Royal Enfield Super Meteor 650 is a modern light / middleweight cruiser. It's powered by an air/oil-cooled parallel-twin 648cc single overhead camshaft engine with a mild 9.5:1 compression ratio. It makes a very modest 35 kW @ 7150 rpm, and 52 Nm @ 5150 rpm. Power goes to the ground via a 6-speed transmission and a chain drive.
Unlike its stablemates — and in fact, unlike most motorcycles today — the RE Super Meteor 650 has controls somewhere between mid and forward controls. The reach is comfortable, but not as exaggerated as it is on big dedicated cruisers.
This site has links from which we earn a commission (which unfortunately nobody can save, not even us). If you appreciate this research work, then please use those links. Thanks.
Service Intervals for the Super Meteor 650
Overall, the Royal Enfield Super Meteor 650 has quite short 3000 mile / 5000 km service intervals at which Royal Enfield recommends you check everything, including the valve clearances, as well as requiring you to do a host of checks.
The valve clearance check is not difficult on the 650 twins (they have screw and locknut-type adjusters), but it's still an annoyance to do so often — for many riders this will come up multiple times a year.
The oil change service interval for the Super Meteor 650 is less frequent than the valve service, being every 6000 miles or 10000 km. Change the oil filter at the same time as the oil.
Change the spark plugs every 12000 miles / 20000 km.
For more detail, see the service schedule below.
What you need to service the Royal Enfield Super Meteor 650
Servicing your Super Meteor is quite easy. It's an air-cooled twin with a chain drive. Also, luckily, most of it is exposed and it's easy to lift the tank to get at the important bits (like to do a valve service).
| Part | Royal Enfield Super Meteor 650 Spec |
| --- | --- |
| Engine oil | Oil changes every 10K km. Manual calls for SAE 10W-50 API SL (or higher) or JASO MA2-rated fully synthetic oil, e.g. Castrol Power 1 10W-50. |
| Oil filter | Royal Enfield wants you to order the filter from their website, but you can use a Mobil 1 M1-104A. |
| Spark plug | Bosch UR5CC (0.7-0.8mm gap) per the manual. This is equivalent to the NGK CR8E. |
| Air filter | You need to clean the air filter periodically but replace it when you change the oil — or more often if you ride it in the dirt. Use DNA air filter R-RE65N18-01. |
| Brake fluid | The manual calls for DOT 4 brake fluid, e.g. Castrol DOT 4. |
| Fork oil | The manual specs SS-47G fork oil. |
| Chain | Use a chain lubricant like Motul chain paste periodically to keep the chain fresh. |
| Grease | Use lithium soap-based grease for general greasing (bearings, swing-arm, kickstand etc.) |
Maintenance parts for the Royal Enfield Super Meteor 650
Maintenance schedule for the Royal Enfield Continental GT 650
Below is the maintenance schedule for the Royal Enfield Super Meteor 650, taken from the manual and reformatted slightly for simplicity
There are three separate parts:
Regular service every 600 miles / 1000 km (or every major ride), and
The longer-term maintenance schedule
Annual service checklist
Regular service
Do the following checks on your Royal Enfield Continental GT 650 every 600 mi / 1000 km.
Component
Regular service
Engine oil
Check oil level and top up if necessary (Castrol Power 1 10W-50)
Clutch cable
Check cable free play. Adjust if necessary
(Manual recommends 9-12mm clutch cable free play)
Hand levers
Check hand levers pivot point for smoothness. Lubricate if necessary (Lithium soap-based grease)
Drive chain
Clean, lubricate, and adjust chain
Manual recommends 20-30mm free play / cable tension (see below)
Regular service — Continental GT 650
Maintenance schedule
The recommended schedule is based on ordinary riding conditions. The manual takes pains to state that if you ride it more severely (e.g., in a dusty environment) you'll have to service your Super Meteor 650 more often.
For maintenance after the end of the table, continue with the same frequency as observed in the schedule (adjusting for how intensely you use your bike).
Noteworthy items in the maintenance schedule are
You have to adjust the valve clearances every 5,000 km!
There's no coolant to change — the Meteor 650 is air-cooled
Notes: The manual recommends checking the valve clearances every 12 months, and changing the spark plugs every 24 months, both regardless of mileage. This is different to every other modern motorcycle. Proceed as you think is prudent.
Kms x 1000
0.5
5
10
15
20
Miles x 1000
0.3
3
6
9
12
Every
Inspection checklist (see below) — Perform all items
✓
✓
✓
✓
✓
6 months
Engine Oil — Change (Castrol Power 1 10W-50)
✓
✓
✓
Year
Engine Oil Filter Element — Change (M1-104A)
✓
✓
✓
Year
Inlet / Exhaust valve clearances — Inspect / Adjust
✓
✓
✓
✓
✓
Year
Spark plugs — Inspect
✓
✓
✓
✓
Spark plugs — Replace (NGK CR8E)
Torque: 10-15 Nm
✓
2 years
Fuel filter — Clean
✓
✓
✓
Fuel filter — Replace
✓
✓
2 years
Air filter — Clean
✓
✓
✓
Air filter — Replace
✓
✓
More often if ridden in dusty conditions
Brake fluid — Replace
✓
2 years
Front fork oil — Replace
60000 kms or when any work carried out
Rear wheel cush rubbers — Inspect / Replace
✓
Electrical system earth wire eyelet tightness — Inspect
✓
✓
Royal Enfield Continental GT 650 maintenance schedule
Inspection checklist
Below is the regular inspection checklist to perform on the Super Meteor 650. Perform these checks according to the schedule above.
Annual service checklist — Super Meteor 650
Throttle cable / Free play — Inspect / Adjust
Brake Pads, front & rear — Inspect wear
Disc brake fluid level, front and rear — Inspect level
Rear brake pedal and gear change pedal pivot — Check free movement, lubrication level
Spark plug HT leads — Inspect for cracks
Rubber Hose, air filter to throttle body — Inspect
Rubber hose, inlet manifold / adaptor — Inspect
Evaporative emission equipment rubber hoses — Inspect
Vent pipe under air filter box — Inspect
Secondary air injection hose (if fitted — some markets only) — Inspect
Brake hose and banjo bolt front and rear — Inspect for leaks / condition
Front fork — Inspect for oil leak
Steering / headstock bearing — Inspect for play
Spoke tightness/ wheel rim run out front and rear — Inspect
Battery terminals — Inspect condition, apply petroleum jelly
Battery electrolyte levels — Check
(N/a for sealed battery)
Tyre wear pattern front and rear — Inspect
Side stand, centre stand pivots — Lubricate
Rider and pillion footrest pivot — Lubricate
All mounting fasteners in vehicle — Inspect for tightness
Annual service checklist
Chain Maintenance on the Super Meteor 650
Royal Enfield recommends regularly checking and adjusting chain maintenance. This is important on all chain-driven motorcycles.
Keep the chain well-lubricated and clean, using a well-recommended and affordable chain lube like Motul Chain Paste. You should check this before every major ride. The Super Meteor 650 has a centrestand, making chain maintenance very easy.
Every service, you should also check the chain tension.
Put the motorcycle on a flat surface, on its side stand, with the gear in neutral
Measure the chain free play at the loosest part of the bottom section o the chain. Free play is the total deflection of the chain when pushing it up and down.
Target free play: 20-30 mm
You need to measure free play at a few points of the chain, to make sure you capture the loosest one.
If the chain is too loose, or too tight, you need to adjust it.
Loosen the axle nut of the rear wheel axle.
Use a 6mm allen key (in the tool kit) to adjust the chain adjusters on the left and right.
Make sure you adjust them evenly on the left and right, to keep the chain aligned.
When the free play is between 20-30 mm, tighten the lock nuts and the axle again. (Tighten to 100 Nm / 74 lb-ft).
About the Royal Enfield Super Meteor 650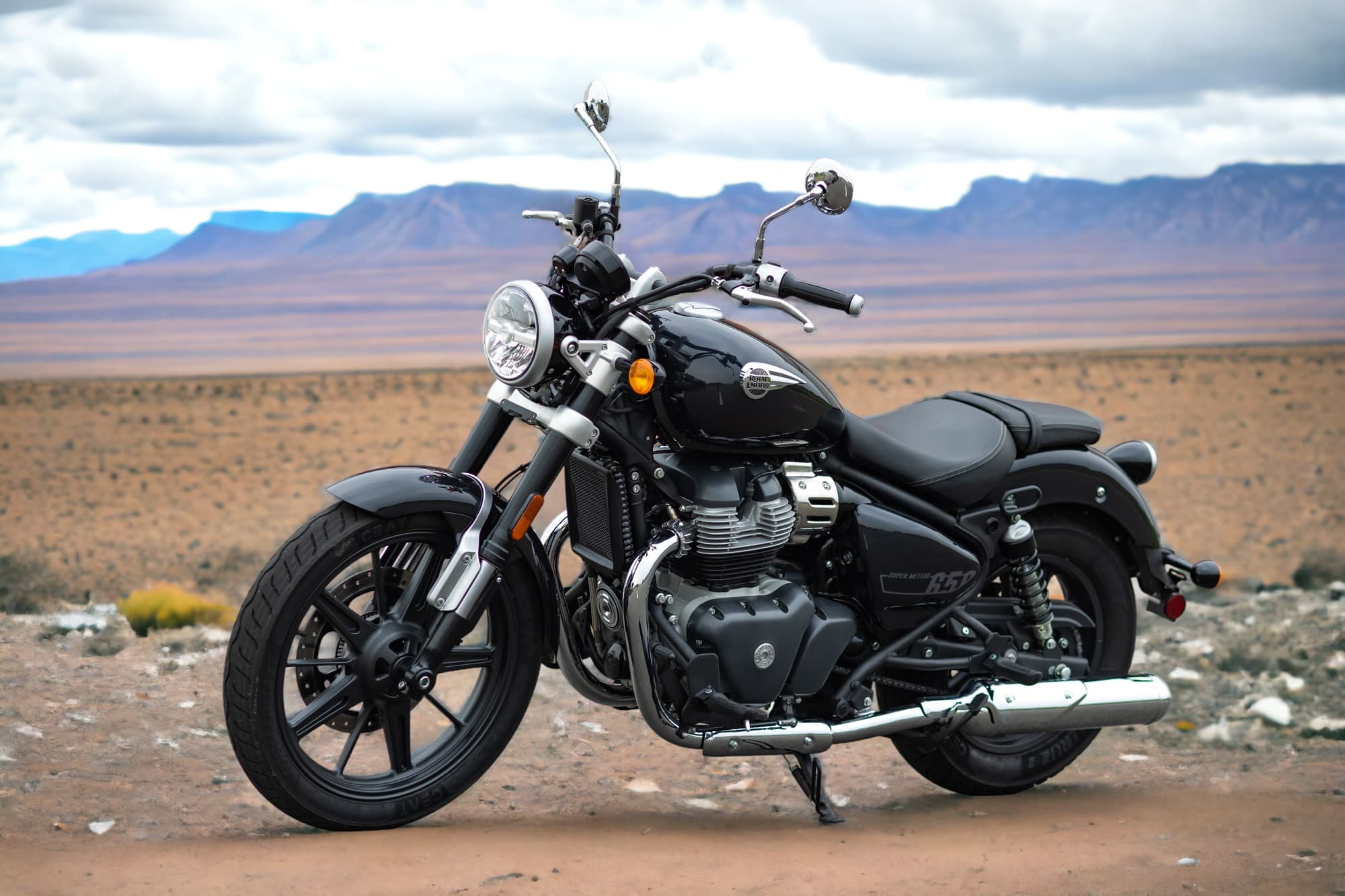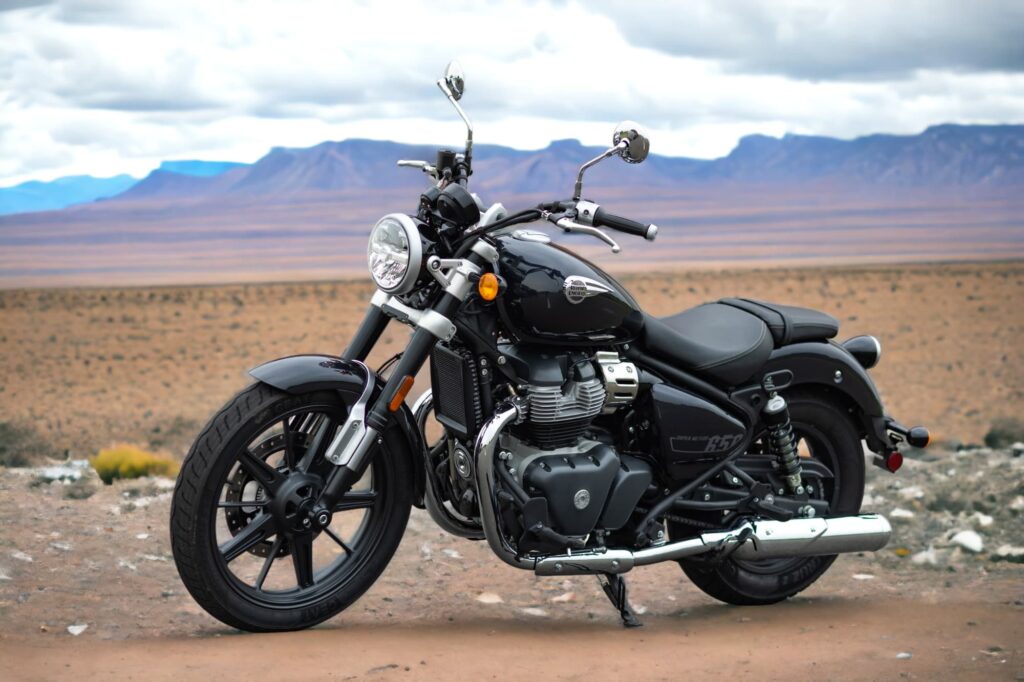 The Royal Enfield Super Meteor 650 is an eye-catching motorcycle that found itself a target market as soon as it was announced. It's a blend of classic British elegance and modern engineering, designed for as much an experience and aesthetic as pragmatic, cost-effective function.
Under the hood, there's an air/oil-cooled, transverse parallel-twin engine, with a single overhead camshaft and four valves per cylinder. This 648cc engine has an encouraging but subdued roar. With its compression ratio of 9.5:1, it's perfectly happy running on regular fuel, producing around 35 kW / 47 hp at 7250 rpm — comfortably within learner motorcycle limits anywhere around the world.
The Super Meteor 650 makes 39 lb-ft / 53 Nm of torque at 5250 rpm. It's not a huge amount, but it's easy enough torque for passes on the highway. Unlike many old-school bikes, the SM650 has a chain final drive and a six-speed transmission. The clutch actually is slip/assist, which means that you're forgiven for being a bit clumsy with the throttle during gear changes.
The shifter is a heel-and-toe kind, in case you enjoy that from other cruisers.
Of course, the RE SM650 isn't just about its engine and power. It has presence and a weight to it, both figurative and literal… the Super Meteor 620 weighs around 240 kg / 530 lb with its tank mostly full, which is quite hefty. This makes for stability on the highway, but it also takes away from performance off the line.
The 4.1 US Gallon / 15.5 L tank is generous, but not massive. If you're planning on crossing the country, take an extra gallon at least!
Moving on to the chassis, the Super Meteor 650 doesn't skimp on quality and comfort. The front suspension has a non-adjustable 43mm Showa Separate Function Big Piston fork, giving you a smooth ride with 120 mm / 4.7 inches of travel. The rear isn't left behind with dual shocks and five-position preload adjustment, with comfortable 100 mm / 4 inches of travel.
And when it comes to stopping power, the 320mm front disc and 300mm rear disc, both equipped with 2-piston floating calipers and standard ABS, ensure that you have control and safety at your fingertips.
The styling of the RE SM 650 is what really sets it apart. The styling leans more towards the British classic than the American traditional, with chrome accents gracing only the dual exhausts and mirrors, while the rest of the finishes are in elegant black or satin silver.
The riding position of the Super Meteor 650 is relaxed and upright, a departure from the stretched-out, arched-back rider triangle found in long and low cruisers. Your legs aren't splayed out far in front, but rather at a comfortable right angle, approaching "mid mount".
And when the sun goes down, the LED headlight and tail/brake light come to life, offering bright and wide illumination.
One differentiator of the Super Meteor 650 is its price. It's a very attractive motorcycle with a base price of under US$7,300. this makes it accessible new to many first-time buyers.
The Super Meteor 650 comes with a centre stand as standard. It also has Royal Enfield's Tripper navigation system that provides turn-by-turn routing, and a multifunction digital display inset in one of the dual round gauges, adding a touch of modernity to the classic design.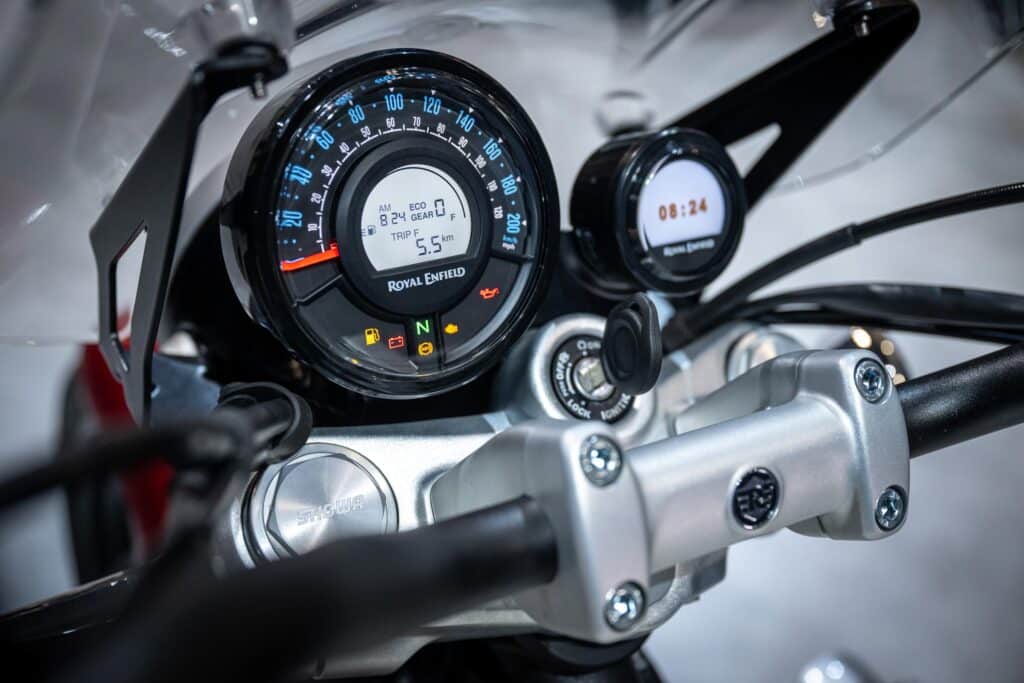 If you're someone who loves to personalize their ride, the Super Meteor 650 offers a range of accessories under the Grand Tourer and Solo Tourer themes, including hard-shell saddlebags, a top box, machined alloy wheels, and other bolt-on bits that add both style and function to this magnificent machine.
In the competitive market, the Super Meteor 650 is expected to give the Kawasaki Vulcan S a run for its money, with improved aesthetics and more attractive price point. Where the Vulcan wins is on a reputation for rock-solid reliability and very low maintenance requirements.
Reference — Super Meteor 650 Owner's Manual
You can see screenshots from the maintenance schedule for the Royal Enfield Super Meteor 650 below.
There's also a download link for archive purposes.
You can always download manuals from Royal Enfield here, but they require an email address.