Honda CB650F (2014-2018) Maintenance Schedule and Service Intervals
This is the maintenance schedule and associated service intervals for the Honda CB650F made between 2014-2018.
The Honda CB650F is a middleweight sport standard motorcycle, a replacement for the fuel-injected Honda CB600F Hornet, made up to 2013. The CB650F is the counterpart to the somewhat sportier CBR650F.
The CB650F has the same engine as its sibling — a liquid cooled, 4 stroke, 16 valve, DOHC inline 4 cylinder engine with a displacement of 649 cc. The engine generates a maximum power of 64kW at 11,000 rpm and 63Nm of torque at 8,000 rpm, putting power to the ground through a six speed transmission and a chain drive.
After 2018, the CB650F was replaced by the Neo Sports CB650R, which is slightly more powerful and a lot more "retro-modern" looking.
This site has links for things like oil and spark plugs from which we earn a commission (which unfortunately nobody can save, not even us). If you appreciate this work, then please use those links. Thanks!
Service intervals for the Honda CB650F
The major maintenance schedule for the Honda CB650F is every 8000 miles (12800 km) or year, where you have to change the oil. Between that, it's mostly inspections and the occasional replacement item.
The major valve service interval for the Honda CB650F is 16000 miles (25600 km).
Naturally, you do have to replace the coolant and the brake fluid in the Honda CB650F. But the clutch is operated by cable, so you just have to keep that in good condition and lubricated.
Aside from that, maintain the chain and other wearable parts (brakes, tires, etc.)
What you need to service your Honda CB650F
If you're servicing your Honda CB650F, aside from general motorcycle maintenance tools, you'll need a few specific parts.
| Part | Honda CB650F spec |
| --- | --- |
| Engine oil | Honda recommends SAE 10W-30, JASO T 903 standard MA, like Pro Honda GN4 10W-30. Use a torque wrench to tighten the bolt to 30 Nm (22 lb-ft). |
| Oil filter | Honda's standard part number for the oil filter is 15410-MFJ-D01 (for many motorcycles). You can also use Hiflofiltro HF204RC for the oil filter. Tighten it to 26 Nm (19 lb-ft). |
| Engine coolant | Use Honda Long-life Coolant, which is based on ethylene glycol. |
| Spark Plugs | Use NGK CR9EH-9. This is what the manual suggests. Make sure it's gapped correctly to 0.8-0.9mm (get a gapping tool) and torqued correctly (use a torque wrench). |
| Air filter | Honda OEM part number is 17210-MKN-D50. You can also get the K&N equivalent, HA-6414. |
| Brake fluid | Honda recommends Honda DOT 4. |
| Brake pads | For the front, you need two pairs of brake pads (OEM: 06455-MKN-D51, EBC: FA679HH), and for the rear you need one (OEM: 06435-MGZ-J01, EBC: FA496HH). (Here's a combined CB650R/CBR650R brake pad change kit.) |
| Chain | Maintain your chain with Motul chain paste or a Motul chain care kit (which includes a brush and some other doo-dads. |
| Grease | Always good to have on hand lithium soap-based grease for lubing external pivot points (like the kickstand) and bearings. |
Honda CB650F maintenance parts
Honda CB650F Maintenance Schedule
Below is the maintenance schedule for the Honda CB650F. We took this from the manual but also simplified it for legibility.
Notes
Keep following the maintenance schedule every 4000 miles / 6400 km in the pattern shown.
The original manual recommended you get steering and wheels/tires serviced by a pro.
Since you can no longer buy this motorcycle new, the break-in service isn't shown.
Maintenance Procedures:
I: Inspect and clean, adjust, lubricate, or replace, if necessary
R: Replace
L: Lubricate
| x 1000 mi | 4 | 8 | 12 | 16 | 20 | 24 | |
| --- | --- | --- | --- | --- | --- | --- | --- |
| x 1000 km | 6.4 | 12.8 | 19.2 | 25.6 | 32 | 38.4 | Every |
| Engine Oil (Pro Honda GN4) | | R | | R | | R | 1 year: R |
| Engine Oil Filter (HF204RC) | | | | R | | | |
| Air Cleaner (HA-6414) | | | R | | | R | More often if riding in dust/rain |
| Spark Plug (CR9EH-9) | | | | R | | | |
| Radiator Coolant (Honda Long-life Coolant) | | I | | I | | I | 3 Years: R |
| Cooling System | | I | | I | | I | |
| Valve Clearance | | | | I | | | |
| Fuel Line | | I | | I | | I | |
| Throttle Operation | | I | | I | | I | |
| Engine Idle Speed | | I | | I | | I | |
| Secondary Air Supply System | | | | I | | | |
| Evaporative Emission Control System | | | | I | | | |
| Brake Fluid (Honda DOT 4) | I | I | I | I | I | I | 2 years: R |
| Brake Pads Wear | I | I | I | I | I | I | |
| Brake System | | I | | I | | I | |
| Brake Light Switch | | I | | I | | I | |
| Headlight Aim | | I | | I | | I | |
| Clutch System | I | I | I | I | I | I | |
| Side Stand | | I | | I | | I | |
| Suspension | | I | | I | | I | |
| Nuts, Bolts, Fasteners | | I | | I | | I | |
| Wheels/Tires | | I | | I | | I | |
| Steering Head Bearings | | I | | I | | I | |
Honda CB650F maintenance schedule
Maintaining Your Chain on the Honda CB650F
It's important to maintain your chain on the CB650F, as on any chain-driven motorcycle. Use a good-quality chain lubricant like Motul chain paste, or a Motul chain care kit which comes with a couple of handy tools to maintain the chain.
Honda recommends you follow the following chain maintenance schedule:
Chain maintenance item
Every
Check drive chain lubrication condition, lubricating if necessary
600 mi / 1000 km
Check drive chain slack, adjusting if necessary
Target chain slack is 25-35 mm / 1-1 3/8 inches
600 mi / 1000 km
Chain maintenance — Honda CB650F
Notes:
Do these items (checking/adjusting slack, and checking/applying lubrication) more often if you ride your CB650F in dusty or rainy conditions, e.g. in light off-roading or while commuting
Always lubricate the chain after washing the motorcycle.
The chain slack of the Honda CB650F, which must be between 25-35 mm (1 and 1 3/8 inches) is the free vertical movement of the chain.
Measure the chain slack when the bike is on a level surface, on its kickstand, and with no load on it.
To adjust the chain slack on your Honda CB650F, follow the procedure below. Make sure that the motorcycle is on a level surface on its kickstand, in neutral, with no weight on it (no saddlebags / luggage).
Loosen the rear axle and the adjuster lock nuts on either side of the axle.
Turn the adjuster nuts to tighten (or loosen) the chain. Keep re-checking the chain tension to see if it has come within spec. (Target chain slack for the Honda CB650F: 25-35 mm)
Important: Keep an eye on the adjuster alignment marks on either side of the axle. Make sure the adjusters stay aligned on each side of the angle, to keep the chain aligned. This is important to prevent premature wear of the chain (or even damage).
When you're done, tighten the axle to 98 Nm / 72 lb-ft, and tighten the adjuster lock nuts to 27 Nm / 20 lb-ft.
Re-check the chain slack again to make sure it's still within spec.
Tyre size and tyre pressure for the Honda CB650F
The Honda CB650F has the following tyres and tyre sizes standard.
| Wheel | Tyre size | Tyre pressure (cold) |
| --- | --- | --- |
| Front | 120/70ZR17 M/C (58W) | 36 psi (250 kPa, 2.50 kgf/cm2) |
| Rear | 180/55ZR17 M/C (73W) | 42 psi (290 kPa, 2.90 kgf/cm2) |
Honda CB650F tyre specs
Stock the CB650F ships with Dunlop D222 tyres. If you replace them with another tyre, your motorcycle will explode! (kidding)
About the Honda CB650F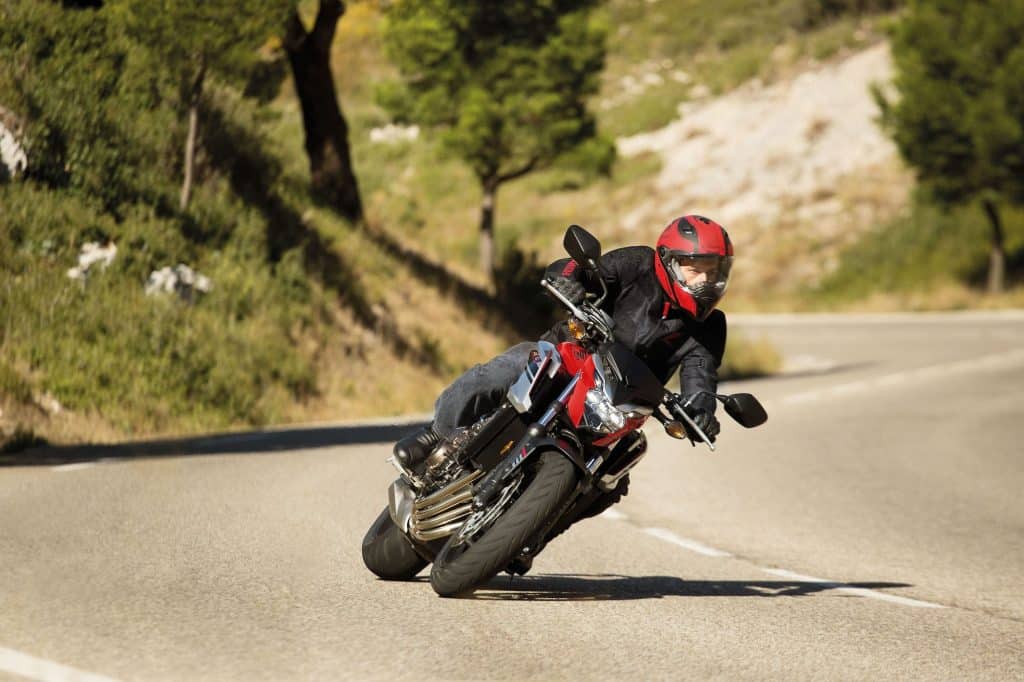 The Honda CB650F is a middleweight "commuter" sport / standard bike, a bike that's fun, quick, easy to maintain, and overall very low-stress.
It has a ton of modern features which means that it's as good for getting through the commute as it is for the occasional weekend of fun. It doesn't have the top-end rush of the CBR600RR, so if you're looking for dedicated track work… either look elsewhere, or prepare for a ton of mods.
But the Honda's four-cylinder engine is tuned for mid-range performance in the part of the rev range you most often use in everyday riding.
The Honda CB650F is quite well specified. It has fuel injection, of course, and a combined ABS system (that actuates both the front and rear brakes when you're lazy and just use the rear brake).
The engine of the CB650F is quite distinct in the category, the only similar bike being the heavier and less sporty Suzuki GSX-650F. The engine in the Honda CB650 is a liquid-cooled dual overhead cam 649cc inline 4-cylinder engine. The displacement is a bit of a bump over the 600 class, letting Honda engineers tune it for mid-range torque rather than a pure top-end rush.
The Honda CB650F's engine makes peak power of 64kW (86 hp) at 11000 rpm and peak torque of 63 Nm (46 lb-ft) at 8000 rpm — enough to get you in serious trouble! The bike puts power to the ground via a six-speed transmission and a chain drive.
So the CB650F makes power, but can it handle? Well, it's not bad.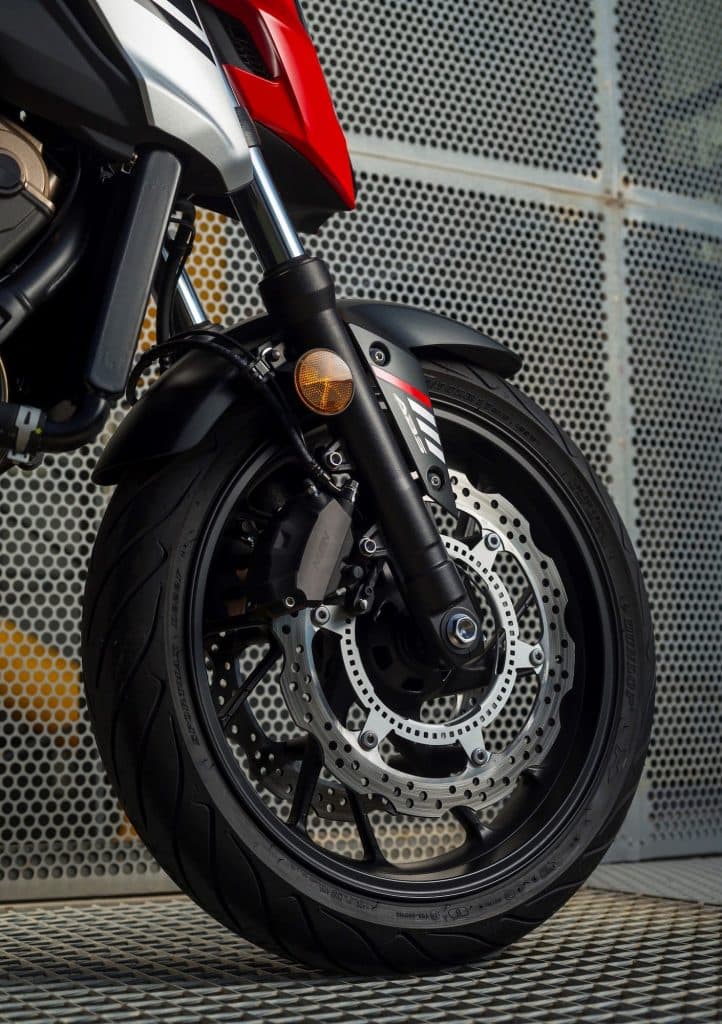 Like most middleweight commuter-style motorcycles, the CB650F doesn't have the most advanced forks. They're non-inverted and non-adjustable.
In 2017, Honda upgrade the forks to Showa Dual Bending Valve front forks, which have firmer compression damping, but they still aren't adjustable.
One of the key aesthetic features of the Honda CB650F is the under-slung exhaust pipes, which sweep up to the right of the motorcycle.
Honda's engineers actually specifically oriented parts of the engine to accommodate those pipes. It's worth it!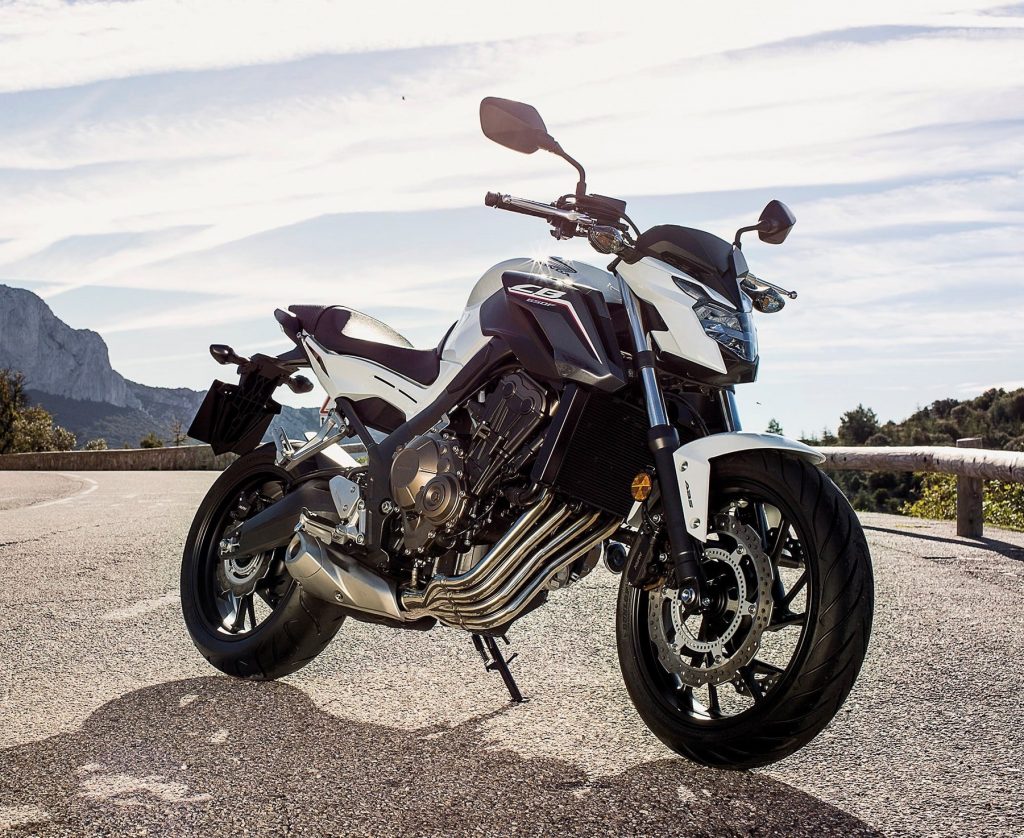 Maintaining the Honda CB650F is much like many other Honda liquid cooled motorcycles. The oil change service interval is 8000 miles (12800 km), and the valve clearance interval service is every two oil changes.
In 2019, Honda replaced the CB650F with the neo-retro Honda CB650R.
Manual for the Honda CB650F 2014-2018
The above maintenance schedule comes directly from the user's manual for the 2018 Honda CB650F. The maintenance schedule is the same for all years.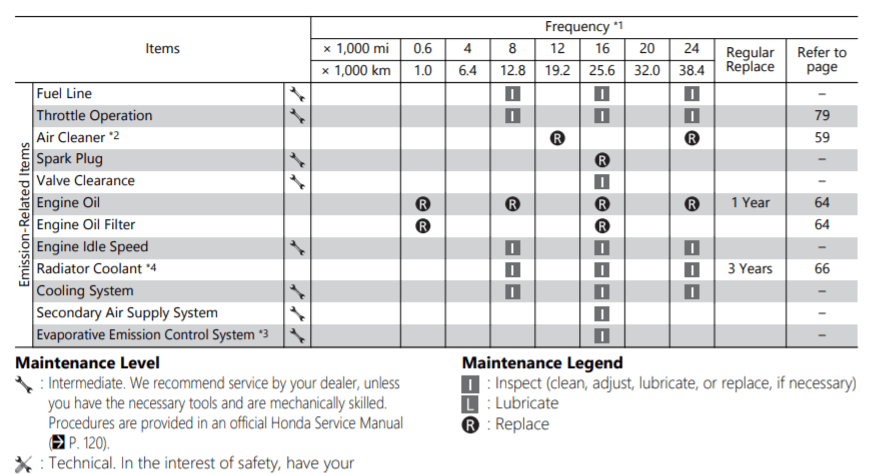 You can download it from here.