BMW F 900 XR (2020+) Maintenance Schedule
This is the maintenance schedule and service intervals for the BMW F 900 XR, BMW's 2020+ adventure sports tourer.
The BMW F 900 XR is powered by a 895cc liquid-cooled parallel twin with a 270-degree crank — the same engine that powers its sporty naked sibling, the BMW F 900 R. It makes a healthy 74 kW (99 hp) @ 8500 rpm.
The BMW F 900 XR took over duty from the BMW F 800 GT, which ended in 2019. They're quite different bikes though — the F 800 GT was a sport tourer, and the F 900 XR is an adventure sport tourer. It can do similar things, despite being a different bike.
Unlike the F 800 S, ST, and GT, no version of the F 900 comes with a belt drive — so power is always put to the ground via a 6-speed gearbox and chain drive.
This site has links for things like oil and spark plugs from which we earn a commission (which unfortunately nobody can save, not even us). If you appreciate this work, then please use those links. Thanks!
BMW F 900 XR Service Intervals
Overall, service intervals for the BMW F 900 XR are:
Every 6000 mi / 10000 km or annually: Change the oil/filter and check everything.
Every year: Do the BMW standard annual service (a long checklist of items). Do this irrespective of distance.
Every 12000 mi / 20000 km: Check the valve clearances, and replace spark plugs and air filter
Every 18000 mi / 30000 km: Change the oil in the forks
This is aside from keeping other fluids (brake fluid, coolant) up to date.
What you need to service the BMW F 900 XR
Aside from basic motorcycle maintenance tools, you need the following items to do a service on your BMW F 900 XR.
| Part | BMW F 900 XR spec |
| --- | --- |
| Oil | BMW recommends SAE 5W-40, API SL / ASO MA2, without additives (e.g. molybdenum-based) as "they can attack coated components of the engine". BMW recommends BMW Motorrad ADVANTEC Ultimate oil. Castrol Power RS 5W-40 is an alternative. |
| Oil filter | The oil filter for a F 900 XR is a Mahle type and is equivalent to part number HF164. |
| Air filter | The K&N part for the air filter is BM-8518. There are also air filters from Sprint and DNA that are more affordable than OEM but they're less available. |
| Coolant | Use BMW coolant, which is ethylene glycol-based and a long-life formula. Make sure to dilute it with distilled water you get from a local hardware store. |
| Spark plug | The manual calls for an NGK LMAR9J-9E spark plug, which is specific to BMW Motorrad and a bit hard to find online. |
| Chain maintenance | Keep your chain lubed and clean! A product called motul chain paste is quite popular, easy to carry, and mess-free. |
| Keyless fob battery | Always good to carry a spare… annoying when they run out. CR2032, cheap for a pack of four. |
| Brake fluid | Use only DOT 4 brake fluid e.g. Castrol DOT 4. |
| Grease | Grease external pivot points with lithium soap-based grease. |
BMW F 900 XR motorcycle maintenance parts
Maintenance schedule for the BMW F 900 XR
Below is the full maintenance schedule for the BMW F 900 XR. This was copied from the manual (you can see a pic of it below), then simplified because the manual is unnecessarily repetitive.
Note that you have to do the "Standard annual serfvice" every year. It's one line-item in the schedule, but the full service scope is below.
| x1000 km | 0.5-1.2 | 10 | 20 | 30 | 40 | |
| --- | --- | --- | --- | --- | --- | --- |
| x1000 mi | 0.3-0.75 | 6 | 12 | 18 | 24 | Every |
| BMW Running-in check | X | | | | | |
| BMW Standard Annual Service (see below) | | | | | | Year |
| Engine oil change, with filter (BMW Motorrad ADVANTEC Ultimate, HF164) | X | X | X | X | X | Year |
| Check valve clearances | | | X | | X | |
| Replace all spark plugs (LMAR9J-9E) | | | X | | X | |
| Replace air filter insert (BM-8518) | | | X | | X | |
| Oil change in the telescopic forks | | | | X | | |
| Change brake fluid, entire system (Castrol DOT 4) | | | | | | After 12 months, then every 2 years |
BMW F 900 XR maintenance schedule
Standard Annual ("Standard service scope") for BMW F 900 XR
Below is the "standard service scope" as mentioned in the manual, to be performed at run-in and then annually.
I've marked things that dealers do with a "D".
BMW F 900 XR Standard Annual Service
Check coolant level
Check/adjust clutch play
Check front brake pads and brake discs for wear
Check rear brake pads and brake disc for wear
Check brake-fluid level, front and rear (Castrol DOT 4)
Visually inspect the brake lines, brake hoses and connections
Check tyre pressures and tread depth
Check and lubricate chain drive (Motul chain paste)
See below notes on chain maintenance
Check side stand's ease of movement (lithium soap-based grease)
Check ease of movement of the centre stand (lithium soap-based grease)
Check steering-head bearing
Check the lights and signalling equipment
Function test, engine start suppression
Final inspection and check for road safety
Check battery charge state
[D] Perform vehicle test with BMW Motorrad diagnostic system
[D] Set service-due date and service countdown distance
[D] Confirm BMW service in on-board literature
BMW F 900 XR standard service items
Chain Maintenance for the F 900 XR

Because the F 900 XR has a chain drive that's likely to experience all kinds of different conditions, you should regularly check its condition, wear level, slack, and cleanliness / lubrication level.
Chain tension: Put the motorcycle on its side stand, with no weight on it. Get a ruler and something to push the chain up, e.g. a screwdriver. Push the chain up midway between the sprockets. The maximum chain deflection should be 35-45mm, or 30-40mm for the low ride height version.
Chain wear: To measure chain wear, you check the chain length. Measure from chain rivet centre to rivet centre over 10 rivets, with the chain pulled taught. Maximum permissible chain length is 144 mm. If the chain is too stretched, you need to replace it.
To adjust chain tension on the BMW F 900 XR, follow this procedure.
Loosen the axle nut.
Use the adjusting screws on the left and right to adjust the chain tension. Keep checking as you go.
Keep referencing the scale readings on the adjusting pin (the little notches). They should be at the same point on both sides of the motorcycle. This ensures that the chain is aligned.
Use mechanical threadlock, and tighten the quick-release axle nut to 100 Nm / 74 lb-ft.
If you've tensioned the chain and the third marker can be seen, then you should check the chain wear (length) as mentioned above.
Tyre sizes and pressures for the BMW F 900 XR
Below are the standard tyre sizes and pressures for the BMW F 900 XR.
| Wheel | Tyre size | Tyre pressure |
| --- | --- | --- |
| Front | 120/70 ZR 17 | 2.5 bar (36 psi) |
| Rear | 180/55 ZR 17 | 2.9 bar (42 psi) |
Tyre sizes and pressures for the BMW F 900 XR
About the BMW F 900 XR
The BMW F 900 XR is a sport touring/adventure sport touring motorcycle from BMW. Basically that means an upright motorcycle with a lot of stuff to help you ride distances. But unlike the GS line, the F 900 XR doesn't have any off-road pretensions.
It sits somewhere between the sport tourer BMW F 800 GT, which the F 900 XR conceptually replaces, and the BMW F 750 GS, which is the more road-going version of the F 850 GS. BMW really goes to great lengths to make a motorcycle for everybody!
The BMW F 900 XR in most markets either comes stock or is frequently shipped with a ton of options including Dynamic ESA, Riding Modes Pro, a quick shifter, ABS Pro, cornering ABS and a bunch of other things to get you there more safely.
But the heart of the F 900 XR is the most important part. It's really almost a perfect sport touring powerplant. The 895cc parallel twin makes 77 kW (103 bhp) and doesn't rev to the moon to get there, peaking at 8500 rpm. (Some other markets have different power figures, if the bike is made to be optionally A2 compliant.)
And the motor has just enough rumbly character to remind you that you're on a motorcycle — the 270-degree crankshaft gives it that slight lump/rasp that is quite different to the older parallel twins, which tried to mimic the sound and feel of the boxer twin.
It's a long-stroke engine that makes torque from down low. It's powerful, but not overwhelming, the kind of engine that'll easily take you to 150 km/h and eventually up to over 200 km/h — but this isn't a bike you'd take to the drag strip.
Even though the BMW F 900 XR is heavier than the F 900 R and shares the same engine, it's marginally quicker because it's easier to get power to the ground. This is primarily because of the aerodynamics (it has a screen), and also because of the longer wheelbase, meaning it's easier to keep the front wheel planted.
The F 900 platform is quite distinct from other offerings on the market in the middleweight sport/adventure/tour category. It's not as rev-happy as the Yamaha triple in the new-for-2021 Yamaha Tracer 9. Nor is it as characterful as that in the Ducati Multistrada 950.
But the engine does what it's meant to, and gives you a quiet confident feeling that leaves you thinking: this can take me anywhere.
The ride gear on the F 900 XR is advanced without being exorbitantly expensive. It 43mm has inverted forks up front, but they're not adjustable. At the rear there's a single shock that's pre-load and rebound damping adjustable.
Brakes at the front are dual 320mm floating discs with 4-piston radial brake calipers.
From 2024, BMW released an update to the F 850 GS based on the F 900 GR's engine, the BMW F 900 GS.
Reference — Screenshots from the Manual for the BMW F 900 XR
The above guide to maintenance came from the manual for the 2021 BMW F 900 XR.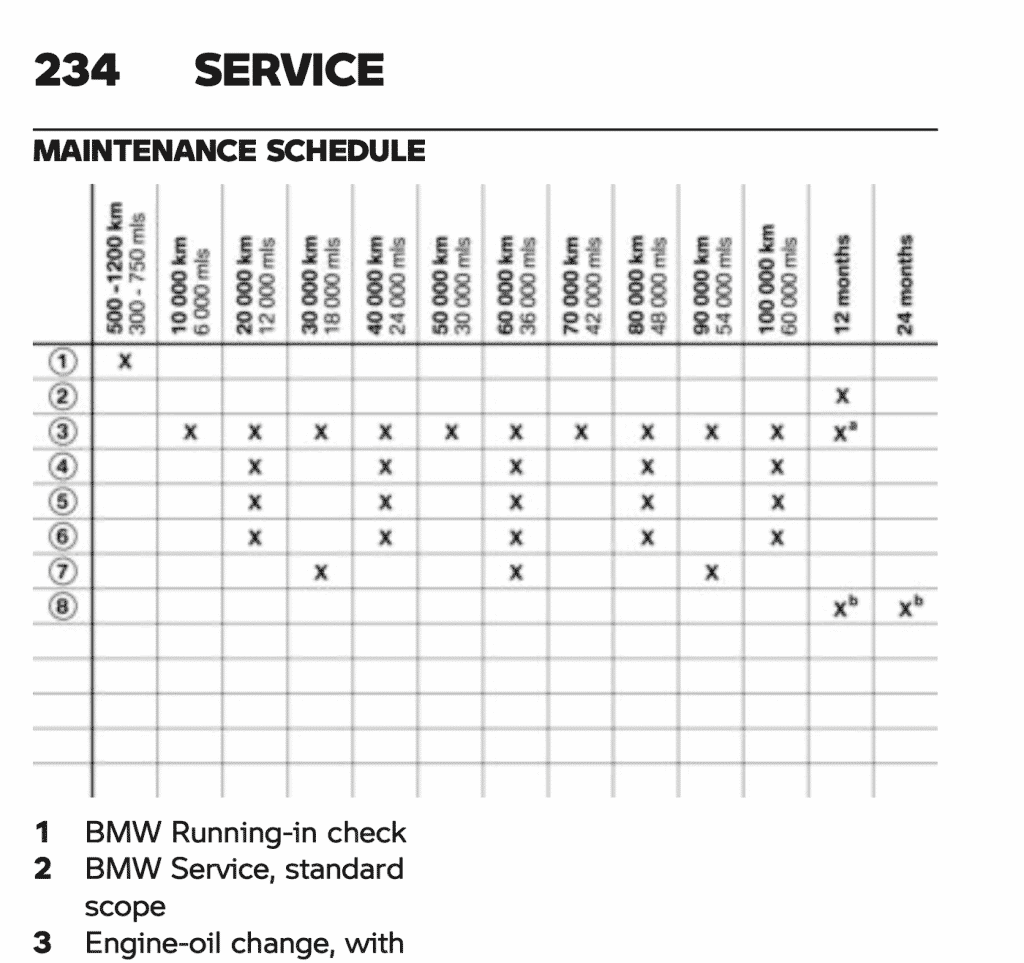 You can download it directly from BMW Motorrad here.