Honda VFR800X Crossrunner (2nd gen, 2015+) Maintenance Schedule and Service Intervals
This is the maintenance schedule and associated service intervals for the Honda VFR800X Crossrunner released in 2015, an update to the earlier 2011-2014 Honda VFR800X Crossrunner.
The Honda VFR800X Crossrunner is a quasi-adventure motorcycle with a V4 engine. It is powered by the same engine in the Honda VFR800, but packed into an upright chassis. It's a charming engine, a 90-degree V4 with 782cc displacement, twin overhead cams, and an over-square bore and stroke of 72.0 x 48.0 mm that lets it rev quite high.
The 2015 Honda VFR800X Crossrunner is based on the updated 2014 Honda VFR800 8th gen, and received a few extra niceties like traction control and standard ABS, as well as much updated styling. In some markets, it's still available for sale.
The VFR800X Crossrunner motorcycle has a wide-barred, upright riding position that lets you ride comfortably for hours… if not days.
As of 2022, the Honda VFR800X is still for sale in Europe, though it has been retired from most other markets.
This site has links for things like oil and spark plugs from which we earn a commission (which unfortunately nobody can save, not even us). If you appreciate this work, then please use those links. Thanks!
Honda VFR800X Service Intervals
Overall, the 2nd gen Honda VFR800X has generous 8000 mile / 12000 km service intervals at which you should change the oil and filter.
There's also a series of other checks to do, including for fluids and general lubrication.
In addition, you should check the spark plugs and change the air filter every two services (16000 miles / 24000 km). Also inspect the valve clearances at this point.
As the VFR800X has a V4 engine with 16 valves, and has fairings to boot, the valve clearance check is not cheap and can demand around 4 hours of a mechanic's time, including other items in the general service, like changing the oil.
Honda also recommends changing the brake fluid every two years and the coolant every three.
What you need to service your Honda VFR800X Crossrunner 2nd gen
The Crossrunner, having a V4 engine and a degree of fairings, can be slightly annoying to service the first time. But you get faster at taking the fairings off once you've done it a few times! A couple of hints — don't pull too hard on anything, and try moving things backwards and forwards to disengage locks. Don't assume things are "pressed" in — you might break them.
Most VFR800X Crossrunners come equipped with a centre stand, which makes chain maintenance easier at least.
So here's what you need to maintain your VFR800X Crossrunner 2nd gen.
| Part | Honda VFR800X Crossrunner spec |
| --- | --- |
| Engine Oil | Honda's manual calls for SAE 10W-30 JASO T 903 standard MA, which is a pretty universal standard for motorcycle oil. Honda recommends Pro Honda GN4 10W-30. |
| Filter | The schedule calls for replacing the oil filter every time you replace the oil. Use a Hiflofiltro (which works for all years). |
| Spark plug | You need an NGK spark plug of type IMR9D-9H (four of them). |
| Coolant | You can use any ethylene glycol-based coolant, but Honda recommends Pro Honda coolant. |
| Clutch and brake fluid | Use Honda DOT 4 clutch and brake fluid. |
| Air filter | Use the drop-in replacement air filter HA-8098 from K&N. It's the same for all year models of VFR800X Crossrunner. |
| Chain | Use a Motul chain care kit or at least Motul chain paste to service the chain of your VFR800X. |
| Grease | Always good to have lithium soap-based grease for external pivot points, like the bearings, kickstand, and centrestand. |
| Brakes | Many Crossrunner owners use EBC brake pads for added bite, less fade, and longer life. Use part FA390HH for the front (you need two pairs), and FA488HH for the rear. |
Maintenance parts for the Honda VFR800X
Honda VFR800X Crossrunner Maintenance Schedule
Below is the maintenance schedule for the Honda VFR800X Crossrunner 2nd gen. It's much the same as for the Honda VFR800F 8th gen, as well as similar to the earlier 2011-2014 VFR800X.
Honda's manuals have a suggested difficulty level for maintenance of each item. But we know you're here because you're going to do it all! Honda recommends you get a pro mechanic to service the steering head bearings and the wheels.
Pre-ride checks
Honda recommends the following pre-ride checks.
Do this as part of regular maintenance, too.
VFR800X Pre-ride checks
Check fuel lines for leaks, cracks, chafing
Check fuel level
Check throttle operation
Check cooling system
Check coolant level
Check drive chain for looseness, major kinks
Check Brake pad wear
Check brake fluid level
Check clutch fluid level
Check lights/horn functioning
Check engine stop switch functioning, along with engine start suppression (clutch, kickstand, gear)
Check wheels / tires condition
VFR800X Pre-ride checks
Annual service
Below is a list of regular maintenance items to do at every minor service — every year or per the schedule below.
Annual service item task
Conduct all pre-ride checks (see list above)
Change engine oil
Change oil filter
Check brake system functionality
Check brake light switch
Check clutch system functionality
Check /set engine idle speed
Check / lubricate side stand
Inspect front and rear suspension for leaks, pitting, etc.
Inspect steering head bearings for free movement
Inspect secondary air supply system
Inspect drive chain slider for wear
Check and adjust headlight aim
Check all nuts, bolts, and fasteners for tightness
VFR800X Pre-ride checks
VFR800X full maintenance schedule
Below is the maintenance schedule for the Honda VFR800X.
Notes:
At higher odometer readings, repeat at the frequency interval below.
Where there's a distance or time-based interval, follow the earlier of the two. E.g. do the annual inspection every year or every 12000 km / 8000 mi, whichever comes earlier.
| km x 1000 | 1 | 12 | 24 | 36 | 48 | |
| --- | --- | --- | --- | --- | --- | --- |
| mi x 1000 | 0.6 | 8 | 16 | 24 | 32 | Every |
| Conduct full annual inspection (see list above) | ✓ | ✓ | ✓ | ✓ | ✓ | Year |
| Air Cleaner (HA-8098) | | | R | | R | More often if riding in very wet / dusty areas |
| Inspect spark plugs | | | ✓ | | | |
| Replace spark plugs (NGK IMR9D-9H) | | | | | ✓ | |
| Inspect/adjust valve clearances | | | ✓ | | ✓ | |
| Replace coolant (Pro Honda Coolant) | | | | | | 3 years |
| Replace brake fluid (Honda DOT 4) | | | | | | 2 years |
| Replace clutch fluid (Honda DOT 4) | | | | | | 2 years |
Honda VFR800X maintenance schedule
Maintaining Your Chain on the Honda VFR800X
It's important to maintain your chain on the VFR800X, as on any chain-driven motorcycle, but particularly one used as an all-year bike ridden in all kinds of conditions.
Use a good-quality chain lubricant like Motul chain paste, or a Motul chain care kit which comes with a couple of handy tools to maintain the chain.
Honda recommends you follow the following chain maintenance schedule:
| Chain maintenance item | Every |
| --- | --- |
| Check drive chain lubrication condition, lubricating if necessary | 600 mi / 1000 km |
| Check drive chain slack, adjusting if necessary | 600 mi / 1000 km |
Chain maintenance — Honda VFR800X
Notes:
Do these items (checking/adjusting slack, and checking/applying lubrication) more often if you ride your VFR800X in dusty or rainy conditions.
Always lubricate the chain after washing the motorcycle.
Tire size and tyre pressure for the Honda VFR800X Crossrunner
The Honda VFR800X Crossrunner has the following tyres and tyre sizes standard. It ships with Pirelli Scorpion Trail tyres, but people fit sportier or more touring-oriented tyres typically.
| Wheel | Tire size | Tire pressure |
| --- | --- | --- |
| Front | 120/70R17M/C 58V | 225 kPa (2.25 bar, 33 psi) |
| Rear | 180/55R17M/C 73V | 250 kPa (2.50 bar, 36 psi) |
VFR800X Crossrunner tire sizes and pressures
About the Honda VFR800X Crossrunner (Gen 2)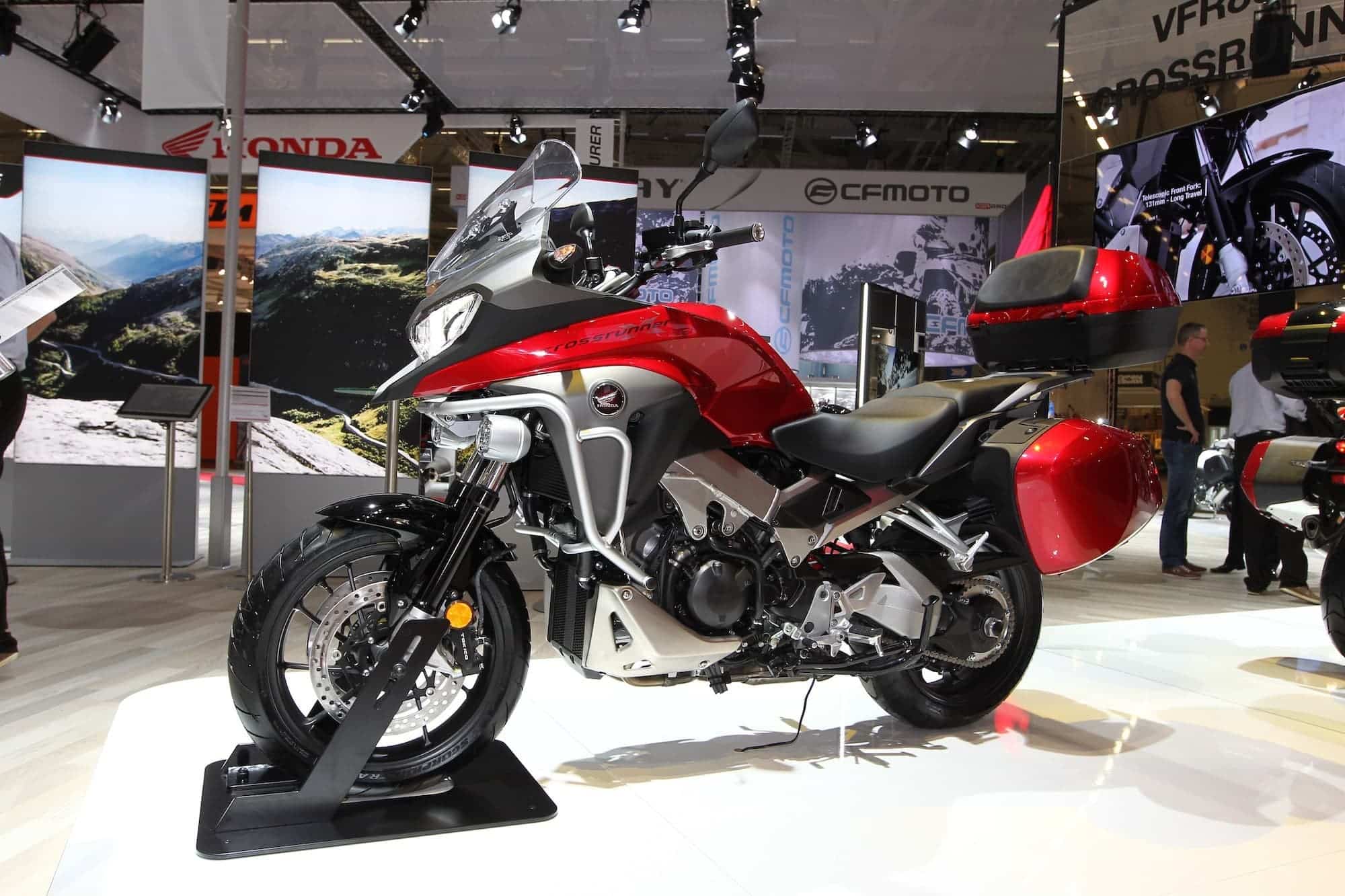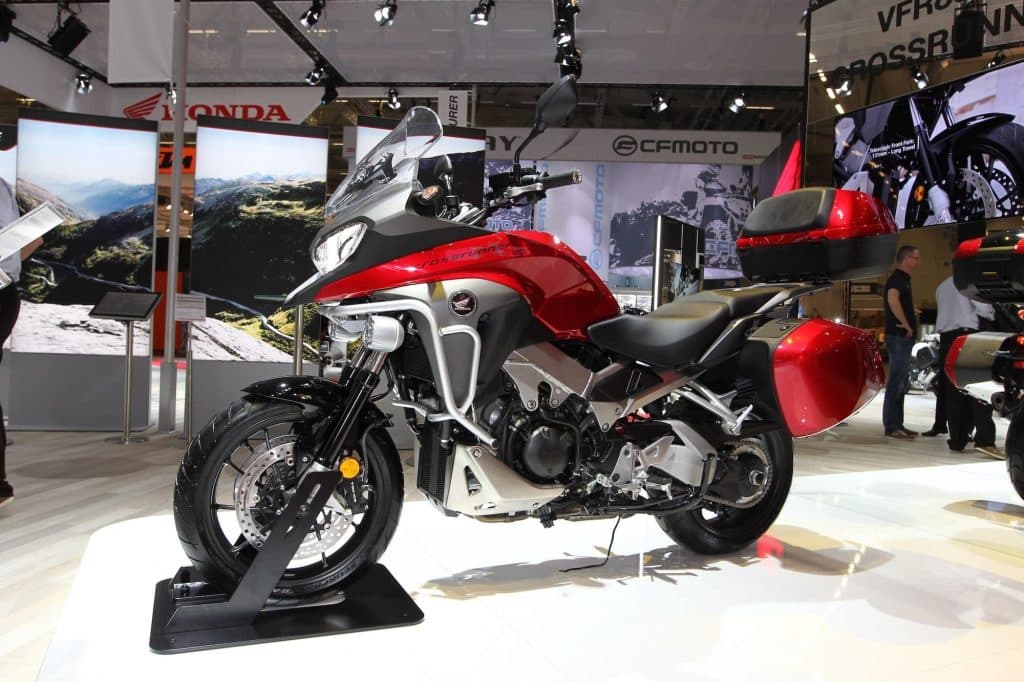 The VFR800X Crossrunner 2nd gen is a significant update to the earlier 2011-2014 1st gen VFR800X in every aspect other than the engine.
Which isn't to say the engine didn't get an overhaul. It's fundamentally the same donk — a 782cc 90-degree V4 that's liquid-cooled and with dual overhead cams. But it got a tune for more midrange torque and even a tad more top-end power, and of course compliance with more recent emissions standards.
The VFR800X Crossrunner 2nd gen is based on the more highly specified Honda VFR800 8th gen. This means that the 2nd gen Crossrunner gets a few niceties like standard ABS, heated grips, and even two-level traction control.
Unfortunately, like the 8th gen VFR800, the traction control on the 2nd gen VFR800X is a little intrusive. It's switchable from the handlebar controls, but then you get a warning light.
The 2nd gen VFR800X also gets updated suspension, with preload and rebound adjustable forks.
Aesthetically the VFR800X has a lot in common with the earlier gen. But the console of the 2nd gen VFR800X is significantly revised. It is typical of instrument clusters from the mid 2010s on Honda motorcycles, with an easy-to-read blue backlight that's really nice to look at at night time.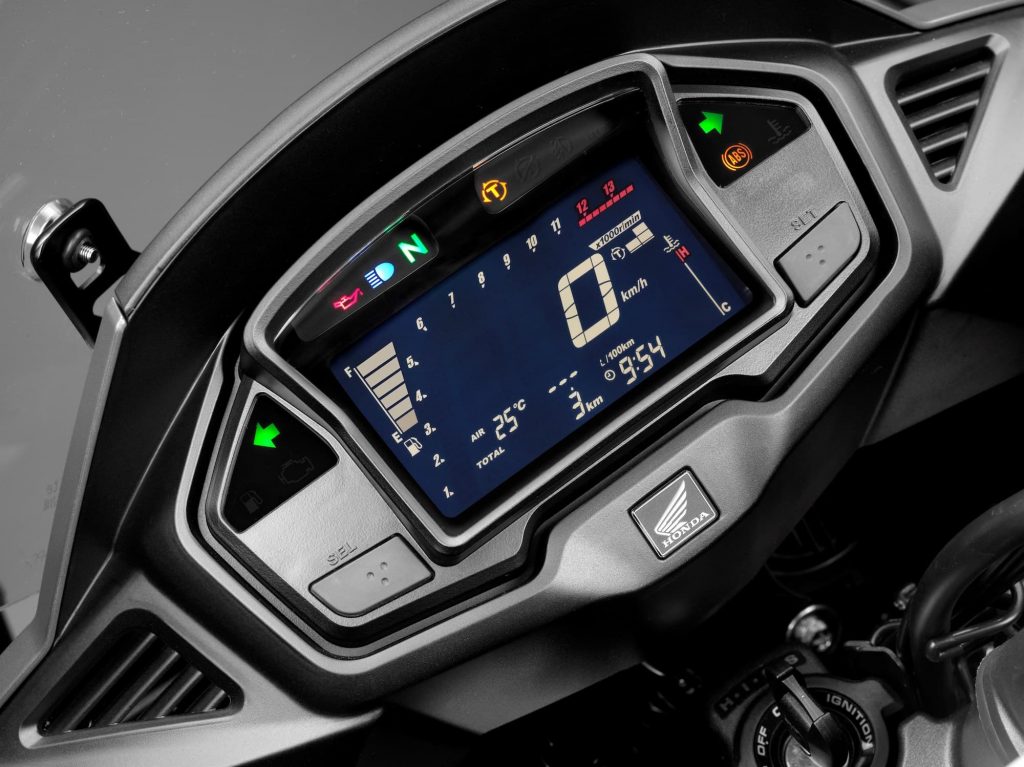 The Honda VFR800X Crossrunner's engine is as lovely as it ever was. Making over 75 kW or around 100 hp at peak, it has a smooth rush of progressive, linear power with lots of torque throughout the rev range.
Even though the VFR800X has VTEC variable valve timing that comes on as a function of throttle position and RPM, there's no sudden abrupt change in engine performance when the VTEC comes on. It has very predictable torque throughout the entire rev range.
The Honda VFR800X feels like a sportbike but has the grace and easy rideability of an adventure tourer. In that sense it's quite like the Tracer 900 — just not as light, or powerful, or… fast. (The Tracer 900 is awesome.)
The 43mm cartridge forks give great front wheel control and rider feedback, while the rear wheel's Honda Pro-link rising-rate linkage system and gas charged HMAS damper gives excellent contact and adjustability.
The brakes on the Crossrunner are great, too. Twin 296mm floating discs, grabbed by six-piston calipers, mean sportbike-level braking. The rear disc is also fine (though as with most rear discs, you mostly use it for stabilising).
One big difference with earlier generation VFR800s is that the crossrunner (and later-generation VFRs, too) don't have under-seat exhausts. While this means it doesn't look as awesome, it also means that the pillion seat doesn't heat up to an uncomfortable temperature. The exhaust sound doesn't suffer, either.
The 2nd gen VFR800X Crossrunner was updated slightly in 2017 for Euro4 compliance, but it also got a 12V power socket and an adjustable screen.
Manual for the Honda VFR800X Crossrunner
The above maintenance schedule comes directly from the user's manual for the Honda VFR800X Crossrunner.
You can download it from here.