BMW F 800 R Gen 3 (2017-2019) Maintenance Schedule and Service Intervals
This is the maintenance schedule and service intervals for the BMW F 800 R Gen 3, made between 2017 and 2019, an update from the 2nd gen BMW F 800 R.
Here are the three generations of BMW F 800 R:
The 3rd gen BMW F 800 R is very similar to the 2nd gen both in terms of the engine and external appearance, but has some important changes that warranted a new manual and maintenance schedule — most notably, the addition of a ride-by-wire throttle.
The 3rd gen F 800 R's engine is still a 798 cc parallel twin with dual overhead cams and four valves per cylinder. The valve firing order is 360 degrees, meaning the pistons move up and down together and take turns firing, giving it a boxer-like sound.
In this 2017 revision of the BMW F 800 R, the engine makes the same power and torque specs as the previous 2015-2016 generation. This means peak power of 66 kW (90 hp) at 8000 rpm, with peak torque at of 86 Nm (63 ft-lb) at 5800 rpm.
The third gen was the last generation of BMW F 800 R. It was replaced by the F 900 R, with an all-new engine.
This site has links for things like oil and spark plugs from which we earn a commission (which unfortunately nobody can save, not even us). If you appreciate this work, then please use those links. Thanks!
What you need to service the BMW F 800 R (3rd gen, 2017-2018)
Below are the maintenance parts you need to keep your F 800 R maintained.
| Part | BMW F 800 R (3rd gen) part spec |
| --- | --- |
| Oil | BMW recommends using BMW Advantec Pro 15W-50, their own brand, but you can use other 15W-50 synthetic oils of high quality (API SJ/JASO MA2 spec). |
| Oil filter | The standard oil filter is BMW part 11 42 8 409 567, which is equivalent to Hiflofiltro HF160RC. |
| Air filter | BMW part number 1 371 7 678 281, which is equivalent to K&N BM-8006 or Hiflofiltro HFA7913. |
| Spark plug | The standard spark plug is an NGK DCPR8E per the manual. BMW part number is 12 12 7 690 603. |
| Brake fluid | Use DOT 4 brake fluid, e.g. Castrol DOT 4, or you can get BMW part number 83 13 2 445 461 for the official BMW DOT 4 brake fluid. |
| Fork oil | BMW Type 2 fork oil (part number 83 19 2 460 735). |
| Brake pads | Part numbers for the brake pads are 34 11 7 696 593 for the front brake pads (you need 2 pairs) and 34 21 7 707 809 for the rear. |
| Cable lubricant | Use Protect all cable life to lubricate moving cables. |
| General grease | Use a lithium soap-based grease for external pivot points like the kickstand etc. |
BMW F 800 R (Gen 3) maintenance parts and spares
Maintenance schedule for the BMW F 800 R (Gen 3)
Below is the maintenance schedule. It's taken from the 2018 rider's manual, but adapted slightly to avoid repetition and make it easier to read.
Notes:
The running-in check is omitted as this would be done by now (and a mechanic usually does it anyway)
Items marked [D] need dealer tools (the diagnostic ones)
| km x 1000 | 10 | 20 | 30 | 40 | |
| --- | --- | --- | --- | --- | --- |
| mi x 1000 | 6 | 12 | 18 | 24 | Periodic |
| Standard BMW service (see below) | | | | | Annual |
| Engine oil change with filter | X | X | X | X | Annual / Distance (whichever first) |
| Check valve clearance | | X | | X | |
| Replace air filter cartridge | | X | | X | |
| Replace all spark plugs | | | | X | |
| Change telescopic fork oil | | | X | | (necessary since inverted forks) |
| Change brake fluid in entire system | | | | | After 1 year, then ever 2 years |
BMW F 800 R (Gen 3) Maintenance Schedule
Standard BMW service for the BMW F 800 R
The standard BMW service (to be done every year) is below.
There's no more throttle cable to lubricate.
Standard BMW service (Gen 3 BMW F 800 R, Ride by wire)
[D] Read fault memory with the BMW Motorrad diagnostic system
Check coolant level
Check/adjust clutch play
Check the front brake fluid level
Visually inspect the brake lines, brake hoses, and connections
Check the rear brake fluid level
Check the front brake pads and brake discs for wear
Check the rear brake pads and brake discs for wear
Check the tire pressure and tread depth
Check and lubricate the chain drive
Check side stand for ease of movement
Check the lights and signaling equipment
Check the steering-head bearing
Check the engine start suppression works
Final inspection and road safety check
[D] Set the service date and remaining distance to service
Check charging state of battery
[D] Confirm the BMW service in the vehicle literature
Gen 3 (ride by wire) BMW F 800 R standard annual service
Wheels and tyres for the BMW F 800 R
The BMW F 800 R has always shipped with sport touring-style tyres. The tyres are of the following sizes and recommended pressures when cold.
| Wheel | Tyre (Tire) size | Tyre (Tire) pressure (cold) |
| --- | --- | --- |
| Front | 120/70 ZR 17 | 2.5 bar (36 psi) |
| Rear | 180/55 ZR 17 | 2.9 bar (42 psi) |
Tyre sizes and pressures for the BMW F 800 R (all generations)
About the BMW F 800 R Gen 3 (2017-2019)
When it was first launched for the 2009 model year BMW F 800 R was a natural extension of BMW's parallel twin platform — the same engine used in the acclaimed F 800 GS, but in an everyday standard bike.
BMW first revised the F 800 R heavily for the 2015 model year. In that year they changed the style, gave it a tad more power, upgraded the suspension (with even optional ESA), and gave the bike ASC (also as an option).
This second revision of the F 800 R for 2017 is also a significant one because it is a full ride-by-wire throttle — much like in the latest generation of the F 800 GT.
The BMW F 800 R otherwise continues the same spirit of being a fun, naked roadster from a premium brand, with just about every option you can get on a bike — including heated grips.
The engine in the 2017 model stays the same as the 2015-2016 model. It's a fuel-injected 798cc parallel twin with DOHC and 8 valves. The 2017 model makes the same power as the 2015-2016 model, with a 66 kW (90 hp) peak. Power is improved over the first gen (2009-2014), and torque comes on earlier.
The most significant update is the addition of a ride-by-wire throttle. In other words, the throttle is a sensor which sends a signal to the ECU — not a mechanical device that pulls on a cable.
The RbW system means that the engine can be more finely tuned, as a twist of the throttle doesn't have 1:1 correspondence with throttle openings.
It also lets BMW implement ride modes. As standard there are two, "Rain" and "Road". If you get the Dynamic package you get a "Dynamic" ride mode too.
A few other, more minor updates to the 2017 F 800 R include
EU4 adaptation of the tailpipe (as well as of the Akrapovič accessory)
New instrument dials and a malfunction indicator light
New color schemes
Optional higher handlebars
Optional "Design Option" wheels that basically means red rim tape
It may sound minor, but the ride by wire necessitated revising the maintenance schedule (slightly).
Manual for the BMW F 800 R 3rd gen
The maintenance schedule for the first gen BMW F 800 R 3rd gen comes from the rider's manual and was verified by consulting with BMW's repair manual.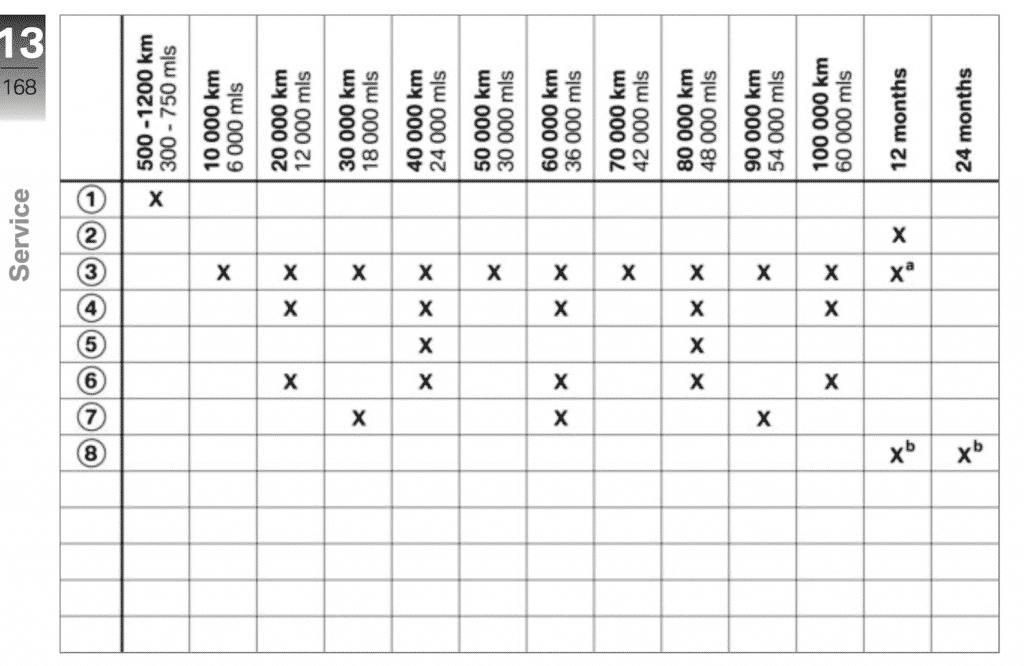 Various BMW dealers also provides schedules for many bikes online, and we consulted these for the above information.