Honda RC213V-S Maintenance Schedule and Service Intervals
This is the maintenance schedule and associated service intervals for the Honda RC213V-S. In fairness, I started making this page before realising just how rare this bike was, and now know nobody is going to ever refer to this page. But, whatever. It's hear for posterity's sake.
The Honda RC213V-S is a street-legal racing motorcycle developed by Honda Racing Corporation to race in the MotoGP series from the 2012 season onward. It's a "homologated" model, made as a built-to-order machine, with only 250 made, and with an initial price of over $200,000. It's safe to say that most RC213V-S motorcycles have either been raced, crashed, or are on display in personal museums!
The RC213V-S is one of Honda's racing motorcycles using a V4 engine. Most of Honda's road-going bikes don't have a V4, other than the VFR800 (and motorcycles with similar engines), which was never intended for racing.
The model name designates the following:
RC= Honda's traditional racing prefix for 4-stroke bikes
213= third works bike of the 21st century
V= V engine
This site has links for things like oil and spark plugs from which we earn a commission (which unfortunately nobody can save, not even us). If you appreciate this work, then please use those links. Thanks!
Honda RC213V-S Maintenance Schedule
Below is the maintenance schedule for the Honda RC213V-S. At higher odometer readings, repeat at the frequency interval established here.
If you're maintaining your own Honda RC213V-S, you're a braver person than I am. But maybe you're a collector, or a mechanic looking over this… in which case I would like to meet you and be your friend!
In addition to the below schedule, to maintain the RC213V-S, you have to do the following additional maintenance items.
Every 8,000 mi (12,800 km)
Clean reservoir, reservoir piston, reservoir piston O-ring and reservoir piston ring.
Clean outer tube bushes and seal.
Inspect seal and scraper and replace if damaged.
Apply grease to reservoir surface and reservoir piston
Additional items every 1 year
Inspect dividing piston position in front fork gas reservoir. If necessary adjust dividing piston position.
Inspect if presence of fluid in front fork gas reservoir.
Maintenance Legend:
I: inspect and clean, adjust, lubricate, or replace, if necessary
C: Clean
L: lubricate
R: replace
mi x 1000
8
16
24
32
km x 1000
12.8
25.6
38.4
51.2
Every
Standard Annual Service — Conduct
✓
✓
✓
✓
Year
Engine Oil — Replace
Do between services
✓✓
✓✓
✓✓
✓✓
4000 mi / 6400 km or Year
Engine Oil Filter — Replace
✓
✓
✓
✓
Air Cleaner — Replace
✓
✓
More often if riding in dusty / wet conditions
Spark plugs — Inspect
✓
Spark plugs — Replace
✓
Valve Clearances — Inspect
✓
✓
✓
✓
Piston rings — Clean and Inspect for wear. Replace as necessary
✓
✓
Clean and inspect shim surface of valve and shim closest to valve for wear. Replace if necessary
✓
✓
Drive Chain — Inspect and Lubricate
See below
300 mi (500 km)
Brake fluid — Replace
2 years
Clutch System — Clean / Inspect
2,000 mi (3,200 km)
Honda RC213V maintenance schedule
Standard Annual Service
Do the following checks on your Honda RC213V as part of every scheduled inspection.
Honda RC213V Inspection Checklist
Fuel Lines — Check condition, correct routing, and for no cracks
Throttle operation and free play – Lubricate with Protect all cable life
Target free play: 2-4 mm (0.1-0.2 in)
Check engine idle speed
Target idle speed: 1250 rpm
Radiator coolant — Check level
Cooling system — Check for no leaks, and that fans come on
Drive chain slider — Check wear level. Replace as necessary
Clutch system — Check for correct function, and clutch free play
Brake system — Check for proper function
Brake light switch — Check lights come on
Wheels/Tires — Check for dents, tire condition, tread depth
Suspension — Check for smooth operation, no leaks
Suspension Overhaul — Conduct
Headlight aim — Check, re-adjust after adjusting suspension
Side stand / Centre stand — Check for smooth function, lubrication condition
Steering head bearings — Check for smooth operation
Nuts, bolts, fasteners — Check for presence. Replace / retighten as needed
Secondary air supply system — Check
Crankcase breather (if fitted) — Check, clean as needed
Exhaust Gas Control Valve Cable — Check
Honda RC213V Inspection Checklist
Maintaining Your Chain on the Honda RC213V-S
It's important to maintain your chain on the RC213V-S, as on any chain-driven motorcycle, but particularly on one that might get some heavy-handed tra k use.. Use a good-quality chain lubricant like Motul chain paste, or a Motul chain care kit which comes with a couple of handy tools to maintain the chain.
Honda recommends you follow the following chain maintenance schedule:
Chain maintenance item
Every
Check drive chain lubrication condition, lubricating if necessary
Honda recommends Pro Honda HP Chain Lube or an equivalent
300 mi / 500 km
Check drive chain slack, adjusting if necessary
300 mi / 500 km
Chain maintenance — Honda RC213V-S
Notes that this schedule is a lot more intense than on most motorcycles. If you track your bike, you probably want to inspect it every session.
To check chain slack on your Honda RC213V-S, place it on a level surface, put it in neutral, and measure the total deflection of the bottom chain segment midway between the sprockets.
Target chain deflection for the Honda RC213V-S: 30-40mm (1 3/16 to 1 9/16 inches)
If the deflection is out of speck, you have to adjust it.
To adjust the chain slack / deflection on your RC213V, follow the procedure below.
Remove the lock pin, and loosen the rear axle.
Turn the adjusting bolts to tighten (or loosen) the chain. Keep checking the chain tension to see if it has come within spec.
Keep an eye on the adjuster alignment scales on either side of the axle. Make sure that the adjustment is to the same point.
When you're done, tighten the axle to 98 Nm / 72 lb-ft, and tighten the adjuster lock nuts to 20 Nm / 13 lb-ft.
Re-check the chain slack again to make sure it's still within spec.
Tire size and tire pressure for the Honda RC213V-S
Honda specifies these tire sizes and pressures, but obviously you'll run whatever pressure you please for road or track use — this is a guideline optimising for longevity. The RC213V-S ships with Bridgestone RS10 tyres.
| Wheel | Tyre size | Tyre pressure |
| --- | --- | --- |
| Front | 120/70ZR17 M/C (58W) | 36 psi/250 kPa |
| Rear | 190/50ZR17 M/C (73W) | 42 psi/290 kPa |
Honda RC213V-S standard tire sizes and recommended tire pressures
About the Honda RC213V-S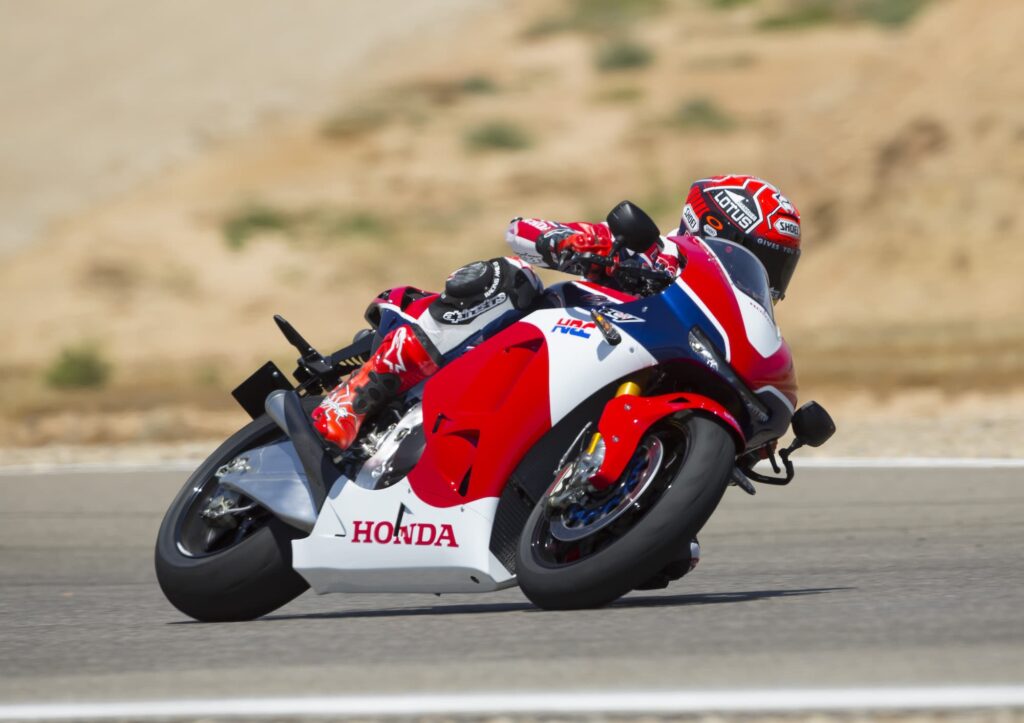 Honda's RC213V-S is their street-homologated race bike, the "S" coming from "Street". The factory racing bike is the RC213V.
It's what many people describe as being as closed to a MotoGP bike for the street as possible. It's fast, it's high-spec, and it's lightweight.
In standard form, the RC213V-S is actually not an absurdly powered bike by today's standards. It makes 117 kW (157 hp) in street trim, or a significantly higher 158 kW (212 hp) in race trim. (The race version RC213V, for comparison, makes over 190 kW, or over 260 hp.)
Honda modified its race-winning, 999 cc RC213V engine for use in the street version, but they didn't totally neuter it. The engine runs a 90-degree, V-four configuration set in a transverse orientation in the frame. The titanium valves are driven by dual overhead cams, but in contrast with the race systems' pneumatic valve closure system, the S uses conventional coil springs.
But don't complain — this is simply for owner's convenience. Maintaining pneumatic valves is a relative nightmare that most owners would not want. If you think early Demosquattro engines were a lot of work… well, you'll be glad that Honda didn't inflict pneumatic valves on you.
The RC213V-S has a "power selector function" that is connected to the electronic throttle. You can choose ride modes. Of course in this day and age, ride modes have become popular and almost standard on high-end sport bikes, so you can thank early racing motorcycles for this technology.
The S also has HSTC (Honda Selectable Torque Control), essentially Honda's traction control system that monitors wheel speeds and intervenes when slip is detected. The level of slip and intervention is determined by which setting you choose.
Unlike nearly every other Honda but like many race bikes, the RC213V-S has a dry clutch for ease of replacement when racing.
Many other aspects of the RC213V-S are very high-spec.
The front forks are Öhlins TTX25 pressurising forks. These are the same as on the race bike, but with dust springs, to add stability for public roads.
The rear suspension is an Öhlins shock based on the GP-spec TTX36, but with a preload adjuster (something race bikes don't need).
In contrast with the RC213V's carbon brake discs, the RC213V-S uses steel discs, which are more usable in a wide variety of conditions. But like the race bike, the V-S uses Brembo calipers and a Brembo clutch master cylinder.
The RC213V-S, unlike the race bike, comes with its own, on-board starter. Bet you're glad to hear that. The clutch feeds engine power to the constant-mesh, cassette-style, six-speed gearbox, and one very strong chain makes the final connection to the rear wheel.
A significant quantity of Honda RC213V-S bikes are owned by collectors and rarely see street or track action, which is a shame. But some of them do get ridden. And if you're one of those, and you need to maintain it, I hope this guide was useful.
Reference — Screenshots from the Manual for the Honda RC213V-S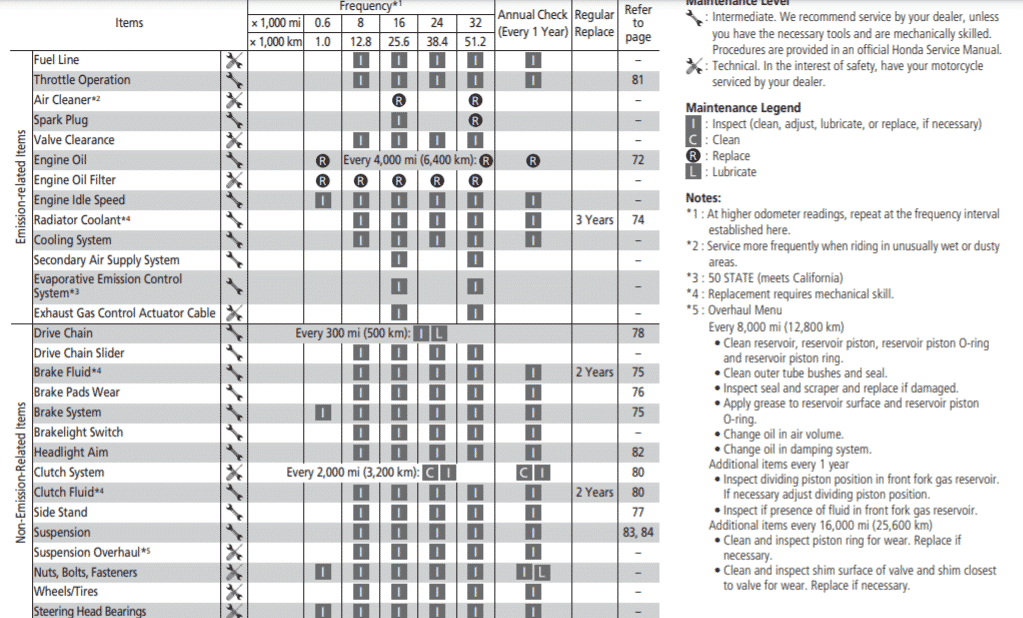 The above maintenance schedule comes directly from the user's manual for the Honda RC213V-S. Frankly I'm shocked there's even a user's manual. Are people riding these things?
You can download the user manual from Honda here.