Honda CB1300 (2003-2020, PGM-FI) Simplified Maintenance Schedule and Service Intervals
This is the maintenance schedule and associated service intervals for the Honda CB1300, made since 1998 and still made but only in Japan.
The Honda CB1300 was originally launched in 1998, but updated in 2003 with Honda's PGM-FI fuel injection. Over time there have been further refinements, with optional ABS added and various cosmetic changes.
But at its core, the Honda CB1300 has always been the same. It's a big naked bike powered by a liquid-cooled 1284 cc four-cylinder engine. The engine has always been a torque-forward one, making a peak of around 75 kW / 100 hp at 7500 rpm, though revving out to 10000 rpm as needed.
The final drive of the Honda CB1300 is a 5-6 speed transmission (depending on model year) and chain drive.
Like the Honda CB400 SF, the CB1300 is no longer available in most global markets.
This site has links for things like oil and spark plugs from which we earn a commission (which unfortunately nobody can save, not even us). If you appreciate this work, then please use those links. Thanks!
Honda CB1300 Service Intervals
The Honda CB1100 has 8000 mile or 12000 km minor maintenance intervals at which you change the oil. But you only check the valve clearances every twice that — 16000 miles or 24000 km.
The CB1300 has both a hydraulic clutch as well as brake, so keep fluid in both fresh with Honda DOT 4.
And remember, unlike many other big naked standards, the CB1300 is liquid-cooled — so keep the coolant fresh.
Honda CB1300 Maintenance Schedule
Below is the maintenance schedule for the Honda CB1100. We've split it into two parts:
Periodic maintenance, and
The standard service checklist.
Maintenance Procedures:
I: Inspect and clean, adjust, lubricate, or replace, if necessary
R: Replace
L: Lubricate
C: Clean
Notes:
At higher odometer readings, repeat at the frequency interval established here.
The break-in service is omitted (usually a dealer does this during the warranty period)
Earlier models required changing the oil filter with every oil change. Many owners still do this but it's up to you.
Honda recommends you get a dealer to do all maintenance related to emissions (inside the engine, idle speed, exhaust, etc.), and steering (bearings, tyres).
x 1000 mi
4
8
12
16
20
24
x 1000 km
6
12
18
24
30
36
Every
Standard inspection checklist (see below) — Perform all items
I
I
I
Year
Engine oil (Pro Honda GN4 10W-30)
R
R
R
Year
Engine oil filter (HF204RC)
R
R
R
Air filter — Clean or replace as needed
I
I
Replace as needed. Service more often if riding in rain or dusty areas.
Spark plugs — Check gap / condition
Spark plug Gap 0.8-0.9 mm
Replacement: NGK DPR8EA-9
I
R
I
Valve clearances (Adjust when engine is cold.)
Intake: 0.16mm
Exhaust: 0.22mm
I
Radiator coolant — Inspect levels, replace (Honda Coolant)
I
I
R
Replace every 2 years
Brake pads
I
I
I
I
I
I
Replace as needed
Brake fluid — Inspect levels, replace (Castrol DOT 4)
I
I
R
I
I
R
Replace every 2 years
Clutch fluid — Inspect levels, replace (Castrol DOT 4)
I
I
R
I
I
R
Replace every 2 years
Evaporative Emission Control System (if fitted)
I
Honda CB1300 Maintenance schedule
Standard inspection checklist
Below is the standard inspection checklist for your Honda CB1300.
Honda CB1300 Standard Inspection Checklist
Brake system function
Wheels / tire condition
Clutch system function
Drive chain slider
Fuel Lines (condition, kinks)
Throttle operation / free play
Target free play: 2-4mm (0.1-0.2 in)
Engine idle speed
Target: 1000 rpm +/- 100 rpm
Suspension (smooth operation, no leaks)
Headlight aim (check after adjusting suspension)
Side stand operation / lubrication condition
Nuts, bolts, fasteners (tightness)
Steering head bearings (smooth operation)
Secondary air supply sytem
Crankcase breather — Clean as needed
Honda CB1300 Standard Service Checks Maintenance schedule
Honda CB1300 Spark Plug Maintenance
For the Honda CB1300 here is the info you need to service the spark plugs.
Item
Data
Tools needed
* Spark plug gap tool
* Spark plug wrench
Spark plug type
NGK: DPR8EA-9, DPR9EA-9 (for high-speed riding)
Denso: X24EPR-U9, X27EPR-U9 (for high-speed riding0
Number of plugs
4
Spark plug gap
0.8-0.9 mm / 0.03-0.04 in
Tightening torque
Old plug (if good): 1/8 turn after it seats
New plug NGK: 3/4 turn after it seats, then loosen, then 1/8 turn
New plug Denso: 1/2 turn after seats, then loosen, then 1/8 turn
Honda CB1300 Spark Plug Maintenance Info
Maintaining the Chain on the Honda CB1300
It's important to maintain your chain on the CB1300, as on any chain-driven motorcycle. Use a good-quality chain lubricant like Motul chain paste, or a Motul chain care kit which comes with a couple of handy tools to maintain the chain.
Honda recommends you follow the following chain maintenance schedule:
Chain maintenance item
Every
Check drive chain lubrication condition, lubricating if necessary
600 mi / 1000 km
Check drive chain slack, adjusting if necessary
Target slack: 25-35 mm
600 mi / 1000 km
Chain maintenance — Honda CB1300
Notes:
Do these items (checking/adjusting slack, and checking/applying lubrication) more often if you ride your CB1300 in dusty or rainy conditions.
Always lubricate the chain after washing the motorcycle.
After adjusting the slack, tighten the rear nut with 113 Nm / 83 lb-ft of torque.
Tire (Tyre) size and tyre pressure for the Honda CB1300
The Honda CB1300 takes radial tubeless tires. Below are the recommended sizes and pressures.
| Tyre | Size | Tyre pressure |
| --- | --- | --- |
| Front | 120/70 ZR 17 M/C (58W) | 36 psi (250 kPa, 2.5 bar) |
| Rear | 180/55 ZR 17 M/C (73W) | 42 psi (290 kPa, 2.9 bar) |
Tire and tires pressures — CB1300
About the Honda CB1300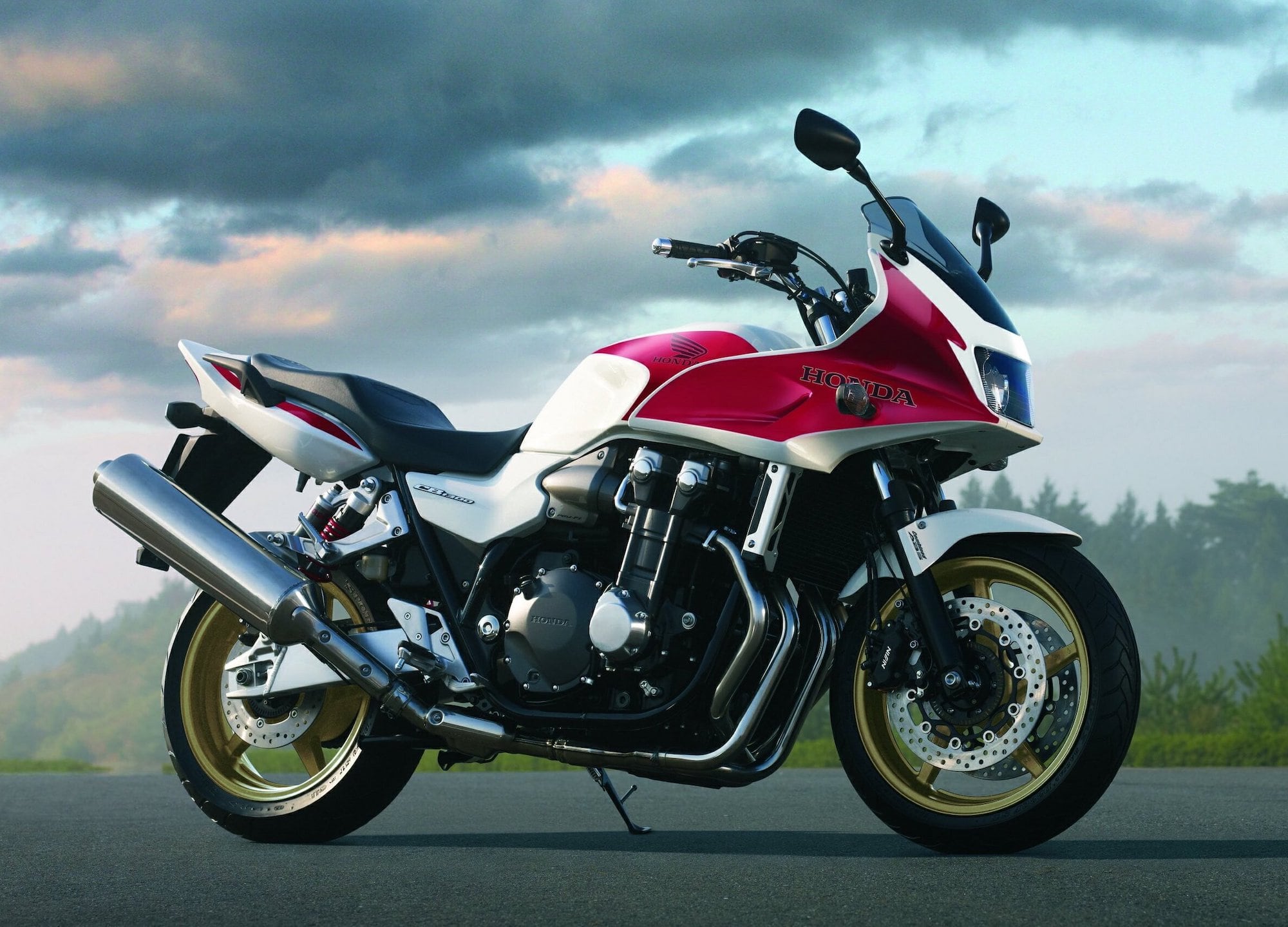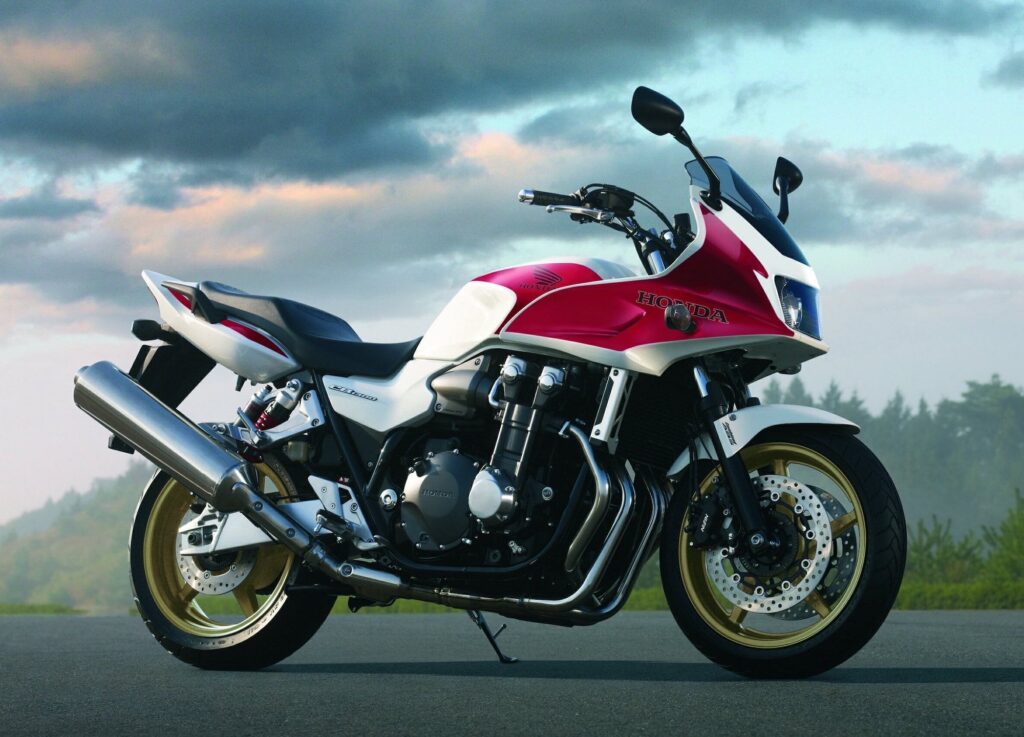 The Honda CB1300 is one of Honda's standards that is modern while at the same time being a nod to former glory days, like the Honda CB900F (the original one).
It's quite different to Honda's other more conspicuously "retro" motorcycles like the Honda CB1100. For starters, the engine in the CB1300 is liquid-cooled. And the CB1300 is more of a mainstay, still produced years after the CB1100 was retired, and much in its original form.
The Honda CB1300 actually inherits its legacy from the Honda CB1000 "Project Big-1" that was a superbike motor (CBR1000F, to be precise) in a naked bike chassis.
But the CB1300 has carved its own path since then, distancing itself from superbike roots.
The heart of the Honda CB1300 is its massive inline four-cylinder engine. It is a 1284 cc motor with a long-stroke 78.0 x 67.2 mm configuration, which goes hand in hand with the CB1300's torque-forward configuration.
The engine in the CB1300 makes a claimed 84 kW (114 hp) at 7500 rpm, with a big wall of 86 lbf-ft (117 Nm) of torque at 6000 rpm — but you can feel most of that torque seemingly from right off idle. The CB1300 pulls right away, and pulls hard.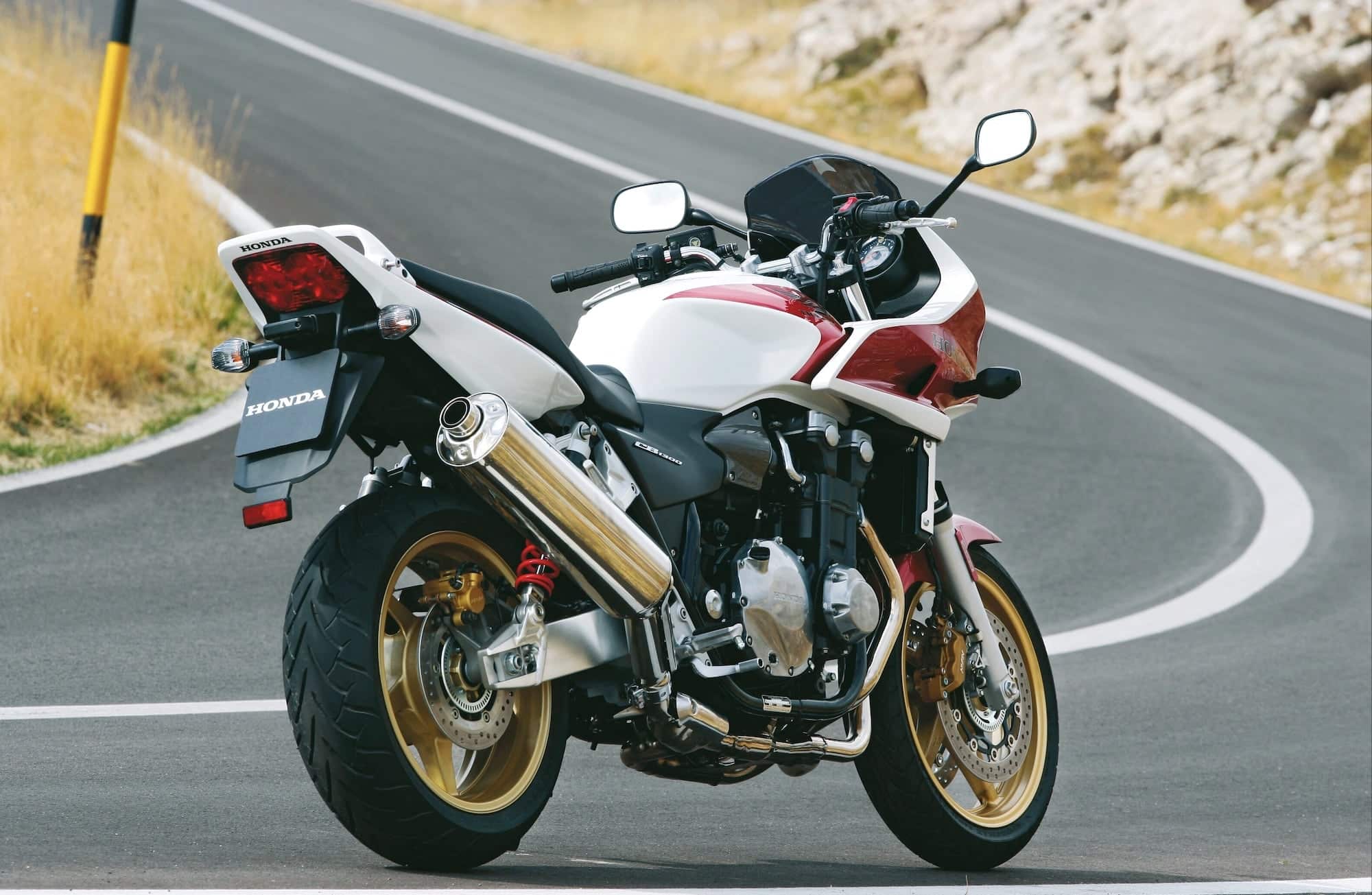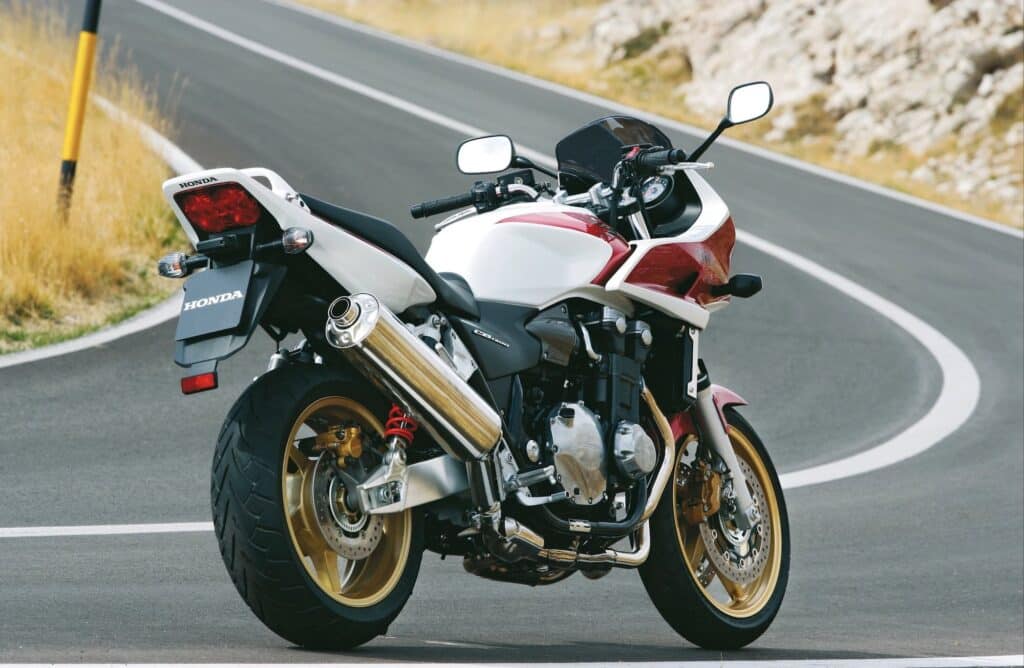 What differentiates the CB1300 from other big retros like the Yamaha XJR1300 and the Suzuki GSX1400 is that the CB is — shockingly — liquid-cooled. Classic enthusiasts may cry foul at this, but it helps with Honda's reputation for reliability.
As you might expect from a big 1300-class bike with a steel cradle frame, the CB1300 isn't light. That's where it falls over relative to competition from newer naked bikes that makes similar (or more) power but with much more highly tuned suspension and chassis packages. For example, Honda's much more modern "Neo-Retro" 2018+ Honda CB1000R is the same general concept (a retro-ish bike) in a far lighter, more powerful, and maybe even attractive package. Which is why maybe bikes like the CB1300 no longer have a market footing.
But the CB1300 is still an engaging ride, with style elements that you don't find on newer bikes, like twin shocks, twin gauges, and a big, comfortable, and inviting riding position on a standard naked bike.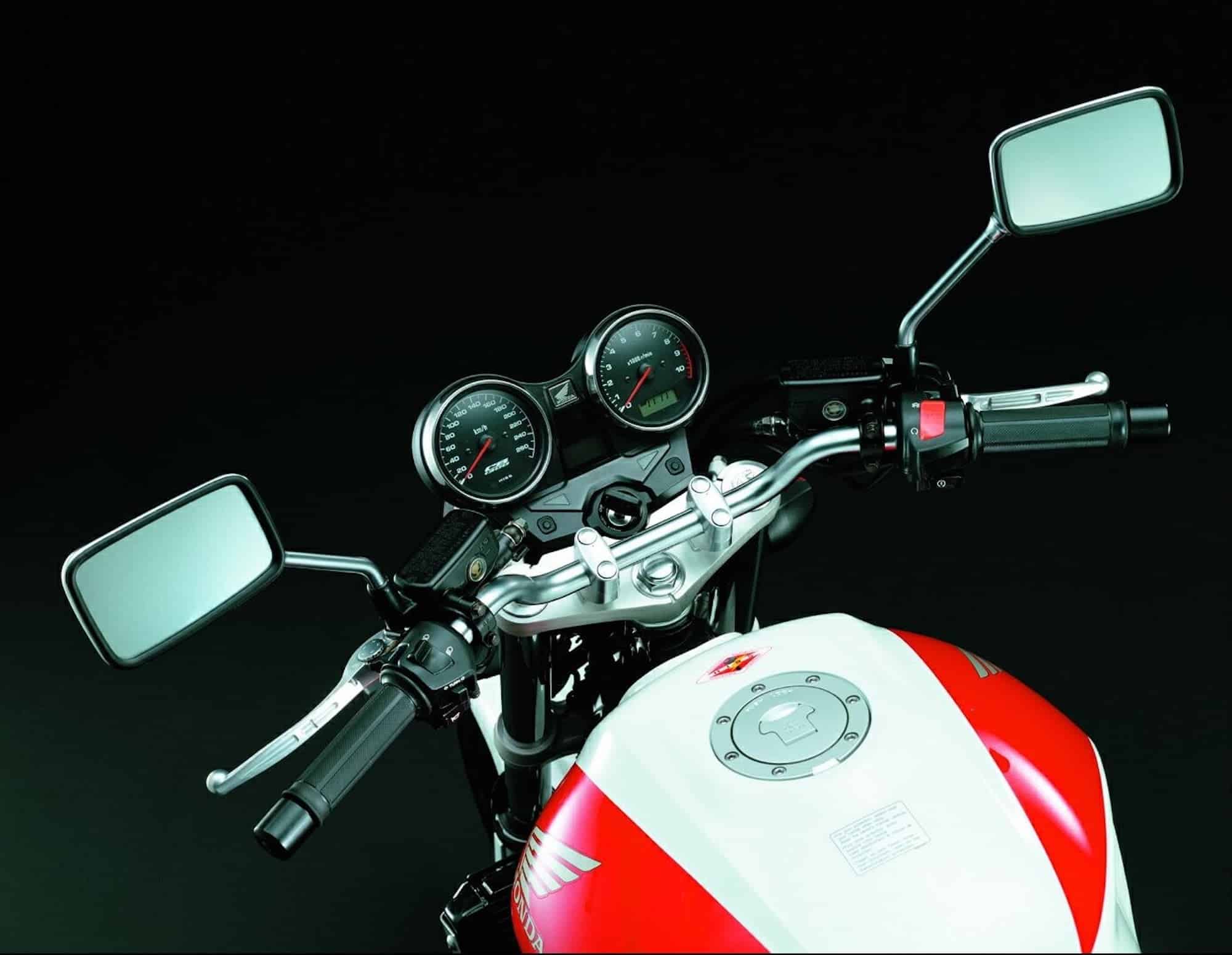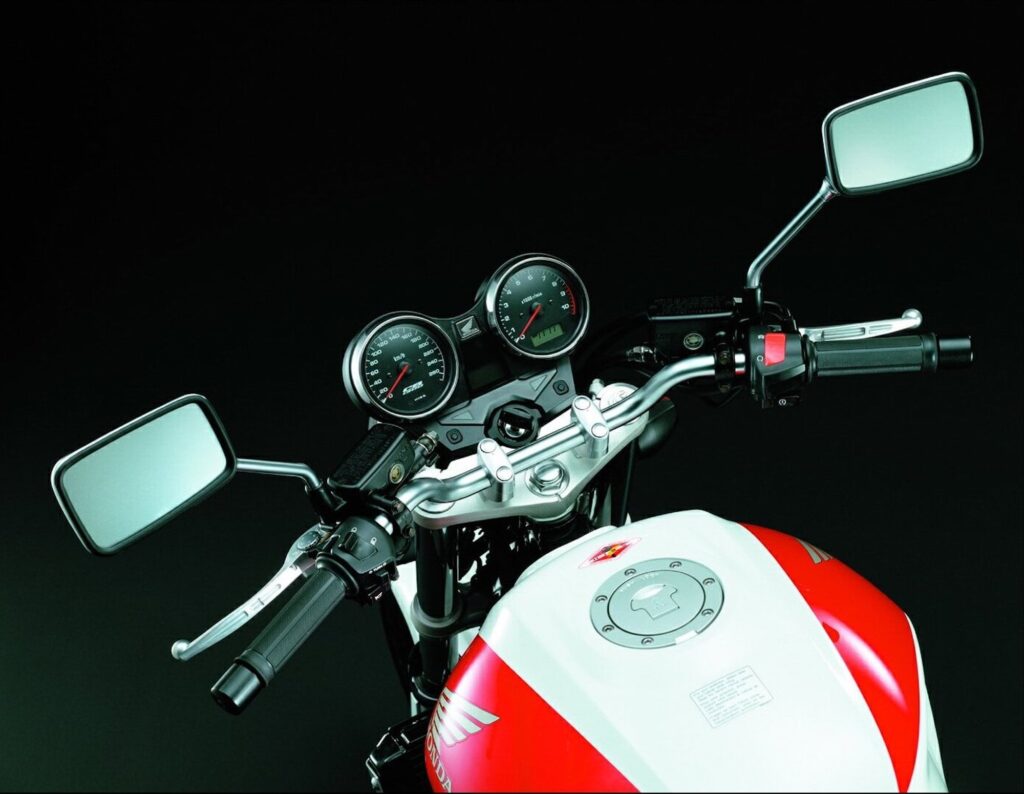 Unfortunately over time, Honda has removed the CB1300 from most global markets. You can still find them, but low-mileage ones are rare (and even more so if you're limited by budget as they have reached "niche classic" status). But they can still be found.
Manual for the Honda CB1300
The above maintenance schedule comes directly from the user's manual for the Honda CB1300 from 2009, but we checked it going back to 2003 and up to 2020 (Japanese language manual) just to make sure nothing changed.
You can download it from Honda's website here.